Tips for staying safe while traveling with kids domestically and internationally.
You can't prepare for every single possible situation, but family travel means taking some major precautions when traveling with kids. Safe international travel with kids is a big concern for our family, and here are some of our safe travel tips.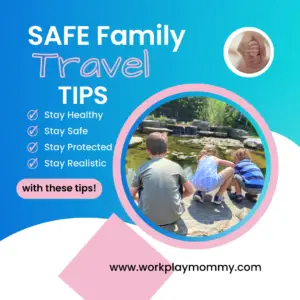 (As an Amazon affiliate I might make a commission from purchases you make through the affiliate links on this page at no extra cost to you.)
Safe Travel with Kids
Our family loves to travel. We love road trips, plane trips, slow travel, trains, buses, ferries… You get the picture. International travel has its own set of concerns for family safety.
RELATED POST: Road Trip with Kids: Must Have Items
We aren't afraid to put in the extra sweat and work it takes to also travel with our three small children. And, when asked, you will usually hear us say that we would rather travel with our kids than without!
However, in addition to all of the additional time and energy it takes to travel with kids, we also take a number of precautions to stay as safe as we can while traveling internationally.
Concerns for Safe International Travel with Kids
In addition to all of the paranoias, you can gain while watching some of Hollywood's biggest hits, there are other more likely scenarios that you should prepare for when traveling with kids.
Our family is concerned about getting separated, emergency room visits, security, pickpockets, traffic and more.
So, when we make plans to travel domestically or internationally with our children, we take extra steps and sometimes extra expenses to help prepare ourselves for problems along the way.
SAFE INTERNATIONAL TRAVEL TIPS WITH KIDS
1. Staying Healthy While Traveling with Kids
Stay Healthy While Traveling: One of your biggest concerns while traveling is likely your children's health and well-being. If you are traveling within your covered area (domestically), your personal health insurance will help manage your peace of mind.
However, if you are an American traveling abroad internationally, your personal health insurance likely doesn't cross the border with you.
Therefore, our family always travels with travel health insurance when we leave the country.
Sure, it is a little more expensive, but knowing that we can pop into the doctor for a sniffle or visit the emergency room for a playground mishap is incredibly reassuring.
Our family has always used World Nomads for our international health insurance.
We chose World Nomads for a few reasons:
It has an easy to use online portal. We were able to get a free and easy quote in just a matter of moments.
It is trusted by some of the world's biggest brands. Starting with World Nomads was on the recommendation of other family travel bloggers who had more experience with them.
Broad coverage. World Nomads is a trusted insurance provider that doesn't hide a bunch of obvious exceptions. In fact, while traveling under pandemic restrictions, World Nomads became especially important to us because it had trip interruption coverage that specifically included Covid diagnosis for the entire family.
Travel health insurance is a great way to not only give you peace about travel but also keep your kids healthy as you jet-set around the world without fear of a huge international hospital bill or sub-par medical treatment.
2. Stay Connected While Traveling Internationally with Kids
Stay connected with travel ID bracelets or Smart Watches
Our children are still fairly little. Therefore, they are still hesitant to seek help from strangers, and are known for getting befuddled with nervous or afraid.
Before we took our first international trip with our kids, I had this recurring nightmarish vision of subway doors closing between me and my child, leaving my child stranded on the platform and me hurtling off to the next stop.
Therefore, we made it easy for our kids to keep in contact with us. For our older children, we purchased them GPS watches that allows us to not only communicate with them but also track their whereabouts.
Sadly, many of these devices do not work internationally, therefore we also recommend ID bracelets with parent phone numbers.
These ID bracelets are cheap, simple, and easy to keep on your kids. Plus, if you lose one, just write on another. Travel with some extra bracelets for extra peace of mind.
Make sure that your child has it around his or her wrist when traveling so that your contact information is close at hand if they should be separated.
3. Stay Vigilant While Traveling with Kids
Security and Pickpockets
Even if you don't wear socks with sandals or a baseball cap, you are going to look like a tourist at least some of the time.
I mean, who else lugs around suitcases, a map, and a jet lagged, vague expression!
Therefore, tourists are always going to be a potential target for pickpockets, scams, or thieves.
I always talk to my kids about keeping an eye out for their things, not accepting items handed to them by strangers, and not following strangers.
However, one of the quickest ways to compromise your security is to carry too much stuff.
Therefore, our family tries to stay safe by carrying a controlled amount of stuff. Each person is in charge of his or her own stuff to the extent that it is reasonable. (Your infant is unlikely to carry her own suitcase!)
Make luggage manageable and easy to carry or ride on. Use strollers to stash toys and other items, and use hooks, latches, or clips to keep your items handy.
We love 360 degree rolling bags for our kids because they are easy for them to push, pull, or drag. We also love ride-on luggage for smaller children who might not be able to make the run from Terminal A to Terminal C in 28 minutes of layover time!
Avoiding pickpockets and theft in general, while not always avoidable, can at least be mitigated by having a conversation about vigilance and carrying a manageable amount of stuff.
4. Keep Your Documents Safe While Traveling with Kids
Important Document Safekeeping while traveling internationally with kids
You don't want to have too many bags, and you want your children to be responsible for their stuff, but you probably don't want them to be in charge of their own passports!
While it might be tempting to tuck each child's passport into the front of their bag for convenience, try this instead:
Put a sticker identifying each child on the outside of each passport so that you can identify it from the front. My daughter chose a princess sticker, while my sons each chose a different robot from their favorite space-themed cartoon!
2. Travel with a family passport carrier where you keep each person's identifying documents. We used this one that also has RFID blocking technology, and extra slots for money, cards, or other valuables.
3. Finally, have the other adult always carry copies of the original documents. That way, regardless of where you are or what you might lose, both adults have passport numbers, health insurance information, and more on his or her person.
Added Document Protection with Kids
For added security we left another copy of our passports, credit cards, and other identifying information with a trusted family member at home. This gave us extra peace of mind knowing that even if we lost everything, someone at home could send us a copy or help us cancel sensitive accounts.
I can personally attest to the fact that it is very easy to leave bags behind. Even with only 1 bag per person, our family managed to lose not one, not two, but THREE bags on our recent international family sabbatical.
Each time, we were glad that mommy had the important travel documents rather than one of the children.
As an additional tip, be sure you know the document requirements of your destination before traveling. Even Americans traveling to Europe will need additional security measures beginning in 2024.
5. Hazard Prevention while Traveling with Kids!
Children are not known for being hyper-vigilant, cautious, or observant. This is especially true of my children who are known to veer into oncoming traffic, cross security gates, or even block paths entirely.
Therefore, one item that we have never left home without is a stroller. Even my 6 year old spends time in the stroller.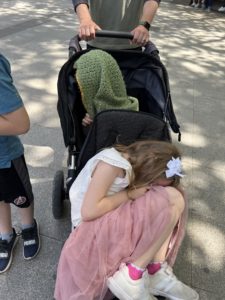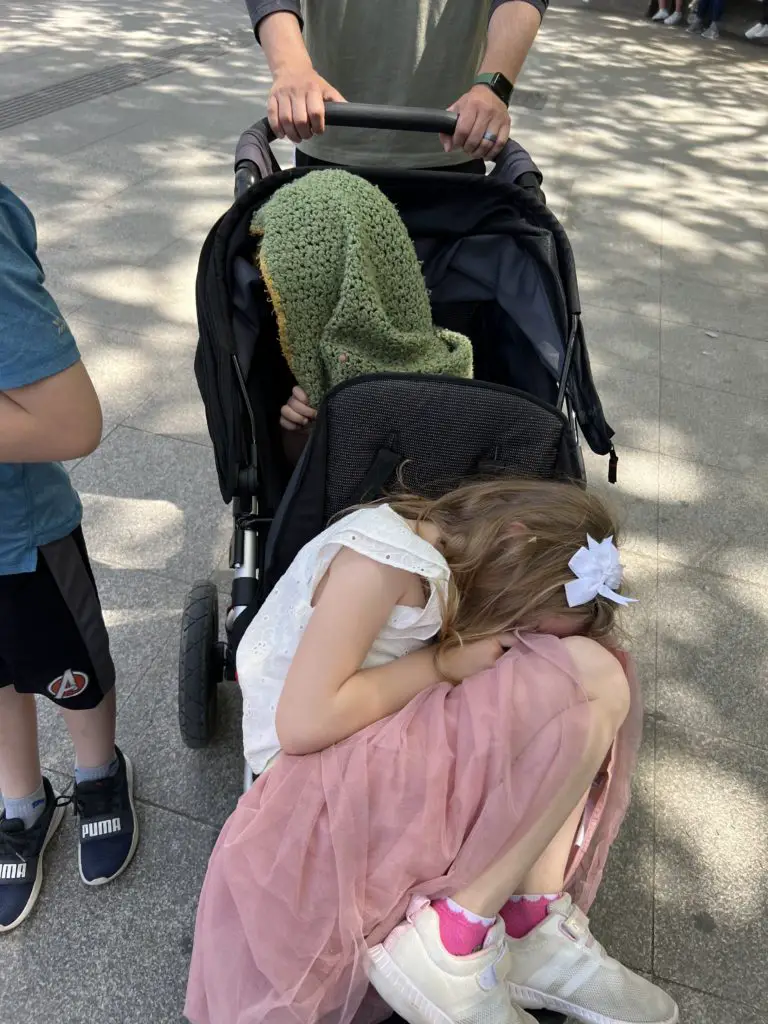 This often keeps my children from being distracted by street performers and veering into the street. It also prevents them from darting across traffic when they see the park or drop a toy.
For bigger kids, I love the micro scooters, stroller boards, or even tethers. I will never judge a mother for keeping a strap on their child. Instead, I will simply be glad that she is doing what she needs to do to keep her children safe!
6. Stay Safe By Visiting Safe Sites and Booking with Reputable Accommodations
Location Safety while Traveling with Kids
While I am one of the first to say that international travel with kids is great, not all destinations are child-friendly. More specifically, not all destinations are a safe option for your children.
Further, not all accommodations are created safe for children.
Large bunkhouses, community lodging, or cities where your nationality is a target are all concerns for your children's safety.
Instead, choose safe international travel destinations that are family-friendly.
RELATED POST: Granada Spain with KIDS!
Moreover, choose accommodations that are family-friendly. Our family prefers to book apartments through VRBO or AirBnB rather than hotels or hostels.
And, when we do book hotels, we like to choose hotels with high family ratings and rooms that accommodate small children.
Best Family Hotel in Madrid, Spain
7. Stay Safe while Traveling with Kids by Staying Realistic
Traveling with kids requires a fair amount of flexibility. Be realistic about your children's needs, health, endurance, and their ability to react to new and different circumstances.
Jet lag is real, especially for kids. And, this might be your child's first exposure to a security line where the officers yell in French or eating new foods.
RELATED POST: Flying with Kids: What to Pack
All of these new experiences require that to stay safe and have a great time, you need to be flexible and realistic.
That may mean that you have a back-up plan for when your best laid plans go awry.
Maybe you don't get to use all of the days of the wonderful pass because your children were sick.
Related Post: 10 Day London Pass Review with Kids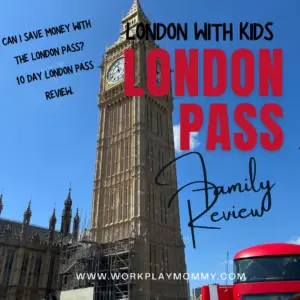 Or, perhaps you are unable to go to that park one day because the weather doesn't cooperate, and your children just can't handle another day in the snow!
Related Post: Hotel Santa Fe at Disneyland Paris
At any rate, part of staying safe is being flexible. If you miss the train, be ready to take a taxi. Don't book layovers too close together, don't carry too much stuff that it gets left behind, and don't plan your schedule so full that you end up miserable!
Traveling with kids can be great, but if you want to stay safe and have fun, then you also need to be realistic.
8. Stay Safe By Preparing for the Worst
Travel Safe with Kids by Having an Estate Plan
Finally, as an estate planner by day, I believe that one of the greatest gifts you can give your children is to prepare for the worst, and that means having an estate plan.
When traveling with children, be certain that you have your estate plan in place before you leave.
This doesn't just include a will or trust but important power of attorney documents and guardianship designations.
Before you travel, ask your attorney for a travel POA for your children plus a standby guardian designation to make sure that someone has the authority to collect your children in the event of an accident.
Having an estate plan isn't only about stuff but is also about your children. Appointing a guardian, a standby guardian, and even a trustee is important to protect your children from having to enter a state system or protective custody.
Be safe by meeting with an attorney before you travel to have your estate plan in place.
To read more about estate planning for families check this out: www.workplanmommy.com
9. Stay Safe by Traveling with Car Seats
You will be hard pressed to find another mom who complains about lugging car seats more than me. However, when flying and jumping from cab to rental car, car seats are essential for your children's safety.
But, don't travel with bulky car seats. Instead, simply slip the mifold or mifold comfort into your child's carry-on backpack and always know that you have a car seat on hand.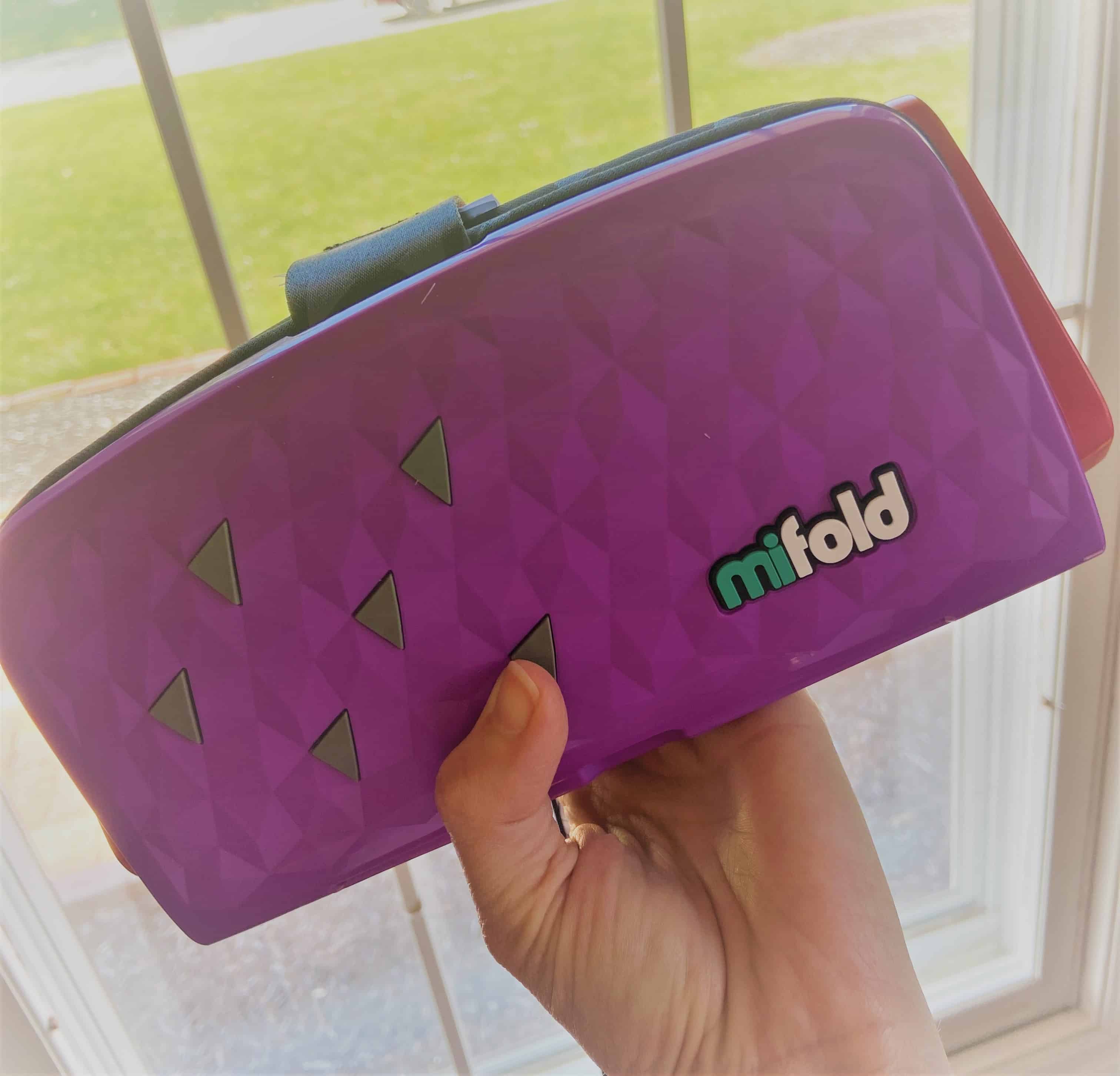 Or, if your child is not yet ready for a booster, check out the hifold, the easy to carry on backed-booster.
We keep an extra in our glove box and toss them into our children's carry ons for use on planes or rental cars instead of flying with bulky oversized car seats.
For my complete review of the mifold or the mifold comfort, check these out:
Safe Travel Tips with Kids
Don't stay home just because you have children. Travel is a wonderful teacher for young children.
However, I understand that travel with kids is a bigger commitment, a larger responsiblity, and comes with loads more concerns.
Take some of the stress out of your trip by knowing that you have health insurance coverage, realistic expectations, and the proper documents in place before you go.
Further, put in some extra Amazon Prime orders for ID bracelets, stroller boards, passport protection, and more just to be sure that your children and your documents stay together!