FLYING WITH KIDS OR TODDLERS?:MUST-HAVES FOR YOUR CARRY-ON
I love family road trips with our kids. But, I draw the line on road trips when it is going to take longer for us to drive somewhere and back than we can actually spend at the desination. At that point, we FLY! What do you need for flying with kids?
Our kids have a love-hate relationship with flying. Mostly, they love the airplanes but hate the sitting in a tiny seat, going through security, and being shuffled like cattle down tiny aisles. Me too, kid; me too.
However, after having completed about half a dozen flights in the last couple of years, our kids are getting the hang of flying. They are better at security checks, using the seat back screens, and even the waiting-their-turn-to-be-corralled down a tiny aisle.
Bonus: Mommy is getting better at prepping and packing their carry-ons to minimize fighting, kicking seat backs, and all out screaming.
As background, when we fly, we fly with THREE kids. We have flown with infants, toddlers, and young children. So, we feel like we have a few tips for parents flying with any small child.
After some trial and error, here are my top must-haves for making flying with kids bearable.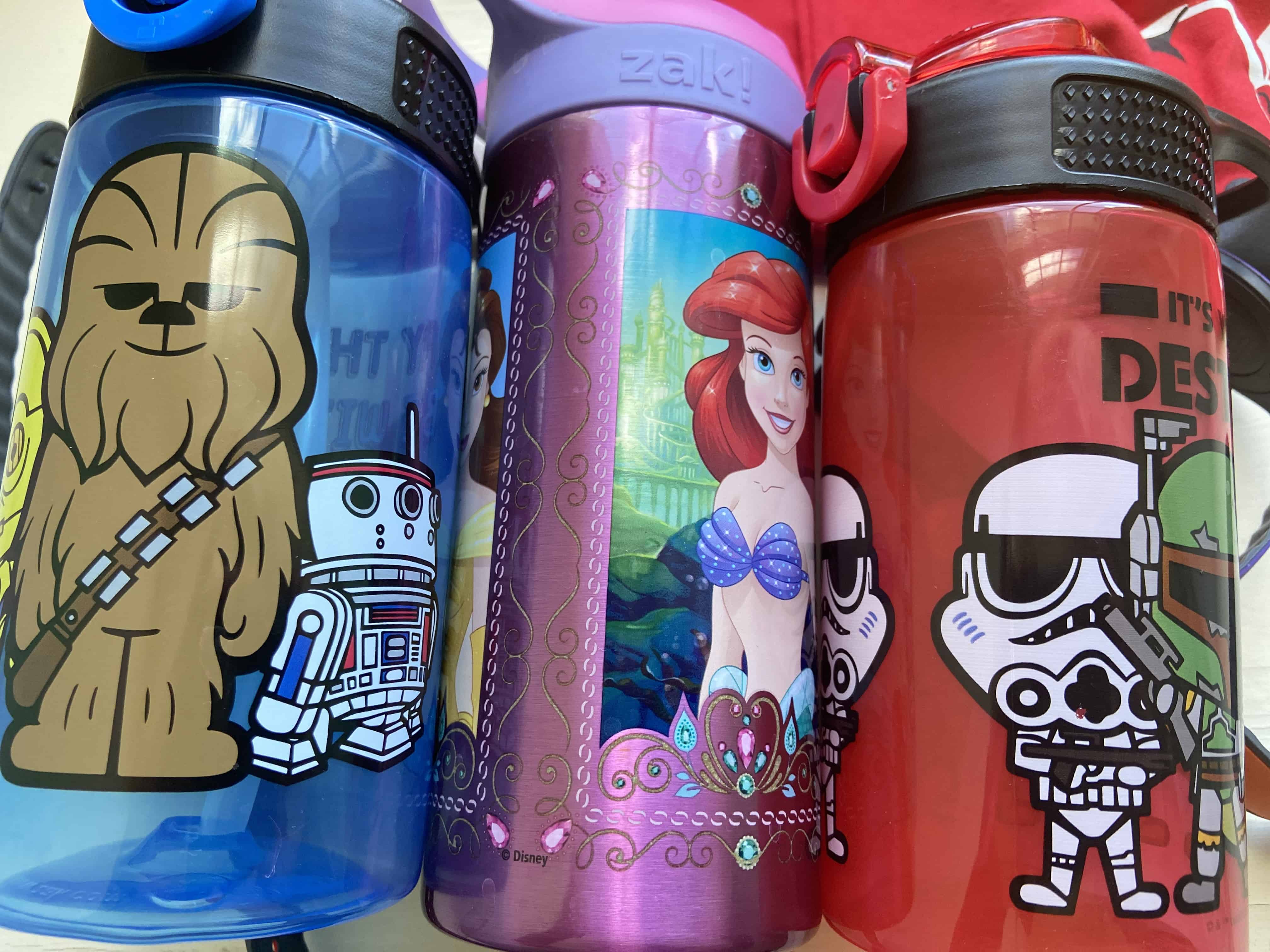 1. WATER BOTTLES:
My kids always have their own water bottles when we fly. No, you can't take more than 3 ounces of liquid through security. But, you can always take an empty water bottle through security to fill up on the other side.
Sure, you want to make sure that your kids are well-hydrated, but there are far more reasons for you to have a water bottle with each of your kids.
NO CRUMBS: It keeps them out of yours! My kids are forever spitting their crumbs into my water bottle.
NO SPILLS: It keeps them from spilling the little cups they receive on the plane. Why in the world do they hand a cup to a toddler? And, what in the world does the flight attendant think will happen to that cup roughly 1.5 seconds later? When our kids receive a drink on the plane, it is poured directly into their water bottle. No spilling; sanity saved.
CLEAR EARS: Keeping your children's ears clear as you ascend and descend can be difficult especially for young ones. Encourage your children to take drinks from their water bottles to help them continue to clear their ears and relieve pressure.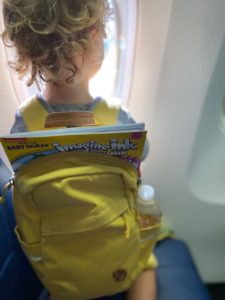 2. BACKPACKS:
I love these Fjall Raven backpacks. They have been a staple in our home for years. They are just large enough to carry what my kids need, but small enough that they fit on a toddler.
As our kids have gotten bigger, they have been able to carry more weight. So, on our most recent flight, we allowed the bigger kids to take their school bags. This gave them a little more room to carry their own souvenirs too.
Make sure to keep your backpacks under carry-on size, but having your kids carry a larger backpack can leave room to stash an extra outfit in case of spills or accidents.
3. WATERWOW, IMAGINE INK, or CRAYOLA COLOR WONDER
I am a mom who doesn't have the patience for many crafts in her house. I have even less patience for markers and dropped crayons.
For that reason, my go-to FAVORITE busy activity in public are the WATER WOW books.
However, I also love the versatility of the Imagine Ink and Color Wonder books for plane rides and road trips.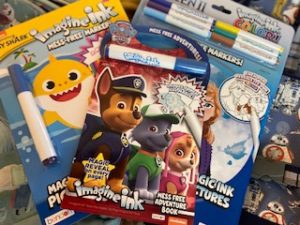 These books give my kids the ability to draw and color as they please while giving mommy the peace of mind of knowing that I am not leaving stray marker marks everywhere.
The Imagine Ink and Color Wonder books work only with the Imagine Ink/Color Wonder markers. Thus, your toddler doesn't inadvertently mar the back of the seat. And, your young children won't end up with green and blue hands and arms.
These books are great activities for the kids to do when they can't be watching screens or using the in-air entertainment systems.
4. HEADPHONES
Are these for mommy or the kids? BOTH!! You know I love "Mommy's Vacation" for road trips, but a simple pair of headphones are great for planes. Get a pair that easily plug into the airplane entertainment system and your handheld device.
For the kids, try some of these volume control headphones to be sure that they don't go too crazy with the volume while watching Mickey Mouse Clubhouse!
5. SANITIZER AND SANITIZING WIPES
Kids touch everything. Heck, my kids lick everything! I keep a bottle of sanitizer and/or a convenient pack of sanitizer wipes in each of the kids' backpacks. That way, they all have easy access to a quick wash or clean up.
6. TABLET OR GAME SYSTEM
An airplane is not the time to train your kids to give up screen time. Remember, there are 300 other people on the same flight as you, and none of them want to hear anyone else screaming about whether one of the kids has exceeded his screen time for the week.
That being said, some screen detox is a great idea before a plane trip. For the entire week leading up to our last trip, we told our oldest that he couldn't play with his Nintendo Switch until we got onto the airplane. Then, he would be allowed to play as long as the plane was in the air.
The idea of unfettered game time really appealed to him, and he didn't even ask for the Switch leading up to the trip!
My husband always makes sure to preload several movies, tv shows, or preschool games on an Ipad and a Fire Tablet so that our kids have something to watch even if there are no screens on the flight.
And, if they do have seat back entertainment, then you can keep your devices safely stowed for later bribery.
7. CHARGERS
On one flight back from family vacation, we were delayed due to a regional storm. We spent hours waiting at our gate. If we would have packed our chargers in our checked luggage, both our phones and the tablets would have been dead.
Instead, we made sure that our chargers were packed with the devices so that we could easily keep them charged. Despite the harried situation, the kids were perfectly content to watch movies on the ipad while we awaited updates on whether we would get home that day.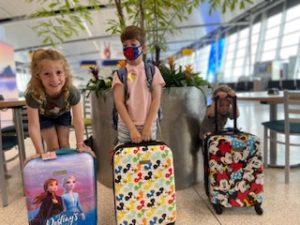 8. CHANGE OF CLOTHES AND TOOTHBRUSH
Generally, if I am checking luggage, my rule of thumb is to pack at least 1 full set of clothes including undergarments in my carry-on. If I am traveling carry-on only, then I don't worry about packing an extra set of clothes in my personal item or in my kids' backpacks.
However, in a pinch –if your luggage is lost or you have a prolonged layover—you will be glad to have a clean set of clothes and a toothbrush. Unfortunately, my luggage has been lost a time or two, and I have been extremely glad to have that extra toothbrush and underwear!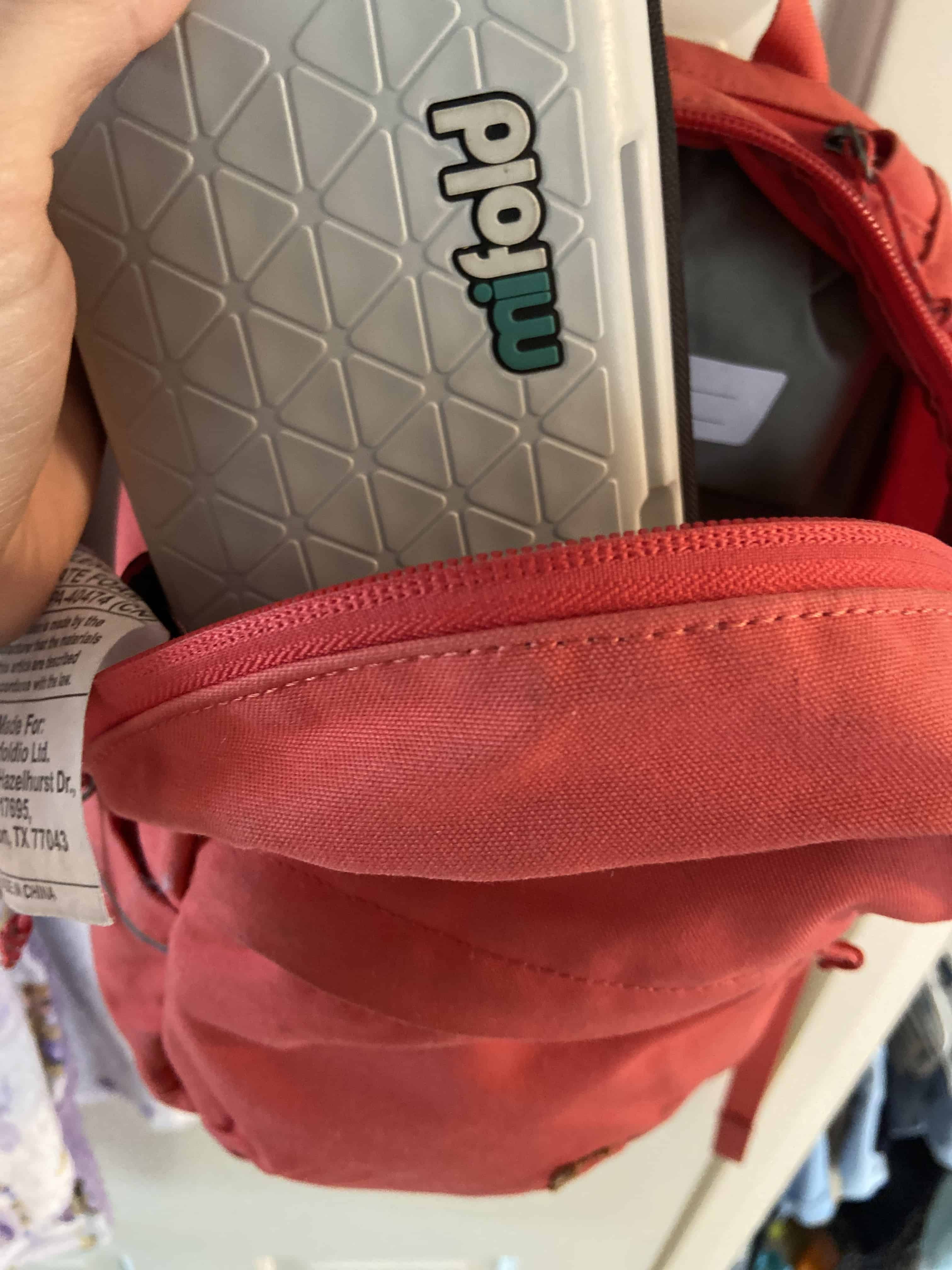 9. MIFOLD
Traveling with kids doesn't only mean packing their stuff. It also means packing their accessories. If you have to rent a car at your destination, then you likely also plan to rent car seats unless you are checking them.
Checking car seats is a hassle. Thankfully, they don't count against your checked bags, and most airlines are happy to check them for free, but they are a hassle nonetheless.
Car seats in general are a hassle, but add on your luggage, your stroller, and your kids, and you have a real potential disaster.
Enter the mifold. The mifold is a compact, safety approved booster seat. It is small, compact, easy to use, and easily fits into your child's backpack.
No need to check a bulky extra booster seat. Instead simply slip the little mifold or the new mifold comfort into your child's backpack.
Upon arrival at your destination, no need to reclaim a battered booster seat or pay for an overpriced rental, your child can simply pull his or her mifold from her bag.
And, if your child isn't quite ready for a booster. The folks over at mifold have a backed booster option as well called the hifold!
Although the hifold isn't quite as compact as the mifold, it is fully adjustable for your little ones who are not backless-booster-ready. It has a convenient carry strap, can easily fit into a carry-on, and will save you the hassle of checking a backed booster seat or renting a mystery car seat at your destination.
The mifolds now occupy our family's glove compartments, the grandparent's house, and are even used in our own compact vehicles to fit our 3 kids across in one row.
To read a more comprehensive review of the mifold CLICK HERE! Or, check out the new mifold comfort here!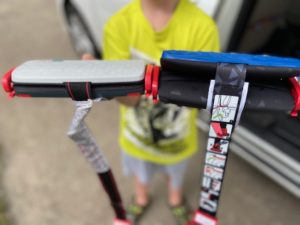 10. PATIENCE
When I used to fly without children –many moons ago. I was always so self-conscious about what I wore and the style of my luggage.
Flying with kids is more of a survival game rather than a chance to stride through the terminal like one of those Pan-Am girls!
I know that the entire gate looks over to our family of three young children and hopes that they don't have to sit anywhere near us on their flight. But, with a few of the tips above, we have avoided any major meltdowns on our flights thus far.
And, the most important packing suggestion that has, as of yet, avoided any terrible meltdowns is mommy and/or daddy's patience. The flight isn't about catching up on sleep, television, or relaxation.
Instead, we make sure to use the water bottles, to keep the WaterWows handy, and to leave the headphones near the top. And, when things don't go exactly according to plan –like when one of the kids accidentally breaks a headphone and has to share an earbud with mom or dad—we don't get upset.
WHAT TO PACK TO MAKE FLYING WITH KIDS LESS STRESSFUL
Flying with a baby, a toddler, or small children can be difficult. But, don't make yourself crazy by packing everything from the house. Don't create ten new busy bags just for a 1 hour flight. Trust me…the pieces go EVERYWHERE in mere seconds!
Instead, pack the items that wield the biggest bang for your buck. Choose to carry on the items that will not only entertain the kids but won't drive you or the crew crazy. Don't take things that require you to retrieve crayons from the floor. Don't create a situation where you have to scrape stray marker stains from the back of the tray table!
I am of the mindset that when wondering whether or not you should travel with your kids, the answer is always YES. But, traveling with kids is different than traveling alone. You will have to make some concessions, you might have to wear your flip flops instead of your famous label heels. You might not even get the chance to drink your in-flight coffee!
But, it is definitely manageable and even enjoyable with a little bit of preparation.
Where are you flying with your kids?