Tips for Flying with Kids
Don't be afraid to take your children on their first flight. Flying with kids can seem daunting, but after dozens of short flights and long haul flights, our family has some tips for successful air travel for the whole family! Check out these tips for flying with kids and the must-have essentials for a great family flight.
Below you will find information related to passports, flying with breast milk, carry-on essentials, helpful tips, security, packing, and more.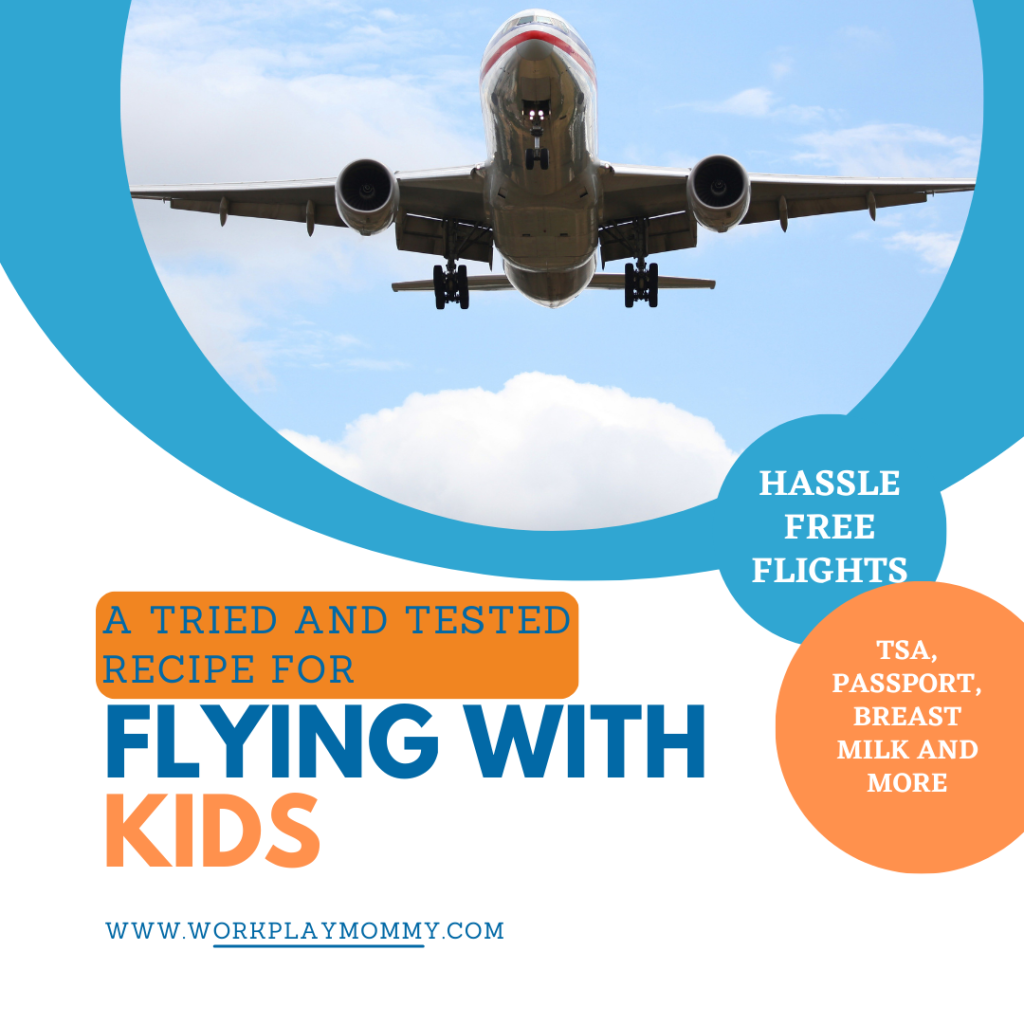 Toddler in the TSA Line
My three-year-old, after checking in for a recent flight, confidently approached the airport security counter, proferred his name, and proceeded to direct each member of the family to a bin for our belongings.
He then coached each of us to stand in line, to go through the metal detector one at a time, and to collect our items at the other end.
Completely serious, he instructed us which items needed loaded into the bin, where we should stand after completing our screen, and what to do with our water bottles.
In his short little life, he had already become a professional flyer, and the TSA officer loved it!  
I know that a big reason that even my three-year-old knew how to approach, navigate, and safely handle TSA security checks is because he had been doing it since infancy.
Our family didn't wait until he was "big enough" to start flying. He took his first flight at only a few months old and has crossed more than a couple of oceans since!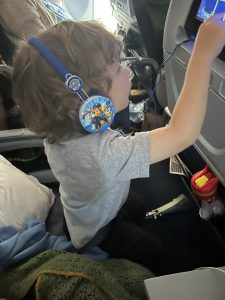 Flying with children does require a special kind of patience and planning, but after flying for years with infants, toddlers, and big kids alike, I feel like I have some wisdom to share.
These tips apply to short flights, long-flights, flights with multiple children, and flights where the children far outnumber the parents!
I have flown solo with my 3 children using these same recommendations, and we have yet to give up flying.
Special Considerations for Flying with Kids
1.When Flying with Kids, Choose Reputable Airlines
First: my unpopular opinion. I have flown on short flights on budget airlines. However, with kids, I avoid it at almost all costs.
Instead, I prefer to choose full-service airlines for a number of reasons.
First, I know that full-service airlines will usually ensure that I reach my destination. Even if a flight is cancelled, rerouted, delayed, or grounded, I choose full-service airlines with a reputation for making sure that passengers get where they are going.
Our family recently had family members stranded in a different state after a budget airline had to reroute traffic. The budget airline was then unwilling to connect them to their destination without paying that day's fare price.
Needless to say, that day's fare price was EXPENSIVE. And, our family members ended up having to share a rental car with others from their flight to drive 8 hours home.
I couldn't imagine being stranded with 3 children in a different state and then hoping that I have enough diapers to make it home from wherever I was rerouted. Or paying the same-day fare price for all 5 of us.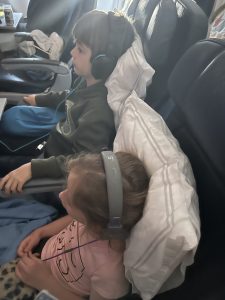 Full-service airlines offer peace of mind.
Instead, when our flights get cancelled, delayed, or rerouted on a full-service airline, we have always experienced the pinnacle of customer service.
Even when our family was sleeping on the floor of a Washington D.C. airport hoping that we could get a flight home in a snowstorm, our chosen airline found us the most likely route home, offered additional amenities, and made sure we had comfortable places to rest.
When traveling with kids, don't always choose the cheapest flight but the flight that will give you more safety and peace of mind.
When things go wrong, and they will go wrong, make sure that you have a customer service staff in your corner that cares about the ongoing reputation of the brand rather than the bottom line.
2.When Flying with Kids, Go Light On Baggage
Our family spent 10 weeks living in 4 countries in Europe. Each person in our family was allotted 1 carry-on bag for the entire trip, and we still packed too much.
Not only did we learn a valuable lesson about stuff and over-packing. We also learned that keeping track of more bags than children can get out of hand.
Limitations on the size and amount of luggage can make flying with kids much simpler. Choosing lightweight and easy to port luggage leaves your children able to carry their own things. With less stuff, your hands are freer for holding little hands, managing paperwork, or passing out snacks.
In short, less luggage, when dealing with small children too, is less stress.
Which leads me to my next topic: What I do recommend packing in your carry-on for flying with kids:
3.Time-Tested Flying-with-Kids Carry-On Essentials!
Flying with kids is much more manageable and enjoyable when you don't overpack. Flying with kids is also much more manageable and enjoyable when you pack the right things.
I almost always fly with a stroller and gate check it to make navigating the airport easier, but I also make sure to have a strong carry-on game too!
After flights across the United States and across the ocean, our family has completed both short and long-haul flights with babies, toddlers, and young children. Therefore, we have learned a thing or two about what does and doesn't work for our kids when flying.
RELATED POST: Top Ten Essential Carry-on Items for Flying with Kids
What to carry-on for a more relaxing flight with kids:
Travel Bag or Backpack (size and age appropriate).
A change of clothes in each bag.
Water bottle or sippy cup
Mess-Free Art
Snacks
Headphones
Screen/ Tablet/ electronic devices
Sanitizer or wipes
Chargers
Lovies
Compact travel car seat, booster seats, or infant car seat
Toothbrush
Extra wipes and diapers
Patience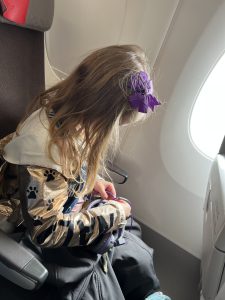 4. Security Pro Tip for Flying with Kids
PreCheck or Clear for domestic flights: If you really want to cut some of the major stresses when flying with kids, go through your airline or credit card provider for PreCheck with TSA.
PreCheck or Clear allows passengers (and their children) to pass through a separate, less-strenuous security checkpoint.
PreCheck actually has its own security line. Because you submit in advance (prior to boarding) to a thorough background inspection and list of agreements, your security time and stress is greatly reduced.
Instead of having to unpack every single electronic and liquid and remove your shoes, you can simply place your bag on the conveyor and move through the metal detector, shoes intact.
Children go through PreCheck with the adult!
Best of all, PreCheck applies to the applying adult and any child under 12 flying with that PreCheck adult passenger. Therefore, I can apply for PreCheck and have all three of my children pass through a simpler screening process with me!
Clear, on the other hand, allows you to bypass the identification line and uses complex biometrics to determine your identity.
With Clear, you still have to have PreCheck or go through the regular security line, but you can bypass the identification process.
I don't know about you, but finding my own belt and shoes on the conveyor belt past security is difficult enough. But finding all 6 of my children's shoes, their electronics, and their bags just compounds the stress.
Therefore, our family highly recommends applying for one or both of the streamlined security processes to greatly reduce your airport headaches when flying with children!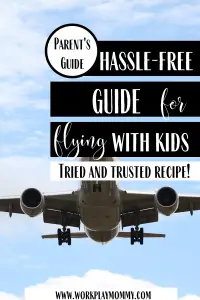 5. Traveling with Breast Milk
The Federal Aviation Administration and TSA are very clear that flying with breastmilk is absolutely permitted. However, whenever I have flown with breastmilk, I have always been met with awkwardness, questions, and someone having to ask a superior for help.
Therefore, if you are flying with breast milk, then you will want to be certain you know what you can and can't do! You might be the one educating your TSA officer.
Yes, you can fly with breast milk even in liquid form and unlimited ounces.
Yes, you can fly with an ice pack used for keeping it cold.
No, your nursing infant or toddler does not have to be with you to carry breast milk.
No, the breast milk does not have to be in a clear plastic bag, but TSA does encourage you to keep it in a clear or translucent plastic bag or container for inspection.
No, breast milk does not have to go through an x-ray machine, but, yes, it does have to be visually inspected
No, you are not required to dump it out before going through security.
If you are traveling with pumped milk or breast milk, it's a good idea to keep it in a separate cooler in individual bags. In my experience, keeping it in freezer breast milk bags makes for a much easier TSA experience than keeping it in bottles.
Always insist that any inspecting agent uses clean gloves, and advocate for yourself if someone suggests that you are exceeding the security liquid limit.
For more info: (https://www.tsa.gov/travel/security-screening/whatcanibring/items/breast-milk)
6. Documents Needed for Travel with Children
For domestic flights, documents needed for travel can vary by airline. Check with your airline to be sure that you have what you need.
In general, though, children flying with parents need no id or documentation for domestic U.S. flights.
However, some airlines reserve the right to request a birth certificate, a letter from the parents authorizing travel, or a photo id. This way, they can verify the child's identity and, maybe more importantly show proof of age if they are traveling at a reduced fee.
I find it easier to always take my children's passports when flying instead of their birth certificates.
Plus, every child on international flights needs to have a passport. A child of any age is eligible to apply for a passport.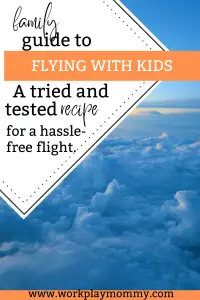 How do I get a child's passport?
Securing your child's passport is very similar to securing an adult passport with a couple of notable exceptions. The biggest difference is that both parents have to appear in person with the passport application (form DS-11), the passport photo, the proof of child's citizenship, and the proof of parentage.
Both parents must appear regardless of marital status with very limited exception (death or other limited exceptions).
Parents must appear with the child, the application, the fee ($135-$150 depending on whether you want a passport and passport card) and the other information at a passport acceptance facility.
You must bring multiple copies of some items, so be sure to read your application carefully.
How old does my child need to be to get a U.S. passport?
A child can get a passport at any age up to age 16. However, your child will need proof of U.S. citizenship before filling out form DS-11. Proof of U.S. citizenship can include a birth certificate, an expired passport, a consular certificate of birth abroad, or a certificate of citizenship.
Children of any age can get a passport. However, for the first passport, you do need that pesky birth certificate. So try not to plan travel too close to the due date! Government documents can take time to arrive!
Passport Photo Tips with Kids
Before you fill out the application or visit the passport application center, you need that passport photo taken.
When we took my youngest to get his passport photo, he was a nearly-walking toddler. This means that he wasn't able to stand stably on his own, and he was in no mood to sit still while the photographer perfectly lined up his face.
We spent nearly an hour trying all sorts of tricks to get my toddler to hold still.
Passport photos are tricky. The picture has to be taken against a white background. The person has to be looking directly at the camera. He can't be smiling; the entire face must be visible without blur. And, the picture must be centered with no flying objects or fingers in the picture.
My son wouldn't stop touching his head, saying cheese, or spinning while we were trying to get the picture. I was a sweaty mess by the end of it, and we had to go back for more because his picture was rejected!
Infant/toddler passport photo hack: What I wish I would have known then was this: Put a white sheet over a parent, and then put the infant or toddler in your lap. No dancing, no flying objects, no crying because some stranger is taking his picture.
Once someone told me that trick, I was irritated that no one had told me before. So…here I am…telling you. White sheet over the parent…in the lap. Much easier.
How long is a child's passport valid?
Unlike an adult passport, your child's passport is valid for only 5 years. That means you get to go through the entire renewal process again 5 years later. Yeah!
It also means that you can use your child's impending passport expiration as an excuse to plan more travel! Don't let that passport go to waste!
How to keep track of your children's passports while traveling.
Finally, what you want to know is once you have that passport, and you take that trip, how do you keep track of the passports for the entire family?
Don't pack it with your children. We prefer to keep the original set with one parent and copies with the other parent.
When we travel with all 5 passports, I have 2 simple travel tips that make keeping passports safe and handy a breeze.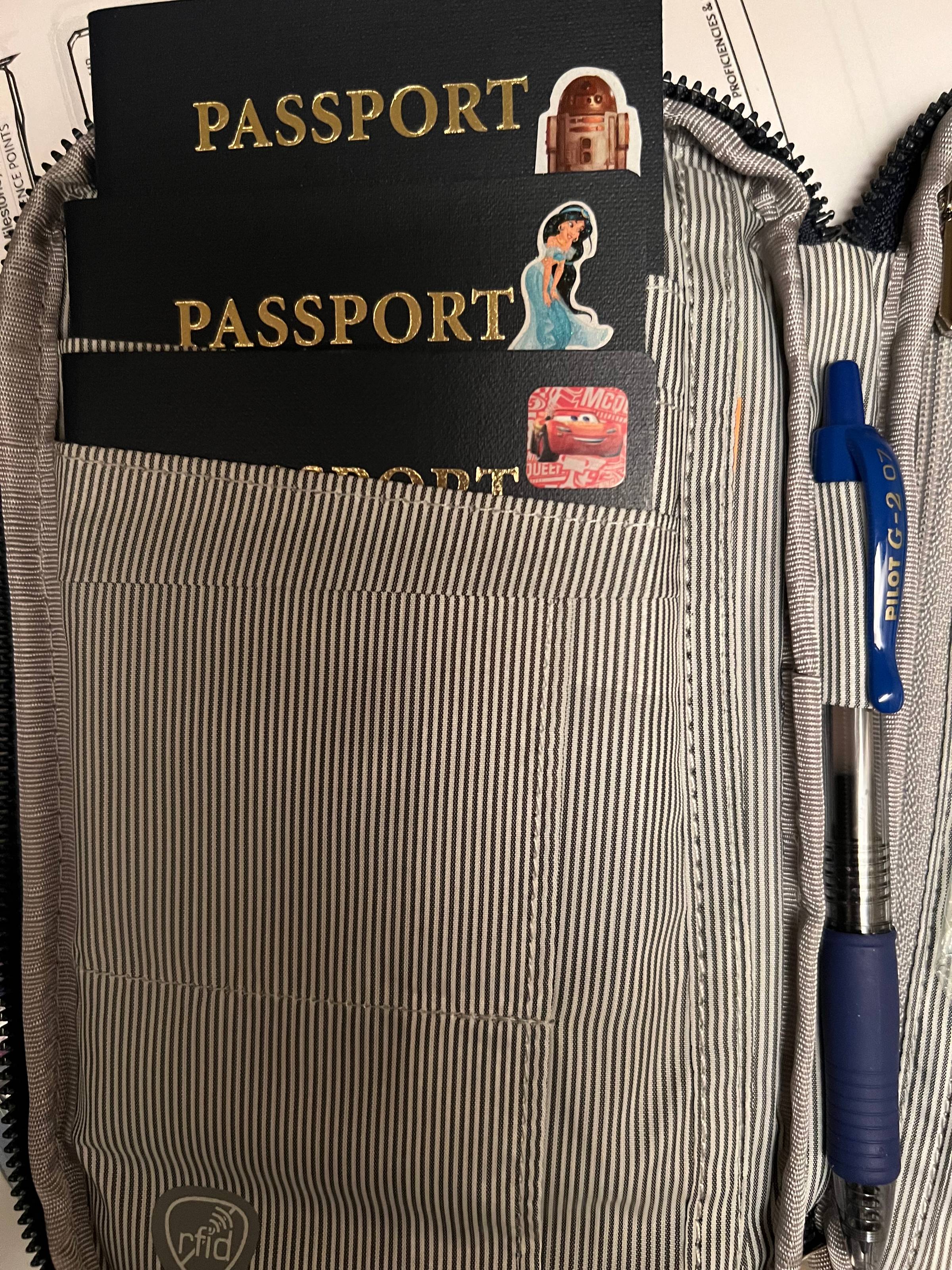 1. First, I add a sticker to the top corner of each passport. For example, the top corner of my daughter's passport has a princess, and my boys have a race car or a droid. That way I can easily produce the required passport to correspond to the child's ticket or customs inspection without having to thumb through each passport.
​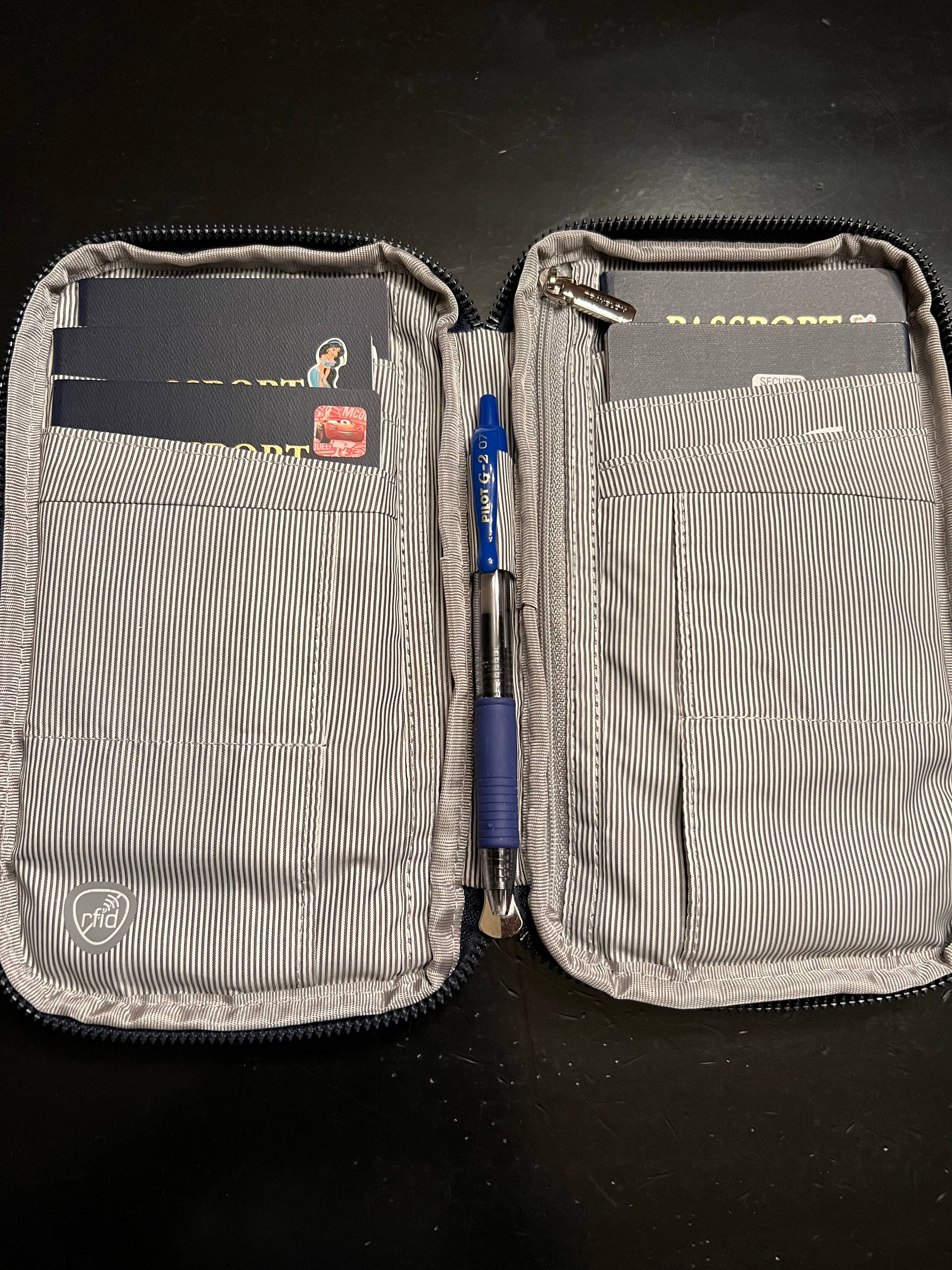 2. Then, I keep the passports in an RFID protection family passport case like this one. That way I have all the important documents together without fear of my children losing them.
*As an Amazon affiliate I may make a commission if you make a purchase at no additional cost to you.
​
​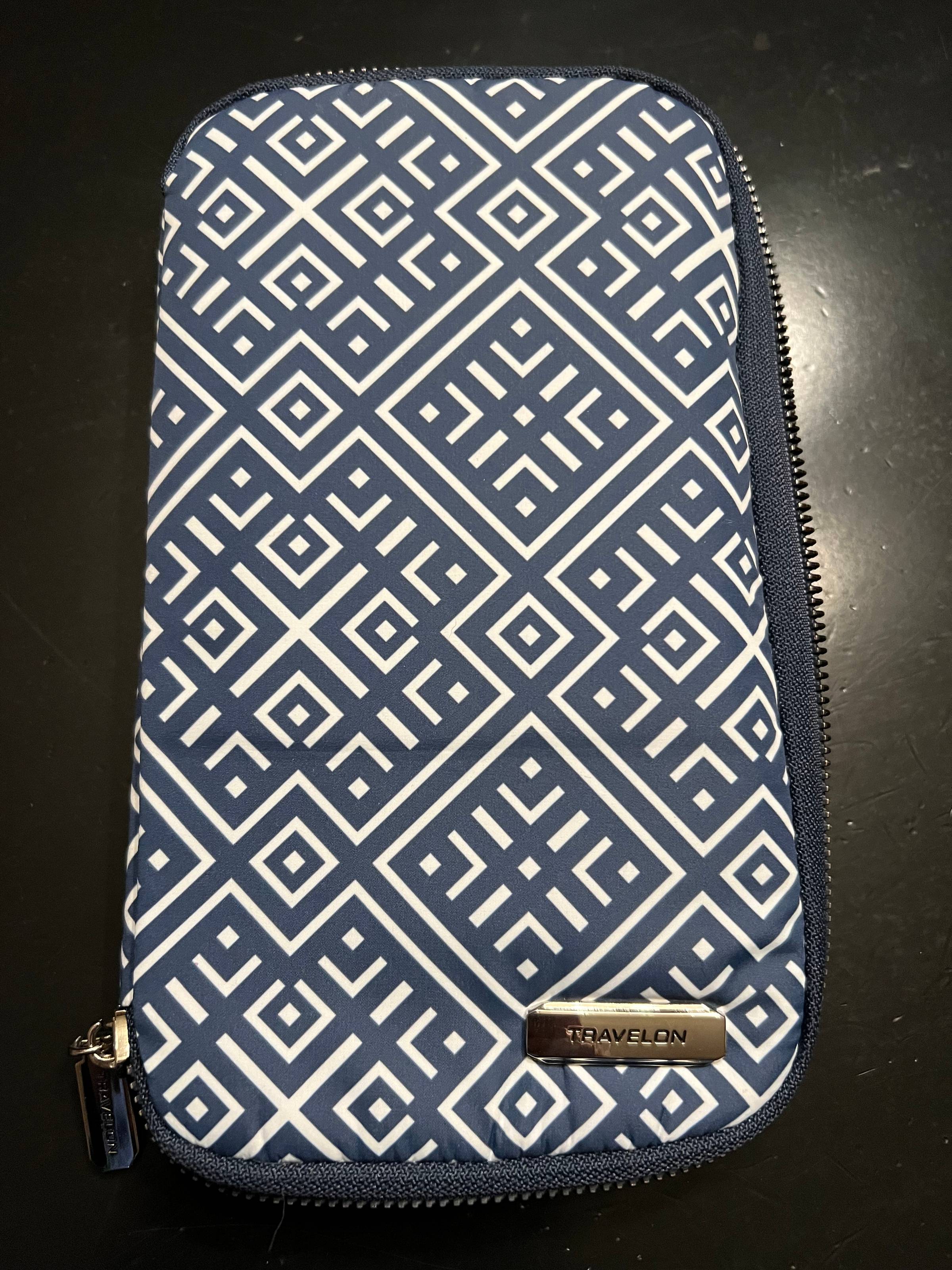 7. Does my child need a separate seat?
Many airlines offer infant-on-lap policies where children under 2 years of age are eligible to fly on the parent's ticket at no additional charge. Lap children are a great option for short flights but not ideal for long flights when mom or dad's arms need a break from holding a child the entire time.
I once held my infant through 2 short flights and couldn't wait to reach our final destination so that I could stop wrestling him in a tiny, cramped space.
If the budget allows or if you are taking a long flight, then I recommend that even infants have their own seats. This allows you to take a break, strap your child into his or her carseat, stretch your arms, or even lay your child down. You will be grateful for the extra space!
When possible, choose aisle seats or window seat so that your infant can be easily walked down the aisles or can look out the window for some entertainment.
Even young kids can have a much more positive flying experience in their own seat. On one flight across the Atlantic, my children were able to stretch out together and create their own reclined bed out of their joint seats. They arrived much fresher than if they would have had to ride on a lap.
This made mommy and our fellow travelers much happier!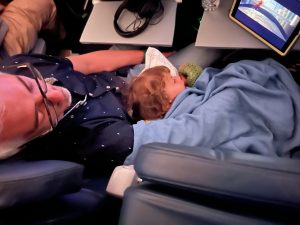 8. Flying with Kids and Fellow Passengers
When I board a plane with all three of my children, I see some of the other passengers start to eye me. While some of them are thrilled to see small children and a family bent on traveling the world, others are cringing.
I know that some of them are really hoping that we are relegated to the back of the airplane closest to the bathrooms in what I call "The Family Section". (Because we usually find that children get pushed to the back of the plane.)
While I know that some parents will advocate preparing gift bags including ear plugs or snacks for nearby plane neighbors, I feel that you and I already have too much to carry when boarding a plane with our children.
Instead, I choose to use the extra time airlines give for families to board. I make sure that my children are settled with their carry-on items, and I hope for the best.
If one of my children starts to kick the back of a seat, I ask them to stop. If one of my children starts to cry or whine, then I try to address their needs.
If my child needs help with a seat belt, I help or ask flight attendants for assistance.
Flying with kids is a lot to manage, and if you are doing your best, then there is no reason for other passengers to get upset with you. Little kids are learning to travel, learning to be global citizens, and learning to navigate new, scary experiences. Sometimes other adults need reminded of this as well!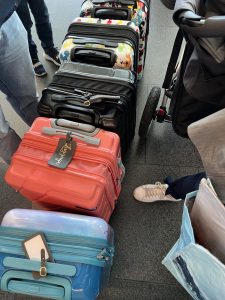 Final Tips for Flying with Kids
A flight, even though it is a small percentage of your entire trip, is often the piece that brings the most stress. This list is not a recipe for guaranteed success but what has worked for me and my family time and time again.
However, your kids are different from my kids: Your children may have more sensitivity to air pressure changes, might be overwhelmed in crowds, or might prefer books to movies.
Great if you find that your children have different needs than mine!
Be prepared to not be prepared!
Know that things can and will go wrong. Your child might be teething, motion sick, or just plain off his or her game the day of your flight. If children cry, whine, or kick the seat in front of them, you aren't a bad parent. If your child cries the entire flight, the flight will eventually end, and you will forget about it…eventually!
If people complain about your child, when you are doing everything in your earthly power to help and calm your child, then maybe that person has never been a child.
Kids are portable. Kids are allowed on flights around the world. Children are not pests, nuisances, or punishments.
Parents on flights, in my experience, go above and beyond to make sure that their children are safe, comfortable, and calm.
However, sometimes, that toddler is going to lose it. That baby might not be able to stop crying. A mom might not be able to manage a nursing cover, the baby, and the gear in the tiny few inches of space between herself and the reclined seat in front of her.
Therefore, give yourself some grace when flying with kids. It's not easy or even glamorous, but it can be totally manageable and even fun with some preparation and patience.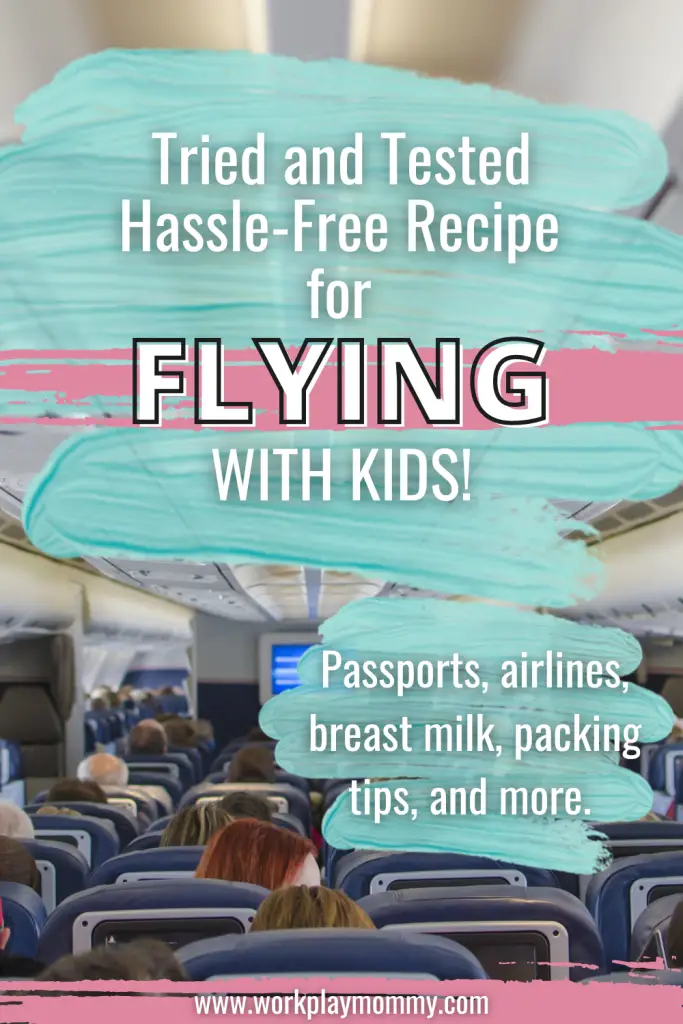 YOU MIGHT ALSO BE INTERESTED IN: