Things You Didn't Think to Pack for London With Your Children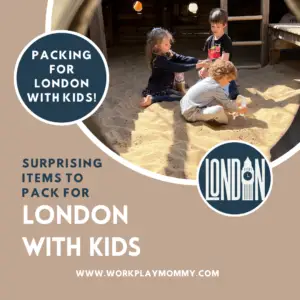 Our family has now been home from London for over a year. The further we are from the trip, the more we want to go back and the more we want to share our tips with you! These include our tips for what to pack for London with kids.
London with kids is a great experience for the entire family. However, we found that this enormous city has lots of things that you want to be prepared for!
in addition to your regular packing, be sure to add the following to your London with kids packing list! Here are some surprising things that you might want to pack for your trip to London with your children.
(This post and site contain affiliate links. As an Amazon affiliate I may earn a commission if you make a purchase through one of my links at no additional charge to you.)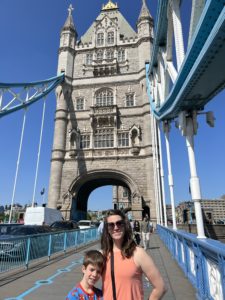 Travel Packing with Kids
Packing for an international holiday is daunting in and of itself. But, if you add children, the task becomes even more difficult.
Extra socks and shoes, diapers, clothing changes, the list goes on and on. Babies, toddlers, and young children require all the extra gear: strollers, carriers, car seats…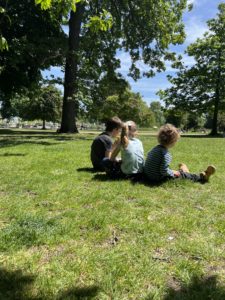 RELATED POST: Best Gifts for Kids Who Travel
While you can find most things you really need wherever you finally land, it can be a hassle if you don't have everything already.
After spending a month in London with my three small children (from 3-8), we found that we lacked a few surprising things that we never thought to pack.
Therefore, I have compiled this list of a few items I wish we had packed for London with kids.
Surprising Items I Should Have Packed for London with Kids
Surprising Thing to Pack for London with Kids: #1 Sand Bucket and Sand Toys
No wait…don't stop reading…I'm 100% serious. As a family with 3 small children, we spend a great deal of time at playgrounds.
RELATED POST: Our Top 3 Favorite Playgrounds in London
While London is covered in a multitude of parks and walking trails, there are only a few playgrounds that we found really worth mentioning.
Interestingly, the main attraction for my children at each of these playgrounds were the enormous sand pits.
I tried in vain for the first few visits of our trip to keep my kids out of the sand. But, it was impossible. There was no way to actually play on the playgrounds without getting into the sand pits.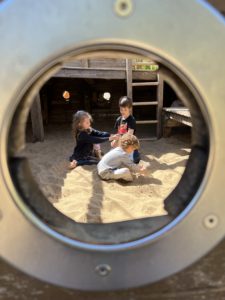 My children were soon swindling takeout containers, lids, cups, spoons, and other childrens' toys to play in the sand. They even begged me to finish my coffee so that they could dig with my mug.
A simple bucket and shovel, or a few digging tools would have been enough to keep them happy.
If you intend to spend any time at any of the playgrounds in London, then I highly recommend bringing along a few simple sand toys.
Surprising Thing to Pack for London with Kids: #2. Baby Powder to Remove Sand
Like I said: resistance to the sand is futile. If you spend anytime in the playgrounds of London, you, your children, your stroller, and inevitably…your bed will be full of sand.
RELATED POST: What I Forgot to Pack for the Beach with Kids
Although we have never visited any London beaches, we have sand throughout our flat, between our sheets, in our shoes, and in our suitcases.
Therefore, I recommend bringing a small container of baby powder to help remove some of that sand before you leave the parks.
Baby powder is a simple way to remove sand without leaving your hands chafed. Simply pour a liberal amount on the areas full of sand and brush away.
Surprising Thing to Pack for London with Kids: #3 Reusable Shopping Bag
Few families are traveling to London and eating out for every single meal and snack. Therefore, at some point of time or another, you are likely to have to go to a London grocery store.
While you will find everything you need and more in the various London grocery stores, you will also find that most of them either do not offer grocery bags, offer difficult to carry grocery bags, or charge for grocery bags.
Therefore, a simple, reusable (perhaps insulated), and durable reusable grocery bag can be a huge help.
We purchased a reusable insulated bag on the first day of our family sabbatical and have been toting it around Europe ever since. It has saved us lots of waste and a few dollars in bags.
Surprising Thing to Pack for London with Kids: #4 Single-wide stroller
As a mother traveling with multiple children and 2 children who are usually in a stroller, a good and durable stroller is very important to me.
And, while London is very walkable with lots of pedestrian paths, park trails, and wide city sidewalks, it is also VERY crowded.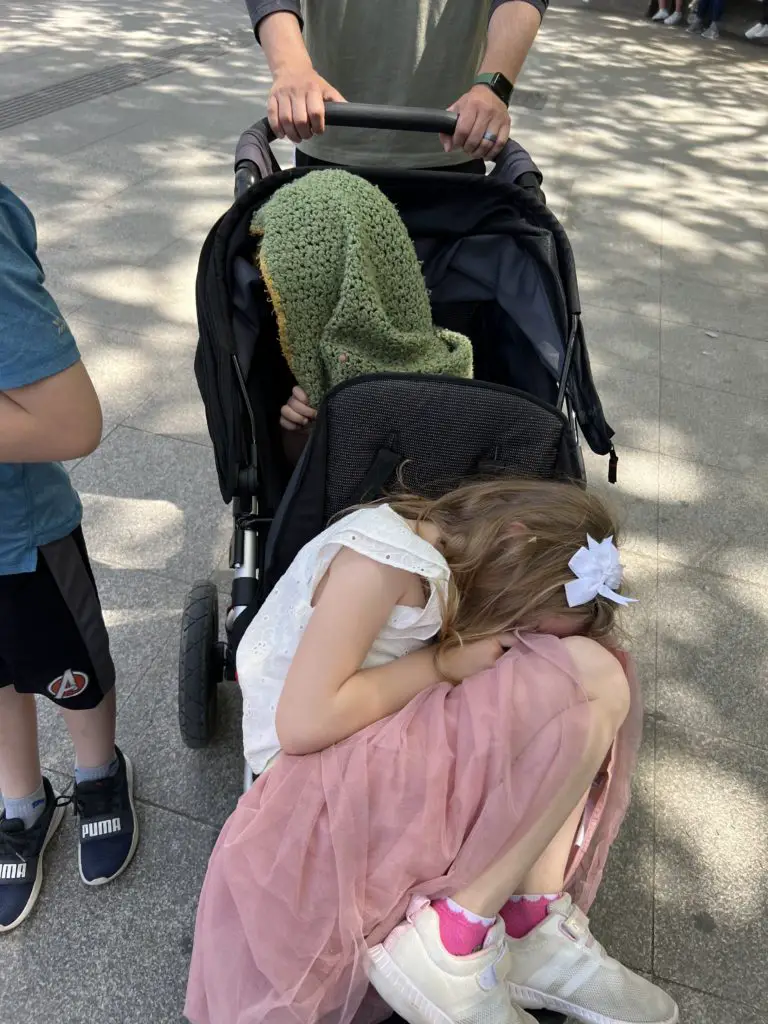 We travel with a double stroller that is single wide, and I have been unable to fit through some grocery aisles, onto some buses, and on some city streets.
If you plan to travel with a stroller for more than one child, I highly recommend bringing only a single wide stroller as you might be unable to use or navigate some public transport or even fit down some crowded sidewalks.
Some of my favorite single-wide double strollers include the City Select Double, the Phil and Teds double, and my favorite Mountain Buggy +1 (which is no longer available online).
However, if you don't want to invest in a single-wide double stroller for your London adventure, you might consider a stroller board.
Just a simple stroller board attachment might help give little lets a break while not adding too much to your packing and loading list.
Things I Wish I Had Packed for London with Kids: #5 Uno Cards, Water Wow, Coloring Book and Crayons
London restaurants are often narrow, quiet, and crowded. Therefore, bringing 3 children into a small restaurant can prove quite a task.
Therefore, we travel with a pack of Uno cards –a game that my children not only love but will play repeatedly for hours and some coloring activities.
My children have spent hours on end in restaurants coloring and playing cards while my husband and I sip coffee and drinks or as we wait for a lazy meal to be served.
On the rare occasions that we have forgotten the cards or the coloring, we have paid for it with screaming children, spilled drinks, and tantrums.
London restaurants are not all equally suited to small children, and we find that meals are served at a slower pace. Therefore, I highly recommend packing a reusable diversion for your children for a more peaceful meal!
If you want to practice reading, writing, and reflection while also engaging your child in travel, try this free downloadable travel journal.
Surprising Thing to Pack for London with Kids: #6 Rain Coat
London has a reputation for rain of course, but it also has a reputation for widely varied weather in just a short time span.
Just today, our family went from coats and long pants to sweating in the matter of an hour.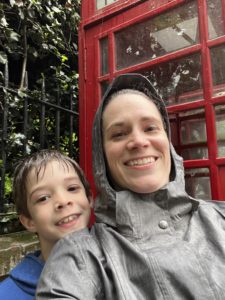 Therefore, pack rain coats for your kids to keep them dry in London drizzle and also as a simple added layer for cooler days.
I know that I don't want my three children wielding umbrellas on the streets of London, so I am glad that each of my children have a hooded rain coat for travel throughout London.
Surprising Thing to Pack for London with Kids: #7 Phone Number
My two oldest children can recite my telephone number. However, they have no idea what a country code is. (For a list of country codes, click here.)
Most children have no reason to learn a country code, and toddlers are unlikely to know your phone number at all.
In London, where the streets are crowded and busy, it is entirely possible that your children could be separated from you.
Therefore, teach your children your phone number before you leave, but also keep it on their person.
Our children wore digital watches with our contact information, but these ID bands would bring a lot of peace of mind in the event of lost children.
That way, if they are lost, the authorities will have a contact number to reach you.
Surprising Thing to pack for London with Kids: #8 Headphones and Tablet for Audio Guides
I already highly recommend tablets and headphones for your carry on when flying with young children, so you might already have this.
RELATED POST: 10 Must Haves for Flying with Children
However, I never considered needing tablets and headphones for the children for visiting sites and attractions.
In an effort to make the sites more interactive for visitors and eliminate contact between workers and tourists, lots of sites and attractions have developed their very own apps with audio guides.
For most adults, they can simply download them on their phones.
However, many attractions have a separate app or audio guide for children.
On more than one occasion I have had to surrender my own phone to my children so that they can listen to the children's audio guide because I didn't think to bring their tablets and headphones with us.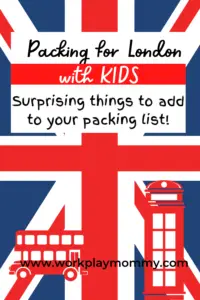 I highly recommend having a good set of headphones that split or connect if you have multiple children and a tablet or ipad for them to listen to the audio guide.
In our experience the children's audio guides were well worth the hassle, and our children really loved them.
Two of our favorites were Westminster Abbey in London and the Granada Cathedral in Granada, Spain.
RELATED POST: 48 Hours in Granada, Spain: A Recommended Itinerary with Kids
Therefore, I recommend packing enough headphones and tablets so that your children can listen along with the guides, and you can still listen to your own guide.
Things I Wish I Had Packed for London with Kids: #9 Water Bottle
Again, I always recommend flying or traveling with a water bottle for your children.
I don't know how many times we have sat down to a meal in London and the wait staff hand my three year old a stemmed water glass.
What exactly do they think will happen to that?
So, as soon as we get to any restaurant, we produce the children's water bottles to make sure that they not only have a drink but also to make sure that we have fewer spills and therefore less stress on our trip.
We also carry them around the city so that we aren't invariably asked for a drink as soon as we leave a restaurant, convenience store, or attraction.
Having a water bottle for each of the kids lets you keep track of their water intake, keeps their grubby germs out of your own water, and ensures that you aren't buying a new water bottle around every corner.
Things I Wish I Had Packed for London with Kids: #10 Tissues
Yes, you probably already carry a tissue or two in your pocket or purse for your children.
However, did you know that London has a horrible allergy season? My children are prone to sneezing fits multiple times a day as we walk through the city and the parks.
We have used up multiple boxes of tissues and have resorted to carrying an entire roll of toilet tissue with us wherever we go.
Be prepared for the usual need for tissues, but also be prepared for the horrible London allergens!
Things I Wish I Had Packed for London with Kids: #11 Hand Sanitizer and Wipes
Public transportation, hand rails, park benches, melting ice cream, public restrooms, and more…gross.
My kids touch all of the door handles, the walls, the chairs, and everything in between.
Keep hand sanitizer and wipes in your London bag to make sure that you can help reduce some of the gross factor with kids!
Things I Wish I Had Packed for London with Kids: #12 Extra Socks
Finally, London is known for its rain, yes. And rain boots might not be completely practical when you are going to walk 20-30,000 steps each day.
So, not only should you make sure that you have a couple of good pair of walking shoes for your kids in London but also socks.
We have been caught out in the torrential London rains enough to have gone through several pairs of socks in one day.
Just toss an extra couple of pairs of socks in your London bag, and you will be much more comfortable to continue touring as you go through the city.
No one wants to walk around in wet socks, and your children are going to thank you when you produce a dry pair of socks for them after being stranded in a London deluge.
Packing for London with Kids: Surprising things you might want to pack!
Sure, you have the travel-friendly clothes, the adorably matching family t-shirts, and even the travel guide.
But, did you consider these few items for London with kids?
London is a fabulous city to visit with kids. They will find new and interesting sites and attractions around every corner. But, you are sure to make your trip just a little more convenient by adding these few items that you might not have considered!