Is Club Class Level Worth It for Families On Irish Ferries?
Even after 2 months in Europe on our family sabbatical we still say that our ferry ride from Holyhead to Dublin was one of our highlights. Not only was it a beautiful way to experience the water, but Irish Ferries Club Class Level made it even better.
Booking a club level ticket made the trip even more memorable and comfortable especially as we were traveling with kids.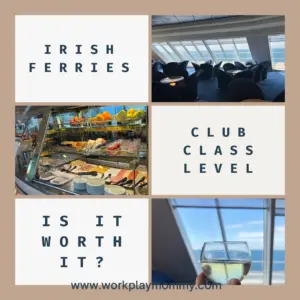 What is Club Class Level on Irish Ferries?
Our family is a big fan of staying club level wherever we go. For our family of 5 with small children, having access to food and some additional comfort helps alleviate the stress of travel in a big way.
RELATED POST: Empire State Club Level at Disneyland Paris
Booking a club class level seat on Irish Ferries means that you and your family have access to Wi-fi, entertainment such as television and newspapers, drinks, and a buffet of snacks.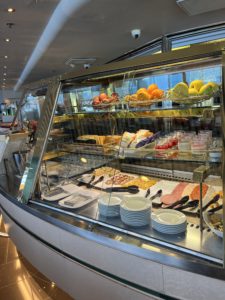 QUICK CLUB CLASS OVERVIEW:
For those of you who just want the basics, Irish Ferries Club Class is a modest surcharge upgrade per ticket. Costing between 18-21 Pounds per person, it includes:
Priority Vehicle Boarding
Exclusive Club Lounge with secured entry
Some product discounts
Private, complimentary bar
Refreshments, snacks, and soft drinks
Dedicated lounge Wi-Fi
What to Expect on Club Class Level on Irish Ferries
When our family reached Club Class Level, clearly marked on the ship's elevator and code-protected for your safety and exclusivity, we first noticed the difference in space.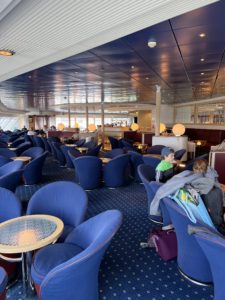 We were welcomed into a private area, separated from the common areas and private rooms of the ship, that had plenty of comfortable seating.
There was plenty of room for our family with noisy excited kiddos to have a separate space away from the other hard-working or sleeping adults.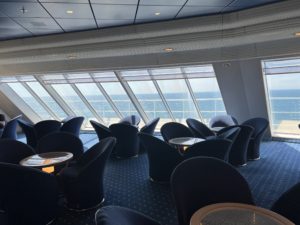 It wasn't crowded. Our family spread out in the lounge chairs, reclined, slept, ate, watched tv, and enjoyed our exclusive Wi-Fi connection to catch up on work and entertainment.
The entire atmosphere was very relaxed. Some people worked while others just shared drinks with their traveling companions.
In fact, all of our children even took a nap at one time or another as they enjoyed the views of the onyx waters below.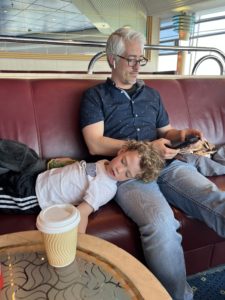 What You Get at Club Class Level on Irish Ferries
You might be less interested in the comfort and more in the value of Club Class Level. Our family paid about 20 additional pounds to book our club class level tickets. You can book it here.
To put the cost in perspective, that extra charge included more comfortable seating, better views, and reliable wi-fi. We found plenty of additional charge ports for our devices, and our children were able to create their own entertainment space for our voyage.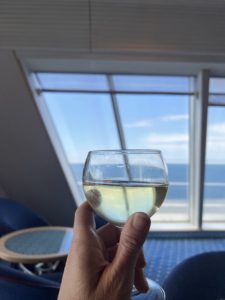 More importantly for our children, however, it meant limitless access to snacks and drinks for more than 2.5 hours.  
If we had simply purchased each of our children a pre-wrapped deli sandwich from the common store on the ship, it would have cost between 6 and 8 pounds per child. If we added a drink, cookies, or a second snack, you can see how that cost would add up.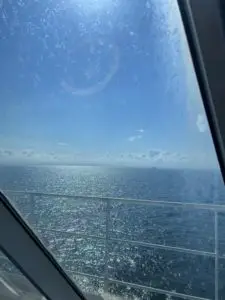 And, yes, Wi-Fi was available on the other decks…at a charge. So for our family to catch up on work and phone calls, we would have had an additional charge.
Food at Club Class Level on Irish Ferries
At Club Class Level, on the other hand, my children ate constantly for 2.5 hours adding to the peace of the trip! Plus, my husband and I enjoyed 3 glasses of wine, 3 lattes, and 1 beer in that same time.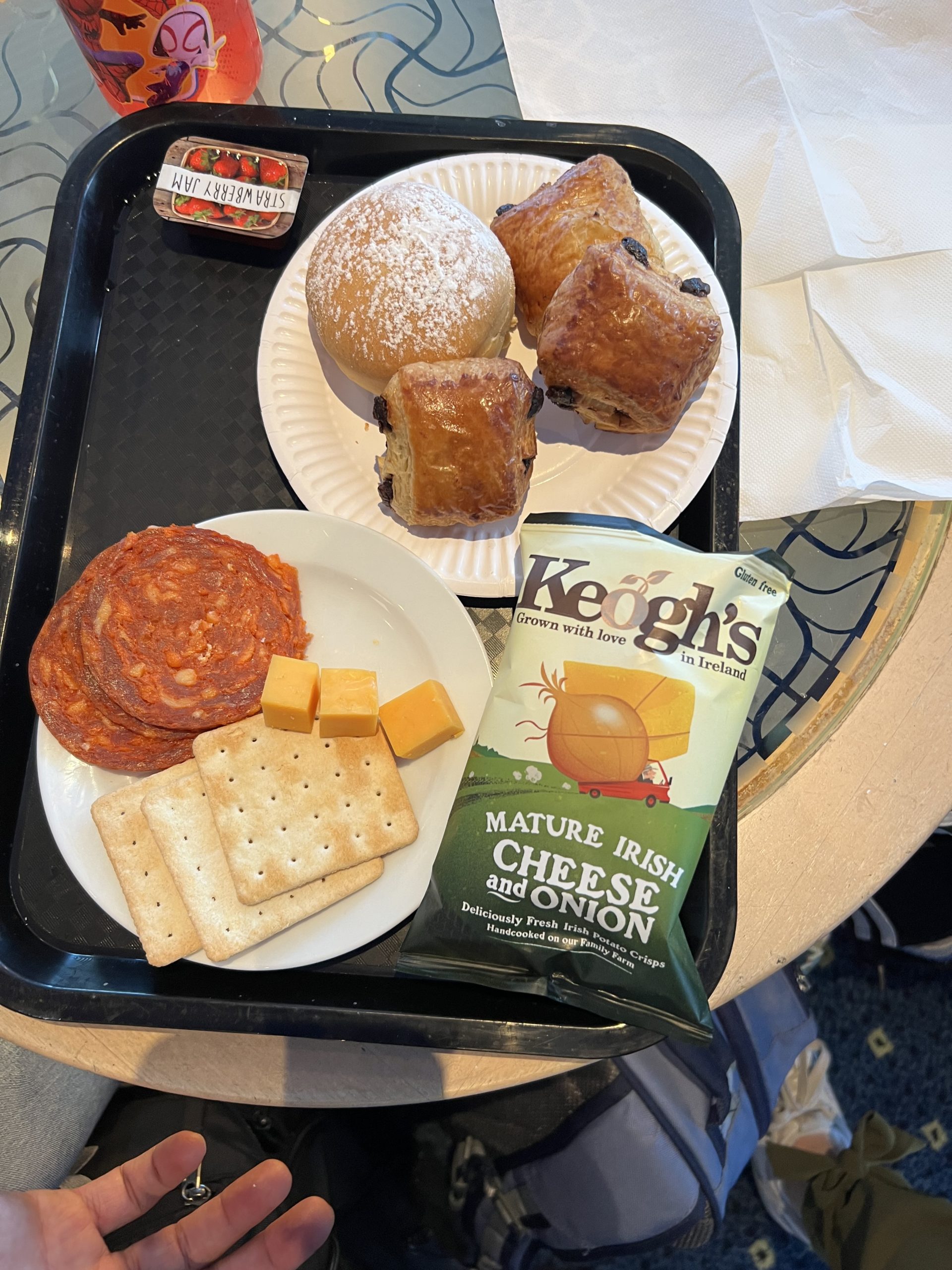 We could not have carried on as much food as we ate, nor would we have spent the money to have the same food.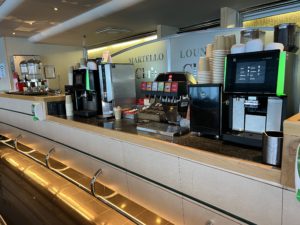 All in all, the Club Class Level was more than a value for our family. And, after spending the entire day lugging suitcases across the U.K. from train transfer to train transfer to ferry transfer, a relaxing atmosphere with endless snacks was a welcome reprieve!
And don't forget the breathtaking views!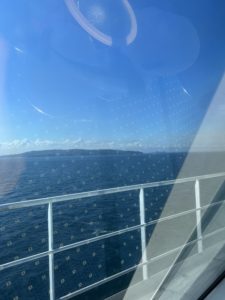 How to Book Club Class Level with Irish Ferries
Most of the ferries that we considered booking had a club level, room options, or upgraded accommodations of some sort. Club Class can be booked at the time of booking your ticket, but some of the people in the lounge had upgraded upon boarding.
The Irish Ferries site encourages you to book club level early as it does sometimes sell out, but when available, you can upgrade on ship.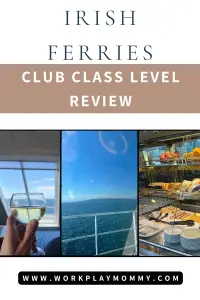 Is Club Class Level Worth it on Irish Ferries?
For our family, club class level was resoundingly worth it. Our family ate, reclined, relaxed, and drank to our hearts' content.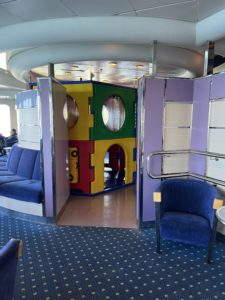 Our children were happy and out of the way of the aisles of seating in the main areas.
And, the parents were happy because our children were happy, but the Wi-fi connection and food were also a major perk!
All in all, I highly recommend Club Class Level for any family traveling with kids who needs an oasis in their busy travel day.