Unexpected Disney Resort Perks that Might Help You Recover from Disney Sticker Shock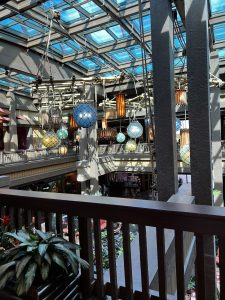 You might be in sticker shock when comparing Disney resort costs to other off-property accommodations. However, I am here to tell you that staying on-property can be worth it for a lot of reasons. Here are 10 magical benefits of staying on Disney property that might not be readily apparent when making your reservations.
10 Magical Perks of Staying on Disney Property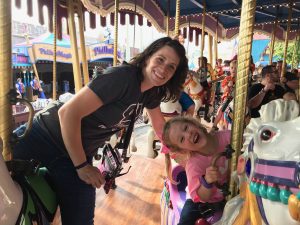 1. Extra Magic Hours
Guests of certain resorts are privy to one of the best resort perks at Disney: Extra Magic Hours! Extra Magic Hours are the times before or after regular park opening and closing that are exclusive to resort guests.
Not everyday has Extra Magic Hours for every park. In fact, you will want to take into consideration which parks have hours when making your park plans.
If you are staying at a deluxe resort you might have an extra hour in the morning and 2 extra hours in the evening to enjoy the rides without the crowds.
Before you dismiss this as an insignificant perk, I like to plan the busiest rides for Extra Magic Hours so that I am sure to get on.
On our last visit during Extra Magic Hours, my children rode more rides in 2 hours than they did the entire day including the Seven Dwarfs Mine Train 3 times!
If you aren't sure you can make it through the entire day to enjoy 2 more hours, you are not alone. You and the other resort-staying smarties now have the ability to take a convenient midday break!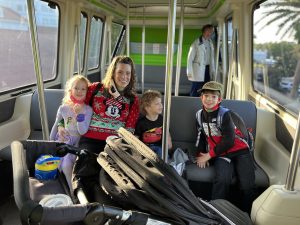 2. Transportation is Figured Out for You
If you stay at a Disney resort, transportation is taken care of for you. Regardless of whether you stay at a value, moderate, or deluxe resort you have transportation to every other resort, park, or even Disney Springs included with your stay.
This means no parking, no driving, no dealing with traffic, and no dealing with the hassle of having a vehicle in all of those places.
I love being able to simply sit back and enjoy the ride while someone else takes care of the navigating, traffic, and parking!
When you stay at a resort, you can put your keys away for the duration of your stay and let the Disney Crew Members do the rest!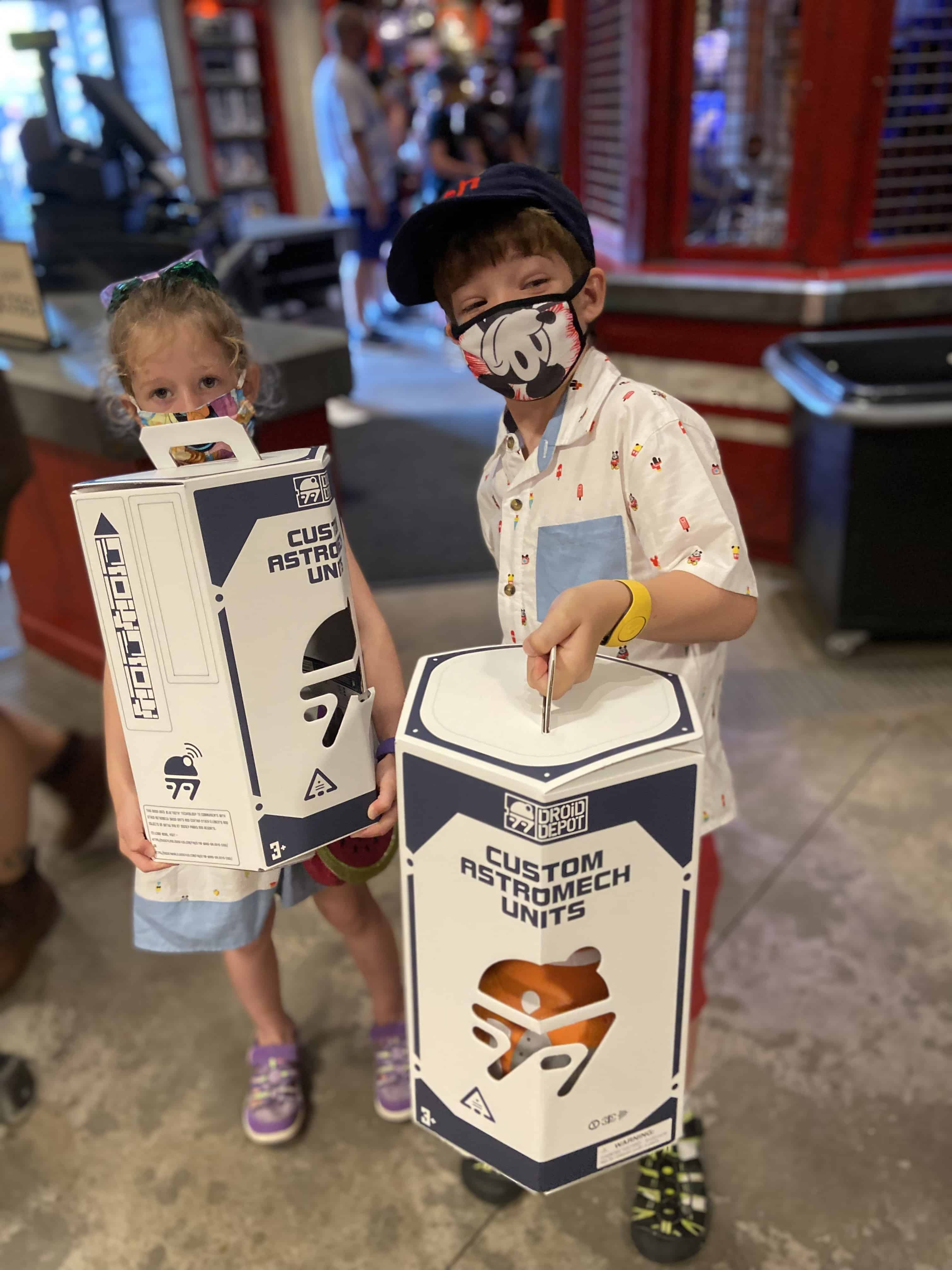 3. Merchandise Delivery to Your Resort
Ok…I hate to even talk about this one because it is on-again off-again. Prior to the pandemic, you could purchase merchandise anywhere in the parks, and it could magically be delivered to your room.
This was great for those big, bulky, heavy, or fragile purchases that you didn't want to lug around the park all day.
However, as of the beginning of 2023, this service was suspended again.
We are unsure whether this perk will return, but if anyone is taking my vote, I hope that it does!
In any case, being able to deliver your merchandise back to your resort via the convenient resort transportation is a whole lot better than having to lug it around all day. Lockers are also available at the front of the parks.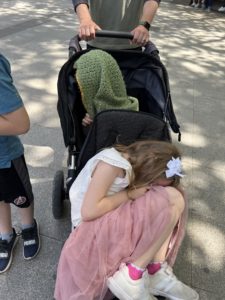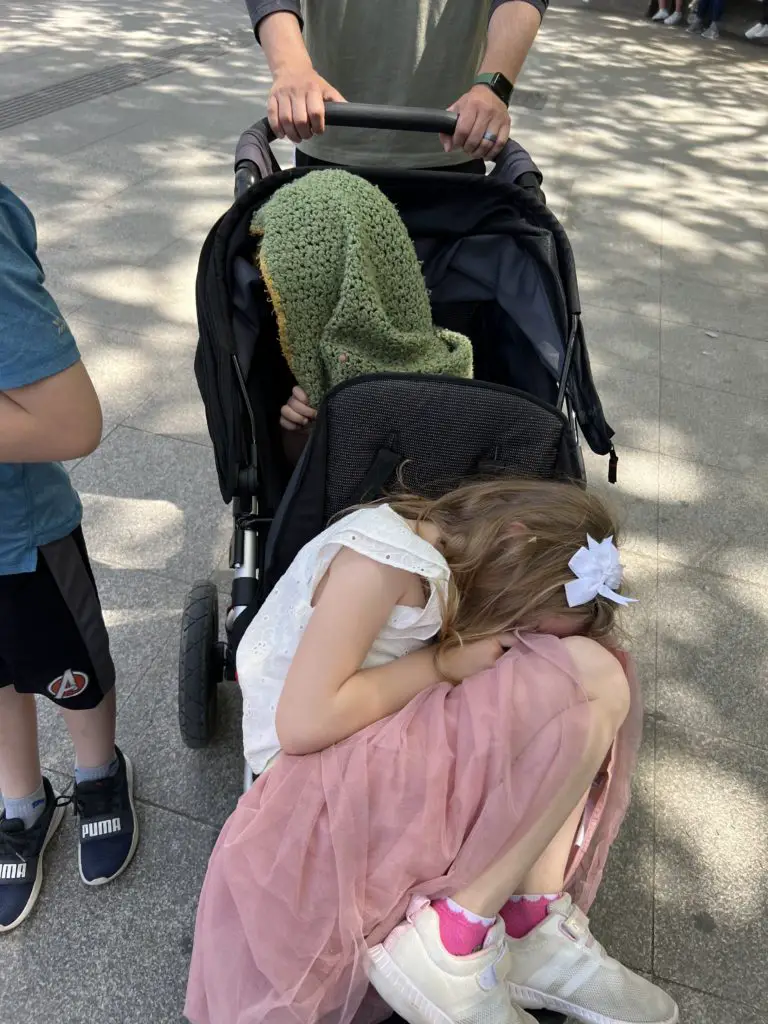 4. Midday Break Made Easy
If you were concerned about my earlier comment about Extra Magic Hours because you don't think you have the endurance for that sort of marathon, let me tell you about the beauty of midday breaks.
Florida heat and Disney crowds reach their peak around the midday hours. If you have Extra Magic Hours and a convenient ride back and forth to your resort, you can easily sneak in a midday break or even a nap.
I rarely spend a day at the parks without taking my small kiddos back to the room for a nap. After a nap, some air conditioning, and snacks, they are prepared to spend the rest of the day at the park, to watch the fireworks, and to make it through those Extra Magic Hours!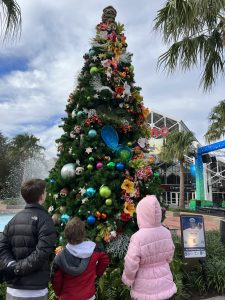 5. Impeccable Customer Service known as Pixie Dust
It didn't take many stays at the Disney resorts to find out that the level of customer service is above and beyond that of other hotels.
Disney Resort Cast Members are quick to help and go above and beyond the call of duty. Commonly referred to as Pixie Dust, these Cast Members can take your stay from mundane to magical.
Even at value resorts, we find that staff go the extra mile to help us solve problems. And, the staff at deluxe resorts are the cream of an already excellent crop.
Stay on-property at Disney to experience world-class service and customer care.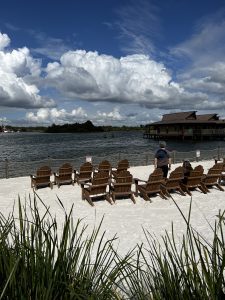 6. Free Parking
Resort guests are now privileged with FREE overnight guest parking! This means that you park once and pay no resort or park parking fee!
Up until recently, parking at resorts could cost you upwards of $34.00 per night, which was then credited against your parking at the 4 major parks. (Disney Springs also has free parking.)
However, in 2023, that onerous tax was lifted, and now resort-goers can park the car for free, ride the WDW transportation, and never pay for parking during their stay.
This is a huge savings especially when you consider that parking at the theme parks ranges from $25.00-$50.00 per day depending on your vehicle size. So, go ahead and reduce that Disney resort price in your head by the number of days you are at parks and the cost of parking.
Further reduce that price by the sheer fact that it is a miserable walk and tram ride from the Disney parking lots to the entrances.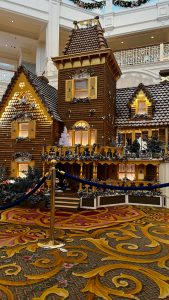 7. Easy Airport Transfer
While we no longer have the Magical Express to wisk us directly from the Orlando airport to your specific resort, there are still several simple airport transfer options.
If you are staying at an Airbnb, other hotel, or other accommodation, you will likely need to rent a car, drive yourself, or order a series of ride transfers.
If you are staying at the Disney resorts, you can book a ride on Mears Connect and the Sunshine Flyer, which have recently joined forces and connect you to your resort for as little as $15.00 per adult.
Of course, you can still book an Uber, Lyft, Minnie Van (if staying club level), or a rental car. However, I prefer to let someone else do the driving through Orlando traffic.
I find that staying on-property at Disney is made even better by having access to these super simple transfer services.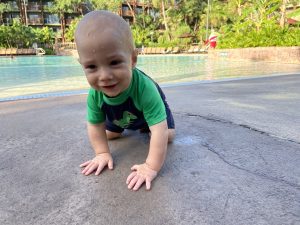 8. Bottomless Drink Packages
You won't spend long at the Disney resorts before you notice people carrying around special character-themed refillable beverage cups.
Each resort offers the option (at a cost) of bottomless refillable beverages during the course of your stay.
Yes, you can always access free water, but the beverage stations located at the resorts feature cold, soft drinks, teas, lemonades, and more.
Many people refill their cups resort visit after visit and find the perk among one of their favorites! No need to purchase drinks from the local store, lug it around, or keep it cold.
Most resorts keep a convenient beverage station near the pool for those hot days of lazing at the resort.
Note: you cannot use the resort cups at the parks, so plan your beverage package accordingly.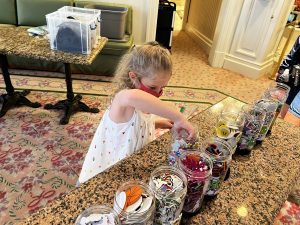 9. Resort Entertainment and Activities
Did you know that in addition to the grounds, amenities, and great service, each resort also keeps its own events calendar.
Related Post: 31 Magical Activities to do at Walt Disney World that Don't Require a Park Ticket
Play music trivia by the pool, join a fun run, or maybe even roast smores next to the lake.
Your resort stay will also include loads of extra activities for the entire family. Many resorts even offer outdoor movies after sunset!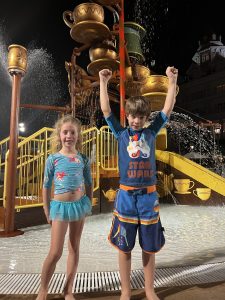 10. Pools, Splash pads, Playgrounds, and More
Disney resorts are more than just comfortable, convenient accommodations, they are also fun, exciting places for the entire family.
The pools, splash pads, playgrounds, and sports facilities mean long days of lots of funs.
Many resorts have more than 1 pool. The Grand Floridian actually boasts 3 different swimming/splashing areas!
The Animal Kingdom Lodge features a giant zero entry pool complete with jungle slides all while viewing the Savannah!
At Caribbean Beach resort you can swim among the remnants of a pirate wreck or speed down temple ruins!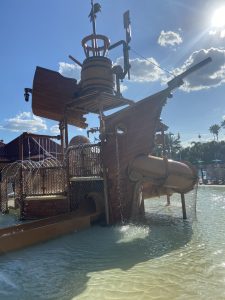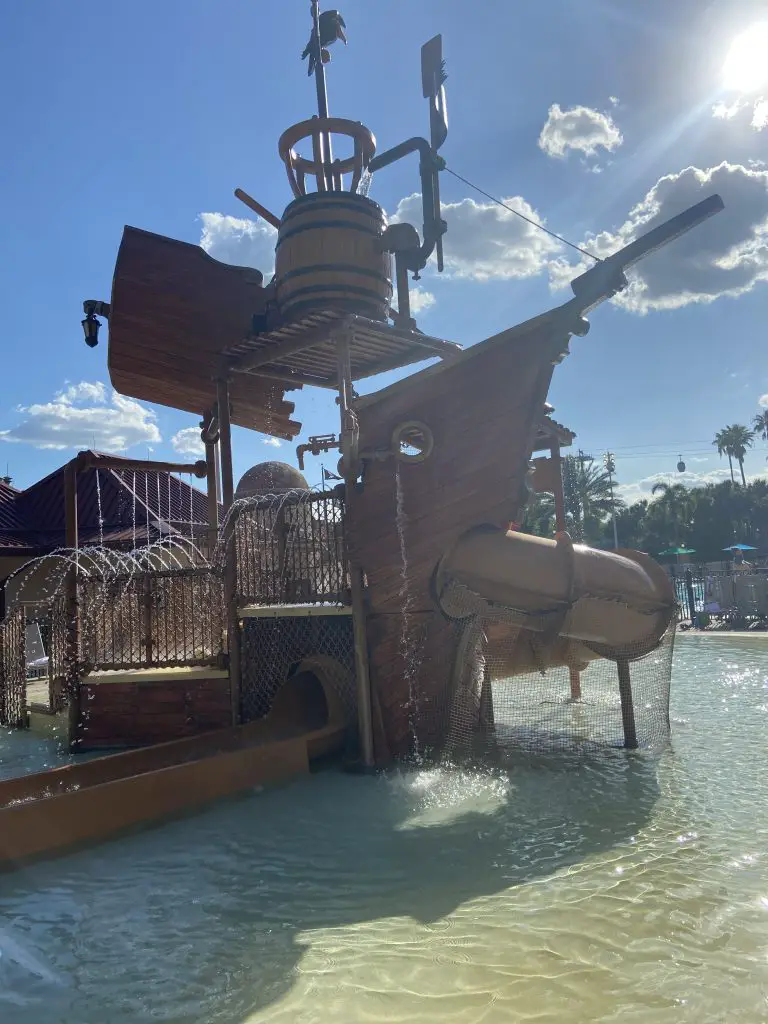 Don't forget the playgrounds and sports facilities where you can enjoy beach volleyball, basketball, tennis, and more!
The resorts aren't just about a cozy place to sleep or a convenient ride to the parks, they take the entertainment of their guests seriously.
Your on-property Disney resort stay gives you access to a plethora of fun activities in addition to the convenience and Pixie Dust!
On-Property Disney Perks that You Might Not Have Considered
Perhaps you spotted that Disney sticker price and nearly fainted. However, have you considered all of the extra perks of staying on-property at Disney?
There are loads of reasons that staying on-property at Disney might be worth the extra money. However, if you still aren't convinced, consider staying DVC to save huge on your resort stay.
What is DVC, and What Should You Know Before Renting DVC Points.
Or, if you are interested in other mom hacks for actually enjoying your trip to Walt Disney World with small children, then check these mom hacks (including staying on property) out!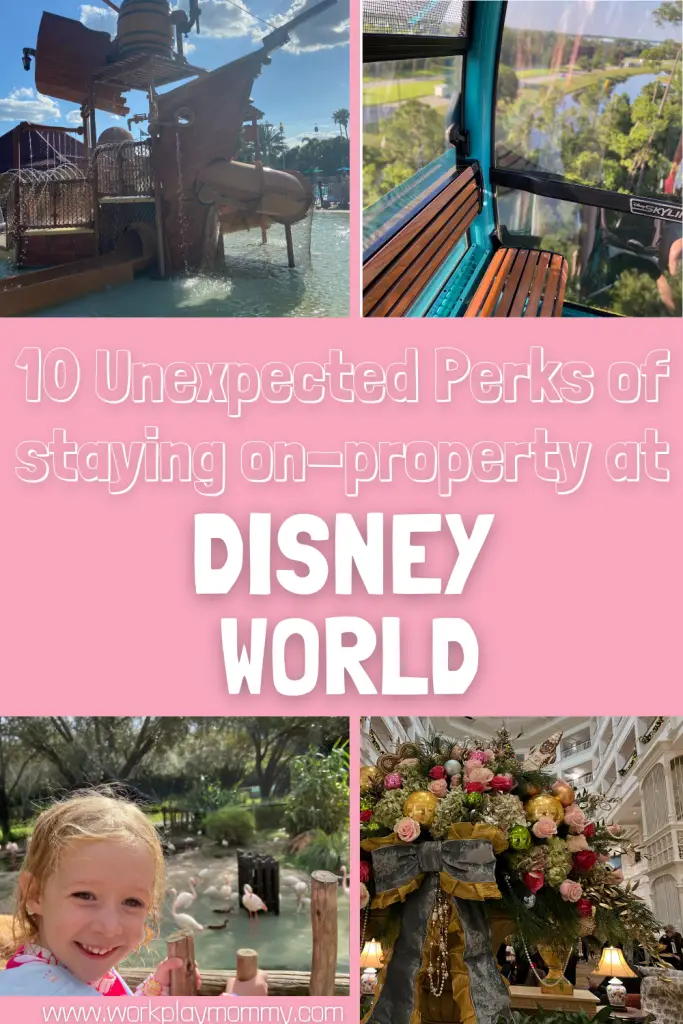 YOU MIGHT ALSO BE INTERESTED IN: