What you should know before renting DVC points from a mom who rents DVC points.
DVC points are a great way to do Disney cheap, on a budget, or just in the lap of luxury. However, you should be aware of several pros and cons of renting Disney Vacation Club points if you are a first-time renter.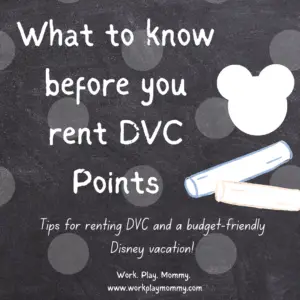 Some of those pros, cons, and considerations of renting DVC points include:
Staying at deluxe resorts at bargain prices
Having deluxe resort and DVC perks
Being a guest of the owner
Not being in control of the reservation
Using a contract
Understanding home resort
Differences between confirmed reservations and points
Communicating with the owner
Using brokers
Money savings
Cancellation and refund policies
DVC perks, discounts, and pricing
I will discuss each of these in detail below. However, you might be wondering whether you can even trust what I have to say.
My Experiences Renting DVC Points
First, let me tell you that I am not selling anything but my personal experiences and information gained. I do not work for the DVC rental companies or own DVC.
As a mom who loves Disney and planning my family budget-conscious Disney vacations, my favorite mom hack is using DVC points for a trip covered in pixie dust.
RELATED POST: Top Ten Mom Hacks for Disney with Small Children
My toxic trait might be over-researching. I certainly wouldn't want all that research to go to waste! Plus, our family has stayed DVC numerous times and hopes to do so again in the future.
So, between all of my research and my personal experiences, I want to share these pros and cons of renting DVC points for your family Disney vacation.
Before we get to the pros and cons however, you might be wondering what in the world is DVC.
What is DVC?
DVC is short for Disney Vacation Club. The Disney Vacation Club is a timeshare program where Disney Vacation Club members purchase a portion of a deluxe Disney resort. They purchase that portion in the form of points.
Each purchaser has a use year, a certain number of points, and a home resort among many other options and details.
Not all DVC owners, however, use all of their points every year. Therefore they have 3 options for what they can do with the points if they do not use them all.
The owner can bank them, lose them, or rent them.
That's where you and I (the non-DVC renter) come in.
We, as non- DVC members have the ability to rent those points directly from the owner or through a resaler like David's Vacation Rentals or DVC Request.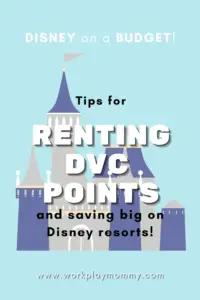 What does it mean to rent DVC?
When you rent or buy DVC from a DVC owner, you go as a guest of the DVC owner (see more about being a guest below). This means that your DVC owner is more or less your travel agent. The owner books your room and dates for you at the DVC resort.
The best part of renting DVC is that you can often get reservations at ordinarily exorbitant deluxe resorts for the mere cost of value resorts.
For example, our family stayed for a week as Club Kilimanjaro guests at Animal Kingdom Lodge for the same price as a value studio
(If you are interested in more information about club concierge levels check out my review of Hotel New York's Empire State Club)
Likewise, our family enjoyed a dedicated reservation for the Grand Floridian during the Christmas season for less than off-property resorts.
Can I Save Money Renting DVC Points, and How Much do DVC Points Cost?
Regardless of how much money you can save staying on DVC points, the fact remains that Disney is EXPENSIVE.
Even the most budget-conscious among us have to agree that Disney World is not going to be a cheap family vacation.
Therefore, you must approach DVC rentals with the knowledge that the savings are relative to off-the-rack room rates directly through Disney.
For example, our family stayed at a Grand Floridian Deluxe Studio Villa for less than $300 per night. The same room booked directly through Disney was more than $800 per night.
Therefore, I acknowledge that $300 per night is not a cheap hotel room. However, it is far cheaper than the rack rates charged directly through Disney.
Prices of DVC Rentals
 Most of the time you will find point rentals range between $18 and $21 per point (higher for peak times like Christmas and New Years, and higher for Grand Californian). However, that price can vary.
The price of the point is only a small part of the equation. The room type, resort, location, time of year, and even the length of your reservation can all impact how many points your family needs.
Specifically, most of the time, you need far fewer points to stay at Old Key West than Grand Floridian. Plus, a two bedroom villa is going to run you far more points than a parking lot view studio.
So, as far as money savings, DVC is a great way to pay a fraction of the cost for a Disney deluxe resort. However, if you are looking for the absolute cheapest way to experience Disney World, you are still going to find the best deal and cheapest options in off-resort properties.
Now you know what DVC is and that it can be a great money saver. You also now know that you can experience the benefits of the deluxe resorts.
Now you need to know the pros and cons of renting DVC.
What You Should Know Before You Rent DVC Points
1. When you rent DVC points, you are a guest of the owner.
Unlike booking through an agent or the Disney websites directly, when you book through Disney Vacation Club owners, you work through an owner or reseller.
The benefits to this is that you may have yet another person to ask your thousands of Disney-related questions.
However, the drawbacks are that your actions, experiences, and surcharges go back to the owner.
In other words, if you upgrade at the check-in desk, charge a meal to your room, or break something, the owner could be charged for your actions.
DVC owners are sometimes cautious about their renters because they are concerned about how their rental experience will reflect on their DVC ownership.
Don't be surprised if the owner you are working with asks for other DVC references. Your owner might also want to chat with you and get a feel for your level of responsibilities.
Some DVC owners restrict the age of the renter and will make it very clear that incidentals or accidents will be charged to you.
2. When you rent DVC points, you are not in control of the reservation.
In the same vein as #1, when you rent DVC points, you are not the person who makes the reservation. Instead, your DVC owner will make the reservation in his or her own name and then transfer the reservation to you.
Anytime you book DVC, you will want to make sure that you have your My Disney Experience app setup. But, it is especially important when renting DVC to check on your reservations from time to time. You can load your DVC confirmation number into the app to monitor it.
Sadly, there are some DVC scammers that make a reservation, transfer the reservation to the guest, take the reservation money, then cancel the reservation.
And because the renter is not the one in control of reservations or modifications, the renter is not able to control the owner. Therefore, it is especially important to work with a DVC owner who you not only trust but who has good references and uses a CONTRACT.
3. Always use a contract when you rent DVC points.
A good and experienced DVC renter is going to use a rental contract for your transaction. This contract will explain the fees, charges, terms, conditions, limitations, and even restrictions of your rental.
I would recommend that you never work with a DVC owner who doesn't use a contract. In fact, if you do not have a personal relationship with your DVC owner, then I would further suggest that you use a secure payment method and travel insurance. Use PayPal or another third-party payment to further protect your transaction.
Some important terms that you should find in your DVC rental contract include:
When payment is due
Method of payment
Fee and tax allocations
Cancellation terms
Refund terms,
Names on your reservation,
Payment plan schedule if applicable,
And more depending on your stay/needs.
4. Understand Home Resort and Plan Early with DVC
One of the biggest surprises I faced when planning my first family Disney trip was how early all of the bookings needed to be completed.
In my life, I rarely know what I am doing tomorrow let alone 11 months from now.
However, in a Disney vacation, the earlier the better. In fact, you should be prepared to start making reservations by 11 months out from your trip.
That means that you should start planning more than an entire year in advance.
If you are going to use DVC points to book your Disney vacation, then you need to understand that each owner has a different home resort. If you know that you want to stay on a monorail resort such as the Polynesian, Grand Floridian, or Contemporary, and you want to stay at a peak time, you want to find a renter whose home resort is one of those locations.
An owner is eligible to book at his or her home resort 11 months in advance.
For example, I knew that I wanted to register for the Disney Marathon and that the reservations go early for top dollar. Therefore, I found an owner at my desired location and asked them to make my reservation at midnight on the opening day of eligibility 11 months out.
Even then, we did not get our desired room. Rooms can book fast.
Other high peak times include Christmas week, Thanksgiving week, and Easter week among other high-traffic events.
Owners can only book at non-home resorts 7 months out.
This means that if you have little preference for location, your owner can research what resort is available 7 months out and simply book what is available (if anything).
If you want to book only 7 months out, you need to understand that many high-demand reservations will already be booked, and availability will be limited. In fact, some DVC owners make it a habit to book high-demand reservations and then post them for sale. This is known as a confirmed or dedicated reservation.
However, non-premium points at non-home resorts usually sell cheaper. That means that if you are more flexible, you are more able to save more money.
Honestly, in my own opinion, I prefer renting a confirmed reservation instead of renting the points and wondering about availability.
5. Understand the difference between renting points only and renting a confirmed reservation.
If you do not want to mess with purchasing points and hoping for availability, you can also purchase confirmed reservations.
To purchase a confirmed reservation, you will likely need to be a little flexible.
Some owners prefer to simply make a reservation and post the availability of the reservation online or with third-party brokers.
When you purchase a confirmed reservation you already know the room type, the total cost, the resort, and the reservation dates. Some owners might be willing to make small changes to the reservation. For the most part, however, confirmed reservations are usually as-is.
For that reason, they are sometimes an even better value than renting points only because you have little flexibility.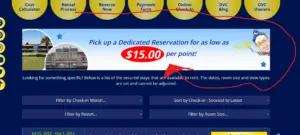 On the other hand, if that confirmed reservation is on a high-peak time, then the owner knows that he or she will be able to charge a premium for it.
However, note that usually that rental charge is still going to be far cheaper than the rack rate.
But, how do you find DVC confirmed reservations? You could use an owner you know or trust. But, if you don't know an owner, then you can use a third-party broker such as Davids's Vacation Club Rentals or DVC Rental Store.
6. Top Third-Party DVC Brokers
Although you can find many groups or organizations that coordinate DVC rentals and contract resales, there are 2 main DVC brokers. The 2 most reputable brokers are Dave's Vacation Club Rentals and DVC Rental Store.
Both of these companies rent DVC points as a broker between interested renters and owners. Further, both companies also keep a long list of confirmed reservations.
If you can find a reservation that meets your wishes for your family trip (usually less than 11 months out), you can simply make a rental request through one of these brokers.
Using one of these resellers/brokers is a great way to protect against fraud. It is more secure as you can prevent changes in the reservation. Plus it takes some stress out of the process because someone is willing to help you muddle through your first rental.
Using a broker can be a great way to give yourself peace of mind if you are concerned about the potential of fraud and scams in renting DVC.
Because DVC Rental and Dave's DVC rental actually receive the points or reservations themselves, you don't have to worry about working with an individual owner.
Use the DVC Rental Calculator to Determine How Many Points You Need
Plus these sites offer other perks such as one of my favorite tools –the DVC Rental Calculator and incredibly responsive staff.
Communication is so very important in the DVC rental process. Knowing that you have round-the-clock access to your broker is a great way to alleviate just a little bit of the stress of Disney planning.
I know that I had loads of questions during my first DVC rental. Communication is an important part of the entire process.
7. A Good DVC Owner Will be Willing to Communicate with You
Therefore, if you want to have a positive DVC point rental experience, don't rent from any owner who isn't willing to do just a little bit of hand-holding. This is especially true if this is your first time renting.
I mean, you are going to potentially give them thousands of dollars to make a reservation for you. Then you will relinquish all control over the reservation and never meet the person face to face.
Therefore, any owner you rent from should be willing to be communicative even while you are on your trip.
For example, my first DVC owner was willing to call me to walk me through the process. She confirmed her ownership through the Florida comptroller and was available to me during the length of my stay in case any issues arose.
I have even heard of DVC owners who send welcome baskets to their renters and who assist with planning tickets and reservations.
If the DVC owner is not willing to communicate with you both before and during your trip, then move on to a different owner!
You will also want to move on from DVC rental if you are concerned about having the cheapest trip possible.
8. DVC Is Not ALWAYS the cheapest option
For those of you who are adamant that you will have a Disney vacation in the very cheapest way possible, DVC is not always the better deal for you.
Disney World has 3 tiers of resort accommodations: Value, Moderate, and Deluxe.
From personal experience, I can tell you that you will be covered in Pixie Dust at any stay, but a Deluxe resort is heads and shoulders above the value and moderate stays.
RELATED POST: Hotel Santa Fe: A Budget-Friendly Resort for Disneyland Paris
Remember, for the most part, DVC is renting from deluxe resorts and does not include the value or moderate resorts. Therefore, remember to compare cost apples to cost apples.
You can often find DVC rental prices at some resorts such as Animal Kingdom, Old Key West, or even Saratoga Springs that rival or beat value resort prices. But, the same might not be true of Grand Floridian, Polynesian, other monorail resorts, or Copper Creek.
RELATED POST: Is The Grand Floridian too Fancy for Kids?
In other words, if you compare rental rates for monorail resorts with value resorts, you might find that you save at a value or moderate resort. Be sure to understand the range in prices even among DVC renting.
This is especially true if you are booking a package that includes tickets, meal plans, or other perks. Those package deals might further reduce your overall Disney cost. You might not have the same perks as the packages because when you rent DVC points, you are not eligible to receive all DVC perks.
9. Renting DVC points does not give you access to all DVC perks
DVC membership includes some great perks including:
Reduced park ticket prices
Restaurant Discounts
DVC-only special events
Free Parking passes
Store Discounts
And more
Guests of DVC owners are not eligible for all of those DVC perks. So, do not rent DVC points in the hopes of standing in the shoes of the DVC owner and thereafter receiving special treatment, reduced tickets, or other DVC perks.
Renting DVC at a deluxe resort, on the other hand, does give you some perks that you won't find at every other value or moderate resort.
For example, currently the parks have been hosting extra theme park hours and early opening for guests of deluxe hotels only. For this perk, you do not have to be a regular rate guest but can be a DVC guest.
While some Disney tips will tell you to avoid park entry on days with Deluxe resort early entry and late hours, I won't tell you that if you are booking DVC.
Our family has had tremendous opportunity to have extra time at the parks long after the fireworks riding coasters in a nearly empty park.
On our last DVC stay, we rode the 7 Dwarfs Mine Ride at Magic Kingdom, which had a 1.5 hour wait earlier in the day, 3 times in less than 20 minutes. It was SOOOO fun.
In short, if you book DVC you will get the perks of deluxe resort guests but not the perks of being a DVC member. However, you will benefit from the perks of staying in a villa! Why would you want a villa?
10. Most DVC Villas include kitchenettes
If you are at all concerned about saving where you can at Disney, you will be very pleased to know that every DVC I have ever booked, and nearly all DVC villas have either full kitchens or a kitchenette.
Even the studios have a kitchenette with refrigerator, coffee maker, microwave and other small kitchen conveniences.
I find the access to even just a kitchenette to be a major benefit of staying DVC rather than in standard Disney hotel rooms.
I am able to refrigerate leftovers for later, make popcorn for a snack, or even enjoy a cup of coffee in the room rather than spending $5.00 in the park.
At our last stay, I was delighted to find that Joffrey's 50th Anniversary blend was fully stocked in our DVC villa!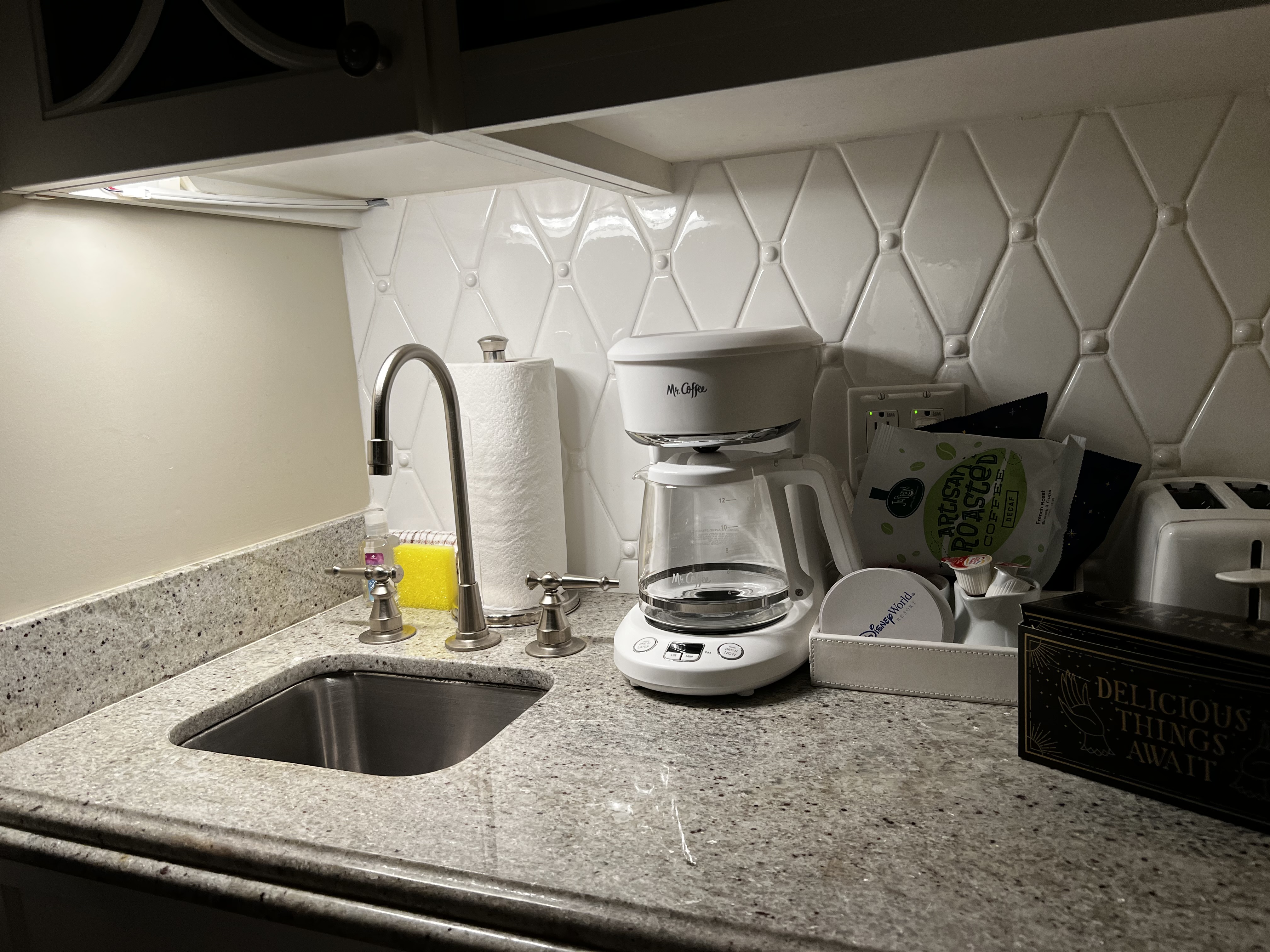 If having a kitchenette is at all important to you, then you will be all the more happy to stay on DVC points.
Remember though you won't have the same cancellation or refund policies as staying through Disney though.
11. You Might Not Be Eligible for Cancellation or Refund Under DVC Rentals
Finally, you should note that because you are working directly with an owner or broker rather than Disney itself, you might have very limited cancellation or refund terms.
While Disney often boasts a very generous refund and cancellation policy even up to 24 hours prior to your stay, renting DVC is not the most flexible option. Your DVC owner is unlikely to be so generous.
You are booking with that owner 11 months out, and they are giving up an opportunity to rent to someone else. If you cancel, many DVC owners are unwilling to give you a refund.
If for some reason you need to cancel, I recommend offering to find a replacement through some of the DVC rental boards to at least recover some of your funds.
If you are unsure that you will be able to make your Disney reservation through DVC, then DVC isn't right for you. Be sure that you understand your owner's cancellation and refund policies before you book with them!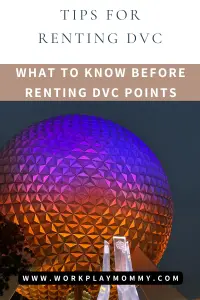 DVC Pros and Cons: Know Before You Book
As a repeat DVC renter, I am unlikely to ever return to the rack rates of Walt Disney World Resort by choice! I extol the cost savings, convenience, added benefits, and even added luxury of booking DVC.
However, DVC isn't for everyone and there are plenty of things that you should know before you book DVC.
Understanding that you are a guest of the owner, that you are not in control of your own contract, the difference between 7 and 11 month rentals, and how to decipher between point rentals and confirmed reservations are good places to start.
Disney Vacation Club is a timeshare program, and you are always going to be limited to the DVC owner's contract, but, all in all, I find that renting DVC is by far the best way to do Disney especially if you want luxury on a budget!