EPCOT WITH KIDS: TIPS FOR VISITING EPCOT WITH YOUNG CHILDREN
You plan your days, your meals, your rides, your character meet and greets. Then, you turn to planning your day at Epcot. If you have small children, Epcot requires a different set of plans. Here are my top tips and mom hacks for doing Epcot with small children.
I love Disney, my kids love Disney, and my husband loves Disney. It seems like everything Disney touches turns to gold. However, Epcot is currently like the tag-along little brother –the Cooper Manning of Disney parks. It is amazing all on its own, but is underachieving next to Magic Kingdom and Hollywood Studios.
Taking young children to Epcot requires a different game plan. It isn't a smorgasbord of colors, movement, and parades. Instead, it is more refined, calmer, and more mature.
That is not to say that children can't have a GREAT time at Epcot. Even with a full day at Epcot, you will not get to all of the toddler and child-friendly attractions.
However, without planning, you could easily spend the day walking in enormous circles just to find your children bored, and your legs exhausted.
RELATED POST: For my top ten ultimate travel hacks for moms, including stroller hacks, at Disney, check this out.
After taking my 3 small children to Epcot a couple of times, I knew that I needed a new game plan. So, these are my top 10 tips for Epcot with small children.
1. Get the popcorn bucket
You will find this hack on my ultimate top ten Disney hacks for moms, but I always recommend the reusable popcorn bucket. You can fill it at any popcorn vendor for only $2.00 per bucket. This means that your children are not constantly asking for snacks that cost $6.00 per item and only feed one. Instead, your kids can chow to their delight on freshly popped popcorn for a small fraction of the cost of any Disney treat.
The popcorn bucket is even more important at Epcot:
Epcot Popcorn Bucket pro tips:
Epcot still has more than one flavor of popcorn. If your kids want a break from the standard flavors of popcorn, you can find maple popcorn in Canada.
Another reason the popcorn bucket is so important for your sanity and your wallet is that Epcot is known for its food festivals. From Cajun mac n cheese to lobster rolls, my husband and I eat like pigs.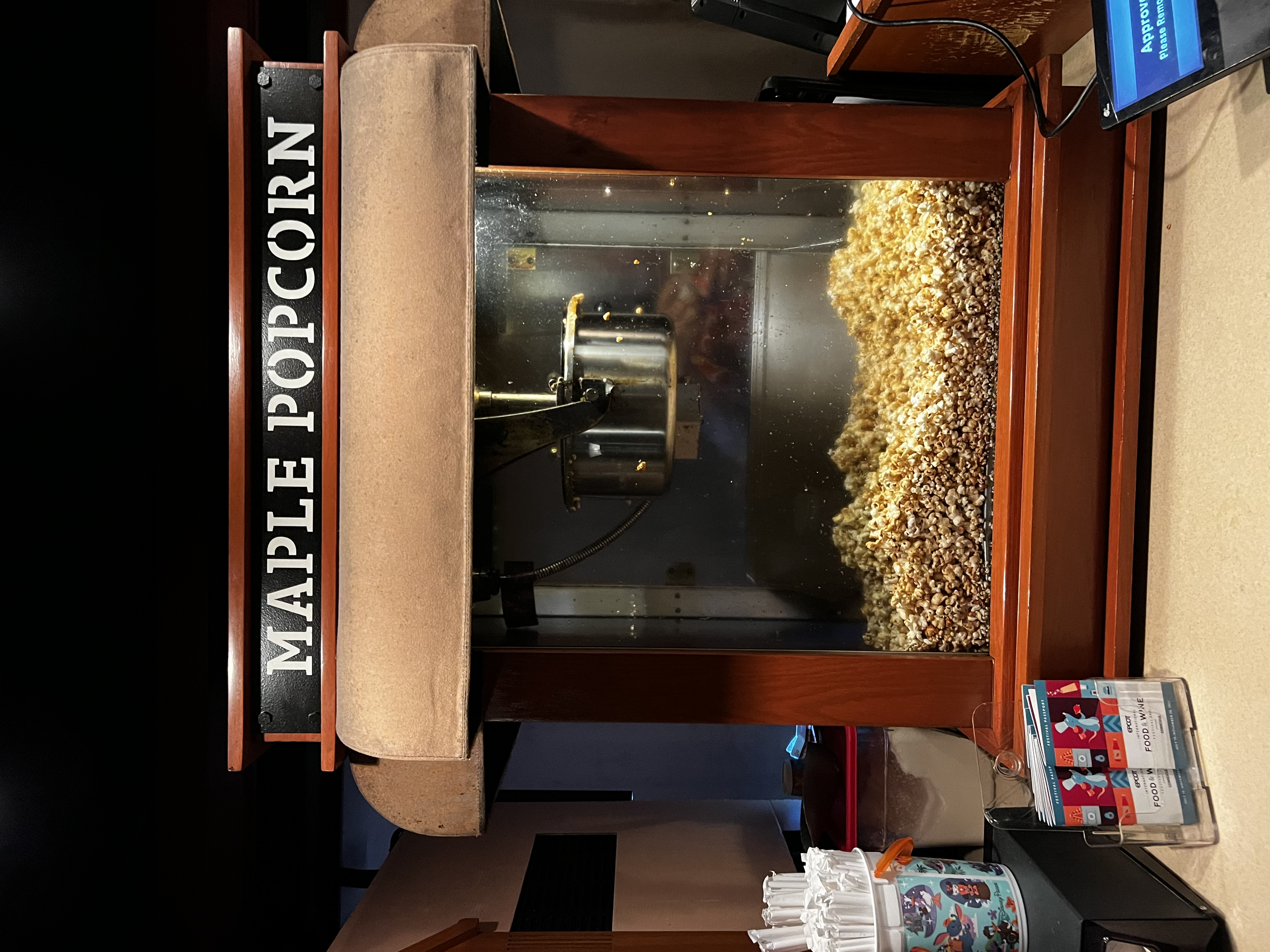 However, my kids hate the festival food. It is always a little too sophisticated for them. So, we stopped buying them fancy Mac n Cheese and let them continue to eat popcorn for the evening. My kids and my wallet were all happy!
Epcot Mom Hack: Buy the reusable popcorn bucket.
2. Fireworks
Much like the Magic Kingdom fireworks, the Epcot water, fireworks, light, and movie spectacle is a can't-miss.
Not only is the show entertaining for the entire family, Epcot cleverly uses lights, music, water, and screens to bring Disney movies and characters to life in a beautiful blend of uplifting themes.
While at Magic Kingdom everyone groups together under the castle to get the closest and least obstructed view, Epcot boasts the entire World Showcase. Any post along the fence around the World Showcase will give you a clear view of the show –much simpler for a family with small children.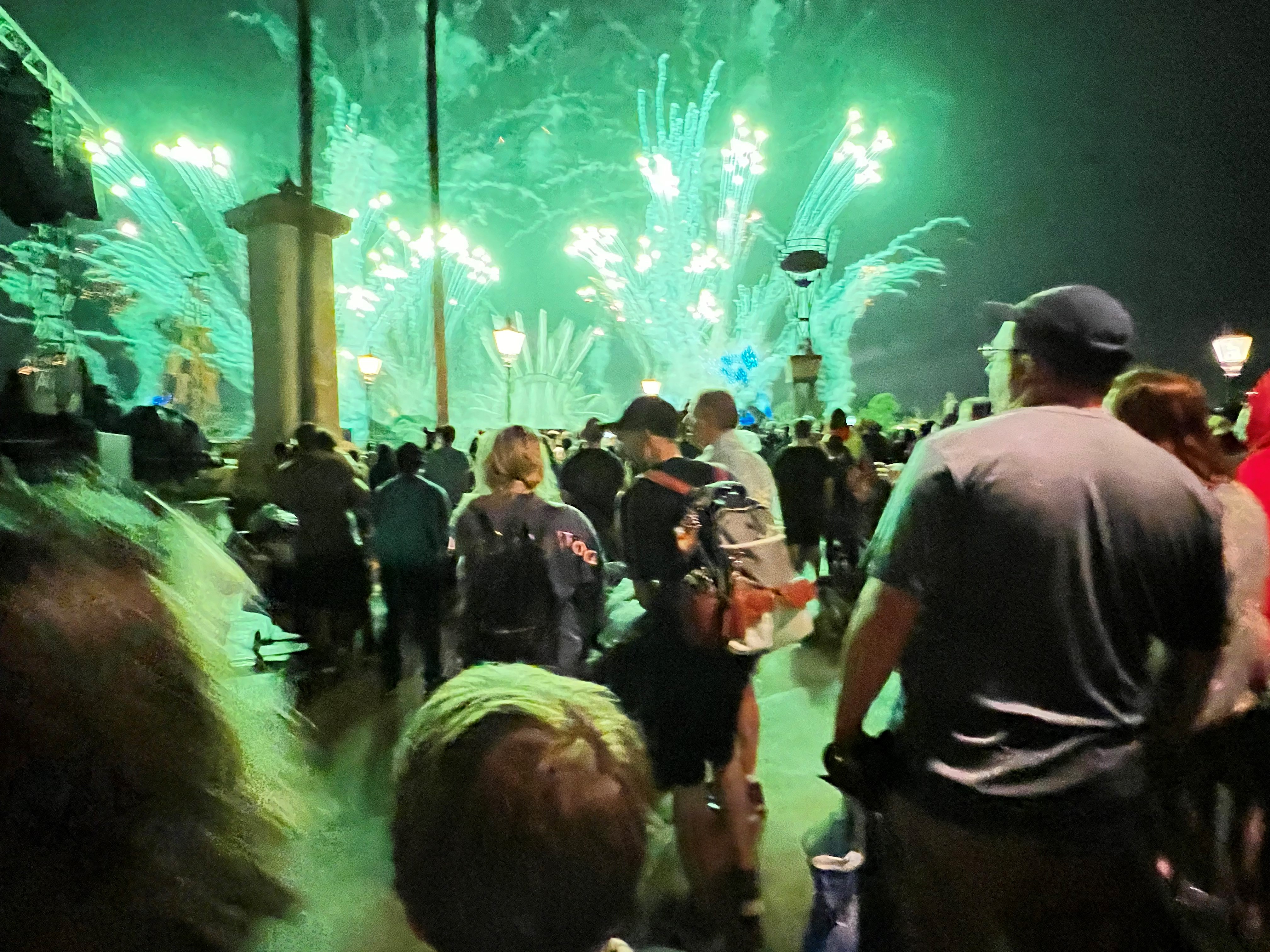 However, be advised that people do start lining up along the fenceline early; however, it is much easier to find a clear spot in the few minutes before the show than at Magic Kingdom.
Epcot Mom Hack: Stay for the fireworks, and find a fence spot.
3. Remy's Ratatouille Adventure
Prior to January 10, 2022, Remy's Ratatouille Adventure required a boarding group or spot in the virtual queue.
Remy's Ratatouille Adventure isn't actually the first of its kind but can also be found at the beautiful Disneyland Paris near the original Gusteau's!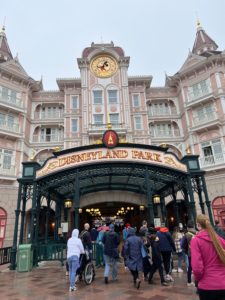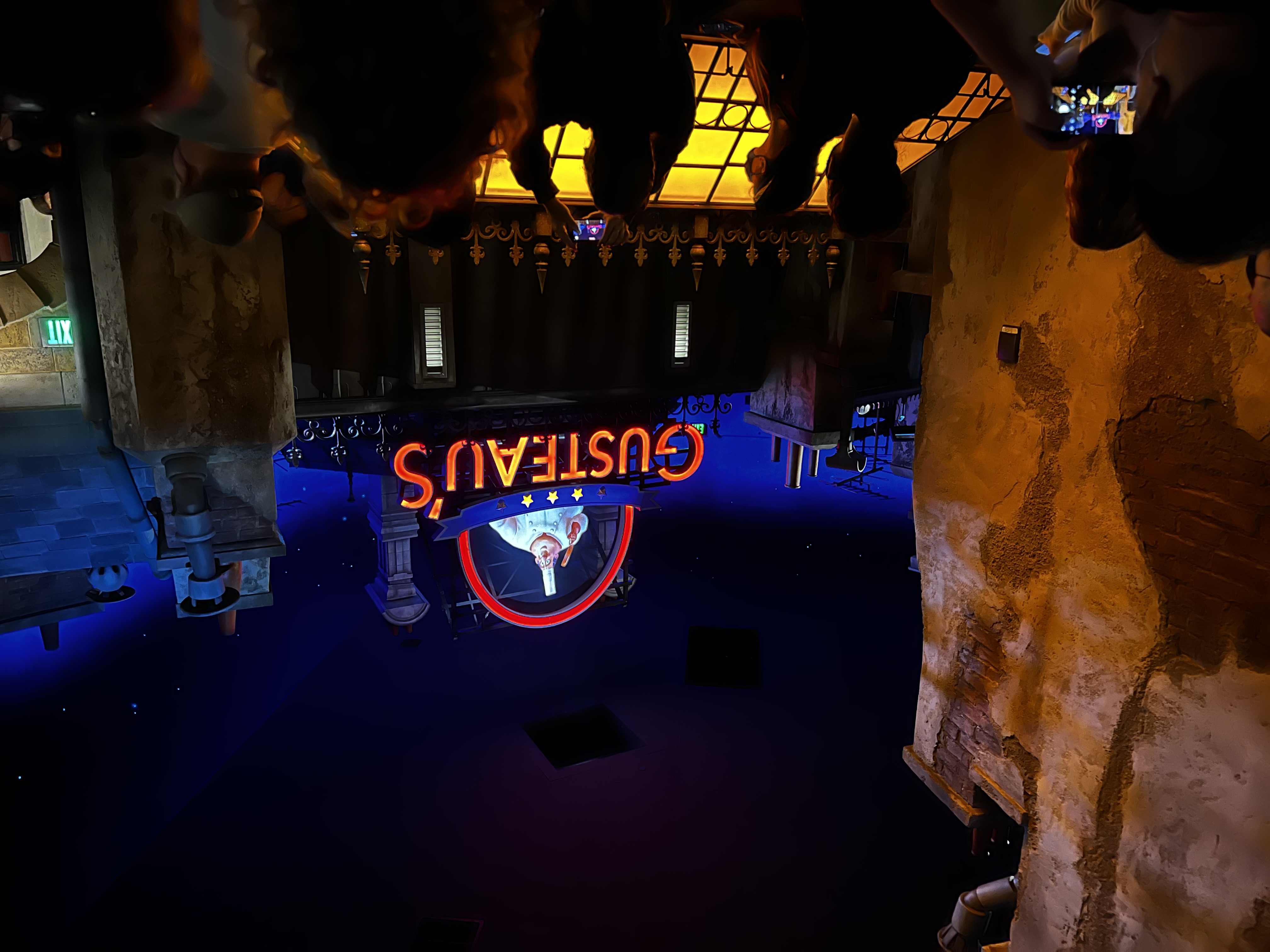 With the new Guardians of the Galaxy ride, Remy's new feature isn't the premiere attraction of Epcot for adults, but for children, Guardians might be a bit too intense.
Don't worry, none of the sheen, excitement, or fun has rubbed off of Remy yet. It only made its debut in 2021 for the launch of the 50th Anniversary Celebration.
To download the MyDisneyExperience app, click here.
Remy's Ratatouille Adventure was the collective highlight of our family day at Epcot with small children. I highly recommend waiting in what is sure to be a very long standby queue to ride it. The ride is adorable, fun, and highly entertaining for all ages!
And, don't skip its Parisian counterpart if you happen to wander to Disneyland Paris!
RELATED POST: Differences between Walt Disney World and Disneyland Paris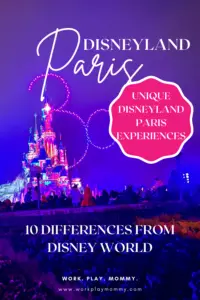 Epcot Mom Hack: Ride Remy's Ratatouille Adventure
4. Rides not to skip at Epcot with small children
Epcot has lots and lots of attractions; however, several of them are targeted at more mature audiences. While my children enjoyed the Three Caballeros ride, they would have rather spent more time at Pixar Shorts.
Further, while my children loved walking through the countries in the World Showcase, I would have been much more relaxed in line at an animated ride rather than watching for falling glass!
So, here are my top attractions for small children and toddlers at Epcot:
Remy's Ratatouille Adventure
Frozen Ever After
The Seas with Nemo and Friends, Turtle Talk with Crush, and the Aquarium, and
Spaceship Earth
The rides that I stayed away from for my littles who are more nervous about most rides were Soarin and Test Track. These were slightly too scary for them, but I am sure that they will love them as they get older. (I have not been able to determine whether my children will be afraid of Guardians of the Galaxy yet!)
I honestly believed that my children would be bored at Spaceship Earth, but my small children loved going inside the enormous ball and interacting with the ride.
The aquarium after Turtle Talk was one of my children's highlights. Watching turtles, sharks, and dolphins was a great, calm activity that broke up all of the walking and waiting.
Epcot Mom Hack: Child and Toddler-Friendly Rides
5. Stay out of the country stores
If you are going to Epcot like me with a baby and a toddler and a preschooler, then you may want to avoid the country stores.
I love spending the day shopping and eating around the world. However, my children want to touch everything including the wine bottles and blown glass baubles.
Each time that I thought I would walk through a store, my children turned into nightmares. The stores are beautiful and fun, but they are hazards for small children who want to run and play at Disney World.
To keep your sanity, if you have grabby children, spending time going through the country shops might not be your cup of tea.
Epcot Mom Hack: Stay out of the country stores with small children.
6. Ride the Monorail
Staying at a Monorail resort like the Grand Floridian (LINK) is a great way to have convenient access to the parks. However, even if you aren't staying at a Monorail resort, riding the monorail over Epcot is a great thrill.
Unlike the Magic Kingdom monorail that skates near the entrance and then drops you off, the Epcot monorail circles a large portion of Epcot.
Take the time to leave the park, board the monorail and ride it to and from Epcot for a bird's eye view of the beautiful park and waterway.
Epcot Mom Hack: Take a break and a ride on the monorail.
7. Nap Time:
I rarely allow my kids to spend the day at the parks without a nap time. This is one of the best parts about staying on-property.
My small children cannot go from rope drop to fireworks without a complete melt down. And, even with a nap, they are often asleep before we get back to our room.
If you want to enjoy your day rather than spend the time wondering why you spent thousands of dollars just to torture yourself, let your children (and you too) have a nap midday.
If you aren't in a convenient spot for a nap, plan to do some quiet things in the middle of the day: a sit-down meal, a ride around the monorail, or even just sitting on the benches people watching.
A break is good for the adults too.
Epcot mom hack: Take naps or a break.
8. Character spotting
Character meet and greets with Pooh, Baymax, and Elsa used to be some of the best perks of Epcot. However, now under COVID restrictions, character meet and greets are suspended.
Instead, Epcot has replaced meet and greets with Character photo ops and distanced interactions cleverly placed around the park.
Find Anna and Elsa in the garden near Norway. Find Winnie the Pooh catching butterflies near Soarin.
While the meet and greets are a sad sacrifice of social distancing, you might find that you have far more time for the other attractions rather than spending an hour in line to fist bump Baymax.
Epcot Mom Hack: Character spotting around the park.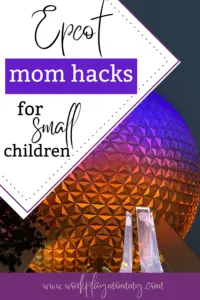 Epcot with Small Children
All in all, Epcot is a park worth a day of your family's Disney vacation. However, do not expect quite the same magic as you find at Magic Kingdom, Hollywood Studios, or Animal Kingdom.
The park is undergoing massive renovation and rebranding. You will walk through tunnels of construction panels and black paper.
Plus, some of the major perks of Epcot –shopping and eating – are all adjusted under Covid.
Further, if you are visiting Epcot with small children, you have to be cautious about some of the more mature appeals of Epcot. Your toddler probably doesn't care about pagodas, the Eiffel Tower, or sushi.
Therefore, when visiting Epcot with small children, you might want to make some adjustments. Heed these mom hacks for a fun and memorable day at Epcot where your children can fill their passports, journey around the world, and learn a thing or two about conservation and global awareness.
Floating from country to country is bound to make you and your children miserable. Make sure to add in the toddler-friendly rides, the child-friendly snacks, and a few spots where they can run free without breaking any fine German steins.
FOR MORE DISNEY TIPS, CHECK THIS PAGE OUT.