10 Differences at Disneyland Paris That you Won't Find at Disney World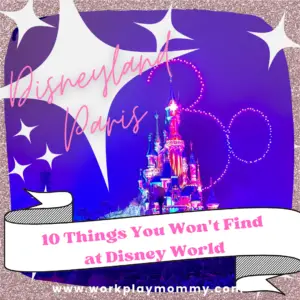 Are you planning a trip of a lifetime to Disneyland Paris and don't know what to expect? Have you spent time in Disney World near Orlando and wonder how it compares? Check out these 10 things that are unique to Disneyland Paris!
Disney as Part of Our Family Sabbatical
If you are a Disney-loving family like we are, you might have it on your bucket list to visit all of the parks.
Our family started planning a trip to Disneyland Paris as part of our family sabbatical and because we knew that a day at the Louvre would be a nightmare with our 7, 5, and 3 year old.
RELATED POST: Legitimate Reasons to Plan a Family Sabbatical
Paris with Kids
Many of the traditional Parisian sites just weren't in the cards for us, and we wanted to take advantage of some family-friendly experiences before we visited some of the other quintessential Parisian monuments.
So we decided to divide our Paris time between Disneyland Paris and some of the Paris highlights like the Eiffel Tower and Notre Dame.
Disneyland Paris did not disappoint. With 2 parks, a number of conveniently located resorts, including Hotel New York, Art of Marvel, and countless places to eat fine fare of all nationalities, we had a great time.
While we found the park to be just as busy, just as fun, and just as expensive as Disney World –the only Disney park our family had visited before Disneyland Paris– we found a lot of things at Disneyland Paris that are different from Disney World.
You might be thinking: you can still find a big castle, the Dumbo ride, and even English speakers in Disneyland Paris, what is different? Is it really worth going to another Disney park?
Here are at least 10 differences of Disneyland Paris that you will NOT find at Disney World.
1. Smoking
For better or for worse, the European culture is far more accepting of smoking than the American culture. Disneyland Paris is no different.
Although throughout the parks you will find designated smoking zones, it was not unusual for our family to walk through clouds of smoke.
Many park-goers vaped in line as they carried on conversations with their families.
Adults smoked outside of rides, near entrances and exits, and even in restaurants.
Although some cast members would politely ask smokers to return to a designated smoking zone, for the most part, no one even batted an eye. Smoking at Disneyland Paris was definitely an unexpected difference!
I cannot remember ever running into a cloud of smoke in Disney World.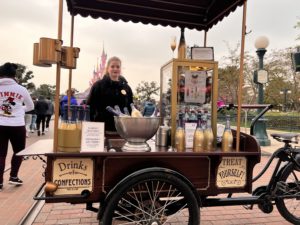 2. Alcohol
Sure, you might experience smoking at Disneyland Paris, but you can also easily find a an alcoholic beverage. In fact, you can have a champagne toast in the street.
Many dining options and even walk-up kiosks sell Disney snacks alongside alcoholic beverages at Disneyland Paris. A sad reality for many adults at Disney World is that you would have to search far and wide to find any alcohol in Disney World parks.
However, at Disneyland Paris, not only was alcohol easy to find, it was literally wheeled onto Main Street shortly before the evening spectacles began.
Disneyland Paris sold champagne by the bottle or by the glass right there in the middle of all of the firework action.
Forget Mickey ice cream bars, have a champagne toast to the fireworks at Disneyland Paris. You definitely won't find that on Main Street in Disney World.
3. Shows in multiple languages
Cast members in Disney World are from different backgrounds and vary in nationality. However, for the most part, every single show, direction, announcement, and sign is in English.
This is not true at Disneyland Paris.
At Disneyland Paris, most signs that we saw were in French, Spanish, and English while many others also displayed German, Arabic, and a handful of other languages.
Signs are one thing, but shows are a whole different matter.
Many of the rides, shows, and even the fireworks are in multiple languages.
Disney Illuminations was in both French and English.
Some of the live action shows such as Lion King, Stitch, and Animations were offered throughout the day in different languages.
You will need to make sure that the line you are in features a language that you speak. For example our showing of Lion King was entirely in English, and our version of Star Tours was also in English while both had French options.
With so much attention to translations, you know that there will be lots of other languages spoken throughout the park.
4. Far more languages in the park
Beyond the shows, you will notice multiple languages spoken throughout the park. I don't mean that you will hear just French and English from visitors.
No, you will hear Arabic, French, English, German, Portuguese and so many more. Some languages I couldn't even identify.
No need to worry if you are an English-speaker though – almost all of the cast members speak English. You will have no problem navigating the parks in English!
However, the opportunity to practice your high school French or German will likely arise.
5. Lion King: Rhythm of the Pridelands
One of our favorite attractions in Disney World is the Lion King show at Animal Kingdom. The animated floats and tumbling monkeys are so much fun! My entire family loves that show.  
I knew that there was a Lion King show at Disneyland Park, but I was not prepared for how spectacular the entire performance would be.
In true French fashion, the entire show is Cirque du Soleil style with swinging, spinning, and aerobatics.
The live performers sang, danced, and even fell from the ceiling in a beautifully artistic retelling of The Lion King.
Most of the version we watched was in English, but it could have been in any language. The entire story was told through color, changes in costume, and epic acrobatic fight scenes.
Hyenas spun through the air in synchronous spirals while birds and antelope danced en pointe across the floor.  
The Lion King Rhythm of the Pridelands show is a must-see, can't miss attraction at Disneyland Paris. You won't find anything quite like it at Disney World.
If you are more about rides than shows though and want something unique to Disneyland Paris, check out Star Wars Hyperspace Mountain.
6. Star Wars Hyperspace Mountain
Disneyland Paris does not yet have a Star Wars land comparable to Galaxy's Edge…but they are working on it.
However, in the meantime, you will find a Star Wars roller coaster unlike anything presently at Hollywood Studios Galaxy's Edge in Disney World.
RELATED POST: Build a lightsaber or build a droid at Disney's Galaxy's Edge?
Star Wars Hyperspace Mountain is not a simple easy-going Disney ride. Instead it is a full length rollercoaster that inverts, drops, twists, and turns through a Star Wars battle.
Our whole family loved it and wanted to ride it again and again. Star Wars Hyperspace Mountain is unlike any that you can presently find in Disney World, however, I could see similarities to Space Mountain.
In any event, the Star Wars attractions are growing at Disneyland Paris, and while it does not yet have a dedicated land, it does have the superior roller coaster!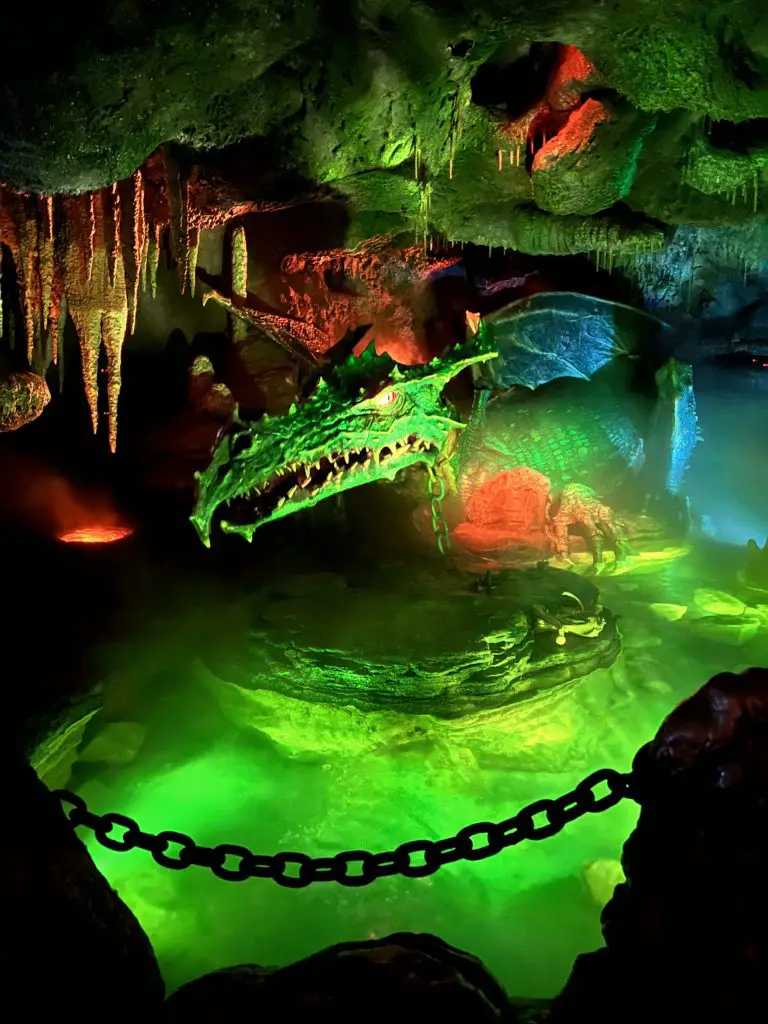 7. Dragon under the Castle
To some, Disneyland Park might be just another "Castle Park." However, that would mean that they simply skipped over one of Disneyland Paris's most iconic attractions –the Dragon under the castle.
A truly menacing feature, the dragon under the castle, breaths smoke, moves, and appears to be just about to attack its crowd of onlookers.
Simply follow the small path under the castle to see one of our favorite Disneyland Paris features: the dragon under the castle.
My youngest broke down in tears because the dragon was so menacing.
Don't overlook the entrance; be sure to seek out the dragon under the castle.
8. Closer Accommodations to the Park Entrances
If you want to stay close to the park action, then Disneyland Paris makes transitions from resort to park far easier than Disney World.
For those of you who can't be bothered to miss even a minute of park time, you will be glad to know that Disneyland Paris doesn't just have resort accommodations near the park, but on the park.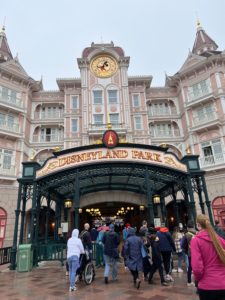 Disneyland Paris Hotel
Disneyland Paris's Disneyland Hotel is not only the nearest accommodation to the park but actually sits on top of the park entrance. The hotel (though currently closed for renovation) has its own entrance to the park and a clear sightline to much of the park and castle.
For now, as the hotel is undergoing renovation, Hotel New York is still the closest resort to both Disneyland parks and is a quick 10 minute walk to the security line through Disney Village.
For me, who is used to staying on a bus or monorail line at Disney World, being such a quick and easy walk to the park added to the convenience of the entire trip.
We didn't have to pass through multiple security lines, pack up our stroller, or wait for a free seat on a bus or monorail.
A quick walk, and we were there.
Some of the resorts are located a little farther out. Even from Hotel Santa Fe –one of the farthest resorts, you can still walk to the park in about 15-20 minutes. Or, simply jump on one of the park shuttles that runs every few minutes.
The entire resort is easily navigable as a family and much simpler to get around than Disney World where you can easily spend hours a day on crowded transport services.
However, my guess is that Disneyland Studios is about to get a lot more crowded with the opening of Avengers Campus.
9. Avengers Campus
Originally slated to open in 2021 but hindered by a global pandemic, Disneyland Paris is about to open an AVENGERS CAMPUS. Outside of Disneyland California, this will be the first of its kind.
Although no official opening date has yet been announced, park officials say that opening will be summer 2022.
We visited in Spring of 2022 (long after the campus was originally supposed to open), and we didn't see any signs of even a soft opening.
However, when Avenger's Campus does open, my guess is that the park will be abuzz for a LONG time.
The combination of the Marvel hotel and the Avengers campus will be huge draws for Marvel fans around the world.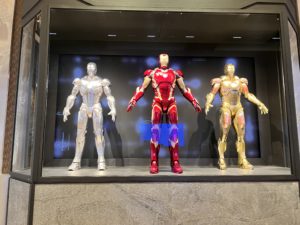 RELATED POST: The Spider-Man Suite at Disneyland's Hotel New York
The Avengers campus will be the home of the Quinjet, unique Marvel foods, and even new Marvel attractions.
Disneyland Paris is going to become a destination for Marvel fans around the world with the opening of Avenger's campus.
(After Avenger's campus, Disneyland Paris is also scheduled to open a Frozen land and a Star Wars land that will likely only add to the broad appeal of this very international park.)
10. Paris!
Finally, beyond the parks, the attractions, the food, and the fun of Disneyland Paris, you have the piece de resistance itself: PARIS!
For many, Disney World has absolutely no cultural appeal. However, if your travel group consists of both Disneyphiles and Francophiles, you can easily appease both.
A quick RER (metro) ride from the park and you will descend upon the heart of Paris.
One hour by metro from the park is the Eiffel Tower, the Champs D'Elysses, and all the French fare you can eat.
Our family took the opportunity to do a split vacation –part of it at Disneyland and the other in Paris.
We had the added convenience of leaving all of our baggage at our Disneyland resort and jumping on the conveniently located metro just steps from our hotel.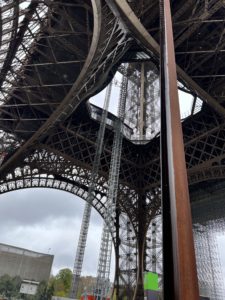 Disneyland Paris even offers a hop on hop off bus tour to and from the parks and Paris.
The parks are great fun, but you might not want to solely focus on cartoon-themed rides and attractions. Disneyland Paris gives you the opportunity to embrace all the Disney novelty while also experiencing some of history's greatest historical and architectural icons. Park for a couple of days, Paris for a couple of days!
One thing that you certainly won't find when visiting Disney World is PARIS!
Disneyland Paris vs. Disney World: 10 Disneyland Paris Differences
Disneyland Paris and Disney World certainly share a lot of similarities. But you will definitely find that Disneyland Paris has many differences from Disney World. The two parks differ in some major ways.
From art, culture, food, and geography to language, diversity, and more, Disneyland Paris is sure to provide many of the attractions that you already know and love but in a new and distinct atmosphere.
Go visit the dragon under the castle, drink a café au lait, tally up the number of languages you hear throughout the day, and then take the chance to summit the Eiffel Tower.
Our family hopes to return to Disneyland Paris someday soon for the Avengers, Frozen, and Star Wars, but we also hope to check the other Disney parks off of our travel list!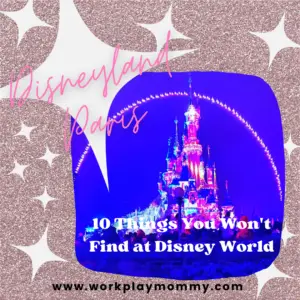 What did you find different about Disneyland Paris from the parks at Disney World?