Savi's Workshop or Droid Depot?: Is it better to build a droid or a lightsaber at Disney's Galaxy's Edge?  
Savi's Workshop and Droid Depot are both add-on experiences at Disney's Galaxy's Edge at Hollywood Studios. However, if you have to make time and money priority decisions –all of us—then you might want to know which is better. Savi's Workshop vs. Droid Depot?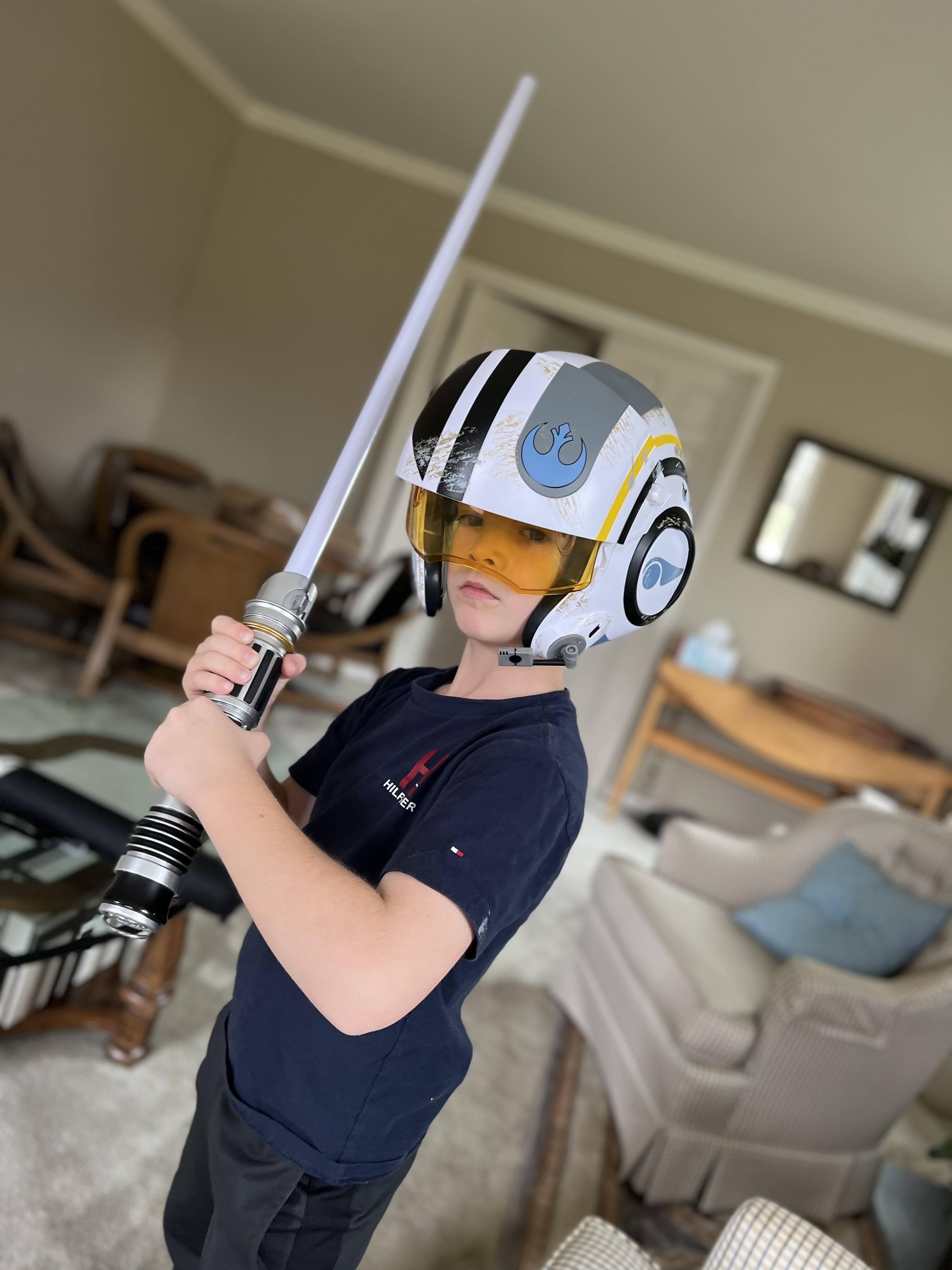 What is Savi's Workshop?
You might already know that once you cross the borders into Batuu at Disney's Galaxy's Edge that you enter an alien planet.
You are no longer tourists, you are travelers, and you might find yourself in the crosshairs of Rebellion-Alliance skirmishes.  
However, when you enter Savi's Workshop you enter even deeper into the role play experience. Instead of merely looking at all of the outerspace recreations, you become part of the fun.  
At Savi's Workshop you use the Force and join the Jedi in the Rebellion.  
The entire experience is more than simple toy-building. Instead, you become part of a unique role-play experience.  
While you can buy a lightsaber at many of the Disney World souvenir shops, the lightsabers at Savi's Workshop are much more complex and sturdy. However, they will also cost you.  
What does Savi's Workshop Cost?
A basic lightsaber build at Savi's Workshop is currently priced at $249.99. This includes the entrance into Savi's Workshop, the building experience, the lightsaber (including the pieces), and a sheath for the lightsaber.  
However, keep in mind that you can purchase alternative accessories for the lightsaber such as alternative crystals, hilts, and cases.  
In addition to the accessories, you may not be able to carry your lightsaber onto your airplane, and may have to ship it back home.  
Realistically, expect the entire experience to cost around $300.00.  
However, remember that plenty of souvenirs at Galaxy's Edge will set you back $50.00 or $100.00, but not all of them include fun building memories and interactive experiences.  
How long does building a lightsaber at Savi's Workshop take?  
This experience, however, is time away from the park. You have worked long and hard to maximize your time at the parks.  
And there is lots to do and see throughout all of Hollywood Studios. After visiting several times throughout the year, I still have not experienced all of the attractions at Hollywood Studios.  
So keep in mind that building a lightsaber at Disney's Galaxy's Edge costs more than the price tag, it also costs you valuable park time.  
You won't want to rush through your build, and you can expect to budget about an hour for your build time.  
To read my entire review of Disney's Savi's Workshop in Disney World, check out my review here.
Plus, if you are budgeting your time and experiences, you might want to also consider building a Astromech Droid at Disney's Droid Depot.  
What is Droid Depot?  
Droid Depot in Disney's Galaxy's Edge is similar to Savi's Workshop in that it is an interactive building experience. However, unlike Savi's Workshop, Droid Depot is a far simpler build process.  
At Droid Depot, builders have the option of building BB and R series droids. Builders can choose their styles, their colors, and even the sounds their droids make.  
The droids are remote controlled robots that not only interact with the driver but other droids and specially marked features in Galaxy's Edge.  
They are not a simple static toy or even a display piece. They are quality remote controlled robots that are endlessly customizable and have been a fun source of entertainment for our little builders for years.  
However, those endless customizations come at a cost.  
What is the cost of building a droid at Disney World?  
Droids at Droid Depot are $119.99 and include the building experience, customized building pieces, the interactive droid activation, and a carrying box.  
The just-over-$100.00 price tag makes the experience more palatable for children or families on a budget.  
However, know that it doesn't take long to reach that same $200 or $300 price tag that you can hit at Savi's Workshop.  
As with anything at Disney World, you can upgrade the carrying case, add personality chips, or even add weapons and accessories.  
The good news is that the droid is unlikely to cause any serious issues at airport security and can be carried as carry-on luggage.  
But, as with Savi's Workshop, the money isn't the only price you pay. You also have to realize that this experience takes time away from the parks.  
How long does it take to build a droid at Droid Depot? 
If you know exactly what you want to build –your style and your colors, and you have a reserved build time, you could get through Droid Depot in as little as 30 minutes.  
However, inevitably you will want to spend time enjoying the experience, agonizing over color combinations and browsing through the store.  
The great thing about Droid Depot is that there is a very accessible build viewing area where the whole family can watch the builder interact with his or her new droid and help with picking colors and accessories.  
This is different from Savi's Workshop where the rest of the family might have to kill some time while the builder has all the fun.  
So, Droid Depot is a fun experience for everyone and not just the builder.   
Which experience is better for kids?  
Because Droid Depot is cheaper, simpler, and quicker than Savi's Workshop, I find it to be more child-friendly.  
For kids who aren't as well-versed in Star Wars lore and language, Savi's could be overwhelming and confusing.  
But, Droid Depot appeals not only to Star Wars lovers but also to kids who just love building fun toys and robots. 
My 5 year old completed both and loved them both. However, he was confused by much of the conversation of Savi's Workshop.  
Further, even though he loved his building experience with his dad at Savi's Workshop, the lightsaber is heavy and sturdy. Therefore, it is not a great toy for everyday play or hitting his siblings! 
So, he prefers to play with his droid from Droid Depot and keeps the lightsaber for show-and-tell and decoration.   
To read my entire review of Droid Depot including how to make a reservation, check this out.
Which experience is better for adults?  
The opposite could be said for adults. Both experiences would be great for adults whose primary purpose for visiting Hollywood Studios is to spend their entire day in Batuu.  
Both experiences are fun, light-hearted, and interactive –adding to the fun of Galaxy's Edge.  
However, for adults who understand the backstory of the Star Wars saga, building a lightsaber may be more fun than Droid Depot.  
Further, adults are more likely to appreciate the lightsaber and make a fun statement piece in home offices!  
Recommendations for Droid Depot and Savi's Workshop 
Regardless of whether you visit Droid Depot, Savi's Workshop, or both, you will have a great time.  
Savi's Workshop is a great and fun way to spend at least an hour in an interactive role play experience. It costs more and takes more time than building a droid, but you will leave with a unique and sturdy Disney World souvenir.  
Droid Depot, on the other hand, is a great upgrade for people who want to spend a little less time and money while still leaving with a fun toy.  
For young children, I recommend Droid Depot over Savi's Workshop if they know little about the history of Star Wars and want to make sure to have time for other Hollywood Studios attractions like Slinky Dog Dash! 
For adults, I recommend Savi's Workshop as the entire vibe is a little more mature, serious, and intricate. It can also be a great way to beat the heat at Hollywood Studios! 
Whatever you choose, you will have a great time, memory, and souvenir.  
Droid Depot vs. Savi's Workshop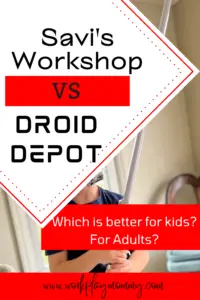 For more helpful tips for visiting Disney World with young children, check this out.
Are you also a Marvel fan? Check out these Marvel experiences!