Put down the wine and plan a sabbatical. Sabbaticals are for working moms too.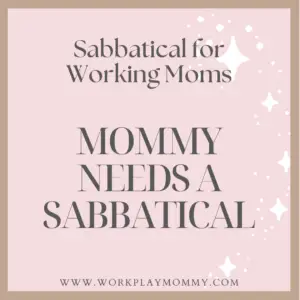 Are you nearly collapsing between the demands of a working professional career and the ever-growing demands of post-pandemic motherhood? Perhaps it's time for a sabbatical. Sabbaticals for moms are a chance to refresh, reenergize, and rebuild your career.
Women at Work
According to the United States Department of Labor, more than 70% of moms are working moms. Further, in 2020, the Department of Labor reflected that mothers with young children, in the wake of the pandemic, were less likely to remain in the workforce than fathers.
In other words, in the aftermath of the pandemic, closed schools, unsteady work routines, and worldwide chaos, many mothers were doing 1 of 2 things:
Leaving the workforce entirely, or
Staying in the workforce and balancing all the pre-pandemic stresses of working motherhood in addition to all of the chaos of 2020, 2021, and 2022.
Some moms were grateful for the opportunity or the excuse to stay home and tend to the family they love. Other moms, on the other hand felt the crushing weight of demands from all directions, and had to abandon their career ship.
RELATED POST: The Hard Truth about Being a Working Mom
What About My Career? Will a Sabbatical Derail My Career?
More women than men report that they see obstacles for mothers in their career growth. For some, the obstacles don't outweigh the promises and rewards of a professional career.
Further, I know that in my own career I feel pressure to keep up with the men –to forget about the fact that I am a mother…that I pump at work…that I am responsible for dinner on the table…that I get the "sick kid call" from school.
So, between the hard place of career obstacles for moms and women and the rock of being a mother with household responsibilities…are you about to crack?
I'm with you, wondering whether my career, my profession, my stress,  my sleeplessness, my headache is all worth it.
RELATED POST: I'm an Exhausted Working Mom, and Here is What I Am Going to Do about It.
Further, I'm with you wondering what my coworkers, bosses, and peers will think if I take a timeout. I need a break, and maybe you do too.
Therefore, I am going on sabbatical! I'm planning a sabbatical for this mom, and I am using it as an opportunity to care for my children, refresh my personal life, and even build my career.
Mommy Sabbatical or Career Break: What's a Sabbatical vs. a Career Break?
A sabbatical is a period of time taken away from work used for relaxation, travel, rest, research, education, and more.
Sabbaticals are usually associated with people who take a sabbatical from one job to return to the same job. They are common in the post-secondary education field where a professor might take a sabbatical to complete research or publications.  
After a period of time away, the professor or employee returns to his or her regular position with new insight, energy, or information for his profession.
A career break, on the other hand, could be synonymous with a sabbatical but could also be an intentional gap in employment. Extended maternity leave, a return to education, or even a gap year could be a career break.
Like a sabbatical, professionals may take the time to travel, gain education, care for his or her family, or recover from a health crises among a myriad of other reasons.  However, career breaks are more often about a shift in careers or jobs. Often a professional quits one job, takes a career break, and returns to a different job.
In any event, a mom on sabbatical is not on an aimless backpacking trip abroad. Instead, mommy sabbaticals are intentional and purposeful even if they are also relaxing and fun.  
A mom with a sabbatical under her belt offers fresh perspective and energy.
RELATED POST: Ways to Build Your Resume Even While on Sabbatical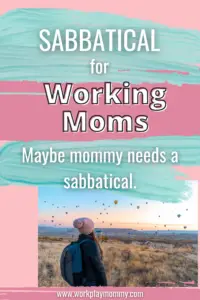 HOW TO PLAN A WORKING MOM'S SABBATICAL
If you are going to take a mommy sabbatical, then you are going to need a plan. From finances to locations, you probably can't just wing it.
Like I mentioned, you are going to want to make this time purposeful not just 6 months on the couch in front of your favorite streaming service!
Pitching a Sabbatical to your employer.
If you are simply looking for a sabbatical from your current job and want to return to that same job, then you are going to have to discuss a sabbatical with your employer.
More and more companies are offering paid sabbaticals for employees and are reaping the benefits.
However, if your company is in the more overwhelming majority of businesses that want you to work until you retire without more than 7 days off at a time, then you need a pitch!
If you are looking for some ways to explain to your boss why a sabbatical will actually benefit you, your employer, and the bottom line check this out.
However, you might also want to consider remote work or a modification of duties so that you can have different hours, remote responsibilities, or even a temporary demotion.
In this way, you not only stay connected with your employer, you also continue to help supplement your income while you work.
RELATED POST: Creative Ways to Afford a Family Sabbatical
Money and the Mommy Sabbatical
If you are temporarily leaving your job, how in the world are you supposed to keep living? Well, let's talk about money.
Assuming your company does not provide a paid sabbatical for moms, not only are you going to need money to cover your basics while you are on sabbatical, but you will also need money for travel and other expenses.
Don't go into debt for a sabbatical. Save. This might take time.
RELATED POST: Kick this one expense to save $1600 each month.
However, also realize that a sabbatical doesn't have to be the luxury vacation of a lifetime. Take the time to slow travel, eat in, and make money in other creative ways.
Cut down on your expenses while you plan, forego that new car, and kick consumer debt to the curb forever. All of these little actions will make stowing away a healthy sabbatical fund much easier.  
RELATED POST: Creative Ways to Afford a Family Sabbatical
In other words, saving for sabbatical might take time.
TIME LINE: How Long to Plan for a Working Mom's Sabbatical
Your mommy sabbatical could be 6 weeks or 6 months. Some take an entire year or more.
Regardless of how long you plan to take off, you need to take the time to plan beforehand.
My husband and I dreamt of our family sabbatical for years before actually planning it. And, when we finally put pencil to paper and calendar, it took us more than a year to plan the details.
During that time, we scrimped, saved, and researched for our sabbatical. Further, we took the time to carefully scope out locations where we would have reliable internet for our remote work, safe and affordable lodging near popular attractions, and well-stocked kitchens.
So…maybe I planned for too long and too many details…that's my obsessive cross to bear. But, even if you are not a detailed research-aholic, you will likely want to take a year to plan and prep your job for your extended leave.
For an example of my other research obsessions, check this out!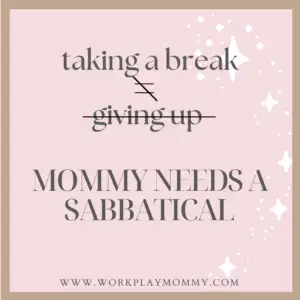 Should I Take My Kids on My Mommy Sabbatical
Whether to plan a sabbatical alone or as a family is a personal choice.
On one hand, the opportunity to completely disconnect, recharge, and reenergize yourself is extremely beneficial. Moms need a break, and a sabbatical where mom can focus on mom without anyone wiping bananas on her pants, sounds like a dream.
A quiet cabin in the woods with your laptop for a week, a solo hike along the Appalachian Trail, or a service project in Haiti might all be important ways for you to get a break and refocus while also rebuilding your career goals.
However, if you are in doubt about whether to take the whole family or not, I am a huge fan of mommy going on sabbatical with the whole family.
RELATED POST: Top Ten Reasons Why You Should Travel with Kids
Mommy Sabbatical with the Family
What are your goals of your mommy sabbatical? Let me share mine with you:
Build my career
Try something new
Write a professional publication
Recharge and have an adventure with my family.
It seems like everytime I go somewhere or experience something new, I want to share it with someone. And, the person/people that I want to share it with are my husband and children.
I would miss my kids if I were to stand atop the Sierra Nevada alone. Nights would be long and boring without my husband to laugh with. And, I might even lose my motivation without my children cheering me on.
Just because you go with your family and your children does not mean that you are missing out on the mommy sabbatical experience.
Shaking up your regular routine, giving some extra leeway for screen time, and embracing a world-schooling mentality might be exactly what your entire family needs to get out of the exhausting rut of the last couple of years.
A mommy sabbatical could be alone or with your entire family, but, I'll cast my vote: Take the kids!
Maybe Mommy Needs a Sabbatical
Parents are under more stress than ever. And, even though the vast majority of moms make up a large portion of the workforce, so many of them are about to cave in.
Should they just give up and go home, or should they have the opportunity to not only maintain but improve their professional career.
A sabbatical for mom  –yes a chance to recharge but also a chance to enhance your professional career—might be just the cure.
Taking a break isn't the same as giving up.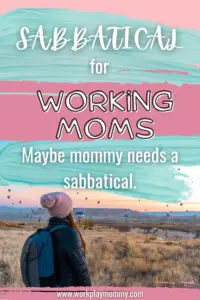 RELATED POST: Completely Legitimate Reasons to Take a Family Sabbatical