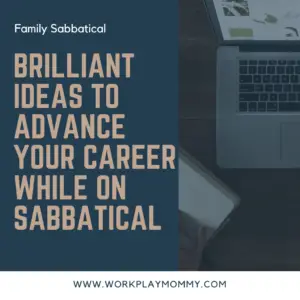 What to do on a Sabbatical?: Brilliant Ways to Continue Advancing in Your Career Even While Taking a Sabbatical 
Are you taking a sabbatical? Great! Congratulations! No matter your reasons for taking a sabbatical your career doesn't have to take a backseat.  You can continue advancing in your career even while taking a sabbatical.
Regardless of your motivations, seize a sabbatical as a way to improve your professional skills in addition to all of your other reasons for taking a sabbatical.  
RELATED POST: What is a Sabbatical and Important Reasons to Take a Sabbatical
Sabbaticals are an opportunity for fresh perspective for your career 
In our office we like to say that the newest attorney to the firm is the expert.  Even though new attorneys have the least experience, they have the most breadth of knowledge.
As a new attorney, you are the freshest out of school and the freshest from the bar. Therefore, the newest attorney has more recently been exposed to the newest and most diverse areas of the law.  
Then, as attorneys continue to practice, their knowledge of a specific field grows deeper and narrower.  
You are likely the same. As you advance in your career – spend 5-10 years doing the same thing over and over –you become more knowledgeable about a tiny sliver of your practice area. 
Sabbaticals are an opportunity to gain fresh perspective and more exposure to more of your field.  
Sabbaticals can be a great way to further your professional career.  
A sabbatical might not only be a great reason to catch up on rest and relaxation, but it might also be a great opportunity for becoming an even greater asset for your employer by expanding your knowledge. 
Millions of women are racing to leave the workforce. They are overworked at home and in the office, and a break might be good. 
However, while the glass ceilings have great big cracks in them, and I don't intend to let anyone patch over them, a sabbatical might be just what I need to reignite my professional drive.
For working parents, sabbaticals might be about spending time with family and building a resume. 
Millions of working parents all over the world are just about over "it" and need a break. They aren't lazy; they've just been overworked these last few years with sickness, stress, e-learning, inconsistent employment, and inconsistent childcare.  
So, if you have been working overtime in all the professional and family arenas, you might need a sabbatical. That doesn't mean that you stop learning or that your career needs to suffer. Consider these ways to actually advance your career even while taking a sabbatical: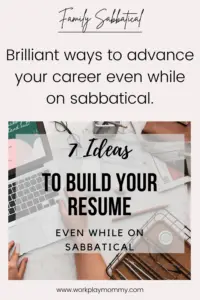 Brilliant Ways to Continue Furthering Your Career During a Sabbatical 
1. Get published:
Are you in a field where you constantly read, review, and critique other professional and scholarly articles? Have you considered that you could be an expert?  
Take the time to research, conduct experiments, write amici briefs, or even submit an article to a publication.  
That publication is a huge resume builder and makes you an even greater asset.  
2. Start a Blog:
Perhaps you want to write more creatively. Create a blog about your field. (See mine here!).  
Write about current updates in your field, publish helpful practice guides, and offer insights for your fellow coworkers.  
You might find that you gain better communication and analytical skills –major assets to your career.  
3. Read:
Do you spend so much time doing your job that you no longer expand your mind? I used to read for fun everyday, but after I started my career, books fell by the wayside.
 Spend time reading. Sure…read non-fiction books related to your field. But, also take the time to expand your library with fiction, self-help, and inspiration.  
Being well-read is an important trait for any job.  
I try to balance my reading list with equal parts fiction and non-fiction. 
4. Volunteer:
Are you an engineer who spends his time crafting commercial water drains for new businesses? Do you like to farm and fish? Are you skilled in tax prep or swinging a hammer?  
Volunteer. Dig wells, install water purifiers in remote villages, train young people in sustainable hydroponics, or prepare tax returns for the underprivileged.  
Use your professional skills outside of the office and your theoretical CAD program. You might rediscover why you love to do the job again. Further, you might learn a thing or two about doing the job better by looking at it from a new perspective.  
5. Travel:
Travel is a unique kind of education.  
Not only does travel expose you to new and different worlds, it also teaches flexibility and humility.  
Stretch yourself, pack light, and visit new and different locations.  
Check out some of our destinations here!
6. Take additional courses or continuing education:
Maybe your career requires that you complete continuing education, and you attend the same conferences every year. Time to find something new and different.  
Attend a conference in Cabo, find continuing education in a different area of the law, or enroll in classes at a nearby college.  
Return to the classroom and you might find yourself engaging with your career in a new and different way.  
7. Mentor:
Take the time to invest in someone else's career or professional development.  
Attorneys can even earn continuing education credits for mentoring younger attorneys.  
Find someone who is trying to make it in your field, take on a college practicum student, or teach a course yourself. Take the time to help them with their professional growth even if it is just over coffee or lunch at a regular meeting time.  
Use a Sabbatical as an Opportunity to Advance Your Career
Taking a sabbatical isn't just a vacation. There are plenty of purposeful reasons to take a break from your 9-5.  
Consider that a sabbatical might be for more than just sleeping in. Consider these ideas for a sabbatical that actually improves your career even while you are away from the office.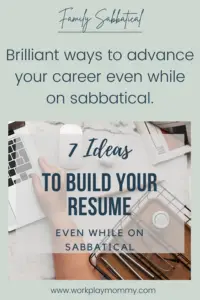 What other ways could you advance your career while on sabbatical?