NO More Excuses: Reasons Why you Should Consider Taking a Sabbatical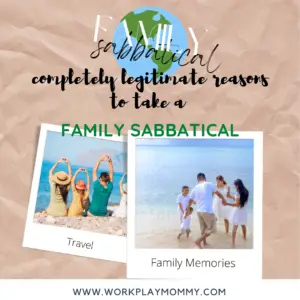 Why Our Family is Planning a Sabbatical
Our family is taking a family sabbatical. Yes, even with young children, we are planning an extended break from real life and work.  Are you looking for reasons why you should consider a sabbatical too?  
Go to school; get a job; work until you retire; die. Do you feel like that is your trajectory in life? Why does the start of your career have to be the end of adventures and learning?  
If you are looking for reasons why I am taking a sabbatical, reasons why you might want to take a sabbatical, or reasons for telling your boss why a sabbatical might be good for you and your company, keep reading.  
What is a sabbatical or career break?  
According to Meriam Webster, a sabbatical is ": a period of time during which someone does not work at his or her regular job and is able to rest, travel, do research, etc.
A career break on the other hand could be synonymous with a sabbatical but could also be an intentional gap in employment. Likewise, the employee may take the time to travel, gain education, care for his or her family, or recover from a health crises among a myriad of other reasons.  
Sabbaticals are usually associated with people who take a sabbatical from one job to return to the same job. They are common in the post-secondary education field where a professor might take a sabbatical to complete research or publications.  
However, more and more companies are offering employees paid sabbaticals, and it seems to be paying off.
Career breaks might be more about finding yourself, developing a new skill, starting a new career, or even shifting priorities to a new lifestyle or caring for family.  
In any event sabbaticals and career breaks are not aimless backpacking trips abroad taken by the unemployed. Sabbaticals and career breaks alike should be intentional and purposeful even if they are also relaxing and fun.  
Can I get paid to take a sabbatical?  
The idea of sabbaticals and career breaks are quickly gaining traction in the United States. Some companies and institutions offer sabbaticals pursuant to a certain level of achievement or a certain number of years.  
Still other companies compel their employees to take an extended break every five years as a way to promote morale and individual growth.  
In other words, companies and institutions that promote and encourage sabbaticals are pushing their employees to not only find self-fulfillment but improve themselves in their career.  
That means that sabbaticals and career breaks aren't just extended vacations.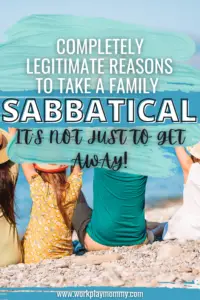 Why I'm taking a sabbatical and why you might consider it too. Completely legitimate reasons to take a break from your job.   
Reason to take a sabbatical #1: To create special memories with my kids.  
Some of my favorite memories growing up are on adventures with my family. Hiking, driving, exploring, and learning new things was a major priority in my family.
I want to create those memories with my children while they are still young and don't only remember mommy as the zombie who collapsed at home every night after work.  
RELATED POST: I'm an Exhausted Working Mom, and Here Is What I'm Going to Do About It.
I want my children to be able to use words like Louvre, medieval, and renaissance in a sentence because they have personal experience with them not only because they had to memorize them for a school project.  
We want to climb castle steps, experience world-renowned art, and try new foods with our children –alongside our children. I don't want to save it for when they are grown up, and they go without me!
Reason to take a sabbatical #2: To take a break.  
I'm an exhausted working mom, and I know that I can't keep up the pace. Decades of my professional life are still in front of me, and I know that I can't keep going at the same pace I have been going.  
In fact, I am not alone. Millions of working moms are leaving in a great exodus from the workplace. And, without a chance to recharge and rediscover passion for my career, I'm likely to be among them.  
I wonder what would happen if moms were given 6 weeks off for every 5 years of loyal service –not for maternity leave –but for personal development. A chance to reconnect with their family and a chance to grow professionally and personally.  
With a break waiting for them, moms might be able to make it!
Reason to take a sabbatical #3: The finances work out.  
I am a strange breed of human they call "debt free." My husband and I embarked on a lifestyle that few embrace and kicked payments and debt to the curb years ago.  
Sure, we could drive a newer car, have a nicer house, or even vacation in far nicer places, but we have decided to buy with cash, pay out of pocket, and ditch credit.  
Thus, those amounts that people pay in car payments, credit cards, and student loans –we put it in a savings account. A big savings account is earmarked for our sabbatical.  
Want to take a sabbatical but think you can't afford it? Take a look at your finances and think about where you would be if you didn't owe anyone anything. How many months of car and student loan payments would it take before you had enough in your bank account for a break?  
RELATED POST: How a Budget Set me Free
In any event, a sabbatical might not be right for you if your finances cannot handle time off or extended travel.
Reason to take a sabbatical #4: To advance my career. 
Yes, this sabbatical is not just about rest, relaxation, or adventure, it is also about improving myself professionally.  
I am 100% certain that I will not be able to complete every goal I have on my sabbatical personal development list. Honestly, I might not be able to complete half.  
Some of my list includes: Continue a professional blog, write a research paper, and learn about estate planning for ex-pats.
RELATED POST: Brilliant Ways to Advance Your Career While on Sabbatical
Even if I don't get all of those done, I am also 100% certain that a sabbatical will result in major improvements to me professionally. Even if I only check a few items off of my professional development list, I will be a better employee and entrepreneur.  
Reason to take a sabbatical #5: To gain perspective.  
I know how much more willing I am to go the extra mile in my career when I am rested and refreshed. Early in my career I was much more motivated. Then I was focused on building my practice as a new attorney.  
Time off not only is refreshing, but also allows you the opportunity to step back and consider where your career started and where it is going. A sabbatical is my chance to gain perspective into why and how I do what I do.  
Reason to take a sabbatical #6: To improve my children's education. 
I remember reading about the middle ages in my high school "Ancient Civilizations" course. I can even remember some of the pictures on the pages. However, I could not tell you a thing that I learned in that class.  
Fast forward a few years, and I was studying abroad. I happened to pass through an ancient city gate that was dated "711".
Suddenly, I couldn't get enough of reading about every bit of what happened in that city in 711. I learned about crusades, beheadings, migration, and even the currency of the day.  
Because we are being intentional about creating this sabbatical as both a family and an educational opportunity, my children are going to have the opportunity to be immersed in culture, cuisine, history, and geography. And, if they are anything like me, they will be more likely to remember it when it comes alive in front of them.  
RELATED POST: Why You Should Travel with Your Kids
Reason to take a sabbatical #7: Your own reasons.  
Maybe your reasons are far different than my reasons. Maybe they have more to do with writing that peer-reviewed article.
Perhaps a sabbatical is right for you because your demanding job has only been more so during the pandemic.  
Whatever your reasons, you are likely not only focused on a relaxing vacation. If you are considering a sabbatical, you likely have important and valuable personal and professional goals.  
Other reasons to take a sabbatical  
I've heard it said:  
When you are young, you have all the time and energy but not the money.  
When you are middle aged, you have the money and energy but not the time.  
When you are old, you have the money and the time but not the energy.  
So, here I am with the energy and a budget that allows me to do it. But I still have to justify taking the time.
However, I have had 3 different families in my life lose their spouse young during the course of the pandemic. All three lived their professional lives telling each other about how they would travel the world when they retired.  
1 died 1 week after retirement, another 6 months after retirement, and the third never made it to retirement. Now their children talk about the plans that never came to be and the dreams that were put on the shelf.  
So, in addition to all of the important and valid reasons for taking a sabbatical, I will not minimize the importance of living those dreams now too. If your dream is to spend a year working in an international university, make plans.  
Completely Legitimate Reasons to Take a Family Sabbatical
If your dream is to caravan across Australia, do it.  
On the other hand, if you dream of doctors without borders, engineering wells in sub-Saharan Africa, or serving in foster care in Ghana, plan a sabbatical. The experience might not only be an adventure but an invaluable asset to you as a professional.  
Make the time, work at your finances, dream of great family memories. And, maybe this list of reasons why I'm taking a sabbatical will help you pitch it to your boss!  
Are you a working mom interested in a sabbatical? Check this out.