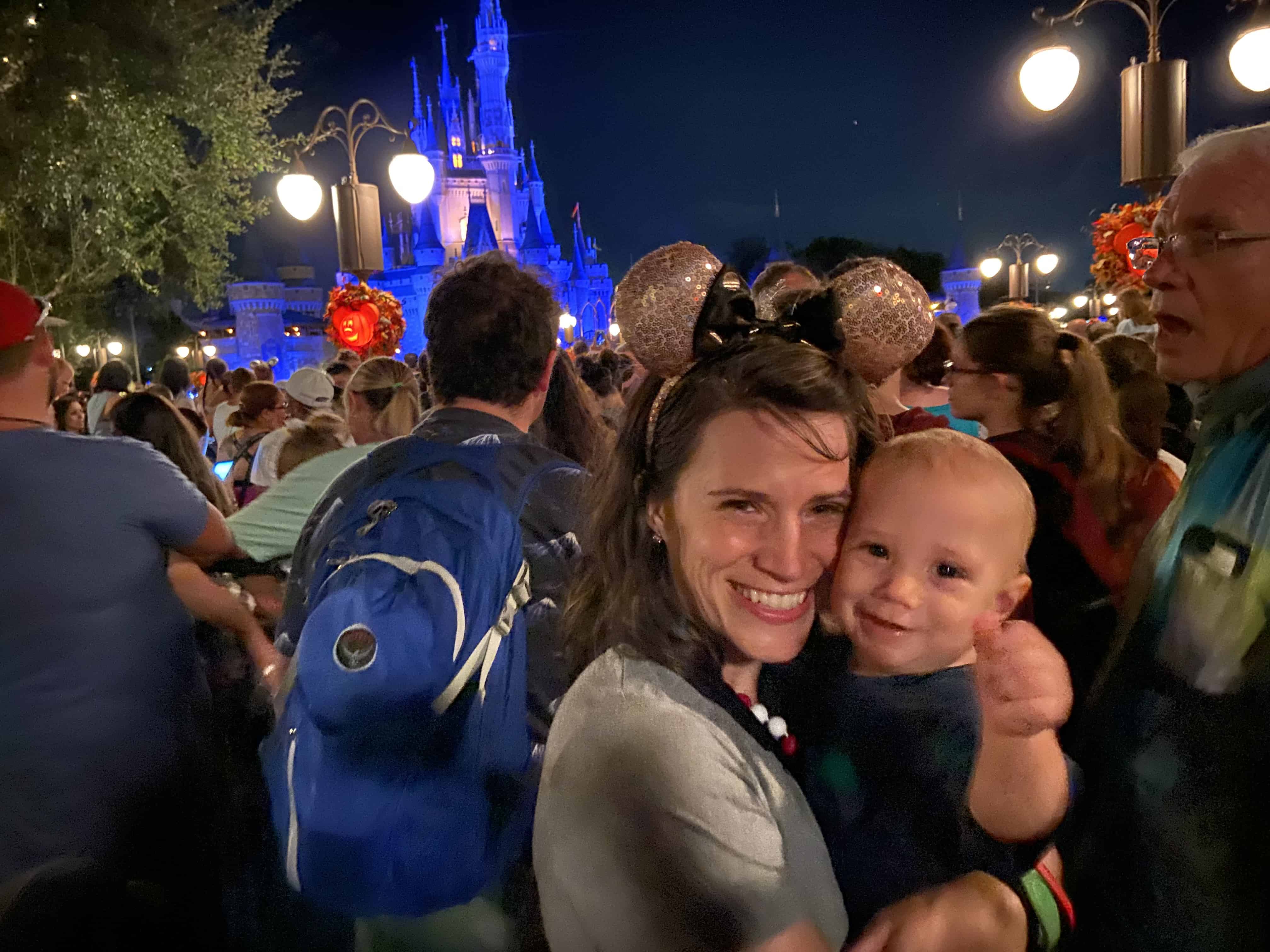 BEST DISNEY TIPS FROM A DISNEY-LOVING MOM OF 3
Are you embarking on a once in a lifetime adventure with your young children to Disney? Are you in sticker shock? Overwhelmed by the amount of blogs, advertising, and entire agencies devoted to the art of "doing Disney?" As a mom and someone who loves Disney, I wanted to share my top ten Disney hacks and tips for moms and help calm you!
(This site contains affiliate links from which I may receive a commission if you make a purchase at no additional charge to you.)
(These tips are recommendations for trips in 2022 and beyond now that so many things have changed in the Disney Parks since 2020.)
I'm no Disney expert, I'm not even a Disney salesperson. What I am is a frugal research-aholic with three young children and a little bit of experience. And, I know that Disney has changed a LOT in the last couple of years.
Using some of these Disney tips, our family was able to spend an entire 7 days at Disney World at a Deluxe resort with dining, tickets, and transportation for less than the average cost of a 4 day pass at a value resort.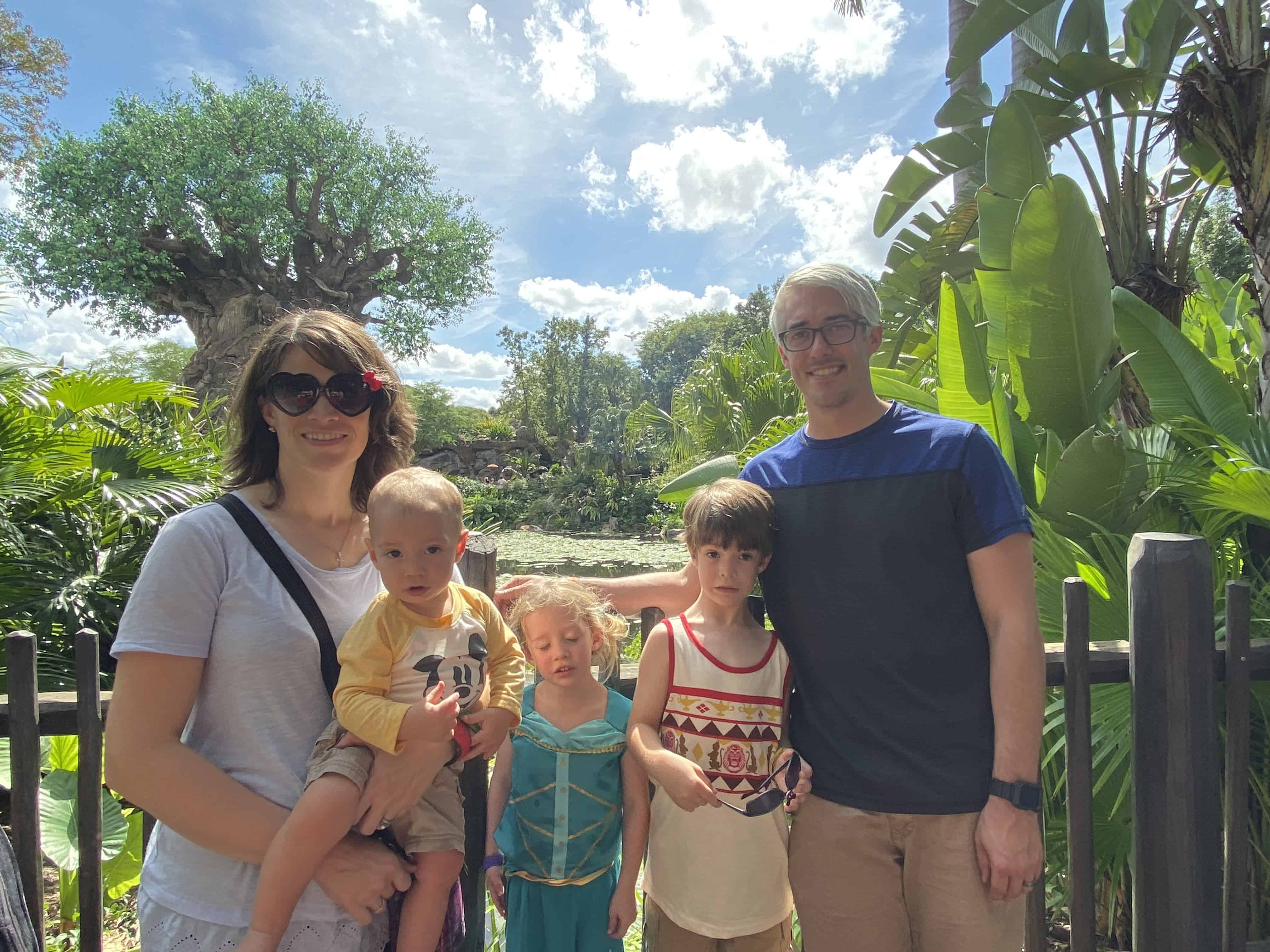 Plus, we have since visited at different times and different resorts and find that these few tips are huge money, time, and sanity savers!
While I won't get into the budget here, there are certainly some things that made our trip much more affordable, much more enjoyable, and much more relaxing (not usually words you associate with Disney World!)
Before our first family trip to Disney World, I read every blog post about packing, followed every influencer about places to eat, and I read every hack that I could to prepare. After months upon months of research (I'm not exaggerating, just ask my husband) and now several family trips under my belt, I would like to share with you my top 10 Disney Hacks for moms!
TOP 10 DISNEY HACKS FOR MOMS
DISNEY MOM HACK #1:
BOOK DVC POINTS
Have you ever heard of Disney Vacation Club? I hadn't until I started researching obsessively.
Disney actually has a timeshare program where members can purchase shares of the resort and book Deluxe Villas on their points.
These points expire in a set period of time, and many DVC owners put those points up for sale –some even at a more reduced rate.
There are 2 main DVC resalers: David's Vacation Club and DVC Rental Store.
I keep both bookmarked and check their dedicated reservations regularly. However, I have never personally booked with them.
Instead, I found a reputable DVC owner who was willing to sell me leftover points. No surcharges, no service fees, but no convenient website!
RELATED POST: What You Should Know Before Renting DVC Points
BOOK DVC WITH CARE
If you have a friend, family member, coworker, or acquaintance who is a DVC member, you may want to ask them if they have extra points to offload.
While many people hoard their points, others have a surplus.
BUT…please know, if you book DVC points for your trip, you are going as a guest of the DVC member. Thus, all of your plans, itineraries, check-in/check-out times are booked through the DVC member. So, you should trust the person implicitly and have a rental agreement.
If things go sour while you are staying, it will be up to the DVC member to communicate with you and the resort to make things right.
That being said, our family was able to book 7 days in a Deluxe Resort Villa at Club level for less than the cost of a value resort. We had no problems, and our resaler was terrific!
In fact, we have used our same contact for several reservations since then.
Therefore, with DVC we had a nicer and larger room, meals included (see club level below), and a magnificent view. We were treated like royalty, received upgraded amenities, and had a VERY HARD TIME leaving!
Disney World Hack for moms #1: Book DVC
DISNEY MOM HACK #2:
BUY SOUVENIRS IN ADVANCE
This sounds so strange, but one of the best things that we did for our young children was shield them from many of the overpriced, impulse souvenirs. Instead, after they saw a favorite character, visited a favorite attraction, or even came back to our resort, we had pre-purchased souvenirs for them.
Our youngest loves Lightning McQueen and does not understand the value of money. So, we purchased him an inexpensive Lightning McQueen and Cruz Ramirez to have after he visit's Lightning's Racing Academy.
Likewise, we purchased a Bibbidi Boppity Boutique Cinderella dress prior to our trip and surprised our daughter with it one morning. She had the pleasure of twirling around the park like a princess without the $85.00 price tag.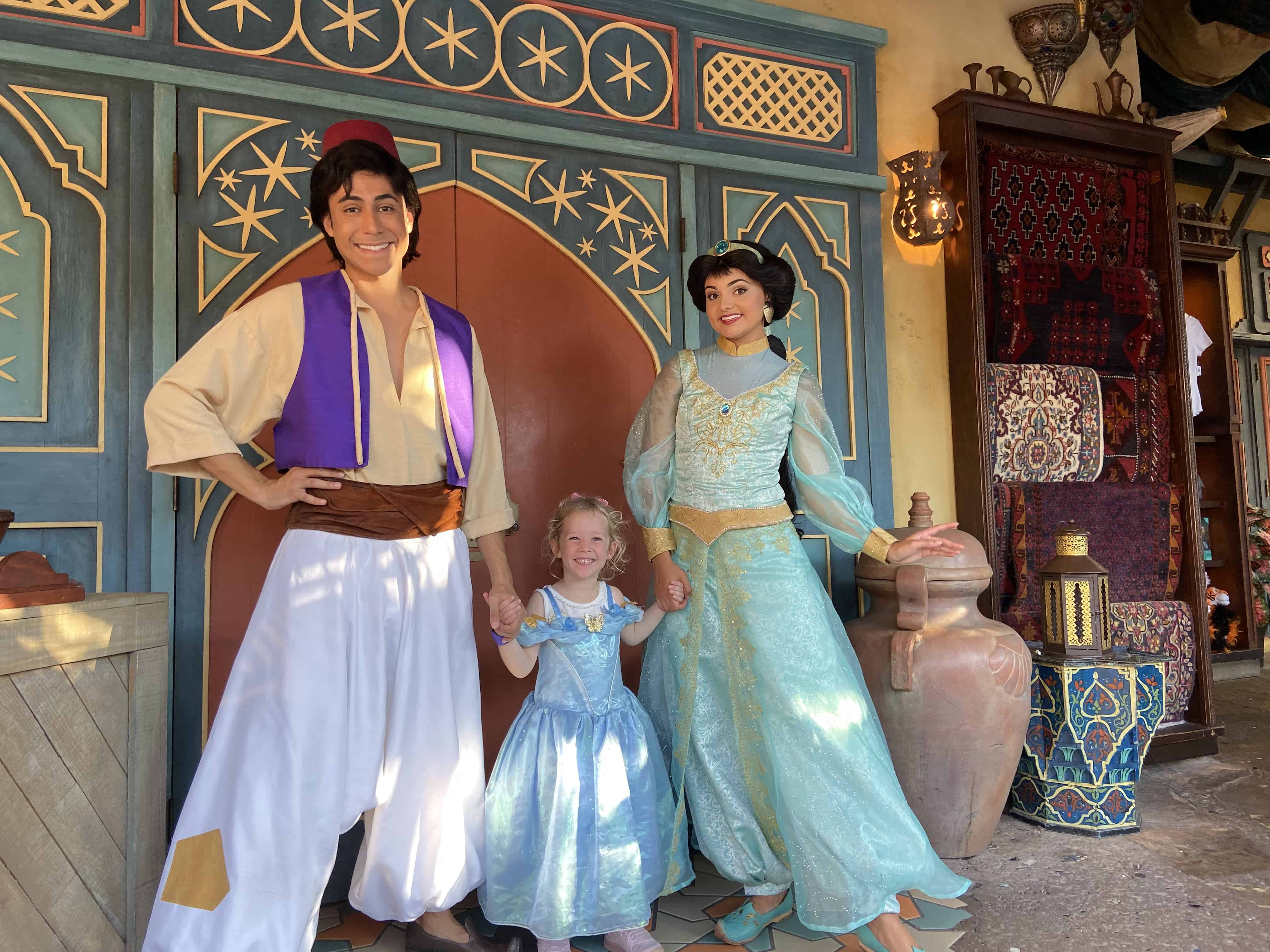 Pack a few small souvenirs to lessen the blow of the extreme price tags in the park. Disney World will let you carry almost anything (not dangerous of course) into the park including food. So, pack a few small trinkets from Amazon for your trip to keep your kids in the middle of the magic!
DISNEY MOM HACK #3:
MAKE A TRIP TO THE DOLLAR STORE OR AMAZON
Disney World is wonderful and expensive. Anything you might have forgotten, they sell at conveniently located kiosks…at a premium.
Did you forget diapers? They sell them at the conveniently located Baby Care Centers for approximately $22.00 per diaper. Oh…and the wipes will cost more too.
Did you forget sunscreen? You can also purchase any bottle you fancy for $11.00 per squirt.
Florida (and California) weather is fairly predictable. You know that there is always a possibility that it will be sunny and that it could rain.
So, make a trip to the dollar store or purchase some basics from Amazon before your trip to collect some simple and small items that could save you a bundle on your trip.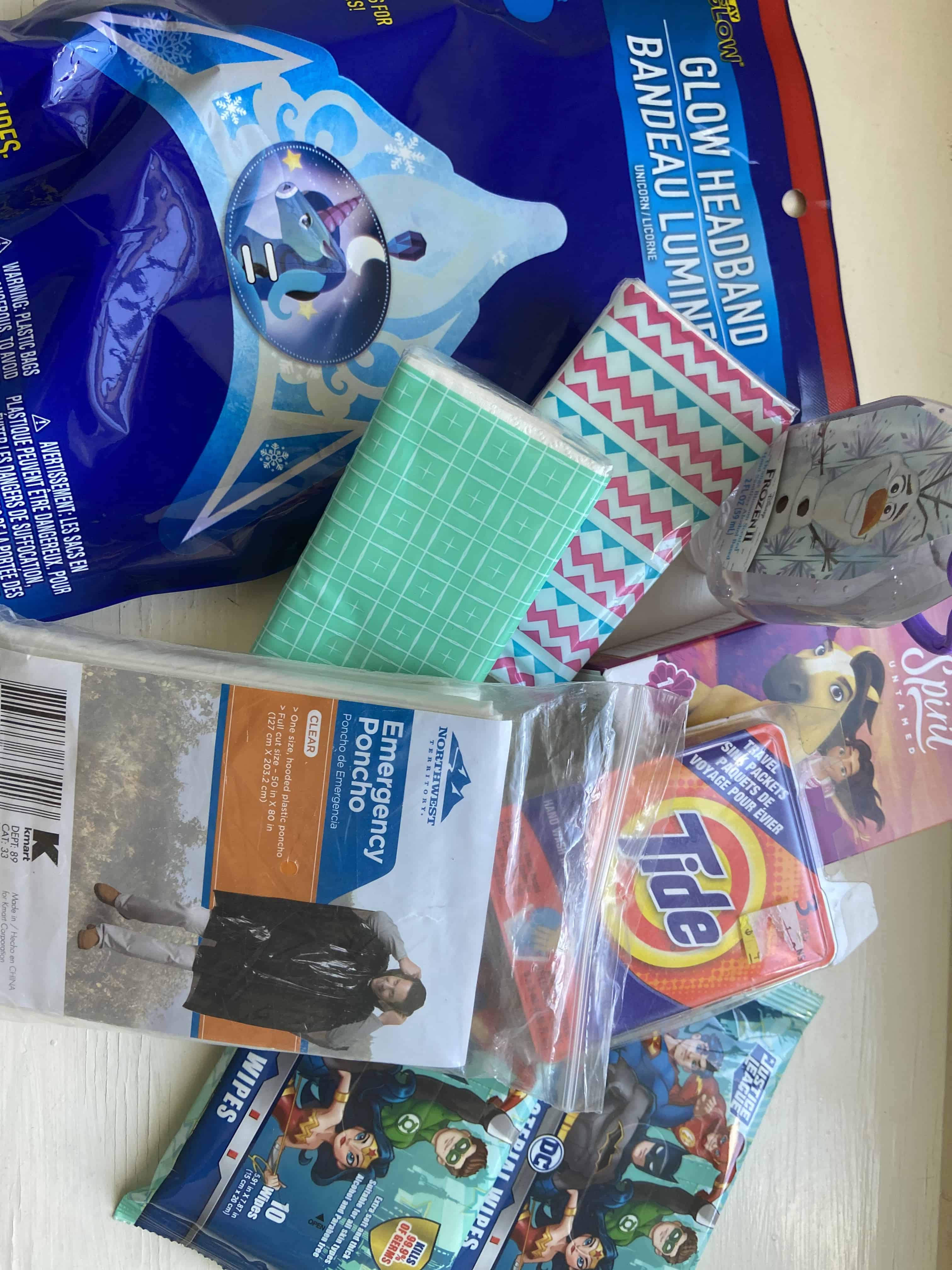 My favorite Pre-Disney dollar store/Amazon purchases include:
Rain Ponchos
Glow sticks for the parades/fireworks/celebrations
Bottles of sanitizer
Small packs of wipes
Sunscreen in small bottles
Small Disney souvenirs
Adhesive bandages
Travel detergent
Travel tissues
DISNEY MOM HACK #4:
EVERYONE GETS A WATER BOTTLE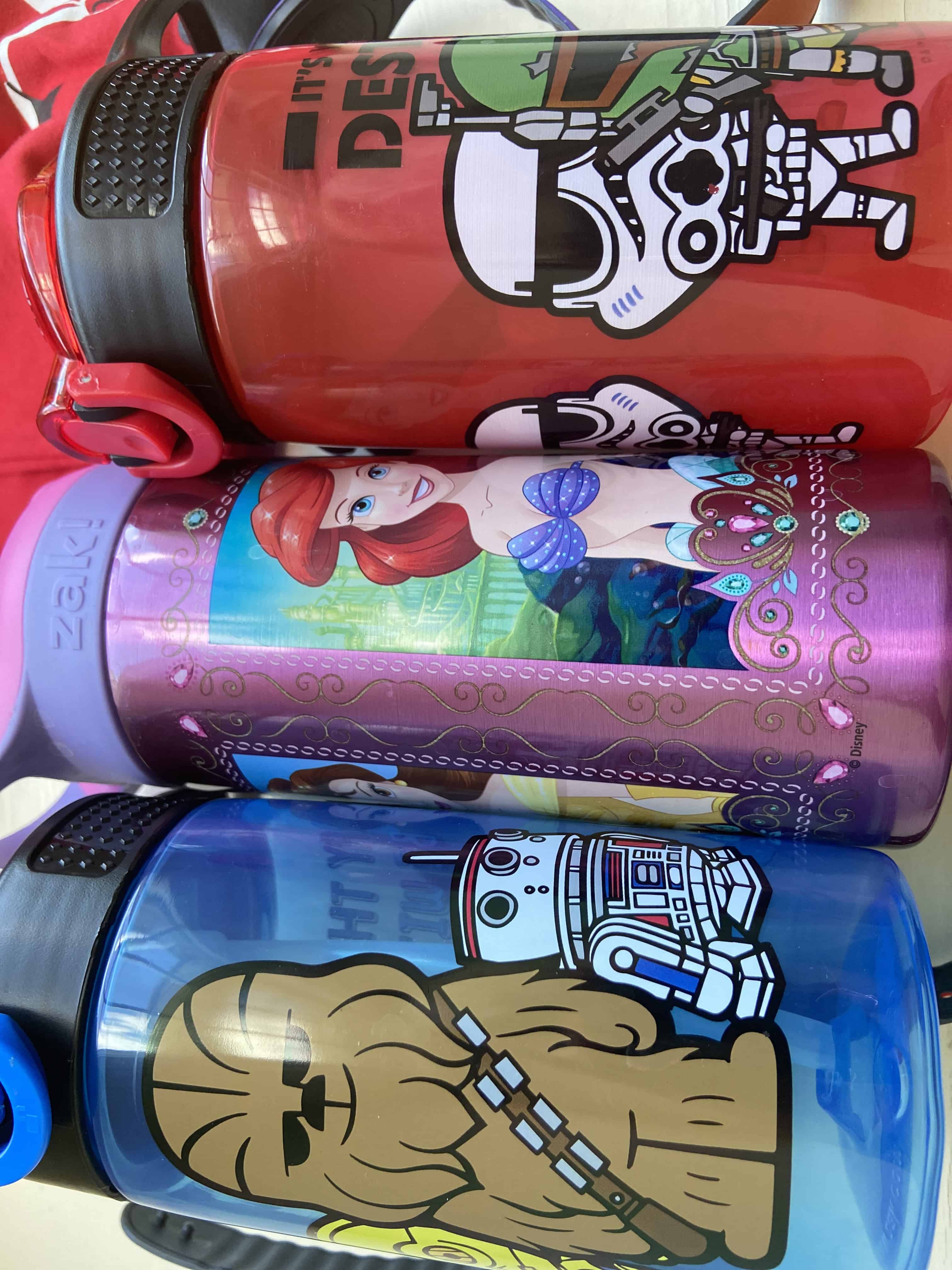 Disney is hot. And, while you might want to take advantage of their convenient reusable resort bottles, these are not valid in the parks.
Although everything in Disney World is expensive, you can request free cups of ice water at almost any food service kiosk.
Before you enter the park make sure that all of your kiddos (and you) have a Disney-themed water bottle. Each time someone whines that they are thirsty, they know which bottle is theirs.
Plus, you can monitor exactly how much water each person is drinking, don't have to worry about spills, and can keep them full of ice cold water all day.
These are especially great while waiting in hot lines and eating at those expensive restaurants. They keep you and the kids cool and your food expenses on budget.
*Bonus: If you and the kids each have your own water bottle, then you don't have to worry about the crumbs from your kids' Disney snacks ending up in your drink!
DISNEY MOM HACK #5:
BUY THE FAMILY SHIRTS
Are you giggling at those cheesy family reunion shirts? Scoffing at the silly Disney sayings?
Well…I'm here to say: "Buy the shirts."
My husband grimaced when he saw our family shirts but he wore it with a smile.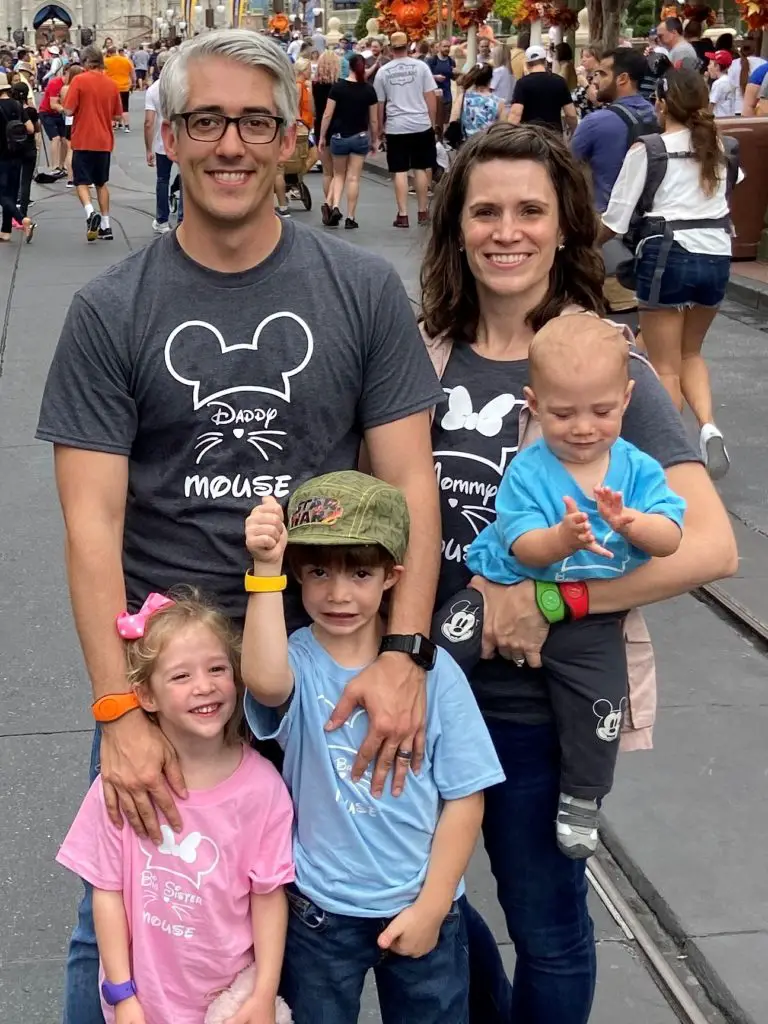 Now, they are one of our favorite family souvenirs.
Not only were we adorable (in my opinion!) in our matching outfits, we now think about those special family memories when we wear the shirts around the house.
The next time, we all had Disney snack-themed shirts!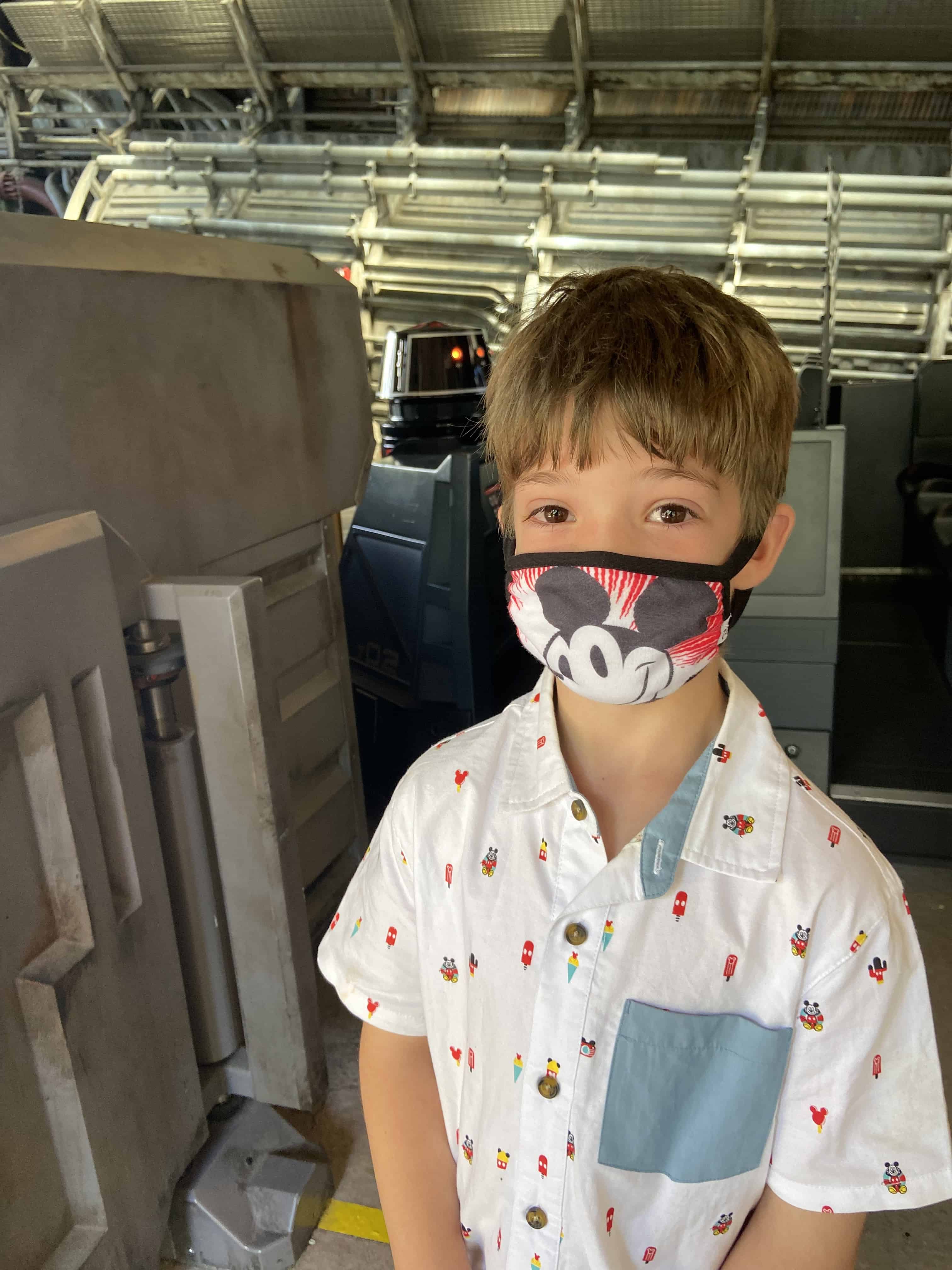 BUY THE SHIRTS!
DISNEY MOM HACK #6:
KIDS BUY THEIR OWN SOUVENIRS
Yes, I still encourage you to have some small souvenir items for your kids, but let them plan for and purchase their own souvenirs.
With a little forethought our children were able to squirrel away their allowance money, birthday money, and gifts for months in advance of our trip.
When we arrived, they had a fat stack of cash to burn, but they quickly learned about how fast it would go at Disney World.
Thus, they spent hours reviewing their favorite items, their favorite characters, and evaluating what they would use the most.
My son used his hard-earned money to build himself a droid at Droid Depot (an experience I will highly recommend). And, it is his prize possession with frequent show-and-tell appearances.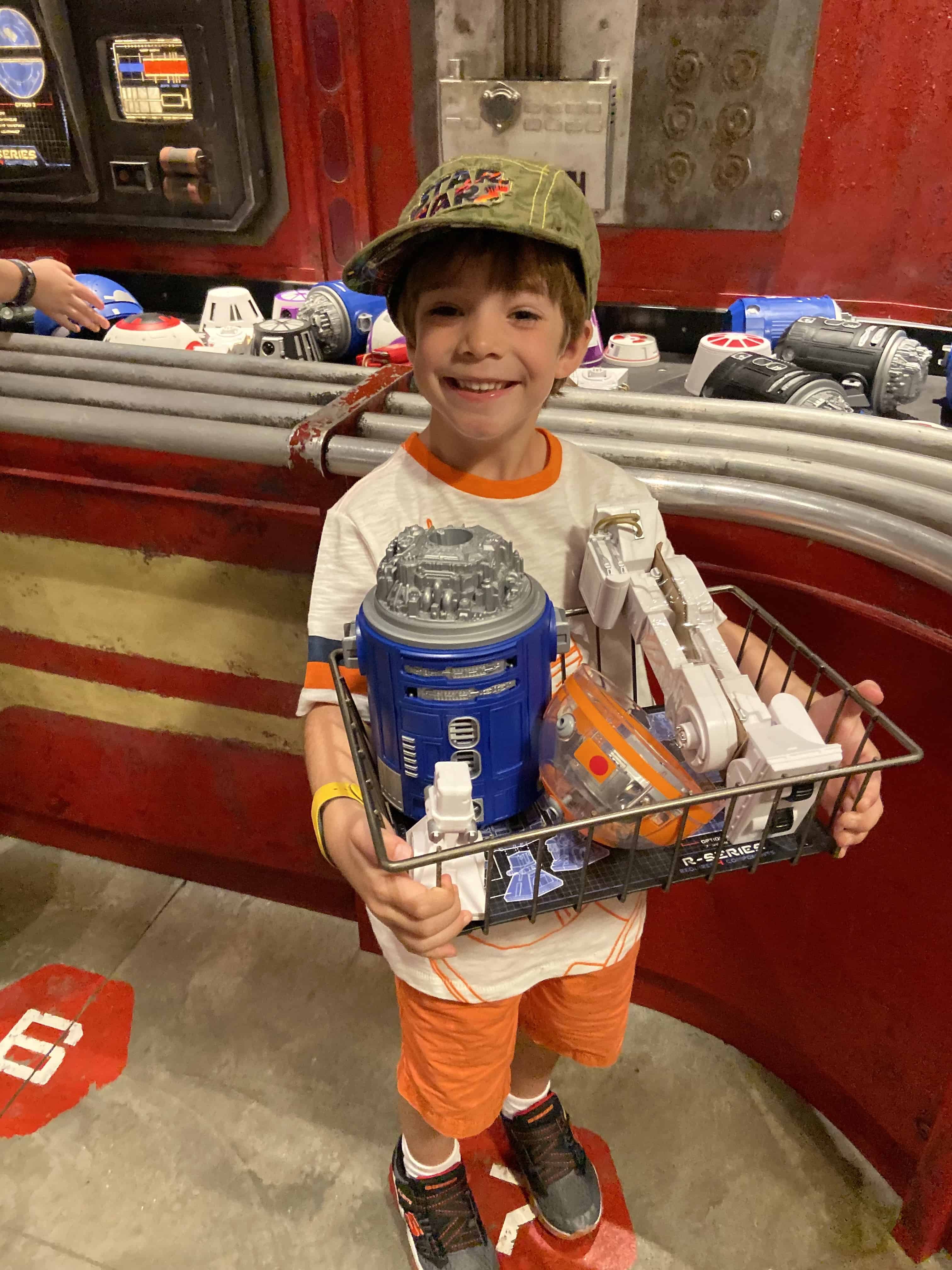 My daughter, on the other hand, used her hard-earned cash to purchase her very favorite stuffed animal. Although pricey, it has barely left her pillow-side since she bought it.
Using their own money forced them to be more careful and thoughtful about what they purchased.
Due to that forethought, they also treasure those objects so much more. I find that my children value the things that they purchase with their own money far more than the items that mommy and daddy just give them.
For more ideas about how to teach your children about earning and saving their own money, check this out.
DISNEY MOM HACK #7:
STAY CLUB LEVEL
If you have the option or the opportunity, take a few minutes to distinguish the price of food and board from the cost of Disney Club Concierge.
Club level includes your food, snacks, and other upgraded amenities. Although they refer to their meals as only refreshments or continental, I can tell you that there was plenty of quality food for our entire family to stay happy and full!
If you are someone who is traveling on one of the Disney Dining plans, then this might not be an option that appeals to you.
However, if you , like me, are traveling with small children who are constantly in need of snacks, nap, and an early bedtime, then Club Level is for you.
Club level offers meal/snack/hors d'oevres options throughout the day that will keep you and your family happy during the entirety of your trip.
RELATED POST: Empire State Club Level Family Review at Disneyland Paris
If you and your hubs are looking for a way to relax while your kids are taking an early bedtime, you can relax in the Club lounge located in the same exclusive area as your room. And, evening cocktails are included.
STAY CLUB FOR YOUR SANITY!
Knowing that we could have an evening appetizer, drink, or coffee without paying additional Disney costs made our trip so much more relaxing. Plus, we sat directly outside our room in the lounge area provided for Club guests while our children slept. No more having to creep around a dark hotel room while our young children sleep.
Our kids ate Uncrustables and crackers to their heart's content while mommy and daddy tried bold new dishes from around the world served during Club level meal times.
So, if you plan to spend an extensive amount at the parks and take advantage of character dining daily, then save the money and forego the club level expense.
However, if you plan to bring your kids back to your resort for snacks/lunch/dinner and naps, then club level might be just the oasis you need.
DISNEY MOM HACK #8:
PACK LIGHT AND COMFORTABLE
Assuming you are staying on property (something else I can't recommend enough), you will always have the ability to go back to your room and get something that you forgot.
Don't worry about packing the kitchen sink in your Disney park bag. Pack light with only the essentials, and pack comfortable rather than for Instagram.
Wear comfortable shoes. On one day, our family walked more than 10 miles before we collapsed into our resort.
Wear comfortable clothing. Don't wear a dress and flip flops if you are chasing children, lifting them in and out of rides, or want to be able to ever relax. Instead, wear your most comfortable mom shorts, your flat walking shoes, and your cutest pair of Minnie Mouse ears to fully embrace the Disney life!
Wear a comfortable backpack. Like I said, be comfortable. Carrying around 50 pounds of snacks, changes of clothing, baby gear, and souvenirs will leave you cranky. Pack only what you absolutely need for the day.
This is another great reason to refer back to Number 3. Having just a small compact rain poncho for everyone, a small reusable bottle of sunscreen, and just enough diapers/wipes for the day can be a great way to reduce the weight of that Disney backpack.
If you want to know what we pack in our Disney backpack:
Water bottles
Sunscreen
Adhesive bandages
Hand Sanitizer
Wipes
Baby items: diapers/wipes/extra onesie/pacifier/bottle/nursing cover
Tissues
Glow sticks/souvenirs
Personal items, id, and money.
And, if you are mom who is prone to carrying way more than necessary in her purse, make the effort to take only a small Disney-specific purse: chapstick, money, id. Your room key will be on your Magic Band (if you so choose), and your room is only a bus ride away if someone has an accident or gets sick. Don't overpack and make yourself miserable in that heat all day. Don't take the risk of losing your credit cards, your car keys, or other items. Leave them at the resort!
DISNEY MOM HACK #9:
PACK OR RENT A QUALITY ALL-TERRAIN STROLLER
 If you are going to take small children around the Disney parks, I can't recommend a quality stroller enough.
 This is not a tip merely for parents taking babies, no. This hack is for anyone taking any small child less than 5.
You know your children. What are they like after hours of walking in the hot sun? Begging to be carried? Hanging on you? Crying? Asleep? You are going to want a quality all-terrain stroller to keep your sanity.
My favorite is the Mountain Buggy Plus One –a stroller that has served our family well. However, they are currently unavailable. 🙁
My next recommendations are the Citi Deluxe due to its intuitive design, and the Bob that, while it only has one reclining seat, has been known to carry 2 and even 3 of my children at the same time and still glide like butter.
Don't try to push around a cheap, compact, umbrella stroller that will kill your back and provide no storage for the entire day. Give your back and your kids a break by making sure that you have a place for your littlest to ride, for your kids to rest, and even a place to keep the snacks and backpack.
Opt for an all-terrain stroller.
Don't have an all-terrain stroller? Rent one.
Did you know that there are a variety of stroller rental companies near Disney World? I'm not talking about the giant plastic monstrosities that you can rent from customer service.
No, I'm talking about quality, high-end strollers delivered to your resort, clean and sanitized, and perfect for park strolling, bus riding, and napping.
I have never personally used any of these services because I am partial to my own stroller, but if you have used any, PLEASE let me know:
                Scooter Bug (This is the only official stroller partner of Disney World at this time)
DISNEY MOM HACK #10:
MY DISNEY EXPERIENCE
You might not want to add YET ANOTHER app on your phone. Especially for just a short amount of time.
But, let me tell you, this app has it all. Sure, you can login through the online portal, but you will want it on your phone!
It not only houses your reservations, your room key, your payment information, your personal itinerary, and your park passes, it holds even more. This app contains wait times, maps, weather projections, availability, fast passes, and more.
Did a ride break down? Check My Disney Experience App.
Want a vacation countdown? Check My Disney Experience.
Hoping to find an extra dinner reservation or mobile order a snack? MY DISNEY EXPERIENCE.
GET THE PICTURE?
Download it on any device you are taking to the park, and you can offer immediate feedback, seek out frequently asked questions, or even check park capacity.
This app makes your trip so much easier from finding the entrances/bus stops to knowing when the park showtimes or fireworks start, this app has everything you need for a more convenient family vacation.
Don't leave without the app.
Even if you are just in the early planning phases of your Disney vacation, go ahead and download it. When I am daydreaming about a family getaway at work, sometimes I just go ahead and check wait times at Disney World through the app!
WANT MORE DISNEY TIPS FOR YOUR TRIP?
BONUS TIP: If you are like me and are a research-aholic or a giant Disney fan, check out some of my favorite Disney blogs:
                Disney Mom Blog (recently changed to planDisney blog)
SHARING FAVORITE DISNEY HACKS FOR MOMS
Like I already said, I am no expert, and I have nothing to sell, but I do love to research, and our family loves to Disney. So, I want to share with you too!
I have spent hours upon hours researching packing lists, Disney hacks, and even food. What I often find is that a lot of the information out there isn't geared toward moms of small children or the writer is trying to sell something.
Here, I just want to share a few of the things that I have learned that have made our experiences so much better. Our trips were magical, and despite the bumps and bruises (check out some of our Disney vacation fails here), we can't wait to go back!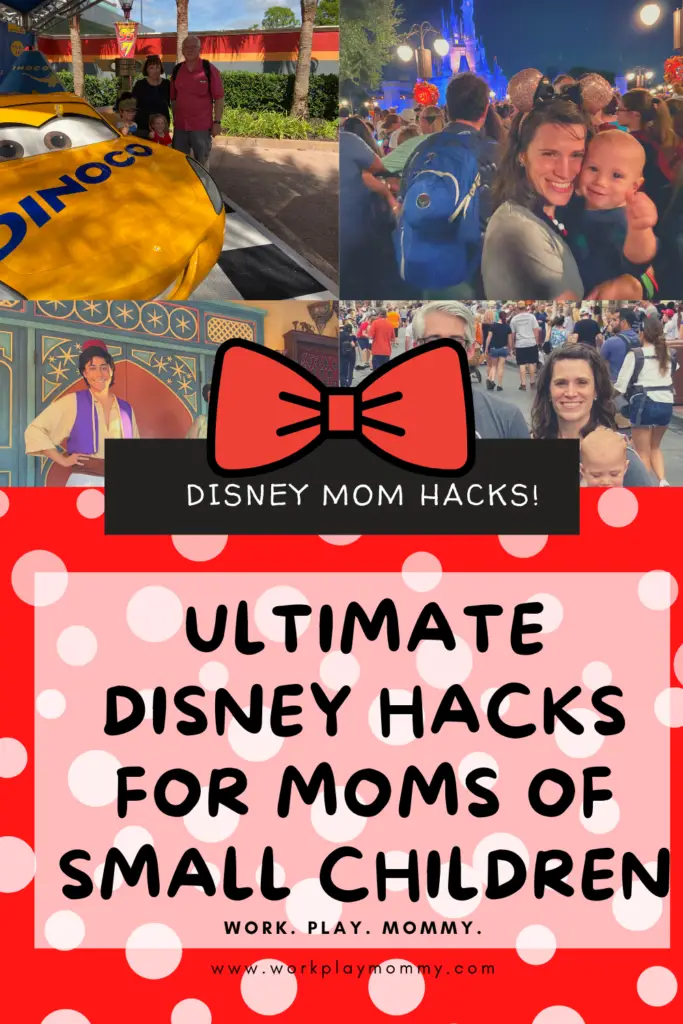 What are your favorite Disney Hacks for Moms? SHARE YOUR BEST HACKS IN THE COMMENTS!
You might also like: