OUR 5 WORST FAMILY VACATION FAILS!
Our most hilarious, gross, and epic family vacation fails to date!!!
IN OUR FAMILY, WE DO FAILURE…A LOT!
Pinterest, Facebook, Instagram, and television all bombard us with the picture-perfect look of homes, families, and children around the world. I don't know about you, but my family doesn't look like that. And, if I have given you that impression, I am here to dispel the myth!
I fail as a mom regularly. More specifically, I failed as a stay at home mom. And, if you want to know some of my worst parenting moments, check these out for a good laugh!
However, just so you know, some of our least picture-perfect moments were while on vacation. We were supposed to be having these beautiful family moments, then BOOM…something terrible, gross, or terrifying happens.
They are moments that make our family laugh hysterically now, so I hope that I can share that humor with you!
OUR 5 WORST FAMILY VACATION FAILS!
1. Puke in baggage claim
Flying home from our favorite family vacation to date, our kids were not only sick but all of the planes were delayed or canceling.
A snow storm had hit the northeast, and the domino effect on planes across the country was that planes were not only not taking off but not arriving. The plane we were supposed to leave on, had not arrived and would not even be leaving its terminal in New York.  
An extremely helpful desk attendant made sure that our family would make it home. She searched until she found a route most likely to result in us arriving at our final destination that day.
She did this as our children filled their barf buckets at the counter. Poor woman.
After spending more than 12 hours transferring tickets, waiting on delays, and seeking out the last remaining dregs of coffee in an over-packed airport terminal, we were finally at our home airport.
FINALLY ARRIVING
Arriving at 3:00 a.m., not a single shop, restaurant, desk, or even security was open at our airport. The kids were exhausted, and the parents were too.
By that time, the snow storm had also reached us. So, in our infinite wisdom, I stayed with our three young children, the baggage, and the stroller while my husband took the shuttle to retrieve our car from long-term parking.
The kids, our stuff, and I finally slumped onto a bench in baggage claim near the pickup area.
The only person in the entire cavernous baggage claim was an airport maintenance man buffing the shiny white floors with a floor Zamboni.
Any mom knows that it will be in that instant that everything will go wrong. The worst things always happen when  your hands are completely full, and you are completely exhausted.
Sure enough, as I sat down to nurse the baby and watch our stuff, my daughter looked at me with panic in her eyes.
I'M GOING TO "Fro' up"
"I'm going to 'fro' up", she squeaked.
So, I grabbed my children and started running across the bright white floors not caring whether our baggage and stroller would still be there on our return.
Half way across the baggage claim floor –recently polished by the floor Zamboni—my daughter couldn't hold it back anymore.
In a spray of chunks, she marred the bright white floor between two carousels in the center of baggage claim.
Defeated, I simply stood there, in a state of half-undress with 1 barfing child, 1 nursing child, and 1 half-sleeping child.
My eyes met with the eyes of the man driving the floor Zamboni cleaner. He nodded at me and told me not to worry about it.
Within a few moments he drove his Zamboni across the mess and cleaned it up.
What a great way to wrap up the trip!
I am extremely grateful for the man who cleaned up the mess and the company who makes floor sweeping Zambonis. What a vacation fail!
2. Convertible Ice Cream Run
One of our great thrills in life is to borrow my grandparents' convertible when we visit. It's not new or collector, but the top comes down, and it is a great way to spend an afternoon.
And, what else do you do on a sunny, hot afternoon when you are driving in a convertible?
GET ICE CREAM, OF COURSE!
Our family rolled into the drive thru of the local ice cream shop. Wisely, I required my children to get their ice cream in cups instead of cones, not wanting them to spill in my grandparents' car.
After a few minutes, we were on our way with our summertime treat.
We cruised down country roads, enjoying the scenery, chatting, and eating our ice cream.
After a few minutes, I happened to catch my daughter's face in the rear view mirror.
It was speckled with blue spots. Concerned I glanced back to see what was wrong. Strangely, my son's face was also dotted in blue.
Instantly it made sense!
Ice cream in the back of a moving convertible means ice cream sprayed across my kids faces, hair, clothing, and rear upholstery.
It was raining BLUE ICE CREAM in the back of the convertible!!
Lucky for us we had taken a huge stack of napkins from the ice cream stand and were able to clean up the upholstery, but no more ice cream for them in the convertible!!
3. Estimated trail 3…8 miles
Our family loves to take long hikes together. However, with our children's little legs, we can hike for hours and only cover a couple of miles.
Further, we must stop and look at every strange rock, watch every squirrel, and eat snacks along the way.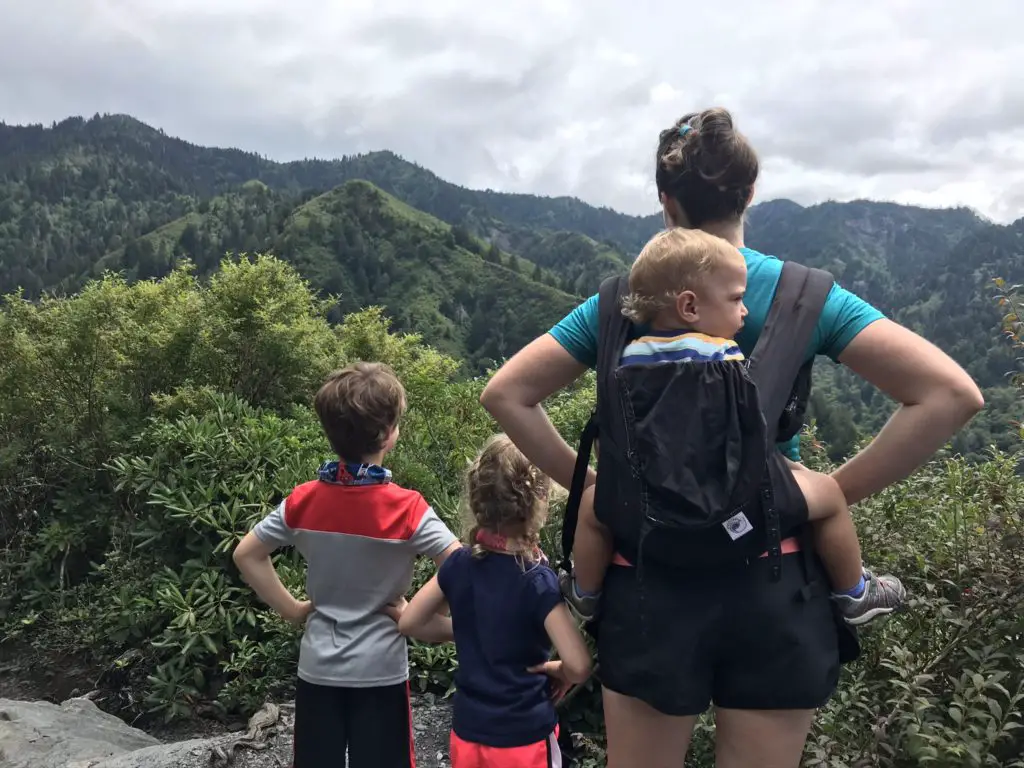 So, on one of our family vacations, we embarked on a family-friendly 3 mile loop.
Well, apparently along the way somewhere, we ended up on an 8 mile stretch rather than a 3 mile stretch.
Our kids did a GREAT job, and I think that they slept for the next three days straight. However, this was definitely a family vacation fail.
Take a trail map.
4. Bug's Life Horror Show
If you have young children and you plan to go to Disney's Animal Kingdom, let me give you a little piece of advice. Don't take them to The Bug's Life Show inside the Tree of Life.
Sure, you might have watched and enjoyed the movie. Sure, it might have a short wait time and be air conditioned. But, there is no quicker way to make you regret spending thousands of dollars on a vacation than to have your children scream in terror while you enjoy the shows of Disney.
In my defense, this was also my first time going to the Tree of Life. Naively, I waltzed my children into the Bug's Life theater awaiting our turn to watch the show.
No one told me that it was rated R for intense thrills and extreme peril. I had no idea that it was actually a SCARY show AT DISNEY WORLD!
In the opening moments, animatronic insects begin some sort of dark-humored show where they tell the story of the Bug's Life movie.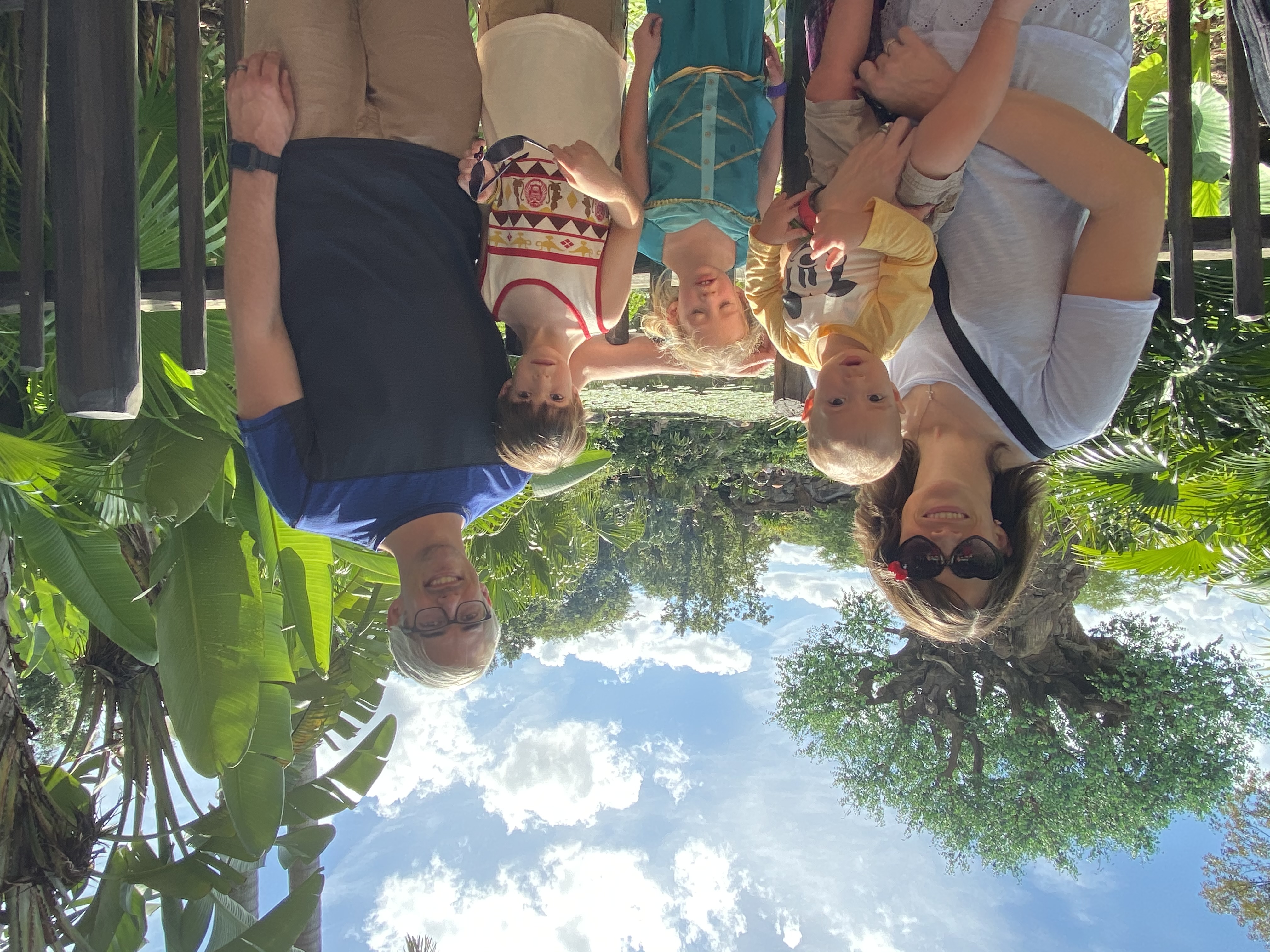 There are spiders, puffs of air, and sound effects coming from the chairs.
All three of my children were crying, and 2 were screaming "GET ME OUT OF HERE."
With no easy exit and a crowd on either side of us, all we could do was laugh at our children while also trying to shield them from the horrors of the animatronic bugs.
The rest of the day our kids feared that we were going to take them back to the Bug's Life show. They were traumatized.
Now, we use the Bug's Life show as a threatened punishment (muah hahaha!)
5. WORST CAR SEAT DIAPER BLOW OUT
As a first time mom, I took a road trip with my husband and some friends. We were the only couple with a child.
We were driving home on a beautiful sunny Sunday afternoon.  After about 4 hours in the car, the baby woke up, and we decided it was time for a break and some food.
We pulled into a restaurant parking lot, stretched, and began to grab our stuff and child from the car to go inside.
As I reached into the car seat to extract my baby, my fingers audibly squished into the back of the car seat.
My fingers emerged covered in orange goo.
My newborn had not only filled his diaper but the entire car seat with bright orange baby poop that now covered him, the car seat, and my hands.
Gagging, I peeled the clothes, diaper, and soiled car seat cover away.
Laughing, my friend watched as I piled the soiled fabrics in the parking lot debating whether to just throw them away.
After I cleaned both the baby and myself, we had the distinct pleasure of riding the rest of the way home with the stench of a bombed car seat and a bag of disgusting clothing!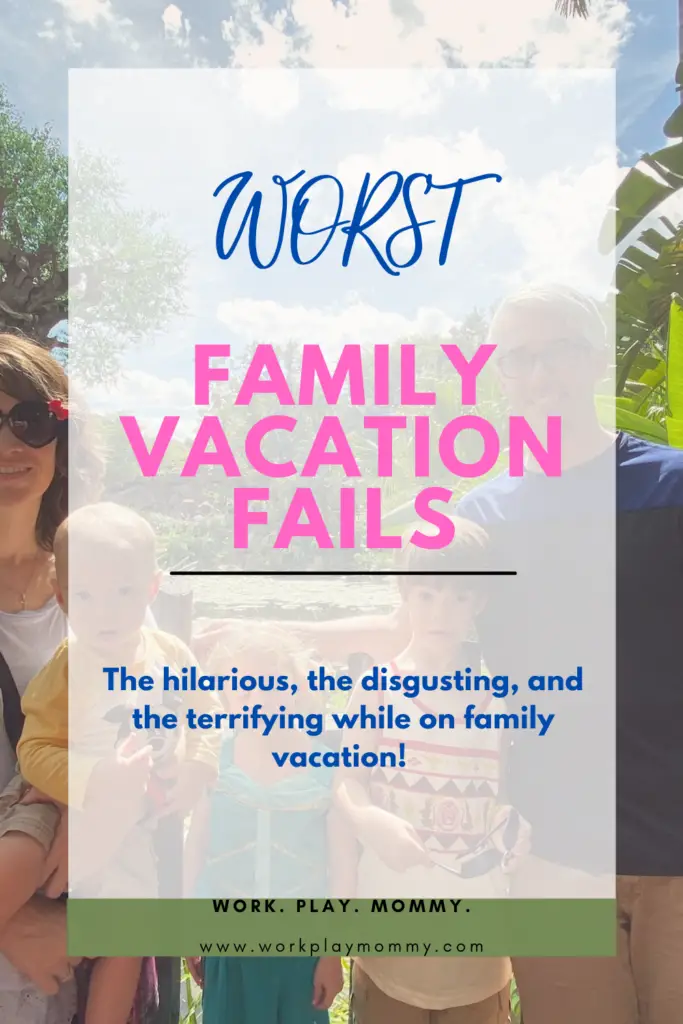 SHARE YOUR WORST FAMILY VACATION FAILS!
What are your worst family vacation fails? Ever traumatized your kids at an amusement park? Have you ever had to find the guy driving the floor Zamboni?
Don't believe for one moment that things around my house are photo-ready. At our house, we do failure a lot. But we have a lot of fun along the way.
If you are comparing yourself to the beautiful images you see on Pinterest, Instagram, and Facebook, check this out to add some more grace into your mom life.