Your reminder to treasure the young and innocent world where your children live. Reminding yourself of the importance of fast shoes and soft pants! 
Plus our review of Gaitline shoes for kids from Gaitline and Minimeis.
(To read my review of my favorite toddler carrier for adventures —the Minimeis, check this out.)
(This post contains affiliate links from which I may receive a small commission at no additional charge to you if you make a purchase. As an Amazon Associate I earn from qualifying purchases.)
FAST SHOES 
Do you remember when the highest compliment that you could pay someone was that their shoes looked fast?
The kids who came in with the windbreakers and a stripe up the side of their shoes were clearly a force to be reckoned with.  
All of their strength, speed, and popularity was packaged into those little shoes with the stripe, the lights, and the bright white shoe laces! 
Boys gathered around them cheering "ready; set; go." The girls proudly stomped their feet making the lights on the bottoms of their shoes light up while the other girls ooohheed and aaahhheed.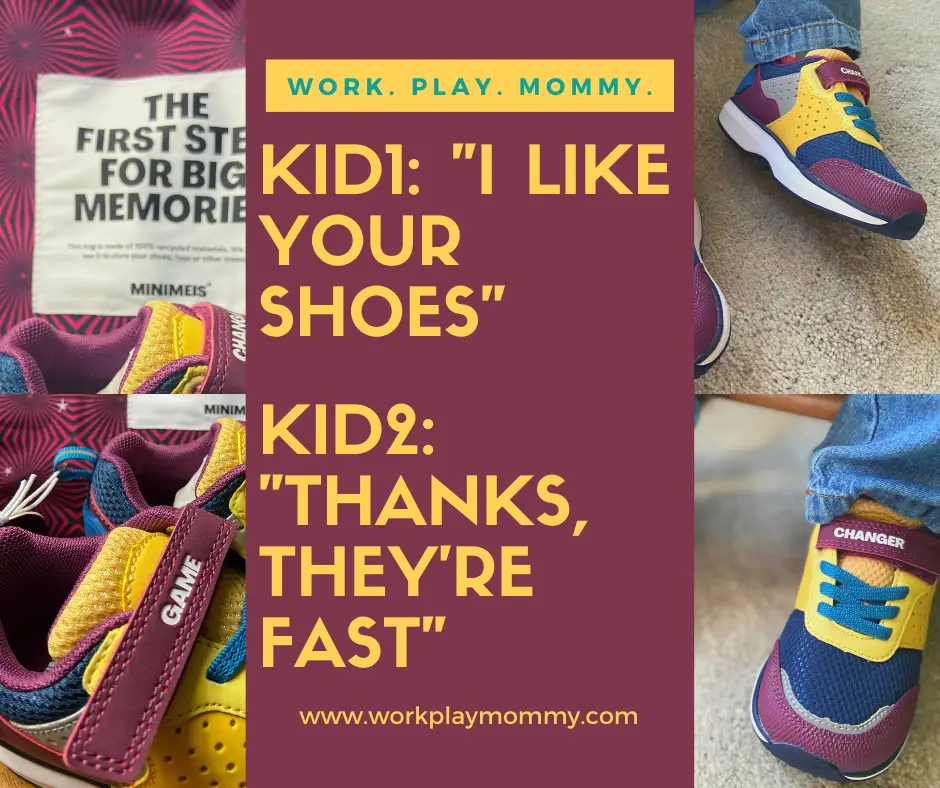 The concerns of the day included wondering what was for lunch, whether there would be snack time, what special was, and whether mom packed an extra quarter for an extra milk.  
You stressed over making it all the way across the monkey bars without jumping off midway, how many teeth you had lost, and who would be line leader.  
THE FAST SHOE TEST 
My children have to test shoes. Test for speed. They have to make sure that they can "run fast" in their new shoes.  
My son recently got a new pair of these adorable Gaitline Game Changer shoes for kids that partner with MiniMeis. They are oh-so-cute and super comfy. But, most importantly to my son, they are "really" fast.  
Gaitline shoes are designed for active kids –definitely my kids. They are not only sturdy, cute, and comfortable, but they are easy to put on little feet that just want to get running.
Gaitline Game Changers are my current favorite shoes for my toddler, and I hope that they will expand into larger sizes soon for my big kids.
Gaitline Speed Test!
As soon as I put them on his feet, he promptly ran as fast as he could across the kitchen floor. Elbows darting out to his sides; his head ducked down, he pumped those little chubby legs as fast as he could. 
Huffing and puffing he sank down into his little chair and declared "I love these shoes; they really fast." 
I had to bribe him to change his shoes for an event we were attending!  
(To get up to 25% off of the shoes, bundle the carrier, the shoes, and the backpack. Or, take 15% off of the carrier with my referral link.)
His day was made. He had conquered all he needed to conquer. His only concerns about his day were that he would be able to race freely and speedily! 
I struggle to remind myself of those more innocent days. I get so wrapped up in where we need to be, where we need to go, and how we need to look while doing it, that I forget that my kids just want to show other people their fast shoes.  
(Side note: if you say hello to my two-year-old, he will likely respond by showing you his shoes. He is very proud of them!)  
SOFT PANTS 
The worst part of their day isn't figuring out whether the bills will be paid or who will cook dinner. Instead it is the fact that mom, yet again, wouldn't let them wear soft pants.  
Don't know what soft pants are? Well, apparently, at some point, all of the athletic brands developed a consipiracy against jeans and dress pants.
Massive corporate sabotage: those companies must have added extra starch, itchy fabric, or Kevlar to pants.
Now, the only pants that are wearable without breaking down in agony are athletic pants. Or, as we call them, "soft pants." 
My kids want to wear soft pants every day. Even when my children know that they must don their school uniforms, church clothes, or special event clothes, we have to have the "soft pants" argument.  
"Mommy," I hear chirped from their bedroom. "Can we wear soft pants today."  
"No." I reply, explaining that we are going somewhere nice.  
Tears.  
"But, WHY????" 
This is the scene, every time they ask. On the rare occasion that I allow them to wear soft pants –usually because we are going to do something athletic – they cheer. 
On a rainy cold day, I tell them to change from their dress clothes into loungewear. They run for their soft pants, usually laden with superheroes or rainbows! Happily they laze around the house reading their books, playing games, and sneaking snacks from the candy bowl! 
Hot Coffee: Soft Pants
While my kids are celebrating this small victory of getting to wear soft pants, I remind myself of my own mom wins!
Most days I have to take time to celebrate my small victories.  
RELATED POST: You need a mom win: Practical victories for moms.
While we moms treasure these healthy little ones. I know that I am ill-suited to answer their many questions.
Their needs overwhelm me, and that overwhelm is compounded by the needs of work, home, and society.  
Run down and weary, I don't see the same value in having fast shoes or soft pants. I don't see them with those innocent care-free eyes. 
Instead, the fact that I have yet again had to leave my once hot coffee on the counter to break up a fight or change a dirty diaper bothers me.  
Wishing that I could have just a moment or two to drink my coffee fresh and hot –rather than the dregs from yesterday's pot that I reheated in the microwave 3 times—I am easily annoyed.  
Basically, I realize that my hot coffee has nearly the same value to me as fast shoes to my daughter and soft pants to my son.  
MOM IDENTITY 
Before children, you made your coffee and sipped it in peace. Before children, you were the master of your own wardrobe with little care for whether something would show a spit up stain.  
Now, you are no longer ____________ (insert your name), you are _____________ (insert your child's name)'s mom.  
Your kids measure their age like a badge of honor. They even added halves just to make them sound a little older.  
They differentiate themselves from children who are mere months younger because they are "little kids." 
"Remember when I was 3 and just a baby," my three year old muses. 
(Of course I do; stop growing; it was only yesterday!) 
But, moms, now, most of the time, I don't know my age. 
Do you have to pause to remember your last birthday, what year it is, and the day? I have even forgotten my own birthday until the day of! 
Today, I am no longer an age. Instead I am a mother of toddler and preschool children. Thus, my friends are now also parents of toddler and preschool children.
Many of these parents of toddler/preschool children are a decade or more older than me, and some of them are a decade younger than me. Their age matters little because their daily stresses are the same.  
We bond over the same struggles and ridiculous stories. All of us are in this strange stage of life where our names and ages no longer matter because we spend our time looking for the fastest shoes and pants that won't eat our children whole.  
We connect because one of us might drop off an extra cup of hot coffee!  
And, despite the ridiculous things we have had to say this week or the ridiculous requests our kids have made, we laugh, smile, and treasure these moments.  
These little ones have so little more to worry about besides whether their shoes are fast and their pants are soft.  
COUNTING BLESSINGS 
And, as my children wake me up long before my alarm, bringing me a breakfast tray decorated with a seedling potted in a plastic cup, I can't help but feel blessed. 
I'm offered a peanut butter candy from the candy bowl and a pancake.  
They smother me in sloppy kisses, and I treasure their smiling faces.  
Mere moments after putting the tray on my bed and before I have cleared the sleep from my eyes, they tell me they love me … and then ask for a bite.  
Spending the next several minutes shoveling what was supposed to be my special pancake in bed into the mouths of 3 waiting birds…I mean children…, I can't help but count my blessings.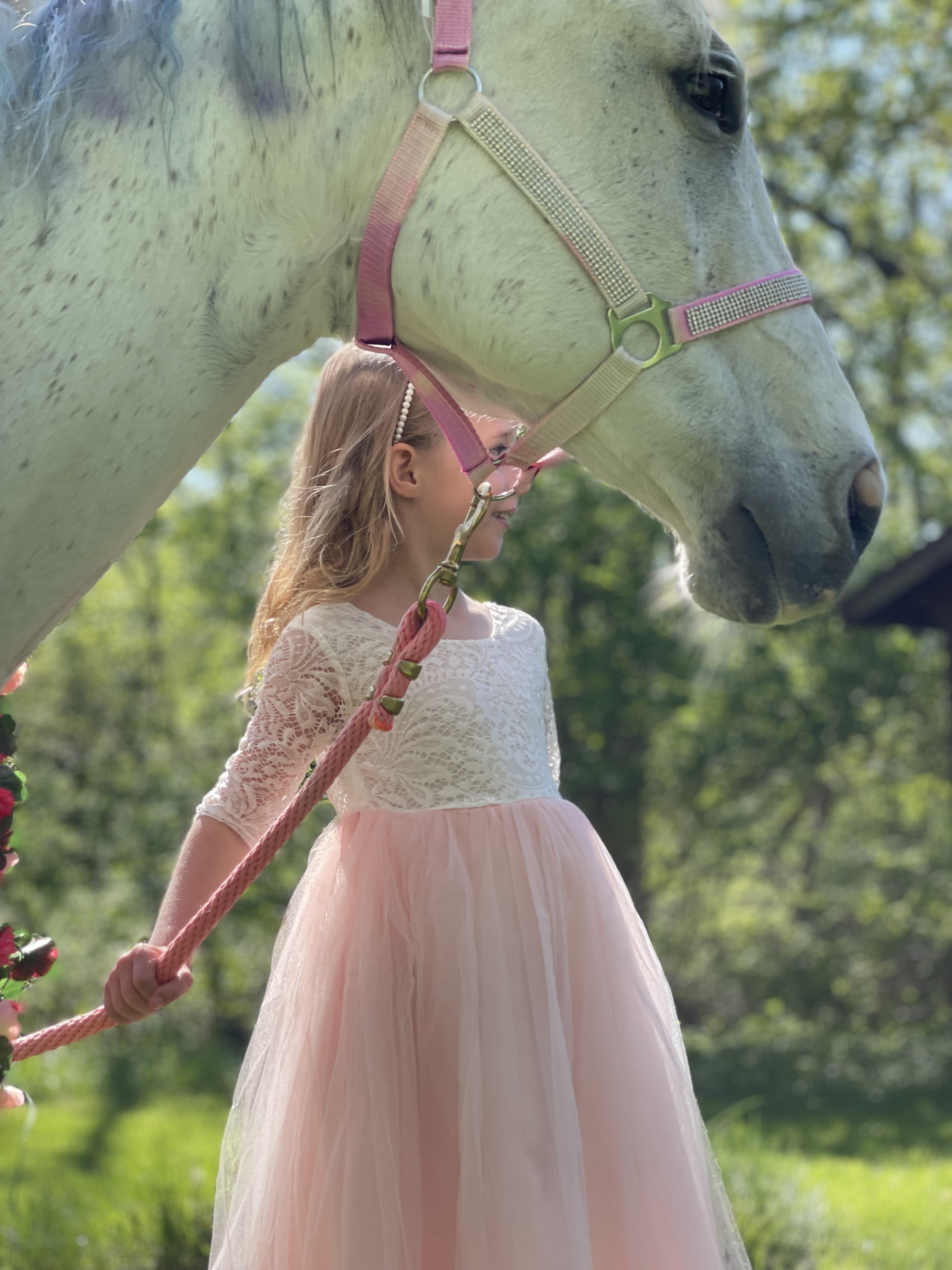 These little ones don't have to worry about the stresses of work, bills, and society. My little ones are happy with a new pair of fast shoes and lounging around the house. And, I want to keep it that way.  
For as long as I can keep them little, I want to remind myself that their world is so different than mine.  
Their world is magical unicorns and rainbows. It is safety under the wings of mommy and daddy. Their world is watching ants make homes, birds hatching, wearing soft pants, and testing fast shoes.
Their world is beautiful, and I need to remember to cherish it!