Thankful Pumpkin: A Special, Simple Way for Your Family and Young Children to Practice Giving Thanks
Every night when our family sits down to dinner, we play a game called "High, Low, Buffalo." (Read more about it here.). However, when November 1 rolls around each year, we trade High, Low, Buffalo for our Thankful Pumpkin.
This special and simple Family Thanksgiving Activity helps our children practice thanks during the Thanksgiving season.  
In contrast to the Thankful Pumpkin, High, Low, Buffalo acts as a script to help our young children talk about their day, share their important moments, and even share their feelings.
Our family loves High, Low, Buffalo and wants to make it a part of your family routine too. However, in this season of counting our blessings, the Thankful Pumpkin is a way for our kids to trade talking about themselves for talking about their blessings.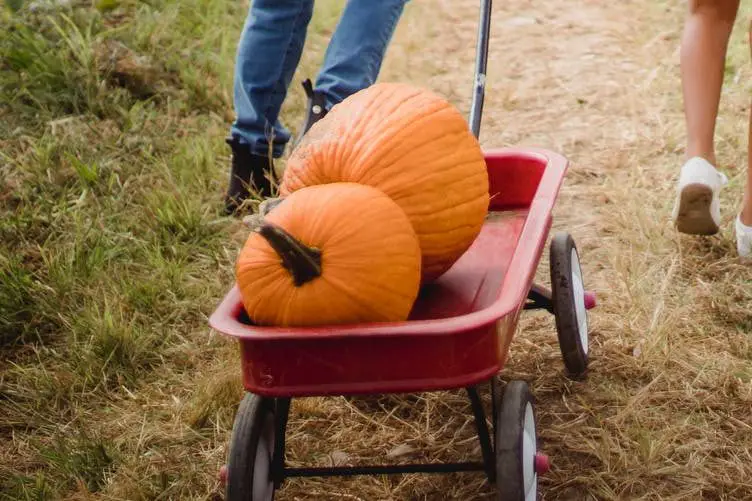 Teaching Children About Thanks
Our children have everything. They have a roof over their heads, food on the table, clothes on their back, and a mommy and daddy who love them.
If you are like me, you struggle with trying to help your young children appreciate those blessings.  You don't want to deprive your children of anything, but you also want to be sure that they give thanks.
Many kids just expect new shoes, game systems, and running water. Other children around the world would love socks, food to eat, and some simple toys. Our children are up to their eyeballs in stuff that they don't use or care about.
Further, as Christmas nears, they begin to focus on what they can get or what they can buy. For a few moments a day, I love that this Thankful Pumpkin activity helps my children focus instead on what they already have.
What better time to concentrate on giving thanks as a family than the few weeks leading up to Thanksgiving?
My house is covered in pumpkins anyway, why not add one more!
LEAVE YOUR THANKFUL PUMPKIN IN A PROMINENT LOCATION
Our Thankful Pumpkin becomes our centerpiece throughout November. We even keep it on the table for Thanksgiving dinner despite the fact that it doesn't end up very pretty!
Although I would love to tell you that I keep my dining room table spread with an elaborate Thanksgiving setting, we use our table…every day. Therefore, at other times during the year, it might have a simple vase or candle on it, but it definitely would not make a Pinterest feed!
Instead, I just put the Thankful Pumpkin right in the middle of our dining table. Leaving the Thankful Pumpkin right in the center of our table is a simple excuse to get out of having extravagant décor and doubles as a constant reminder to our children to count their blessings.
For you, your family space might be your living room, an entryway table, or kitchen counter. No matter where you put it, make sure that it is in a place where you and your children will see it regularly and remember to count your blessings.
WHAT IS THE THANKFUL PUMPKIN ACTIVITY?
This activity requires no special skills or equipment. Just a permanent marker and your pumpkin of choice!
Each night, as you sit around as a family, eat dinner, or prepare for bed have each member of your family take a turn sharing something that he or she is thankful for.
It can be anything, the dog, the cat, the electricity, a good mark at school. Facilitate a broader discussion: why? when did you not have electricity?, how did that make you feel?…
So, even though the child only has to name one thing, you should discuss that particular blessing in their lives.
Then, have your child write that blessing on the pumpkin. If they can't write yet, perhaps let them connect the dots on the word or write it for them. However, it is very important that they be involved.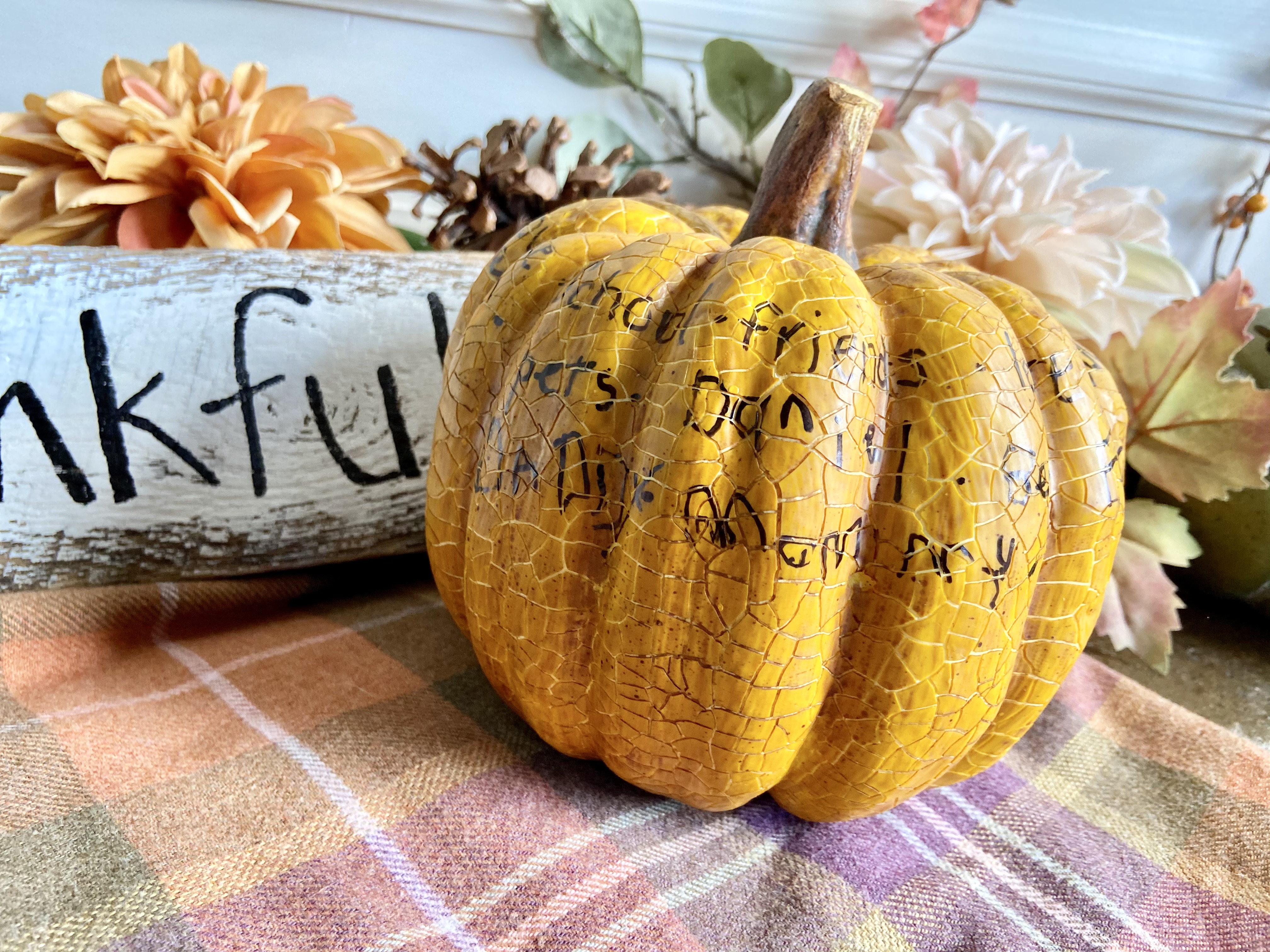 DISCUSS YOUR OWN BLESSINGS
My kids each like to point out which blessing is theirs each night at dinner. By the end of the month, they are remembering so many more things to be thankful for.
This exercise isn't only for the kids. The adults are required to participate too.
Take the time to discuss what you are thankful for and why.
You might consider choosing to express thanks for a particular child each night or even talk to your children about why you are thankful for a job where you work hard.
The entire activity usually only takes a few minutes. However, I believe that the mental exercise of pausing to reflect on your blessings can help you lead a more thankful life all day.
TEACH YOUR CHILD TO GIVE THANKS
Further, you are teaching your kids to be thankful for the big and little things in their life. Maybe they are thankful for a special stuffed animal or maybe for a special family vacation.
In any event, they are forced to recognize that these blessings enrich their lives and are not entitlements.
The Thanksgiving season is so often overshadowed by early sales, baking, or even final school projects that this Thankful Pumpkin family activity is a simple way to re-center your whole family.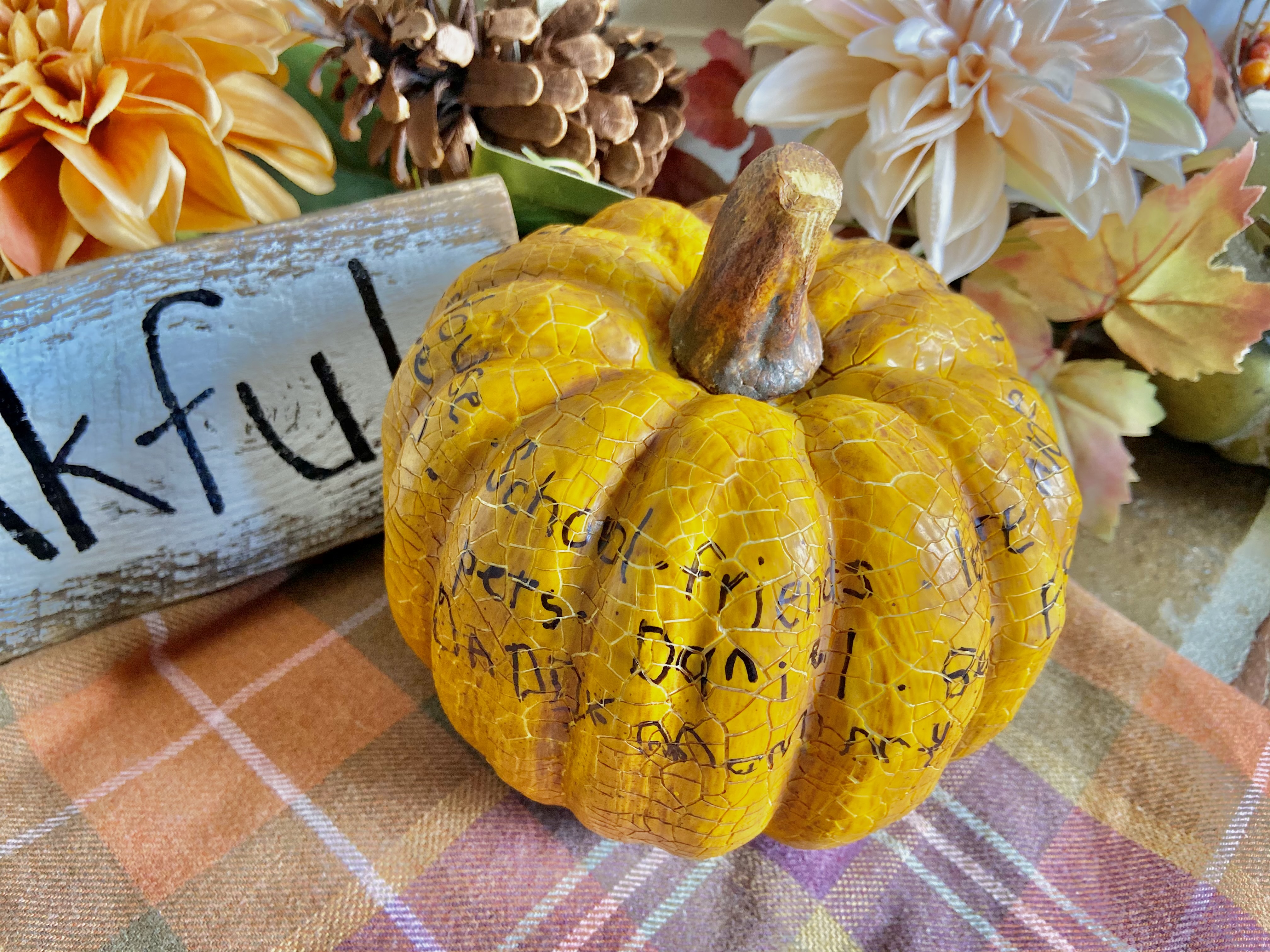 Take the time to count your blessings, to give thanks, and to express gratitude as a family.
Then, take December to reflect on advent, and return to High, Low, Buffalo again in January! For more fun family activities, check these out!