BEST FREE OR FRUGAL BUDGET HACKS TO CUT YOUR FAMILY ENTERTAINMENT SPENDING
Free or frugal entertainment budget hacks for families!
(I am a participant in the Amazon affiliate program. This page contains affiliate links from which I may receive a commission at no additional charge to you if you make a purchase.)
STICKING TO YOUR ENTERTAINMENT BUDGET
This year it has been easy to cut out restaurants and movie theaters from the budget. And, maybe, if you are like us, your wallet has breathed a sigh of relief.
However, with things opening back up, and you on a budget (if you aren't on a budget, read why you should be here), you need some accountability but you also need some HELP.
How can you still go out, have fun, and keep the family entertained, while not straining the budget?
Well, I'm glad you asked. Here are some of my favorite entertainment budget hacks. A list of free or nearly free entertainment to keep your entertainment budget on track.
Also, if you are looking for a list of more than 100 things to do as a family this summer, click here.
WHY SHOULD YOU HAVE AN ENTERTAINMENT BUDGET?
First, if you aren't quite with me on this "entertainment budget" business, we might need a little primer.
I believe that every dollar that you are going to earn this month should have a name on it before you start spending it. (Need some Dave Ramsey in your life? You have to read this.)
A budget is all about deciding in advance what you are going to do with your money. This puts you in the captain's seat rather than your bank account balance deciding what you do or don't do.
You are no longer beholden to the balance, instead, you drive your own financial freedom.
As your own CFO, you get to decide what your money does for you. You get to decide how much to spend, how much to save, and how much to allocate to fun and frivolity.
And, you should allocate some money to fun and frivolity. (Want to know why? Read here.) Choosing to designate some of our money as "fun money" every month has not only improved our marriage, but has actually given us more margin in our budget.
WHAT DOES YOUR ENTERTAINMENT BUDGET INCLUDE
If you are thinking that you are in this debt free journey and you don't deserve any entertainment, think again. If you don't throw some fun in your monthly budget, then you will burn out fast. Entertainment doesn't have to be expensive.
For example, when my husband and I were first married, we made a whopping $1,200.00 each month combined. In fact, I even found my old budget sheets recently from those days!
We were poor students, who also paid high on-campus rent. So, with the roughly $500.00 left each month, we had to pay our utilities, our groceries, our gas, insurance, and other incidentals.
Our grocery budget was $30.00 per week. Our gas was about $20.00 per month, and things like medical bills, books, or even parking were carefully budgeted.
So, when it came to date night, we had to be quite frugal.
Our solution?: Redbox and Chili's.
OUR FREE AND FRUGAL ENTERTAINMENT BUDGET HACKS
At the time, we couldn't afford to have a meal out or go to a movie. So, we improvised.
We could go to Chili's and eat bottomless chips and salsa for $2.99 (they have since raised the price). Add $1.00 for a tip, and we could feast on a dinner of chips, salsa, and water. We would spend an entire hour or more sitting in the booth making googly eyes at each other over our date night treat.
Rarely, if ever, did we order a meal: sorry, wait staff.
But, we had a great time just relaxing and enjoying the time out of our house. Afterward, we would walk through a store, never daring to purchase anything, and dream about the day when we could buy whatever we wanted (HA. HA.).
Then, we would stop at the nearest Redbox for a date night movie. At the time, Redboxes were only $1.00, and we could often bum a coupon code from someone.
So, on those frugal date nights, we could spend an entire evening out on the town for less than $5.00 plus gas!  
Other weeks we would volunteer to be the designated drivers for our friends because the bars gave out free soft drinks and hot dogs! We could spend the whole evening out and never touch our wallets!
Sure, our diets were largely devoid of fresh fruits and vegetables, but we learned how to stretch a buck!
Now, even all these years later, we have learned a few ways to enjoy an evening or an entire day out for little to no money. Further, we avoid buying things that we can get free.
We set timers to cancel free trial subscriptions, and we use those hard earned coffee shop rewards points!! I have a whole stack of coffee shop punch cards in my wallet!
So, here are some of our very favorite ways to stretch or completely elimate your entertainment budget spending while still having some fun! Some of our favorite free and frugal entertainment budget hacks!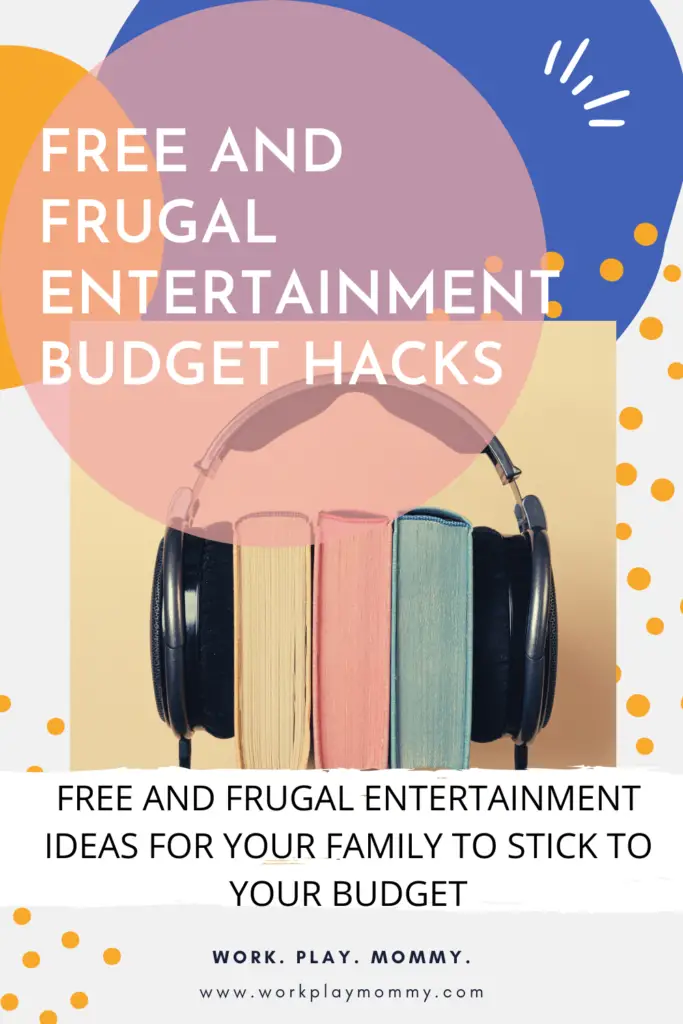 I can spend hours browsing our local bookstore. Further, spending money on books seems so justifiable! It's for my kids' education, right? So, in those hours, I can spend hundreds of dollars.
As a working mom of littles, I rarely take the time to sit down and hold a book to read.
Instead, I do most of my reading by audiobook. In the car, at night, while I am cleaning –if I'm reading, it's by audiobook.
Our library (something I will come back to) has a great selection of audiobooks, but most of the time, the book that I want to read has an extensive wait time.
Thus, I fall into the trap of renting or buying the audiobook online.
However, did you know that if you sign up for Audible Plus through Amazon, that you can access thousands upon thousands of audiobooks for FREE for 30 DAYS?
Even if you decide to continue to use it, it is only $7.99 per month.
I find this especially good for vacations. On any given vacation, I can go through 2-3 books. At only $7.99 per month, I can afford to stop reading a book if I don't like it and switch to a new one.
Plus, Amazon Audible Plus also includes podcasts and children's books. So, you can get a head start on reading those family novels!  
Or, maybe you are more like my husband and have a problem with music downloads and streaming services. Do you pay for Sirius, Spotify, and Itunes each month?
Grab 90 free days of Amazon music and listen to unlimited songs with unlimited skips.
This link will get you 3 months of no music spending without sacrificing!
3. Go To Your local library: FREE
You already paid your local taxes, so go ahead and take advantage of going to your local library. If you don't know where your local library is, use this WorldCat Library Finder to find out where your local libraries are located.
Sure, libraries are a great place for borrowing books, movies, music, and audiobooks, but have you ever considered their programs?
Take your toddlers to reading time.
Join the summer reading program.
Take your kids to STEM activities like robotics, legos, and more.
Enjoy seed swapping, the children's play area, and local entertainment like bands, food trucks, visiting aquariums, and movies.
Your library likely offers so much more than just books and movies –for both you and your kids.
Enjoy a lazy afternoon at the library while someone else entertains your children. It will probably be a lot cheaper than browsing through the bookstore. (As long as your return your books on time…oops!). And, just because your library doesn't offer it, doesn't mean that you are out of luck.
Most libraries limit their book and movie borrowing to library card holders. However, most events are open to the public, no library card necessary.
Our family often visits other libraries for fun events even though we aren't card holders!
4. Farmer's Market: FRUGAL
I love a good farmer's market. I'm Midwest through and through, so I get excited about things like good corn on the cob and homemade baked goods.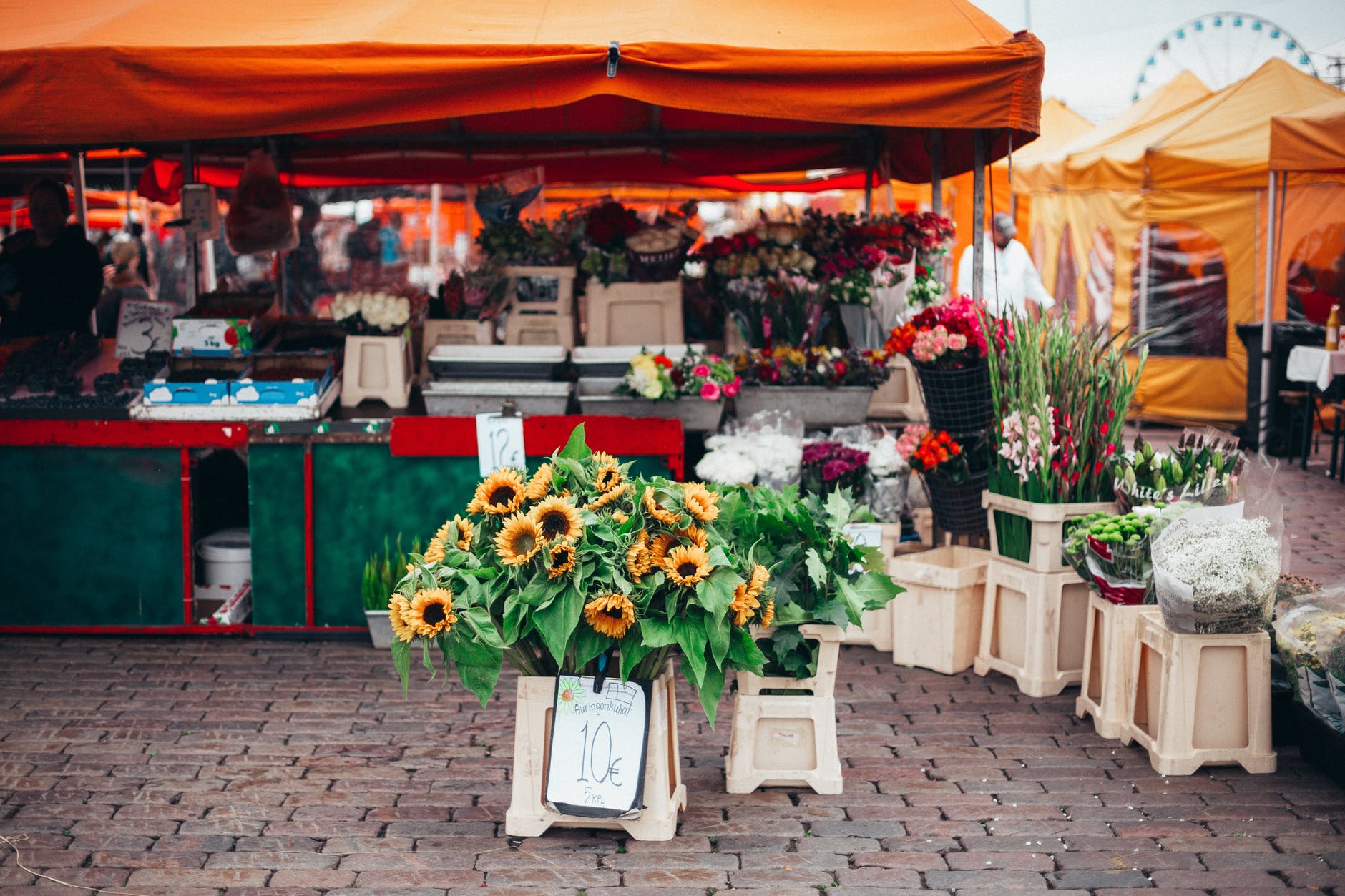 While I was in grad school I spent many lazy Saturday mornings strolling down the lanes of vendors holding my husband's hand and my dog's leash.
(Is it just me or does it seem to be a prerequisite that to attend a farmer's market you must either push a stroller or hold a dog leash?!!!)
We would listen to kids splash in the splash pad, watch the glass blower's work, and even try the samples.
After we spent a few dollars on a couple of baked goods and some fresh produce, we would head home hours later.
For me, this was great entertainment: breakfast, a show, social interaction, a dog walk!
5. Borrow Friends DVDs: FREE
If you aren't so good at managing your subscription services or returning your movies on time, consider simply swapping entertainment with other friends.
If you have a friend who already owns every movie under the sun, ask if you can borrow one or two for an at-home date night treat.
Better yet, set up a makeshift screen and projector in the backyard and make it a drive in.
Our friends sometimes let us borrow their projector that we set up in the basement or our backyard for a special family treat.
To make the evening extra fun: add a bag of popcorn and some boxes of movie theater candy. The combination makes for a fun, cheap, and memorable evening for you and your kids!
6. Go to the Park: FREE!
This week has been a mix of rainy, cold, and sunny. Even so, I have spent hours at our local parks this week.
We have taken walks, enjoyed watching our kids play on the playground, and sampled the new cookies from the Farmer's market! (See 4 above!!!)
Sure, we spend a lot of time playing and running in our own yard, but sometimes you want to feel like you have gotten out even when you are trying not to spend money.
Like the library, your park probably offers more than just a jogging trail and a playground.
Check your community events schedules for outdoor movies, traveling petting zoos, fairs, food trucks, and more.
Parks are free and fun!
7. Go Out for Dessert: FRUGAL!
Eating out with kids can be a real hassle on top of a real expense. Our family limits eating out to one time a week for the most part. Often, we just grab takeout or curbside-to-go just to keep the stress and expense to a minimum.
However, one of the ways that we all go out without breaking the bank is to eat at home and then all go out for a dessert.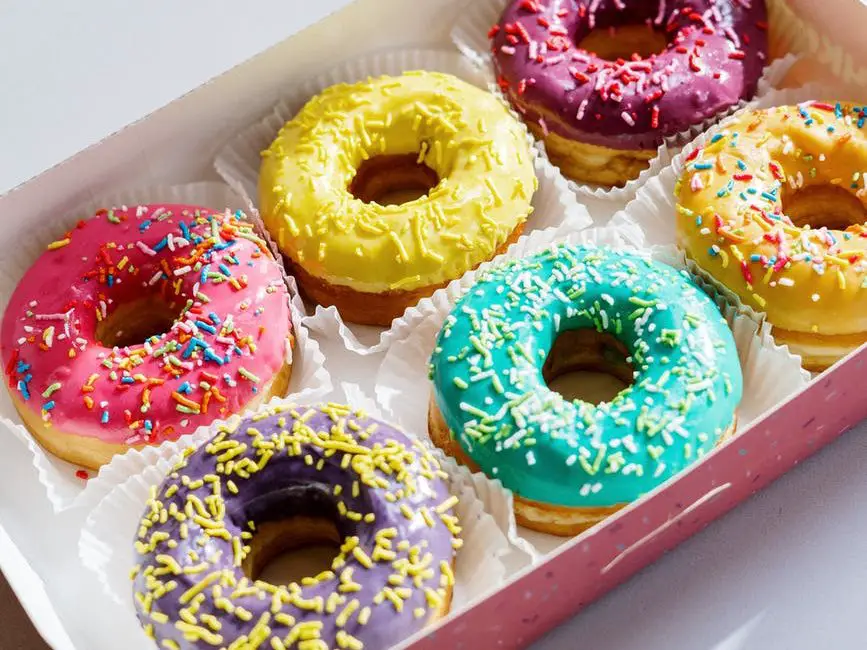 This could mean donuts, ice cream, cake, cookies…whatever! For mommy and daddy it almost always includes coffee!
Sometimes we grab our jogging stroller and a couple of bikes to have a family fun night stroll capped with ice cream out. The kids love it, the parents get a little bit of exercise, and it leads to a night of screen free fun!
YOUR ENTERTAINMENT DOESN'T HAVE TO BREAK THE BUDGET; USE THESE FREE AND FRUGAL BUDGET HACKS FOR YOUR FAMILY!
Staying on a budget does not mean that you should completely eliminate your entertainment budget. Getting out of debt or staying on budget doesn't have to be only drudgery.
In fact, you will likely burn out before you meet your goals if you don't take the time to find some fun along the way.
Use your imagination and creativity to brainstorm, fun, free, or frugal entertainment for you and your family so that you don't break your budget.
Start with these ideas.
If you are looking for other suggestions for fun family activities instead of throwing that big birthday party, try this.