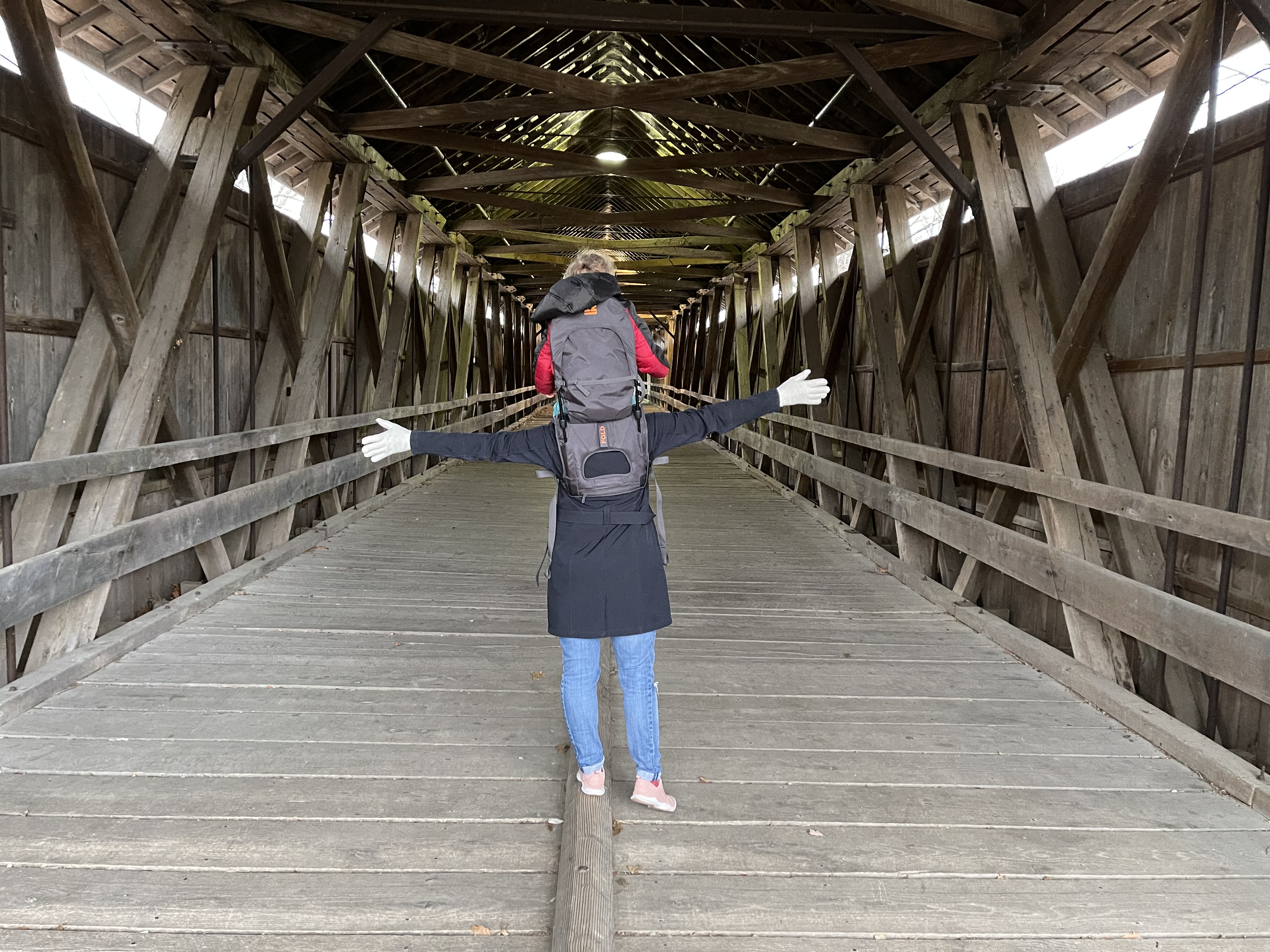 AND A MINIMEIS DISCOUNT!
My husband and I sought out to find our favorite toddler carrier for hiking, adventures, and family activities. Now we want to share our reviews of our favorite toddler carriers with you!
(*The links on this page may contain affiliate links from which I may receive a commission if you make a purchase.)
When all of my children were infants, I loved the Ergo, the Tula, the Lillebaby, and my ring slings. I loved having them snuggled up close where I could hold them, protect them, and see them.
But, as they get older they outgrow the infant carrier while still being in a phase where they can't quite keep up with us.
So, After trying several different toddler carriers, talking with friends about their experiences, and even asking people along trails what they used, we narrowed it down to 3 of our favorite mid price styles!
The Minimeis Shoulder Carrier Review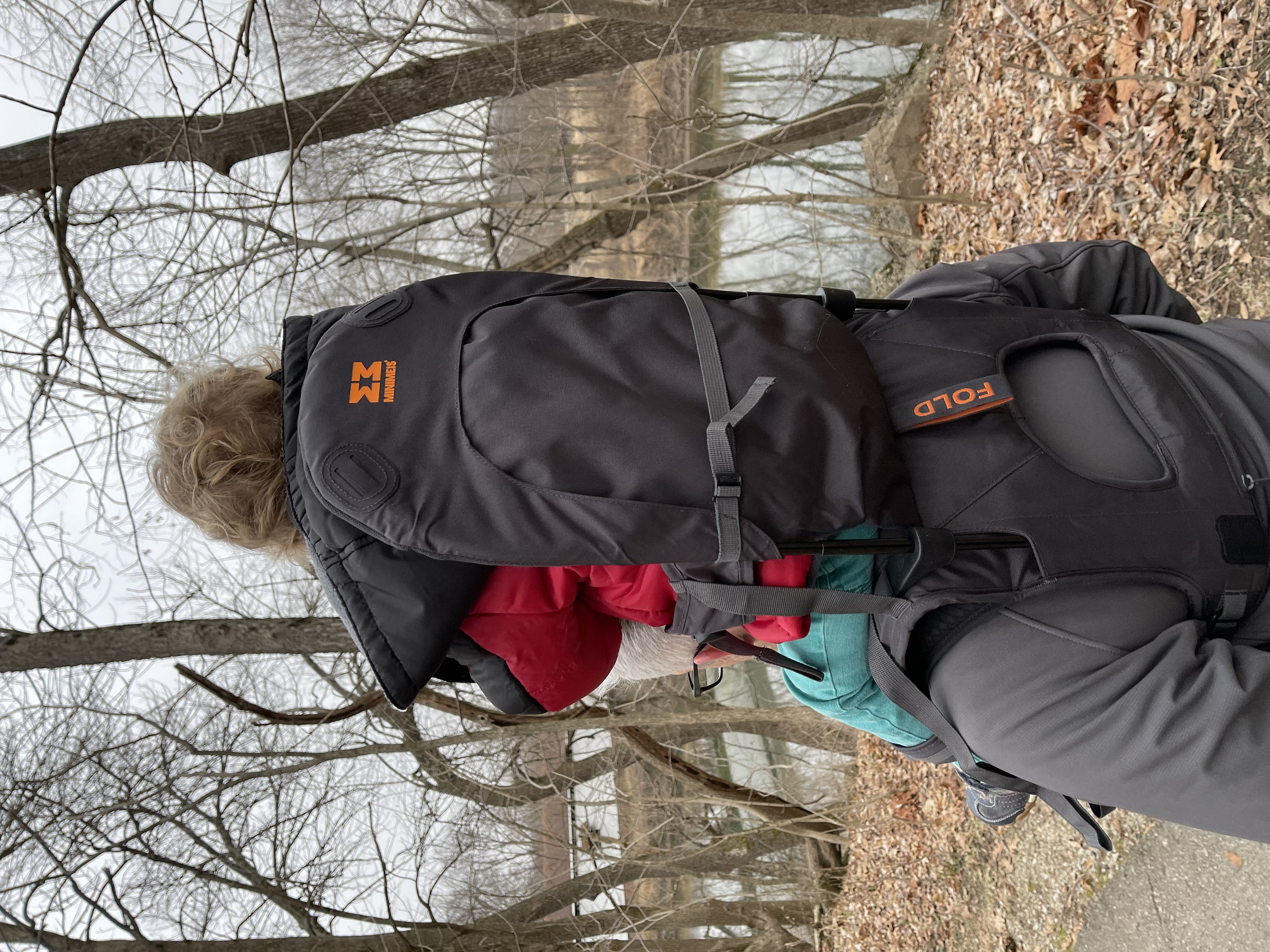 The Phil & Ted's Parade Carrier Review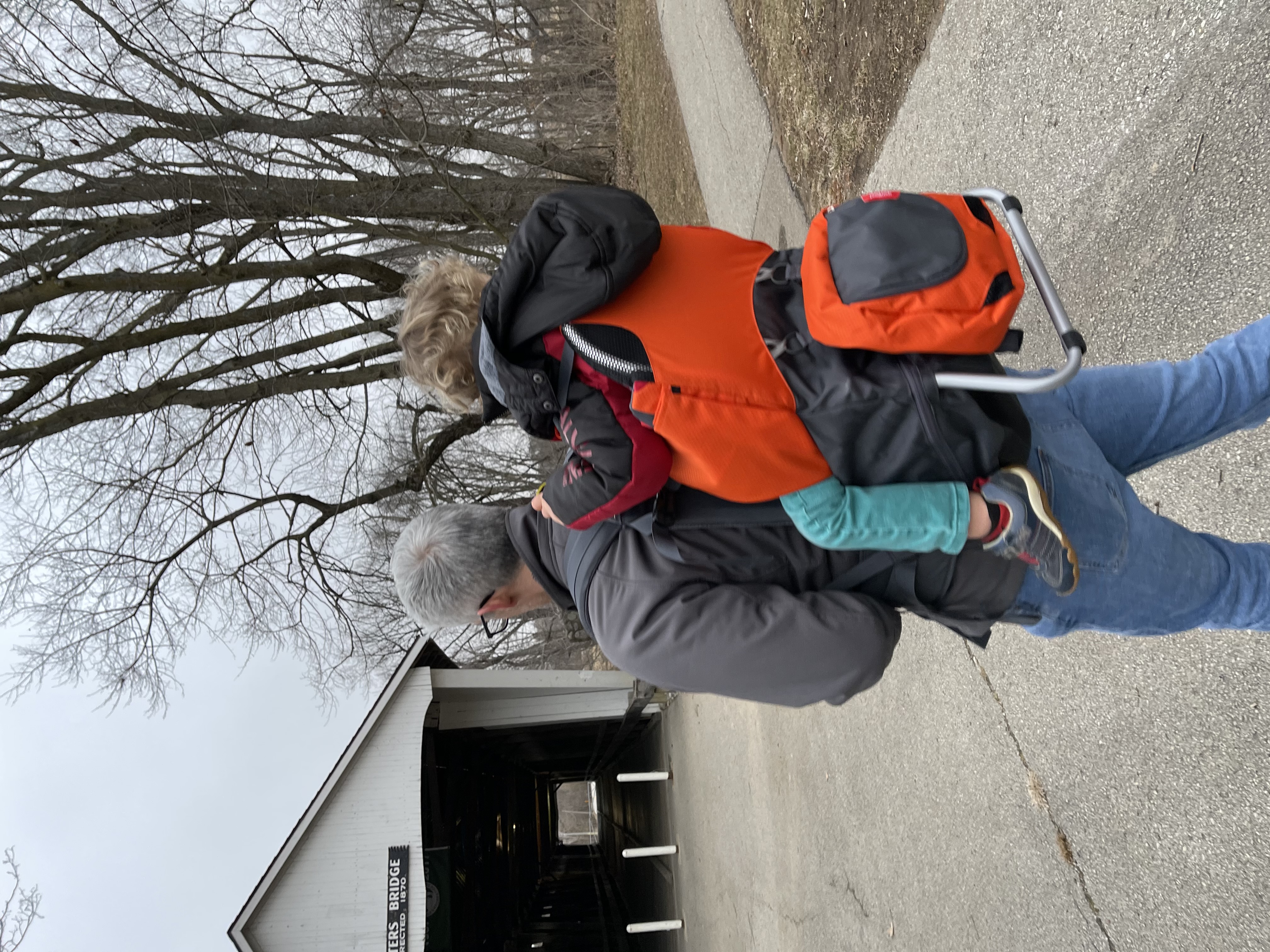 The PiggyBack Rider Review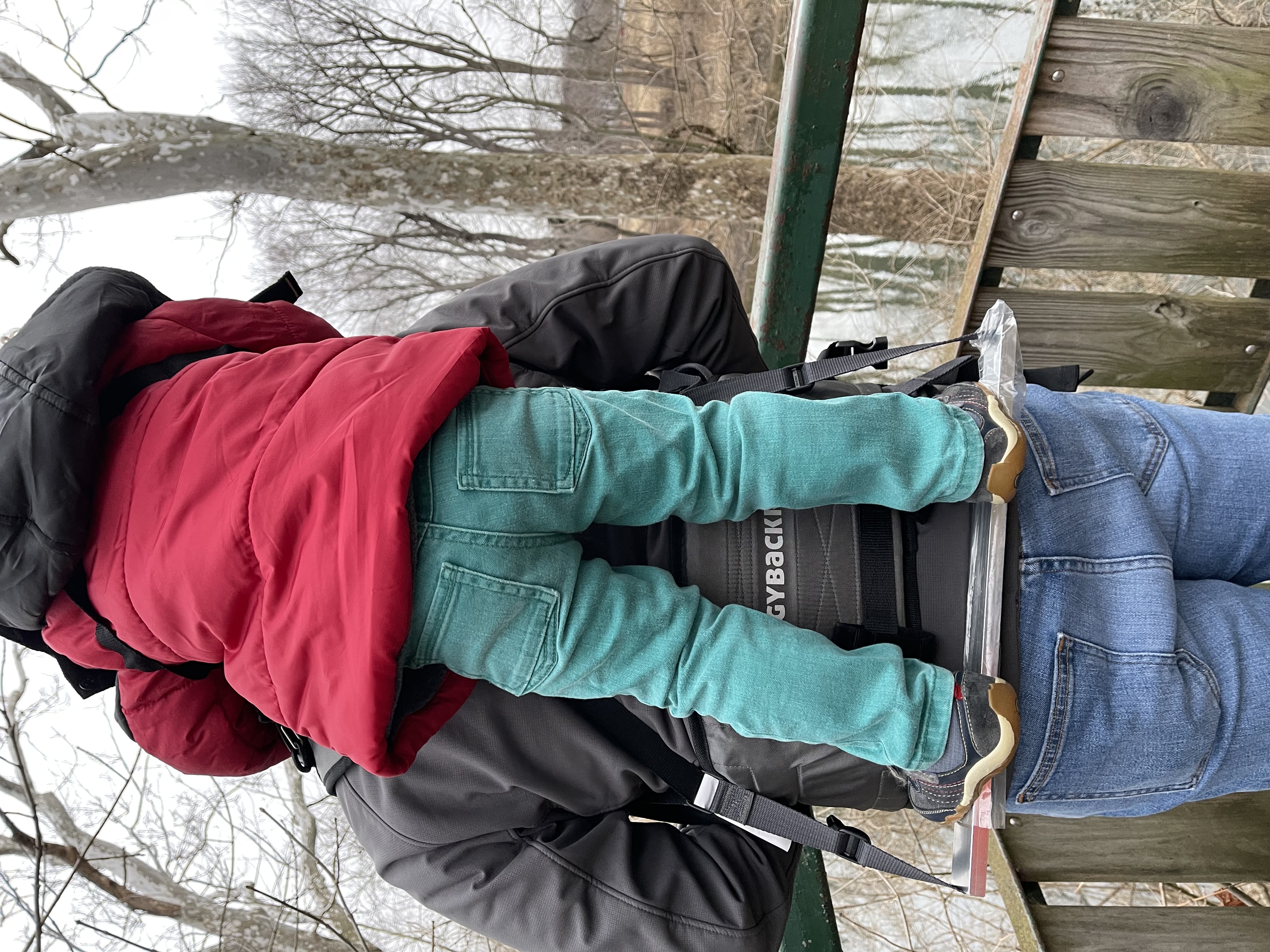 After using all three of them, we want to share our experiences with you. We will also supplement this review as our toddler grows and we try new activities!
As an additional note, if you are considering any of these carriers, I want to be clear that each of these is a great carrier, and we would be able to enjoy lots of family adventure in any of them . So, we are not going to say anything negative about any of them but will emphasize that some excelled in areas where the others did not.
If you are trying to choose from among a sea of toddler carriers, let me help you by providing my review and perspective below.
OUR CRITERIA FOR BEST TODDLER CARRIERS:
Price and available discounts. . All of these carriers are less than $160.00 making them more budget friendly than many other carriers. However, if you choose the Minimeis, we have a discount code for 15% off here.
Comfort for parent: If I am going to schlep a toddler up the side of a mountain, then I have to still be able to walk at the end! I will not use a carrier that is any more painful than actually carrying the child in my arms.
Comfort for child: Also, if I have any expectation that my child will stay in the carrier, then it must also be comfortable for him/her. My toddler is still prone to nodding off in a carrier, so it is important that he can relax while we adventure!
Weight: More often than not, we are doing very physical activities outside. This means sweat. We are looking for a carrier that will allow us to breathe while our children are having fun instead of adding to the heat and sweat!
Portability: Our carrier has to fit into a vehicle with 3 kids and their stuff. Moreover, we want the ability to take it with us everywhere we go. Portability is important for being able to use the toddler carrier regularly.
Design/Style: Whether or not a toddler carrier is stylish and durable matters to me!
Age level: The target age for these carriers ranges from 6 months to 5 years depending on the carrier.
Extra features: Each of these toddler carriers has its own unique features that distinguish it from the others.
OUR REVIEWS FOR BEST TODDLER CARRIERS:
THE MINIMEIS G4 SHOULDER CARRIER  
PRICE AND AVAILABLE DISCOUNTS
$169.00 but with this 15% discount code: $143.65
COMFORT FOR PARENT
Comfortable
COMFORT FOR CHILD
Very Comfortable
WEIGHT
1 kg (2.2 lbs)
PORTABILITY
Most Portable. (Edited: We now own the Minimeis backpack as well, and it makes this backpack so easy to take with us on hikes and in the airport. )
DESIGN/STYLE
Sleek, unobtrusive, and discreet
TARGET AGE
6 months – 5 years (48 lbs)
EXTRA FEATURES
Convenient carrying strap and additional backpack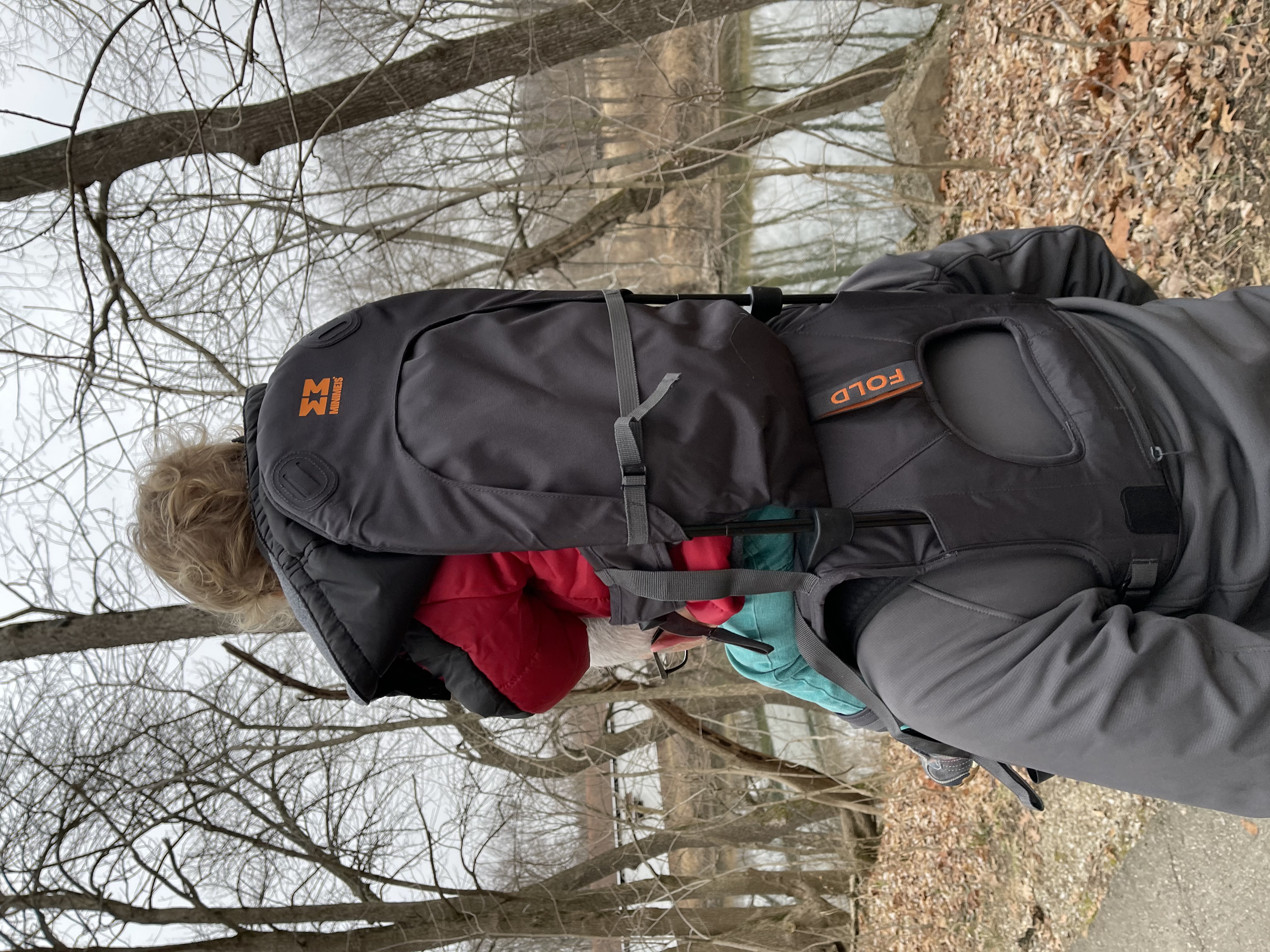 Let's start with my current favorite toddler carrier, the Minimeis. This item came highly recommended to me by my cousin who used it to hike in Kurdistan with his baby! Check them out…SO CUTE!!!!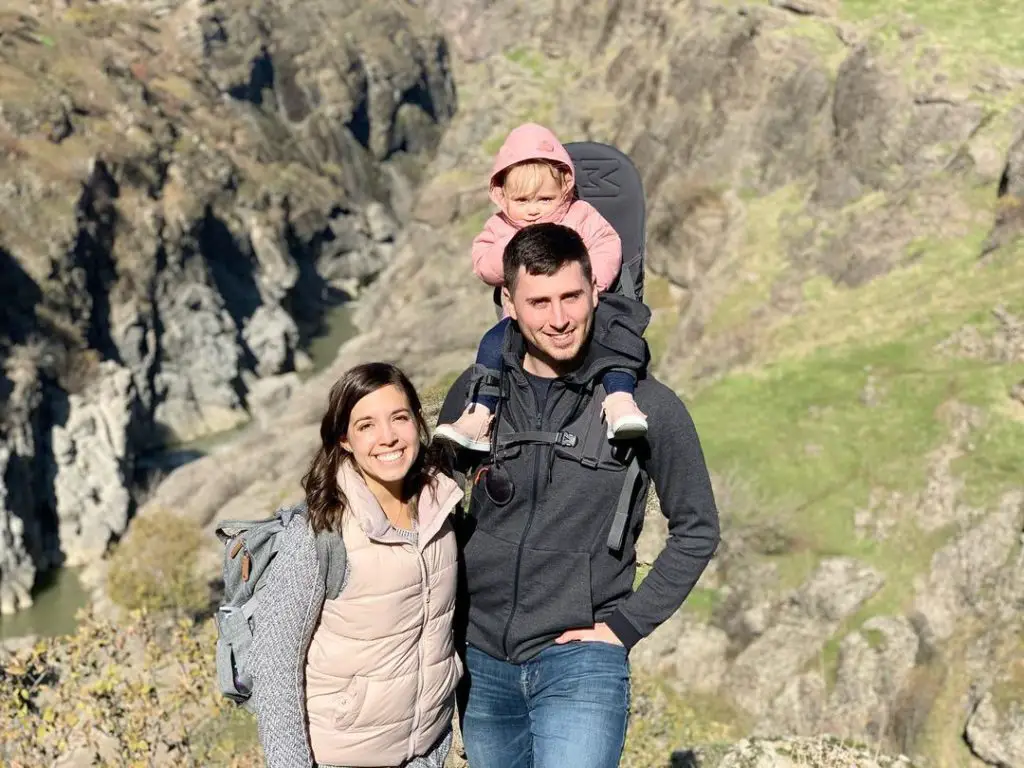 After hiking with my growing toddler nearly killed me with the Ergo, I needed something new! So, I decided to try the Minimeis. WE LOVE IT!
My son was afraid at first, but after wearing it a few times around the house, he now asks to ride in it.
It is comparably priced at $169.00, but it is almost the cheapest after you apply my 15% discount code!
The Minimeis was designed by Norwegian dads who wanted to be able to adventure with their kiddos. Unlike carriers that keep children close to the body and obstruct their view, the Minimeis gives your child a view of the action!
QUALITY OF THIS TODDLER CARRIER
Truly the quality and ease of design surprised me when I received it. The fabric is high-quality, the packaging is simple and unobtrusive. And, it is ready to go right out of the package. Nothing to hook, strap, or assemble. Simply fold open, adjust, and go! (Don't forget your child!)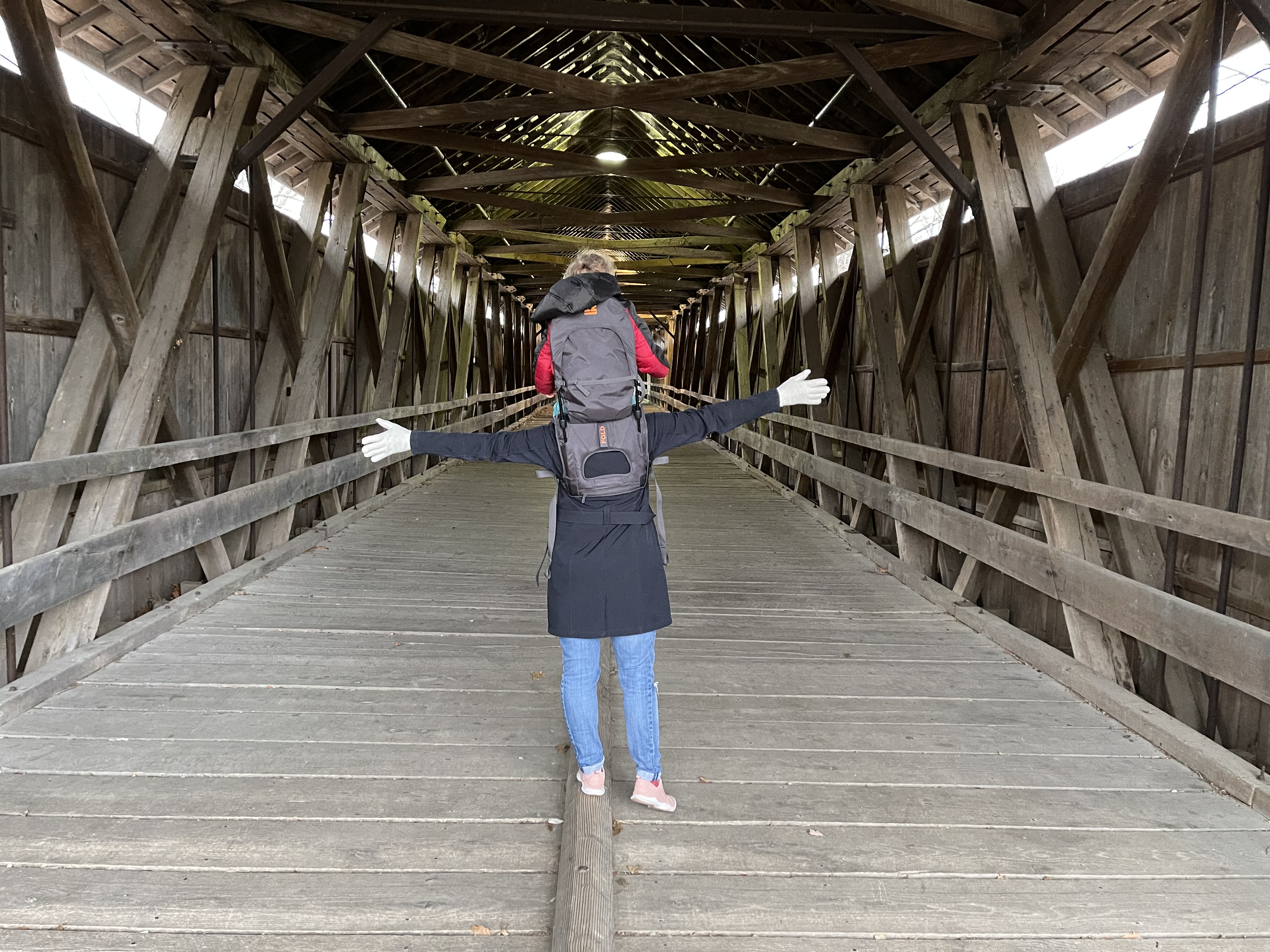 Take it to an amusement park, hiking, shopping, or the zoo, and your child will still be able to see and experience everything around him/her. Feed the giraffes, practice your squats, take a hike, watch the fireworks, all with your child on your shoulders experiencing the same things.
This toddler carrier was the most comfortable for both my husband and me. It weighs very little, is simple to get your child in and out (even alone), and convenient to stow and go. We can easily keep this with our diaper bag in the car to ensure it is always ready.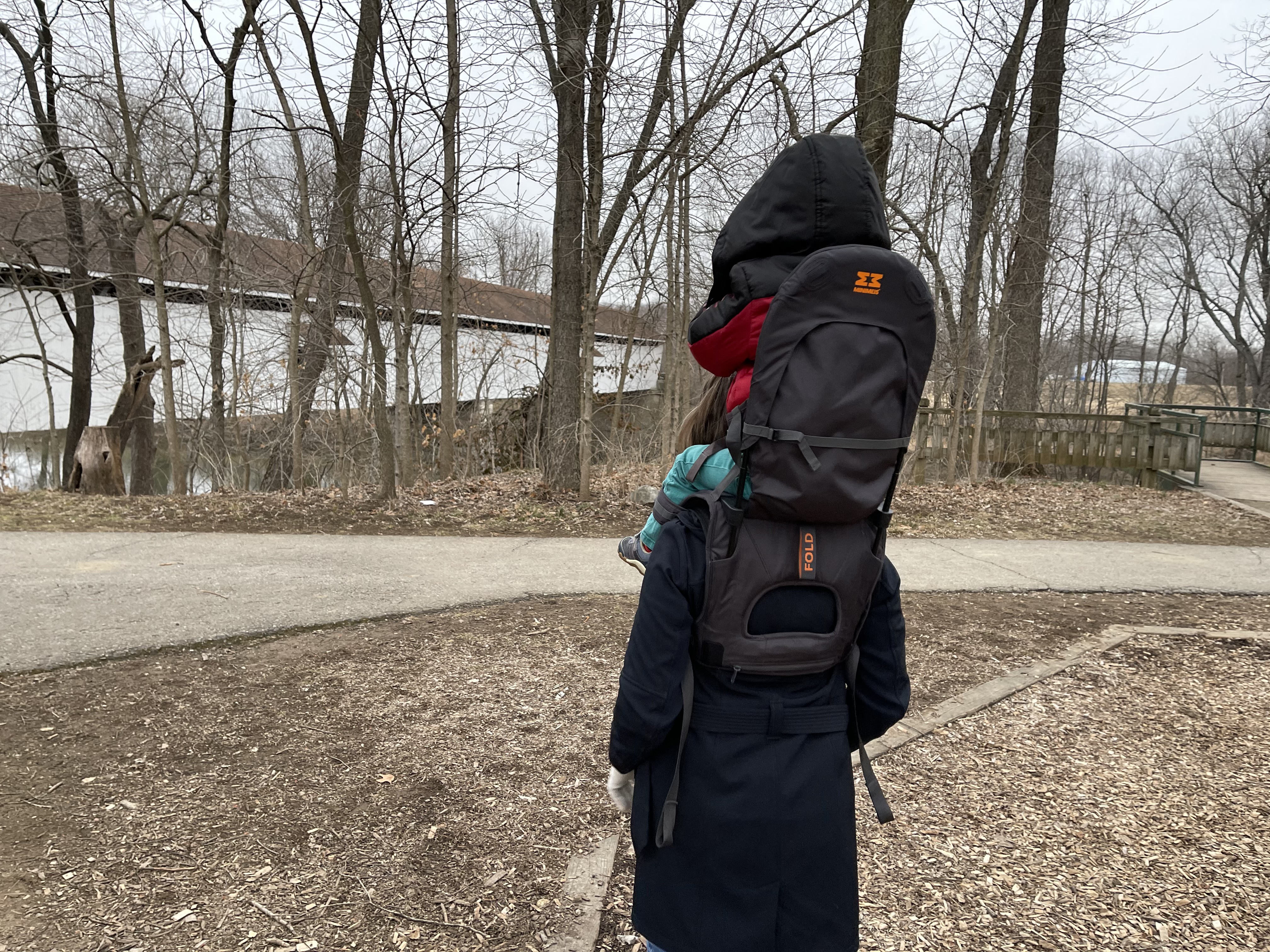 Although we really like this carrier, and I am sure that you will see more pics of us with it to come, the comfort could use some upgrading. After a long walk, both of our shoulders were sore, and we had to keep reminding our son to sit back so as to not break our necks! As long as he sat still and back in the seat, then the carrier evenly distributed the weight to our backs.
(If you are looking for troubleshooting with your Minimeis, check out these videos.)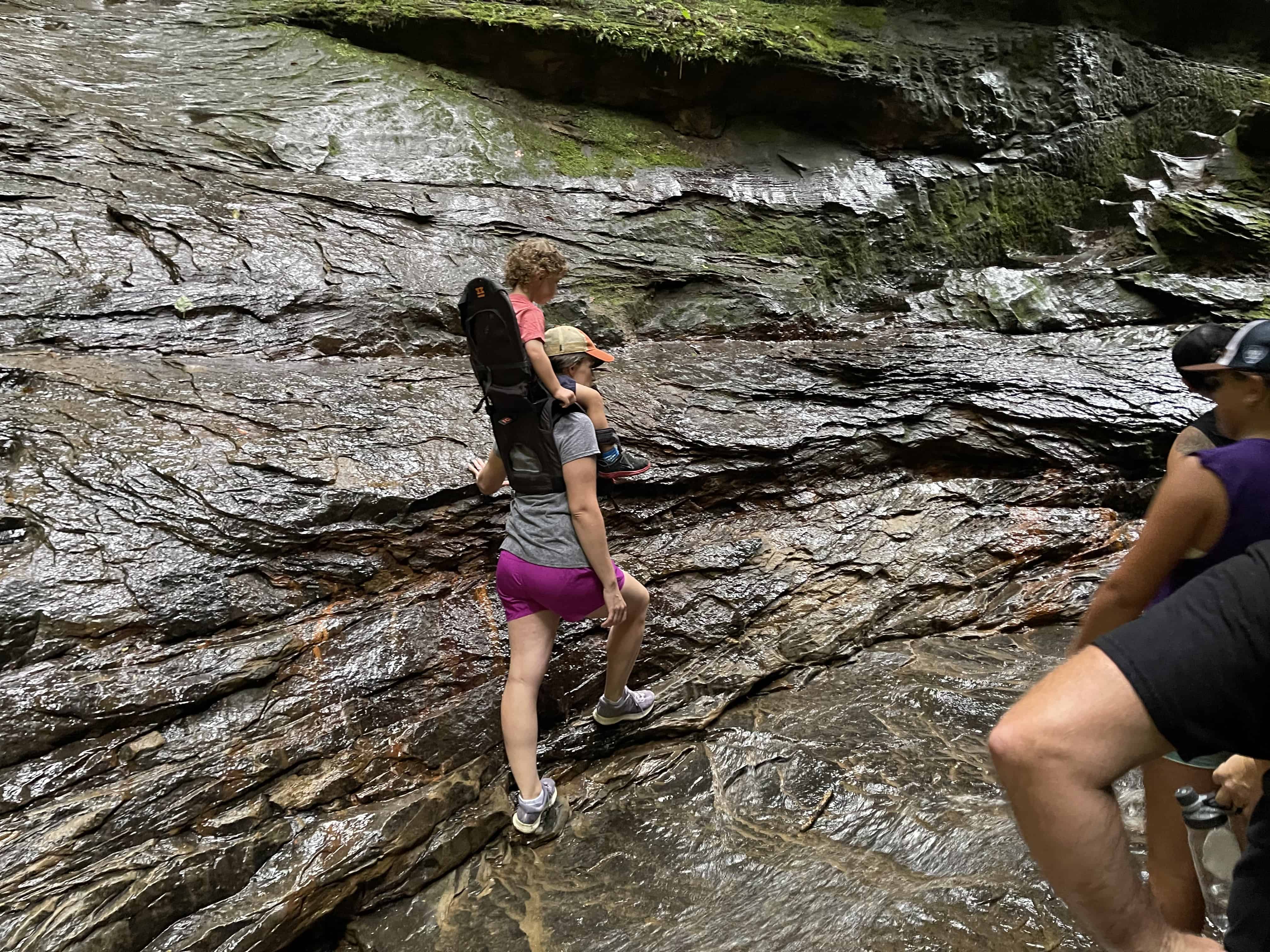 Further, your child will likely seize the opportunity to play with your hair and your head. For awhile, my husband's head was my son's racetrack!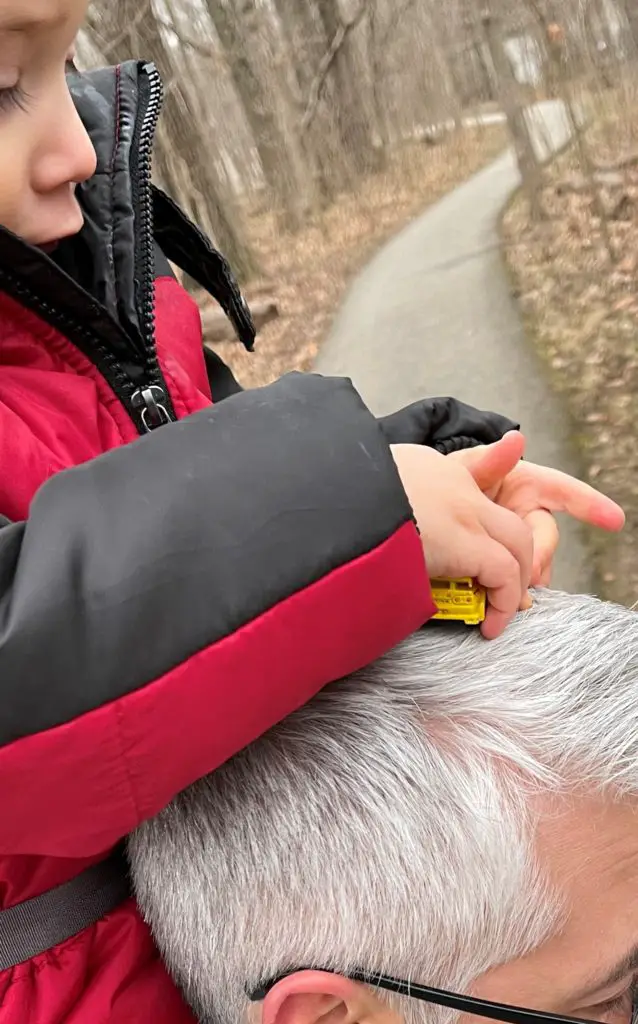 Overall, I can't recommend the Minimeis enough. It is a brilliant design, won invention of the year in 2019, and is quickly scaling the charts as one of the most innovative baby/toddler carriers out there.
If you are into exciting adventures and you want your child to enjoy them too, then the Minimeis is for you.
THE PHIL & TEDS PARADE CARRIER
PHIL & TEDS PARADE CHILD CARRIER FRAME BACKPACK
PRICE AND AVAILABLE DISCOUNTS
$139.99
COMFORT FOR PARENT
Most comfortable for taller body, Least comfortable for shorter.
COMFORT FOR CHILD
Most comfortable for child.
WEIGHT
4.4 pounds
PORTABILITY
Least Portable. Large and cumbersome for packing.
DESIGN/STYLE
Cute!
TARGET AGE
Head control up to 40 pounds
EXTRA FEATURES
TONS! Mini backpack for child, cupholder, extra storage, toy clips, and more!
If you are looking for something a little more traditional, check out the Phil & Teds Parade Child Carrier Backpack, which is another great toddler carrier. This was my husband's favorite on a cold day, but would likely fall to the bottom of the list for me, especially on a hot day.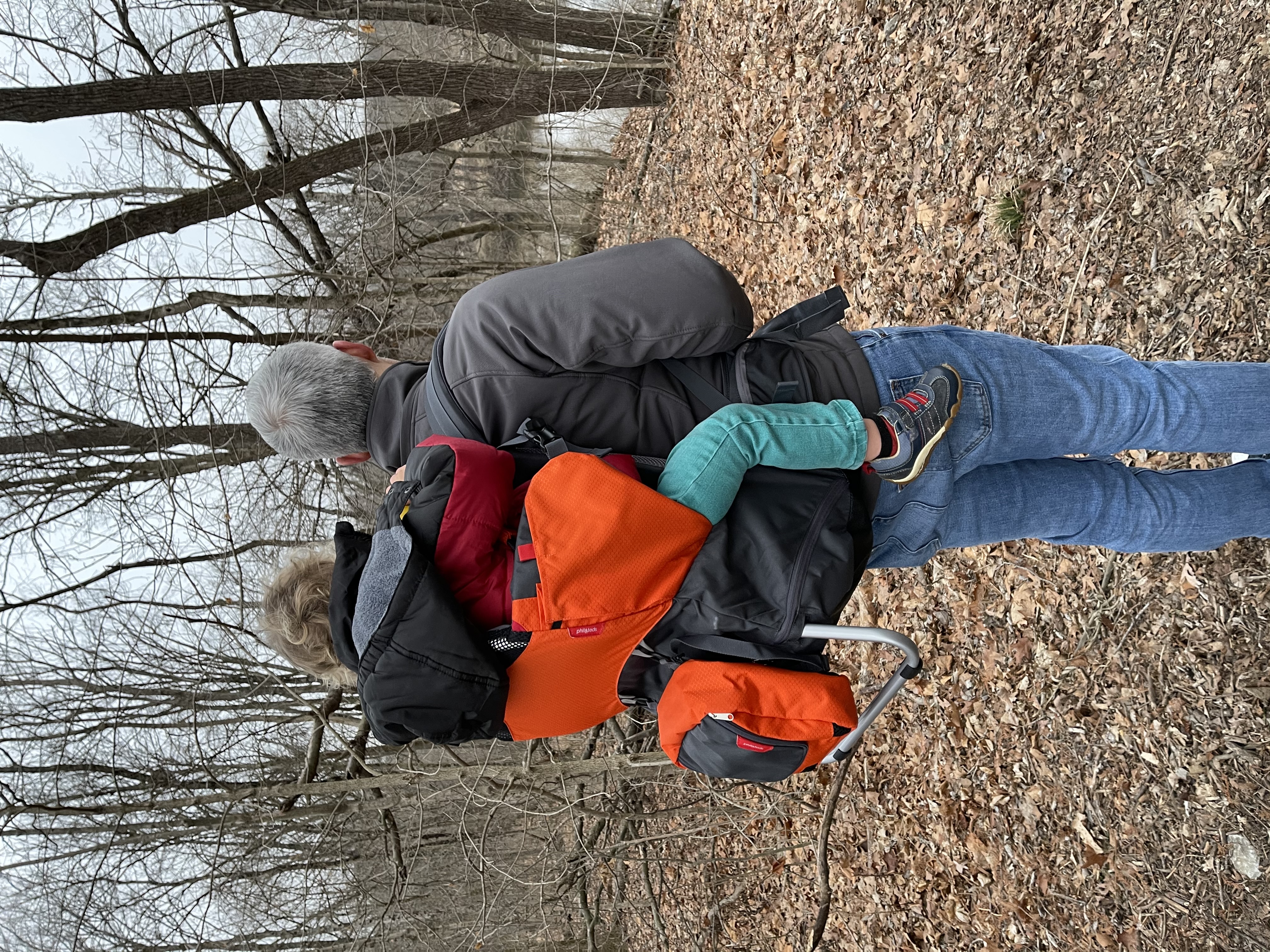 For me, the backpack sagged too low on my short torso to be able to take full strides. It fit my husband comfortably and evenly distributed the weight of our child. While my husband declared that this carrier is by far our most comfortable carrier, I couldn't make it 100 feet before I had to turn the pack back over to my husband. Sadly, it just isn't designed for short people!
But, if you are taller than 5' 4", at only $139 it is the least expensive of the packs here. (Sorry, no discount code yet, but I will let you know if I find any!) Further, it is likely the most comfortable of any of the packs for my young toddler.
PHIL & TEDS BONUS FEATURES
My toddler sat comfortably with his toys, his cup holder, and his cold weather gear in this cute backpack. The pack even has a kickstand that supports his weight as he sits on the ground – a great way to keep your kiddo within reach while you break for a picnic or rest.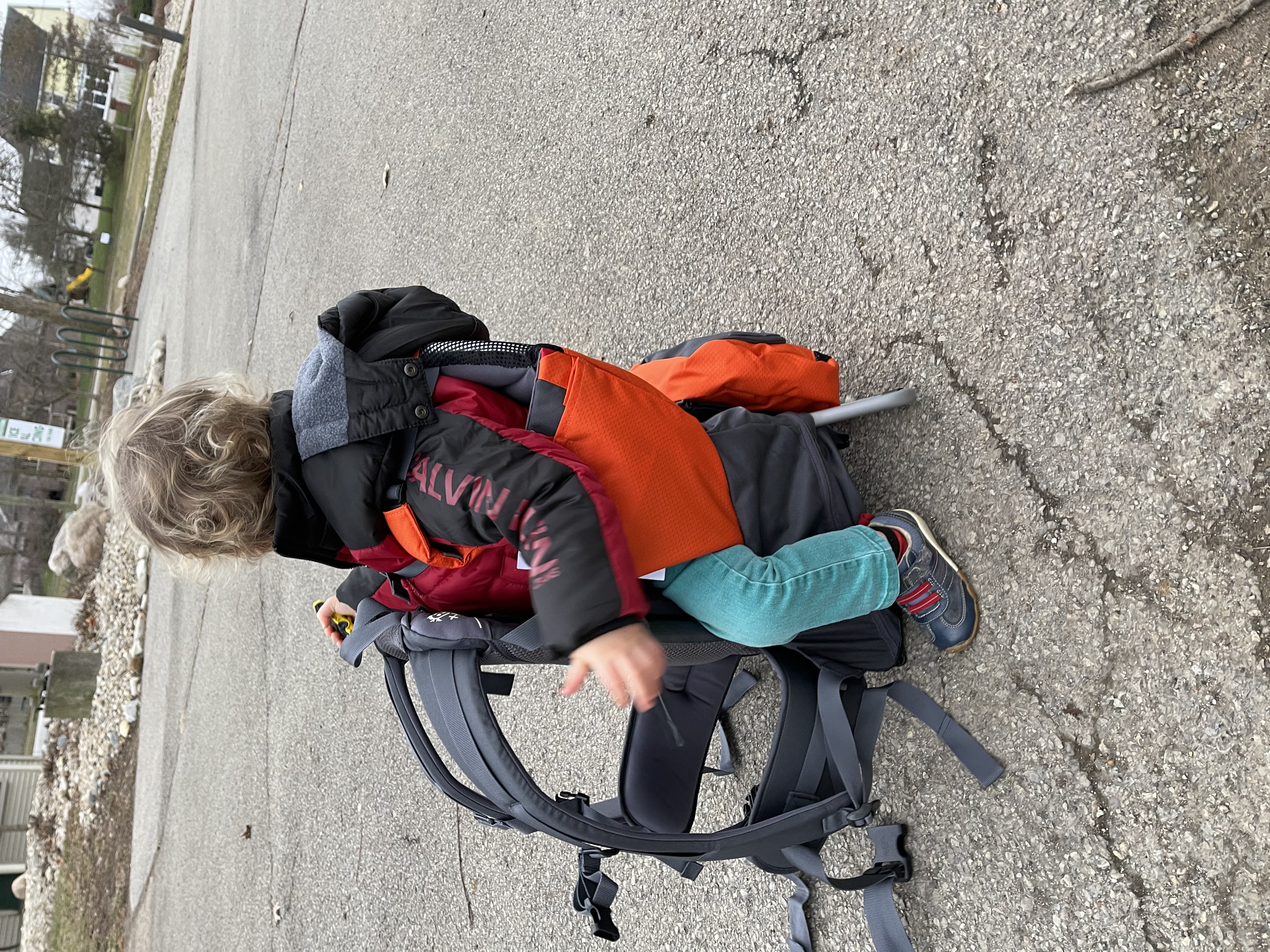 Additionally, The Phil & Teds has TONS of extra features. Not the least of which is an adorable mini backpack that your little adventurer can wear on his own. (It took us some time to figure out that we were supposed to detach the mini backpack, and we thought it was just an extra storage pouch!!)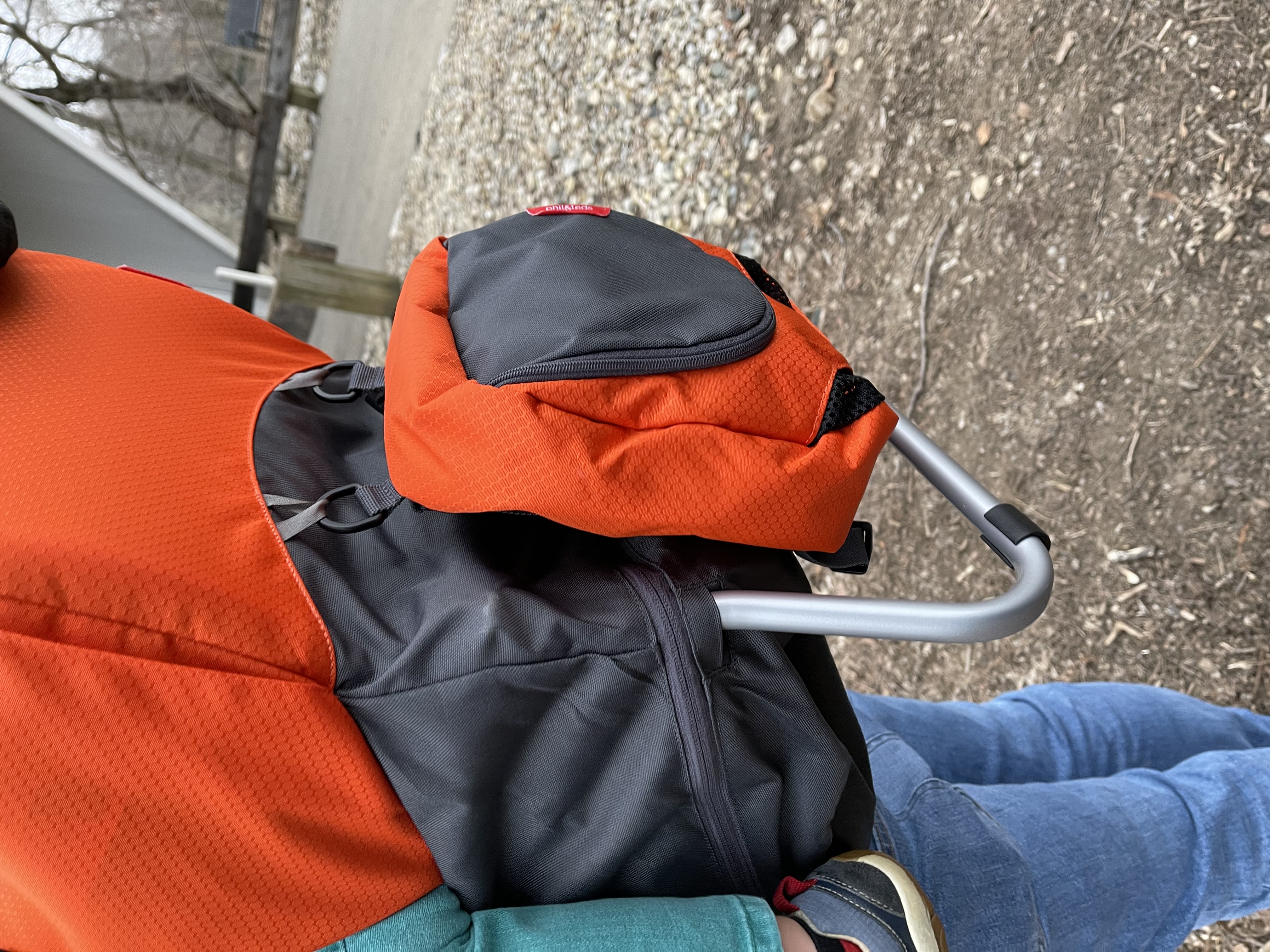 It has multiple zipper pockets where you can store your keys, wallet, gear, snacks, drinks and more. That feature alone makes it likely the best option for solo adventurers. But, in our family, that would mean that mom or dad would have to carry the gear AND the toddler rather than split the weight. That might be a deal breaker for us!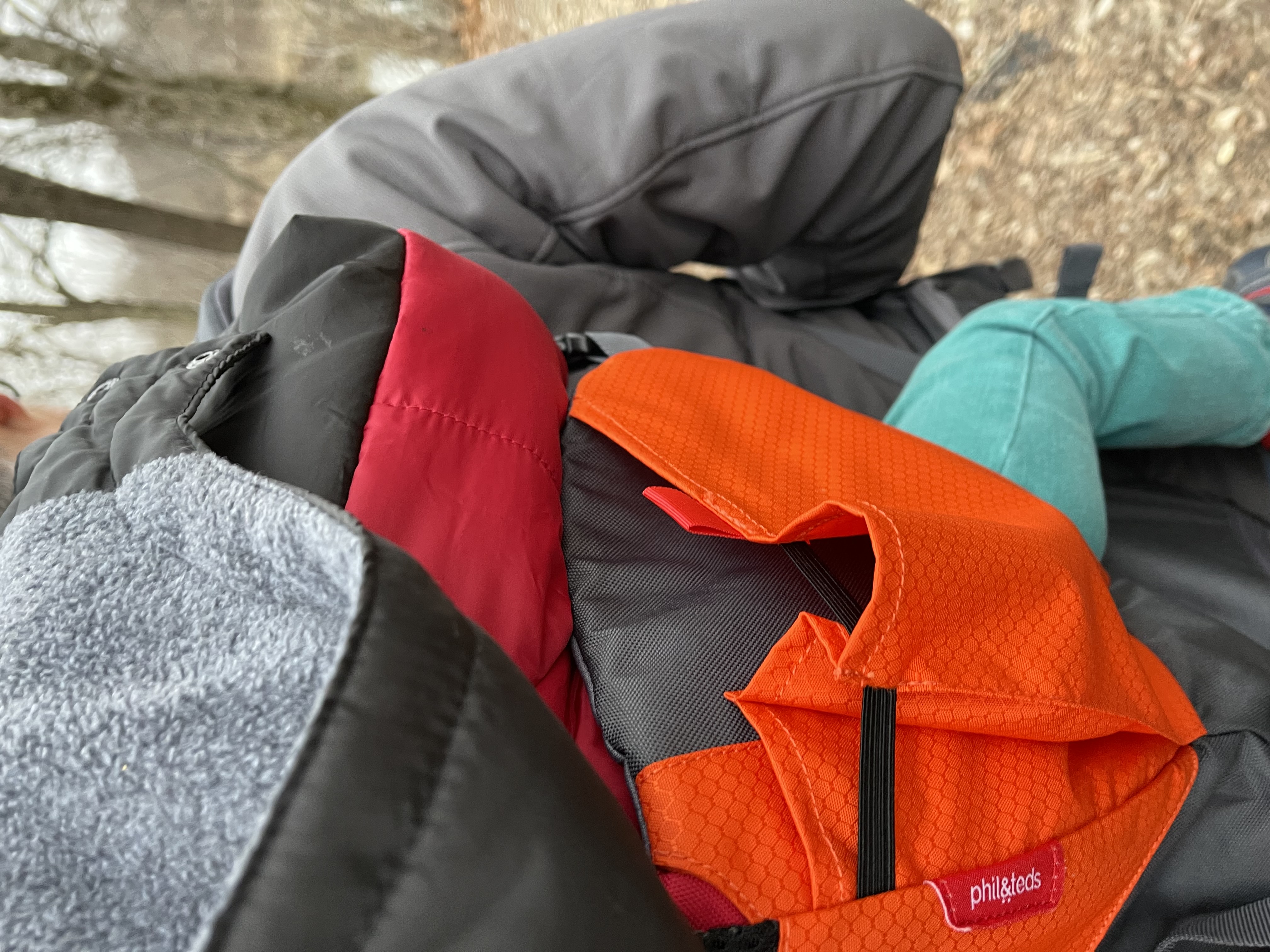 Unfortunately, this carrier loses the battle for portability and age range. It is enormous and does not fold very compactly. So, if you are looking for something that you can keep in the car for an impromptu adventure, then this pack is not your winner. Further, even though it can support a child up to 48 pounds, our 4 year old could not fit. Her little legs hung down too low, and her body couldn't contort into the backpack. I would guess that 3 years old might be the max on this pack.
However, if height, age, and space aren't a concern for you, then by all means, the Phil & Teds Parade Carrier might be the carrier for you. Just the storage features alone might be the reason to make this your favorite toddler carrier for your adventures!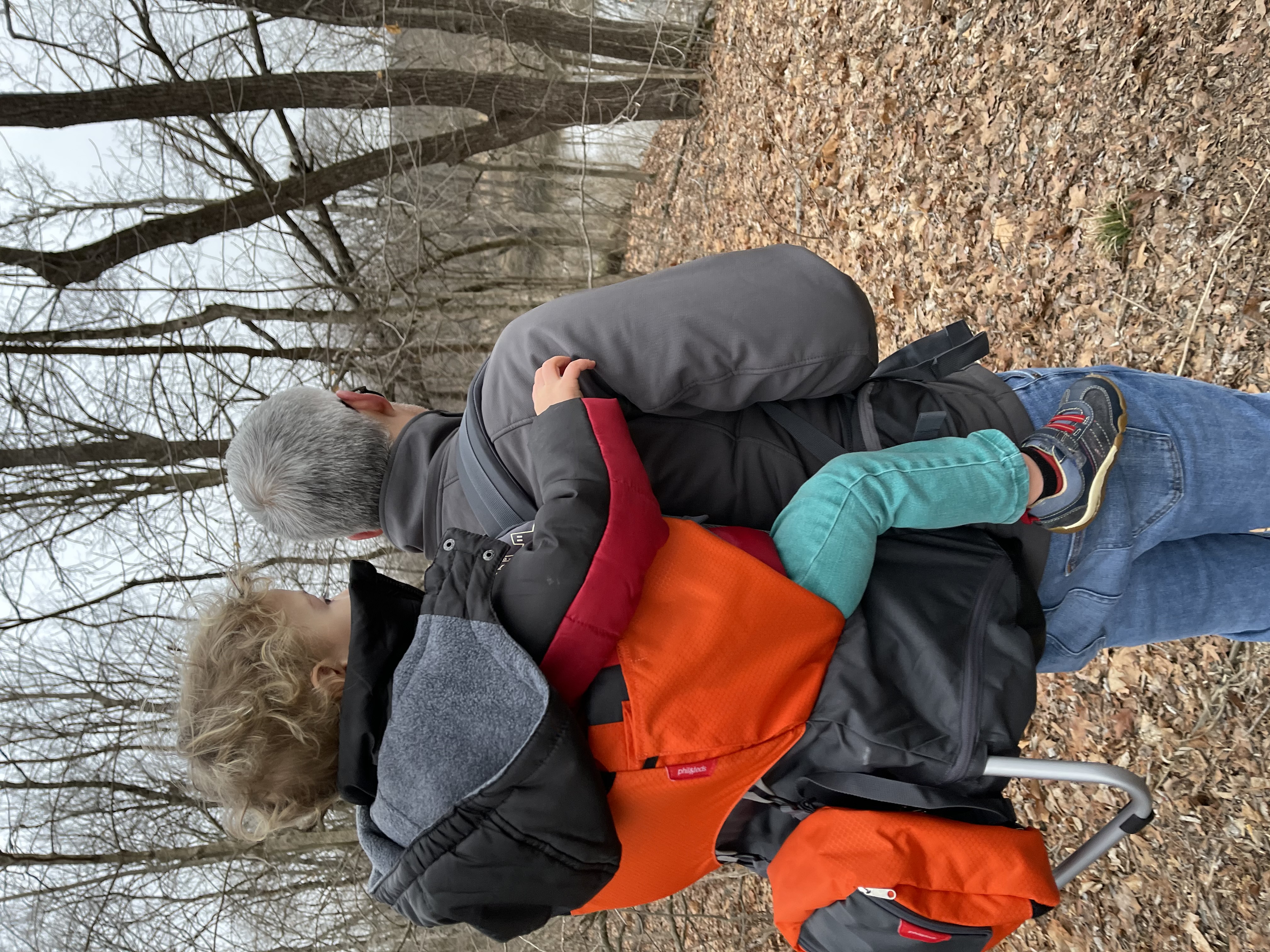 THE PIGGYBACK RIDER
PIGGYBACK RIDER SCOUT STANDING CHILD TODDLER CARRIER BACKPACK
PRICE AND AVAILABLE DISCOUNTS
$155.00
COMFORT FOR PARENT
Extremely comfortable
COMFORT FOR CHILD
Least comfortable
WEIGHT
3 pounds
PORTABILITY
Smallest carrier, but most pieces. Portable
DESIGN/STYLE
Ingenious and almost unnoticeable
TARGET AGE
2-5 (25-50 pounds)
EXTRA FEATURES
Hip Belt, bottle holder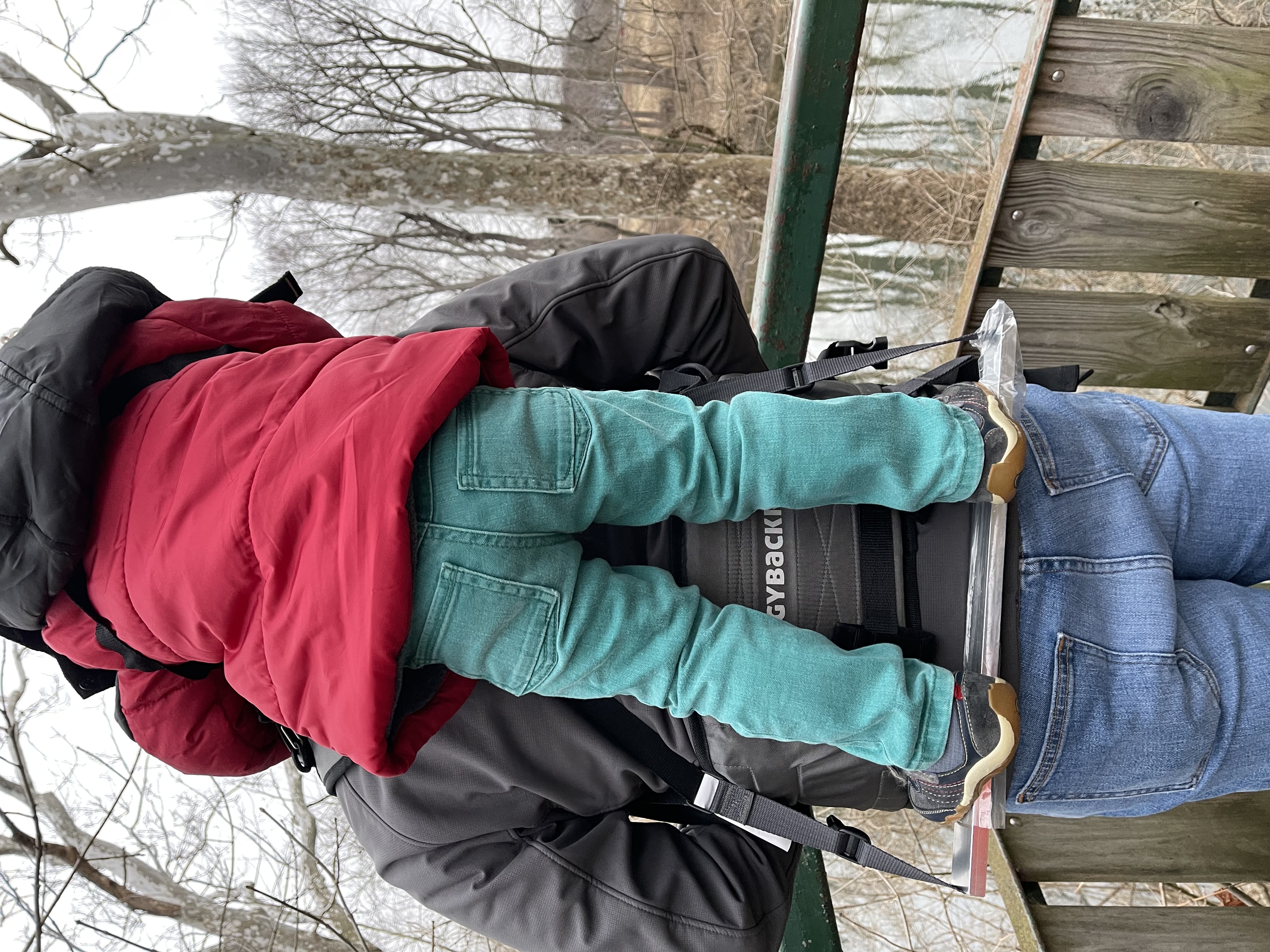 I love checking out new and different baby/toddler gear. I have been researching all sorts of toddler carriers since my youngest was born. I love my copy of Baby Bargains!
So, when I was hiking last summer and saw someone with a Piggyback Rider, I had to stop and ask them what in the world they were wearing!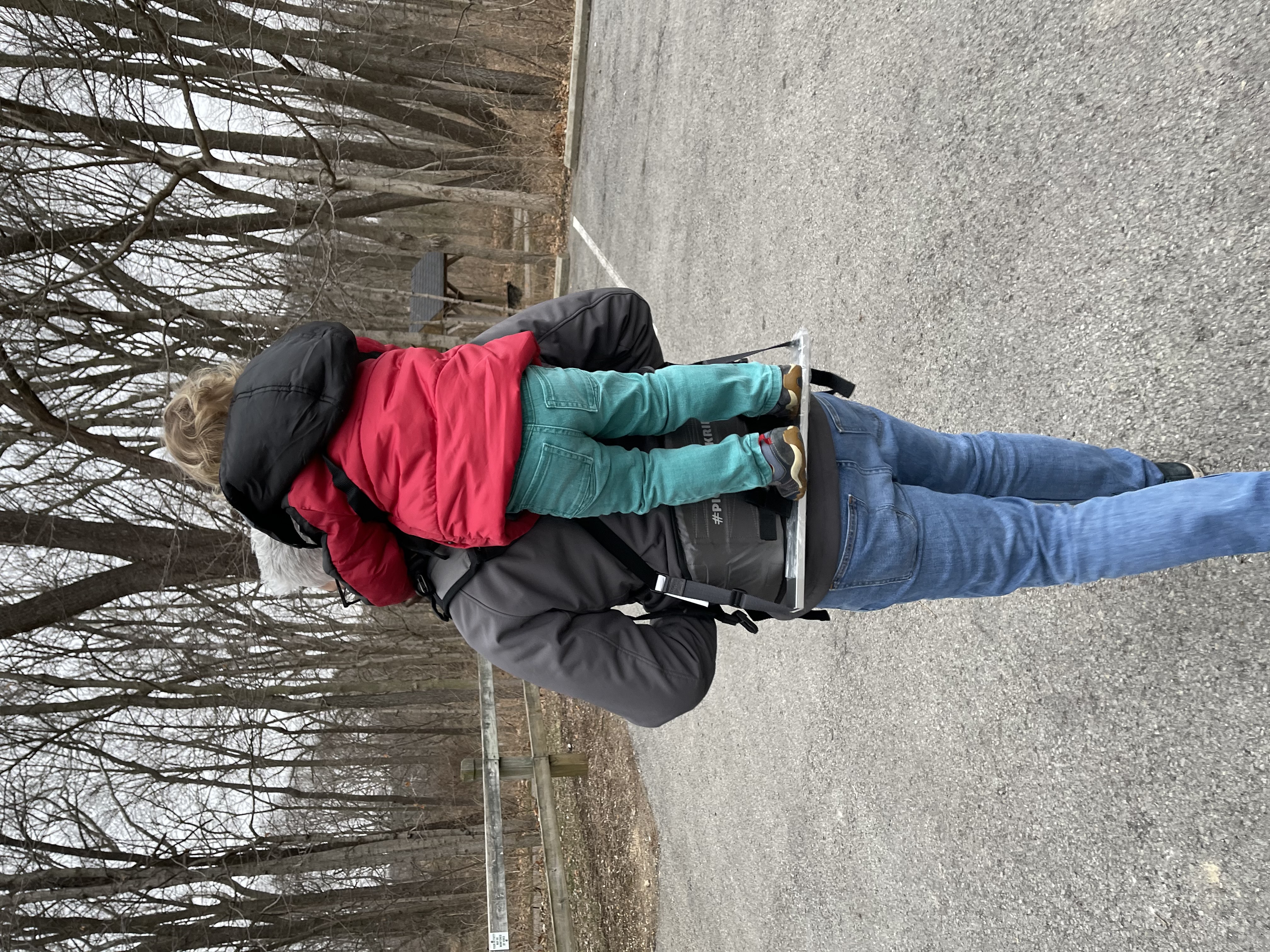 You see, the Piggyback Rider is not your average toddler carrier. In fact, it isn't really a carrier at all but more of a ride along system.
The Piggyback Rider, unlike the carriers above allows your child to simply stand on a bar on your back and enjoy the ride. This way, your child can still see what is going on and have free range of motion.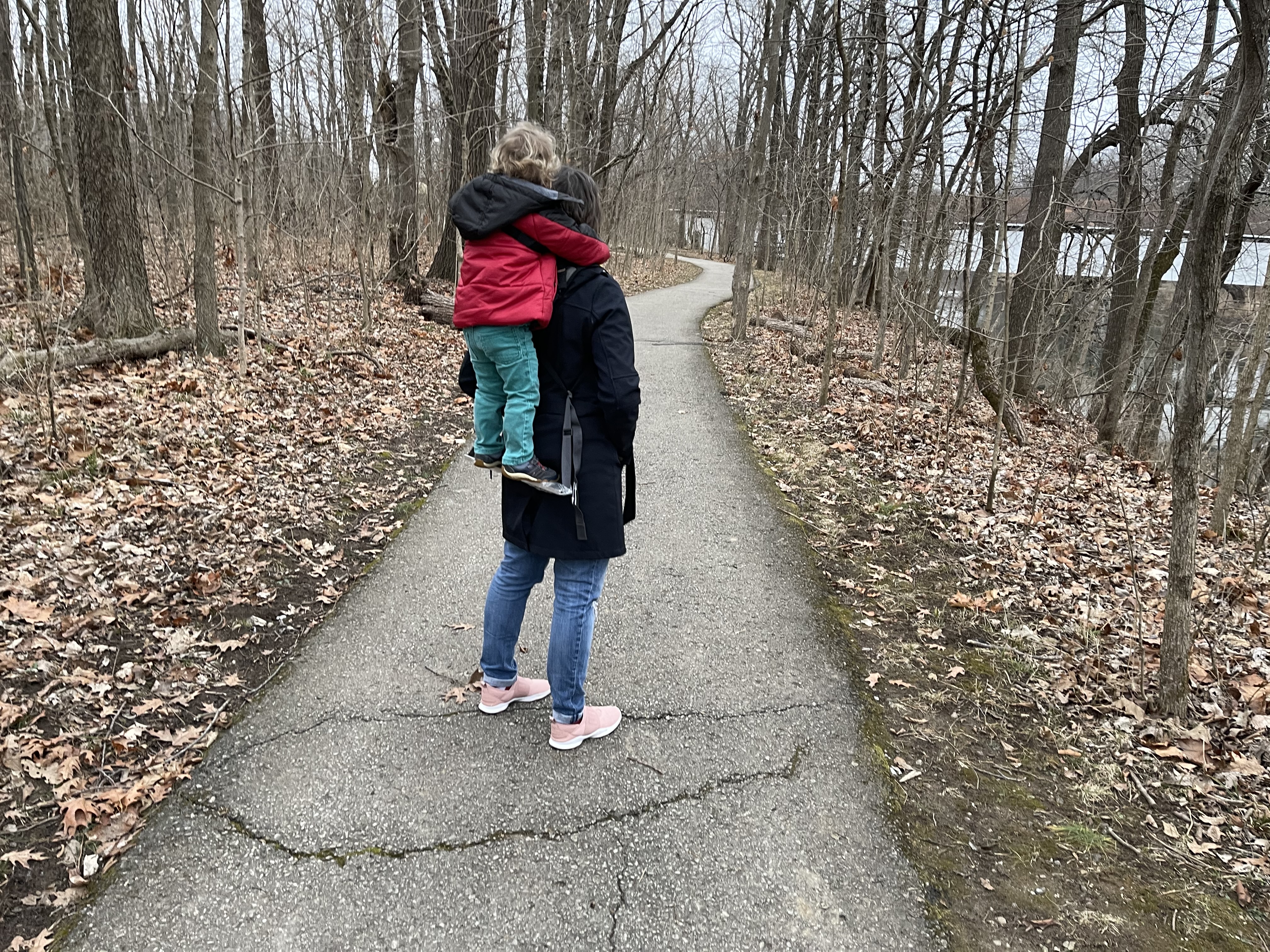 Further, the parent has more freedom too. Instead of lugging a carrier, he or she merely needs to wear the harness with the bar. This dramatically decreases the sweat problem that I referenced earlier.
Piggyback Rider Ease of Use
When your child is ready to ride along, he can simply stand on the bar, and clip a harness to the parent's harness. Simple! If your child is prone to wanting to walk awhile then ride awhile, then this carrier is for you!
Of the three carriers, this was the most comfortable for my husband and middle comfortable for me. It takes a bit of special skill to tighten all of the straps and clips, but once they are adjusted, getting your child off and on is a cinch. Plus, it was the only carrier that passed the shoe-tying test!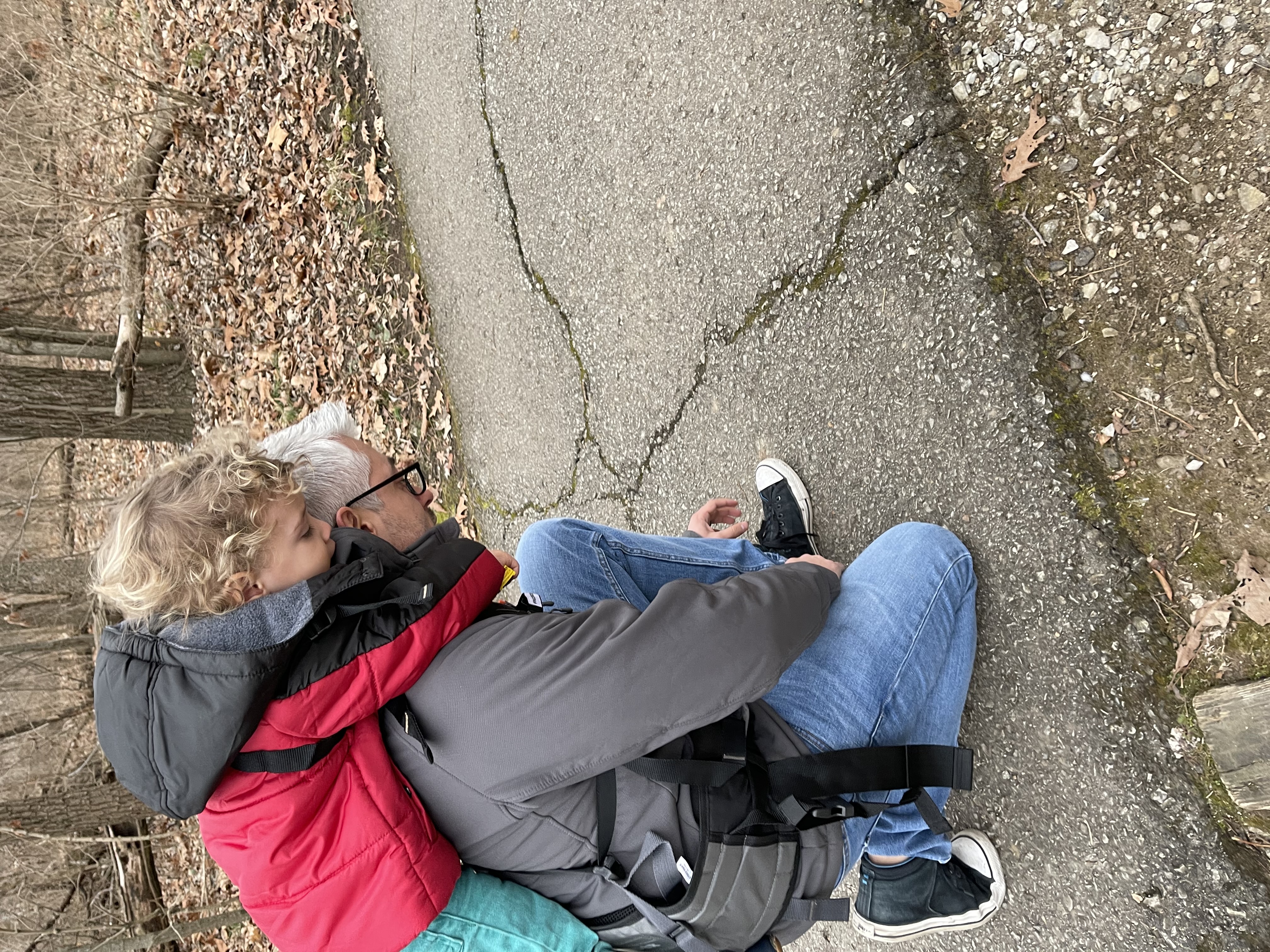 Another product designed by dads, the Piggyback Rider is lightweight, comfortable, and extremely portable so long as you do not tangle the pieces.
In response to some design complaints, the inventors even invented "mud flaps" and a "hip belt" to decrease the amount of mud and dirt on the back of your clothing and more evenly distribute your child's weight.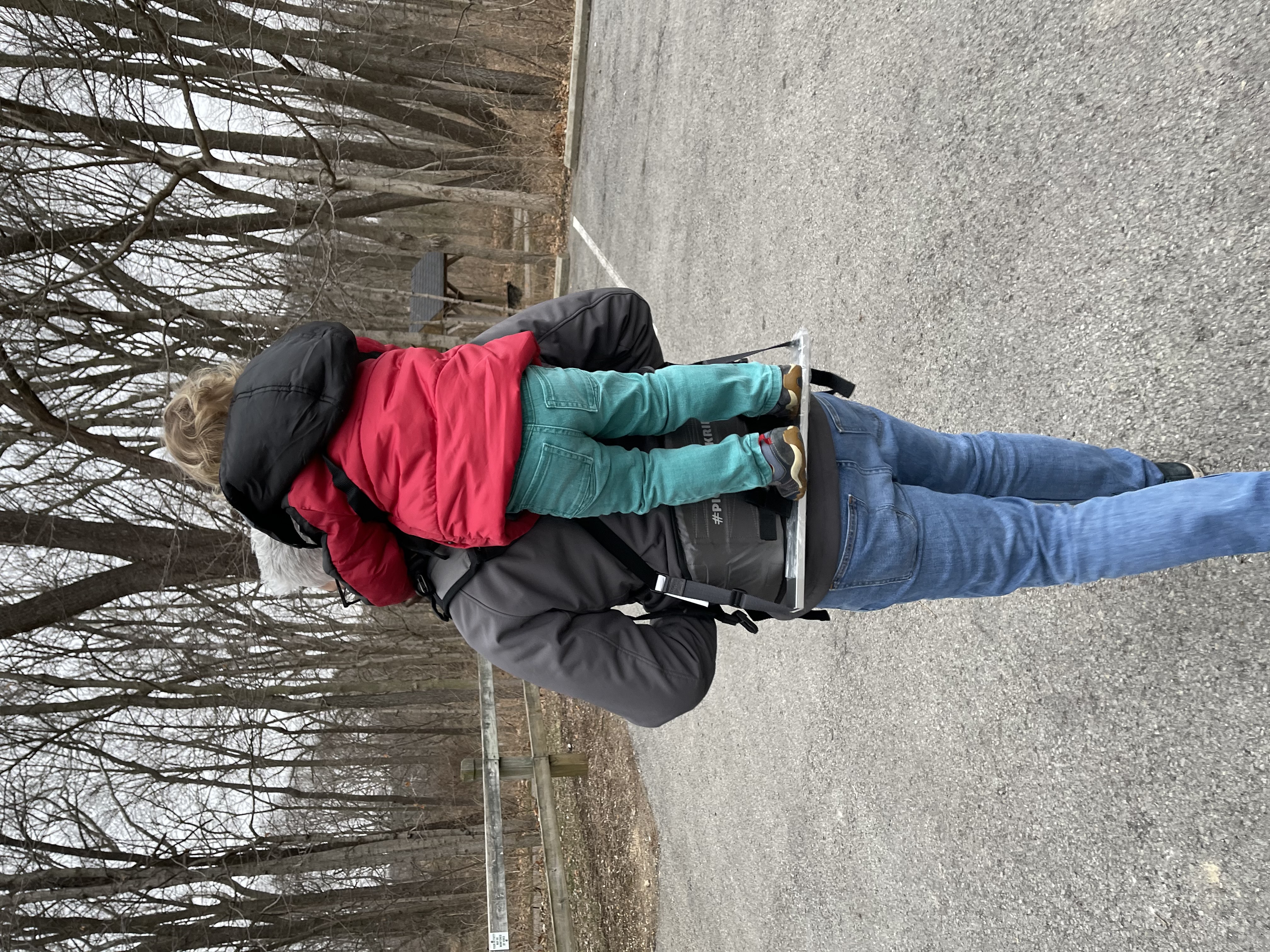 For my 2 year old, the Piggyback Rider was terrifying. He clung to the back of our shirts, and his little shoes could only stand on the bar for a little while. However, my bigger kiddos had no issue, and could easily balance. My guess is that if were on a long walk, they would likely want up and down a lot, and that would be a drawback for me.
Finally, the Piggyback Rider 7 piece bundle includes the hip belt, the mudflaps, a bottle carrier, and more to make your PIggyback ride more convenient.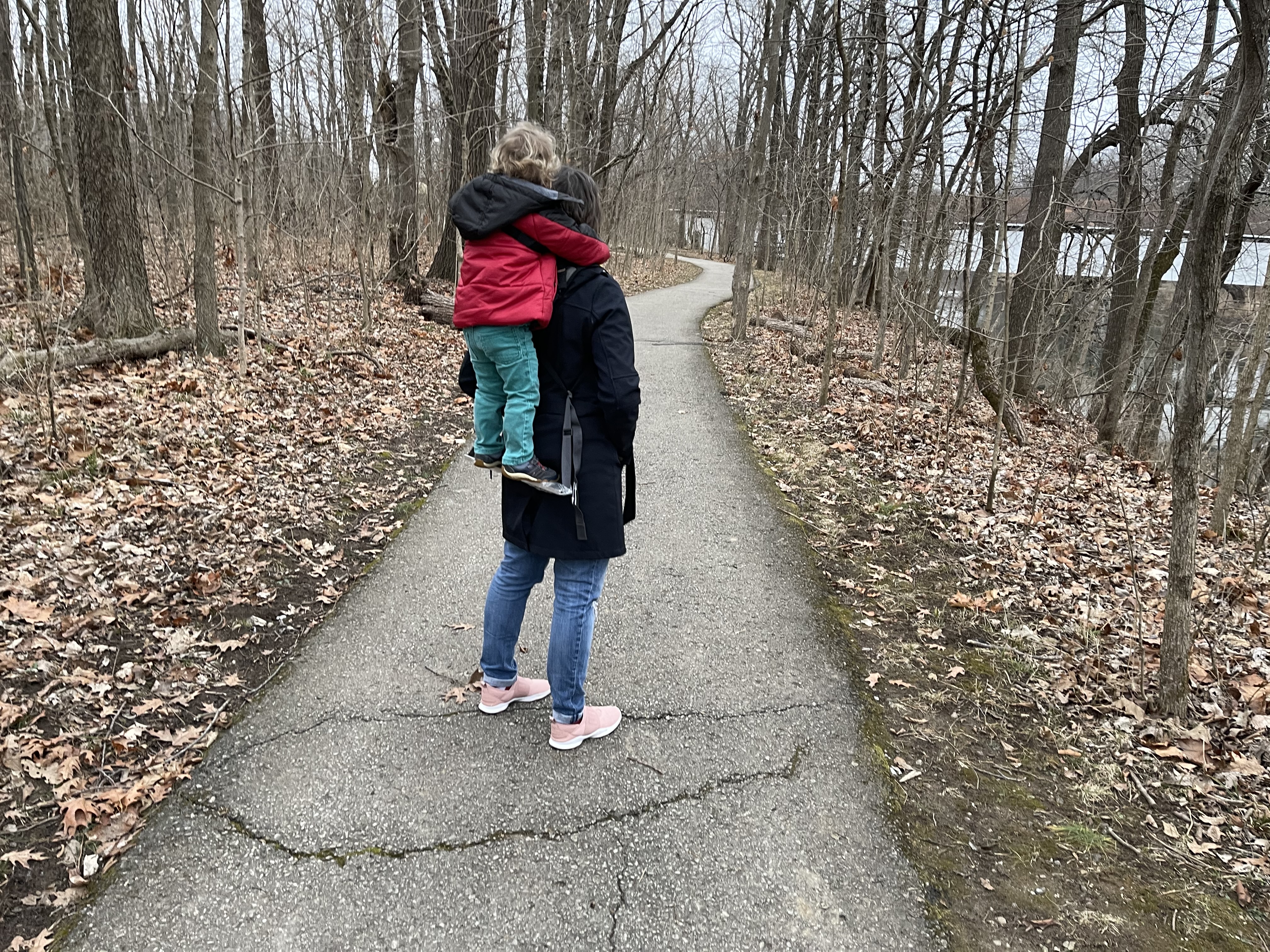 OUR IMPRESSIONS OVERALL
Overall, my husband and I both agree that any one of these carriers would be a great fit for our family. Our kids liked them, and so did we. If you are looking for lightweight design, check out the Minimeis, if you are looking for storage and comfort, check out the Phil & Teds, and if you are searching for something that will grow with your older children, you will love the PiggyBack Rider. 
If you are looking for other fun activities to do with your kids where you can use your new carrier, click here!