IS THE 2021 TOYOTA SIENNA A GAME-CHANGER? 
This mom's review of the 2021 Toyota Sienna! And, what it is like to take a toddler to a test drive! 
First, if you are looking for a technical review of the Toyota Sienna, I could copy all of the information directly from Toyota's website (HERE). But, I am not here to regurgitate the Toyota Sienna brochure. Instead, I wanted to give you one mom's opinions about my experience with the 2021 Toyota Sienna Hybrid. I am making no representations as to safety or reliability! 
You might not know this, but I LOVE to research. I love to number-crunch, feature-compare, recall- review, and even collect multiple opinions before forming my own. That is why, after years of research into family minivans, I settled on the Honda Odyssey.  
Wait. I thought that this article was about the Toyota Sienna. It is. Indulge me for a second! 
Although the Odyssey, when compared to the Pacifica or the Sedona, has a heftier sticker price, the Odyssey outperforms the Pacifica and the Sedona on longevity and resale value. Plus, it has a lower cost of ownership and higher safety ratings.  
When compared, the Odyssey and the Sienna, from my perspective, were basically neck and neck. That's why when it came down to picking a favorite, it was merely a comparison of which was prettier or more comfortable. Stop rolling your eyes; you know that matters to you too! So, I settled on the Odyssey.  
For me the Odyssey has a sleeker body style, more comfortable interior design, and even a slightly lower cost of ownership. 
However, soon after I formed my opinion, Toyota announced its 2021 line, and all my research had to start again! 
WHY?: 36 MILES PER GALLON!!! 
Did you know that starting in 2021 all Toyota Siennas are hybrids? Now, to be fair, Toyota has been making hybrids since the early 2000s, but in a minivan??? In a niche where I had grown accustomed to seeing estimated gas mileage under 20, now Toyota has taken a huge leap.  
The 2021 Toyota Sienna has a combined 36 miles per gallon. This means that the Sienna minivan now has the same fuel efficiency as your little hatchback or sedan. Therefore, it has the same gas mileage as our current compact option that, while efficient, is not exactly comfortable for our growing family. No more worrying about rising gas prices when switching to a minivan! 
Now, family road trips don't have to be a choice between distance and lodging –choosing to stay at a cheaper location just to make up for the higher cost of gas. To the contrary, this hybrid model is sure to cut roadtrip costs.  
Plus, this new hybrid option clearly is a step in the right direction for the environment. Less, emissions, less burning fossil fuels, less gas used. If we are of the "every little bit helps" mindset, then this hybrid model could single-handedly reduce the footprint of minivans everywhere.  
So, if you weren't already sold on a Toyota Sienna you might be getting closer.  
At least, I was intrigued! SO, I went to see one. I had to actually see the 2021 Toyota Sienna for myself!  
Because I knew they were in a new model, I called my local dealership ahead of time to ask about test driving. I made it very clear that my husband and I were not ready to purchase that day but that we were interested in learning more about the hybrid. Big Mistake.  
After speaking to the customer care manager from my cell phone, he then began to text me and send me to various departments. I politely confirmed that I would be at the dealership on the appointed day in the appointed time range. I thought that would be it.  
It wasn't. In the mere 12 hours leading up to my test drive appointment, I received 3 confirmation text messages and 2 phone calls. I was nearly ready to turn off my phone. However, my research and curiosity side got the better of me, and I pressed on (after declining yet another call).  
TOYOTA SIENNA TEST DRIVE + 1 TODDLER
Upon arrival, I was warmly greeted by a swarm of young and eager salesmen (always men…why is that?). Although we had childcare for the older two children, I still had our youngest. In the times of Covid, we have all taken great precautions to avoid touching or breathing on each other. My toddler doesn't care about Covid.  
Thus, he proceeded to lay on the floor, touch the showroom cars, and drag himself across each chair in the waiting area while the team prepared our literature, searched their inventory for the 8 passenger Sienna, and converse with the manager.  
I'm sorry, but when I enter any public place with a toddler, I need speed and efficiency.  If you don't have a cart with a buckle, a deep well of Goldfish, or a screen, Imma' need you to work with me…am I right?  
Although the attitude and kindness of my attendant were unmatched, needing to search multiple lots for the car that I confirmed with 3 different people via text and phone call should have led them to understand that I would want to actually look at the car rather than philosophize over it.  
HOW TO ENTERTAIN A TODDLER IN A SHOWROOM
Well, thankfully, Cruz Ramirez (aka the 2021 Toyota Supra) was in the showroom. So, my son and I spent about 20 minutes talking about Cruz's various features including his shiny yellow paint job. But, we spent that same 20 minutes wondering where McQueen was and where in the world the Sienna was!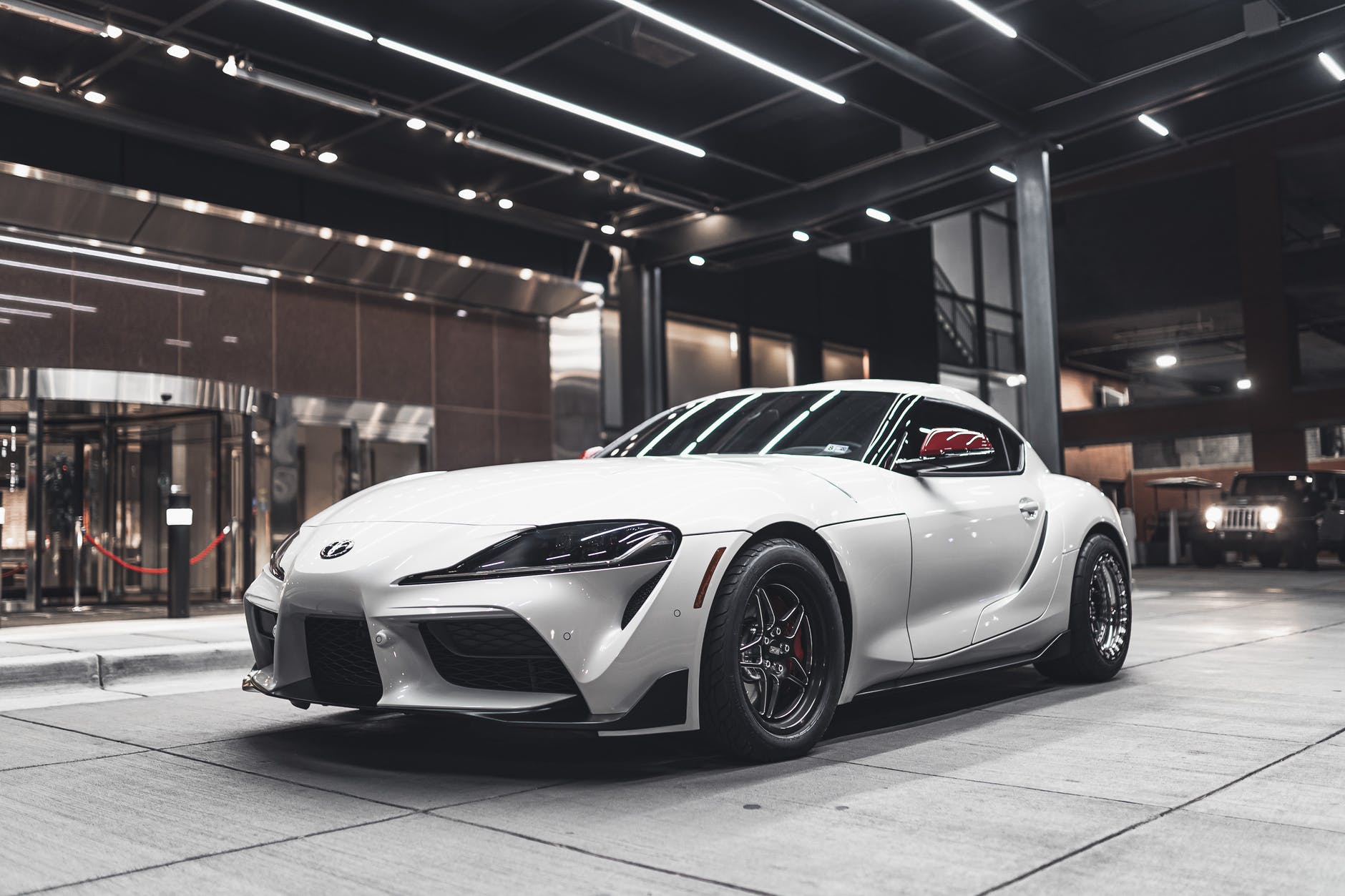 Once walking around the same car over and over and over got old, we spent another 20 minutes climbing through the showroom Toyota Sienna.  
This is the Sienna with all the bells and whistles: shiny red paint, chrome trim, leather seats, no touch open doors, integrated charging station…the list goes on. If you need to know how large the cargo area is, it's huge. But, don't take my word for it, my son used it for awhile for a bed! It will comfortably sleep one midsize toddler (while parked of course!).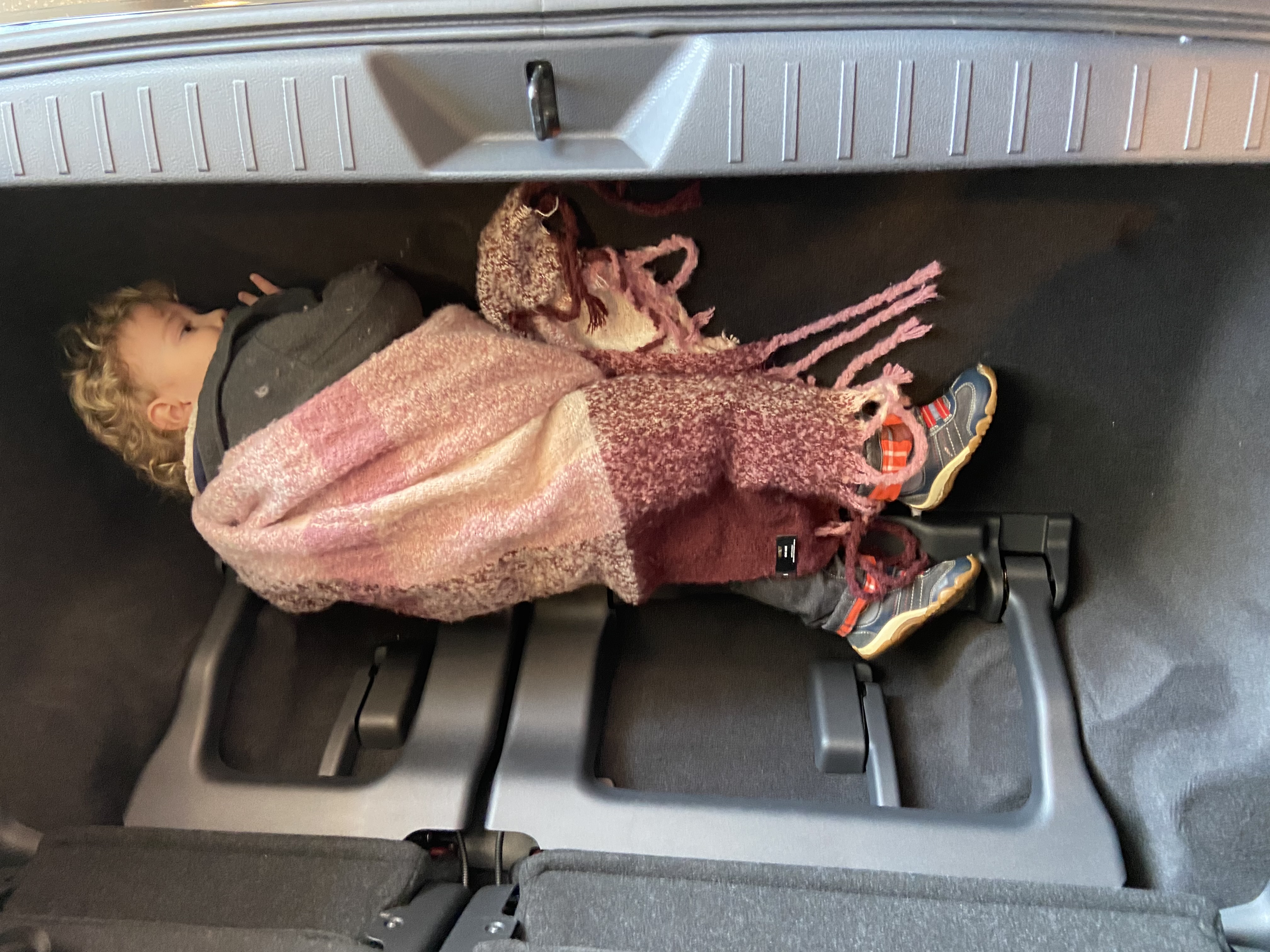 Thankfully, this time waiting on all of the showroom fellas to get their ducks/cars in a row gave us some time to actually check out the 2021 Toyota Sienna in all its cupholder glory!  
BUT, what about the sticker price. Is it worth it? That showroom model came in at a whopping $50,000. And, that is before tax, title, and fees! Whoa 
So, is that price tag worth saving on the MPGs for the 2021 TOYOTA SIENNA? 
Well, let's do the math: 
The average estimated combined gas mileage for the 2021 Honda Odyssey is 22 mpg. The Honda Odyssey has one of the best longevity records and should easily reach 200,000 miles. Over the course of that 200,000-mile lifetime, if gas rates remained the same as today, then you would spend about $21,818 on gas.  
For that same 200,000-mile lifetime, you would spend only $13,333 with the 2021 Toyota Sienna Hybrid. More than a $8,400 difference is something to consider. And, if we see gas prices at $3.00, $4.00, and $5.00 again over the next 10 years, then your opportunity for savings increases all the more.  
However, let's compare the sticker price:  
But, the sticker price for the Honda Odyssey ranges from $31,790 for the base model up to $47,820 for the Elite model. Prices can go up from there if you add additional packages and upgrades. Such a huge swing doesn't really tell you what the actual cost of your vehicle would be. But, the average package price would be more in the $38,500 range.  
Comparatively, the Toyota Sienna starts at a comparable $34,460 but accelerates from there all the way up to a whopping $50,460 for the elite model. But, the midrange 8 seat model is about $39,750 before package extras.  
So, there you have it. If I am just comparing mileage, specs, and the benefits of a hybrid model, the Toyota Sienna outperforms on savings. The gas savings over the course of ownership should far outweigh the difference in initial costs. In fact, it should save you more than $7,000 over your ownership even assuming that you pay $1,000-$3,000 more for a comparable model.  
BUT DON'T STOP THERE: Additional Considerations:  
However, this still might not be the entire picture. For starters, the body style of the 2021 Toyota Sienna hybrid looks a lot more like the Highlander, its SUV counterpart, than a minivan. Although this is appealing to some, it tends to create a bulky and boxy look that might not appeal to all.  
Additionally, because the Toyota Sienna hybrid with 36 miles per gallon is new to the scene, there are no used models available, and there is no way to know whether they will perform as well as their non-hybrid predecessors. While you can easily shave off a few thousand dollars from the sticker price by turning to an older model, the only way to take advantage of the new hybrid perks is to buy directly off the lot.  
DEPRECIATION 
As you probably know, a vehicle loses its value as soon as it leaves the lot. According to Dave Ramsey.com, the average vehicle loses between 9-11% of its value off the lot and about 20% in the first year. This means that the only way to take advantage of this deal in 2021 is to suffer the depreciation consequences alone.  
As you also might know, the Toyota Sienna and Honda Odyssey are real rule breakers when it comes to depreciation. Unlike the average vehicle, the Sienna and the Odyssey outperform their minivan competitors in depreciation. So, that average loss might be slightly lower on a Honda or Sienna making the decision a little easier on your wallet.  
VALUABLE EXTRAS 
I promise that I am not here selling Siennas, but I will still take this opportunity to let you know that I was more than impressed with its up to 18 cupholders, no touch door openings, and even a sunroof! 
Plus, despite the plethora of plastic lining, the hybrid is surprisingly quiet. Shockingly quiet. This might be great for a Sunday drive, but it won't muffle the sound of your children fighting in the back seat. I guess I will let you decide whether it is a pro or a con. For me…a positive—less yelling to the back seat! 
Further, if you are like me and need to spend an hour waiting at the dealership while they look for the car that you confirmed you would test drive 6 times in the preceeding 24 hours, you might find that the staff make the effort all worth it. By the end of our visit, my son had touched nearly everything despite repeatedly chasing him, threatening him, and corralling him in the kid's room.
In addition to the crumbs that I know fell out of the car seat as we strapped it into the pristine new minivan, he left dirt everywhere he went. And, he managed to tear pieces of fuzz from his blanket leaving a trail along the interior of each van we perused. (Shout out to Michael who was a great attendant!) 
In short, just as I thought I knew I wanted a Honda Odyssey, Toyota came back on the scene with a huge game changer. If you were already team Toyota, then this will further convince you, but if you are on the fence or considering an upcoming purchase, the 2021 Hybrid Toyota Sienna is certainly worth your time and consideration! 
A note to Toyota
P.S. Toyota, if you are going to make a van with 18 cupholders that seats up to 6 littles, then you might want to consider integrating a shopping process that is a little more mom friendly. I mean, I am considering spending up to $50,000.00 on a van –more than some houses. Leashes, trampolines, snacks, and sedatives are all ideas to start your brainstorming sessions.  
And, if you are wondering what you might take 6 kids in your minivan to go do, check out this list of fun family activities!