Empire State Club: Family Review of Staying Club Level at Disneyland Paris's Hotel New York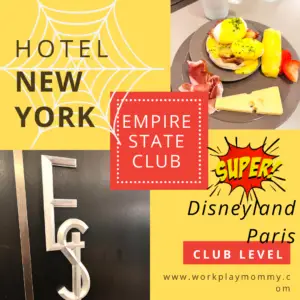 If you want to take your luxurious stay at Disneyland Paris's Hotel New York to the next level, choose to stay with the Empire State Club level with Hotel New York's Empire State Club. You will love every minute of it. For a more in-depth review, keep reading!
What is Club Level at the Empire State Club at Disney's Hotel New York?
The Empire State Club is a way to take your already luxurious accommodations at Hotel New York to the next level.
When available and practical, our family always likes to stay club level at Disney resorts. In fact, it's one of my favorite Disney Mom Hacks.
RELATED POST: 10 Best Disney Mom Hacks
Club level is not available at every hotel, nor is it created equal in every resort. In fact, at Disney World (Orlando) the only resort with club concierge level that can be booked with DVC points is Animal Kingdom Lodge.
However, many of the other deluxe Disney World resorts have club concierge levels with access to added security, themed foods, and even a dedicated concierge.
What Is Different about Club Level Rooms at Empire State Club?
Club level amenities vary by resort. Here you can see some of the Empire State Club room features.
For the most part, however, club level amenities include
turn down services,
larger rooms,
added floor security, and
a dedicated concierge.
At your dedicated concierge desk, you have your own club check in and personalized service. A great bonus for travel with kids.
Dedicated Club Level Concierge
Having used the concierge services at several Disney resorts around the world, I love having a dedicated club level concierge.
Disney service professionals are at the top of their game anyway, but at club level you get the cream of the crop.
Plus, rather than waiting in long concierge lines, at club level, you will have a small dedicated team that serves a much smaller number of clients.
At Hotel New York, Art of Marvel, the club concierge is located past the main lobby and in a quiet secluded section of hallway.
Our family was able to laze on the overstuffed couches in club concierge while we went through the check-in process. A welcome rest after a full day of flying.
The concierge even dusted us with an extra large helping of Pixie Dust by upgrading our standard club level room to a club level Spider-Man suite.
RELATED POST: Disneyland Paris Hotel New York Spiderman Suite
The Best Part of Staying Club Level at Hotel New York, Art of Marvel
However, for our family, the biggest bonus for club level is the food.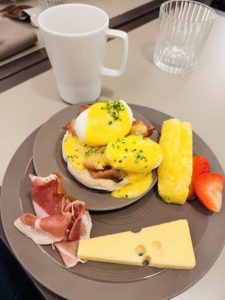 When you stay club level, you receive food, snacks, and drinks all day long with varying schedules and menus.
In fact, when we stayed at Animal Kingdom Lodge Kilimanjaro Club, our family never had to buy a meal in the parks, and my husband and I were able to enjoy bottomless cappuccinos and even wine or beer.
The Empire State Club Lounge is slightly different with slightly more limited hours but more food options.
What Food is Included with the Empire State Club?
The Empire State Club Lounge at Disneyland Paris's Hotel New York serves 2 main food services each day.
Their first service is a full continental breakfast. But don't think cheap muffins and bagged snack foods.
Instead, breakfast at the Empire State Club boasts baskets of fresh pastries, made to order coffee, juices and smoothies, and more.
In fact, the breakfast buffet accommodated several different cultures with everything from a full English Brekkie to the range of cheese and meats that you would expect to find in a Mediterranean breakfast.
Our family loved the Eggs Hollandaise, assorted cheeses, and endless espresso.
However, the kids loved all the different kinds of fresh juice, the pain au chocolate, and the fruits.
Breakfast is enormous. Even all 5 of us eating several meals there couldn't try everything.
None of us ever even made it to the Mickey Mouse bread or different types of sausages. It is an enormous breakfast and will satisfy even the pickiest eaters.
After you have your morning tuck-in, you can head to the parks until you are ready for a park snack or return for afternoon tea.
Empire State Club Lounge Afternoon Tea
Afternoon tea at Empire State Club is not merely tea, coffee, and cucumber sandwiches.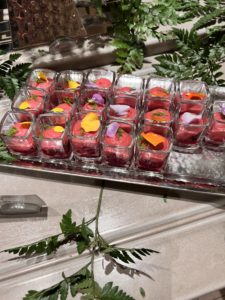 No, afternoon tea includes at least half a dozen different types of Avenger's desserts, New York style pizza, sandwiches, smoked salmon sandwiches, soups, and more.
One day our children all enjoyed pizza and chocolate mousse, while another day, my husband had the salmon sandwiches and macarons.
Again, even among the 5 of us eating there several times, we never tried all the drinks, teas, coffees, or treats.
Afternoon tea was more than enough for our family's dinner.
Evening Cocktails at Disney's Empire State Club at Hotel New York
Finally, club level at Disney's Hotel New York at Disneyland Paris also hosts drinks and cocktails each evening. For most of the evening (6-10pm) you can enjoy all the cocktails, wine, beer, coffee, juices, tea, or other drinks that you want.
The lounge is open to club level guests who can enjoy a calm and relaxing lounge atmosphere at no additional charge (other than the club level charge!)
This is no party ambience but is instead a calm and secluded way to separate yourself and your family from some of the chaos of the rest of the hotel and parks.
I don't know about you, but sometimes after a day of colliding with thousands of people in crowded turnstiles, a few minutes with a hot drink around a white tablecloth is exactly the kind of quiet time I need.
Further, because the Empire State Club Lounge is open only to Club Level guests, it is easy for the adults to sneak off to the lounge while the children sleep only feet away.
Club level has all the added amenities you could want plus all the food that our family could eat. Our family ate a couple of small snacks in the park but never had to purchase a meal in the parks.
But, that doesn't mean that it is worth it for everyone.
Is staying at the Empire State Club worth it
I'll be the first to admit that staying Club level is not always worth it.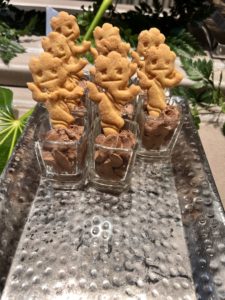 For our family with small children, we almost always need to return to our room in the middle of the day for our children to have a break. The exception to this rule is when we might only be spending 1 day in the parks.
If we are only spending 1 day in the park, then we rarely want to lose a couple of hours of park time just to find a shuttle, bus, or monorail back to our room.
At those times, we prefer to eat in the park.
Further, our family rarely eats 3 square meals a day.
Instead, we prefer to eat a large breakfast, later have a snack, and then maybe a light dinner.
Therefore, the park meal plans are never a value for our family.
Maybe when I have teenagers this will all change, but for now, to feed our family of five even a quick service meal usually means dropping $100.00.
Even just a few sandwiches with no drinks or sides cost us $60 at Disneyland Paris.
So, if we can have healthy and filling meals in a quiet and convenient atmosphere, it often outweighs the actual cost of eating in the parks. This is especially true if you are already planning to return to your room mid-day anyway.
Empire State Club Benefits Go Beyond the Food
In addition to the food, the club concierge is a great added bonus. The concierge at the club desks are the cream of the already excellent crop.
They always take the time to learn my name, hear my questions, and offer solutions. At Disneyland Paris, our club concierge went above and beyond to find a subway map, make reservations for us, and even give us some of her personal favorite spots in Paris.
While I am certain the main concierge is as attentive as she can be, the smaller atmosphere and less crowded club concierge lends to more personalized service.
This was incredibly important for us as we tried to navigate a language barrier with 3 jet-lagged children.
Plus, they were pleased to offer us an amazing upgrade.
RELATED POST: Hotel New York Spider-Man Suite!
Club Level Is Not For You If
Therefore the Hotel New York's Empire State Club is not for you if:
              You want to have the most budget-friendly trip possible.
              You will not benefit from a larger room
              You prefer to bring your own food or eat in the parks
              You prefer to never miss a moment of park time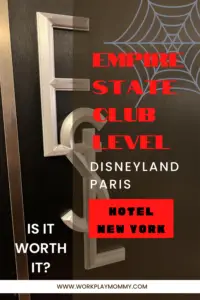 Hotel New York Empire State Club
Our family absolutely loved every moment of staying club level. From the upgraded suite to the endless coffee, we were certainly pampered.
Our entire family had plenty to eat, lots of space to spread out in our room, and had personalized service to help us with our requests.
The food was fantastic. Service was incomparable. And the amenities were even above and beyond Disney standards.
Whenever possible our family prefers to stay club level. Although we understand that it isn't for everyone, it is certainly one of those Disney hacks that makes traveling with small children a little easier.
Plus, you can't beat the Empire State Club Lounge at Disney's Hotel New York!
You might also be interested in: