Budget-Friendly Family Fun at Disneyland Paris Hotel Santa Fe
If you have a child who absolutely loves the Cars movies by Pixar and Disney or you are looking for a budget-friendly Disneyland Paris hotel, then Hotel Santa Fe is a great choice for you!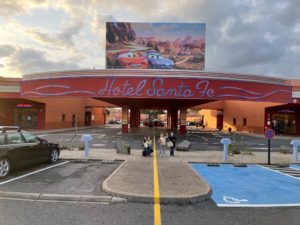 Hotel Santa Fe at Disneyland Paris
Located about a 20-minute walk from the Disneyland parks but a quick shuttle ride to the gates, is Hotel Santa Fe. A hotel that has been modeled after the beautiful American Southwest and themed to match the fun and excitement of my son's very favorite Disney Pixar series: Cars.
Hotel Santa Fe is not only well-themed and easy to reach, it is also budget-friendly for an already expensive family vacation!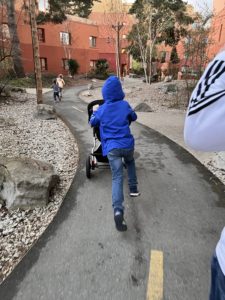 I would recommend this hotel for anyone who can live without air conditioning (it snowed while we were there!), enjoys spending most of their time in the parks, is budget-conscious, and/or LOVES Cars!
Disneyland's Hotel Santa Fe Pixar and Cars Theming
Disney always does such a great job of integrating theming with their resorts. Disney's Art of Marvel integrates Marvel in everything from the color schemes to the font on the doors. Hotel Santa Fe is no different.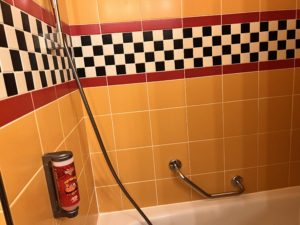 Even the bathrooms had Route 66 themed mirrors, soap, and tiles.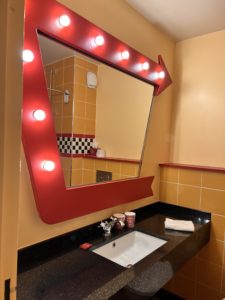 The hallways were decorated with mid-century styled portraits of some of the very favorite Cars characters from Cars, Cars 2, and even Jackson Storm from Cars 3.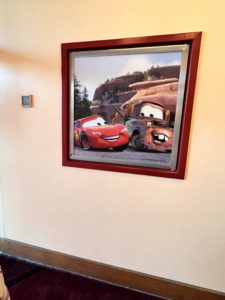 Even the buildings that make up Hotel Santa Fe in Disneyland Paris all have Cars themed names and exterior features.
Our family stayed in the Lightning McQueen building, but my son would have been just as thrilled to stay in the Mater building.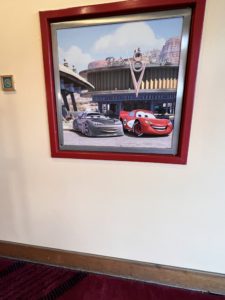 Even the sidewalks were painted to resemble streets, and, of course, our family had to hold races along the paths!
Room Size at Hotel Santa Fe Disneyland Paris
The entire hotel is fun and magical for children who want to race everywhere! (My son!) However, for the adults, the rooms are not very luxurious.
Our standard room had 2 double beds and accommodated up to 4 adults and a cot for a child under 3.
As a family of 5, the cot did need to be stowed away so that we could tiptoe around the edges of the beds.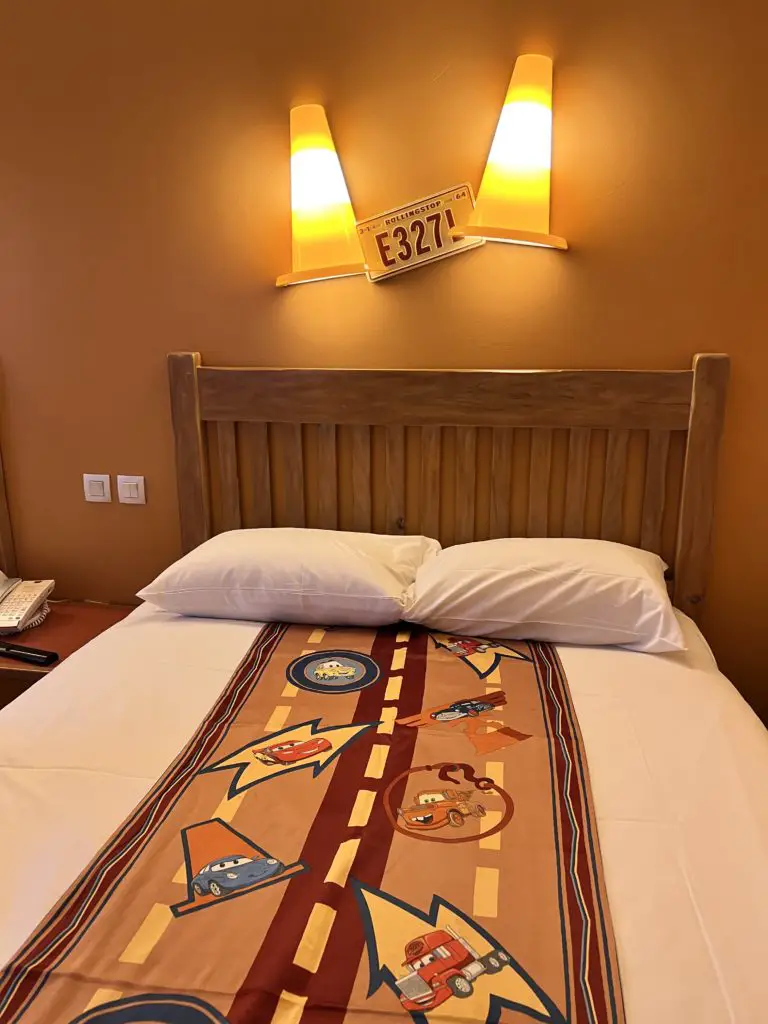 While the room was suitable for our short-term needs, the open closet and limited space around the beds made it difficult to stow our suitcases, stroller, and toddler cot. Overall, we were quite crowded in a standard room.
On the day that we left, we had to rotate the suitcases, cot, and stroller around the room as we exited the door one-by-one!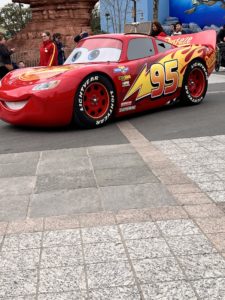 Amenities in Hotel Santa Fe at Disneyland Paris
In addition to the size, Hotel Santa Fe will also not impress you with its amenities.
While Hotel Santa Fe is a comfortable and clean hotel with adorable theming for your Cars fans, it does not boast all of the same amenities as the deluxe resorts.
For example, Hotel Santa Fe does not have a pool or a fitness center. However, it is our understanding that you can access other pools or fitness centers by request. Our family didn't miss any of those amenities as we were way too busy touring the parks, the other resorts, and finally, Paris itself.
Hotel Santa Fe did have some nice perks though. For example, our family was allotted free daily coffees from the cappuccino machine –a welcome perk when the snow is falling!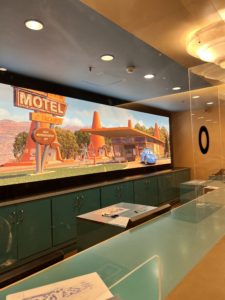 Plus, we enjoyed the on-site Starbucks and the Santa Fe Cantina which was very busy for its breakfast buffet. Above all, our family appreciated the care and genuine customer service that Hotel Santa Fe provided.
Staff and Concierge
Just because the room was adequate, the theming is juvenile, and the dining is less varied than other resorts does not mean that you lose out on Disney quality. Even at the value price, we found the staff and concierge at Hotel Santa Fe to be willing to go above and beyond.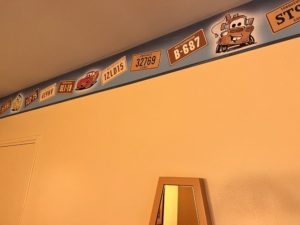 For example, our family booked the Magical Shuttle to go back to the airport from Disneyland Paris. However, due to a mix up, we missed it. (If you are booking the Magical Shuttle be certain that you receive the schedule for your departing resort, not from Disneyland, so you do not miss your bus reservation!)
I explained my situation to the hotel concierge who spoke fluent English, Spanish, and French. Within moments, she hopped to make a recommendation, a phone call, and a reservation.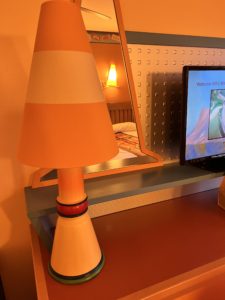 She booked us another form of transportation within minutes all while navigating my English request, the French-speaking driver, and her Spanish-speaking colleague! In less than 5 minutes she turned what we believed to be a crisis into a minor inconvenience. She even helped us figure out how to request a refund from Magical Shuttle!
So, even if you don't love the kitsch theming of children's animated movies, if you still want world class customer service, Disney is the place to get it! Even in countries where the culture might be different, you will still find stellar customer service even in the Disney value hotels at Disneyland Paris!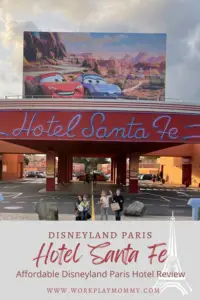 Review of Hotel Santa Fe at Disneyland Paris
Honestly, our family booked Hotel Santa Fe solely because our son is a complete Cars fanatic! He was over the moon sleeping with Mater and Lightning in his bed. He ran from portrait to portrait excited to see his favorite characters, and we loved watching him light up!
Our family was comfortable, had adequate room accommodations, and overall enjoyed our stay there. The convenience to the parks, restaurants, and the train station were excellent, and we had no problem getting the services that we needed.
For any family that is looking to save some money on their Disneyland Paris vacation while still enjoying the convenience and enchantment of Disney hotels, Hotel Santa Fe is an excellent choice.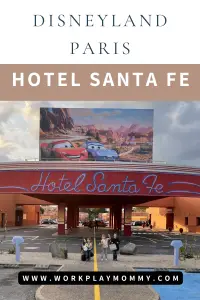 If you are looking for more deluxe themed accommodations, then I can't recommend Hotel New York -The Art of Marvel enough!
RELATED POST: A Look inside the Hotel New York Spider-Man Suite
RELATED POST: Disneyland Paris Hotel New York – The Art of Marvel