Don't Eat the Oranges: 10 Things I Should Have Known Before Visiting Granada Spain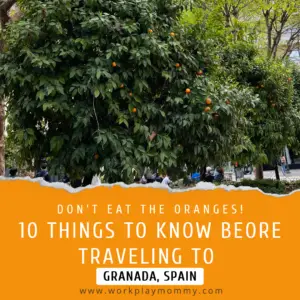 Granada, Spain is incredibly family friendly, relaxed, and all around fun for a short or long trip. However, after spending some time in Granada both as a single and as a family, I have learned a thing or two that I didn't know before I came. So, here are some things that you should know before you visit Granada, Spain!
RELATED POST: 2 Day Itinerary for Granada, Spain
As a bit of background, I'm an American in Granada, Spain. Our family took a sabbatical and chose to spend it in the mild Spring climate of Andalucia. Specifically, we went to the extremely important historical city of Granada. These are my opinions alone!
Not only is the city replete with beauty, history, and food, it is also incredibly family friendly. And, with these tips for visiting Granada, Spain, you can avoid some of my embarrasments!
To get my checklist of what to do with kids in Granada, Spain, click here!
In Granada the sun shines regularly, medieval architecture is around every corner, and tapas are served all day. However, don't be someone who doesn't know these Granada, Spain tips!: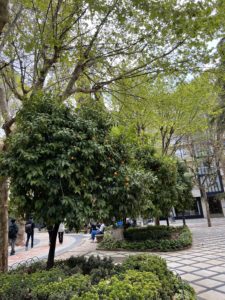 1. Don't Eat the Oranges
All over Granada you will see beautifully manicured gardens and flora. In fact, located in the heart of the city is a beautiful botanical garden maintained by the University of Granada.
However, you will also see streets, parks, and driveways lined with perfectly shaped orange trees.
The orange trees seem to always be flush with fresh ripe fruit. And, if southern Spain is already known for its citrus fruits, why not pluck one of these bright orange treats as an afternoon snack on an already hot day?
Don't do it.
They are just decoration.
The oranges do look beautiful from the outside. However, on the inside they are slimy pulpy messes. Rumor is that they won't kill you, but they could drive you crazy.
That is one hypothesis as to why the locals often call these oranges "naranjas locas" or crazy oranges. Not necessarily because they grow wild but because if you eat them, you might either be or go crazy!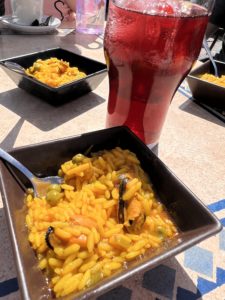 2. Tapas are Free
Don't know what a tapa is? Well, a tapa is like a small plate of food often eaten with a beverage and not intended as an entire meal.
If you travel to Barcelona, Pamplona, or even Indianapolis, Indiana, you can find lots of restaurants that serve a variety of delicious tapas.
No one knows for certain the history of tapas. Some say it is because men wouldn't want to return home drunk after having an after-work drink. Still others say they were created to serve as a lid over drinks to keep the dry Spanish dust out of drinks. (See some of the origin stories here.)
However, no matter the origin story, tapas in Granada are different.
Order a drink (alcoholic or soft) in Granada, and more often than not, you will soon see a little plate of food arrive on your table.
No wait; don't send it back to the kitchen; you aren't being charged. In Granada most drink orders come with a free tapa.
Better yet, the more drinks you order the more tapas you might receive. The foods and sizes vary widely from bar to bar. Some feature traditional Spanish foods, others serve simple pretzel mixes, and still others serve entire hamburgers.
In any event, a great treat for visiting Granada is the complimentary tapas that come with your drink order.
So, sit under the shade in a Spanish plaza out of the blazing sun, order a tinto de Verano, and enjoy some paella while you soak in the sites and sounds of the city!
3. Siesta: Don't plan mid-day errands in Granada, Spain!
Free tapas then a nap. Granada, Spain, like much of Spain still observes a daily siesta. It's really the dream isn't it?! A nap everyday???
Well, this also means that most stores and other services close during the heat of the day (usually between 1:00 – 3 or 4:00 pm).
Don't make the same mistake I did to save your errands for a mid-afternoon stroll. You might find that the post office, the corner bakery, and even the pharmacy are all closed (true story!)
Instead, plan your errands for between 10:00 and 1:00 or after 4:00 or 5:00.
You will often find that many of those same service remain open later than you might be accustomed due to their mid-day break.
Instead, take the time to enjoy siesta. Have a tapa and a drink and listen to children play in the park. Then return to your hotel/hostel/apartment/flat for a break in your day.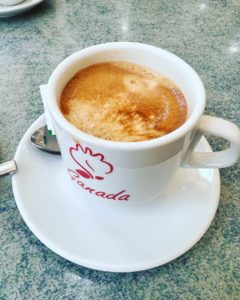 4. Coffee isn't Coffee in Granada, Spain
As an American in Spain, I am learning how to order coffee. If I walk into any restaurant, café, or store in the United States and order a coffee, I am going to get the same thing. I am going to get a cup of brewed, hot coffee.
The brew, size, and flavors might vary, but it is going to be a brewed blend of hot water and coffee beans.
Not so in Spain. If you walk into any bar, restaurant, café, pasteleria, panaderia, or whatever other place that serves coffee (almost everywhere does!!) and order a "coffee", you will receive a shot of espresso.
If you order a coffee with milk (a café con leche), you will receive an espresso shot doused in hot steamed milk.
If you want a coffee that best approximates the American brewed coffee, you might want to ask for an Americano or a café largo. Both of these are heavy on the water, lighter on the coffee, but eliminate the milk.
However, they still are not the American equivalent. And, you might really learn to LOVE a good café con leche!
5. They Don't Speak Español
You know your high school language course: "Español"? Well…they don't speak that here.
Spain is the heart of all Spanish speaking cultures around the world, and they are very proud of it.
Instead of simply speaking Spanish, many Spaniards are proud to say that they speak "Castellano". Now, you might be wondering if there is really a distinction. Linguistically…NO.
However, differentiating Spanish and Castellano is just one of the ways that Spaniards show their Spanish pride, and don't be surprised to hear the language described as Castellano instead of as your general run-of-the-mill Spanish.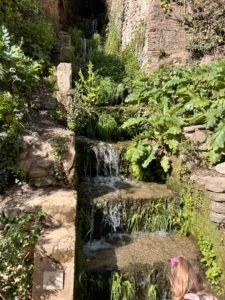 6. Granada, and much of Spain, is in a drought.
Despite being on a peninsula (the Iberian Peninsula) and literally surrounded by water on 3 sides, Granada, and much of Spain, is actually in a drought.
RELATED POST: What to do in Granada, Spain in the Rain with Kids!
You might be shocked to find the rivers are low, the climate is more akin to a dessert, and even your showers might be cut short.
Don't plan on using Granada as the place where you enjoy long, hot showers or steaming long-running baths. (https://www.theolivepress.es/spain-news/2022/02/20/drying-up-water-disputes-springing-up-as-major-drought-stares-spain-in-the-face/)
In fact, Granada is on a mission to conserve lots of things. You will notice recycling everywhere –even for cooking oil and batteries.
And, even their fountains, found around every corner and covering much of the grounds at the Alhambra, use recycled water.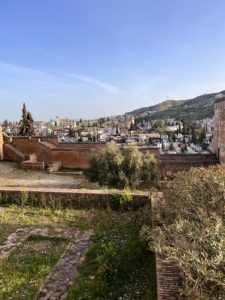 7. Go to the Alhambra in Granada, Spain…for FREE
If you want to enter the Nasrid palace or even the Generalife gardens (which I highly recommend that you do), you can buy official entrance tickets here.
However, did you know that much of the Alhambra is free? You can actually tour much of the grounds, see much of the palace, and even enjoy many of the beautiful mountain views by simply walking in.
There are several walking paths that lead to the Alhambra. However, you can also take an Alhambra bus, a tour bus, or even a taxi to the top of the hill where the palace sits.
There you can enjoy a coffee and a sunrise view of the city and Albaicin. Or, you can simply enjoy an afternoon tour with your family.
However, don't miss the sunset from the Mirador San Nicolas where you can get a full view of the palace gazing over the beautiful city of Granada…all free!
Our family loves to take a hike up the hill to the Alhambra as both a fun way to start the day and a good workout!!! This is especially important after eating all the tapas and bakery treats!
8. Don't Waste Your Time Looking for a Dryer
If you are spending extended amounts of time in Spain, don't waste your time looking for a clothes dryer.
Just hang them on the line outside your window like everyone else. Or, better yet, if you don't want to hang your underwear like your flag, get yourself a drying rack.
Get used to having crunchy jeans, know that it will take at least a day for your clothes to dry, and enjoy the peace of mind that you didn't contribute anymore to global warming.
If you are lucky enough to find a clothes dryer…let me know…!
9. Early-Risers Need Not Apply
Our family is only in Granada for a short time. We want to soak up all the sites, experiences, and food. So…naturally…we got up early, strapped on our tourist sneakers, and went outside only to find that every story in the entire city was still closed.
Sure, we could find the occasional café just starting to serve the commuter crowd a to-go coffee, but we couldn't actually experience anything.
Similarly, we showed up in one of our favorite plazas around 6pm hoping to get a dinner before our kids were officially done for the day.
When we ordered a simple dinner from the menu proudly displayed at the front of the terrace seating, our waiter promptly informed us that the kitchen would not be opening for another TWO HOURS!
The moral of the story is that Granada, Spain is not an early-riser city. They do long mornings, late and relaxed lunches, evening tapas, and finally late dinners.
Stores open in late morning if even before siesta. And, most of them close long after I would have been in bed!
If you are visiting Granada, don't plan to be on a punctual and rushed American schedule. You might check the hours online before you go and show up to a shuttered restaurant.
You might even see dozens of people gathered and drinking at a bar terrace only to find that the restaurant doesn't start serving food yet.
Just go ahead and plan on shifting your day and instead of being the early bird, plan on being a night owl!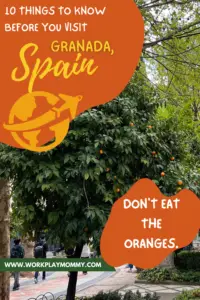 10. What to know about Granada, Spain: Wear Your Walking Shoes
Granada, Spain, like much of Europe, is far better equipped with public transport than most cities in the United States.
Granada has a metro station, train lines, buses, tour lines, taxis, and private car services.
However, the entire city is completely walkable.
Our family, even with 3 small children, has walked from one end to the other multiple times without ever needing to board a bus or take a taxi. A major tip for all Granada, Spain visitors is to bring good walking shoes!
We have walked 1.7 miles to the grocery store (and back) without an issue. We hiked to the top of the Albaicin, even though the entire neighborhood is roughly built on a 90 degree angle!!
And, while you will see young girls traversing the entire city in tall, sharp, high heels, the cobblestone roads, tiled streets, and amount of walking are really made for good walking shoes.
So, bring your walking shoes, leave your bus card at home, and enjoy a truly walkable city.
What did you learn in Granada? What do you wish you knew before? Check out this list of 10 things I missed while living in Spain! (coming!)