48 Hours in Granada, Spain
A Recommended Itinerary for Granada, Spain in only 2 Days
If you are only spending a couple of days in Granada, Spain, with a good plan, you can see all of the city's main highlights.
Try this 2 day itinerary for a quick stay in Granada.
If you are wondering what makes Granada, Spain so special whether it is worth the trip, and whether it would be good fit for your family, check this out.
RELATED POST: What's So Special about Granada, Spain?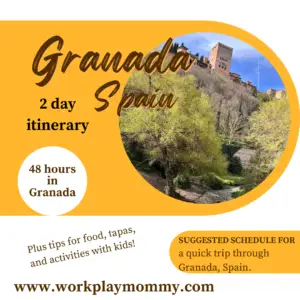 HOW MUCH TIME DO YOU NEED IN GRANADA, SPAIN?
While Granada is a relatively small city compared to Madrid or London, the truth is, the city really is enchanting. The views really are breathtaking, and the food is to die for!
You could spend months here and never see all the sites or experience all of the food and festivals.
But, in just a quick weekend, you could at least visit the highlights of Granada.
So, if you have already planned to visit Granada for just a couple of days, then check out this recommended 48 hour, 2 day itinerary .
If you want to stay longer, check out this 7 day suggested itinerary for Granada, Spain.
Of course, if you don't plan to sleep, take a break, or stop and eat, you might be able to do more. On the other hand, if you need more rest or want to take longer breaks, then you might not get to all of these.
However, if you want to get to Granada and see the most iconic bits while also experiencing the highlights of the culture, try this 48 hour/2 day itinerary.
But, first you have to get there!
Arrival to Granada, Spain
Despite the fact that the entirety of Granada, Spain is very walkable (and stroller friendly), the airport, the bus station, and the trains start outside of the city center.
Therefore, regardless of your means of transport to the city (aside from renting a car), you will need to transport yourself to the city center.
Our family chose to arrive by plane at the Granada/Jaen Airport.
While we could have easily jumped on the bus that goes to the bus station or the city center, we chose to use Zone Transfers –a private car service.
Arriving at Your Hotel/Hostel in Granada, Spain.
We arrived late in the evening after a long day of travel and simply wanted someone to deliver us directly to our doorstep.
The driver was waiting for us at the exit of the airport sign in hand. He loaded our luggage into a large, comfortable, and clean vehicle. Finally, he drove us directly to our apartment. It was well worth the extra cost for a very tired family arriving in an unfamiliar place.
I would recommend Zone Transfers for your private car service. Plus, the cost is very comparable to a cab ride, especially for a family.
However, if you simply arrive by bus or take the airport bus to the Granada bus station, you can easily make it into the city center within 30 minutes or even less depending on your hotel/hostel destination.
As I recommend arriving early on your 1st day (or perhaps the night before) to make the most of your trip, you can take a bus directly to stop at Plaza Bib Rambla for Chocolate and Churros. Find the route here. (https://moovitapp.com/index/en/public_transit-Plaza_De_Bib_Rambla-Granada-site_9051974-2422)
At any rate –whether you use a bus, private car, or taxi, I recommend that you start early if you are only spending 2 short days in Granada.
While the city of Granada is not known for being an early riser, you can always find churros somewhere, and most of the tourist attractions open by 10:00 am. Therefore, if you are trying to cram the highlights of the city into 2 days, I recommend an early start.
And, what better way to start your first day than with a Granada favorite: Chocolate with Churros.
DAY 1 of 2 day Granada, Spain Itinerary
First Stop: Chocolate with Churros in Granada, Spain
You know it will be a great day when you start with a smooth cup of coffee and chocolate with churros. Lucky for you, one of Granada's claims to fame and the first stop on a great 48 hour Granada adventure is a steaming cup of chocolate to dip your fried churros!
While the entire city has many churrerias (restaurants serving chocolate with churros) I highly recommend 3 of the most famous and delicious spots.
Our three favorite Chocolate and Churros Spots in Granada are:
Café Futbol near Fuente de las Batallas in Plaza Marina Pineda,
Café Futbol is a clear classic with piping hot chocolate and crunchy churros.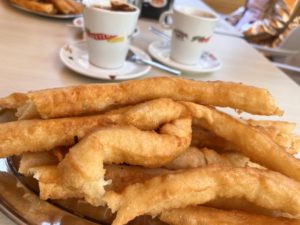 Pair your sweet treat with a delicious cappuccino and, in our experience, some delightful service staff who made our morning just a little bit sweeter still!
For our family, Cafeteria Alhambra is the clear churro winner. After tasting a mix of churros around the city, including these top 3 classic favorites, Cafeteria Alhambra won in the churro category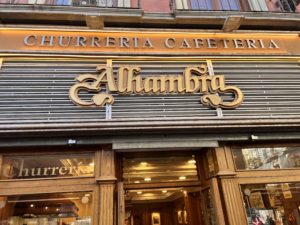 If you want to have, in our opinion, the best churros in Granada, start your day at Cafeteria Alhambra.
However, Cafeteria Alhambra can also have quite a bit of a wait, and the menu isn't incredibly diverse, so if you run into a long line or want to have some more variety in your breakfast, scoot next door to Gran Café Bib Rambla.
Gran Cafe Bib Rambla, also located in Plaza Bib Rambla is our #2 favorite chocolate with churros spot. The chocolate and churros are on point, and you can find some other breakfast options to get your day started on the right foot.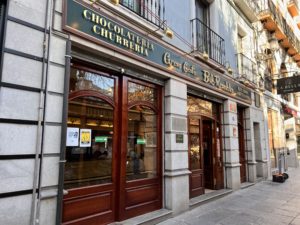 Plus, Gran Café Bib Rambla has the added bonus of also being situated on Granada's famous Plaza Bib Rambla where you can watch the world pass by, the merry-go-round spin, and the tourist groups troupe from the Cathedral to the Alhambra.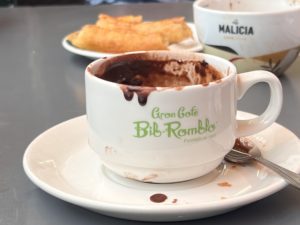 Although you will find many other churrerias throughout Granada that no doubt offer delicious chocolate with churros, these 3 locations are probably the most famous and classic locations for chocolate with churros and never disappoint!
Second Stop: The Alhambra and Generalife Gardens in Granada, Spain
After you fill up on an early morning helping of chocolate with churros, take your sugar-filled body and your ticket to the Alhambra.
How to Book Alhambra Tickets Early.
You will want to book your tickets early and in advance. Our family had to book our tickets several weeks out on a morning weekday. And, even then, only a few open passes remained.
Although many third party sites sell Alhambra tickets, book your official passes here. Our family used the Dobla de Oro tickets to access both the Alhambra and other monuments.
If you plan to also access the Banuelos (suggested alternative below), the Dobla de Oro tickets will get you in there too. However, for most people the General ticket will more than suffice.
How Much Time for the Alhambra?
Further, you will want to give yourself at least 3 hours to experience either a private guided or an audio guided tour.
If you want a recommendation for a private tour, check out Miriam Tourist Guide. She was amazing with our entire family including our three young children.
RELATED POST: Granada with Kids: Review of Miriam Tourist Guide for Tours with Children
Even though we have 3 small children who rarely are interested in things like architecture, ancient history, or geometry, going through the Alhambra and gardens still took us more than 3 hours (that's how great our guide was!).
My husband and I never even made it to the Generalife palace in that time frame, and we could have easily spent another 1-2 hours there.
In other words, plan to spend the bulk of your day navigating the grounds and gardens of the Alhambra palace.
Backpacks, Strollers, and the Alhambra
If you can, leave your backpacks and strollers at the hotel as security and staff will often have you remove your backpacks and stow your strollers.
The palaces and gardens are hundreds of years old and constantly worn by thousands of visitors. They don't want any further damage to the historical site from backpacks, strollers, or inadvertent knicks.
Unfortunately, the staff even took this so far as to ask us to remove our toddler from our favorite Minimeis carrier. Therefore, instead of being safely stowed in my shoulders, he proceeded to run and scream any chance he could wiggle away from us in the crowd.
I'm certain that the Alhambra palace would have been much safer with him in the carrier.
After the Alhambra
THIRD STOP: Food and Rest in Granada, Spain
Despite your full breakfast of Churros and Chocolate, after 3+ hours of walking the Alhambra grounds, you are likely ready for a late Spanish lunch!
Enjoy the Siesta and lunch time by meandering (or taxi or bus) down from the Alhambra to Plaza Nueva or el Paseo de los Tristes.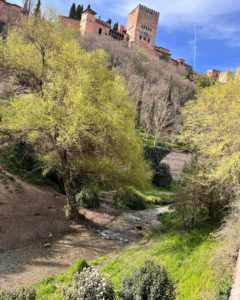 Both plazas offer sweeping views of the Alhambra or the Albaicin and a plethora of food/lunch/drink options.
Our family spent several hours at a time sitting at Los Tristes below the Alhambra drinking coffee, tinto de verano, and hot chocolate.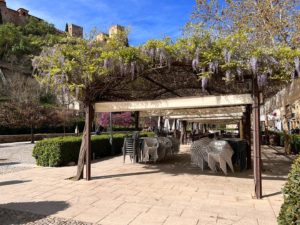 It is a great way to continue experiencing Granada's ancient beauty while also enjoying a great snack, bocadillo (sandwich), or menu del dia (daily meal offering).
At the same time, you could easily squeeze in a tour of the Banuelos (ancient Arabian baths) located between Plaza Nueva and Paseo de los Tristes.
There you can learn about the ancient Hamams and more of Moorish culture.
Or, if you are too worn out, embrace the Spanish way of life and return to your hotel or hostel for an afternoon siesta.
Either way, give your feet a little break! Then, get ready for tapas or ice cream/gelato at Granada's famous Los Italianos.
FOURTH STOP: Tapas in Granada, Spain!
By 6:00 or 7:00 p.m. the city is nearly ready to be in full tapas swing.
Before the dinner hour (which starts most days around 8), the city awakes from siesta to take a cup of coffee, enjoy a glass of wine, or just sit around a table with snacks and friends.
Whether you go out for tapas before Mirador San Nicolas or after depends on the time of year. Be sure to give yourself plenty of time before sunset to experience the next quintessential Granada attraction.
FIFTH STOP: Mirador San Nicolas
The most famous lookout in Granada, Spain is the Mirador San Nicolas.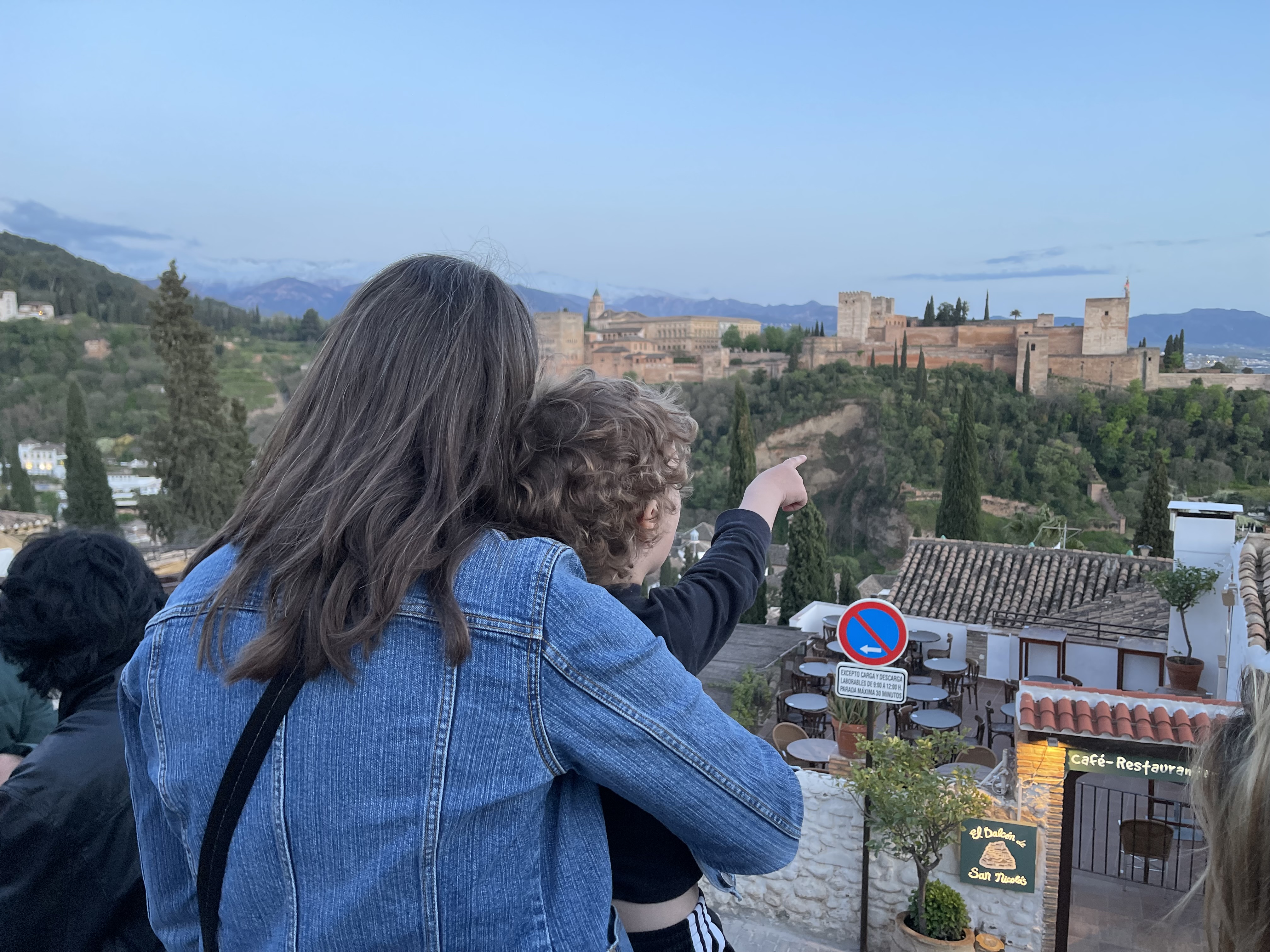 Nestled in the heart of the Albaicin, Mirador San Nicolas provides a birds-eye-view over the entire city of Granada featuring the Alhambra.
I recommend that you journey up to the Mirador at least an hour before sunset to listen to the street performers and watch some street Flamenco as the sun sets over the city.
However, to really get a great experience, give yourself plenty of time for a tapa at one of the Mirador's many bars and restaurants before walking over to the Mirador for sunset.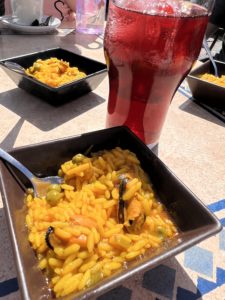 The view over the city at sunset is a marvel, and, of course, an incredibly instagrammable spot.
In fact, one of the Mirador's great claims to fame is that Bill Clinton himself visited the site and remarked on its beauty.
If you really want to experience the beauty of the Mirador and have the budget, make dinner reservations at one of the restaurants that skirts the Mirador.
For example, El Balcon de San Nicolas is a beautiful restaurant that sits at the foot of the Mirador and boasts the same perfect views of the city without the pesky concerns of pickpockets and waiting for your turn to see off of the edge.
For most people, this will likely be a full enough day. However, if you plan to party until the sun comes up, continue down from the Albaicin after sunset to any number of tapas bars that fill the streets between Plaza Nueva and the Granada Cathedral.
Then rest up for another full day of Granada fun!
Day 2 of 2 Day Granada, Spain Itinerary
FIRST STOP: Spanish Breakfast in Granada
If you fancy another serving of chocolate and churros check out another one of my recommendations above.
However, if you want to find a breakfast that more closely resembles Spanish tradition, find a tostada and coffee at nearly any restaurant, café, or bar that is open.
Tostadas in Spain are traditionally served with olive oil and a grated tomato spread or simply butter and jelly. My personal favorite is tomato with jamon serrano or queso Manchego.
You can't go wrong with any of these combinations and will be shocked at the affordable prices in Granada.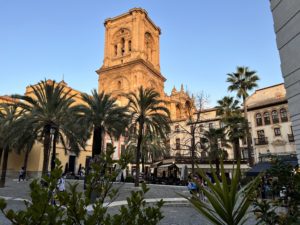 Some of our favorite places for tostadas and coffees were in the Paseo de los Tristes, Plaza Bib Rambla, or R Bar in Plaza de la Romanilla.
R Bar in Plaza de la Romanilla not only has a great breakfast menu but also sits directly across from a playground.
RELATED POST: Granada, Spain with Kids: Plazas with Playgrounds
That way, if you are traveling with little ones, they can run around free while you enjoy your breakfast in peace!
However, if you are going to be heading to the next location, the Granada Cathedral, you can find an even closer restaurant. Another great place for breakfast located directly at the foot of the Cathedral is Rollo.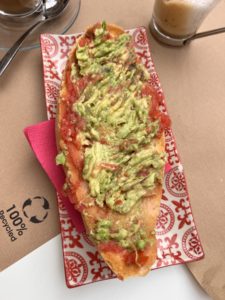 Have an avocado tostada and a delectable cappuccino before entering the Cathedral for your tour.
SECOND STOP: Granada Cathedral and Chapel of the Kings
After a relaxing breakfast preparing you for another day of walking, walk from your chosen breakfast location to the entrance to the Granada Cathedral.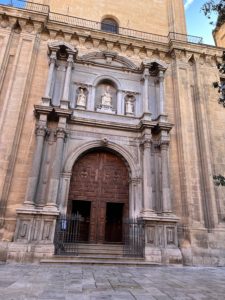 Again, you will want to purchase your tickets online, in advance (here), but we found far more availability for Cathedral and Chapel tours than for the Alhambra. Again, purchase a multi-venue ticket for both the Cathedral and the Chapel.
Cathedral of Granada and Royal Chapel Audio Guides
Be sure to download the digital guides (one for the adults and another for the children) before you get there.
The Cathedral has convenient free wi-fi for downloading the audio guide, but downloading in advance will save you hassle and headache.
In our experience the audio guides for the adults were informative and explanatory for our purposes.
However, our kids loved the audio guide for kids. The narrator didn't focus so much on years or characters but instead on fun factoids.
My kids laughed at some of the guide's jokes and enjoyed learning about how swords and art were part of the culture and history.
My youngest son exclaimed "this is incredible" when we entered the cathedral as he was so overwhelmed by the gilded extravagance and size of the cathedral.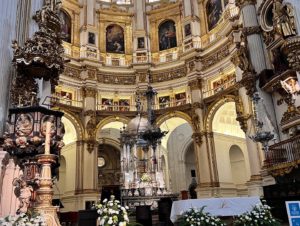 Leave yourself at least 1 hour to take the tour for the Cathedral and at least 1 hour for the Royal Chapel –the burial place for King Ferdinand and Queen Isabel.
How Much Time for the Granada Cathedral and Royal Chapel?
Our children were engrossed in the tour of both locations for the entire 2 hours, and if you are traveling with only adults, I would guess that you would need at least one hour more to fully experience both the Cathedral and the Chapel.
When you purchase your ticket be sure to purchase a combined ticket for both the Chapel and the Cathedral so that you can easily access both.
If you want to visit yet another site in the immediate vicinity, walk across the alleyway from the Royal Chapel to the Palacio de la Madraza, but with only 2 days in Granada, it probably wouldn't make the cut.
Instead, I recommend that after your tour of the Cathedral and Chapel you spend some quality time walking through the Alcaiceria.
THIRD STOP: Shopping and the Alcaiceria!
This colorful marketplace of Moorish origin is a great place to find Granada souvenirs. Clothing, castanuelas, and tea kettles can be found throughout the entire Alcaiceria.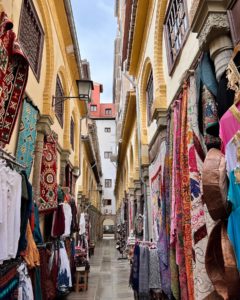 This market is a great place to find treasures and your new Flamenco gear!
You will find a number of women attempting to give you blessings and herbs. They will expect that you give them money in exchange for their gift and blessing. In my experience they can get a little aggressive, so we try to avoid them.
FOURTH STOP: Afternoon Snack or Tapas on Your Way to the Park!
The next recommended stop is Parque Garcia Lorca. You can easily reach this park on foot so long as you are willing to walk through the commercial district of Granada. The walk will take you 20-30 minutes from the Alcaiceria.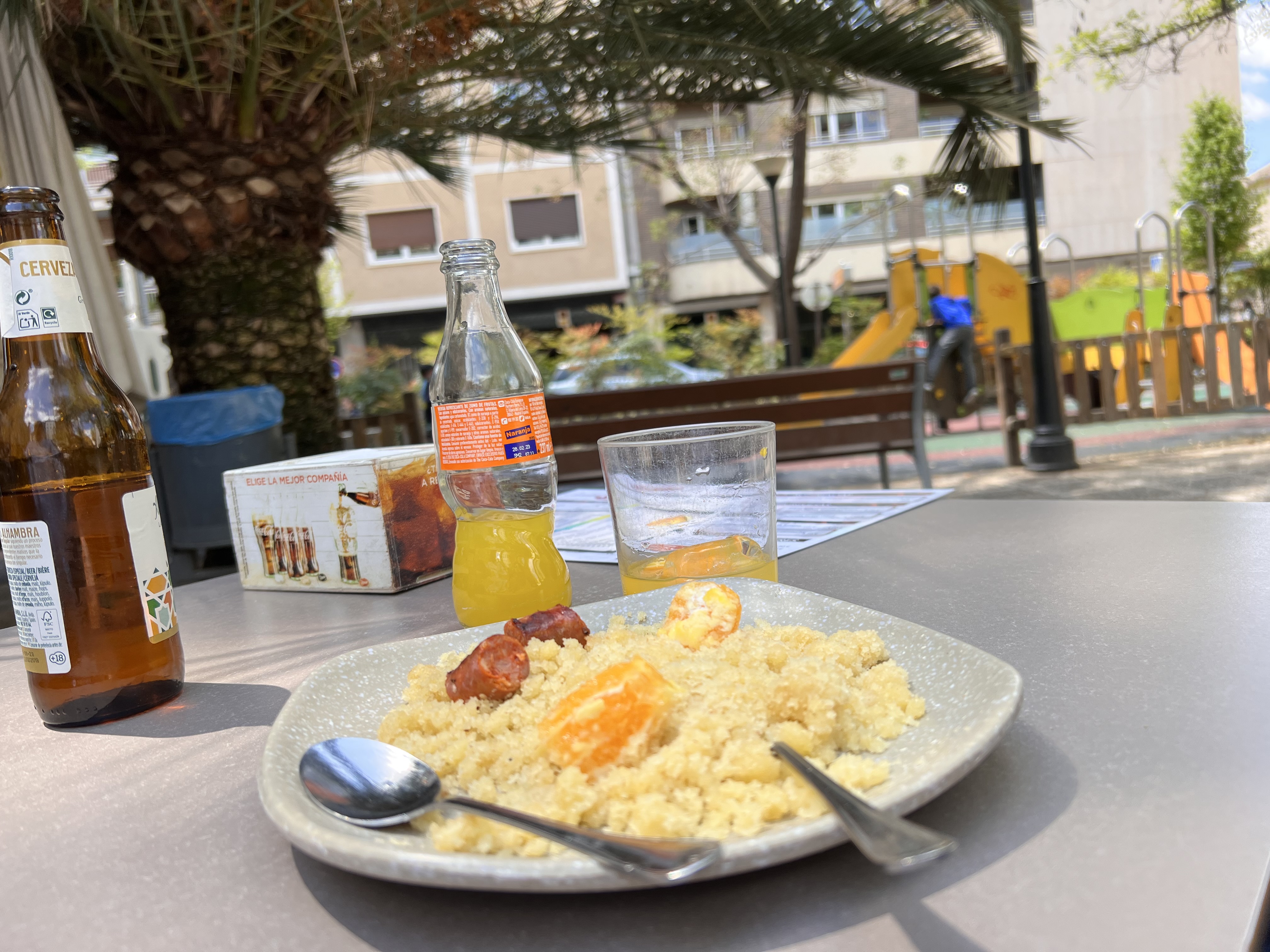 If you plan to take a bus, taxi, or car, grab a snack, lunch, or a drink in the commercial district just outside of the Alcaiceria. Again, Plaza Bib Rambla and Plaza de la Romanilla are convenient with loads of choices for tapas or lunch.
If you plan to walk, I recommend taking a stroll down Calle Gracia until you reach Plaza Gracia. This is a great plaza to have lunch, tapas, and a drink.
Again, this plaza has a playground in the middle but also great authentic feel. This is a plaza where families bring their kids after school, where friends meet for a drink, and where families enjoy a meal.
Our favorite is Bar Igra where we enjoyed lots of migas and bocadillos while our children jumped on the trampolines in the playground.
The sweet wait staff were kind and helpful. They never minded us, or all the other families, sitting for an hour or more enjoying the view from the plaza.
FIFTH STOP: Parque Garcia Lorca
After you leave Plaza de Gracia, continue on to Parque Garcia Lorca.
In the center of the park you will find the house of the park's namesake, Frederico Garcia Lorca,  Granada's most famous poet.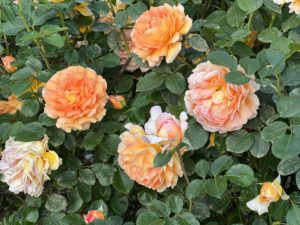 However, you will also find a large walking path, workout equipment, students basking in the sun, and extensive rose gardens.
Take the time to walk through the park, smell the roses, watch the ducks, and catch views of the Sierra Nevada from the beautiful paths.
Again, if you are traveling with kids, the playgrounds at Parque Garcia Lorca are the best in the city and will keep them entertained for hours.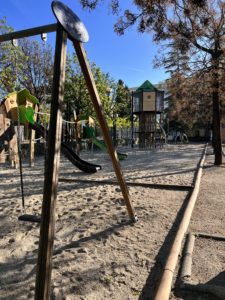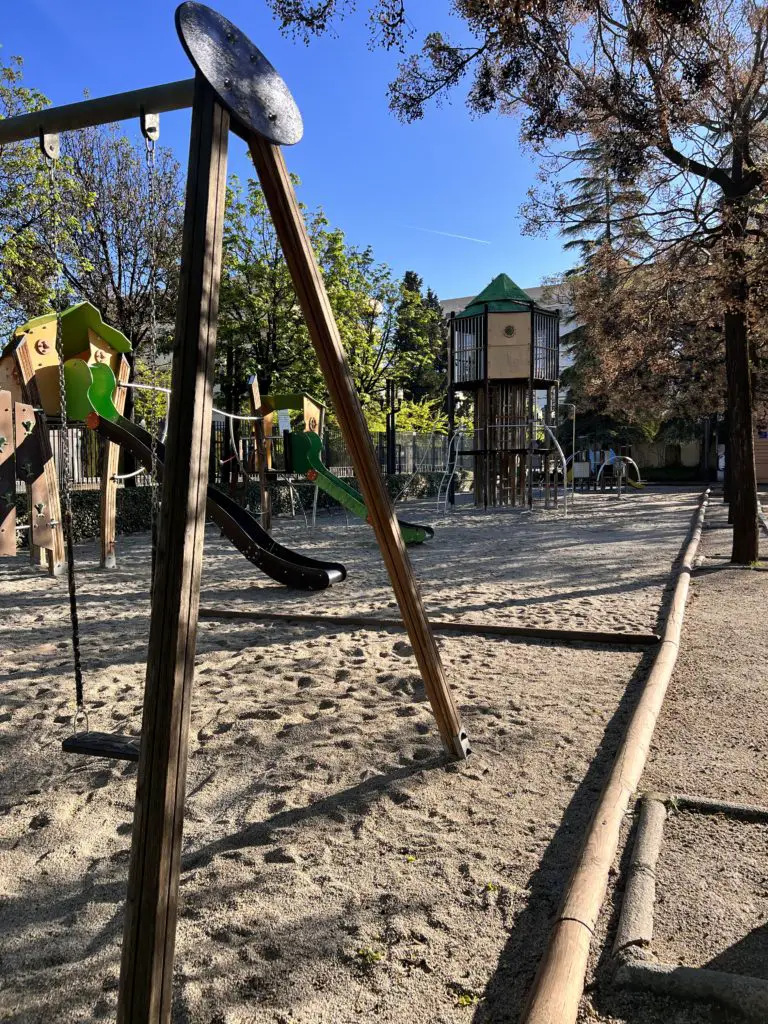 If you visit on a weekend, you can enjoy watching your kids play from the comfort of your seat in the Lorca Resto Bar.
After a spin around the park and a rest in the gardens prepare for a fun night out watching Flamenco.
SIXTH STOP: Granada, Spain Flamenco
For your final major event in a 2 day Granada stay, book Flamenco. To cap off an evening in Granada, make your final stop a Flamenco show.
From caves to famous theaters, Flamenco shows abound in Granada.
Many cave shows also offer dinner as part of the show and will start late in the evening and go well into the night.
However, most of them will be up in the Albaicin. So, if you don't want to walk all the way from the park back to the Albaicin, I recommend grabbing a quick taxi ride back to Plaza Nueva or directly to your venue.
To get you in the mood for your show and to grab a simple snack, make your way to the Albaicin's many teterias (tea shops) where you can sample Moroccan tea, baklavas, Moroccan foods, and even flavored hashish.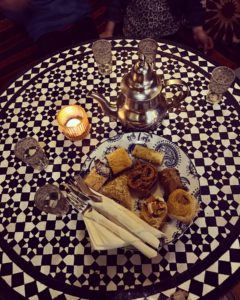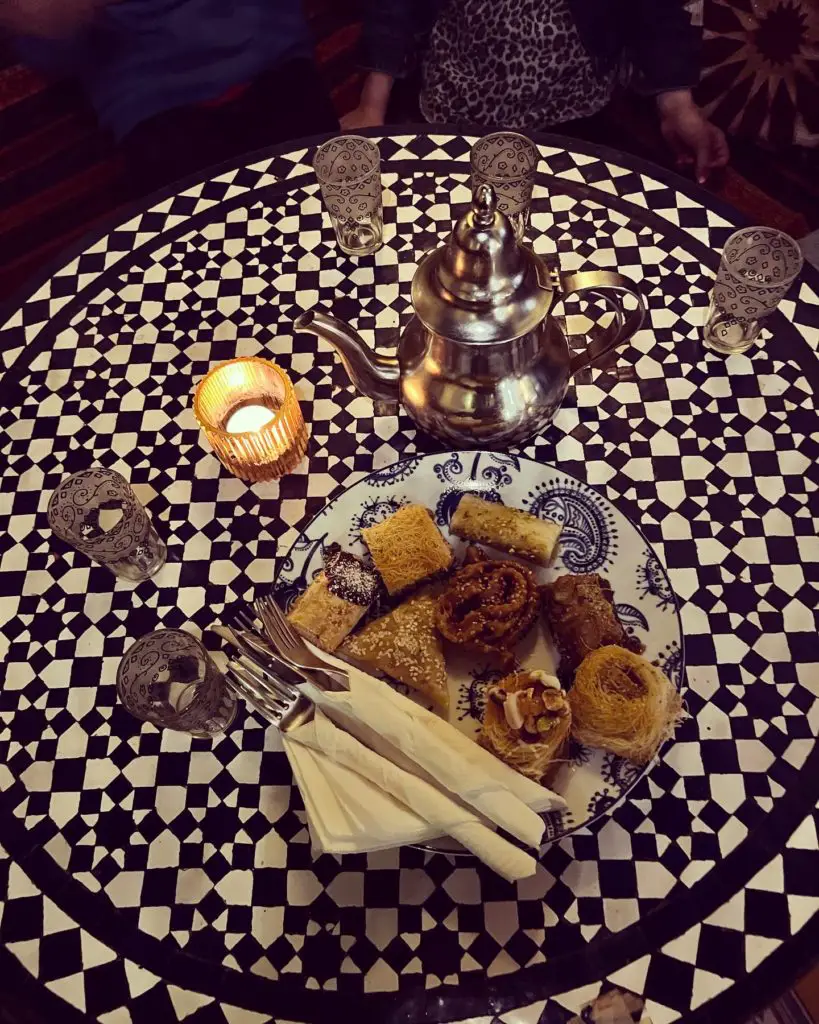 Our kids loved sampling the Arabic delicacies and the low tables but didn't love the tea! Regardless, they love going for tea at the Arabic tea rooms in Granada.
If tea isn't your fancy, then stop over for gelato at Los Italianos or El Grillo.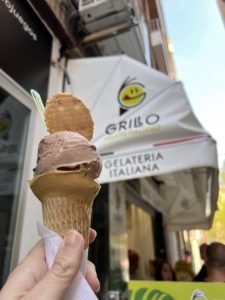 Cap off your final night in Granada with your Flamenco show. Make sure to through in some "Oles" and "guapas" as the artists perform!
Granada, Spain Itinerary in 2 days
I am certain that after 2 days of running through the city and experiencing the highlights, you will see a few things that you wish you had time to do.
I can tell you that after living in Granada for months, both as a single and with my family, I still don't feel like I have experienced the entire city.
Each time I take a new trail, see a new alley, or stumble upon a different festival, I feel that I love the city even more.
Granada, Spain is a city that can be experienced in part in just a few days, but Granada is certainly more than just the Alhambra.
Enjoy the sites, the food, the tapas, the dancing, culture, history, and architecture in this Granada 2 day itinerary!
More adventures in the South of Spain
If you are looking for more adventures in Andalucia, don't miss Sevilla. Just a short drive or train ride from Granada is Sevilla.
Check out this 2 day itinerary for Seville (Sevilla), Spain as well!
Let me know what you discover and love about Granada on your trip!