Granada with Kids: Plazas with Playgrounds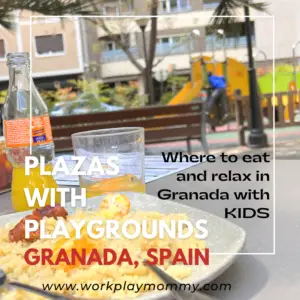 3+ Places where the kids can play, and the adults can enjoy tapas, coffee, or meals
Granada, Spain is incredibly family friendly. Children and families are everywhere, and the city is clearly tolerant of even the noisiest and most oblivious children (mine).
For a Granada, Spain checklist with kids, check this out!
RELATED POST: What to do in Granada, Spain with kids: A checklist.
On one of our first afternoons in Granada we met friends to sip coffee by the Fuente de las Batallas. After only a few minutes, our children had finished their treats and were antsy to get back to playing.
They proceeded to spend the next hour simply running and playing tag around the fountain. No one asked them to stop or slow down. The management didn't even ask us to leave.
Instead, quiet old women smiled at them as they played and most others didn't even seem to notice.
In fact, many other children joined in their fun or had the same noisy games going nearby.
Fuente de las Batallas and many other plazas throughout Granada are simple places to allow your children to run around while you enjoy a lazy cup of coffee or a second glass of tinto de Verano. However, there are actually places in Granada, Spain where your children can play on playgrounds as you dine and imbibe.
3 such unicorn locations include Plaza de Gracia, Plaza de la Romanilla, and Parque Garcia Lorca.
3 Plazas or Parks with Playgrounds and Tapas
Let's start with the most famous location first: Parque Garcia Lorca.
Out with Kids in Granada, Spain, where to eat, drink, and enjoy tapas while the kids play!
1. Parque Garcia Lorca: Lorca Resto Bar
Easily the most iconic and well-kept park in Granada, Spain, Parque Fredrico Garcia Lorca gets its name from Granada's most famous poet.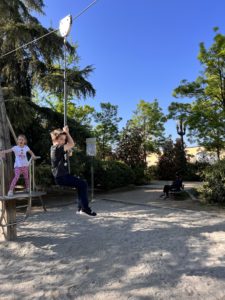 The park is enormous. It has a running trail around its skirt, rose gardens, shrub labyrinths, water features, a duck pond, and several fountains.
And, most importantly to my children, the park has at least 3 separate playgrounds.
No ordinary playgrounds, these separate play areas include trampolines, a zipline, a small children play area, and even a trilevel playground for the bigger kids.
Best of all for my husband and I, Parque Garcia Lorca also boasts an outdoor restaurant in the center of the playgrounds.
Set the kids loose on the play structures, and you can sit back with your coffee, snacks, dinner, or drinks with clear sitelines to all of the kids' shenanigans!
Unfortunately, Lorca Resto Bar is not open everyday.
In fact, for now, it is only open on Saturdays, Sundays, and holidays.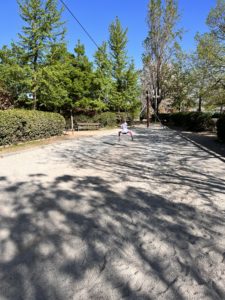 However, this restaurant is full of people during opening hours who are not only enjoying the ambiance of the park but a chance to have a meal or a snack in peace as their children play!
Your kids might even beg you to sit and have a drink or a copa so that they can have the chance to get out of the apartment and enjoy some playtime!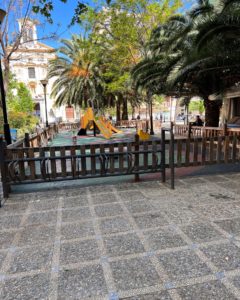 If you are looking for a more traditional tapas experience as well as an opportunity to keep the kids entertained, check out Plaza de Gracia.
Plaza de Gracia is located off the beaten path of Granada's city center and just past the main shopping centers. (Simply follow Calle Gracia until you reach the plaza!)
However, it is a plaza completely surrounded by local tapas bars, restaurants, cafes, and pastelerias (bakeries). At least 4 of them have seating directly on the plaza.
Best of all for our family the plaza also has an enclosed playground!
Grab a table from one of the nearby terrace seatings, and enjoy your tapas as the kids play on the playground!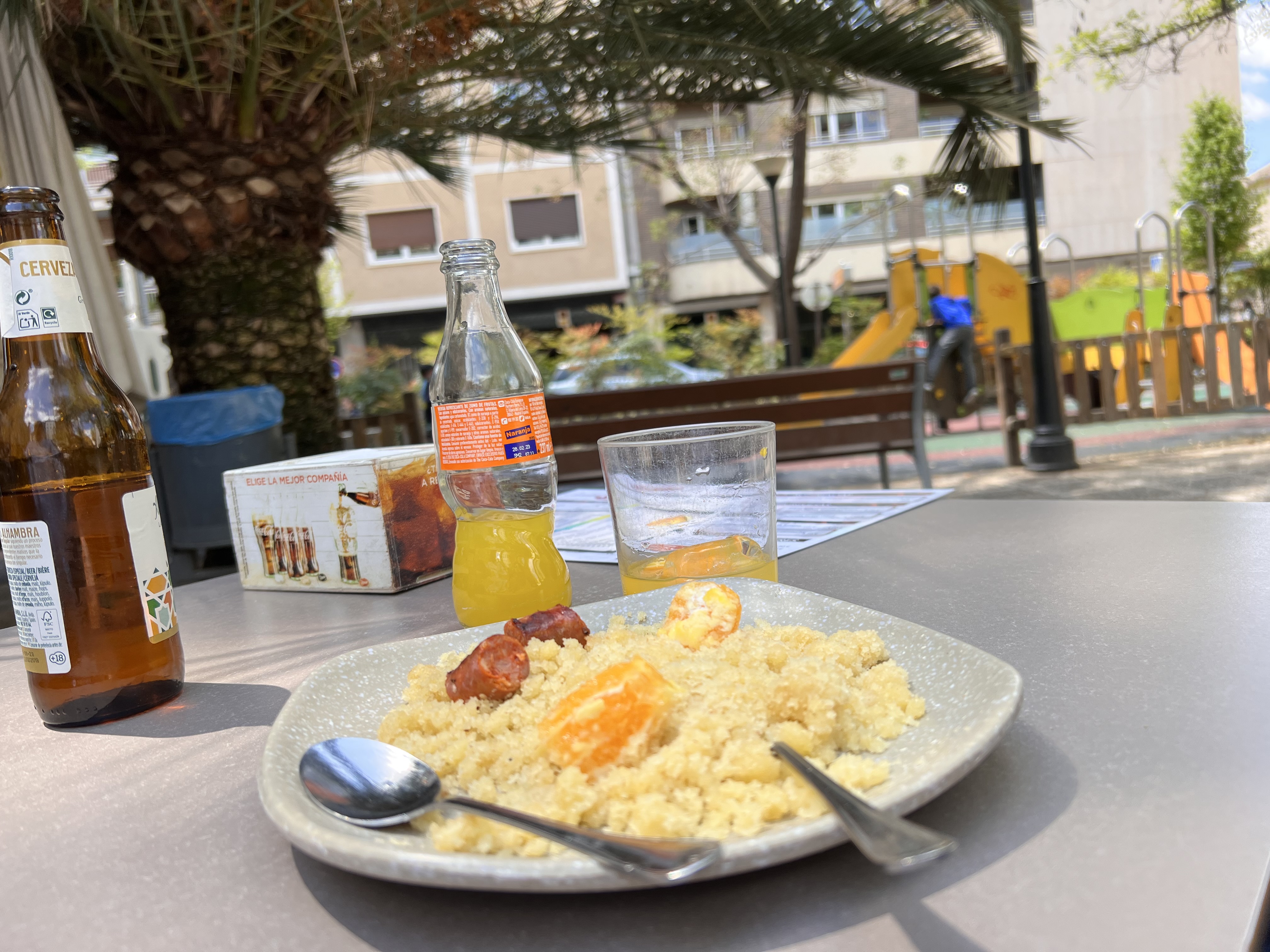 You can easily watch them from the comfort of your table and the convenience of Granada's famous tapas scene!
The playground at Plaza de Gracia is aimed at children under 8, so it might not be appropriate for all ages, but if you are traveling with small children, then this is a great opportunity to enjoy your tapas and some quiet time!
3. Plaza de la Romanilla
Plaza de la Romanilla located just off of Plaza Bib Rambla and next to the Cathedral of the Catholic Kings is one of the most famous plazas in all of Granada.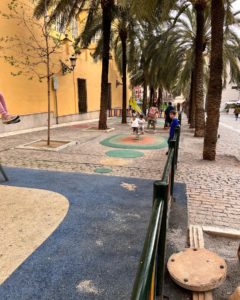 However, did you also know that located just past some of the feature restaurants is a playground!?
And, just across from the playground is an entire row of tapas bars, breakfast restaurants, and pizzerias! Even a bed and breakfast!
This little plaza quickly became one of our family's favorite places to have breakfast multiple times a week.
My husband and I were able to sit and enjoy a cup or two of café con leche while my children played on the swings, played on the playset or just ran around.
Plus, we can enjoy a different place everyday all while watching the kids play on the playground.
The only downside of this playground and plaza is that tour buses and delivery trucks frequently run between the restaurants and the playground. Therefore, you want to make sure that your children don't run across the plaza without watching for traffic.
Other Places in Granada to Eat While the Kids Play
Just because these were the only places that our family found where the kids can play on playgrounds while you sit at a restaurant should not suggest that these are the only places where you can enjoy tapas and food as a family.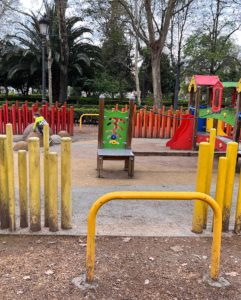 Our family has spent many hours enjoying Plaza Nueva while the kids play tag under the shadow of the Alhambra.
You can find several great playgrounds all over the city, including in the city center, where the kids can stretch, run, and yell after tours of ancient cathedrals and architecture.
Play under Fuente de las Batallas and have a coffee at Puerta Bernina. Have tapas in Plaza de la Juventud while kids play under the orange trees or eat ice cream from El Grillo. Or, even let the kids run along the Darro sidewalk while you have breakfast at sunrise.
However, if you are looking for a place to have tapas, a cup of coffee, or a meal in peace, check out these 3 locations where the kids can enjoy a playground too!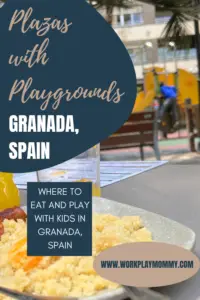 If you are looking for indoor activities for the kids in Granada, Spain, check these out!