What to Do in Granada, Spain with Kids in the RAIN, Cold or HEAT! Don't fret, Granada has lots of indoor activities too!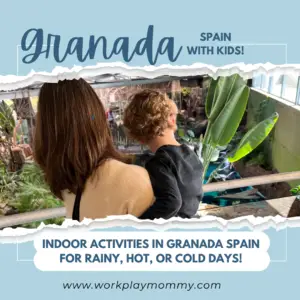 While Granada is one of the sunniest cities to visit and has far fewer rainy days than sunny days, you might find yourself in Granada on an odd rainy day! Find some ideas below for what to do with small children even if you find yourself in a Granada downpour! Indoor activities for kids in Granada, Spain.
Sure, you could always just take to the streets with an umbrella. The city doesn't close in the rain.
Take the Alhambra tour, visit the Cathedral of the Catholic Kings, walk through the impeccable gardens at Parque Garcia Llorca.
RELATED POST: Granada, Spain with Kids: A Checklist for what to do in Granada, Spain with children!
However, you If you don't want to simply take to the streets with an umbrella and enjoy the tapas, views of the mountains, shopping, and walking architectural tours of the city, then you might turn to a few indoor activities.
INDOOR ACTIVITIES FOR KIDS IN GRANADA, SPAIN
If you have children, some of those indoor activities might be harder to find!
While the entire city is very family friendly, our family, who has been traveling through Granada for a month with a 3, 5, and 7 year old, has found that outdoor activities are far more conducive to our small children.
Sure, a trip to another sacred burial site, ancient cathedral, or art museum might be a great way to spend a day with adults, but children might be up to their eyeballs in ancient dates and artifacts!
So, on our few odd rainy days in Granada, our family found some indoor events where the learning, culture, and fun could continue in a kid-friendly way!
Here are a few ways to truly enjoy a rainy day in Granada with kids!
1. Parque de las Ciencias!
First, and foremost, our very favorite way to spend a rainy, cold, or extremely hot day in Granada with kids is at Parque de las Ciencias!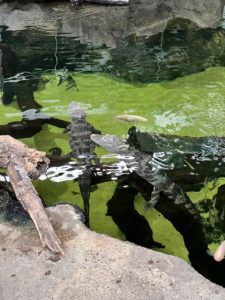 Our family had a blast walking through every single exhibit at this Science Park. The entire museum is child-friendly with lots of hands-on activities, animals to watch, and even interactive presentations.
Best of all, for our children, the Science Park accommodated multiple languages. Our children were able to experience nearly all of the exhibits in English or Spanish although the astronomy presentations at the planetarium were only in Spanish.
If you are visiting the Science Park be certain to upgrade your pass to include a biodome entrance.
The biodome is an indoor zoo/aquarium where your children will spend an hour or more learning about flora and fauna under the ground, on the ground, and in the air.
Our children's favorites included the sharks, otters, and monkeys.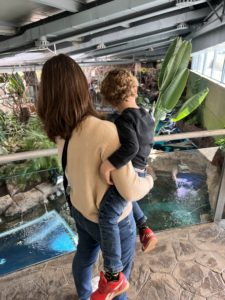 However, our entire family agreed that the biodome was our favorite part of the entire experience, and we were glad that we paid the extra 3 Euros to enter.
Because the entire city of Granada is very walkable, our family was able to simply walk from our flat near the Cathedral of the Catholic Kings to the Science Park (Parque de las Ciencias). However, the 21 bus line (schedule here) runs to a stop directly in front of the museum if you prefer to take public transportation.
2. Chocolate and Churros
If you have been touring Granada at a feverish pace, maybe it's time to stop and enjoy the chocolate.
Our children have declared that chocolate with churros are their very favorite part of Granada!
Forget about a healthy breakfast on a rainy day. Indulge in the chocolatey fried goodness of enormous helpings of churros dipped in thick hot chocolate!
Our 3 favorite places for chocolate with churros include:
Café Futbol
Cafe futbol is located near Fuente de las Batallas in Plaza Marina Pineda.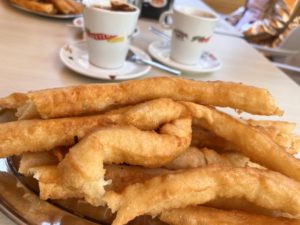 Cafeteria Alhambra located in Plaza Bib Rambla, and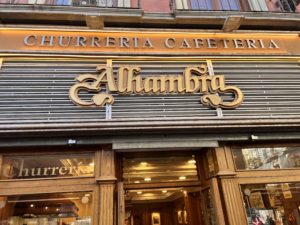 Gran Café Bib Rambla also located in Plaza Bib Rambla.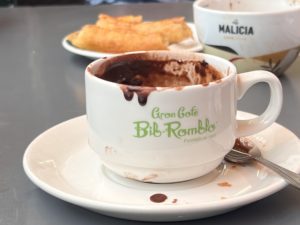 Although you will find many other churrerias (churros makers) throughout Granada that no doubt offer delicious chocolate with churros, these 3 locations are probably the most famous and classic locations for chocolate with churros and never disappoint!
Buen aprovecho!
3. Caja Granada Fundacion
Located in a tall and thin building almost directly across from Parque de las Ciencas is the Caja Granada Foundation. It includes a museum, educational programs, and art exhibitions.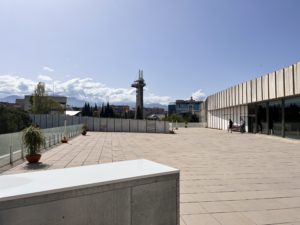 The entire museum is a font of information about Granada, Andalucia, and its history and culture.
From art exhibitions to traveling performers, the Caja Granada Fundacion is a great indoor museum for families.
If you are traveling with smaller children, check out their PequeMuseo that has activities geared toward children under 6 and their special changing exhibits that are aimed at small children.
Unfortunately, for our family, we found that the museum was slightly too mature for our children. We believe it would be best enjoyed by children over 10 who have an interest in art and human history.
However, our family would have enjoyed the interactive art exhibits for children if we could have coordinated a day when they were available.
4. Shopping
Want to find some souvenirs or Spanish clothing without having to dodge in and out of the rain all day? Granada offers a variety of shopping centers where you can easily spend several hours  or the entire day.
First, Corte Ingles, the largest department store in Granada's City Center is located between the Fuente de las Battallas and the Fuente de Granada. However, Corte Ingles is its own landmark entirely. If you don't see it, any other person on the street will be able to point you to it!
Corte Ingles is a department store much like Macy's, Harrods, or Lord and Taylor.
It has everything from a clothing to cosmetics and from housewares to handbags.
Corte Ingles is conveniently located and an easy way to spend some time out of the rain even with the kiddos.
Centro Comercial Neptuno
If you are already familiar with Parque Garcia Lorca, you have likely already passed the Neptune Mall.
The Centro Comercial Neptuno is Granada's main shopping mall where you will find a variety of brands, stores, and even a food court.
For days when you are really looking to escape the rain or need a break from walking all day, you will even find a theater inside!
Finally, if you want to enjoy one of the largest malls in Spain's South, then check out Nevada Shopping. This is a great Granada, Spain indoor activity with kids.
A quick trip on the Granada metro where kids ride free, and you will arrive at Nevada Shopping.
Nevada Shopping is an easy place to spend several hours out of the rain with kids. It boasts not only store after store and an enormous food court but a KIDS ZONE!
In Nevada Kids your kids can enjoy a ballpit, toys, beanbag chairs and television, and more.
In fact, you can even pay for supervised care for your little kiddos while you enjoy the shopping mall on your own!
If you are looking to do some Spanish shopping and want to get out of the rain with your kiddos, then Nevada Shopping is the place to be!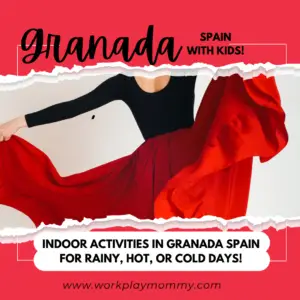 5. Flamenco
Finally, if you are looking for a fun way to continue your Granada touring but also a way to duck out of the rain with your kiddos, then plan to visit a Flamenco show.
In Granada, Flamenco is everywhere. From great artistic demonstrations in El Teatro de Isabel la Catolica to cave performances with dinner and dancing. Flamenco varies a great deal.
You can even find Flamenco dancers in the street performing for your spare change!
My kids, especially my daughter, are enamored by the quick flips and the tapping.
Plus, Flamenco is replete with clapping, yelling, and bursts of movement…kind of like my children!
You can even find interactive Flamenco classes for children at the Civic Center in the Albaicin. (https://www.granada.org/inet/wagenda.nsf/xwcetod/Centro%20C%C3%ADvico%20Albaic%C3%ADn) What's better than watching Flamenco with kids in the rain? Planning a flamenco class for them to try!
Flamenco can be a simple indoor activity for the kids in Granada, Spain.
Granada with Kids in the RAIN!
Granada is a beautiful place to spend a long, relaxed family trip.
Even with young children, you can spend long days walking through the city, eating artisan pastries. Enjoy drinking coffee and playing in the many parks and plazas throughout the city.
However, on those off days of rain, hot, or cold with small children in Granada, you might be looking for some ideas to get out of the rain. Try some of these indoor activities!
Try some of these ideas to further your family experience and continue to enjoy Granada, Spain with kids!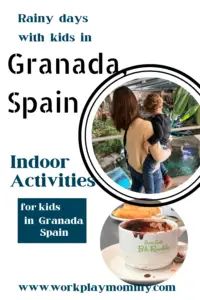 If you are looking for locations in Granada, Spain where you can have tapas and where the kids can play, check out this post! (coming!)