Marvel's Hotel New York and Super Hero Station at Disneyland Paris!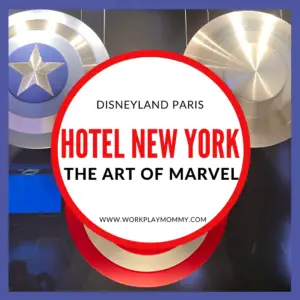 Disneyland Paris has unveiled it's new Avenger's campus, and to really immerse yourself in the Marvel magic, you will love a stay at Disneyland Paris' Hotel New York – The Art of Marvel. For an even more magical stay, enjoy the benefits of club concierge level at Hotel New York!
What You'll Find at Disneyland Paris's Hotel New York – The Art of Marvel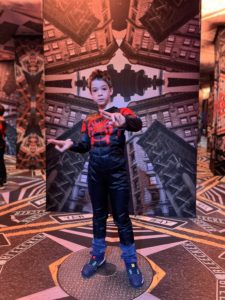 Disneyland Paris Super Hero Station
The Art of Marvel Hotel is beautiful and incredibly interactive. From the interactive art sessions to the Avenger's themed basketball courts, everywhere you look is more Marvel fun.
However, our family's favorite interactive experience was the Marvel Super Hero Station available only to Art of Marvel guests (at the time we went).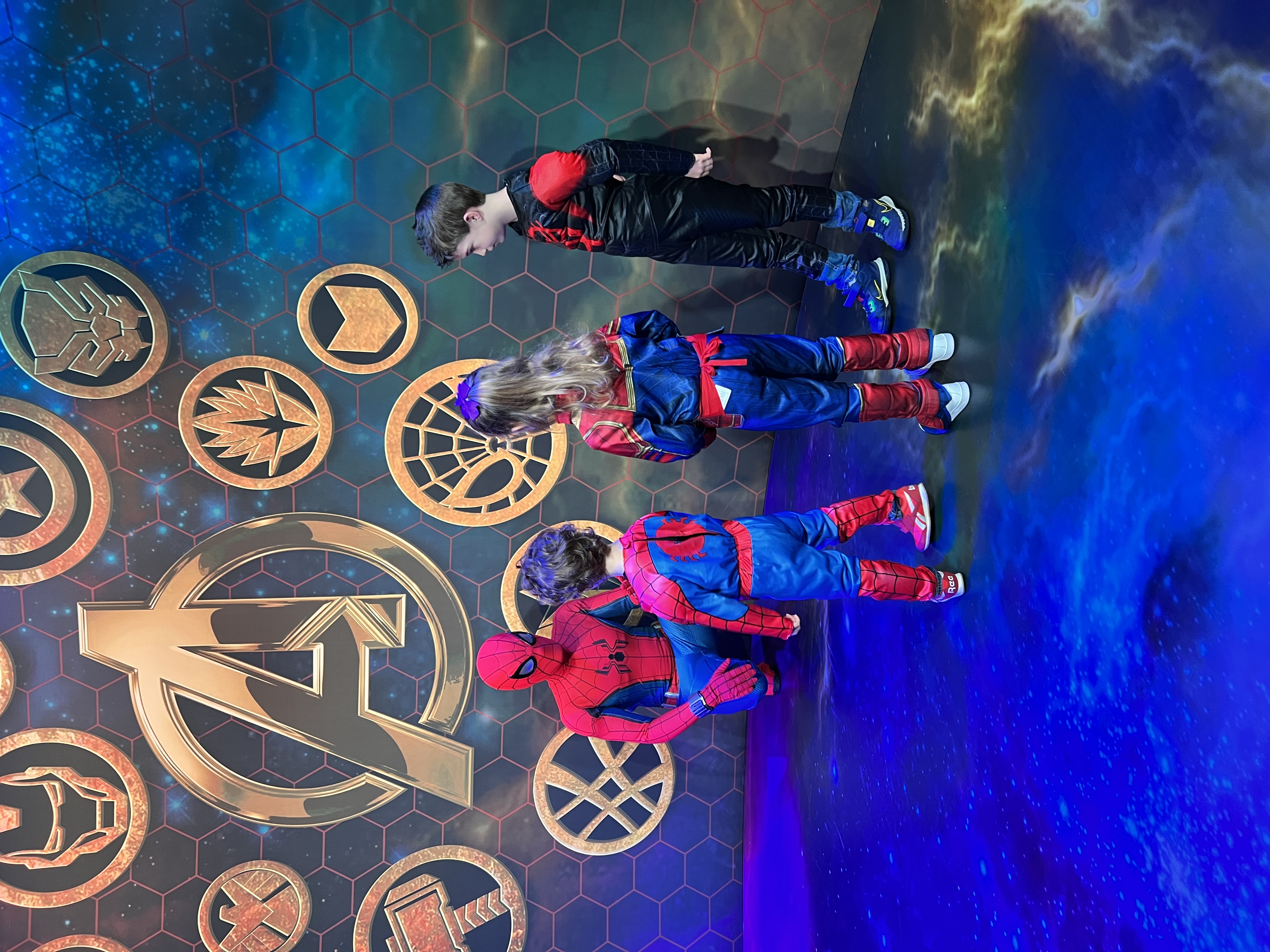 Book your meet and greet with Spider-Man (who speaks more languages than I could count!). Then, climb on the ceiling of Peter Parker's bedroom, open portals with Dr. Strange, or try on Iron Man's boots!
Our family spent an entire morning enjoying the photo-ops wearing our Avenger's gear. Not only was the experience fun, but the pictures are a great Disneyland souvenir!
Then, be sure to head over to the Marvel Design Studio for guided lessons on drawing your very favorite Marvel super heroes!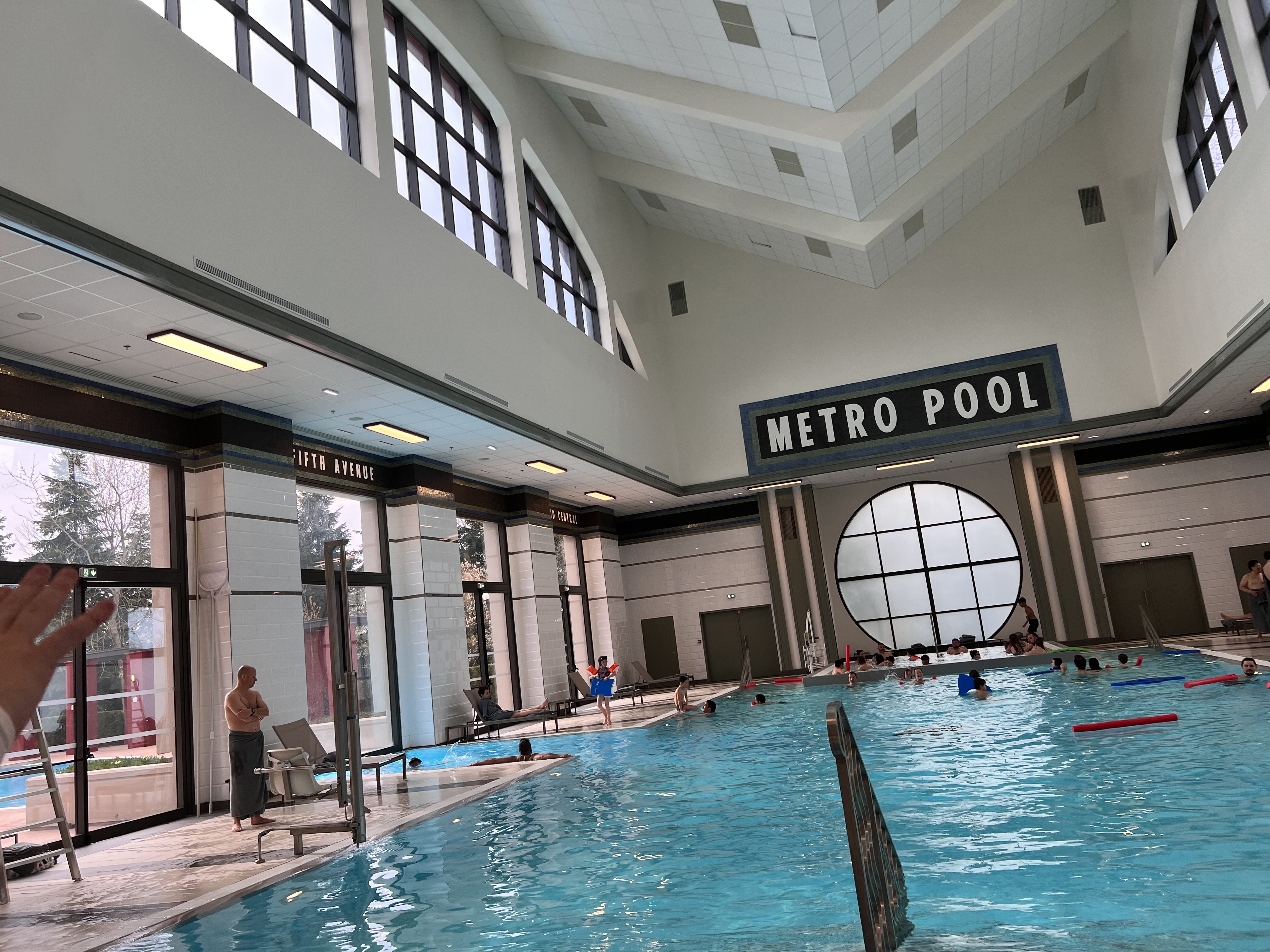 Metro Pool at Hotel New York Art of Marvel
The pool continues with the New York theming. From the subway tiles to the Marvel fonts, you can enjoy a plunge in the deep end or wade in from zero-entry.
Adults were also enjoying the hot tub as their kids splashed around them!
We visited the Metro Pool while it was snowing, so we were happy to have an indoor, heated pool for the kids to burn off some energy!
The pool is also located adjacent to the Art of Marvel workout room. (Also known as "The Hero Training Center"!!!) You can feel like a super hero lifting weights on your Marvel getaway!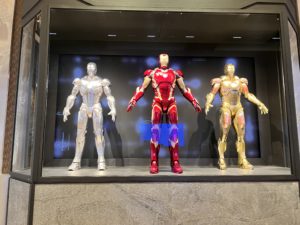 Unique, One-of-a-Kind Marvel Artwork at Disneyland Paris
The first, and most impressive thing you will notice about Hotel New York is the artwork absolutely everywhere.
From hidden décor inlaid in the walls to enormous life size prints, the Art of Marvel has art covering nearly every square inch.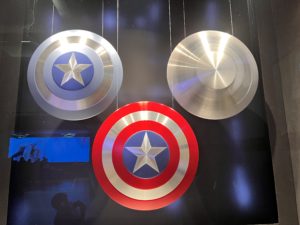 You can find a locker of Tony Stark's most famous invention –Iron Man.
Admire models of Captain's shield. Take time to study the wall of vintage comic book covers, and even an entire hall dedicated to the women of Marvel.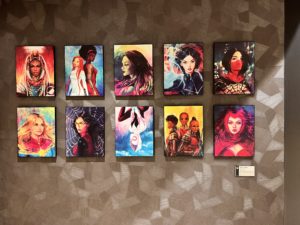 The restaurants, bars, concierge, elevators, conference rooms, and guest rooms all have unique and interesting paintings, sculptures, design, and textures that really celebrate the Marvel magic!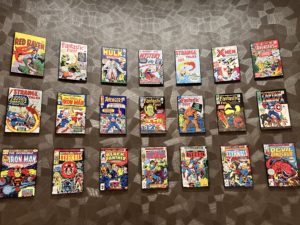 Avenger's Themed Suites at Hotel New York Art of Marvel
If you really want to feel like a demi-god, you will find not only art but luxury in the Avenger's Themed Suites.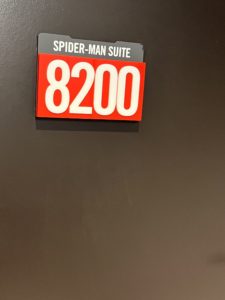 While every guest room in Hotel New York boasts thoughtful Marvel details, the Marvel suites take it to the next level. (Other suites include a Marvel suite).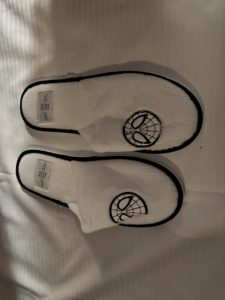 Marvel-themed robes and slippers for both the adults and the littles on your reservation will await you in the Marvel-themed suites. And with room for up to 5, they are great for a family. (You can also request a cot for 1 child under 3 who will not count against the room capacity.)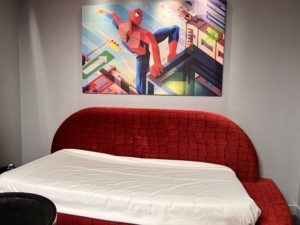 The bed coverings, furniture, and even the toiletries all reflect the Marvel theming.
Our family had the pleasure of staying in the Spider-Man suite, and even the carpet, ceiling, and duvet cover all had spider webs on them!
RELATED POST: Spider-Man Suite at Disneyland Paris Hotel New York Art of Marvel
Plus, if you want to eat Marvel-themed food over the course of your vacation, why not enjoy a stay at club level?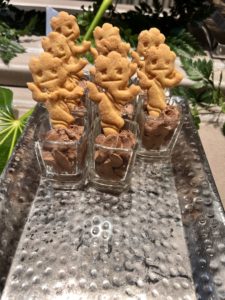 Luxurious Accommodations and Club Level at Disney's Hotel New York and Disneyland Paris?
Disney already does everything in style. A Disney vacation at any park is an all-around sensory experience. Albeit expensive, Disney vacations are adventures in food, fun, and family. Club level takes all of those experiences and makes them a little more luxurious.
Club level is available at most deluxe Disney resorts around the world. Disneyland Paris is no different, and you can find club levels at Hotel New York Art of Marvel, Newport Beach, and even at the Sequoia Lodge.
Benefits of club level at Disneyland Paris vary by location but typically include:
A slightly larger room
More secured floors
A private concierge
Breakfast
Afternoon Tea
Cocktails
Other private services
Separated or Secured Floors at Disney Club Concierge
In some Disney resorts, the club level in the hotel is only accessible by specially activated key or magic band.
This is not the case at Art of Marvel. However, we did find that during our stay, our entire floor was dedicated to club level guests.
Interestingly, during our most recent stay at club level at Disneyland Paris, some of the floor patrons traveled with their own private security, so the entire floor was constantly watched (we never saw the patrons…only the security!)
Our concierge suggested that this is not only the case, and we got the impression that a VIP had booked a large portion of the floor.
In any event, the club level rooms are located near the club cocktail lounge, accessible only by club level guests, thereby eliminating a lot of extra traffic on the floor.
Empire State Club Private Concierge
Every guest that stays at the Art of Marvel at Disneyland Paris has access to a concierge. Club level guests, on the other hand, have access to a club level concierge.
Check in, park pass issues, travel help, and room problems are not addressed with the staff in the main lobby but instead in the private club concierge.
Our club concierge was a great service that took the time to sprinkle pixie dust on our stay by upgrading us to a Spider-Man Suite. Plus, our concierge escorted us to the Empire State Club, assisted us with train schedules, and even made personal recommendations for must-sees in Paris with kids.
And, while the concierge was a great bonus, the food included with club level was really our draw to staying club level at Disneyland Paris's Art of Marvel.
For a more comprehensive review of club level at Disneyland Paris Hotel New York, check this out.
Food included in the Empire State Club at Disneyland Paris' Art of Marvel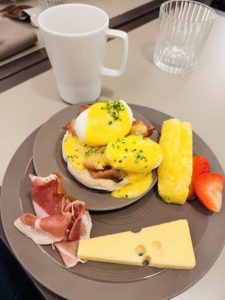 Club Level Breakfast at Disneyland Paris Art of Marvel
Do you like breakfasts that start with an overflowing basket of fresh French pastries and a fresh cappuccino? Of course you do!!
Breakfast at the Empire State Club might be called a "continental breakfast", but don't envision packets of oatmeal or school cafeteria slop.
Instead, picture hot, steaming porridge, fresh eggs hollandaise, bacon, sausage, fruits, breads, and more! Honestly, the Empire State Club had more egg cooking methods than I could identify!
 Plus, you will be treated to personalized service at your white-clothed table, fresh eggs made-to-order by the chefs working at breakfast, and a limitless supply of coffee, juice, tea, and espressos. The elegant and luxurious breakfast will have you wondering if you are really on a cartoon-themed vacation!
My kids still ask if we can go back to the place where we had fresh squeezed juice every morning! And, we loved the Marvel theming throughout the restaurant and the foods.
Throughout our stat at the Art of Marvel, we couldn't begin to even sample each of the breakfast foods, beautiful creations, or breads. We were well fueled to start our day in the parks even if we didn't come back to the club for lunch/tea.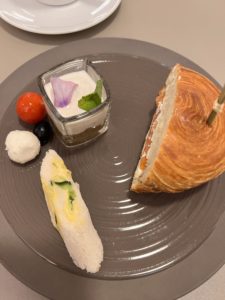 Afternoon Tea at Disneyland Paris Empire State Club Lounge
The second daily food offering for club level at Disneyland's Art of Marvel, is Afternoon Tea. Our family treated it as a late lunch or dinner offering.
Although you could enjoy a mixture of finger sandwiches and sweet treats along with a cup of tea, Afternoon Tea had plenty of hearty food options.
Our kids enjoyed pizza, sweets, juices, breads, and fruit while my husband and I enjoyed crudité, fresh veggies, salmon sandwiches, and even salads.
Our family enjoys a break from the parks mid-day, and the variety of foods offered in the elegant Empire State Club were a relaxing and refreshing break after miles of walking around the parks.
Evening Cocktails at Empire State Club Lounge
For the final daily offering in club level at Art of Marvel, you can return for evening cocktails. While most club level meals and food is served in the Empire State Club, you will instead move to the Empire State Club lounge for evening cocktails.
Located in a quiet hallway, out of the din of the busy main corridors, the lounge was a great place to enjoy a coffee, cocktail, or nightcap after a day in the park.
In our experience, the offerings were varied and had some light bar snacks. However, it was not conducive to small children as the room was quiet, and the drinks were mostly aimed at adults. Thus, our family spent little time there.
But, if you want to unwind after a long day at the parks, you can enjoy a drink without paying $15.00 each at the other hotel bars. Plus, because the lounge is located on the same floor as many of the club level rooms and suites, you can leave your children sleeping in their beds while you sneak across the hall for a drink!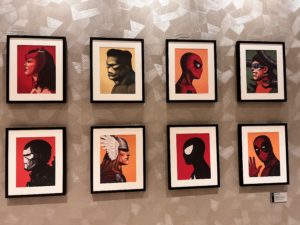 Is Disneyland Paris Art of Marvel Club Level Worth it?
Club level at Disney resorts is not always worth the extra cost.
If you are looking for the most budget-friendly option, want to spend the ENTIRE day in the parks, have restaurant reservations or meal plans, or want 3 square meals each day, then you will leave club level disappointed.
However, for people who want to let their children nap in the afternoon, want a calmer eating environment, and are willing to splurge a little for luxurious amenities, then club level is a great mom hack for a relaxing Disney vacation.
Club level will be more expensive than your typical standard hotel room and sometimes those benefits are well worth the cost.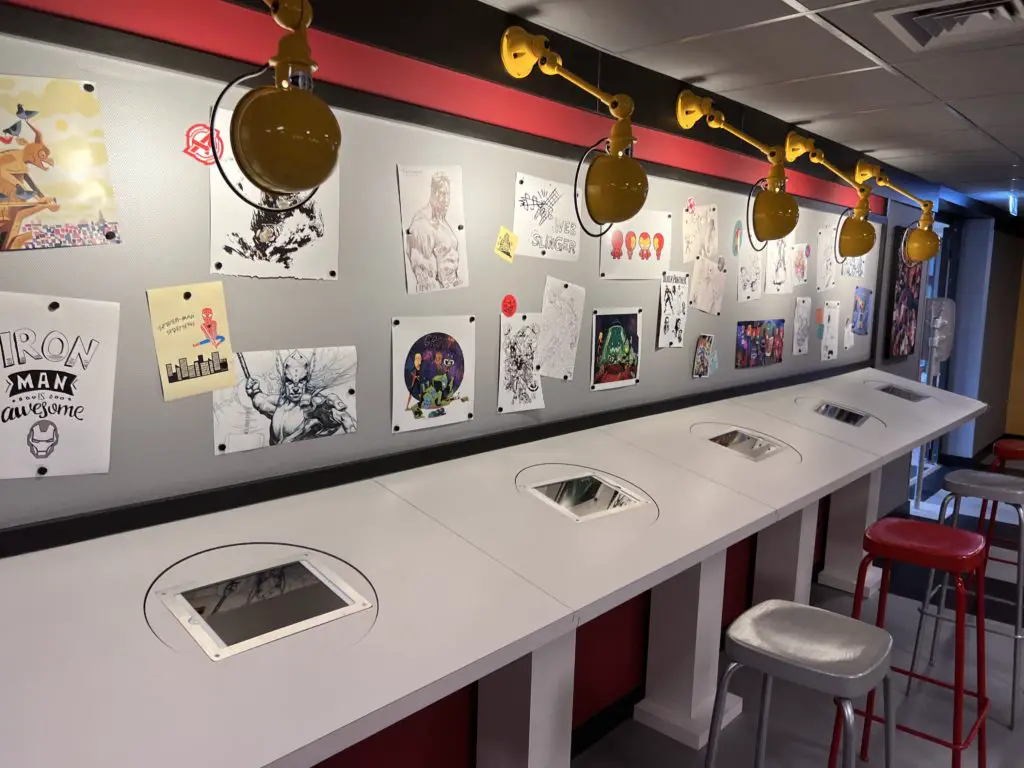 Avenger's Themed Hotel Luxury at Disneyland Paris Hotel New York
Our family loved our stay at club level in Disneyland Paris's Hotel New York Art of Marvel.
We were treated like Marvel royalty and ate our share of Marvel-themed foods and treats!
Disneyland Paris is far different than Disney World in Florida, and you will certainly find some French and European flair throughout the beautiful resort. But, the hotel doesn't compromise on services, amenities, or decorations, and club level is a great way to take your vacation to the next luxurious level!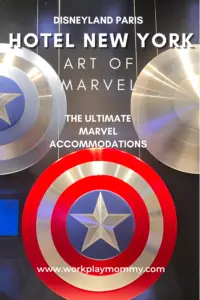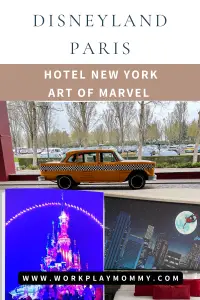 RELATED POST: Disneyland Paris: 10 Things You Will Find at Disneyland Paris that You Won't Find at Disney World