Best London Playgrounds with Kids: Pros and Cons of some of the most popular playgrounds in London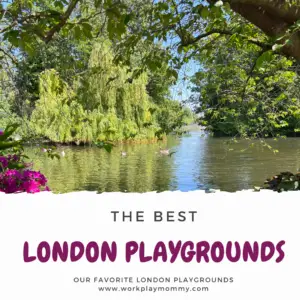 London is loaded with parks. The sprawling city boasts some of the most prestigious and notorious green spaces in the entire world. However, not all have playgrounds and not all playgrounds are created equally. So, if you are looking for the best playgrounds in London's city center with kids, then check these out.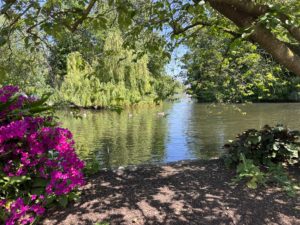 Family Sabbatical in London
Our family had the pleasure of spending an entire month on sabbatical in London. During that time our whole family saw more of London than we ever bargained for, and the kids often got sick and tired of learning!
RELATED POST: London with Kids: A Checklist
Therefore, we also did our fair share of park and playground exploring.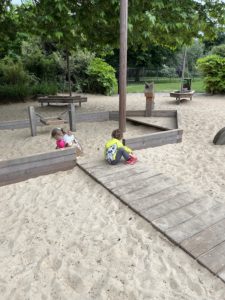 Our family sought recommendations, checked out lists, and did our own testing of several parks and playgrounds -big and small—for our opinions.
And, while the city has tons of free playgrounds open to the public, if you are looking to experience London's best and most famous, we recommend these.
London's Best Playgrounds
To be fair, London has loads of playgrounds that aren't only located in the city center. However, if you are on holiday in London and want to be able to continue experiencing the London experience while also giving your children a break from lines and presentations, I highly recommend all three of these.
And, while they are listed in order of our favorite to our least favorite, they were all close first place playgrounds.
Tips for London Playgrounds
London is known for being crowded and rainy. London playgrounds take both of those considerations into account.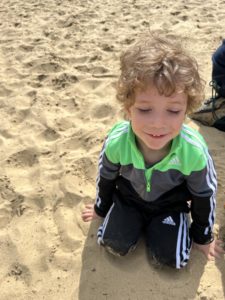 Therefore, you will find that most of these playgrounds are incredibly sandy and some are even gated.
The sand was something that I was completely unprepared for and recommend that any parent traveling with kids to London add some sand toys to their packing list for even more fun at London parks.
RELATED POST: Surprising Things to Add to Your Packing List for London with Kids
3 Best Playgrounds in London with Kids
Best London Playground #1: Holland Park Adventure Playground
Just past Notting Hill, you will find Holland Park. Located in one of the most expensive parts of London, Holland Park is rimmed by embassies, gated homes, and historical rowhouses.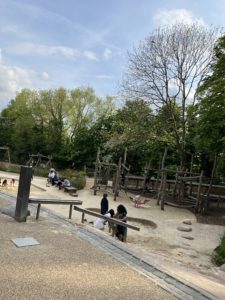 However, Holland Park is often overlooked due to the popularity of Hyde Park, and it isn't quite as convenient as the enormous parks located directly in the city center.
However, in our experience, the playground at Holland Park Adventure Playground has the best play equipment of all of the parks we visited in London.
The equipment is all hands-on, active, and even a little risky!
My kids love sliding down the rock embankment into the sand, swinging from the zipline, and careening down the huge slides.
Pros and Cons of Holland Park Adventure Playground
Best of all for me, the park is gated with only 2 entrances and exits. This means that I do not have to worry so much about whether or not my children might dart out the side of the park or someone might sneak by me.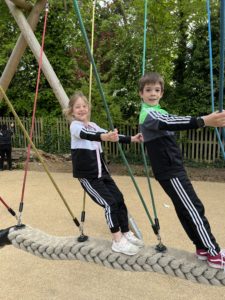 The gated entrances and exits make this mama in a strange city much more at ease letting her children play on a new and large playground.
Plus, this gated playground also has a public restroom – a major help to this mom of 3. Having a toilet in the playground area meant that I didn't have to make all 3 children leave just so that one could use the restroom.
My children found this playground to be their very favorite while we were in London, and they asked to go there everyday.
However, it was my least favorite of the three playgrounds we are recommending here for only ONE reason. The sole reason that the Holland Park Adventure Playground tops my children's list but does not top my favorite playground list is that this playground does not include a café like the next two playgrounds.
Unlike nearly every other playground that we visited, Holland Park Adventure Playground does not include a walkup café, restaurant, or pastry kiosk.
In defense of Holland Park, however, the park does have loads of other unique and interesting features. Holland Park is also home to a variety of other interesting sites including the Kyoto garden where you might be lucky enough to catch a view of a very beautiful peacock! Historical  homes, trails, and art!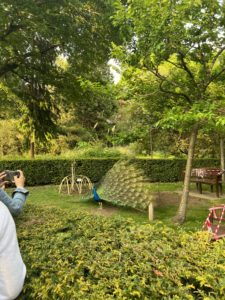 Best London Playground #2: Princess Diana Memorial Playground
While my children's favorite playground in London was the Holland Park Adventure Playground, the overall favorite for our family was the Princess Diana Memorial Playground.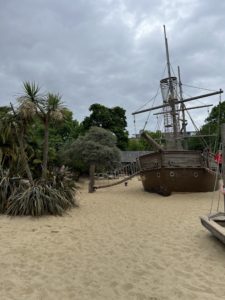 The play equipment was not quite as rough and active as the Adventure Playground, but it has an in-park café!
The Princess Diana Memorial Playground is an enormous playground located at the far end of Hyde Park in Kensington Gardens. Plus, it doesn't consist merely of one large play area but several play areas all themed from Peter Pan.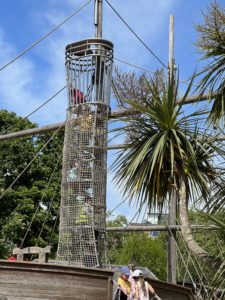 This playground has swings, treehouses, music play, slides, and its piece de resistance: THE GALLEON –an enormous pirate ship.
My kids spend hours and hours playing in, on, and around the Galleon. They also spent hours digging in the sand on, under, and around the Galleon!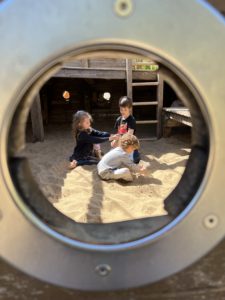 And, while my children loved the pirate ship and the sand pits, I loved a few other features.
Princess Diana Memorial Playground Features
1. Gated and Attended Entry:
For me, the very best feature of the Princess Diana Memorial Garden is that it is gated and secured by an gatekeeper and a first aid responder.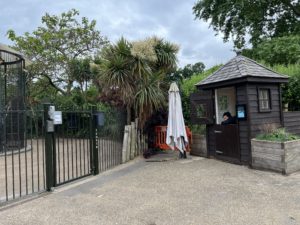 During opening hours the park not only has a single entry and exit point, but that entry and exit point is locked and can only be open by a member of staff.
No adult without children is eligible to enter, and no child without an adult is eligible to leave.
2. First Aid and Facilities
Further, the Princess Diana Memorial Playground has in-park restrooms and a first aid center for those scrapes, bumps, and splinters your children might accumulate while they play on the pirate ship.
From personal experience, I can say that the staff have been so very kind even while my children were screaming about scraped hands!
3. Broad Walk Café
Finally, the Princess Diana Memorial Playground also has an in-park café!
I can visit the coffee shop, grab a fresh pastry, and even buy my children lunch all without having left the playground.
And, in our experience, the pastries that we were lucky enough to snag before they sold out were the best pastries that we had in our entire London stay.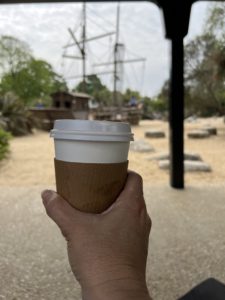 However, get there early if you hope to score a croissant, pain au chocolate, or almond croissant (my favorite!).
The pirate ship + the gated entry + the in-park café make this park our overall favorite playground in London, and we spent hours and hours at the Princess Diana Memorial Playground. Battersea Park Playground
Other London Hyde Park Playgrounds
Hyde Park does offer several other playgrounds that are still fenced but are smaller and less crowded.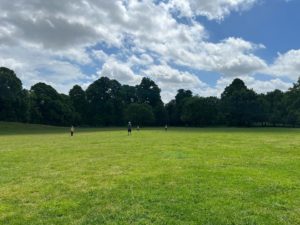 So, if you arrive at Princess Diana Memorial Playground and can't get in because it is too crowded, you can still have lots of fun at the other park playgrounds.
However, if you avoid weekend afternoons, we never had any problem getting into the playground!
If you want to get out of the busiest playground in the city but still enjoy a great playground and an even greater café, then hop a bus over to Battersea Park!
Best London Playground #3: Battersea Park Playground
Our third favorite playground in London is the playground at Battersea park.
Battersea Park is not necessarily on your walking tour of London or even all that close to other famous sites.
However, what it does have is a great playground for kids of all ages next to a pond with boats and an adorable café!
My kids loved to jump on the musical pads, run down the hills, and even walk along the pond near the park.
Pros and Cons of Battersea Park Playground
However, the park is not gated, patrolled, secured, or even fenced. Therefore, as my children tore all over the playground and the surrounding play space, I had to keep a keen and watchful eye.
It wasn't nearly as relaxing for mom as the other playgrounds. However, it also wasn't nearly as busy. So, I never lost my children in a sea of children.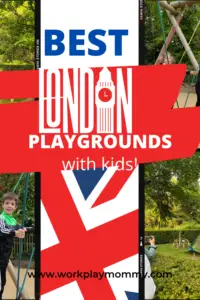 And, I could easily snag a fresh hot coffee from the café within eyeshot of the playground and also soak up the views of the pond.
This park had the best and cutest café of all of the playgrounds we visited, but it lacked the security found at several others.
Therefore, while it was calmer, less crowded, and a great place for a morning coffee or afternoon snack, the lack of security moved it to the bottom of our short list because it wasn't quite as relaxing for the adults!
Nevertheless, the playground, due to its picturesque scenery, great playground, and adorable café made it into our top 3 free playgrounds for London with kids!
Best London Playgrounds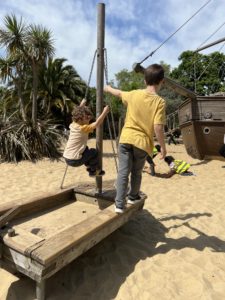 London has loads of great playgrounds. However, not all of them are created equal in location, amenities, or safety.
As far as this family with 3 young children is concerned, Holland Park Adventure Playground, the Princess Diana Memorial Playground, and Battersea park playground offer the best of all of those worlds.
Looking for FREE IN LONDON activities for kids? Check this out!