Luxurious and Elegant Afternoon Teas in London with Kids!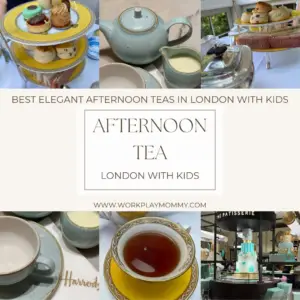 Are you searching for an elegant and traditional afternoon tea in London with your kids? These afternoon teas are the best in London with kids if you want an elegant and luxurious experience!
When I knew that my daughter and I would be in London, I knew that we simply had to enjoy a beautiful high tea. While we ultimately went to the Goring for our Platinum Jubilee Tea, we found these luxury teas to be the best London had to offer even with kids!
Before we get to the reviews though, let's be sure that we understand what we mean by "tea", "high tea", or "afternoon tea".
What is Afternoon Tea or High Tea?
Like a lot of Americans, I didn't really know what "tea" was before I started planning my London sabbatical.
However, when we knew that our family would have the pleasure of spendng an entire month in London as part of our family sabbatical, I knew that I wanted to experience tea in style.
To my surprise, I found that "tea" is not simply a hot drink enjoyed in a fancy room. Instead, afternon tea is more about good food, good conversation, and of course, a beverage.
Afternoon tea in London is admittedly a very touristy thing to do, but it is also an opportunity to taste and see some of the best that London has to offer. From one-of-a-kind tea blends to world-renowned pastry kitchens, tea in London can be a refined and luxurious experience.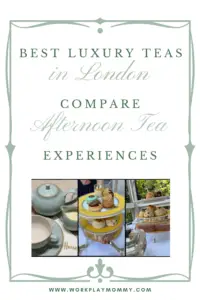 Of course, you can also have afternoon tea at any number of cafes, hotel restaurants, or even buses in London.
Briget's tea bus and Golden Bus Tours are 2 afternoon tea experiences that are offered as you sail around London in a double-decker bus enjoying the sites and attractions.
While the Peppa Pig Tea Bus and other corner cafes were all considered by our family, ultimately, we wanted a more London and elegant experience.
Therefore we narrowed our search to these Top 3 Luxury Teas in London with Kids
While there are more tea experiences in London than I could ever review, these three are steeped in history and tradition, make accommodations for young children (my daughter was 5 at the time), and are roughly the same price.
(If you want more tea reviews than you can count, check out this site featuring loads of London teas.)
Best Luxury Teas In London with Kids
(in no particular order!)
#1 Afternoon Tea at The Ritz
London's Ritz is iconic. It isn't the biggest, the oldest, or even the most expensive Ritz in the world, but it is made famous by its location, its beauty, its kitchen, and finally, its notoriety.
The London Ritz is not only the chosen home away from home of notable leaders and monarchs around the world. But, the London Ritz is also the chosen steal away of kings and their mistresses who were patrons of both the suites and the dining rooms! (http://magazine.theritzlondon.com/Best-of-British-How-the-Ritz-Became-an-Iconic-UK-Institution)
In spite of its notoriety, since 1906, the London Ritz has been an icon of high society and, of course, Afternon Tea.
If you are a Downton Abbey fan, even the Crawley family approves of eating in public if it is at the Ritz and have met for tea in London's Ritz for a posh afternoon during the season!
However, you do not have to be royalty or an heiress to enjoy tea at London's Ritz.
Instead, you can dine and snack in style in the Ritz's tea room where you will be treated like a queen regardless of your bloodlines!
The Ritz Afternoon Tea Experience
The Afternoon Tea Experience at the Ritz starts at L67.00 for adults and L45.00 for children. However, you can certainly upgrade your experience with Champagne for L22.00 to L95.00 per person. (https://www.theritzlondon.com/dine-with-us/afternoon-tea/)
The Ritz serves a menu full of different teas from a traditional Ritz Royal English to a more daring Chocolate Mint Rooibos.
However, if you are like me, you are more interested in what comes with the tea.
Tea at the Ritz includes a mix of tea sandwiches such as cucumber and cream cheese, smoked salmon, and chicken salad. Next, Afternoon Tea at the RItz offers an assortment of fresh baked scones with jam and clotted cream (Yum!).
But, don't stop there. Crowning your afternoon tea service is an assortment of seasonal pastries made in the famous Ritz kitchens!
From the atmosphere, to the service, to the food, you won't regret spending your Afternoon Tea in London at the RItz.
However, if you would rather trade high royal style for glitz and glamour, then you might consider afternoon tea at the beautiful Tiffany's Blue Box Café at Harrod's.
#2 Afternoon Tea at Tiffany's Blue Box in London's Harrod's with Kids
Harrods, the most famous shopping in London, is also known for its cafes, kitchens, and grocery store!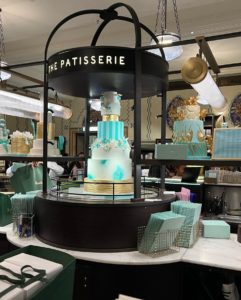 Harrods has multiple dining options and even multiple afternoon tea options for your London experience.
In fact, I had the pleasure of enjoying a pot of Harrod's tea and delicious pastries from Harrod's café one afternoon while shopping through the store. It was delicious and opulent!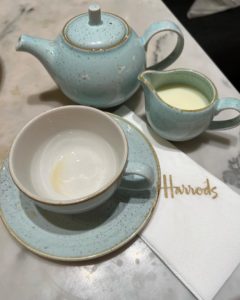 However, the real diamond of Harrod's tea scene is Tiffany's Blue Box Café.
I don't know about you, but I dream of seeing little blue boxes under my Christmas tree and take every opportunity I get to window shop at Tiffany's.
If you envision yourself as more of an Audrey Hepburn who enjoys breakfast at Tiffany's rather than a Lady Crawley who enjoys discreet luncheons at the Ritz, then the TIffany's Blue Box Café might be the right London tea experience for you!
Harrod's Tiffany's Blue Box café is decorated floor to ceiling and wall to wall in Tiffany's blue. Plus, your afternoon tea experience even includes a fresh made pastry made to look like those iconic blue boxes!
Like the Ritz, Harrod's Tiffany's Blue Box Café offers an assortment of afternoon tea blends, and their afternoon tea service starts at L69.00. However, you can again upgrade that experience with champagne and cocktails for another L30.00.
Even if your little one doesn't enjoy the tea, he or she will still love seeing all the beautiful pastry artwork. The pastry chefs at Harrods are among the world's most renowned pastry chefs. And, their creations are nothing short of beautiful.
The Tiffany's Blue Box Cafe Afternoon Tea Experience
Like the Ritz and the Goring, Harrod's Tiffany's Blue Box Café starts tea off with an assortment of finger sandwiches, and scones with jam and clotted cream.
However, what you really came for, in addition to the gorgeous décor, was the pastries!
You might expect to see a little sparkle in your assortment of Tiffany's themed pastries.
Vanilla and Passion Fruit Cake, Tiffany Blue Egg, Chocolate Praline, and a Raspberry Tart round out the Tiffany's experience.
And, of course, if you really want an indulgent and decadent Tiffany's experience, add on that TIffany's blue box cake (order in advance)!
After tea be sure to make your way to the food department to pick up some of those delicious pastries for later too!
Tiffany's is an icon the world over for sure, but if you want a London Tea experience with kids that has the queen's stamp of approval, then you must check out Afternoon Tea at The Goring!
#3 Afternoon Tea with Kids at The Goring
Approved by HRH the Queen's herself, the Goring tea, dining room, and hotel are frequented by Londoners, royalty, and visitors from around the world.
The Goring is first and foremost a hotel. Notably, the hotel was Kate Middleton's choice the night before her wedding to the Duke of Cambridge. She got ready at the hotel before making the short trip to Westminster.
And, anyone lucky enough to snag a stay at the hotel will no-doubt receive a royal and luxurious treatment. From the curteous and attentive doorman to the discreet concierge, the hotel is a beautiful way to experience London just a few minutes walk from Buckingham Palace.
However, if you aren't planning a royal stay at the Goring, you can still book Afternoon Tea, and you won't be disappointed!
Afternoon Tea at The Goring
Tea at the Goring starts at about L60.00 per person. You can add a glass of Bollinger or a few other upgrades until the price reaches about L90.00.
And, while other locations also have their broad appeal, for me, I was interested in the quintessential traditional English tea for our tea experience. Plus, The Goring is happy to accommodate children!
So, my daughter, my mother, and I put on our Sunday best and arrived at The Goring at our pre-reserved time (you will need a reservation to have tea at The Goring).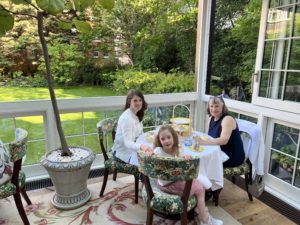 What do they serve for Afternoon Tea at The Goring?
Afternoon Tea at the Goring is a mix of snacks, sandwiches, drinks, and desserts.
My mother and I selected the house Goring blend for our tea. It was delivered in a beautiful silver pot.
After we were settled in with our drinks, the staff appeared with a sausage roll as a starter. Then, soon after, swooped in with a beautifully appointed 3-tier tray of eats, sweets, and treats for us.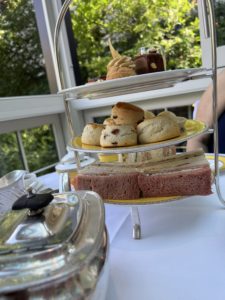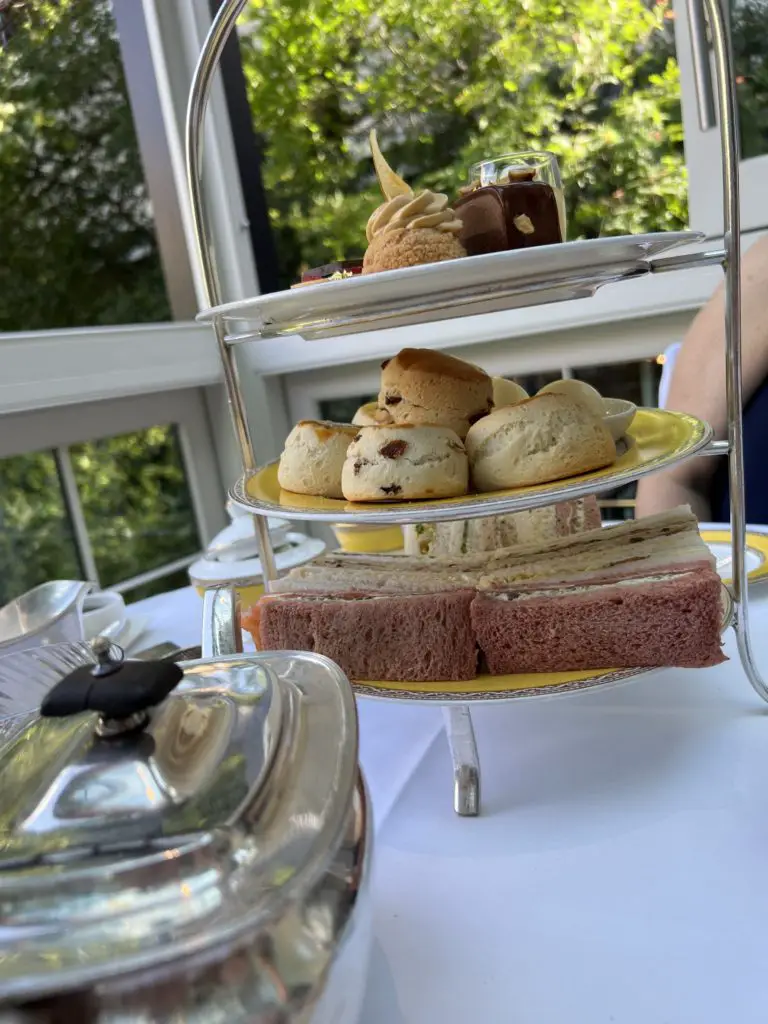 The goodies were served on specially commissioned bone china made specifically for The Goring. The delicate yellow laced tea cups on the white table cloths, backed by the beautiful green garden made for a beautiful place to spend a couple of hours chatting with the girls!
We could not even finish all of the food that they served.
We started with 4 different types of finger sandwiches and soon moved to our favorites: the scones.
While the scones were not complicated, they were delicious. Etched with a silhouette of the queen in honor of her Jubilee, we stacked the scones with clotted cream and jams. Yum!
Finally, we capped off our experience with an assortment of fresh desserts.

Afternoon Tea for Children at The Goring
My daughter feared that she would only have tea to drink, but the staff quickly offered her hot chocolate, soft drinks, tea, or any other drink of her choice.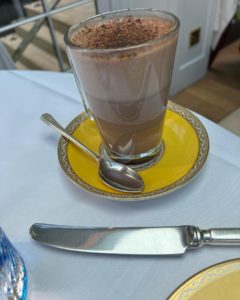 While she did not love the chicken or egg salad sandwiches, even my 6 year old loved the beautiful presentation, the pristine garden view, and the chance to do something girly with her mother!
Tea at the Goring is great for any child who loves a beautiful and elegant experience and, of course, delicious desserts!
I highly recommend tea at The Goring for the traditional English tea experience in a stately and elegant atmospher.
The Goring creates an extremely elegant experience from the doorman who ushered us in to the bespoke tableware. 
Further, the food and drinks were excellent. The combinations were both posh and delicious.
Best Luxury Afternoon Teas in London with Kids
Afternoon Tea Options for Kids in London are Many and Varied. However, you can't go wrong with any of these elegant and even historical locations.
The service is top-notch, the atmosphere can't be beat, and the food is delicious.
Plus, each of these luxury tea experiences is happy to cater even to children who want to enjoy the experience.
Be sure to book all of these locations in advance as they do sell out regularly. And, if you are taking any men with you, some locations (such as The Ritz) require that men wear a jacket!
If none of these sites works for you, London still has loads of other tea options with a historical or royal twist.
Other luxury London tea options include: