Free things to do in London with kids
If you are tired of spending money in London and want to do something free or nearly free with your kids, you still have lots of options. Check out this list of free activities to do with kids and families in London.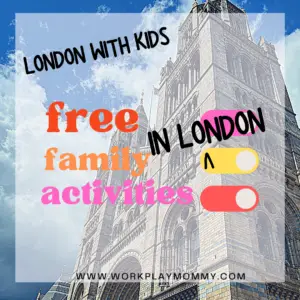 London With Kids
London is a city that caters to professionals and royals, but isn't known for its family friendliness. Nevertheless, while London is an expensive city that isn't as child friendly as other cities, it does have tons of stuff for kids.
Related Post: London with Kids: A Checklist
Everywhere you turn in London you can spend another paycheck on a show, a tea room, a toy, or an attraction.
RELATED POST: Queen Approved: Afternoon Tea at The Goring
And plenty of those attractions are kid and family friendly. From the tea buses to Frozen the Musical, a day out in London with kids can be so much fun.
However, not every London attraction has to cost and arm and a leg. Many London attractions are free or even have free days.
And some of those London attractions are simply made for children!
Free Things to do in London with Kids
Free Activities for Children in London: Science Museum
The Science Museum in London is completely free, though you should book your tickets online in advance here.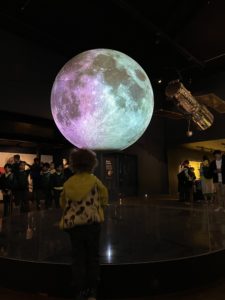 The Museum boasts an Imax (not free), STEM activities, ever-changing exhibitions, and interactive activities for children.
Plan to spend at least 2 hours in the Science Museum exploring all of the different exhibits and learning about science, science fiction, innovation, and the future.
As an additional splurge enjoy the Science Museum's newly reopened and newly revamped Imax theater!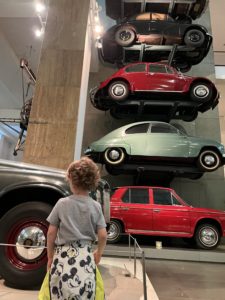 Located in South Kensington the Science Museum is an easy bus ride from most of London's city center. Plus, it isn't too far from Hyde Park, my next free thing to do in London with kids!
Free Activities for Children in London: Hyde Park
London has an absolute plethora of beautiful parks. However, London's park crown jewel is Hyde Park.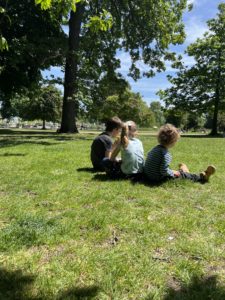 Covering more than 350 acres (according the to the Royal Parks), it has open fields, flower gardens, ponds, swans, and PLAYGROUNDS (see more about playgrounds below).
Simply walking through the miles of park trails is a simple and free way to enjoy London without spending a dime.
If you want to spend some money at Hyde Park, enjoy a coffee at the Serpentine Café, a croissant at the café by Princess Diana Memorial Playground, or a drink outside of the Italian Gardens.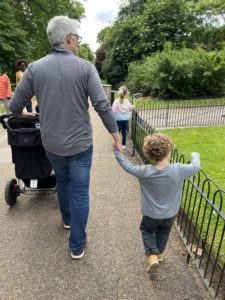 My children love checking to see whether the Rolls Royce Ice Cream truck is open for an extra special treat!
Free Activities for Children in London: British Museum
The British Museum, unlike the National Gallery has more exhibits that might interest children and is a free London gem.
It's exhibits are ever-changing and sometimes include interactive exhibits for children.
From musical displays to world-renowned art, the British Museum is one of London's most famous attractions for locals and tourists the world over.
However, unlike many other London attractions, the British Museum doesn't charge upwards of 30 pounds just to enter.
Instead, the British Museum (and the National Gallery for that matter) is free and funded by a mix of taxpayer funding, endowments, and trusts.
Take advantage of this free and kid-friendly London attraction and spend the day at the British Museum.
Free Activities for Children in London: Hamleys Toy Store
Have you ever visited a 5 story, 216 year old toy store? No. Neither had I until I visited Hamleys toy store.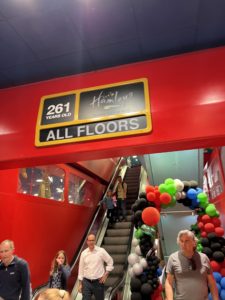 Our family originally visited Hamleys when our other plans went awry, but we have since repeated the trip as a fun way to spend a free (or almost free) day in London.
Hamley's isn't just a toy store, but an experience. From the costumed dancing greeters at the front of the store to the many booths around the store demonstrating the toys, Hamleys entertains as much as it sells.
At Hamleys my children received sparkle tattoos, watched magic trick demonstrations, and played with bubble guns.
My son even spent quite awhile playing video games at Hamleys while mommy and daddy had fun looking through the Harry Potter gear.


Even without buying a single toy, my kids had a great time spending several hours at Hamleys.
If you don't want to buy the toys but want to spend an afternoon at Hamleys stop for ice cream at the ice cream counter on the Ground or 5th floor. Better yet, order a pizza in Hamleys café and top it off with a walk through the displays of Frozen II.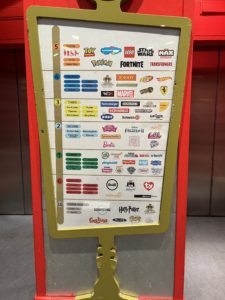 The entire store is fun and very well done. Hamleys is a great and free way to spend an afternoon in London with kids.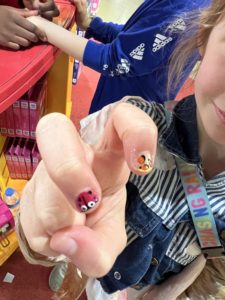 Free Things to do in London with Kids: Playgrounds
While London is covered in parks and most of them are truly beautiful, not all London playgrounds are created equal.
Over the course of our sabbatical in London with 3 small children, we have had the opportunity to visit several of the most popular playgrounds in London.
Sure, there are some smaller playgrounds tucked around the city, but if you are looking for playgrounds were you can spend an entire morning or even an entire day, then these 3 parks were our favorite free parks with kids in London.
3 favorite free playgrounds in London with kids
1. Holland Park Adventure Playground
Just past Notting Hill, you will find Holland Park. Located in one of the most expensive parts of London, Holland Park is rimmed by embassies, gated homes, and historical rowhouses.
However, Holland Park is often overlooked due to the popularity of Hyde Park, and it isn't quite as convenient as the enormous parks located directly in the city center.
However, in our experience, the playground at Holland Park Adventure Playground has the best play equipment of all of the parks we have visited.
The equipment is all hands-on, active, and even a little risky!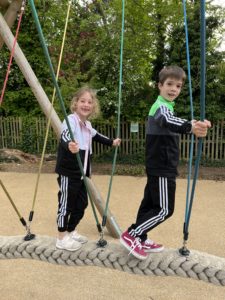 My kids love sliding down the rock embankment into the sand, swinging from the zipline, and careening down the huge slides.
Best of all for me, the park is gated with only 2 entrances and exits. This means that I do not have to worry so much about whether or not my children might dart out the side of the park or someone might sneak by me.
The gated entrances and exits make this mama in a strange city much more at ease letting her children play on a new and large playground.
The only reason that the Holland Park Adventure Playground tops my children's list but does not top my favorite playground list is that this playground does not include a café like the next two playgrounds.
However, Holland Park is also home to a variety of other interesting sites including the Kyoto garden where you might be lucky enough to catch a view of a very beautiful peacock!
2. Princess Diana Memorial Playground
Our family overall favorite playground in London that is free with kids is the Princess Diana Memorial Playground.
This enormous playground located at the far end of Hyde Park in Kensington Gardens boasts several play areas all themed from Peter Pan.
This playground has swings, treehouses, music play, slides, and its piece de resistance: THE GALLEON –an enormous pirate ship.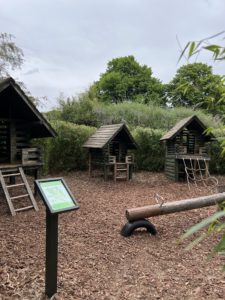 My kids spend hours and hours playing in, on, and around the Galleon.
Best of all, the Princess Diana Memorial Garden is gated and secured.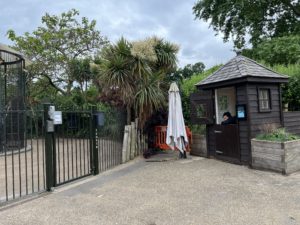 During opening hours the park not only has a single entry and exit point, but that entry and exit point is locked and can only be open by a member of staff.
No adult without children is eligible to enter, and no child without an adult is eligible to leave.
Further, the Princess Diana Memorial Playground has in-park restrooms and a first aid center for those scrapes, bumps, and splinters your children might accumulate while they play on the pirate ship.
From personal experience, I can say that the staff have been so very kind even while my children were screaming about scraped hands!
Finally, the Princess Diana Memorial Playground also has an in-park café!
I can visit the coffee shop, grab a fresh pastry, and even buy my children lunch all without having left the playground.
The pirate ship + the gated entry + the in-park café make this park our overall free family favorite in London!
3. Battersea Park Playground
Our third favorite playground in London is the playground at Battersea park.
To my knowledge and research the Battersea Park Playground does not have a fancy name or important historical significance.
However, what it does have is a great playground for kids of all ages next to a pond with boat and another café!
My kids loved to jump on the musical pads, run down the hills, and even walk along the pond near the park.
However, the park is not gated, patrolled, secured, or even fenced.
Therefore, while it has easy access to the café just across from the playground, it does not give me great peace of mind to sit back and relax as my kids play.
While the park is great and the café is adorable, it wasn't quite as relaxing for the adults!
Nevertheless, the playground at Battersea Park made it into our top 3 free playgrounds for London with kids!
Free Activities with Kids in London: Natural History Museum
Another great free activity in London with kids is the Natural History Museum.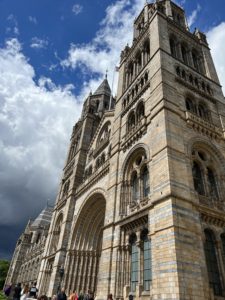 Marvel at the enormous blue whale, explore the dinosaurs, learn about volcanoes and earthquakes, and top it all off with a coffee in the café!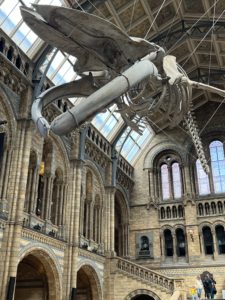 London's Natural History Museum is always free and dates as far back as 1753.  
And, if you are a fan of the Duchess of Cambridge, a fellow mom of three little ones, you will be glad to know that she is the patron of the Natural History Museum.
All of my kids love to explore animal exhibits and each of my children has a special interest in either space, dinosaurs, or mammals. So, the Natural History Museum has something for everyone.
And, best of all, the Natural History Museum lets me keep some of my hard-earned money in my pocket rather than surrendered to even more ticket and entrance fees.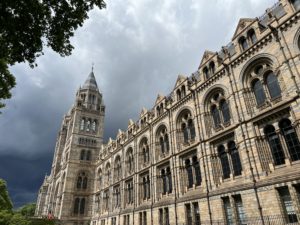 Free Activities with Kids in London: Sky Garden
You might be familiar with one of London's most famous attractions: The View from the Shard. However, did you know that you can get a comparable view of the city for free?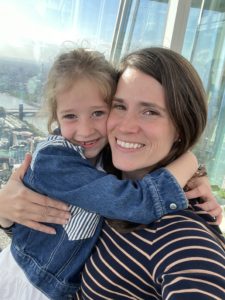 London's Sky Garden is London's highest public garden and is completely free for entrance most days from 10 to 6. (Book your reservation for entry here.)
Although the experience is completely free and open to the public you can book a reservation in advance and can even book a restaurant at the top.
Experience a birds-eye-view of London from the top of the Sky Garden without breaking the bank on tickets to the Shard.
There you can still enjoy a delicious drink or treat but don't have to spend too much of your hard-earned money to do it!
The Sky Garden is a great free thing to do in London with kids especially kids who might not appreciate the elegance of The View From the Shard.
Free Activities for Kids and Families in London
From Piccadilly Circus to Regent Street to Chelsea, while London is incredibly expensive, it still has plenty of free attractions and activities for kids and families with children.
Spend the day in a museum, explore the outdoors, or even find your inner child again at one of London's famous toy stores.
From famous views to famous memorials, London has lots of free excitement to offer families and children.
London with kids can be quite daunting as not all of the major attractions cater to small children. However, even London has many great and FREE experiences for children and families!