Granada, Spain with Kids: Review of Miriam Tourist Guide Guided Tour of the Alhambra with kids
Tips on visiting the Alhambra with kids in Granada, Spain
This is a review of a service that I used in Granada, Spain. I receive no remuneration, payment, or commissions for this review. All opinions are completely my own.
Family Sabbatical in Granada, Spain
Granada, Spain really is a special city. It is slow and relaxed, contains loads of ancient history, and boasts some of the best views and food in Southern Spain.
RELATED POST: What's So Special About Granada, Spain?
Despite the plethora of great activities has to offer, there is no arguing that the crowning jewel of Granada is the Alhambra.
Granada, Spain's Alhambra History
People come from all over the world, every day to visit the grounds and gardens of the Alhambra.
Why? Well…first because it is beautiful, but second because it is a central and imposing symbol of Spanish history spanning more than 700 years (more like 800!).
You see…in 711 the Moors invaded and seized control of most of Spain. The entire nation fell under the rule of Islam.
However, in 1492 the Sultan Boabdil surrendered the country and its final stronghold (Granada) to the Catholic Monarchs –King Ferdinand and Queen Isabel.
During that 700+ year reign in Spain, the Moors did not simply remain in the plains (!!!). Instead, the Moors built their most impressive fortress and city in Granada.
Atop the hills in Granada run the lengths of the fortress walls. Views of the ancient Albaicin skirt the city. But, at its highest point, you will find the remnants of noble houses, and finally…the palace itself…The Alhambra.
The Red Palace (Al-Hambra meaning Red) took several hundred years to complete. The palace was a modern marvel in plumbing and water flow. And, it is full of stunningly beautiful ancient artwork.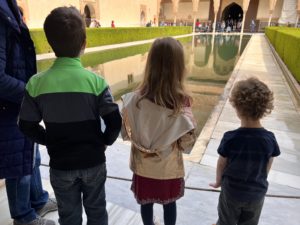 The Alhambra with Kids
While I find all of these facts and the books and novels written about the Alhambra to be wildly fascinating, my children don't quite see it the same way.
Our family had the opportunity to sabbatical in Granada, Spain where we spent long morning sipping coffee and playing in the parks.
RELATED POST: Completely Legitimate Reasons to Take a Sabbatical
We passed long evenings at dinners and watching sunsets.
And, we spent many days hiking through the mountains.
RELATED POST: What's So Special About Granada?
However, we couldn't leave without a guided tour through the Alhambra.
And, as we were traveling through Granada with 3 children (ages 7, 6, and 3), we needed someone who could explain all the sites, symbols, and secrets of the Alhambra in terms our children could understand.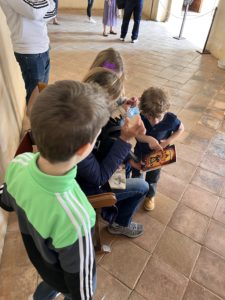 Most tours catered to adults, were in large groups, and were replete with detailed historical information.
So, we started asking for recommendations that might be more suitable for our young children. That is when we discovered Miriam Tourist Guide.
Miriam of Miriam Tourist Guide not only came highly recommended as a comprehensive Granada guide, but as a tour guide who also knows how to connect Granada with children.
Miriam lives in Granada with her family, speaks Spanish and English, and has a wealth of information to share about the beautiful city.
While she also gives tours of the entire city including tapas, culture, cathedrals, and more, we chose to book her for a 3-hour Alhambra and Generalife tour.
Her rates are fair and reasonable, and, in our experience, the value was incredible.
We were a little skeptical that she would be able to connect Granada's most important monument to our young children, but we wanted to give it a try.
We were shocked and surprised by how fantastic she was.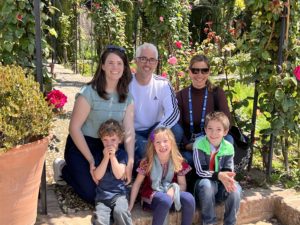 Touring the Alhambra with Kids and Miriam Tourist Guide
Miriam met us at Puerta de la Justicia at the front of the Alhambra –a point of entry that is easy to reach on foot, by taxi, or by tourist bus.
While we spent a few minutes introducing ourselves and our children, Miriam did not lose any time before connecting to our kiddos.
Less than 1 minute into our tour she had our children on their first seek and find hunt. Of course, they hung on her every word from there on out!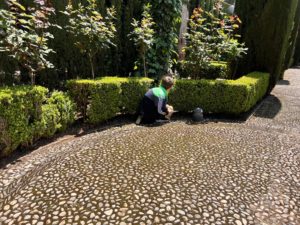 Somehow Miriam slipped factoids, information, culture, and history into treasure hunts, matching games, hide and seek, and math games.
Our children found shapes, patterns, colors and more throughout the Alhambra.
Miriam produced various treasures, books, pictures, and games from her magic bag. Our children couldn't wait until she brought out the next game.
Miriam also had a good rapport with some of the Alhambra staff. She asked them to show our children "secret keys", hidden passageways, and shortcuts.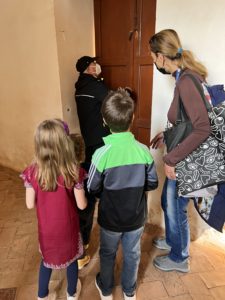 Games in the Alhambra with Kids
My children had grown tired of me trying to teach them about ancient architecture and historical facts. Miriam was able to pique their interest through games, stories, races, and treasure hunts.
RELATED POST: 2 Day Itinerary for Granada, Spain
In fact, she helped them find a special hidden treasure at the end of the tour. Plus, she gifted them their own coloring pages to help them remember some of the special patterns they had seen. Miriam truly made a 3-hour tour fly by.
My children shrieked with laughter as they played hide and go seek through the Generalife Gardens. Miriam used the opportunity to play with them and also teach them the names of some of the plants and flowers.
Recommendation for Guided Tour of the Alhambra with Kids and Miriam Tourist Guide
My children asked if they would get to see her again, covered her in hugs, and held her hand through the grounds.
Miriam was warm, engaged, and attentive to them. She tousled their hair, answered their questions, and giggled freely with them!
Miriam Tourist Guide was a special treat and a worthwhile value for our family in Granada.
If you are looking to take children to the Alhambra and want them to truly enjoy the experience, I highly recommend Miriam for your tour guide.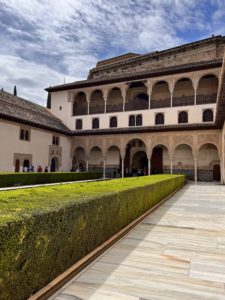 You and your children will enjoy a wonderful day through the grounds, and you might even consider booking her for one of her many other tours.
A 5-star review from our family …even our children.
The Alhambra with Kids in Granada, Spain
Granada's crowning jewel is of course the Alhambra, but tours and historical facts might not be as interesting to your young children.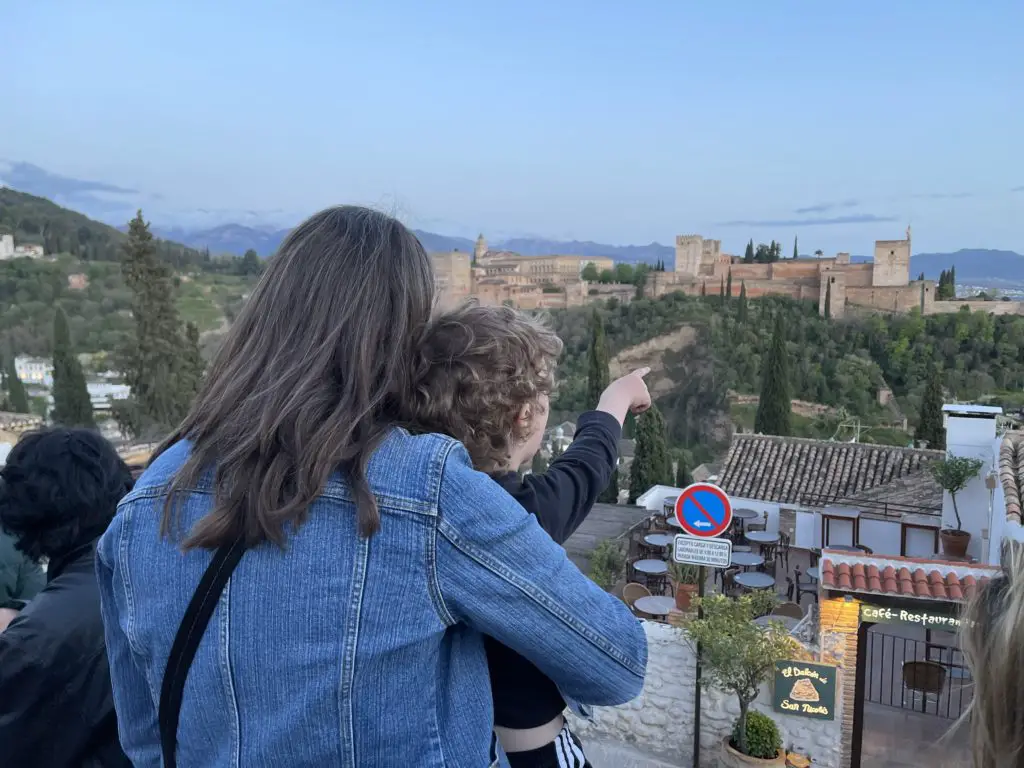 If you are looking for an Alhambra or Granada tour that will explain the history and facts to your children in ways that they will understand, check out Miriam Tourist Guide!
One of our very favorite memories of our family sabbatical in Granada, Spain is definitely spending the day touring the Alhambra with our children and Miriam Tourist Guide.