Free Printable Checklist. London Checklist with Kids: What to do in London with Kids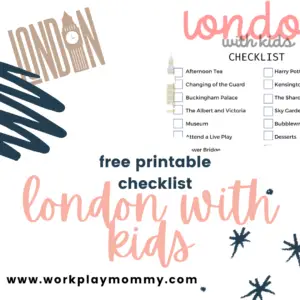 The possibilities are endless in London. From food to fare and palaces to palladiums, the city is endless and changes regularly. If you are working through the city with kids, check out this free printable checklist for London with Kids!
However, when it comes to London with small children, not all experiences are created equally. So, what should you do in London with kids?  
For your free printable London checklist, download here.  
London with kids can be a completely different experience than London with just adults.  
While you might enjoy hours perusing art and sipping tea in a quiet tea room, kids might grow bored of complicated foods and dry art museums.  
London has loads to offer kids, however, including museums, foods, experiences, zoos, and parks.  
Afternoon Tea
Changing of the Guard
Buckingham Palace
The Albert and Victoria Museum
Attend a Live Play
Tower Bridge
London Eye
Big Ben
Soccer/Football Match
Harrod's
Hyde Park
Eat Local
Harry Potter Tour
Kensington Palace
The Shard
Sky Garden
Bubblewrap Ice Cream Desserts
Eat a full English Brekkie
Regent Park
British Museum
London Zoo
Ride the tube
Ride a double decker bus
Phone booth photo shoot
To get your free downloadable printable for London with Kids, click here.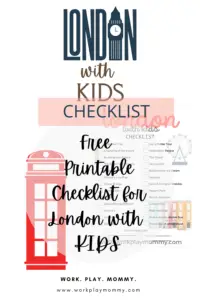 To read more about taking a family sabbatical and creating important memories with your kids. Check out why you should consider a family sabbatical.