Is the London Pass Worth It, and can it save you money?
Are you looking for ways to save money in London or considering purchasing the London Pass? In our experience, the London Pass was a great way to experience London and still save some money for the whole family. Check out our review of the 10 day London Pass with children.
(This post is not sponsored or compensated. All views are entirely my own. However, as an Amazon affiliate, I may earn a commission if you make a purchase using a link below at no additional charge to you.)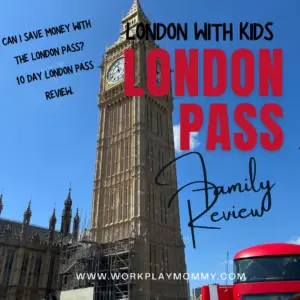 London Family Sabbatical
Our family is spending part of our sabbatical in London! It's a whirlwind of a city with a mix of ancient Norman history and modern marvels.
RELATED POST: Mommy Needs a Sabbatical
However, no matter the age, every single site and experience in London has one thing in common: it's EXPENSIVE.
Even alongside New York City, London is easily the most expensive city I have ever spent time in. The accommodations are expensive, the food is expensive, and the attractions are expensive.
And, since many of the sites and attractions are owned and operated by the Royal Family, it is no wonder they live such a posh lifestyle!!
In all seriousness, however, our family knew that the city would be expensive and spent a great deal of time and energy preparing for the trip.
RELATED POST: Creative Ways to Afford a Family Sabbatical
Plus, we were not going to waste our once-in-a-lifetime opportunity to experience as many site of London as possible.
So, we made a list of the places we wanted to see, the ancient sites we wanted to visit, and the museums we wanted to tour.
RELATED POST: London with Kids: A Checklist
When we started booking tickets to each of those places, we were shocked at how quickly the costs added up. Even spreading it out over the course of a month, we would more than triple our entertainment budget to see and do all of the things that we wanted to see and do.
But, me being the researchaholic that I am found and researched The London Pass
What is The London Pass?
The London Pass is a conglomerate of many of the most important, most visited, and most expensive sites and attractions around the city.
While it does not include a tour of Buckingham Palace or the London Eye, it does include nearly every single other attraction that made it on our family list.
With the purchase of a single pass rather than 10 or 20 separate ticket bookings, you will have access to most of the city's most famous sites and even guided tours, bus tours, boat tours, and walking interest tours.
Some of the most popular attractions on The London Pass include:
Kensington Palace
Hop-on Hop-Off Bus Tour
Windsor Castle (including fare to and from)
The London Zoo (a favorite of our family!)
Hop-on Hop-Off Boat Tour
London Tower
Tower Bridge
The Shard
Guided Bicycle Tour
Top Sites Guided Walking Tour
Palaces and Parliament Tour
London Transport Museum
And SOOOOO many more!
(For a complete list of London Pass attractions, click here.)
So you can see that even if the London Pass were not offered at a discount, then at a minimum it is a great way to avoid the ticket lines for every single London attraction that our family wanted to see!
What are the London Pass Options?
The London Pass has several different options for purchase. The basic option includes a selected number of days. You will be eligible to enter London Pass attractions during your allotted days.
*be aware that certain attractions require advance reservations and bookings. If they do require or recommend advance bookings, then you should email the appropriate party noted in the London Pass in advance of your using the Pass. For example, both The Shard and the bicycle tour require advance bookings, and walk-ups may not be honored. For more information, visit the official London Pass site here.
You can purchase The London Pass for 1, 2, 3, 4, 5, 6, 7, or 10 days. The value per day goes up considerably if you purchase more than 3 days.
If you went to 3 attractions per day for 3 days, you could easily save over 100 pounds if you choose your experiences correctly.
London Pass with Transport Option
You can also purchase a pass with a transport option. If you are ordering your London Pass well in advance, you can have an Oyster card for public bus, underground, and some other methods sent right to your home.
However, our family chose not to include the Oyster card as our children travel on the public transit for free, and we were not sure how much we would use it.
In the end, we purchased our own Oyster cards upon arrival to London and have found it very easy to use.
Should I Wait Until I Arrive in London to Buy the London Pass?
Don't worry about waiting until you arrive in London to purchase a London Pass. Your pass does not activate until you use it for the first time.
So, you could purchase your London Pass months in advance, and only activate it on your first touring day in London.
Our family purchased the 10 day option before arriving in London. However, we did not activate it until a few days into our London adventure so that we could get a feel for the city before we started diving into sightseeing.
Plus, if you purchase your London Pass with a travel card (Oyster Card), you will want to have the Oyster card before you arrive in London.
The Oyster cards offered through the London Pass are not offered at a discount, just a convenience.
How do I Use The London Pass?
Once we loaded our London Pass into the apps on our phones, the London Pass was so easy to use.
After you purchase the London Pass you will be prompted to download the London Pass app.
The app not only holds and tracks your London Pass usage, it also suggests sites, attractions, tours, and more as you go about your London adventure.
The app includes maps, suggested attractions based on your interests, and sample itineraries.
The app includes opening and closing times, costs for adults and children, as well as helpful insights and tips.
I have kept the app even after using the London Pass to help me learn a bit more about sites around the city.
Even if you don't purchase the London Pass, you might consider downloading the London Pass app for tidbits of information about hundreds of London sites.
Once you have the app, you need only scan it at each attraction you visit.
Some attractions have their own London Pass queues and for other attractions you can skip the queue entirely with the London Pass.
Again, once you scan your first London Pass at your first attraction, you will activate your London Pass and begin the daily countdown in your usage.
Can I Save Money with The London Pass?
With a plan, the London Pass can be a significant cost savings.
For example, our family made a list of 15 sites and experiences that we wanted to have over the course of 10 days.
The total ticket price at the gate for all of the sites and experiences was 332.40 pounds for the adults, and 174.25 pounds for the children.
We purchased the London Pass for 10 days for 179.00 pounds for adults and 104.00 pounds for the children.
If we were able to see every attraction on our list, we would have saved over 158.00 pounds on each adult ticket and over 70.00 pounds on each child ticket.
*London Passes are available for children over the age of 5. While most London attractions do not require an entry fee for children under the age of 5, a few do. Therefore,  if you are traveling with a child under 5, be sure to verify that you will not need individual tickets for that child upon entry (e.g. The London Zoo and The Shard).
Therefore, the cost savings became very enticing for our family.
Even if we would have only seen our top 5 attractions over the course of only 3 days, then we would have still saved a considerable sum.
Our family was interested in visiting some of the most expensive London attractions (the London Zoo, the Shard, London Tower, and a bus tour), so we knew that even some cost savings would be great for us!
We are a family that lives on a budget, therefore, cost savings is very important to us!
RELATED POST: How a Budget Set Us Free to Live Our Dreams
Our 10 Day London Pass with Kids Review
Why did we choose the 10 Day Pass?
Choosing the 10 day pass was not only because we had so many sites we wanted to see, but because we also wanted to have the opportunity to change our plans, take a rest day, or accommodate schedules and weather.
We chose a 10 day pass not only because it gave us the biggest bang for our buck, but because we are traveling with 3 small children for a month in London and something is sure to go wrong.
And, you will see below, that's precisely what happened. On more than one occasion our plans went awry due to health, weather, timing, or work, and we had to regroup.
So, choosing a 10 day pass gave us the opportunity to take our London sightseeing at a more leisurely pace than we would have on a 3 or 4 day pass.
Our 10 Day London Pass Experience and Itinerary
London Pass Day 1 with Kids
First stop was breakfast, and I can't recommend EggBreak enough. We tried a variety of bakeries and egg restaurants, and EggBreak was the best of all of them.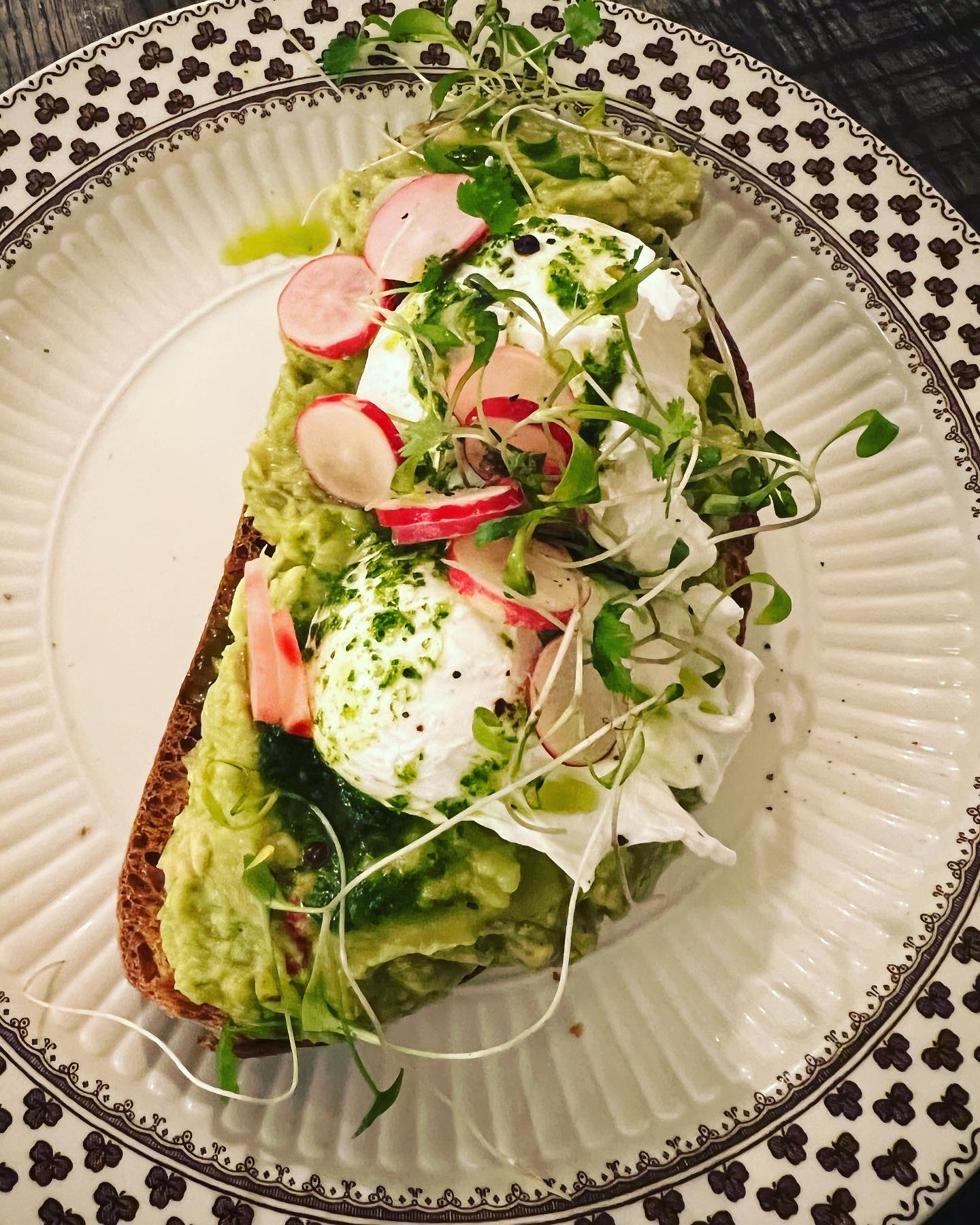 Plus, if you are an American in search of a properly brewed pot of coffee, you can find it at EggBreak. The meals were delicious, the coffee was bottomless, and a line formed half way down the block before we left.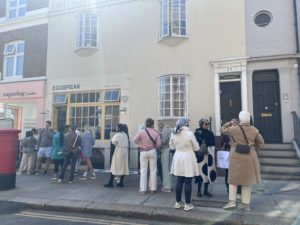 Finally, it is just around the corner from our first stop on the London Pass: Kensington Palace.
Kensington Palace on the London Pass with Kids
A leisurely walk around the corner from EggBreak, and you will arrive at Kensington Gardens that lead right up to the entrance of Kensington Palace.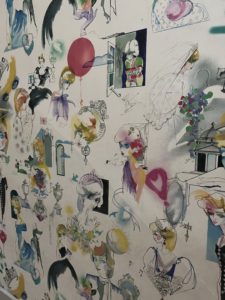 While Kensington Gardens and Hyde Park are free sites not part of the London Pass, you can't miss a walk through Hyde Park to see the swans, watch the goslings follow their mothers, and enjoy the gardens.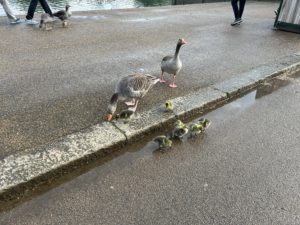 With the London Pass we walked right through the front gate of Kensington Palace, easily scanned our London Pass and enjoyed a couple of hours as a family admiring Queen Victoria's childhood home, the King's and Queen's Quarters, and even a puppet opera.
While my husband was not nearly as impressed with the queen's jewels or the Victoria's history in Kensington Palace, my daughter and I loved it.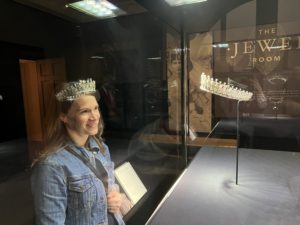 We spent a great deal of time picking out our favorite tiaras, admiring the décor, and practicing our princess walk on the staircase.
The usual ticket entry price for Kensington Palace is Adult: 22.00 Child: 11.00.
And, Kensington Palace is very close to Royal Albert Hall, our next stop for the London Pass.  
Royal Albert Hall is a short walk through the park from Kensington Palace which makes it a natural next stop after the Palace.
Royal Albert Hall on the London Pass
The London Pass not only allows you to enter Royal Albert Hall but to have a guided tour.
So, we again walked right to the front of the queue only to find that the tours for the day were already all booked up.
We did not check tour availability before we visited because we were not sure how long to plan for Kensington.
Our kids were tired of touring by that point, so we were not too disappointed. Instead we spent the rest of the afternoon playing at Princess Diana Memorial playground –another must see in London with kids.
RELATED POST: London with Kids: A Checklist
If we would have been able to join a Royal Albert Hall Tour, it would have cost 15.00 for adults and children.
Day 1 Total Ticket Costs Would have been: Adults: 22.00 Children: 11.00
London Pass Day 2 with Kids
After taking an easy day on Day 1 to see a few relaxed attractions, we had planned a full day for our second day on the London Pass.
Our plan was to do a Hop On Hop Off Bus Tour, Westminster Abbey, London Tower, and Tower Bridge.
Hop On Hop Off Bus Tour: BigBus Tours
The London Pass includes 2 options for Hop On Hop Off Bus tours. Our family opted to use BigBus rather than Golden Tours.
I do not have a good reason for choosing one over the other except that I found the stop for BigBus Tours closer to our flat!
However, I can tell you that one of our unexpected favorite attractions of London was the BigBus tour, and I highly recommend it as a way to learn about the city, experience many of the boroughs, and get around.
It was a fun way to spend the day, and we ended up riding longer just to hear more from the audio guide. Even our kids loved it.
Regular Cost for BigBus Tour: Adult: 41.00  Child: 27.90 Family: 101.70 (2 adults, 2 children)
We tried to get on the very first BigBus of the day, which started at 9:00, and we got off on the very last bus of the day. Keep in mind that the BigBus tours end fairly early in the evening.
Therefore, if you hope to have dinner then take the tour bus home, you will be stranded and need to take a taxi or public transport home.
Be sure to check for the times of the last bus of the day.
Our family took the Red Route on the BigBus tour around London.
We got off at the London Eye, found a delicious Saturday market for enormous donuts, hot cappuccinos for the brisk day, and loads of other stalls serving mouthwatering foods from around the world.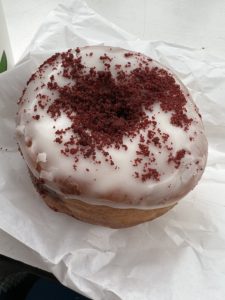 Then we walked across the bridge admiring Parliament until we arrived at Westminster Abbey.
Touring Westminster Abbey with Kids
While Westminster Abbey may sound like one of those dreary downer London sites that wouldn't interest children, we were shocked.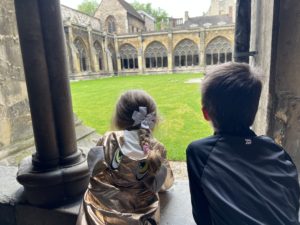 Westminster Abbey became my children's favorite historical site in London due to the Abbey's hard work at accommodating young children.
Not only does your London Pass include entry to the Abbey, it also includes an audio guided tour through the abbey for adults and a guide for children.
Our kids loved the Westminster Abbey children's guide.
Plus, they even had crafts, a scavenger hunt, and a prize for each of my children.
We ended up spending far longer in the Abbey than we expected, which is a big reason why we didn't make it to Tower Bridge.
The regular cost for Westminster Abbey for Adults is 29.00 and for children 14.00.
After Westminster Abbey, we boarded the BigBus again and went to Tower Bridge and London Tower. Although they are both located in the same general vicinity, we did not have enough time to tour both.
Therefore, we opted for London Tower.
London Tower with Kids on the London Pass
I recommend having a couple of hours to go through London Tower. It is far more interesting than its name lets on.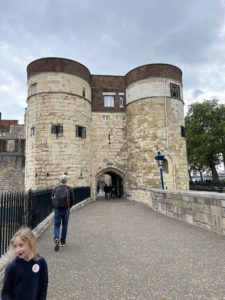 It has interactive exhibits, animated history presentations, guard changes, animals, water features, jewels, canons, and more.
Our kids had a blast at London Tower, and we are very glad that we didn't miss it.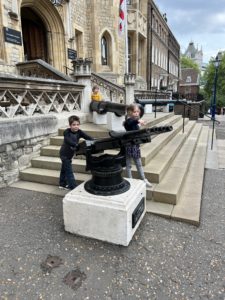 Finally, we caught the last BigBus of the day to go back to our flat. We did get off the bus at Speaker's Corner of Hyde Park to see more of the park before walking the rest of the way to our flat.
The regular cost for entry into London Tower for adults is 29.90 and for children: 14.90.
Day 2 London Pass with Kids Ticket Costs would have been: 99.90  for the adults and 56.80. Therefore, we paid for our London Pass on the second day of touring!
London Pass Day 3 with Kids
As I already said, one of the main reasons that we purchased a 10 day pass was so that we could be flexible.
Our third day was supposed to include, the Uber boat cruise, London Bridge, and the Shard. However, we had a stroller malfunction and ended up spending 2 hours trying to get it fixed.
Therefore, we altered our plan, skipped the boat tour for the day, and walked to Hamleys before our reservation at The Shard.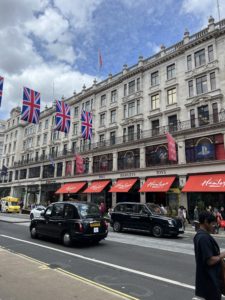 Hamley's is not on the London Pass, but it is the largest and oldest toy store in London. It is more than 5 floors of fun, games, entertainment, and toys!
Our family with 3 small children spent most of the day going from floor to floor looking at the toys, watching the magic demonstrations, playing in bubbles, and more.
Hamley's toy store is a must-visit for London with kids Even if you don't purchase a single toy, your kids will still have a great time.
RELATED POST: Free Family Activities in London with Kids
My children left with glitter tattoos, painted fingernails, a chance to participate in a magic show, and giant smiles on their faces.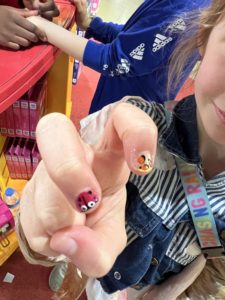 From Hamley's we walked Regent street and meandered our way to The Shard.
The Shard with Kids on the London Pass
The Shard is nowhere near Hamley's so if you aren't prepared to walk several miles, then I recommend that you catch a bus or a metro from Hamley's to the Shard.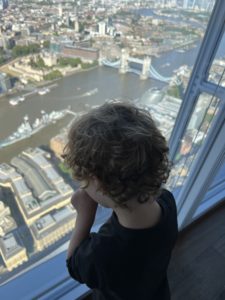 Our family booked a late afternoon slot at the Shard so that we could enjoy the views of the city around dusk.
The Shard shoots you up more than 68 floors to enjoy some of the most beautiful panoramas of the city.
Our children loved the views, but as the Shard caters to a refined clientele, after the toy store our children didn't quite fit in with the dresses and cocktails.
Nonetheless, our family had a great time at the top of the Shard sipping drinks and mocktails, and enjoying the view.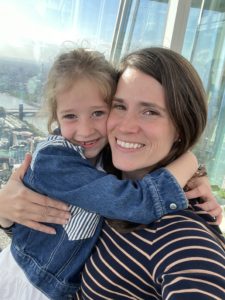 The Shard does require tickets for children over 4, so be sure that you make your plans accordingly. All general entry to the View from the Shard are 28.00.
Day 3 London Pass Ticket Total: 28.00
London Pass Day 4 with Kids
Because we had missed out on our Uber Boat Cruise the day before, we chose to embark from Battersea on the Uber boat on Day 4 to get to our Globe Theater tour.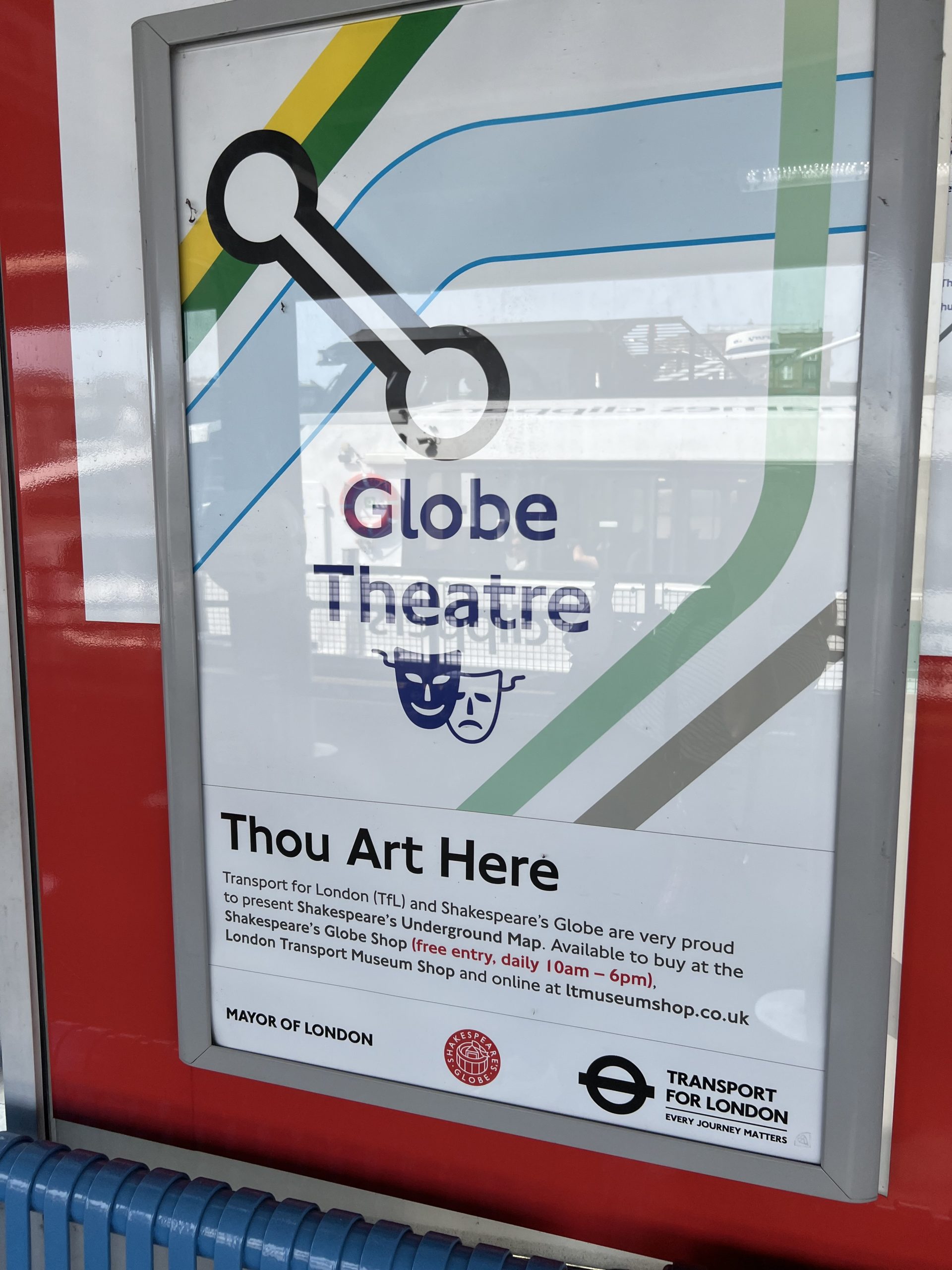 The Globe Theater is conveniently located directly beside the Thames, so the boat tour was a convenient way to see more of the city, marvel at the many bridges, and arrive on the doorstep of the Globe Theater.
We loved the boat. It was clean and comfortable, and the staff were incredibly kind and helpful.
Unlike other public transport, the Uber boat was spacious and even had a café on the boat and restrooms for our family to use.
We enjoyed stopping at some of the other ports throughout the day including a stop off at Embankment to get BubbleWrap Ice Cream in China Town!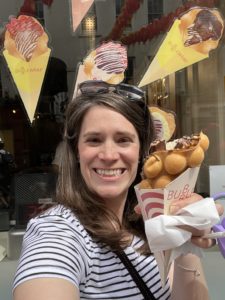 The Uber Cruise for Adults is 18.90, 9.45 for children, and maxes out at 37.80 for a family.
The Globe Theater was also very interesting for the adults and included a guided tour where we not only saw the theater but enjoyed watching the thespians practice for their next play.
Our children did not love the Globe, but Shakespeare isn't really aimed at 3, 6, and 7 year olds.
Globe Theater: 18.70 Child: 10.00 Family: 50.60
Day 4 London Pass Ticket Totals: Adults: 37.60, Children 19.45
London Pass Day 5 with Kids
Honestly, after 4 days of touring, our entire family was exhausted. My husband is still working full time, so all of our touring is done in the morning so that he can work throughout the afternoon and evening.
Rainy and the family is exhausted from all of the sight seeing. My husband is working full-time still, so we have only 4-5 intense hours each day to see as much as we can.
Therefore, day 5 was less intense than the other days.
One of the more unique attractions included in the London Pass is the Queen's Skate Dine and Bowl near Queensway station.
After taking a walk through Hyde Park and watching the swans while having doughnuts at Serpentine Cafe, we enjoyed more of Hyde Park.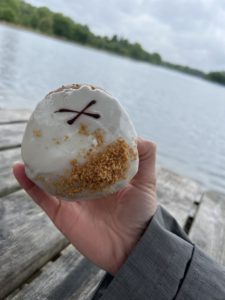 We walked to Speaker's Corner, past the Lido deck, and the Italian gardens while we walked to Queens Skate Dine and Bowl for Ice Skating.
Queen's Skate Dine and Bowl on the London Pass
The London Pass includes one session of ice skating, which was a great family activity for a cold and rainy London day!
While the London Pass app encouraged us to make reservations, Queen's informed us that they were not taking reservations at this time for the London Pass and were accepting walk-ins.
We were able to walk right in. We got lucky and snagged a 2 hour slot instead of just a 1 hour slot and had a great time a as a family.
No, ice skating probably isn't on your London touring list, but it was a great way to spend a day together as a family and was an unexpected bonus of the London Pass!
Regular Price of 2 Hour Ice Skating with Skate Rental: Adult 13.50, Child 12.00 plus 3.00 for each skate hire (Toddler was 7.50)
Day 5 London Pass Ticket Total: Adult: 13.50, Children 12.00
London Pass Day 6 with Kids
On our sixth day of the London Pass we had booked another busy day starting with a 5 hour walking tour with Top Sights tour.  
We toured the city with Tim who was a brilliant guide.
Unfortunately there was no changing of the guard this morning, however, the military was training for the Jubilee, and we watched around 500 military march through the streets accompanied by a band.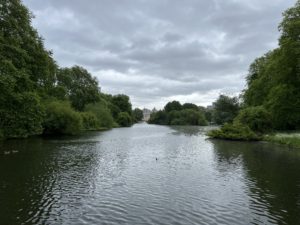 Unfortunately, our praise for Top Sights Tour ends there. We managed to book for a day when not only was their a deluge of rain during most of the tour, but the allegens in the park were running very high. Plus, the group numbered nearly 40, which was entirely too large to be able to see, hear, or experience much of the presentation.
With our three children we only heard about ½ of the information. The children couldn't hear anything as they spent most of the time looking at people's backs or backs of their knees.
Although the tour was interesting and covered a lot of major London sites, our children hated it, as they couldn't hear, see, or follow along in such a large crowd.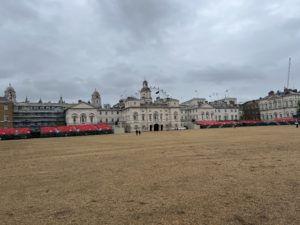 Top Sights charges 47.00 per adult, and kids go free. The kids got what they paid for even though they still had to burn through a day of their London Pass.
While we enjoyed the tour and thought our guide was very kind, this was a major drawback for a family traveling with kids.
If I were to book Top Sights Tours again, I would ask in advance how large the group was.
On a more positive note for our children, they enjoyed pastries from EL&N London before the tour and capped off the afternoon with Scones! The day was still a positive in their book!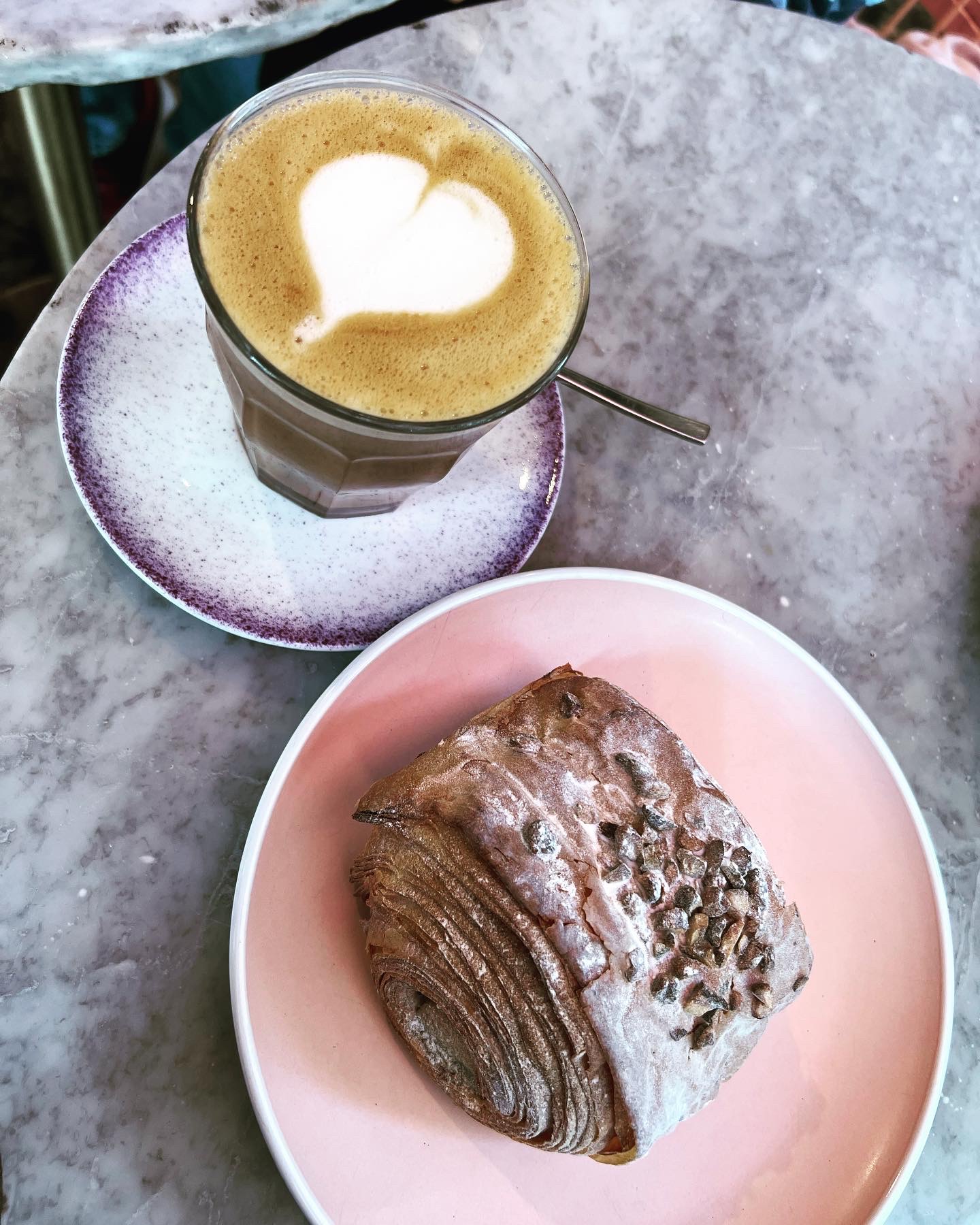 Day 6 Ticket Totals for the London Pass: Adults: 47.00 Children: 0.00
London Pass Day 7 with Kids
A whole family favorite with kids in London is of course THE LONDON ZOO!
The London Zoo is nestled in Regent's Park but is an easy bus ride away. It is also one of the more expensive sites in the London Pass at 28.00 for adults and 18.19 for children.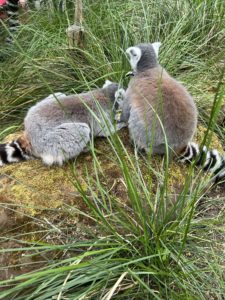 We had so much fun with the littles. We spent more than 5 hours exploring the London Zoo before we had to give up and head back home exhausted.
We even saw many animals I had never seen before plus learned a few facts!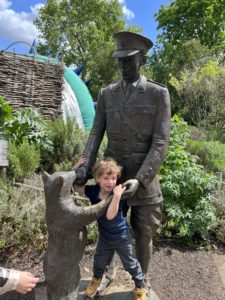 For example, did you know that Winnie the Pooh was inspired by a small, coddled bear raised at the London Zoo? You can find his statue near Penguin Beach –the largest penguin exhibit in England.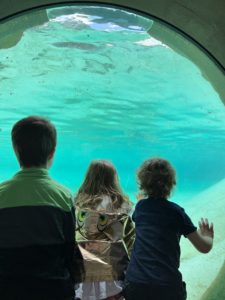 To read more about Winipeg the bear (the real life inspiration for Winnie the Pooh), check out Finding Winnie!
Day 7 London Pass Ticket Totals: Adults: 28.00 Children: 18.19.
London Pass Day 8 with Kids
London Bicycle Company has 2 offers on the London Pass. One is a guided bike tour. However, they will not allow children under 10 to join the guided tour.
Therefore, as a consolation prize, they will offer families with young children 2 hour bike hires including helmets, child seats, and locks for your family fun.
Bike Hire for Adults and children is 8.00. Sure, this is one of the cheapest attractions on the London Pass, but for our family, and our children who love to ride bikes, this was one of their favorite unique experiences.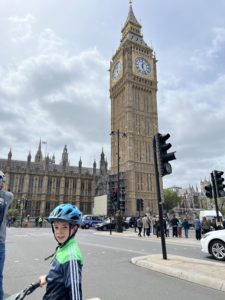 We rode as a family under bridges, around the city, and next to some of the famous sites that they had only seen by bus.
We had a great time as a family riding around the streets of London. We passed Parliament, Elizabeth Tower and Big Ben, the London Eye, and more.
Our family took the cyclist super highway and enjoyed seeing London from a different perspective while feeling very safe in the dedicated bike lanes.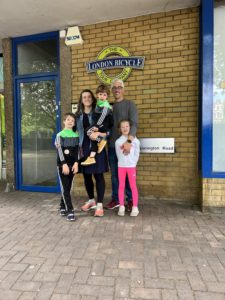 In some areas, the traffic was very disconcerting while riding in a strange town, but if you keep to the bike paths, navigating and safety are super easy.
Bike Hire with the London Pass
The only drawback to our bike hire was that we forgot to collect locks before we left the store. When we wanted to take a break for a coffee or a snack, we had to have someone hold onto the bikes.
However, the short 2 hours flew by, and we had to have the bikes back to the London Bicycle Company before we knew it.
London Bicycle Tour Company was great to work with, very friendly, and made sure that all of the bikes and child seats fit well.
We would definitely hire a bike from them again!
Day 8 London Pass Ticket Totals: 8.00 per person.
London Pass Day 9 with Kids
On our 9th day of the London Pass, we had decided to finally go to Tower Bridge. Since we had already missed it twice, we got out of the house early walked to Borough Market, and arrived at Tower Bridge.
After finally finding the entrance to Tower Bridge on a very crowded and hot day, we ended up with sick kids, and returned home.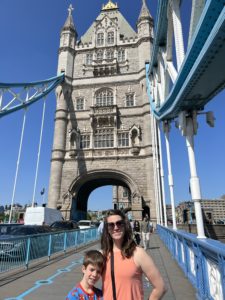 This made our third failed attempt to go into Tower Bridge.
However, we still enjoyed seeing the market, walking across the bridge, and exploring more of London as a family.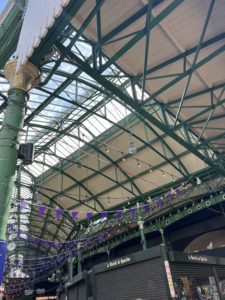 Day 9 London Pass Ticket Totals: 0.00
London Pass Day 10 with Kids
Our 10th day on the London Pass was our chance to see or do anything that we hadn't gotten to yet.
Unfortunately, by that time, we had 3 sick kids, and we weren't comfortable taking them to any attractions.
However, we could have gone to Windsor Castle, the Transport Museum, or finally made it to Tower Bridge.
While we didn't make it to any sites, we were not disappointed by the London Pass.
We purchased the 10 day pass precisely for this reason –in case we had a day interrupted by real life. And, after 9 days of intense sightseeing, our family was worn out!
Plus, we had more than gotten our money's worth out of the London Pass, and would have seen even more if not for my husband's work schedule and taking the time to enjoy other London sites along the way.
It would have been a shame to miss Hyde Park or Hamley's simply because it wasn't on the London Pass.
We were thrilled to experience many new and unique London sites.
10 Day London Pass Savings
In the end, our London Pass cost 161.00 pounds for each adult and 104.00 pounds for our children over 5.
During that 10 days we visited the following attractions on the London Pass:
| | | | |
| --- | --- | --- | --- |
| Attraction | Adult Price in Pounds | Child Price in Pounds |   |
| Kensington Palace | 22.00 | 11.00 |   |
| BigBus Tours | 41.00 | 27.90 |   |
| Westminster Abbey | 29.00 | 14.00 |   |
| London Tower | 29.90 | 14.90 |   |
| Uber Boat Cruise | 18.90 | 9.45 |   |
| Shakespeare's Globe Theater | 18.70 | 10.00 |   |
| Ice Skating at Queens Skate Dine and Bowl | 13.50 | 12.00 |   |
| Top Sights Guided Walking Tour | 47.00 | Free |   |
| The London Zoo | 28.00 | 18.19 |   |
| London Bicycle Company Bike HIre | 8.00 | 8.00 |   |
| Total Ticket Costs | 256.00 | 125.44 |   |
| London Price Difference for 10 Day Pass | London Pass: 161.00 Savings: 95.00 per adult | London Pass: 104.00 Savings: 21.44 per child |   |
| Total Family Savings: | 232.88 |   |   |
London Pass Money Savings for 10 Days with Kids
All in all, our family saved more than 230 pounds by buying the London Pass. Obviously, we would have saved even more if we would have made it to the Royal Albert Hall, Tower Bridge, and Windsor Castle.
However, spreading our 10 attractions out over 10 days helped mitigate some of the complete exhaustion we felt when we saw more than one site per day.
London is a sprawling and expensive city, and the London Pass helps take some of the price sting and booking stress out of your family trip.
The London Pass is a great way to save money for your family tour of London, and I highly recommend it with a good plan!
If you are interested in saving more money in London, check out these free family activities.