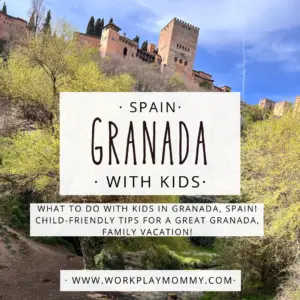 Granada Spain with Kids: Tips for the best sites, food, and activities with children in Granada, Spain
Want to know the best places for kids in Granada, Spain? Check out these must-visit sites and best activities for kids in Granada, Spain for a great family holiday!
Why Visit Granada with Your Family?
Granada, Spain is an incredibly family-friendly city. Playgrounds are around every corner, the culture centers around the family, and the pace is brilliantly relaxed. Children are welcome everywhere in Granada.
RELATED POST: What's So Special about Granada, Spain?
Our children regularly played in plazas while the parents leisurely enjoyed a long Spanish lunch. They climbed, yelled, giggled, and ran and the passers-by didn't even seem to notice.
Children seemed to be welcome everywhere in Granada, Spain, and it has quickly become one of our very favorite family-friendly vacation destinations.
Granada, Spain Sites
Granada is a city replete with ancient history, cathedrals, burial sites, and priceless art and artifacts. So, to be sure, your children will not love every site in the ancient city.
However, you don't have to miss the most impressive and important sites simply because you have children. You might be surprised to find that even small children love many of Granada's most famous attractions. I want to share the best things for you, your family, your children, and even your older kids to do in this city of pomegranates!
Best Granada, Spain Activities and Attractions for Kids and Young Children
Granada Activities with Kids: #1 The Alhambra Palace and Generalife Gardens (Alhambra Tour)
No visit to Granada is complete without a tour through the Alhambra Palace–Granada's most popular tourist attraction.
The Red Palace or Red Castle is Granada's crowned jewel and is more than simply an ancient castle but an ancient city boasting beautiful architecture and even more beautiful artwork.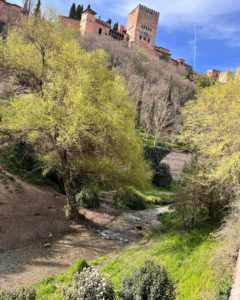 The entire palace is mesmerizing and magical for children with the right guide. Our kids loved exploring the moorish architecture, learning about the kings who lived there, and inventing treasure hunts through the grounds.
However, to make your Alhambra tour even better with kids, I highly recommend booking a guide that knows how to explain the importance and history of the Alhambra in kid terms.
Our family hired Miriam Tourist Guide for a kid-friendly guided tour of the Alhambra, and we are so glad we did. She made the entire day so much fun for our kids who accidentally learned a thing or two along the way. Our kids loved Miriam and her private tour. We whole-heartedly recommend her for any Granada tours with children.
RELATED POST: Miriam Tourist Guide Review: The best way to see the Alhambra with Kids
Don't leave Granada without touring the Alhambra –the world famous Unesco World Heritage Site that puts Granada on the map!
Granada Activities with Kids: #2 The Alhambra Grounds
Did you know that much of the grounds around the Alhambra are completely free to access and open to the public?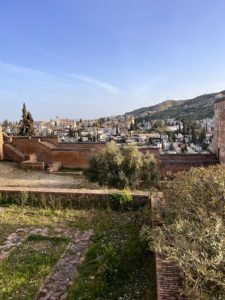 One of our very favorite activities to do with our children is to walk up to the top of the hill to the Alhambra and look out over the city.
You will find a variety of paths around Granada that all end at the same place –the Alhambra. Plus, you can enjoy the sites, the flora, and even the water features as you trek to the top.
Enjoy a cup of coffee or an ice cream bar from the cafes that sit atop the mountain and drink in the views of the Alhambra, of Granada, and even of the Alhambra cats running around the grounds all for free!
Granada Activities with Kids: #3 The Granada Cathedral
Believe it or not, the beautiful Granada Cathedral is a great place to take your children.
However, don't just walk into the building and hope that your children appreciate the Flemish paintings, the gothic architecture, or the historical significance.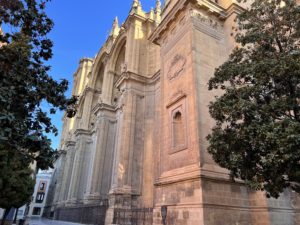 Instead, be sure to download the Granada Cathedral Audio Guide App for Children when you purchase your ticket for entry.
Buy official tickets here. Our children giggled along with the narrator, were excited to point out important artifacts, and even learned a thing or two about the Spanish reconquest.
The Granada Cathedral took about 1 hour for our children to walk through, but they really enjoyed the tour and playing in the plaza at the foot of the cathedral for much longer. 
When you exit, be sure to sit under the orange trees with a pastry, coffee, or a tapa and enjoy the view of the exterior too!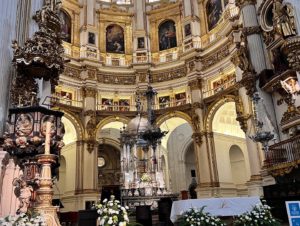 Granada Activities with Kids: #4 The Royal Chapel of Granada
Directly to the side of the Granada Cathedral is the Capilla Real (the Royal Chapel) where Ferdinand and Isabel are buried.
This resting place of the great Catholic Monarchs — King Ferdinand and Queen Isabella is fascinating even for children.
Again, this Royal Chapel is not a place that you would ordinarily associate with young children, but my kids really enjoyed this tour.
The Royal Chapel, like the Granada Cathedral, has an available audio guide for children available for download when you purchase your tickets.
Be sure to pack an extra device and headphones for your children to enjoy a bit of history, some macabre facts about the interment of King Ferdinand and Queen Isabel, and a bit about Gothic architecture and design.
Our children enjoyed an entire hour touring the Royal Chapel, and we can't recommend the children's audio guide app for the Royal Chapel enough.
Granada Activities with Kids: #5 Parque Garcia Lorca
Granada is a beautifully landscaped city. Fountains and flowers are around every corner.
However, the best park in Granada is Parque Garcia Lorca.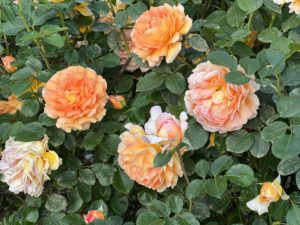 Not only is this a park and playground, but the park is full of beautiful gardens, rose laden paths, water fountains, and even a restaurant.
Parque Garcia Lorca is not just an easy place to let the kids run, play, and yell, but it is a true Granada destination and a definite must see for your Granada holiday with kids.
Located just outside of the city centre and convenient to the major neighborhoods of Granada, it is probably just a walk through narrow streets away!
We spent many hours playing in the park, running through the paths, and even just sitting in the gardens.
The park has multiple playgrounds including one with trampolines and a zipline and another that is a perfect spot for younger children to play.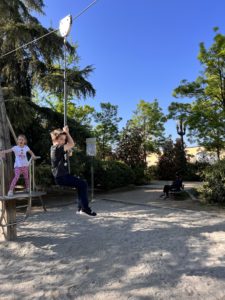 Avid poetry fans will also enjoy taking a selfie with the famous Lorca house, home of Frederico Garcia Lorca, Granada's most famous author.
Granada Activities with Kids: #6 Parque de Las Ciencias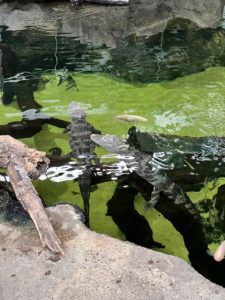 In addition to the beautiful outdoor and historical attractions in Granada, your whole family will enjoy a day at Granada's Science Park (Parque de las Ciencias).
This science museum is a great activity for any day but is especially convenient on a rare rainy day in Granada or a sweltering summer afternoon when you need a break from the heat.
RELATED POST: Indoor Activities for Kids in Granada, Spain
The Science Park has an entire building full of exhibits about animals, space, technology, physics, and anatomy. It even has a planetarium (we skipped this because the shows were only in Spanish).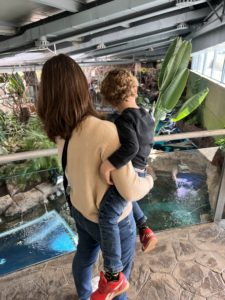 However, our favorite part of the Science Park was the biodome where our children experienced sea, land, and air.
From the underground aquarium to the birds flying overhead, our children experienced animals and habitats from around the world in a single open space.
Parque de las Ciencias and the biodome are great additions to your family holiday with kids in Granada, Spain.
Granada Activities with Kids: #7 Chocolate with Churros
No visit to Spain is complete without chocolate and churros! Our kids may not miss the architecture or the ancient cathedrals from Granada, but you better believe that they miss chocolate and churros for breakfast.
You will find churrerias around every corner in Granada, but after sampling several places while staying in Granada, our 3 fan favorites are:
Café Futbol
Cafe futbol is located near Fuente de las Batallas in Plaza Marina Pineda.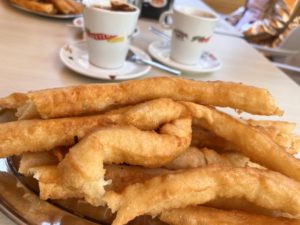 Cafeteria Alhambra located in Plaza Bib Rambla, and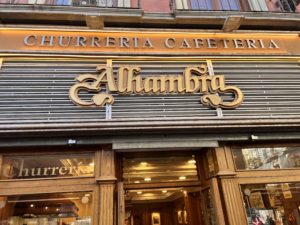 Gran Café Bib Rambla also located in Plaza Bib Rambla.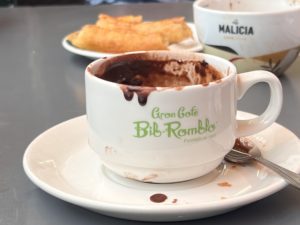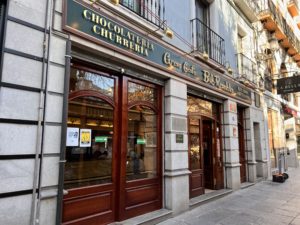 Although you will find many other churrerias (churros makers) throughout Granada that no doubt offer delicious chocolate with churros, these 3 locations are probably the most famous and classic locations for chocolate with churros and never disappoint!
Granada Activities with Kids: #8 Tapas
One of the most unique experiences in Granada, Spain is the tapas scene. Granada's tapas are unique in that the tapas are free.
Most tapas bars and restaurants in Granada serve a small plate of food with your drink order.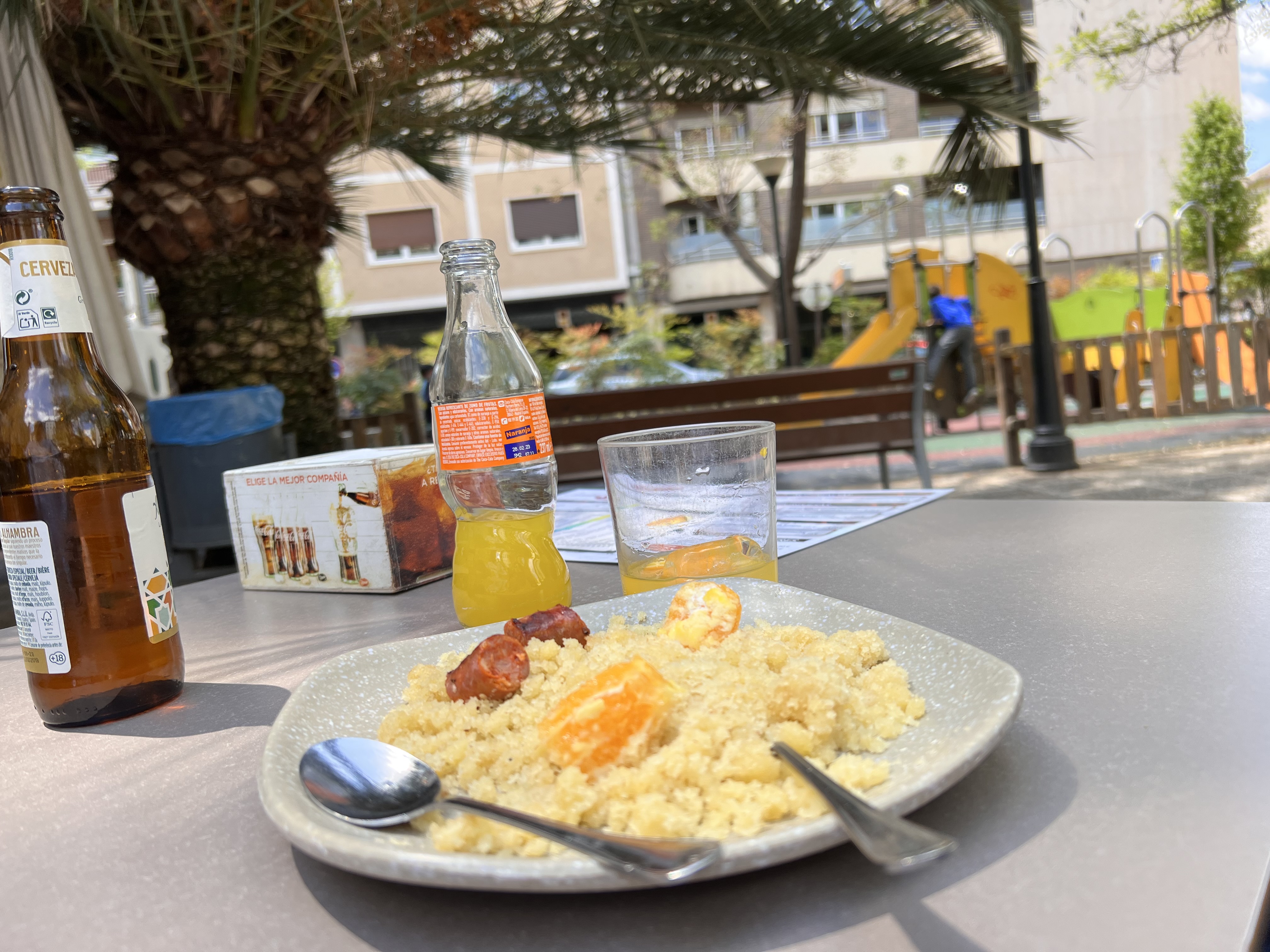 And, the kids aren't to be left out of the tapas scene. Our kids loved ordering Fanta naranja and receiving a croqueta, some chicken, or even French fries as their tapas.
RELATED POST: Kid-Friendly Foods in Granada, Spain!
Delicious tapas are a great experience with kids in Granada, Spain where children are welcome in bars, and even soft drinks are served with free tapas.
Granada Activities with Kids: #9 Flamenco
Southern Spain, including Granada, is famous for Flamenco. The intricate costumes and the unique cadence of the music enraptured my children.
Sadly, flamenco was something that my kids did not get to see enough of while we were in Granada, and we will make an effort to see more when we return.
Don't leave Granada, without a family-friendly cave Flamenco show! You can even book Flamenco lessons in the community center of the Albaicin neighborhood.
Be sure to book a cave show or even a class for your whole family while you are in Granada, Spain. Most of them are in the beautiful and historical Albaicin. You can also find loads of North African inspired tea rooms serving mint tea and baklavas. Another must-do with the family in Granada!
Granada Activities with Kids: #10 Mirador San Nicolas
Another free and fun experience for the entire family is Mirador de San Nicolas.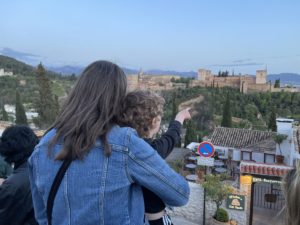 Mirador San Nicolas is a lookout located high in the Albaicin where you can enjoy unobstructed views of the mountains, the Alhambra, and the city of Granada all from one beautiful perch.
Keep hold of your wallet while you enjoy the view as the Mirador San Nicolas is notorious for pickpockets.
But, it is also notorious for buskers, street Flamenco shows, and some of the best tapas in Granada.
While the Mirador San Nicolas is a beautiful view any time of day, there is something extra special about visiting the Mirador at sunset and watching the sun sink behind the mountains while painting the sky over the Alhambra.
Our family loved taking snacks and hanging out at the Mirador San Nicolas as the entire plaza came to life with singers, performers, and tourists drinking in the beautiful views.
Granada Activities with Kids: #11 Playgrounds
If you and the kids need a break from touring and walking, you will be happy to find several public playgrounds all over the city.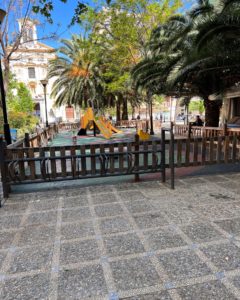 However, the best playgrounds, in my humble opinion, are the playgrounds that sit directly on, in, or next to plazas with tapas!
My husband and I frequent the cafes and restaurants that front playgrounds so that we can enjoy an afternoon cappuccino or tapa while also keeping an eye on our children.
RELATED POST: Plazas with Playgrounds: Playgrounds in Granada Spain next to Cafes and Restaurants
Granada Activities with Kids: #12 Shopping
Granada, Spain has some great shopping even beyond the tourist shops.
Of course our children loved the enormous candy stores, but they also loved spending time walking through the Alcaiceria where they could find Moorish themed art and souvenirs.
Granada also offers a number of indoor shopping centers where the kids can have a little more freedom.
First, Corte Ingles, the largest department store in Granada's City Center is located between the Fuente de las Battallas and the Fuente de Granada. However, Corte Ingles is its own landmark entirely. If you don't see it, any other person on the street will be able to point you to it!
Corte Ingles is a department store much like Macy's, Harrods, or Lord and Taylor.
It has everything from a clothing to cosmetics and from housewares to handbags.
Corte Ingles is conveniently located and an easy way to spend some time out of the rain even with the kiddos.
Centro Comercial Neptuno
If you are already familiar with Parque Garcia Lorca, you have likely already passed the Neptune Mall.
The Centro Comercial Neptuno is Granada's main shopping mall where you will find a variety of brands, stores, and even a food court.
For days when you are really looking to escape the rain or need a break from walking all day, you will even find a theater inside!
Finally, if you want to enjoy one of the largest malls in Spain's South, then check out Nevada Shopping. This is a great Granada, Spain indoor activity with kids.
A quick trip on the Granada metro where kids ride free, and you will arrive at Nevada Shopping.
Nevada Shopping is an easy place to spend several hours out of the rain with kids. It boasts not only store after store and an enormous food court but a KIDS ZONE!
In Nevada Kids your kids can enjoy a ballpit, toys, beanbag chairs and television, and more.
In fact, you can even pay for supervised care for your little kiddos while you enjoy the shopping mall on your own!
Granada Activities with Kids: #13 Hiking in Monachil
Ok…this one isn't strictly in Granada, but is located just outside the city in Monachil. A simple bus ride away, and you can be on some of the best family-friendly hiking trails near Granada.
The Sierra Nevada mountain range protects Granada and creates a beautiful and strategic barrier for the Alhambra.
After a hearty breakfast of chocolate and churros our family loved riding the bus over to Monachil, finding a trail, and spending the day in the mountains.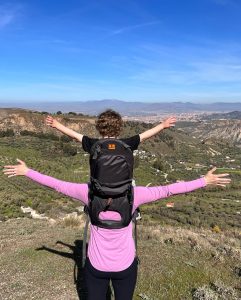 The trails run from a simple river path all the way to full-day mountain climbing. You can even stay at a ski resort in the nearby Sierra Nevada mountains.
You will find rock climbers, picnickers, and adventurers of every size enjoying the mountain air, the farm fresh produce, and even the panoramic views from the hanging rope bridges.
RELATED POST: Hiking with kids: Tips and Packing List
Monachil is a great way to spend time in Granada with kids!
Granada Activities with Kids: #14 Pastry Testing throughout the City!
I am from the United States where croissants, napolitanas, and puff pastries are quite rare. Granada, Spain, on the other hand, has a pastry shop on every corner!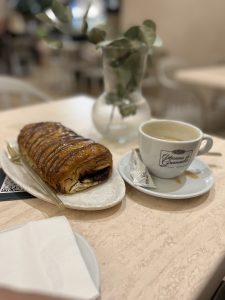 In 30 days, our family easily visited 30 different cafes or pastry shops and taste-tested everything from palmeras to piononos.
What better way to spend time with your kids in Granada, Spain than over a freshly baked pastry and coffee or hot chocolate talking about their experiences?
Our family spent many afternoons eating fresh bread or pastries doing our High, Low, Buffalo and learning about what our kids loved and didn't like about life in Spain!
Our favorite plazas for pastry testing include Plaza Nueva, Plaza de la Romanilla, Plaza Bib-Rambla, Plaza de Gracia, and Plaza de la Juventud.
RELATED POST: High, Low, Buffalo
Of course, don't leave without trying Paella and the myriad of other delicious food from authentic vendors.
Add pastry tasting to your Granada with kids to-do list for a great family fun experience!
Enjoy Kid-Friendly Fun in Granada Spain with Kids
Granada, Spain is a city that we have visited more than once and hope to visit many times in the future.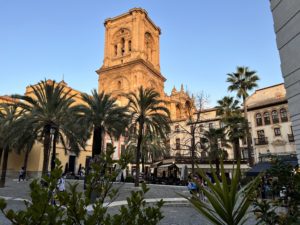 The city of Granada is truly enchanting for everyone, and it is a great place to visit with kids. The entire city is walkable, the scenery is gorgeous, and many attractions and activities are tailored to small children. The public transport is easy to navigate; it is an easy weekend getaway from Malaga, Sevilla, or Madrid, and a relaxed place to spend sunny days in Spain.
The Spanish culture is so welcoming to children and families alike making it a perfect place for family vacation or holiday.
If you are wondering what to do in Granada, Spain with kids, be sure to check out all of these activities, attractions, and experiences.
YOU MIGHT ALSO BE INTERESTED IN:
What to eat in Granada, Spain with kid:
RELATED POST: Granada with Kids: A Checklist
RELATED POST: What's So Special About Granada, Spain.