Typical Spanish Foods Your Kids will LOVE in Granada, Spain and where to find them!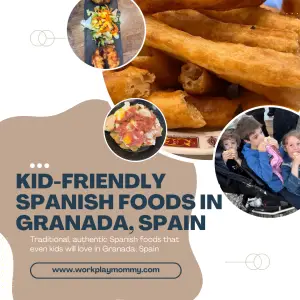 For the best foods in Granada, Spain that your kids will actually eat, check out this list. Plus, some tips on where to find them!
I love to try new and different foods as we travel the world. However, my kids don't share my same adventurous spirit for food! Therefore, when we travel I like to talk to my kids about what they can expect to eat and find some more realistic traditional fare that they will enjoy.
For adults, Spain may be known for wine and cheese, but don't forget about all the other foods Spain is known for that even your kids will love!
Spaniards love to proclaim the health (sano) and virtue of their Mediterranean diet. But, even my picky kids after several weeks were able to find some of their favorite traditional Spanish meals from among the many dishes we tried. Here are some of my kids' favorite Spanish foods in Granada!
Tortilla Española
If you live in a country that loves Tex-Mex, then the word "tortilla" conjures up a very different image for you. Tortilla española is a traditional Spanish dish eaten at all times of the day and is more like a potato pie or potato quiche than a Mexican tortilla.
Tortilla española can be eaten hot, cold, on a sandwich, as a snack, or as a meal. You can find it with or without onions and even doused in ketchup.
My kids were nervous at first but learned to love this fried potato dish that is one of Spain's most iconic foods that the kids will love!
You can find tortilla española in any restaurant, takeout stand, market, or grocery store! You can even find it at a gas station!
Croquetas
Croquettes (croquetas) are just as popular in Spain as chicken nuggets in the United States. Usually filled with potatoes and ham or ham and cheese croquetas are deep fried gooey kid-friendly goodness.
In Spain, you can purchase croquetas at the local grocery store, at nearly any restaurant that serves children, and even as a tapa!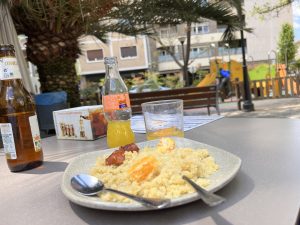 Migas
My personal favorite traditional Spanish dish is migas. Literally translated as breadcrumbs, migas is a dish born out of more impoverished Spanish history when not even yesterday's breadcrumbs went to waste.
Fried in olive oil, the breadcrumbs are often served with chorizo and fruit. While the dish is simple, it is easily one of my very favorite Spanish dishes and one that usually makes a huge mess in my kitchen.
So, I prefer to eat it out of some else's kitchen while sitting out in a sunny Spanish plaza! Find it almost anywhere, but I like eating at Plaza de Gracia where our children can play on the playground while we eat tapas!
RELATED POST: Plazas with Playgrounds in Granada, Spain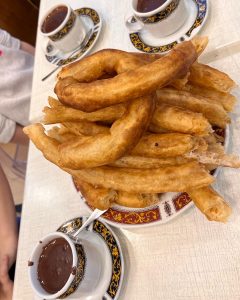 Chocolate with Churros
Don't leave Spain without eating chocolate with churros. Fried churros dipped in creamy, thick chocolate sauce is often marketed as a breakfast, but really it is just pure goodness!
Unlike Mexican churros, Spanish churros are not usually dipped in cinnamon sugar and are much lighter and airier. Multiple orders are often served in enormous heaps at the table creating a communal churro pile!
While you can find a churreria (chocolate and churros restaurant) in all corners of Spain, be sure to find a local recommendation or a highly reviewed restaurant for the best of the best.
For example, don't leave Madrid without trying San Gines Chocolateria for chocolate and churros, and don't skip Alhambra chocolate and churros in Granada, Spain.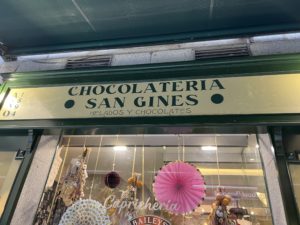 RELATED POST: What to do in Madrid, Spain with Kids
Our top three chocolate and churro favorites in Granada include: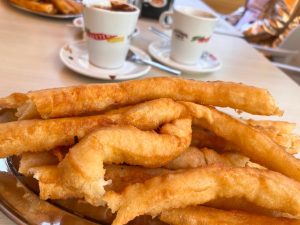 Café Futbol
Cafe futbol is located near Fuente de las Batallas in Plaza Marina Pineda.
Cafeteria Alhambra located in Plaza Bib Rambla
Cafeteria Alhambra is our favorite place for chocolate and churros in Granada Spain and a great place to take kids on a rainy day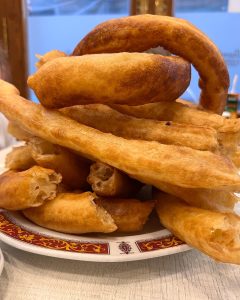 Gran Café Bib Rambla also located in Plaza Bib Rambla.
Gran Cafe Bib Rambla is an excellent choice for chocolate and churros and great for a rainy day with kids
RELATED POST: What to do with kids on a rainy day in Granada, Spain.
Although you will find many other churrerias (churro makers) throughout Granada that no doubt offer delicious chocolate with churros, these 3 locations are probably the most famous and classic locations for chocolate with churros and never disappoint!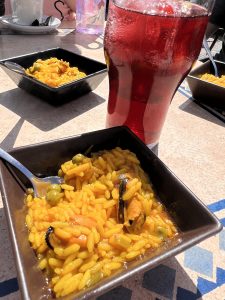 TAPAS!
Tapas, Yes, tapas are also for kids, and Granada, Spain is FAMOUS for them!
While tapas are celebrated the world over, they were made iconic in Spain where their history is dubious!
Some say that tapas are borne from strong Spanish desert winds where barkeeps would place a small plate of food over a beer or wine to keep the dust and bugs from getting into the drink.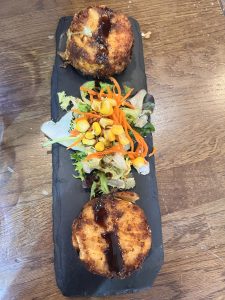 Others maintain that they were created to help keep people from getting drunk while enjoying their alcohol.
While others still say that the origin is unknown and tapas are a way to simply enjoy a long slow drink with friends.
In any event, a tapa is a small plate of food served with a drink. Granada, Spain, however, takes tapas to the next level by making them "free".
At nearly any Granada bar de tapas (tapas bar), you will be served a small plate of food with your beverage.
Many tapas in Granada, Spain are kid-friendly foods!
Tapas are not solely served with alcoholic beverages but with soda as well. My kiddos love ordering a Fanta Naranja or Fanta Limon and enjoying whatever small plate is featured that evening!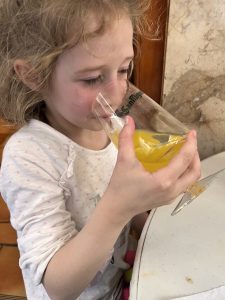 Don't be shocked if they still drink it from a beer glass! Bars are pretty family-friendly in Granada!
Some of my kids' favorite tapas were French fries, croquetas, jamon (serrano ham), or simple pork slices (they were less excited about the adult tapas!).
Plus, as you order more and more drinks and try different locations, you will find that the tapas evolve, change, or adapt to different themes!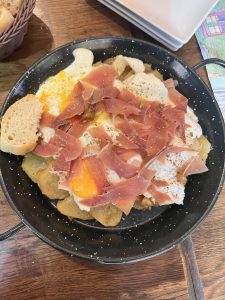 If you want to experience the true tapas scene in Granada as well as have a family-friendly tapas tour, check out Miriam Tourist Guide and her Tapas tour here!
Miriam Tourist Guide: Granada, Spain Tapas Tour with KIDS!
Gelato
I know; I know. Gelato is Italian. But, seriously, Granada, Spain is famous for its Italian gelato. For the most part, that's because gelato in Granada, Spain is made by Italians!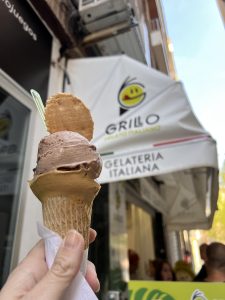 The long-standing Granada favorite is Los Italianos; however, watch out, Los Italianos, El Grillo is quickly taking over!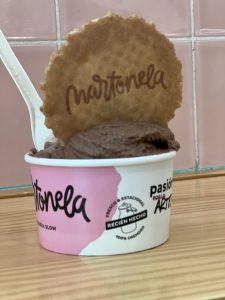 Our family loved trying different gelatos all over Granada, but our hands-down favorites were Los Italianos and El Grillo where you will find a line around the block on any given day!
Kid-friendly Granada, Spain breakfast food: TOSTADA
Toast with tomato (Tostada con tomate), a toasted baguette topped with a tomato paste is a very traditional Spanish breakfast. Or, take your breakfast to the next level and order your tostada (toast) with jamon (ham), queso (cheese), and tomate (tomato sauce mix).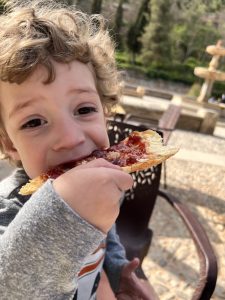 My kids also love their tostadas with butter and jelly!
We spent many mornings with a cappuccino and a tostada sitting in the sun under the Alhambra!
Jamon (ham) and Manchego Cheese
The peanut butter and jelly of Spain: Jamon and Manchego! You can't go wrong with eating the traditional jamon serrano (serrano ham) or the more decadent jamon iberico (Iberian ham) straight from the plate with some freshly sliced Manchego cheese.
However, you can also find this combo mixed into everything from tortilla Española to bocadillos (sandwiches). Sometimes served as a tapa, other times served as a meal, jamon serrano, Manchego cheese, and olives are the OG charcuterie board of Spain!
Find several different cuts of jamon in Granada at a local tapas bar or visit el Mercado San Agustin near the Granada Cathedral where you can try fresh meats, cheeses, and local delicacies prepared and served fresh to you and your family!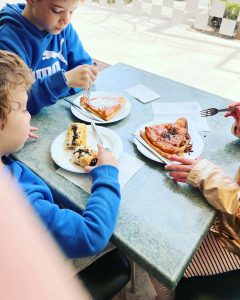 Spanish Pastries and Granada Treats
Don't leave Spain without letting your children practically eat their weight in Spanish pastries. Many of these Spanish pastries are sold nearly literally at a dime a dozen, and they are found around every corner.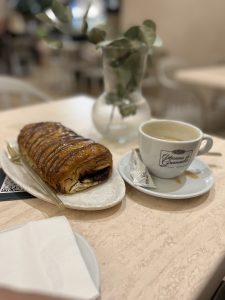 Some of our favorites include Panaderia Teresa near Plaza Bib Rambla, Artesanos de Granada (a chain located in multiple locations around Granada), Ysla (another local chain), and Café Internacional. However, you can't go wrong trying all the pastry shops around the city.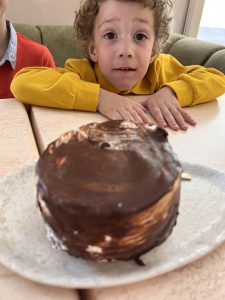 Some of my kids' favorite pastries in Granada include:
Chocolate croissants (pan chocolate)
Mallorquinas
Palmeras
Roscos (a crunchy donut served nearer to Easter)
and
Empanadas (not Spanish, but very popular in Granada!)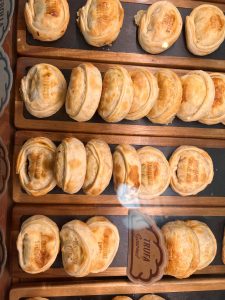 Kid-friendly bocadillos (sandwiches) in Granada, Spain
Don't be shocked to see small children running around Granada with enormous sandwiches. Traditional sandwiches in Spain are not made with simple white bread slices, but are instead served on thick, fresh baguettes from the corner bakery!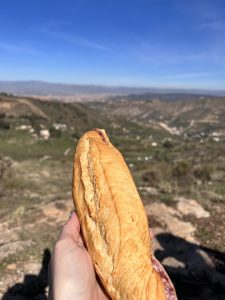 Topped with olive oil, cheese, and meat, you can make your own, or you can purchase them at any deli around Granada.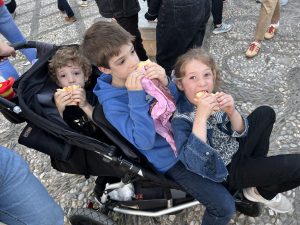 My kids love packing these enormous sandwiches into our daypack for a trip to the Alpujarras or an afternoon at the park!
Baklava
Baklava, like gelato, is not a traditional Spanish food, but it is an authentic experience in Granada.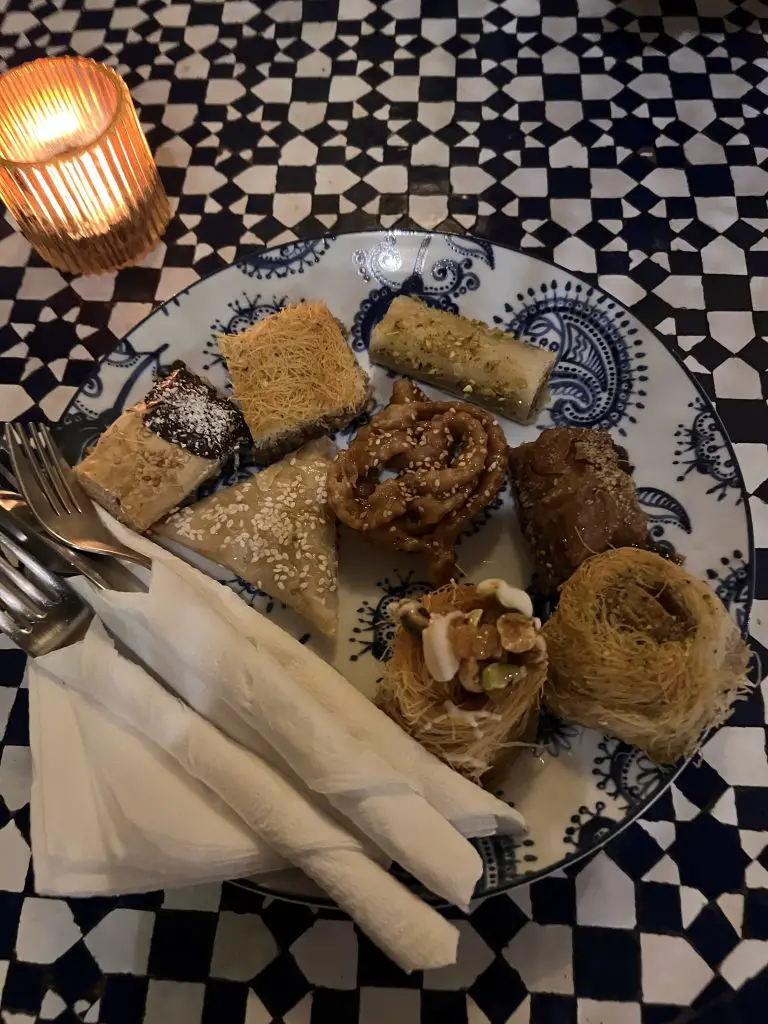 Granada, despite its restoration to the Spanish monarchy after 1492, is still the seat of North African influence in Spain.
Therefore, you can't spend much time in Granada without noticing the effects of North African culture in the architecture (the Alhambra), the neighborhoods (the Albaicin), and the food!
RELATED POST: 2 day itinerary for Granada, Spain
Stop at a teteria (tea shop) in the Alcaiceria for a traditional plate of assorted baklava that are sure to delight your children!
FRESH SPANISH FRUIT: The ultimate kid-friendly Spanish food!
Fresh fruit! Sunny Spain is the source of some of the world's most delectable fruits. We couldn't leave our front door without the neighboring fruit vendor offering us a fresh fig, orange, or other fruit.
If you need to balance your children's sugar intake from soft drinks and pastries in Granada, opt for some of Spain's choicest fruit selections from the many street vendors. Some of our favorite street vendors were located in Plaza de la Juventud!
Spanish food for kids in Granada, Spain
If you want to experience food like a local with your kids, check out this list of traditional Spanish foods.
While your children may not appreciate all Spanish foods, get them excited about their visit to Spain by trying some new and authentic dishes.
Plus, if you want to experience the best of Granada's tapas scene as a family, then book your tapas tour with Miriam here!
YOU MIGHT ALSO BE INTERESTED IN: