Top 10 Best Things to do in Knoxville, Tennessee with Kids! Plus tips for an even better visit!
Tennessee is near and dear to my heart both because our family used to live there and because we still love to visit! Knoxville is a great vacation destination with kids with nearby Gatlinburg, easy access to the interstate, and loads of family-friendly activities in the city. Here are our top 10 favorite Knoxville activities with kids!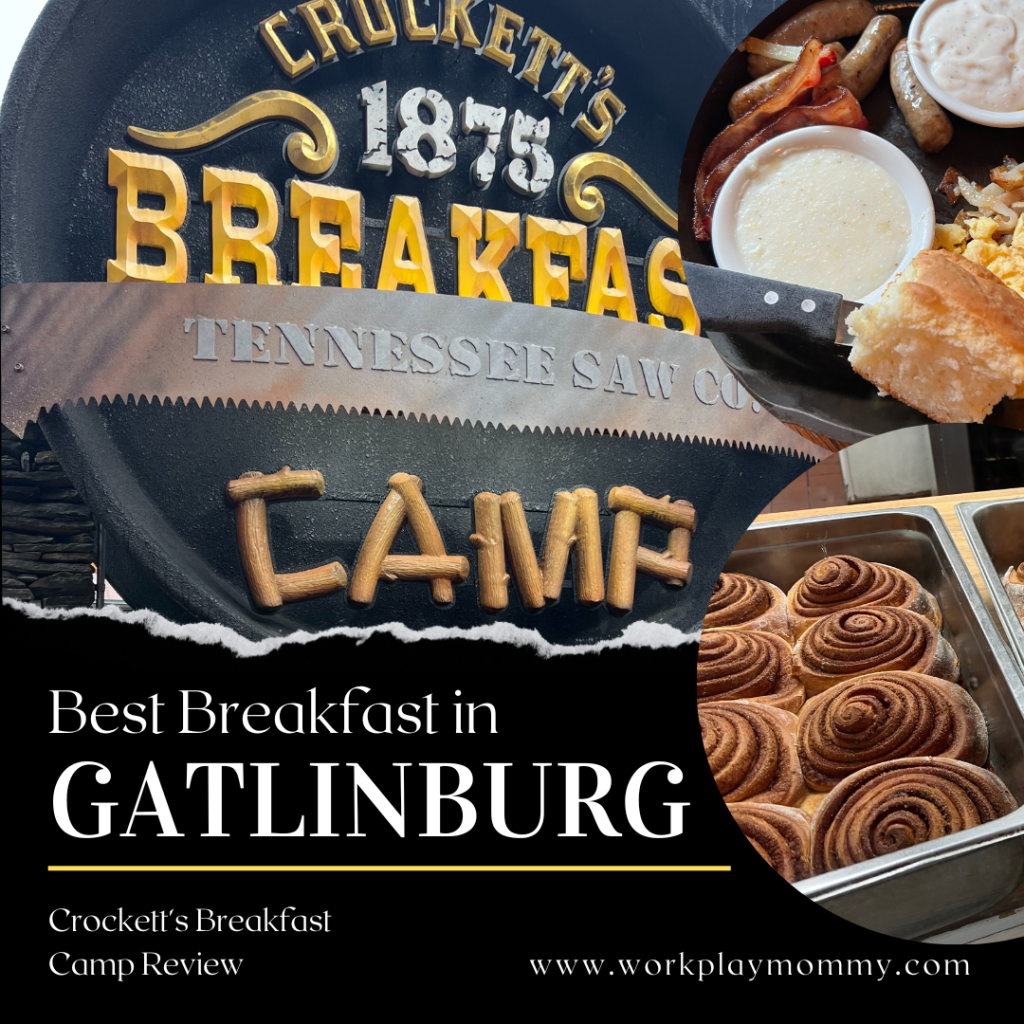 #1 Knoxville activity with kids!: Market Square
Market Square! You can't spend much time in Knoxville and not spend time at Market Square! Market Square is the beating heart of downtown Knoxville and has everything from food, fun, entertainment, water, nature, and markets!
Things to do at Market Square:
Saturday Farmer's Market: Bring your kids, dog, or both to this family-friendly market featuring locally made artisan goods and food! I love to eat my way around Market Square on a Saturday morning with my kids!
Splash Pad: On a hot day in Knoxville, the splash pad at Market Square is full of children whose parents have tried their best to keep them looking dry and neat! Within a few minutes all those children are completely soaked and having a blast running through the spouts and sprinklers at Market Square!
People Watching: This is the best place (IMO) in Knoxville to people watch! As a natural congregating spot, Market Square features all kinds from students, to families, to down-on-their-luck performers!
Music: Market Square is crowned by an outdoor stage where anyone from local schools to headliner performers might be singing, dancing, or pickin! Always sing and dance along to Rocky Top!
Restaurants: Of course, you can also find loads of restaurants skirting Market Square, many of which even have outdoor seating on the square. My top picks for a great family meal are Café 4 (and their Monday specials) and Tupelo Honey. But SoccerTaco is another local casual pick!
#2 Knoxville activity with kids!: Ijams Nature Center
Another family favorite for us is Ijams Nature Center.
Located near Island Home Park, Ijams Nature Park is a free family activity with interactive nature exhibits, a walking trail, and even a riverfront boardwalk.
Ijams is also a great place to go kayaking, boating, and even swimming in the right weather and when allowed!
My son loved looking at the bugs in the nature center, and our dog loved running the pet-friendly trails along the river!
For the more adventurous, try the new Navitat, the treetrop zipline adventure at Ijams!
Of course, Ijams Nature Center is free for the whole family, but consider leaving a donation or supporting the nature center through a purchase at the gift shop!
You can easily spend just an hour on the mail trail or the entire day at Ijams. Just be sure to take your own food if you plan to spend the day out on the water.
#3 Knoxville activity with kids!: Zoo Knoxville
Our kids love to travel to new and different places, but we also love to check out the local zoos. Knoxville's zoo is a great, family-friendly place to spend the day. The zoo is very walkable, toddler-friendly, and has some unique exhibits.
My favorite is the red panda exhibit, which is actually the red panda capital of the world! More red pandas are born at Zoo Knoxville than at any other zoo in the entire world! They are SO CUTE!
You can also get up close and personal to elephants and giraffes!
Plus, starting in 2023, Zoo Knoxville is adding DINOSAURS!
#4 Knoxville activity with kids!: Rooftop Pool!
Knoxville's Downtown Embassy Suites is one of our favorite places to stay because it has a rooftop infinity pool with sweeping views of the city and mountains!
Known for its rooftop bar, the Embassy Suites in downtown Knoxville has a great experience for the entire family! With panoramic views of the entire city and views of the Smokey Mountains, the Embassy Suites' rooftop pool is a great hidden gem that the whole family will love!
Our kids loved the incredible location, and the parents loved lounging with great views.
Know, however, that the downtown Embassy Suites in Knoxville does draw a crowd in the evenings waiting for the lift to adjacent rooftop bar.
#5 Knoxville activity with kids!: Calhouns on the River
If you are looking for casual southern cooking in a family-friendly atmosphere that also offers great views of the Tennessee River, then I recommend Calhouns on the River.
Sure, Knoxville offers lots of fine dining, but if you are traveling with kids, you might be looking for something with atmosphere and also family-friendly.
Conveniently located right downtown and along the riverwalk greenway, Calhouns is a regular stop for me when I bring friends or family to Knoxville.
The restaurant is calm, casual, and comfortable. But the real draw are the floor to ceiling windows in the dining room offering unobstructed views of the beautiful Tennessee River.
If you can, request a table by the windows so you can watch the boats, kayaks, and water pass by as you enjoy a slow southern meal. Your kids can nibble on cornbread and watch the boats as they wait for their meal, leaving you in peace!
#6 Knoxville activity with kids!: World's Fair Park
Knoxville is extremely proud of hosting the 1982 World's Fair. World's Fair Park is capped with the Sunsphere, it's World's Fair icon celebrating Tennessee's role in energy and science.
Now, the park is a gathering place for picnics, play, concerts, festivals and more.
Even if you don't attend one of Knoxville's many events out on the World's Fair Park festival lawn, take a family walk down to the Volunteer landing and sit along the water under the amphitheater.
You won't miss World's Fair Park as it is the most iconic view in Knoxville. You will be able to see the Sunsphere from almost every interstate that runs through or around Knoxville.
For our family, the view of the sunsphere meant we were almost home!
Another park in Knoxville where you can find great trails along the water and is great for the whole family is Lakeshore park. Plus, most of Knoxville is connected by a long and well-maintained greenway that can get you from downtown Knoxville, through the University of Tennessee, and into Bearden. Take a long walk, run, or bike through this beautiful greenway.
#7 Knoxville activity with kids!: The MUSE Children's Museum
In 2011 The MUSE was born from small starts. However, over the last 10+ years, The MUSE has quickly become one of the top spots for children in Knoxville.
Every exhibit at this local children's museum is a chance for your children to learn through hands-on and interactive games, art, and play.
From music to math, The Muse is a great place for the family in Knoxville especially on one of those terribly hot or rainy Knoxville days!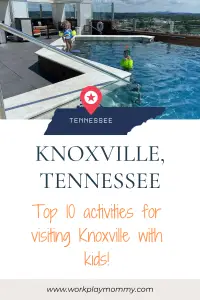 #8 Knoxville activity with kids!: Turkey Creek
Located on Knoxville's West side, Turkey Creek has all of the shopping, dining, and boutiques that you would ever want.
Turkey Creek has loads of shopping from Target to Altar'd State, fine and casual dining, treats for the whole family, and a movie theater.
Our family loves to grab pizza, ice cream, and a movie at Turkey Creek after a walk around the shops! If you are looking for a local Costco to feed your family on vacation, you will also find that at Turkey Creek!
#9 Knoxville activity with kids!: Ice Cream at Cruze Farm
Tennessee is not known for its dairy production, but Knoxville is lucky enough to have Cruze Farm Dairy!
If you are visiting downtown Knoxville's main street (Gay Street) with kids, you will no-doubt spot the long lines spilling from Cruze Farm Ice Cream shop at all hours.
After perusing the downtown shops or after a dinner on Market Square, don't miss Cruze Farm's ice cream special of the day, sundaes, or even an ice cold bottle of fresh local milk!
Other downtown Knoxville spots that are great for food or treats are the French Market Creperie and Coffee and Chocolate both located near Market Square all within walking distance of Gay Street.  However, if you venture into Old City, you should try the incredible cakes and cupcakes at Magpies bakery where you can try their flavors of the week!
#10 Knoxville activity with kids!: Family Indoor Sports
Indoor family sports in Knoxville: Ice Skating, Trampoline Park, or Laser Tag
Knoxville has tons of outdoor fun on its many nature trails, parks, and along the river. However, it also has lots of indoor fun. Some of our favorites include:
Laser Tag at Main Event. Have fun with the whole family or even a group of adults with laser tag in the heart of Knoxville!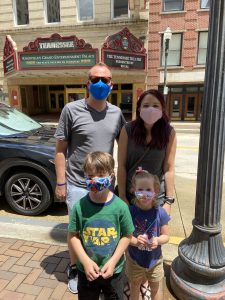 Knoxville, Tennessee with Kids
I can't say enough good things about visiting Knoxville, Tennessee with kids. Knoxville encapsulates friendly southern charm, plus it has tons of great food and fun for the whole family.
If you are visiting Knoxville with kids or your whole family, these 10 favorite family activities are my favorites.
However, you will find lots more fun all over Knoxville if you are willing to get outside, walk the trails, and explore the city.
You might stumble across boat tailgating at Neyland Stadium, the research gardens of the University of Tennessee, or even find a historic asylum offering scary tours!
Knoxville, Tennessee is loads of fun for the whole family and has tons of kid-friendly activities.
Enjoy!
YOU MIGHT ALSO BE INTERESTED IN: