Find Your Free Kids Travel Journal Here!
A kids travel journal is a great way to help your children engage in travel, remember what they see, and even challenge their writing and reflection skills. Get your free kids travel journal here!
This site and this page contain affiliate links. As an Amazon Associate I earn from qualifying purchases. If you make a purchase through one of my links, I may be eligible to receive a commission at no additional charge to you.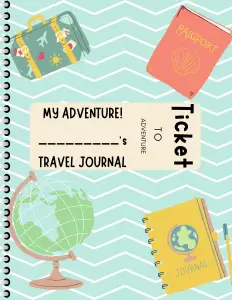 For three months, we traveled with our children throughout Europe. We did so many cool things, had so many adventures, and experienced art, culture, and history.
However, our children now forget many of the details. Oh sure; they remember that it was fun, that they visited the Eiffel Tower, Buckingham Palace, and the Alhambra. But, they don't remember the names of the friends they made on the playground, what they ate, or how they felt each day.
RELATED POST: What to do in Granada, Spain with kids!
Our children take lots of family road trips, and sometimes their little memories blend them together. Just a year later, my children can't keep London separate in their minds from Orlando!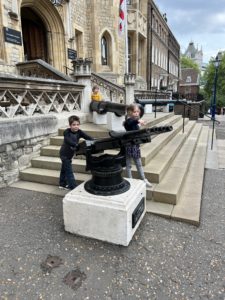 So, I decided that my children are going to start keeping a travel journal. I set off in search of a kids travel journal and found that many of them were expensive, too difficult for my children, or wasted too much space.
Printed journals are great, but we travel regularly for different periods of time. I don't want to spend $10.99 each time we take a family vacation.
FREE KIDS Printable or Downloadable Travel Journal!
After a search, I decided that I needed to just make my own! Now, I want to offer it to you for free!
Download the kids travel journal for free and help your children remember, record, and reflect on your family travels.
What the Kids Travel Journal offers your children
In this free kids travel journal, your children will record the facts and unique attributes of your particular day such as where they are, the weather, and what modes of transportation they took.
Understanding that children need to reach several different parts of their brain, this journal engages your children's intellect, social/emotional intelligence, creativity, and even their concrete skills.
Extra Activities and Fun in the Free Kids Travel Journal
The journal includes a map of the entire world so that your child can mark their location(s) and track their travels. This is an excellent way for your children to understand how their trip is relative to the rest of the world!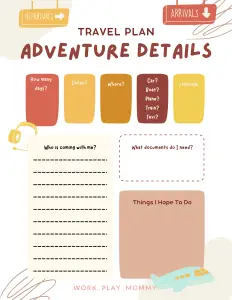 This journal can be used to get ready for the trip as it includes a packing list, a page for including important addresses for sending postcards, and a planning page.
It also includes additional writing and drawing activities like tracking states, countries, and passport stamps. And, it also leaves blank space for your child's imagination to work.
Daily Journal Activities
Each day, the journal asks your child to practice:
Creativity: By making a drawing or including a picture
Reflection: By describing what they did or experienced
Emotional intelligence: By asking your child how they felt about a particular experience
Language and writing skills: By reading, writing, and following instructions
Self-critique skills: By asking them a guided set of questions to double-check their work, spelling, and punctuation.
This way, they can record new experiences and develop their description and reflection skills.
What ages is the Free Kids Travel Journal for?
This Kids Travel Journal is designed for pre-readers and early elementary school children alike. It is appropriate for children ages 4-10 and maybe older.
Prompts can be answered with just a simple picture, a single word, or several sentences.
If the writing sections are too difficult for your pre-readers, print only the creative pages. Or, if you are traveling for longer than the 7-day format included, print extra pages to extend your journal. Easy!
How to receive your Free Kids Travel Journal?
Best of all, this kids travel journal is completely free. Simply add your email address to the form below, and you will receive the journal automatically in your inbox. Receiving a digital copy is one of the best features of this kids travel journal.
You can save the downloadable PDF as a digital copy and edit it on your laptop, tablet, or other device. Or, you can print and bind your free kids travel journal as a keepsake for your children!
It is set up for a 7 day trip, but could easily be copied over and over for longer trips. Or, save it to a digital device to save paper and space during your travels.
Looking for something a little different?
Printed and best-selling kids travel journals
I understand, this Free Kids Travel Journal isn't for everyone. If you are looking for a print resource consider these:
Here I Go: A kids' travel journal written and created by Katie Clemons — a fellow mom and international traveler who understands what it is like to travel with little ones! This journal features her award-winning prompts as well as extra activities for little ones!
The Ultimate Travel Journal for Kids: Awesome Activities for Your Adventure: This travel journal features enough prompts for 4 separate trips. However, the real draw of this travel journal is the fact that it is chock full of activities for your littles to keep them entertained while you travel!
Lonely Planet Kids My Travel Journal: Or, if you are looking for something for your older traveling children, try Lonely Planet's top kids travel diary. This journal includes prompts and games but also self-guided activities for your older children.
Looking for a digital kids travel journal?
You can easily download the Free Kids Travel Journal onto your device, tablet or laptop and complete the projects and writing prompts without ever printing a thing.
However, if you are looking for an interactive digital journal app try some of these. (Of course, apps should be used with parental supervision!)
Journi Blog: a travel tracker app with daily diary entries, interactive maps, and photo storage.
Journo: Travel Journal and Trip Tracker: A travel journal app that allows you to blog, print, or share your experiences with others.
Hoptale: A digital travel journal app that allows you to connect photos to specific locations, trips, memories, or journal entries. This app even has suggested itineraries!
Remembering those amazing memories with your kids!
If you want to help your children really engage in your travels, practice their reading and writing skills, and also remember what you are doing, try journaling!
Try this free printable or digital downloadable journal for travel with kids and get ready for your next family trip!
YOU MIGHT ALSO BE INTERESTED IN: