How to see the best of London and save loads of money while doing it!
London is one of the most visited cities in the world. It is a bustling metropolis with something for everyone and every age! However, London can be EXPENSIVE if you don't have a plan. I want to share our favorite London budget-saving tips here!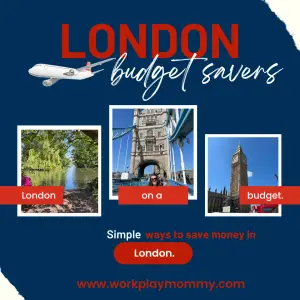 Our family had the pleasure of spending an entire month in London with our three small children. We saw all the major sites, spent days on end exploring, and ended up loving our entire experience. However, we are also a family on a budget and found some simple ways to save MAJOR money in London.
If you are looking for FREE things to do in London, check this post out!
Save Money with the London Pass
The first way that our family saved some major money was by purchasing the London Pass. The London Pass gives you and your family access to hundreds of the most famous and most-visited sites in London and Windsor Castle. You can purchase a London Pass here –a great way to save lots of money in London.
The London Pass is a discount app (pass) collaboration among many of the most famous central London sites. Most of the top London tourist attractions are London Pass members, and some even have a dedicated entrance or check-in line for London Pass users.
Be sure to read the terms and conditions, because you will have to have reservations for some of the sites that fill up fast. Also, some sites that you definitely want to visit -The London Eye and Buckingham Palace are not on the London Pass.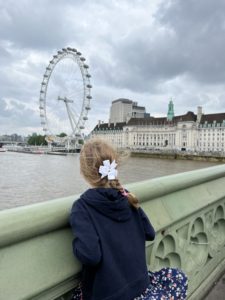 Your London Pass gives you access to hundreds of sites for a set number of days. However, within those days you can visit as many or as few sites as you want. For example, you could visit Kensington Palace, the Albert Museum, Royal Albert Hall, and Westminster all in the same day!
Benefits of the London Pass
Our family purchased a 10 day pass and made a strategic battle plan for maximizing it.
In the end, our family saved almost $250.00 by purchasing the London Pass and saw everything from Kensington Palace and Westminster Abbey to the London Zoo and London Tower. Many of the sites on the London Pass are among the most expensive sites in the area but only take an hour or two to experience. Therefore, we could see one, two, or three sites each day.
We even had some unique experiences that we wouldn't have done without the London Pass like ice skating at the Queen's Skate and Bowl or having a guided tour of some of the most famous London sites.
To read my full 10 day London Pass Review, check this out.
Many sites in London cost upwards of L30.00 to access and tour. So, in just a matter of days, you could easily spend several hundred pounds just hitting the main spots.
However, with a plan between 1 and 10 days, your London Pass could bring you significant savings tailored to your trip.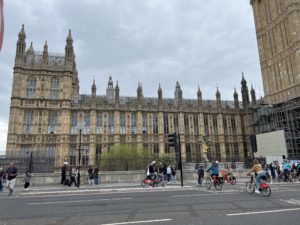 The more days you purchase, the better the deal. And, if you build in a couple of extra days, you have room for things to go wrong–a definite need when you are traveling with kids!
Note: While I believe that the London Pass can be a good value for the price, if you do not have a plan, the London Pass could cost you more than the regular admission. Make sure that the places you want to go are on the list, are not already free, and are feasible to visit in your desired time.
Skip the Taxi; Buy an Oyster Card and Save Money on Transportation
Before we traveled to London we were afraid of using the Tube especially with small children. Therefore, the first couple of days we were in the city, we relied on taxis. Big mistake.
Yes, London taxis are super convenient, easy to access with children (your stroller rolls right inside), quick, and more efficient than some underground or bus travel, but they are EXPENSIVE. And sometimes even a taxi takes longer than the Tube during peak times.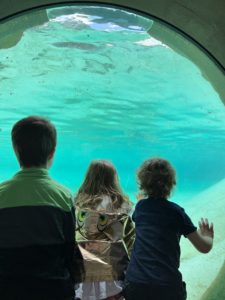 After a few taxi trips, we knew that it was time to figure out the underground and buy Oyster cards.
We should not have been nearly as nervous. The London underground train system is simple to use and very affordable. For the price of one taxi ride, we paid for an entire month of Oyster card use on the London Tube and bus service for our entire family.
Plus, the London Tube and bus system have their own dedicated easy-to-use apps. Simply let the app detect your location, add your destination, and the app will recommend whether you should use the metro, the bus, or walk.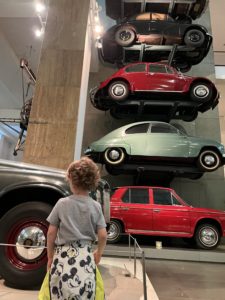 The app calculates the time it will take, the cost of the trip, and tells you when and where to transfer if necessary.
Save time and money by purchasing an Oyster Card before you arrive.
You can even buy an Oyster card in advance of your trip to London by ordering it online here. Or, like us, enter any Tube terminal and purchase an Oyster card from the self-service kiosk after downloading "TUBE Map – London Underground" on your phone!
And as further budget savings, your kids (under 10) ride free! Just ask the staff to open the wide luggage or wheelchair access to let you and your children or stroller through!
Traveling by public transit is the cheapest way to travel through London with children. (Bike shares do not allow children to rent)
Skip the taxi; buy an Oyster card, and save tons of money in London.
Free Museums to Save You ALL the Money in London
Don't leave London without visiting some of the most famous and most impressive museums in the world. Most of them are FREE attractions.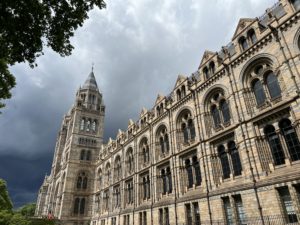 Visit the
London Natural History Museum
London Science Museum
The British Museum,
The National Gallery
Tate Modern
And more –some of the best places for families in the United Kingdom.
You might be tempted to believe that you can't afford to visit each of these museums. Or, you might be tempted to waste one of your London Pass Days on these awesome museums.
However, each of these museums is free to the public! One of the best ways to see London and to really have a delightful day is to visit the free museums.
See some of the most famous sites in London completely free including some of the most famous museums with your children.
Your whole family will have a great time exploring the history of dinosaurs, participating in free STEM activities, or viewing world-famous art.
World-Famous London Parks
There is no entrance fee, no special pass, no need for reservations, and no timed entry required for London's other crown jewels – the parks!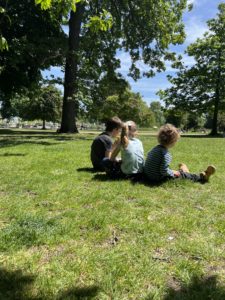 Don't leave London without taking a long walk through Hyde Park (FREE!), taking pictures with the peacock in Kyoto Gardens in Holland Park, smelling the flowers in St. James' Park, or snacking at the café in Battersea Park.
London parks are great deals for families because they are free, entertaining, and leave the kids tired! If you want to also spend time on the playgrounds, it is a good idea to go early because many of them are secured and limit entry.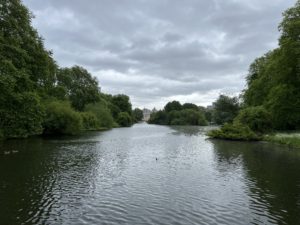 Spending long hours in London's parks is one of the best things that we did during our entire trip. We watched football games, walked among the swans, and even snacked on donuts in the Serpentine café.
You can even find some of the most iconic landmarks in the London parks like the views of Buckingham Palace from St. James Park or Peter Pan in Hyde Park (featured in Hook).
Book a Vacation Home to Save Money on Lodging, Food, and Other Costs
Lodging is tough. It's your first or maybe your only time to visit London. You have no idea where to stay, and you may be tempted to stay in some of the most famous and expensive hotel rooms in London.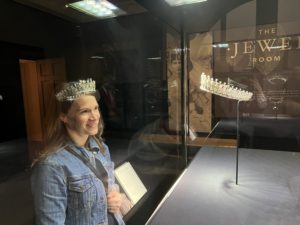 If you're budget travelers, then the cost of accommodations could really deter you from staying in the center.
However, the city is sprawling, there are tons of areas that are great for families, and each of them has tons of reputable rentals for you and your family.
One of our top tips for saving money is booking a vacation rental through Airbnb or an apartment. Our family booked a flat for an entire month. We had the pleasure of staying in Kensington, one block from Hyde Park, within walking distance to lots of the best sites all at a fraction of the cost of a hotel.
Our family could walk to the Notting Hill market on Saturday mornings and back to Hyde park for ice cream in the afternoon!
Food and Sanity Savings by Booking a Vacation Rental
As additional money savers, our family had the use of multiple bedrooms instead of being squished in a hotel room, and we had a full kitchen and laundry.
This saved us tons of money on food, and saved my sanity on packing! Instead of eating out for every meal, we made our tight budget stretch by visiting the many grocery stores and eating like a local!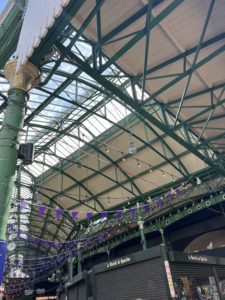 Choosing to stay in a rental for a few days or even an entire month can save you hundreds and even thousands of dollars especially if you are traveling with a large family. Explore the rental options in London before believing that you need to stay at a hotel, and you might be able to really save your budget leaving lots more money for afternoon tea at the Goring or the Ritz.
Budget-friendly shows
Don't leave London without experience world-famous theater! But those tickets can break the bank!
London has lots of options for theaters and shows. You can find discount tickets through several online retailers, choose a matinee or book a last minute deal on many West End shows.
OR
Shakespeare's Globe
If you really want to see a show at a majorly discounted price, buy tickets for Shakespeare's Globe. This thatched roof theater dedicated to the works of Shakespeare and the many stories inspired by Shakespeare is a people's theater. This means that everyone can afford a show at Shakespeare's Globe theater.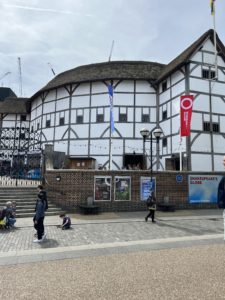 Some tickets at the Globe start at only five pounds and give you the unique experience of standing on the floor just like the Bard himself intended.
Save Money on Food
London has tons of Michelin starred restaurants and all the scones you care to eat. London is one of the most expensive cities to eat at restaurants.
Surprisingly, when you go to London, you will be hard-pressed to eat much English food! Save that for a trip to the countryside! Instead, spend your time in London sampling ethnic delicacies from around the world, special mash-ups, and inventive foods!
Instead of spending your time at London restaurants, find the markets!
If you are not making your own food at your London flat, you can find the widest variety of foods with worldwide popularity, without spending near as much money at markets.
Some of our favorite markets were the famous Borough Market –a must-stop for any London visit expecially if you are Harry Potter fans– and the Southbank Centre market.
From sausage rolls and fresh pressed watermelon juice to rainbow bagels and Humble Crumble (my favorite), our family ate and ate while never sampling everything!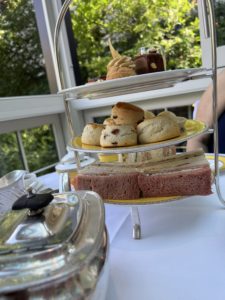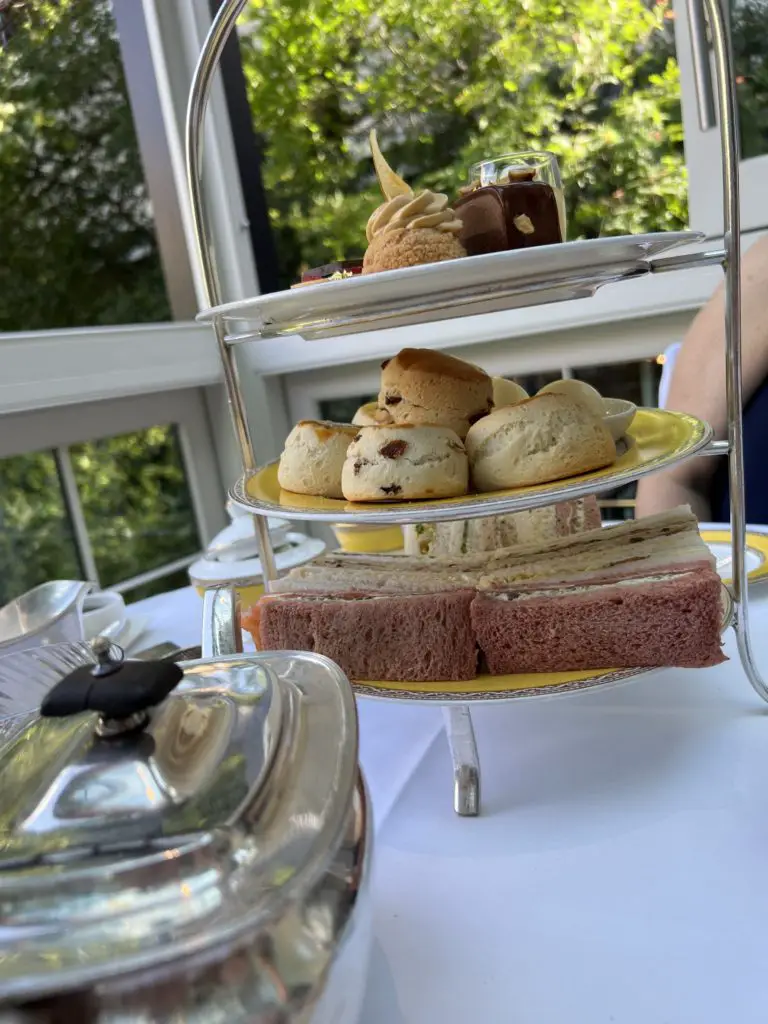 By all means, make the reservation, enjoy the luxury tea, but save money on your London trip by skipping a few dinner reservations and replacing them with your own cooked meal or a day at the market!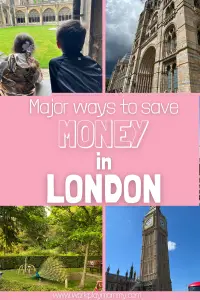 Save Money on Your London Holiday
Overall, London is not going to be one of the cheapest destinations. However, there are some simple ways to cut down on your trip costs without skipping the best of London.
You can find see the main attractions at a discount with the London Pass, save tons of money on public transportation by simply purchasing an Oyster card, and even enjoy world-class museums completely free.
London is a great option for a family trip, sabbatical, or holiday. Try these money-savers to keep your trip on budget!
YOU MIGHT ALSO BE INTERESTED IN: