TOP BREAKFAST SPOTS IN PANAMA CITY BEACH FOR FAMILIES
Good, hearty breakfasts and a freshly brewed cup of coffee are a must before a day on the beach with kids! So, if you want to take your family to the best breakfasts in Panama CIty Beach, Florida, check out this list of some of our favorites!
Panama City Beach is one of our family's very favorite beach destinations with kids. The white sand beaches are pristine, the location is easy to access, and its an incredibly affordable destination with kids.
Panama City Beach has loads of family activities for kids of all ages, and tons of FREE family activities!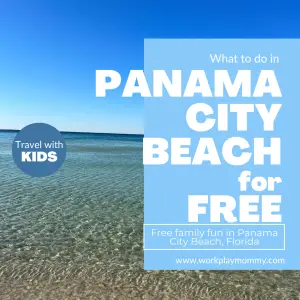 Or, if you are looking for something nearby, check out Shell Island.
Breakfasts with Kids in Panama City Beach
Our family has 3 small children, and eating out is not always the most relaxing experience. However, breakfast is usually a winner for everyone. The kids are fresh from a night of sleep, and we want them to be fueled up for a long day at the beach!
Breakfast also has something for everyone including my picky eaters. Who doesn't like breakfast food? From pancakes and pastries to bacon and burritos, everyone can find something that they like!
So, when we travel, we love sampling lots of local breakfast spots to find our very favorites. Since we spend so much family time at Panama City Beach, Florida, we want to share our tried and true favorites along with local gems for breakfast that are all family and kid-friendly!
Some are even directly across from the beach or an easy walk from your resort!
Family-Favorite Best Breakfasts in Panama City Beach, Florida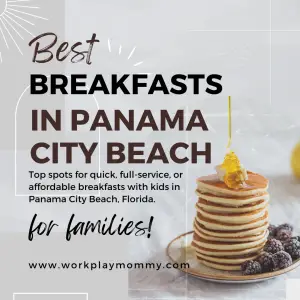 Another Broken Egg Cafe
(Overall favorite for full-service breakfast with the family)
Another Broken Egg Cafe, located in Panama City Beach, Florida off of Hutchison Blvd Ste (a main Panama City Beach thoroughfare) is easy to get to but probably the farthest of our favorites from the beach.
Don't let that deter you though, because, in our opinion, this is the best breakfast spot in Panama City for a full-service breakfast with the family.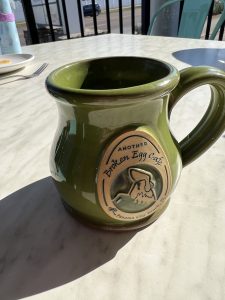 Another Broken Egg Cafe is a nationwide chain specializing in a hearty southern-style breakfast menu. Some of their specialties include beignets, grits, and eggs hollandaise.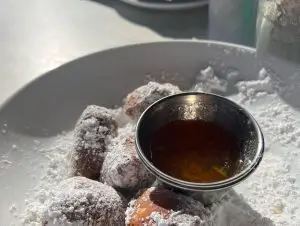 Our family always visits Another Broken Egg at least once on our annual Panama City Beach trip for the great food and the great service! The casual atmosphere, relaxed meal pace, and bottomless coffee is a great way for our family to start the day.
An order of Another Broken Egg beignets and orange marmalade is the perfect starter while everyone in your party takes the time to review the extensive menu. We recommend the tasty omelettes and breakfast burrito!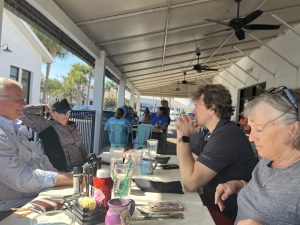 The location is very family-friendly and can accommodate large groups. However, be sure to call ahead as sometimes this location can fill up fast especially for brunch!
This location is a full-service restaurant, and you can expect to spend between $10 and $20 per person. However, no one will leave hungry as the portions are enormous!
The Pour at The Ark
(Best quick-service breakfast nearest to the beach)
You can already find The Pour at The Ark at the very top of my best Panama City Coffee Shops! But, did you know, they also have a great breakfast menu?
Our family loves to pull up a table at the swing table (yes, a table with a swing at it), and sample all of the freshly made goods at The Pour.
Some of our favorites include the Coconut Matcha Loaf, the vegan breads, smoothies, and, if you are lucky, their famous CINNAMON ROLL!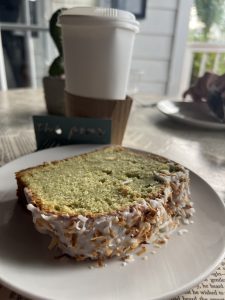 I love the cinnamon rolls at The Pour and like to reward myself with a pre-beach breakfast treat from The Pour before a day at the beach.
The Pour is famous both for its amazing food and drinks as well as its service to the community.
So, be part of changing the community around Panama City Beach for good and enjoy a fabulous beachside breakfast from The Pour located on Front Beach Road directly across from the Holiday Inn and Public Beach Access #45.
Our family likes to take a long beach walk after a breakfast at The Pour! Plan accordingly, because The Pour is usually closed on Sundays.
Finn's Barista Bar and Snack Shack
(Favorite breakfast spot for coffee and healthy eats near the beach)
While you might love Finns Island Style Grub for lunch and dinner, don't miss Finn's Barista Bar and Snack Shack for a delicious and healthy breakfast!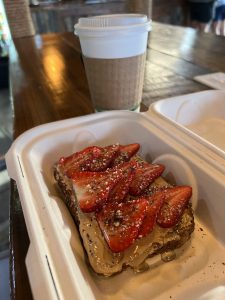 Finns barista bar is more than a snack shop as it has loads of breakfast options that feature vegan and keto options. Try a smoothie, a breakfast bowl, or a vegan pastry! Finn's prizes itself on fresh ingredients and friendly service. I spent tons of time agonizing over the different bowls with the friendly barista who offered her recommendations!
My kids love the smoothies and scones, while my husband and I love the breakfast bowls and toasts!
Plus, bonus, you can shop the surf shop while you are there, and the kids can play in the kids area!
Finn's has lots of guilt-free breakfast options that are sensitive to food intolerances and specialized diets. But, that does not mean that Finn's compromises on flavor or portion size!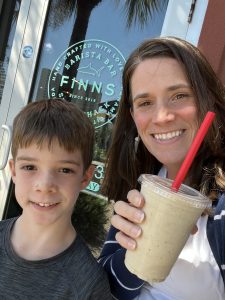 Finn's is usually closed on Mondays, but you can find them at 2 different locations. The first is on 7210 Thomas Drive in Panama City Beach, while the second location is near St. Andrews on 12th Street in Panama City Beach, Florida.
Parlor Doughnuts
(Favorite breakfast near the beach for a sweet tooth and affordability!)
Easily the most affordable stop on this list is Parlor Doughnuts. Another nationwide chain, Parlour Doughnuts is quickly becoming a favorite of the emerald coast. In fact, Parlour Doughnuts now has 4 locations on the Florida panhandle including one in Panama City Beach!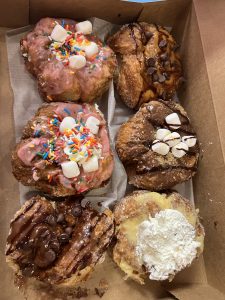 Sometimes our family just wants a quick and delicious breakfast for our group. And, Parlour Doughnuts is a great place for a hot coffee or espresso and some unique specialty donuts for everyone in the family.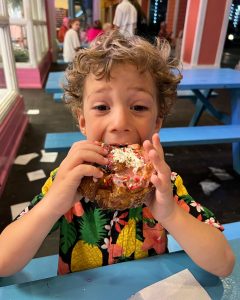 While I love the peanut butter and chocolate options, my daughter opts for the mermaid themed doughnuts, and my boys love the sandy beach!
Order an entire dozen if you want to have both a breakfast treat and an after-dinner snack!
Sunrise Cafe and Bakery
(Most affordable full-service breakfast closest to the beach)
If you love to rent a vacation condo at the Majestic in Panama City Beach, Florida, you can't miss Sunrise Cafe and Bakery.
Located just a stone's throw from the popular vacation rental resort, Sunrise Cafe and Bakery is a local Panama City Beach diner. You can get all of your breakfast favorites like bacon, eggs, and belgian style waffles at a moderate price.
Or, skip the hot breakfast and go for one of Sunrise's Bakery Pastries like glazed croissants or decorated donuts.
Sunrise even has a unique European menu featuring pierogies, blintzes, and piroshkis!
Sunrise is a unique and easy-to-access location directly across from the beach!
Andy's Flour Power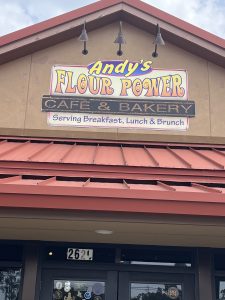 (Perfect place for brunch)
If you are looking for the one of the best brunch spots near the beach, check out Andy's Flour Power.
This full-service breakfast, brunch, and lunch spot offers an extensive drinks menu for their brunch crowd. While the ambience might not be fancy, the menu is certainly wide and varied.
The menu items include everything from martinis and mimosas to seafood eggs benedict and omelets.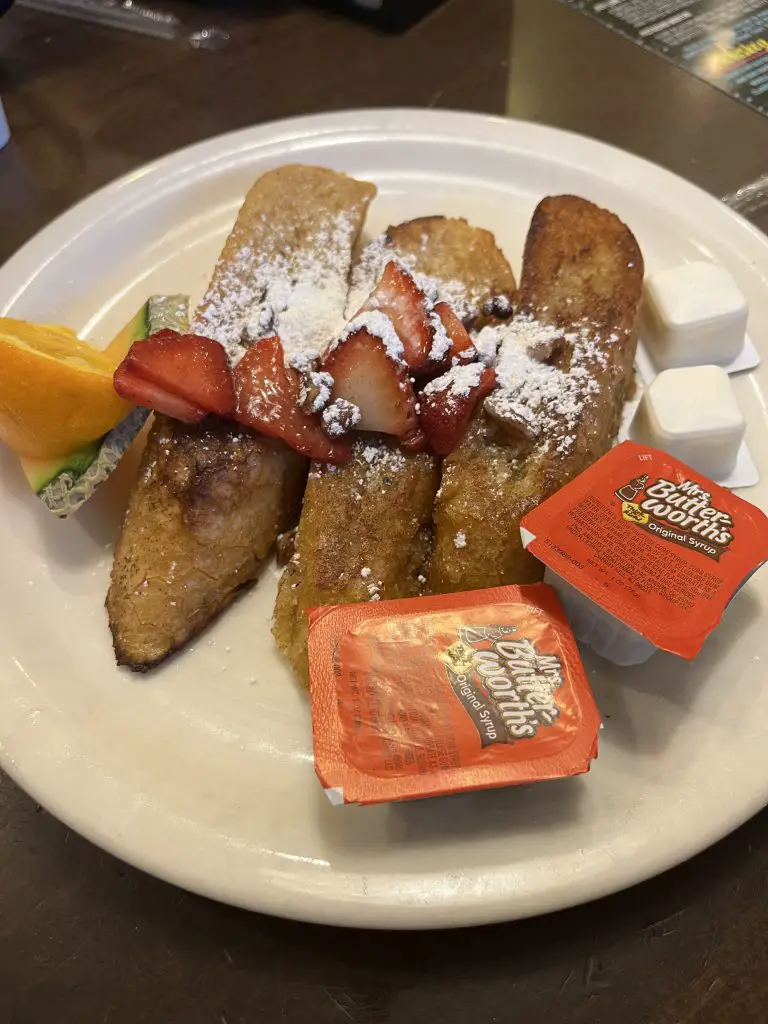 This spot is especially convenient to the beach located in the center of Thomas drive. But, it's a popular spot due to its extensive menu and specialty drinks. Even if you don't come for a full breakfast, try some of the delicious pastries.
This location is a local favorite and one of the best places for brunch and breakfast even for families! The kids menu is also extensive and features one of my kid's favorites: French Toast.
Andy's Flour Power does offer a cash discount, so skip the card if you can!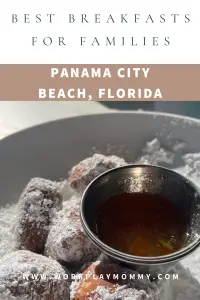 The Pancakery
(Best breakfast for comfort food and a wide variety of options)
If you are wondering where to go for breakfast that always has a full parking lot, check out The Pancakery. One of Panama City Beach's top breakfast spots, The Pancakery serves beautiful stacks of delicious pancakes and a full breakfast menu.
Plus, this breakfast favorite is located near the famous Pier Park.
Your kids will be thrilled with M&M or Happy Face pancakes, while you enjoy a heap of bananas foster or a Crab Island Omelette.
If you are looking for more traditional breakfast items, you can find an extensive menu at The Pancakery. Scrumptious pancakes, however, are a great building block to a great day at the beach!
Top Spots for the Most Important Meal of the Day in Panama City Beach, Florida
Before you spend your day in the sun, fuel up on hearty breakfast options or smooth locally roasted coffee. Our family loves breakfast and Panama City Beach, so we want to share our favorites with you.
A good breakfast is the perfect way to start your day. Enjoy these best PCB breakfast spots!
YOU MIGHT ALSO BE INTERESTED IN: