Best Coffee Shops in Panama City Beach: What's Vacation without COFFEE!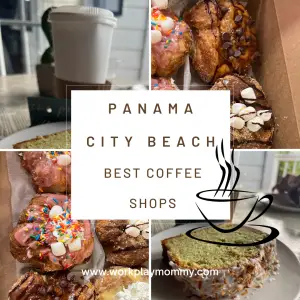 Looking for the best coffee shops in Panama City Beach? Check out our favorites here!
We already love Panama City Beach, Florida for the easy accessibility, the pristine white beaches, and the family-friendly vibe, but what's a beach vacation without COFFEE!
One of my favorite parts of visiting anywhere is trying new and different coffee roasts, shops, and bakeries!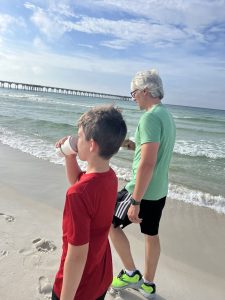 Panama City Beach is one of those places where our family keeps going back. And, my husband and my favorite Panama City Beach tradition is a morning run to a coffee shop.
Maybe you aren't into the morning run, but you will be glad to hear about these 5 best coffee shops in Panama City Beach. Plus, at least 4 of them are walkable from the beach!
So, whether you are looking for a morning pick-me-up, an afternoon boost, or an evening treat, these 5 Panama City coffee shops are our very favorites near the beach in Panama City Beach.
Best Coffee Shops in Panama City Beach
Our first and favorite location is The Pour at the Ark on Front Beach Road in Panama City Beach, Florida.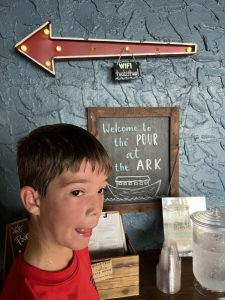 This adorable and bohem café not only serves up delicious coffee and meals, you can even find a number of vegan bakery items, food for the family, and do your part to support homeless and needy in the area.
The Pour serves a great cup of coffee in a variety of your favorite forms. I love their locally roasted drip coffee, but their iced blends are also wonderful!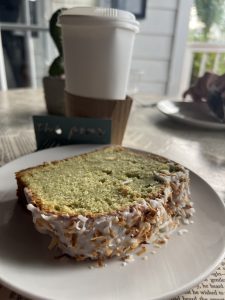 In addition, you can enjoy breakfast, lunch, pastries, and snacks there.
My favorite is the delicious coconut matcha loaf, while my husband loves their breakfast sandwiches.
Enjoy your coffee and snacks in their dining area, on their in-house swing, or as you walk along the beach — a short stroll across the road.
For our very favorite coffee and treats on Panama City Beach, check out The Pour!
Coming in at our second very favorite coffee shop in Panama City Beach Florida is Finn's Barista Bar and Snack Shack. With three area locations, our favorite is on South Thomas.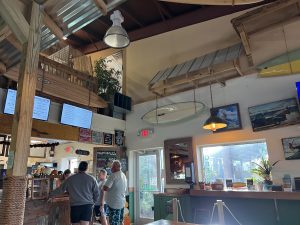 The vibe here is just cool. The cafe is also a surf shop where you can browse hundreds of new and used boards, find cool surf and beach gear, and let your kids play in the children's area.
The Finn's menu is almost overwhelming as everything is so unique and delicious.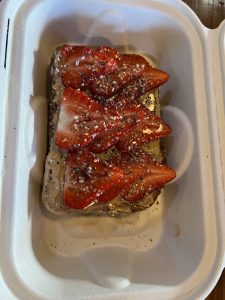 Some of our favorites where the cashew toast served with fresh strawberries and honey or the Bees Knees smoothie –a mix of peanut butter and honeycomb. Delicious!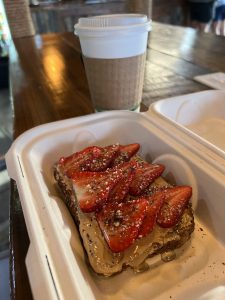 Located a short walk from the beach, you can choose to come to Finn's Barista bar for breakfast, lunch, or dinner since they also have an outdoor food truck and funky outdoor seating.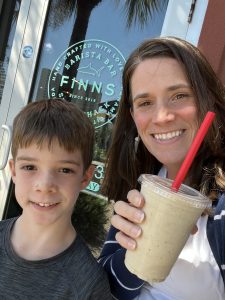 Closed Mondays, this coffee bar is a staple for our Panama City Beach vacations!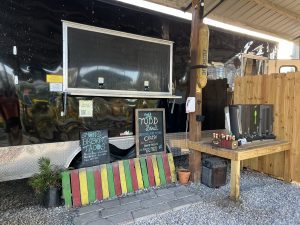 Not to be confused with The Pour, The Press is one of Panama City Beach's newest coffee additions.
Now with a second location conveniently placed on Thomas Drive near the beach, you can also visit the original The Press location in Panama City a short drive from Panama City Beach.
After its expansion, The Press is quickly becoming one of Panama City Beach's favorite coffee shops where you can purchase coffee, pastries, and even charcuterie!
Our most recent discovery and new obsession in Panama City Beach is Parlor Doughnuts. Not only does this shop deliver on local coffees and the lattes that you have come to love, this place has the top spot in the doughnut competition!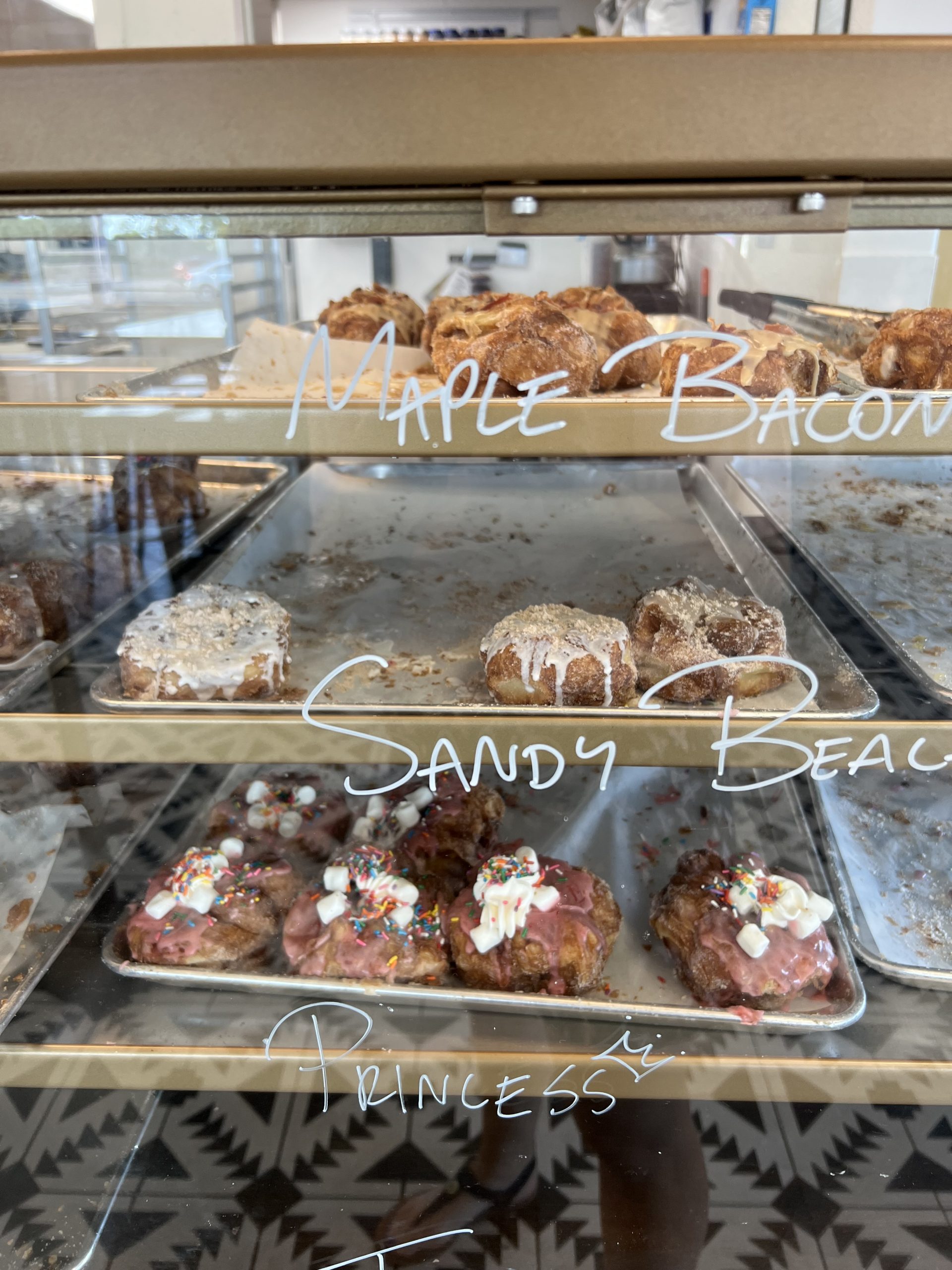 More akin to Cro-nuts (croissant donuts) than the standard fried doughnut, Parlor Doughnuts makes fresh doughnuts and treats all day long.
Some of our favorites were Caramel chocolate, a s'mores donut, and a pink sprinkled doughnut called the Princess!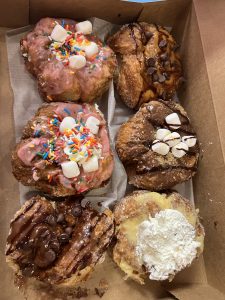 The coffee was wonderful, the location was a quick walk from the beach, and our entire family selfishly devoured every doughnut we purchased!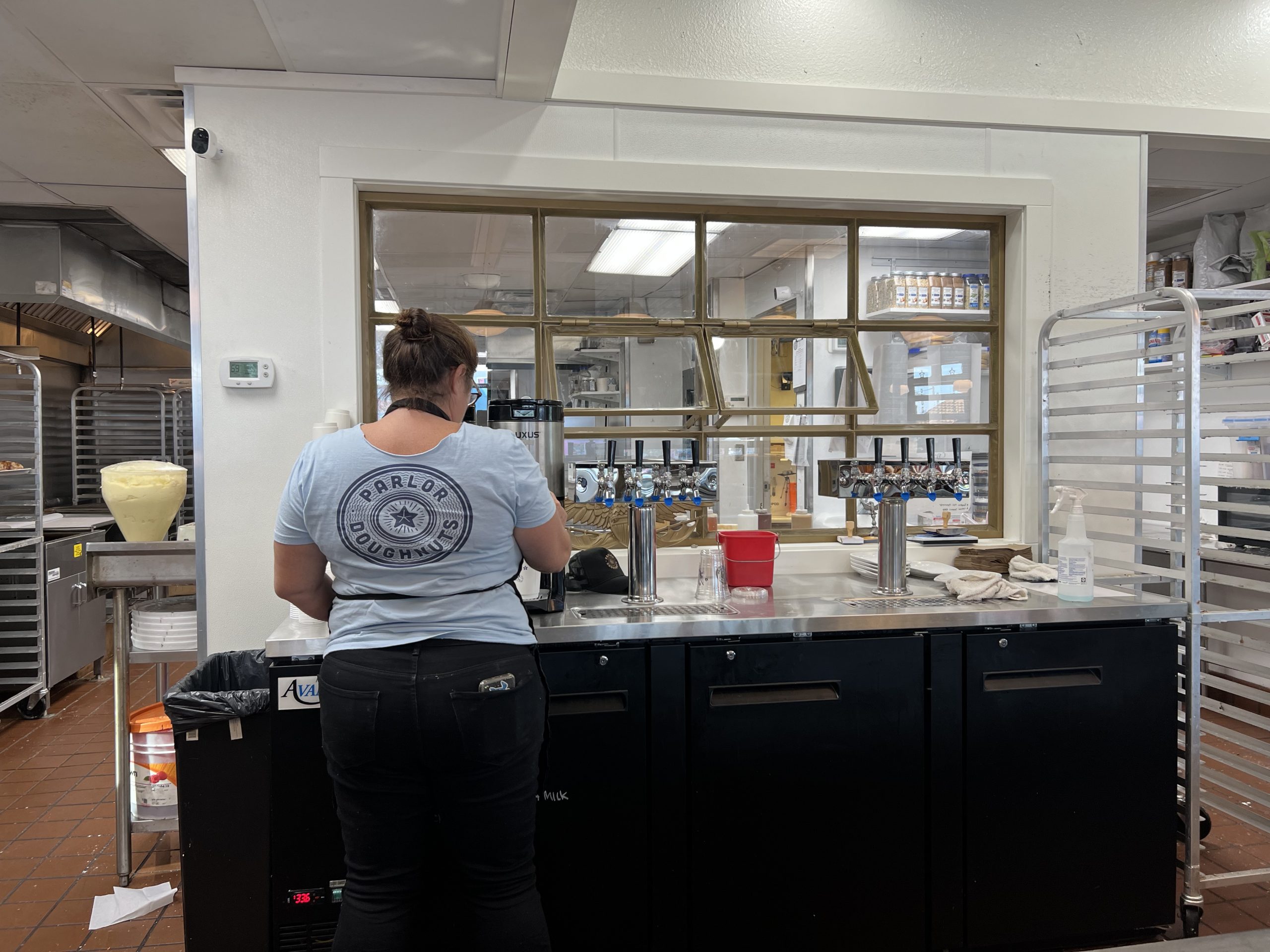 5. Starbucks
Yes, you can still find a Starbucks at Panama City Beach. In fact, a couple of the Panama City Beach Starbucks are located a short walk from the beach.
Some of the Starbucks are true full-service Starbucks while others are located inside of hotels, alongside other services in a food court, or serving a limited menu.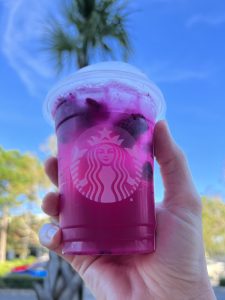 Two that are close to the beach include the location at Pier Park and another on the corner of Richard Jackson Blvd and Highway 30A.
6. Dunkin
If you are looking for a Dunkin, you can also find your favorite brews and donuts in Panama City Beach. Dunkin is located in the Publix parking lot just across from the Starbucks!
7. Panera  
Finally, you can also fill up on your coffee subscription at Pier Park's Panera. One of our standing favorites, Panera has a full-service coffee bar, sweet treats, and delicious meals.
Other Coffee Shops in Panama City Beach
We have visited a number of coffee shops in Panama City Beach, but we haven't visited them all. The ones we didn't like aren't mentioned here, but there are still a few that we simply haven't had the time to sample!
Other coffee shop options near the beach include:
Casanoah Coffee on Richard Jackson Boulevard near Edgewater Resort
Sunrise Café and Bakery located just across the street from THe Majestic Resort on Front Beach Road
Beach Island Café
Boricuba Café
Any other favorite coffee shops in Panama City Beach?
What are your favorite coffee shops at Panama City Beach? I would love to try it!
You might also be interested in:
Best Pontoon Rental in Panama City Beach
What to do at Shell Island and How to Get There