What I wish I hadn't forgotten, and must-have essentials for the beach with kids and a toddler.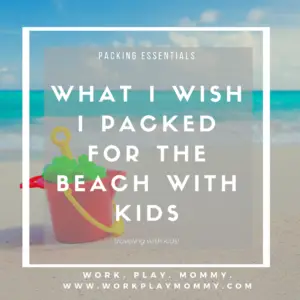 The items you definitely want to pack for the beach with kids! Plus, what I managed to forget! Don't forget these when taking a beach trip with babies, toddlers, and young children? Beach packing list with kids to make taking children to the beach much easier.
This post contains affiliate links from which I may receive a commission at no additional charge to you if you make a purchase. As an Amazon affiliate, I may make a small amount off of purchases sold through the affiliate links here.
As a family with 3 young children and a family that loves to travel, we love beach vacations. I have taken all three of my children to the beach enough times to know better than to leave these items behind. However, I did it. I forgot them.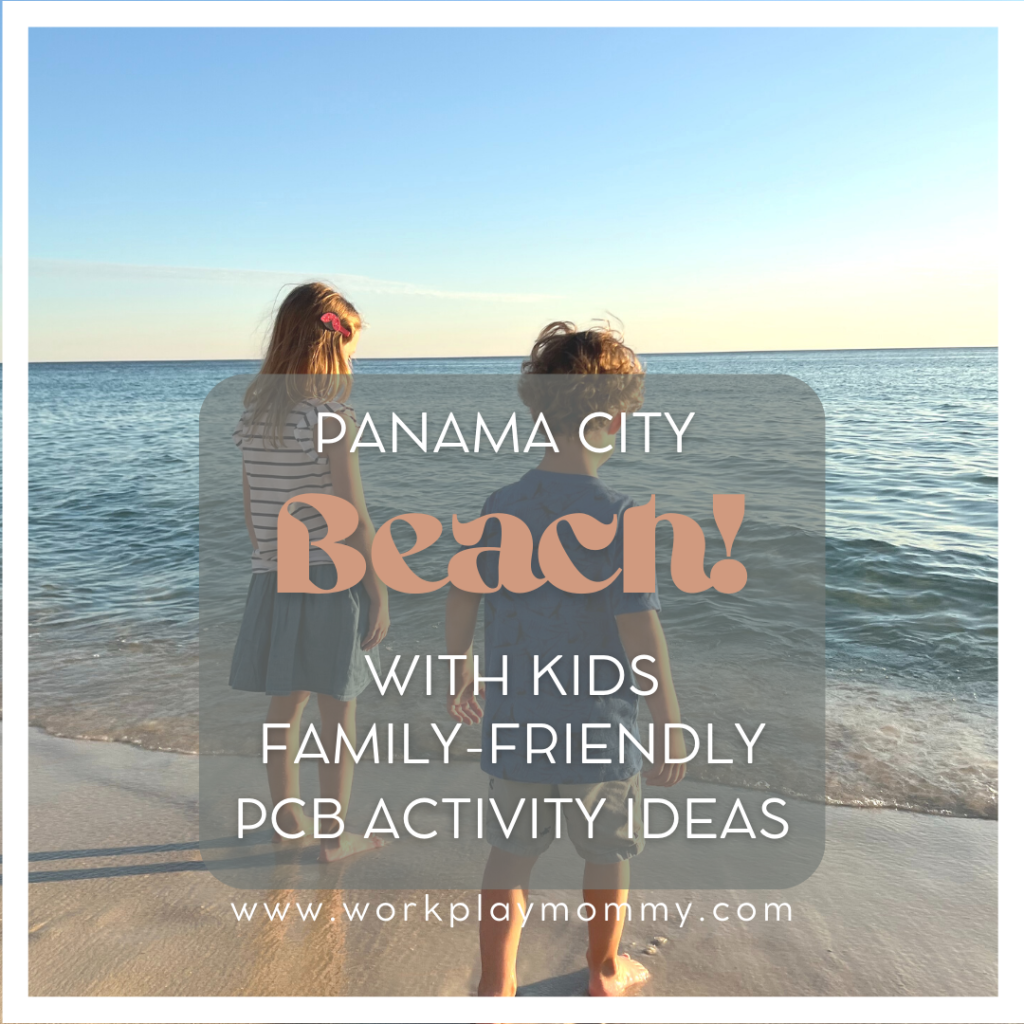 RELATED POST: A Working Mom's "Vacation"
Between the endless mountains of pre-vacation laundry and the mile long packing list, I managed to omit some necessary items from my beach packing playlist.
Before you dismiss me as a complete scatter-brain, keep in mind that I did remember the following essentials that I would never go to the beach with kids without:
MUST-HAVES FOR AN EASIER BEACH TRIP WITH KIDS
1. A pop-up sun tent or collapsible tent.
If you are going to the beach with young children, sun protection is essential. The kids need a place where they can rest out of the sun without having to trek the entire family back to your room.
While canopies and umbrellas are great, in my experience, my children need a place to get off of the sand.
They also need a place where they can take a nap if necessary or get out of the wind.
These pop-up sun tents are a great place for the kids to be able to sit and eat a snack without the sand all over them, a place where they can rest for a bit, and place to store our stuff for the day where it won't blow away or fill with more sand.
Or, if you need more space on the beach, our family used and loved this easy to carry and easy to set-up tent.
One of the best parts of having a pop up shade is that it doesn't take up too much space in the car for your family road trip and can easily pop into a suitcase if you are flying with kids.
2. Sunscreen
A no-brainer but easily forgotten. Don't forget sunscreen.
While I like the ease and convenience of spray-on sunscreen, I am also cognizant of the dangers of chemicals to both my children and the environment. Thus, I like to select a sunscreen from this list of ocean-friendly sunscreens before I hit the beach with my kids.
3. Kids' sunhats
Just to keep mommy a little calmer, in addition to sunscreen I add a hat. My kids are very susceptible to sunburn, and I don't want to be the reason for their skin cancer later in life. So, while they are this young and they don't care what people think about their appearance, I add a big floppy, adorable sun hat to their entire get-up!
4. Rash guards
Another life-saver for this mom as far as sun protection goes, are rash guards. Sure, those little baby bikinis are adorable, but then I have to be sure to keep sunscreen on every square inch of my children.
I always add a rash guard with my kids swimsuits to help reduce the amount of sunscreen they are exposed to and the amount of sun.
5. Life jacket or PuddleJumper
In addition to sun safety, let's talk water safety. This mommy is not a very strong swimmer and has, what some might call, an irrational fear of marine-life.
Therefore, my kids don't get near the water without floats, life jackets, or swim vests.
I make it a rule before we even get to the water that everyone must have their float to be able to go to the beach. No float: no water. Period.
6. Sand Toys
Kids and digging and dirt…you can't get them out of it. My kids spend far more time digging in the sand than swimming in the water. Add a couple of shovels and a bucket, and the kids are entertained for hours.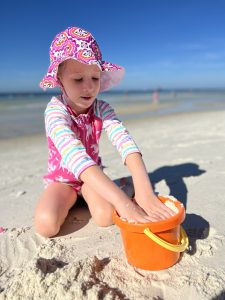 The great thing is that these toys don't have to be complicated or even large. My kids use their imagination to turn a simple bucket and trowel into essential tools for their mysterious treasure hunt.
7. Baby Powder
I keep a bottle of baby powder in all of our beach bags. Why? Sand.
A puff of baby powder on  your kids hands after they have been digging in the sand leaves their hands dry and sand-free to eat their snacks.
A dusting of baby powder on their feet, legs, shoes, and toys before you return to your room for the day makes sand easy to remove.
This is great for babies and toddlers whose sensitive skin gets irritated by the constant chafing of sand.
Further, it is a huge help for swim diapers that can really leave a baby's skin irritated.
8. Snacks
Three kids…you better believe that I ALWAYS have snacks. Someone is always hungry. And, playing in the sun and sand all morning can leave the kids famished.
However, I have enough stuff to cart out to the beach without also carrying out a multi-course meal.
Thus, I make sure to bring some simple, portable, nutritious, and high-calorie snacks.
These include everything from raisins and peanut butter crackers to fruit and cheese sticks. If anything needs to be kept cold, we keep it with the water bottles.
9. Water Bottles
If I let my kids get a clean glass each time they needed a drink, I would have a constant sink full of cups. Instead, each of my kids uses the same water bottle all day long.
The same goes for road trips, flights, and vacations. My kids carry their own water bottle full to the beach and can get a drink whenever they choose. This way, they aren't constantly asking me for a drink, and I am not wondering whether they have had anything to drink.
We always carry kids water bottles with us to the beach to keep everyone safe and cool.
10. Headphones and audiobook
Before I had kids, I loved to take magazines and new novels with me to the beach. I would read for hours getting lost in the story as the ocean breeze blew across my towel.
Now, I can't take my eyes off my kids for one second at the beach. If I am not terrified by the thought of a sea monster gobbling up my child, I have to "watch mommy watch" every jump, skip, or twirl. Not to mention, I also have to see every single seashell, each bucket of sand, and how big brother is burying little sister yet again.
Therefore, I now carry headphones (preferably Bluetooth to cut down on sand in my phone) and my audiobook subscription to the beach.
This way, I can sit with my headphones in my ear listening to the newest Christy Wright book, while also watching my kids dance in the waves and bury each other alive.
It's ok for this to be mom's vacation too.
11. Camera
If you aren't comfortable taking your phone to the beach, you are still going to want a camera. Those little happy moments are something that you won't want to forget.
Some of our best family pictures are impromptu walks on the beach.
12. Water-loving husband
This one isn't available on Amazon; however, it is a definite essential for this mom's beach sanity.
As I already mentioned, while I love to travel and love to spend hours on the beach, I am terrified of all of the danger lurking in deep water. My kids are lucky to get me to go knee deep in the ocean.
However, if you ever need someone to sit and watch your stuff on the beach while you swim, I'm your gal!
Therefore, I never go to the beach without my water-loving husband. While I prep snacks, douse my children in yet another layer of sunscreen, and make sure that the water bottles are full, my husband is body surfing with the kids, throwing them into the waves, and catching fish.
He makes the whole trip a lot more fun.
RELATED POST: How Dads Are Sexy, and They Don't Even Know it!
13. Chair
Again, beach vacations before babies were more about laying out in the sun, reading magazines, and catching rays.
Now, I have to keep a constant, vigilant watch on my kids as they play. A chair makes that a lot easier.
What I forgot to take to the beach with kids:
While all of the above essentials made our beach trip so much easier with the kids, I'll confess that I forgot the following items from my list while I was packing. I don't want to forget these items when taking small children to the beach:
14. Hat for myself
I packed sun hats, rash guards, and baby sunscreen but walked off without my own hat. I purchased a huge wide brimmed floppy hat for my week along the coastline, and left it sitting in my house.
Even just a baseball cap would have kept the sun out of my eyes and off of my face even though it wouldn't have been as cute as the wide-brimmed floppy hat!
What's worse is that even when I did remember my hat, I managed to lose it in the ocean to an unexpected wave!
15. Water Bottle for myself

I arrived at the beach, handed out my kids' water bottles, and had forgotten my own. While I still was able to drink from their water bottles for the day, drinking from my kids water bottle always means gross toddler backwash and crumbs.
Having my own water bottle would have made the day a lot less gross.
16. Wide wheeled wagon
Carrying our entire family's stuff to the beach can get a bit cumbersome. Plus, at the end of the day, all of the kids are exhausted and don't want to carry all the toys back to the room. This results in fighting, crying, and tantrums in the sand.
A wide-wheeled collapsible wagon would have made this so much simpler.
When our children were babies, we took a stroller with us to the beach so that we didn't have to carry all of the stuff and the baby. Now that all of my children are larger, I completely forgot to bring something to wheel all of the stuff out through the sand.
17. Sunglasses
Again, I had my cute sunglasses ready for our family trip. I even clipped them up in the car. However, I forgot to switch them to the rental car. I spent the first day on the beach squinting into the sun.
As soon as I could, I stopped at the first Target we passed and picked myself up a new pair.
BEACH PACKING LIST FOR KIDS: WHAT I WISH I HADN'T FORGOTTEN
Going to the beach with kids is a whole lot different than pre-baby. However, with a little planning it will lead to some of the most magical memories of your life.
Sure, you may have to travel with a whole lot more stuff than you hoped, but these items are my must-have beach essentials for a beach trip with small children. Plus, it includes all the things that I wish that I hadn't forgotten!
Enjoy your trip with your kids!
What are your favorite essentials for the beach?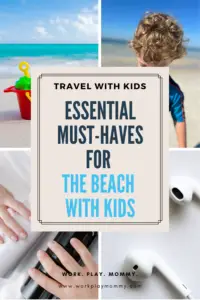 You Might Also Be Interested In: