Ten Things I Find Sexy about My Husband after Having Children
A lot of things change after having children including the way that I see my husband. He is a doting father, a dutiful husband, and a great leader of our home. However, now that I am a mom, I find some different things sexy about him! Dads are sexy in ways they don't even realize!
10. BRINGING HOME PIZZA
I'm at work when I get a text from my husband. The text reads "I'm picking up pizza for dinner."
That's it. No suggestive picture, no innuendo. I didn't even have to ask him.
I hadn't planned out dinner, and I didn't know what we were going to eat, but he just went ahead and took the initiative.
He took my breath away!
Bringing home pizza might as well have been a dozen roses delivered to my office. It was such a relief and gift!
RELATED POST: 7 Budget Meal Planning Tips from a Mom of 7
9. RUNNING THE VACUUM
Our house is never clean despite the fact that we are always cleaning it. As the mom, I feel the need to constantly manage the mess and chaos.
The order and cleanliness of our house never lives up to my standards despite my constant striving to reach it.
We have 3 kids and 3 animals…it will be a long time before it is clean.
However, when I come downstairs and find my husband sweeping and vacuuming the floors without being asked, I swoon.
Forget the man-of-the-year, I have him. A man who not only knows how to use the vacuum but does so voluntarily.
What does that say about my relationship with my Roomba?
RELATED POST: Dear Mommy, This is not the time for clean.
8. ROBES AND SLIPPERS
There was a time when I wouldn't be caught dead in front of my husband without my makeup on and my clothes pressed. However, having children changes the way that you see each other!
When other people cheer for flannel and sweaters, in our house, we live for robe and slipper season. Once the kids are in bed, I know that I am in for a good night, if both my husband and I are in our fuzzy slippers and oversized robes.
Even sexier: eye glasses and a fuzzy blanket!
It doesn't get any better than a man who not only loves you when you are well-manicured but also when you are up to your ears in fleece!
RELATED POST: Perfect All-Natural Self-Care Spa for Moms
7. WATCHING HIM PLAY WITH THE KIDS
I hear cackling and uncontrollable giggles coming from the next room. When I peak in, I see "daddy monster" wreaking havoc in whatever invented world my children have created.
He roars, wrestles, tickles, and plays
Not only do I have a husband who loves his kids but who is also engaged with them and takes the time to reduce them to shrieks of laughter. Dead sexy.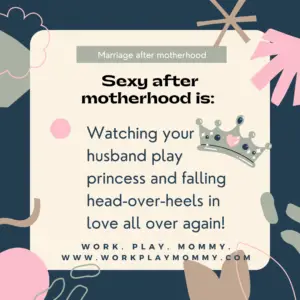 6. WATCHING HIM PLAY PRINCESS
He doesn't only play monster, ninja, battle, Jedi, or Legos. No, what is really sexy is walking in on my husband deep in imaginative play with my daughter who loves to play princess.
Sometimes he is a fellow princess –donning earrings, a tiara, or even hair extensions. Other times he is the prince who rescues her from the dragon or even her royal steed.
Seeing my man do all he can to make my daughter feel special especially when she has to spend so much time playing with boys is really HOT!
RELATED POST: Swinging Sticks, Throwing Sand, and Skipping Stones: Reflections on Parenting Boys.
5. PUTTING HIMSELF IN MORTAL DANGER FOR HIS CHILDREN
My husband is allergic to everything. His arch-allergic nemesis:the horse. Nothing gives him a worse allergic reaction than being exposed to horses. His face and eyes swell, his lungs close, and his nose…well…you get the picture.
Just being in the same vicinity as horses –at a fair, park, or farm –leaves him miserable for days.
Yet, on more than one occasion, he has not only ridden horses with his horse-loving children, but led them around and around and around the corral on pony rides.
This usually leads to several extra uses of the inhaler, a shower, allergy medicine, eye drops, and several days of headaches, but he does it nonetheless.
He shows his children he loves them through squinty, swollen eyes and a smile on his face.
4. DOING THE DISHES
Many things in life are a disappointment, but dishes will never fail you. There will always be dishes to keep you company.
Sometimes I do the dishes 3 times before breakfast. Despite not making a single meal this week, I have managed to do the dishes 437 times.
When I enter the kitchen to a miraculously empty sink and see my husband drying up the last of the recently washed plates, my heart melts. I fall head over heels in love with him all over again. God bless the man who does dishes!
Dads who do dishes are sexy!
3. SAVING $
10 years ago I had little money and what measly extra money I did have I hoarded for a weekly treat at Starbucks.
Now, 10  years and a stable career later, I still hoard my fun money because I spend all my other money on my kids and their future. I don't do it begrudgingly, and neither does my husband.
We love talking about our children's 529, their retirement, and our adventures together. My husband's commitment to financial stability, generosity, and a faithful family legacy is definitely sexy for this mom!
RELATED POST: How to change your child's future with a windfall.
2. HOLDING A BABY
If male models want to make more money, they should stop selling pictures of half-naked men and instead sell pictures of average men rocking crying babies, feeding tired newborns, and vacuuming! (See #9 above)
A man who not only values but cares for children is an extremely attractive man. Watching my husband stare at our newborn babies with a new kind of love that I had never seen made me love him even more.
Seeing him with one of our babies –feeding, rocking, changing, etc.—I found him sexy in a whole new way!
1. HE LOVES YOUR MOM BOD
And the number one thing that makes dads so sexy is that even after becoming a mom he still finds you sexy. You might notice the droopy eyes due to the sleepless nights. Your saggy skin, wider hips, and heavier body, might bother you, but they don't bother him! He still finds you sexy.
My husband even regularly tells me that I am beautiful, that he finds me sexier than ever, and that he doesn't even notice that I have a mom bod.
While 20 year old me would be ashamed of all the ways that childbearing has changed my body, my husband doesn't think I look any different. And, that loving, safe-place is the sexiest thing about my husband now that I am a mom!
I Find My Husband Sexier than Ever Now that He Is a Dad, and He doesn't Even Realize It!
Lots of things change after having a baby. You never feel, look, sleep, or love the same. However, you might find that you love your spouse in a new and different way too.
Husbands, take a hint from the playbook above, and you might just find that your wife looks at you with bedroom eyes!
You might find that mundane tasks are the sexiest traits of your husband!
RELATED POST: Rights you waived upon becoming a mother.