Packing list for a better road trip with kids!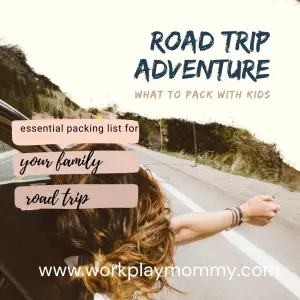 10+ Things I never leave home without on a road trip with kids. 
My kids spend a lot of time in the car on road trips. Our poor van can attest to that. At least once a month we take a family road trip somewhere –to family, to a friend's house, or just a family getaway. Now with 3 small children, and hundreds of thousands of miles on our vehicles, we have accumulated a list of must-have items for a road trip with kids.  
If you are taking a road trip with your kids, here are the ten things that this realistic mom never leaves home without.  
(This site uses affiliate links from which I may receive a commission at no additional charge to you if you make a purchase.)
Books 
First, I always make sure that my kids have books for family road trips. I love books, and I want my kids to love them too. They can spend hours in the car just looking through Look-and-Find books or Where's Waldo.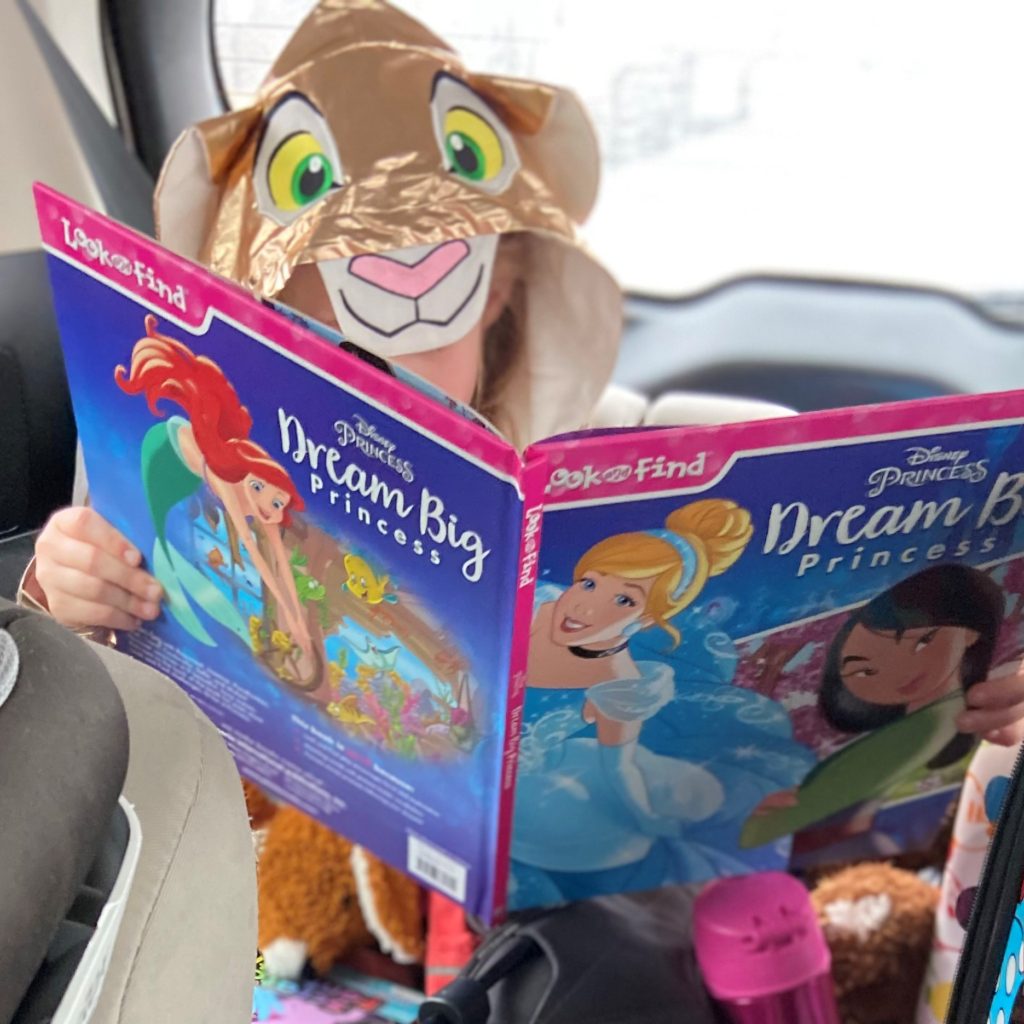 My oldest is just starting to sound out words, so we have a couple of early readers as well.
Books don't take up too much space, don't make a mess, and keep the kids quieter when mommy and daddy want to be able to have their own conversation.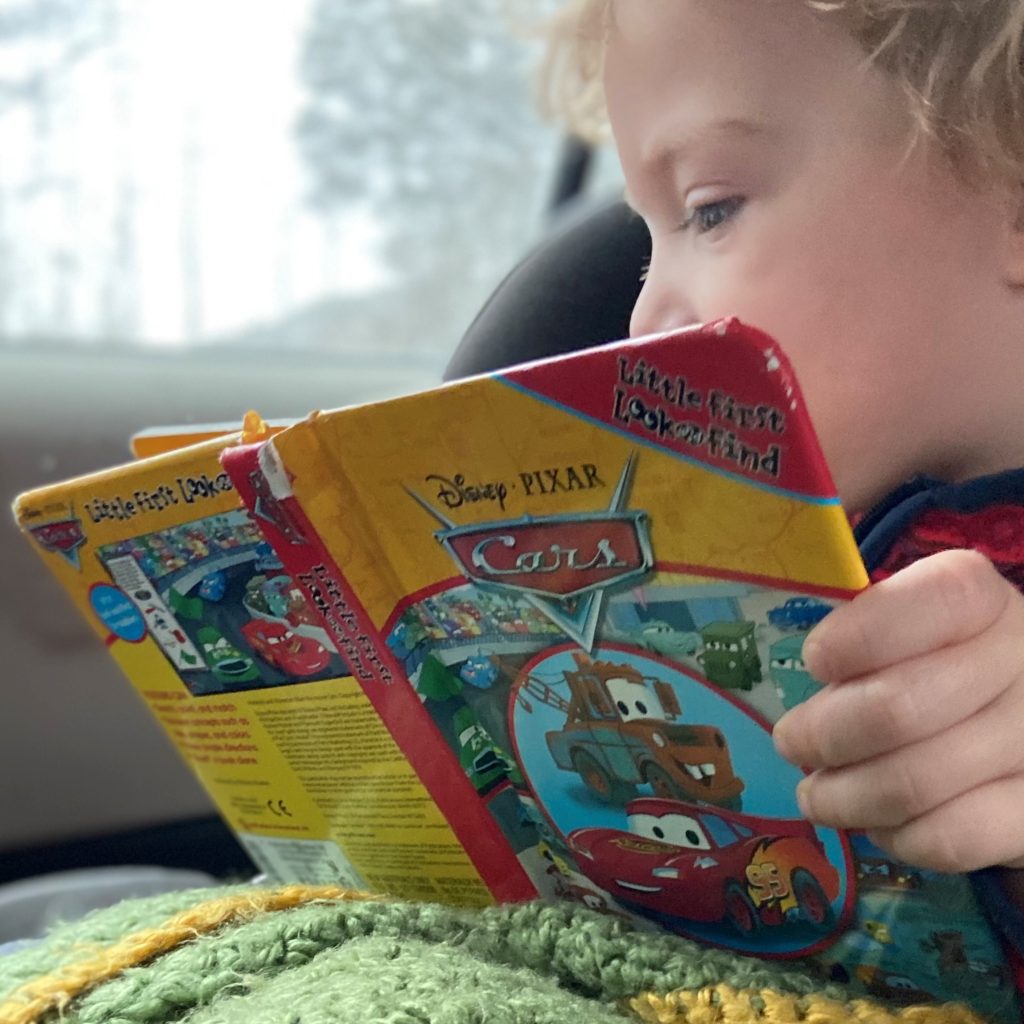 Or, if you love audiobooks like we do, check out a subscription to Amazon Audible's audiobooks. (My readers can get a free trial of Audible by clicking the link here.) What a great way for kids to work on their listening skills and be exposed to new literature.  
(Or, if grandparents want a fun and no-mess gift for the kids, use this link for a gift subscription of Audible.) You and the kids can enjoy endless reading fun together!)
WATER WOW Books 
Whenever we take a road trip with our kids, we always take a few of these. My kids love the Melissa and Doug Water Wow books, and so do I!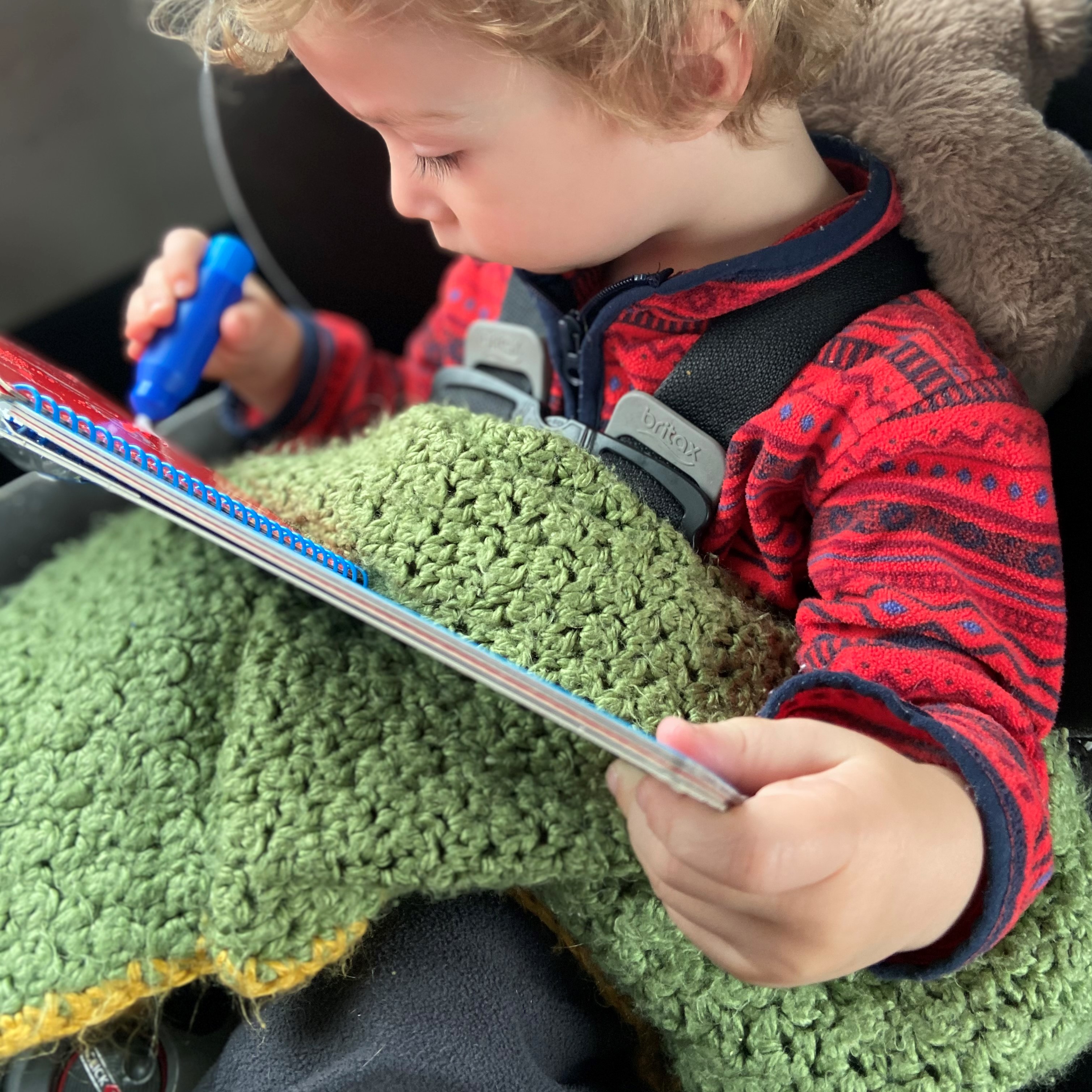 Recently, they have also enjoyed these Scratch Art books. I never have to worry about markers, crayons, or paper all over the back of the car.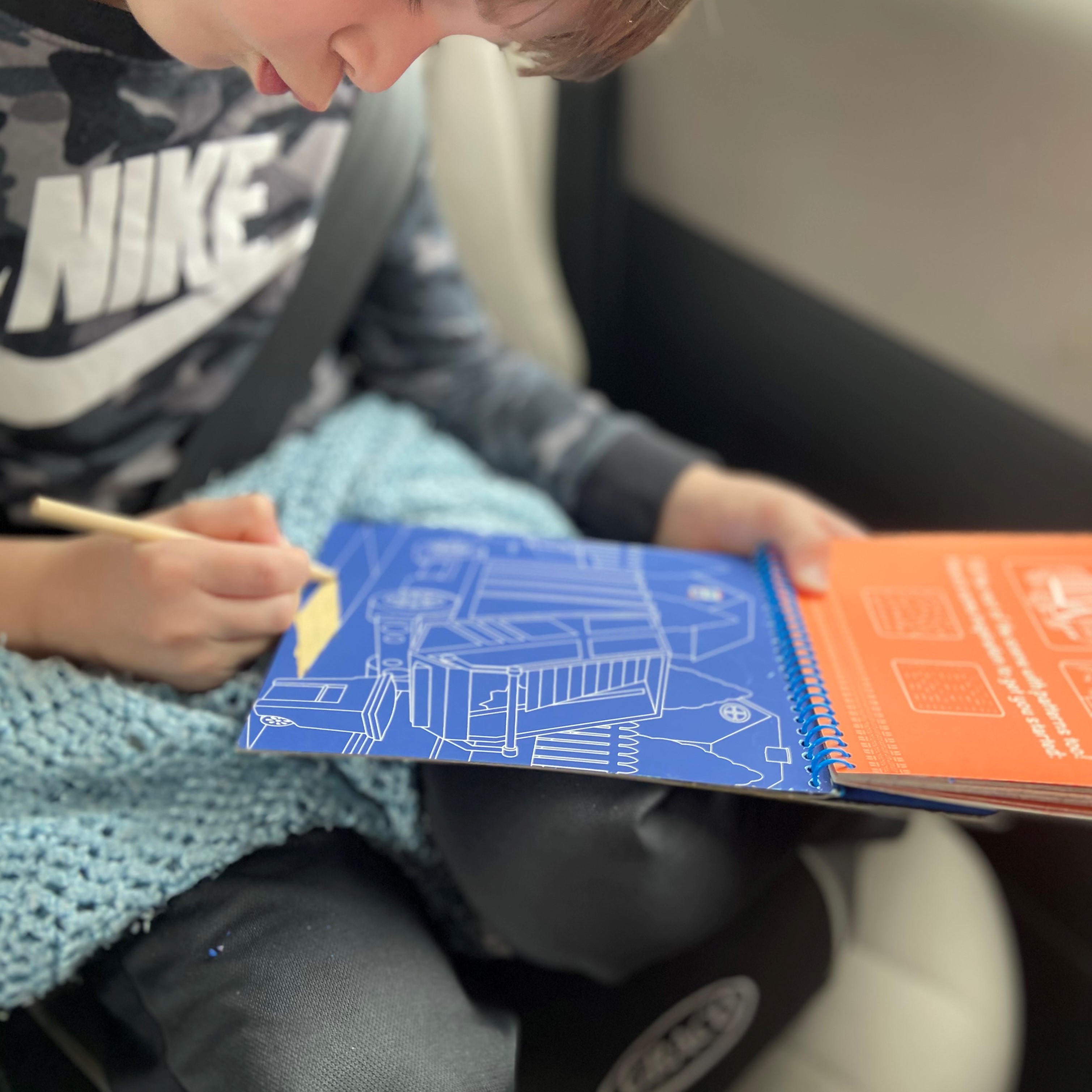 I almost always keep a water bottle and extra water pens for the Water Wow in the car. In a pinch, a straw will work, and you can use a coin to scratch the scratch art books!!  
Check these out if you are looking for a gift for a young child, entertainment for the car, or even a way to keep kids calm in restaurants. I highly recommend the Water Wow books. The kids can color all over them, let them dry, and use them over again.
Usually by the time they finish coloring the last picture, the first picture is dry, and they can start over again! 
Wipes 
You already know to keep wipes on hand if you have a child in diapers. However, wipes are just smart to keep around when dealing with littles.
They spill stuff, sneeze, drool, and touch weird things. Keeping a container of wipes around just helps with all of those little messes when you can't get to a sink! 
Plus, throw that pack of wipes in your bag as you go into stores, to the playground, or on a hike. You just never know what your kids will find to touch! 
Of course, if you are traveling with a child in diapers, I always make sure to keep extra diapers and a change of clothes handy on a road trip. You never know when that diaper is going to explode up the back of the car seat.
Tablet 
Books and crafts are great. However, after the kids have been sitting in the car for a couple of hours, sometimes we need to bring out the big guns. We always keep a couple of child-friendly movies downloaded on our Fire Tablet and Ipad.
At only $50.00, this Fire Tablet is inexpensive enough to pass to the kids in the car. When the kids need something else to keep them entertained, we turn on a movie or let them play games.  
Kid-Safe Headphones 
If we don't want to listen to the cartoon movie for the 198,453rd time, then we ask the kids to put on their headphones. A simple pair of kid-safe headphones can give everyone a break during a long trip!  
Now with distance learning, my kids can each work on their virtual learning in the car with their headphones too. My daughter loves her Princess Jasmine headphones! 
Snacks 
I never leave home without snacks! However, I try to keep them car friendly.
When we are on the road, the kids get plenty of chicken nuggets and French fries. So, for snacks, I try to focus on simple portable foods that at least have a little bit of nutritional value.   
Some of my favorites are raisins, these fruit leathers, fresh fruit, and peanut butter crackers. Unfortunately, snacks in the car always mean trash and messes. So, grab the wipes for clean ups and an empty trash bag to pass around for easy clean up.  
Lovies 
Does your child have a special blanket, stuffed animal, or toy? If you are planning a road trip with your kids, then you want to be sure that your child's lovie makes it on the top of the list.
My kids know that they are responsible for carrying their own backpacks and their own lovies. They each carry one of these mini Fjall Raven backpacks with a book, a toy, headphones, and their lovie.  
Each child knows that he or she is responsible for packing and carrying his or her own bag. And, they are responsible for putting their own items back in the bag before we get out of the car.  
My daughter never leaves home without one of these.  
Individual Water Bottles 
Whenever we take a road trip with kids, each child gets his or her own water cup. Our kids are constantly asking for water or drinks on the road, and this way, we avoid their backwash in our drinks but don't have to worry about spills in the back.  
Of course, this also means that you have to be strategic about bathroom breaks! But, staying hydrated on the road is very important.  
Too many water bottes have way too many parts, but we like these simple bottles from Contigo because I never have to hunt for the pieces. 
A Plan for Strategic Playground Pit Stops 
When we are taking a road trip of more than 8 hours with our kids, we like to be sure that we know when and where we will cross the next play area. Usually this means that we look for Chick-Fil-As along the route.  
I am always impressed with Chick-Fil-As as we travel with the kids. The playgrounds are always clean, and some even have their bathrooms stocked with extra wipes and diapers in case you forgot yours.  
However, now that so many playgrounds are closed, we like to look for outdoor locations where the kids can run around or COSTCO! My kids gladly wander the aisles of Costco where we can find food for our car meals as well as stretch our legs before gassing back up and hitting the road. 
You don't even need to have a Costco membership to eat in their cafe!
Mommy's Vacation 
Lastly, I never leave home without Mommy's Vacation. We always take them on our family road trips! Click here to find out what Mommy's Vacation is! 
When the kids are screaming and tired from the ride, I use Mommy's Vacation to escape to the sweet sounds of the Hamilton soundtrack or an audiobook.  
I don't have to hear anymore requests for snacks, anymore whining about when we will arrive, or anymore questions about things I have already explained. Mommy's Vacation are my chance to escape if even for just a few minutes! 
My husband also always uses Mommy's Vacation for his virtual meetings when we travel! He says that they have the best microphone, noise-cancelling, and sound!
WE LOVE TO TAKE ROAD TRIPS EVEN WITH OUR YOUNG KIDS
Of course we always forget something, and of course, we always over pack. But, we love taking road trips with our kids. It is good for them, for us, and for our family.
If you are looking for more tips for traveling with kids and more reasons why you should travel with them, check this out!