50+ fun and unique family activities in Gatlinburg, Pigeon Forge, and Sevierville.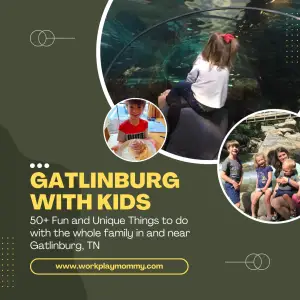 The ultimate family fun list for the best things to do near Gatlinburg, Pigeon Forge, and Sevierville with kids.
When it comes to family vacations, Gatlinburg, Tennessee has the most to offer our family. Our family loves Tennessee, especially East Tennessee and has consistently put it on our top favorites list for family vacations.
That's why we have compiled our top 50+ things to do in Gatlinburg with kids plus bonus tips on where to stay and eat and how to get around!
What's so great about Gatlinburg, Tennessee?
From the great outdoors to the most kitschy family fun attractions, Gatlinburg has something to offer every family, every budget, and every season.
Our family loves long, lazy breakfasts, quiet hikes, snacks by the hot tub, mountain views, and shopping days.
Therefore, we have suggestions for everyone, every interest, and every family type including those with younger or older kids!
Some of these 50+ suggestions for what to do with the whole family include sites and attraction in Gatlinburg or its nearby neighbors Pigeon Forge and Sevierville.
What to do in Gatlinburg Outoors: Hiking
Family-Friendly Hiking Trails
After years of living near the Great Smoky Mountains National Park and more years visiting the park with kids, we have found loads of trails that our family loves.
We love Alum Cave trail and even some of the short paved trails near Cades Cove.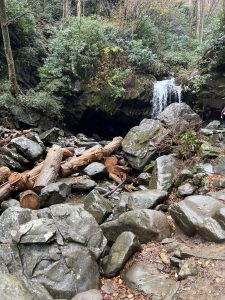 However, our top trails for families in Gatlinburg include:
Rainbow Falls Trail: A moderate family-friendly hike that will take you about ½ of the way up to Mt. Leconte—the Smoky's highest summit.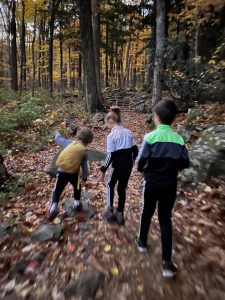 This hike requires little special skill but does take several hours to complete with children. So, be sure to hike with snacks, a first aid kit, plenty of water, patience, and good hiking shoes! However, the payoff is beautiful mountain views, log bridges, and even a number of water features and water falls along the way!
Grotto Falls Trail: Another hike that will ultimately lead to Mt. Leconte is Grotto Falls Trail. Grotto Falls is a much easier hike than Rainbow Falls, but still boasts stunning mountain views, a great Insta-worth waterfall spot, and requires far less time and effort than Rainbow Falls.
Alum Cave Trail: Leading to Alum Cave and the Alum Trail Bluffs, Alum Cave Trail is another family favorite even with little ones. I even made this hike with an infant in the carrier as the entire hike is only about 2 miles.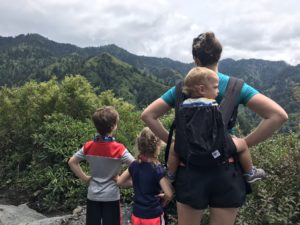 However, as the trail is a little steep, again, be sure to pack lots of water, some snacks, first aid, good shoes, and patience for those little hikers!
More Hiking
More family friendly-hiking: Obviously, this is not an exhaustive list. Loads of trails trace throughout the Smoky Mountains National Park. Many of them are family-friendly, paved, and a short nature walk. However, if you are looking for kid-friendly hikes with a little bit of challenge, to-date, these are our favorites!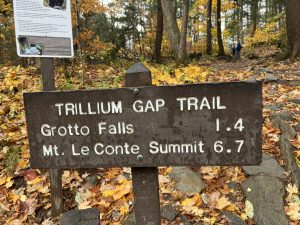 Natural Education and Experiences in Gatlinburg with Kids
National Park Welcome Center:   Stop at the Smoky Mountains National Park Welcome Center and listen to a lecture from one of the park rangers. Better yet, complete one of the Smoky Mountain National Park challenges where your children can earn badges as they learn about conservation, wildlife, and park etiquette.
Horseback riding: The Smokies are a horse-friendly park, and you can find dedicated horse trails near the campgrounds. However, you can also book a horseback ride in the park like this one or this one.
The Cades Cove Riding Stables are the only park approved stables, and traverse some of the most beautiful areas of the park if you are interested in a trail ride.
Synchronized Fireflies: One of the Smokies' most exclusive and well-attended shows is the annual synchronized fireflies. Smoky Mountain National Park hosts a world-wide phenomenon where thousands upon thousands of lightning bugs gather each year and put on a show for attendees. The fireflies blink in unison. Arrive well before twilight to this event because parking fills up fast, and the performers do not wait for you! Learn more about this at https://smokymountains.com/park/things-to-do/synchronous-fireflies-smoky-mountains/
Watch the Llamas or llama trek: Ever wonder how the park rangers get supplies up the mountains to the more remote stations?
Well, if you are lucky enough to watch the pack llamas at the Smokies, you might have the privilege of stumbling across a park ranger who will explain to you that many of the supplies are ported by park llamas! Our family had so much fun watching the llamas ascend Mt. Leconte as they carted equipment to the camp site at its peak and the ranger site nearby!
You can also read more about the pack llamas here.
Amusement Parks, Attractions, and Recreation:
If you are looking for something more exciting, colorful, and with fewer bugs, Gatlinburg, Pigeon Forge, and Sevierville offer tons of amusement parks and attractions including:
Dollywood! – Don't forget the world-famous Dollywood on your Gatlinburg vacation. From thrill rides to Southern cooking, your whole family will have a great day at the park.
Or, if you are visiting around the holidays, don't miss the special Christmas events! Check the events calendar here.
Putt putt: From indoor putt putt on the Gatlinburg strip in downtown Gatlinburg to outdoor putt putt under the Ferris wheel on The Island, putt putt or mini golf is great family fun in Gatlinburg or even at the outlets in Pigeon Forge.
Some iconic local favorites include Hillbilly golf in downtown Gatlinburg, Putt Putt at The Track, or Ripley's Old MacDonald's Farm Mini Golf in Pigeon Forge at the outlets. Or, try one of Gatlinburg's newest indoor mini golf courses at Ripley's Super Fun Zone.
GATLINBURG'S BEST AQUARIUM
Ripley's Aquarium: If you are visiting Gatlinburg with kids, don't skip out on the Aquarium. A great rainy day activity, the Aquarium can be a busy place for good reason.
Ripley's Aquarium is one of the best aquariums we have ever visited. From the underwater tunnel filled with sharks to the penguin playhouse, Ripley's aquarium is tons of fun. Even I loved going through the shark tunnel and watching fish, sharks, turtles, and more glide all around me!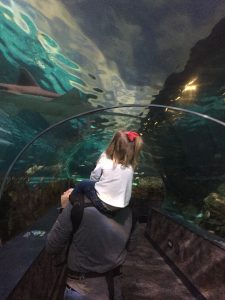 And, our whole family loved crawling through the maze of tunnels with the penguins sliding and playing all around us!
Plus, when the kids are done wandering through the exhibits, the best part is that the Aquarium boasts an enormous indoor playground where the parents can rest while the kids burn off the rest of their energy!
Arcade – if you have children who love to play arcade games, they won't be disappointed on a rainy day in Gatlinburg. From Arcadia, which sits next to the Gatlinburg Space Needle, to a long-standing favorite: Fannie Farkle, you can find arcades throughout Gatlinburg, Pigeon Forge, and Sevierville.
For the Top 5 Arcades in Gatlinburg, check this out.
Even more fun in Gatlinburg with kids
Ripley's Believe it or Not Gatlinburg: From wax figures to strange science experiments, Ripley's Believe it or Not Gatlinburg, is one of the most famous family attractions on the Gatlinburg strip. Spend a day marveling at the strange, unusual, and unbelievable Ripley's exhibits.
Again, this is another activity great for a rainy day or when you need a break from all that hiking!
Dollywood's DreamMore Resort: This family-friendly hotel is located alongside Dollywood amusement park, but you might want to make it a separate attraction. The beautiful resort hosts live music, themed and holiday decor, and even special events. Book a spa day at the DreamMore or a special family stay in this family-friendly hotel.
Go Karts: Another family favorite for young and old includes go karting! The Track is probably Pigeon Forge's most iconic race track for go karts, but you can find more fun activities like high speed go karting and an arcade at Xtreme Racing Center near The Island.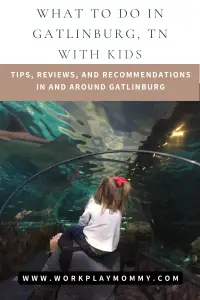 Mountain Adventure in Gatlinburg and Pigeon Forge
Some Gatlinburg fun is quite unique. Take a slow gondola ride to the top of a peak or a fast and risky coaster down the side of a mountain. Check these mountain adventures out for the whole family.
Anakeesta: Quickly topping Gatlinburg's most popular spots is Anakeesta. This relaxed and highly-popular attraction includes a gondola to a summit where you can shop, eat, and enjoy sweeping mountain views. However, get your tickets in advance as Anakeesta can book up quickly.
Ober Gatlinburg: For skiing and family fun, check out Ober Gatlinburg, Ober village, and the Ober Gatlinburg Aerial Tramway: From the base, conveniently located on the Gatlinburg strip, you can reach Ober Village by amazing gondola views. At the top, you will find shopping, food, views, and even nearby skiing.
Gatlinburg Mountain Coaster fun for big kids!:
For a thrilling family fun attraction try one of these gravity powered, slightly terrifying coasters! While they scare me to death, my friends love them, and highly recommend:
Moonshine Mountain Coaster
Smoky Mountain Alpine Coaster
Sky Bridge – One of the top 10 most scenic spots in the United States is in Gatlinburg. Walk the longest pedestrian cable bridge in North American at Gatlinburg's Sky Bridge.
If you want a bit of a thrill over mountain landscape a bit off the beaten path, check out this beautiful and unique spot for the whole family.
Read more about Gatlinburg's Sky Bridge here.
Food, Treats, Eats, and Sweets in Gatlinburg, Pigeon Forge, and Sevierville
Great Gatlinburg Family-Friendly Breakfasts:
Crockett's Breakfast Camp: For the best breakfast in Gatlinburg, don't miss Crockett's Breakfast Camp. Find our full review and tips for a great visit here.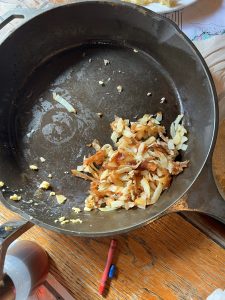 At the mouth of the Gatlinburg entrance to Smoky Mountain National Park, you will recognize Crockett's by the giant skillet and the even bigger line out the front.
Open only for breakfast, our family recommends the cinnamon rolls and anything served in a skillet!
Pancake Pantry: A Gatlinburg favorite, the Pancake Pantry is one of the most iconic spots in Gatlinburg. While I don't enjoy the breakfast as well as Crockett's, if you love pancakes and want to try a unique variety, then Pancake Pantry is the place to go.
Plus, as you wait, enjoy watching the candy making at the Ole Smoky Candy Kitchen through the giant window next door.
Delicious Gatlinburg Lunch and Dinner:
While you can find any type of food you fancy throughout Gatlinburg (on our last visit we tried a new Thai place!), we do have some local favorites that we return to time after time.
Paula Deen's Family Kitchen: Paula Deens on The Island is our number 1 favorite southern cooking dinner in all of Pigeon Forge, Gatlinburg and Sevierville. Everthing at Paula Deen's is served family-style and bottomless (except the dessert!).
Therefore, our kids always get their fill of macaroni and cheese and Ooey Gooey Butter Cake, while my husband and I enjoy the fried catfish! This place can book up, so make your reservations in advance.
The Apple Barn and Cider Mill, Inc.: Another local favorite for the apples and the treats is The Apple Barn in Pigeon Forge. If you fancy a dinner by a roaring fire and a prelude of cornbread, biscuits, and famous apple fritter, then check out The Apple Barn and CIder Mill. Don't leave without some apple butter or an apple dumpling for the road!
Sweet and Savory Gatlinburg Snacks and Treats:
For some of the most delectable and local made treats, try this list for quintessential Gatlinburg fun!
Fudge: You can find some of the best Gatlinburg fudge at the Ole Smoky Candy Kitchen, Kilwins, The Fudgery, or the Fudge Shoppe of the Smokies.
Popcorn: For Gatlinburg's most famous popped kernels don't miss CarmelCorn located centrally on Gatlinburg's strip. Leave with a bucket or two as a souvenir after you grab a snack for your family vacation!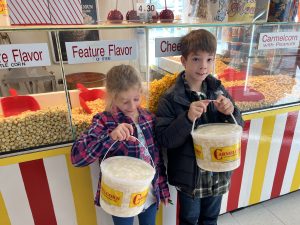 Candy: Finally, if you are traveling through Gatlinburg with kids and looking for something to do, your kids won't miss the giant, colorful candy stores! Take an evening stroll along the downtown strip, and peruse the locally made or even extensive collections of candy at every corner shop!
Drive Gatlinburg!
If you are ready for something fun to do but don't want to walk or eat anymore, then take a drive!
Cades Cove Loop: Hop in the car and take a scenic drive through the park for the entire Cades Cove Loop. You might even get lucky enough to spot some black bears along the way. Remember: don't get out of your car, try to touch them, or pursue them. This is especially true at the end of fall and spring when the bears are getting extra hungry!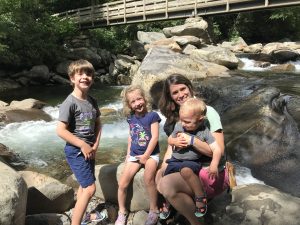 Knoxville: Just a short ride from the nation's most visited national park is the great city of Knoxville. Knoxville has lots of free and fun entertainment for the whole family and is a great place to spend a day out of Gatlinburg. If you go on a Saturday, be sure to check out the Market Square Farmer's Market, or check out these great activities for kids in Knoxville.
Check out these top Knoxville activities with kids, where to stay, and what to eat in Knoxville.
Or, try this 2-days-in-Knoxville-with-kids recommended activities.
Sports and Entertainment in and near Gatlinburg with Kids
Gatlinburg is also known for its live sports and entertainment. Try some of these local favorites:
The Comedy Barn: A Pigeon Forge Classic, The Comedy Barn is one of the most family-friendly attractions in the region!
Baseball at Tennessee Smokies Stadium: If you enjoy a night at the local ballpark, then book tickets for the Tennessee Smokies! This park is easily accessible, and tickets are relatively inexpensive. Our family loves to watch the Smokies with friends and groups for special event nights and an evening of hot dogs and baseball!
Gatlinburg Convention Center: From music and arts to personal development, the Gatlinburg Convention Center has events constantly. Check the Convention Center schedule here to find out whether any of your favorites are in town during your family vacation to Gatlinburg Tn.
Dixie Stampede: For Dolly's most famous local dinner theater, check out the Dixie Stampede! Lights, music, action, and food are all served at this family friendly dinner theater and event!
Local Bluegrass: DId you know that the same concert musicians that you might hear at the DreamMore might also be headlining at a local bar, restaurant, or amphitheater. Some of Tennessee's best bluegrass can be found here in Gatlinburg and is fun for the entire family. Don't forget to sing along to Rocky Top for the quintessential Tennessee experience!
Camping or Cabin Fun: Things to do at your Gatlinburg campground or cabin!
Hot Tub: Our family always books a cabin with a hot tub! Since the weather in Gatlinburg is fairly mild, even the fall and winter months can be comfortable outside. Therefore, our kids love to spend hours playing in the hot tub, and I enjoy it after bedtime!
Pool and water park: Staying at a resort or campground? Check out the resort pool for hours of fun for the whole family. You can find indoor and outdoor water parks at the Wyndham Great Smokies Lodge resort in Gatlinburg! Or, check out the high-thrills indoor waterpark at the Wild WaterDome at River Lodge – Wilderness at the Smokies!
S'mores: Don't forget about a simple (controlled and appropriate) fire and fresh-toasted s'mores. The smokies does have quite strict rules on fires, but as long as you check the current fire regulations and follow appropriate fire protocols, you and your family can enjoy ooey gooey s'mores with a view of the Tennessee foliage!
The Island: an attraction destination!
One of the relatively new attraction centers in Pigeon Forge near Gatlinburg is The Island. This enormous shopping and entertainment complex has so many great things for the entire family including Paula Deen's already mentioned above. However, you can also find:
Build-a-Bear Workshop
Moonshine Tasting at Ole Smokey Moonshine
Margaritaville Restaurant and Hotel
Coffee shops
Shopping
Byrd's Cookies
Big Rocky Candy Kitchen
Battleground Laser Tag
Bumper Cars
Mirror Maze
Mini Golf
Arcade
The Great Smoky Mountain Wheel\
An Escape Room adventure
and more rides, food, shopping, and entertainment
Just park and ride for an entire evening of fun for the entire family. You can even find hotels rimming The Island for a more convenient and all-inclusive amusement park feel!
Extreme Sports in and near Gatlinburg:
Finally for more extreme family fun in Gatlinburg, don't forget these extreme or nearly extreme sports and entertainment:
Skiing and Snowboarding: You will find some of Tennessee's best ski resorts here in Gatlinburg. Ober is our current leading favorite ski resort, but you can find lots of great skiing in Gatlinburg in fresh or fabricated snow.
Helicopter Rides: Enjoy birds-eye mountain views in a helicopter ride over the Smokies
Shopping in Gatlinburg and Pigeon Forge
You can't turn a corner in Gatlinburg without finding more and more unique shopping and boutique products. However, my favorite shopping spots are:
The Gatlinburg Strip: Buy your cheesy family vacation shirts, matching bear pajamas, or moonshine for the whole gang from boutique shops along the strip.
Pigeon Forge Tanger Outlets: Or, for great deals on name brand products, don't miss the outlets at Pigeon Forge. I love spending a day (or more) at the outlets perusing luxury brands, hunting for great deals, or in the Disney store with the kids!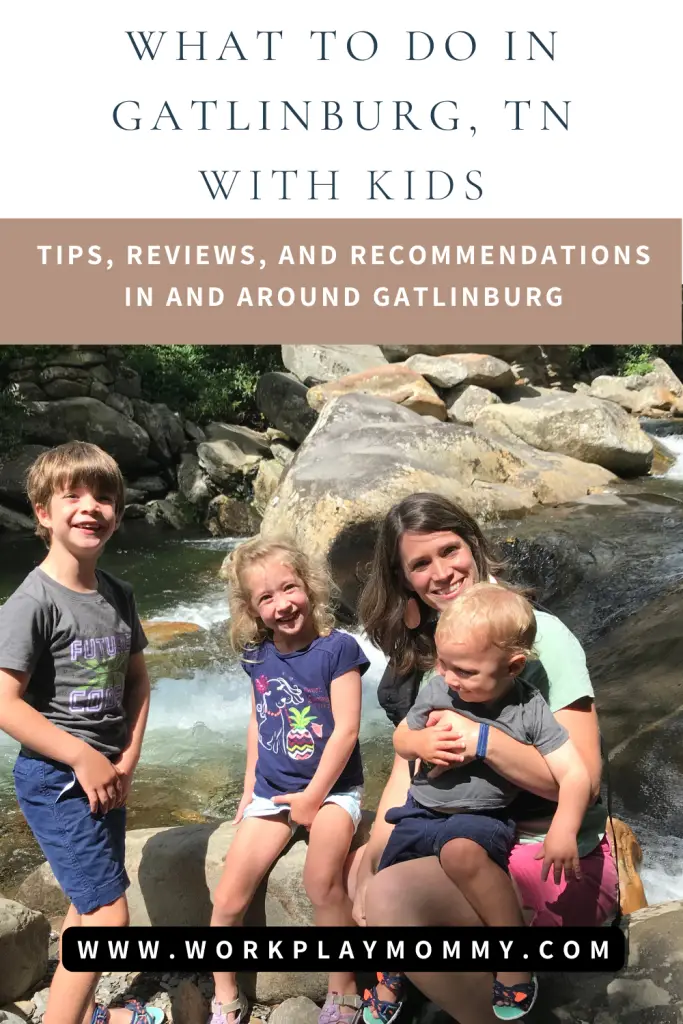 Tons of Family Fun in Gatlinburg, Tennessee
Our family loves Gatlinburg time after time. While we spend most of our time at the parks, we find new and different attractions, activities, and entertainment each time we return.
These are some of our very favorite and recommended stops for your family vacation, but let me know if you have any favorites as well!
YOU MIGHT ALSO BE INTERESTED IN: