What to do in Madrid with Children!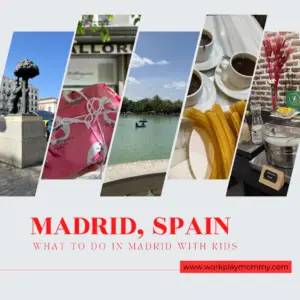 From history and architecture to food and dancing, Madrid is a beautiful and vibrant city. If you are looking for some of the best places for taking kids on your Madrid getaway, try these tips for traveling with kids to Madrid Spain.
Spain: A Great Family Destination
Spain is one of the most family-friendly countries I have ever taken my children. The entire culture is built around the family, and most locations are willing to make accommodations for children.
RELATED POST: What's So Special About Granada, Spain?
Although I am ordinarily mortified by my children acting up in public, while in Spain, if my children screamed or ran under foot, no one even batted an eye.
Other people would go out of their way to explain that our ninos (children) were preciosos (cute) or to let us know that no one minded our children in the slightest!
The culture was so inviting for our entire family. Plus, we found the destinations to be walkable and filled with playgrounds!
More Tips for Visiting Spain with Children
If you are looking for a great place to stay with a family, or other great Spain itineraries, check these out:
Best Family Activities in Madrid, Spain
Madrid is the largest city in Spain (second is Barcelona) by a longshot. Not only is it the country's capital, but it is also the center of art, history, and the monarchy for Spain.
Therefore, you will find no shortage of activities for adults, children, and everyone in between.
After spending time there during our family sabbatical, we wanted to share some of the places that we found best for kids!
1. Plaza Mayor
The most iconic plaza in all of Spain is located in the heart of Madrid. Plaza Mayor is the place to be for a fun evening watching street performances, for a calamari sandwich (a Madrid favorite), or simply for a tapa and a glass of wine with friends.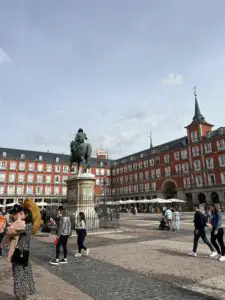 Plaza Mayor is completely surrounded by hotels, housing, offices, and, of course, food!
While the restaurants might not be the best in all of Madrid, choose any restaurant in the Plaza for an excellent view.
Our family spent hours and hours relaxing with lunch, dinner, tapas, and drinks in Plaza Mayor watching the world go by.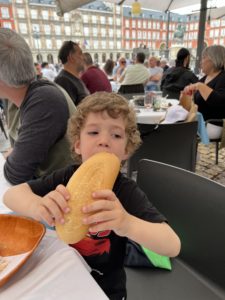 Our children loved popping enormous bubbles, watching the performers, eating all of the food, and simply running around in such a beautiful site.
Plaza Mayor is a great place to spend time in Madrid, Spain with kids.
2. Chocolateria San Gines: Eat Chocolate and Churros
Chocolate with churros is one of Spain's many claims to fame. However, did you know that Madrid's most famous and historic chocolate and churros spot is just outside of Plaza Mayor?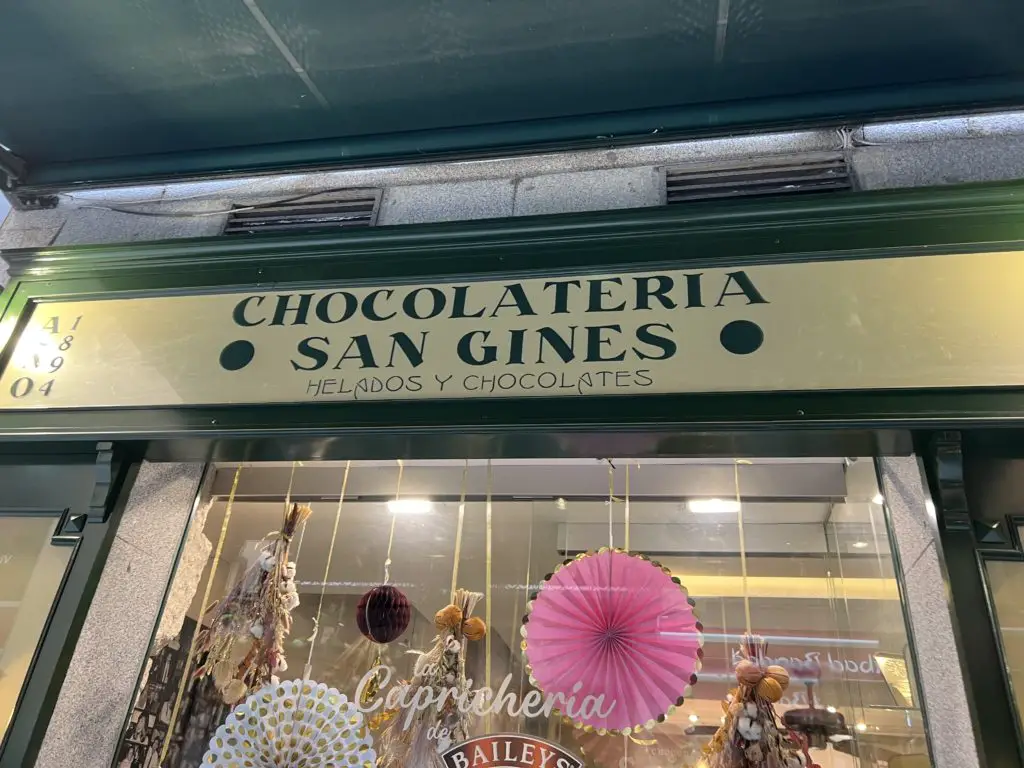 Don't skip the opportunity to eat fried churros dipped in chocolate for breakfast, lunch, snack, or dinner!
Plus, be sure to save some time to admire the star-studded walls of Chocolateria San Gines with your children in Madrid.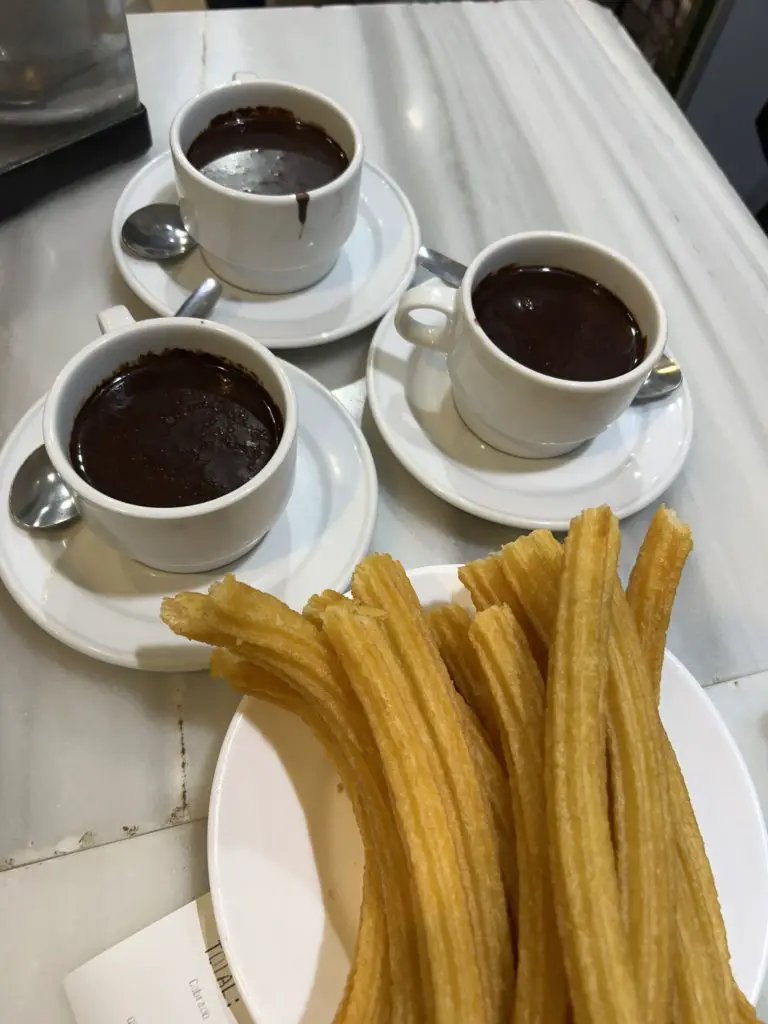 3. Visit El Oso y El árbol and Plaza del Sol
The statue of the Bear and the Strawberry Tree (el Oso y el Arbol or Madrono), emblematic of Madrid's coat of arms, is a historic site you can't miss with kids.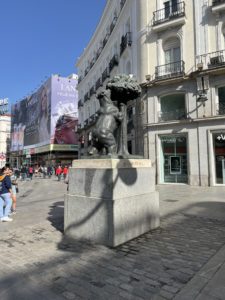 Located in Plaza del Sol, the bear in the strawberry tree has deep historic roots connected to the monarchy, the church, and finally the Moorish takeover.
However, for centuries the bear and the tree have been the symbol of Spain's capital, and even if your kids don't understand the words "century," "coat of arms," or even "moor", they will love the adorable bear and pose happily in front of it.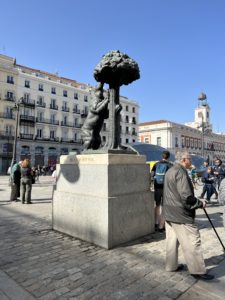 Use the opportunity to talk about what animals symbolize your children's country or even why the strawberry tree is important to the Spanish culture.
But, don't miss ice cream and a stroll through Plaza del Sol, where you might even catch a glimpse of a political speech or the royal family making a holiday appearance!
4. Parque del Buen Retiro
I love to spend times at city parks and playgrounds alone, but when I travel with my kids, my first stop is a place for my kids to run, stretch, and be kids.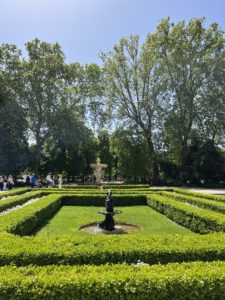 Madrid's Parque del Buen Retiro (or just Retiro for short) is the city's premier outdoor space.
Spanning more than 350 acres, Retiro park is a huge landmark of Madrid. (https://www.introducingmadrid.com/retiro-park)
Not only will you find jogging and walking trails, you will find water gardens, restaurants, bike trails, playgrounds, and more.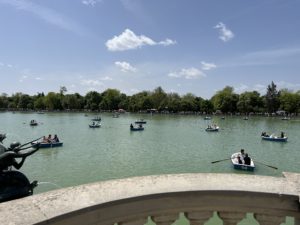 Plus, you can't miss boating!
What can you do in Retiro park?
Walk: Endless trails run through Retiro park. In fact, my husband and I both took long runs throughout the entire park on multiple occasions and still haven't covered the entire park.
Bike: Bring your own, bike, scooter, or skates and enjoy the paved trails that run through the middle of the park. Or, if you aren't traveling with wheels, rent some of super fun family bikes from one of the many bike rental shops bordering the park.
Boat: Did you know that you can rent canoes and boats at Retiro park. Book early because they fill up! Take your picnic for a romantic afternoon boat ride!
Playgounds: As in playgrounds plural! My kids tested 6 playgrounds during our days at Retiro, and I am absolutely certain that we did not visit them all.
Retiro has playgrounds for all ages, all abilities, and at each corner. Did I mention that Spain really values the family and children? You won't find any lack of fun places for the kids to play at Retiro park in Madrid!
Then, when the kids are tired, spend a lazy afternoon sipping tintos in the sunshine in the middle of Madrid's largest park!
5. El Prado Art Museum
Spain is known for its beautiful and classical art scene. No other Spanish museum will show you the history of art in Spain quite like El Prado.  
But…let's get real. Few children want to spend an entire day wandering around an art museum. Even my art-loving daughter can only spend a short amount of time looking at very specific pieces of art.
Therefore, for kids in Madrid, I highly recommend that you visit El Prado during its FREE hours.
You can find the Prado gratis (free) hours here.
Just those couple of hours were plenty of time for our children.
I recommend that you visit some of the most famous and iconic pieces of historic art and then head back to the park or pastry shop!
For example, take them to Las Meninas by Velazquez (my favorite!) and highlight a few pieces of art that are iconic to Spain's history such as Carlos V or the Second of May by Goya.
Be sure to grab the audioguide when you enter to help fill in some gaps, if you, like me, are not an art history buff!
6. Reina Sofia Art Museum
While the Prado Museum is world-renowned for its classical art collection, the Reina Sofia boasts one of the world's most famous contemporary art collections.
Not only is the museum visually interesting with its labrynth of tunnels huddled around a historic cloister, the museum is especially important to Spain's modern history.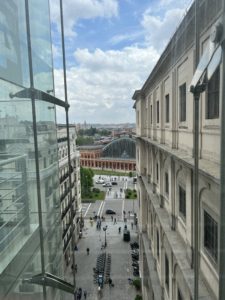 The Reina Sofia holds art that is both iconic and singularly responsible for Spains return to the global stage.
At the Reina Sofia you and your children can walk through a visual tour of the oppression carried on by the dictatorship in Spain.
Spend time talking about Spain's more recent history with your children and don't miss spending time at La Guernica –Pablo Picasso's most famous piece at the Reina Sofia.
By the end of a couple of hours at the Reina Sofia, my children were tired of walking quietly and "not touching". However ,they could use words like "cubism", "medium", and "Pablo Picasso."
Learning with kids at the Reina Sofia
In fact, my 6 year old daughter shocked me recently when she took the time to draw an asymmetrical face and declare that it was like Pablo Picasso!
I was surprised and delighted that she had caught a little bit of art and culture from Madrid's Reina Sofia.
Don't skip the Reina Sofia simply because it doesn't fit the usual children's activities. Instead, use the museum's free hours to plan a short trip into the museum to teach your children about some of Spain's most notable modern artistic history.
7. Spain's Royal Palace
Your children likely love the idea of princes, princesses, kings, and queens. Therefore, they will love a trip to Madrid's beautiful Royal Palace.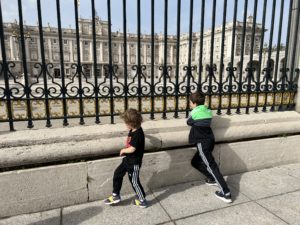 Madrid's Royal Palace, the royal family's official residence, is a working palace where the royal family both lives and works.
However, the Palace in Madrid is only one of their residences! In fact, the royal family still takes refuge, at times, in the ancient Moorish castle –La Alhambra –located in Granada, Spain.
RELATED POST: Visiting the Alhambra with Kids
When available, you can even tour el Palacio Real and see more artwork by Goya, Velazquez, and more.  
However, even if you don't care to take the time or make the reservation, be sure to visit Plaza de la Armeria, where you can get a great view of the Palace, and the bird's eye view of the city stretched below.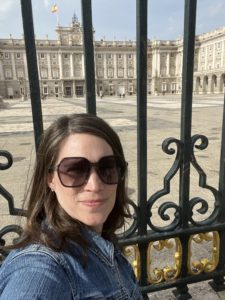 Plus, continue along the public grounds of the Royal Palace to Plaza de Oriente and enjoy the statues, history, and gardens that rim Spain's beautiful Palacio Real.
For times and tickets to tour El Palacio Real, click here.
8. Pastries at the Famous La Mallorquina
Honestly, I am not sure that I have ever met a European pastry that I didn't like…well maybe marzipan… And Spain boasts some of the most beautiful, delicious, and varied pastries in the world.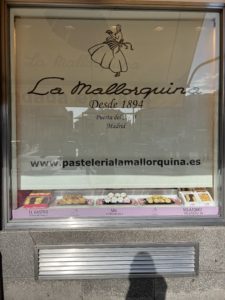 However, if you are visiting Madrid and want to experience not only the best of Spain's pastries but also a beautiful piece of history, make a stop at La Mallorquina.
Although the Mallorquina is named after the treat made famous by Spain's exotic island of Mallorca, the city gem has graced the streets of Madrid since 1894.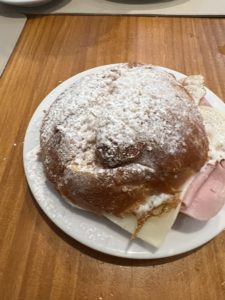 Take the time to sample some treats, enjoy breakfast from the second-story dining room, and get some more treats to go wrapped in the iconic pink paper tied with string!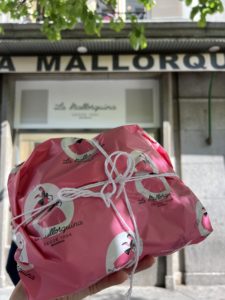 Don't miss Madrid's pastry scene, and put La Mallorquina on your must-do Madrid list with kids!
9. Tapas
Spain is known the world-over for its tapas scene. Drinks and small plates run the gamut from bar to bar, and tasting a little something at several different locations is part of the fun.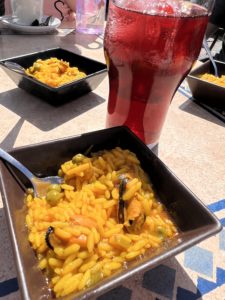 Don't leave Madrid without trying Sangria, Tinto de Verano, or one of the local beers accompanied by a traditional Spanish tapa like paella, sardines, olives, or cheeses.
Then, move on to a full, late Spanish dinner.
For more great tapas with kids recommendations, check this out!
10. El Mercado de San Miguel
Believe it or not, even my picky eaters loved much of the Spanish food made famous right in Madrid. Calamari sandwiches and tortilla Española made it to the top of their list (after the pastries, of course!).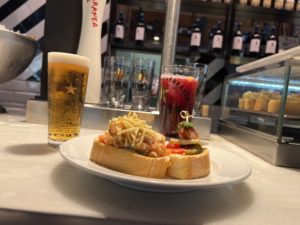 Our family enjoyed long, slow dinners and tapas on the streets of Madrid. I can't even begin to recommend a single location because they were all so delicious and different.
However, we nearly missed what turned out to be our favorite gastronomic adventure in Madrid –El Mercado San Miguel.
Conveniently located in the center of Madrid is a site made famous by decades of the best of Spanish foods.
You will find many of the iconic meals of Spain with new and unique flairs. Try custom cocktails served with oysters.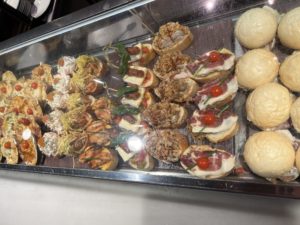 Enjoy tostadas topped with Spanish meatballs or local seafood, craft beers, homemade soups, coffees, empanadas, and all the pastries you care to eat!
The market is an event and attraction in and of itself. Come hungry, and be sure to survey all of the vendors lest you get too full too fast!
Other Great Places to Visit in Madrid, Spain with Kids
Madrid is a living city where the attractions, restaurants, and activities change regularly. Therefore, don't expect to do or see everything in Madrid in just a few days.
Some of the places that our family wanted to visit with kids but didn't have the time included: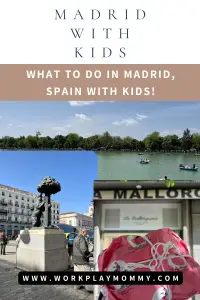 Traveling to Madrid Spain with Kids
Madrid is a beautiful, expansive, and kid-friendly city where your family can enjoy long, meandering walks, ancient history, and the best of Spanish gastronomy.
Not only will you find that the culture accepts and invites kids, but even the more mature attractions make accommodations for young children and family budgets!
Traveling with kids can be more work, but it is worth it! Your children can have just as much fun as you in Madrid at all of these locations.
If you are looking for family-friendly Madrid center accommodations, check out this review.