What it's like to stay at the Spider-Man Suite in Disneyland Paris's Hotel New York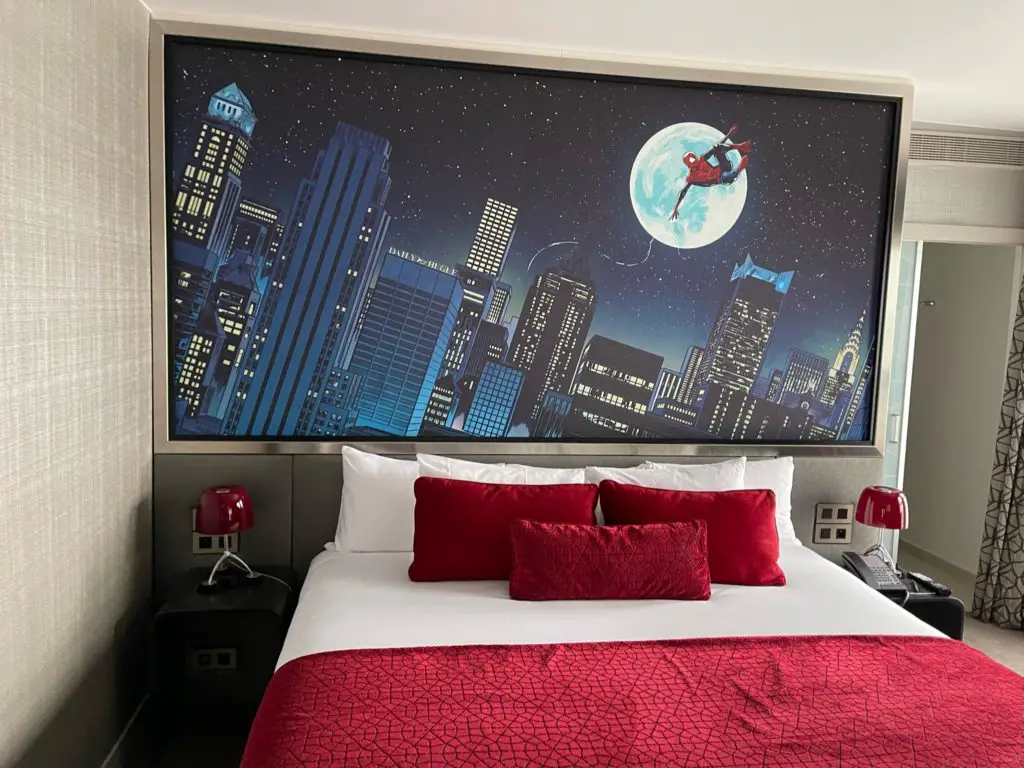 Want to stay in an extremely comfortable room where you will certainly feel pampered but still want to have some of the nerdy fun of Marvel? The Spider-Man suite is an enormous two-room suite where will experience one-of-a-kind art and uncompromising amenities.
Hotel New York and Disneyland Paris
If you are planning a trip to Disneyland Paris and have even a passing interest in Marvel characters, then you are likely looking at staying at Disneyland Paris's Hotel New York!
Disneyland Paris's Hotel New York is a 4 star hotel. It is luxurious and uncompromising in character, food, and amenities. However, unlike any other luxury hotel in the world, Disney's Hotel New York boasts an entire collection of Marvel artwork.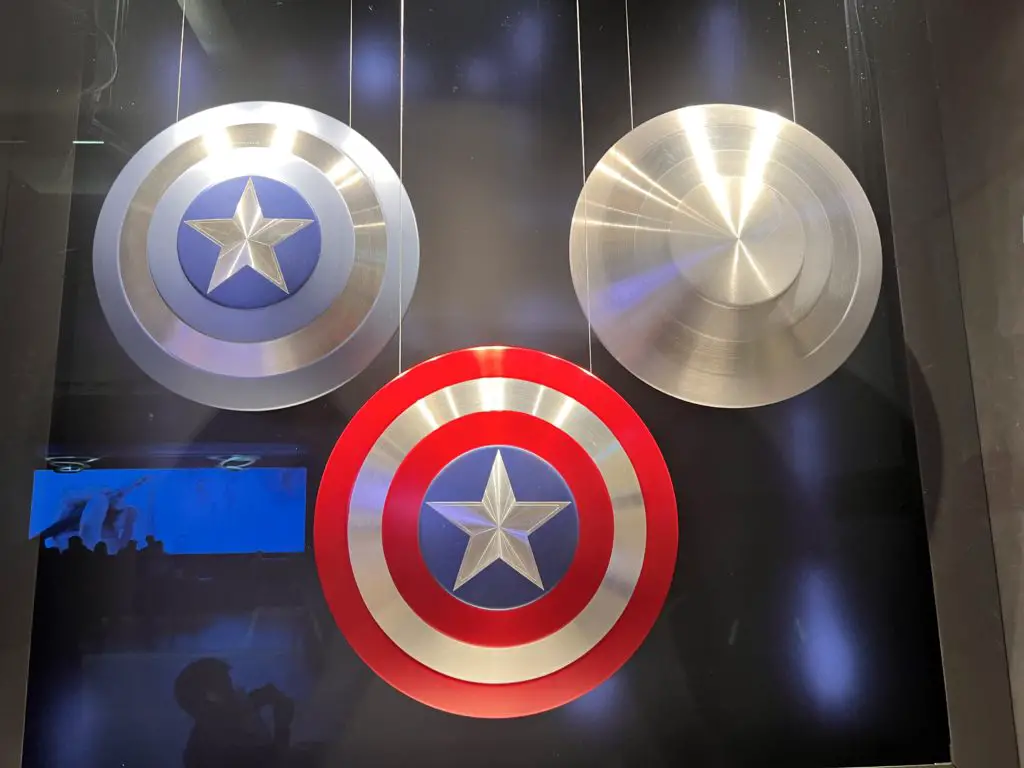 The elaborate collections—paintings, drawings, etchings, sculptures, life-size replicas –cover the entire hotel. Everywhere you look you see more art.
And, even when you aren't looking, you might suddenly notice hidden artwork – carved in the walls, etched into the beams, or even webbing on the ceiling.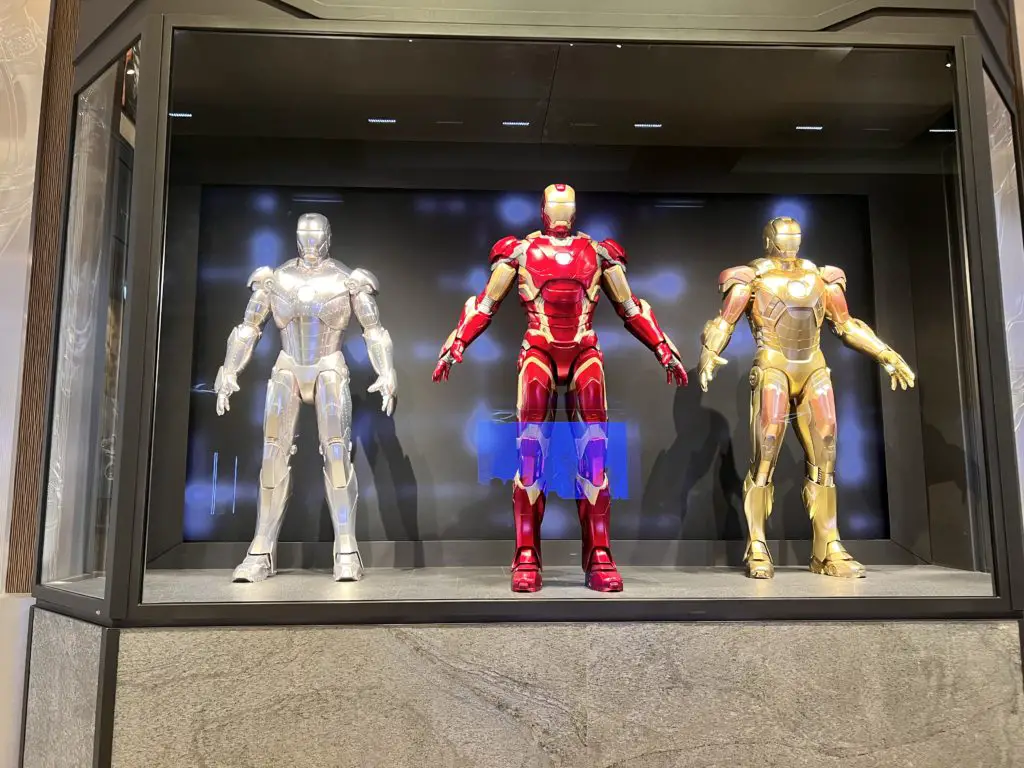 Some of this unique artwork is available for sale at Hotel New York's New York Boutique. Some of it might have even made it to our home!
Hotel New York's Unique Marvel Experiences
Hotel New York is not only about luxury accommodation but also about unique and interesting Marvel experiences.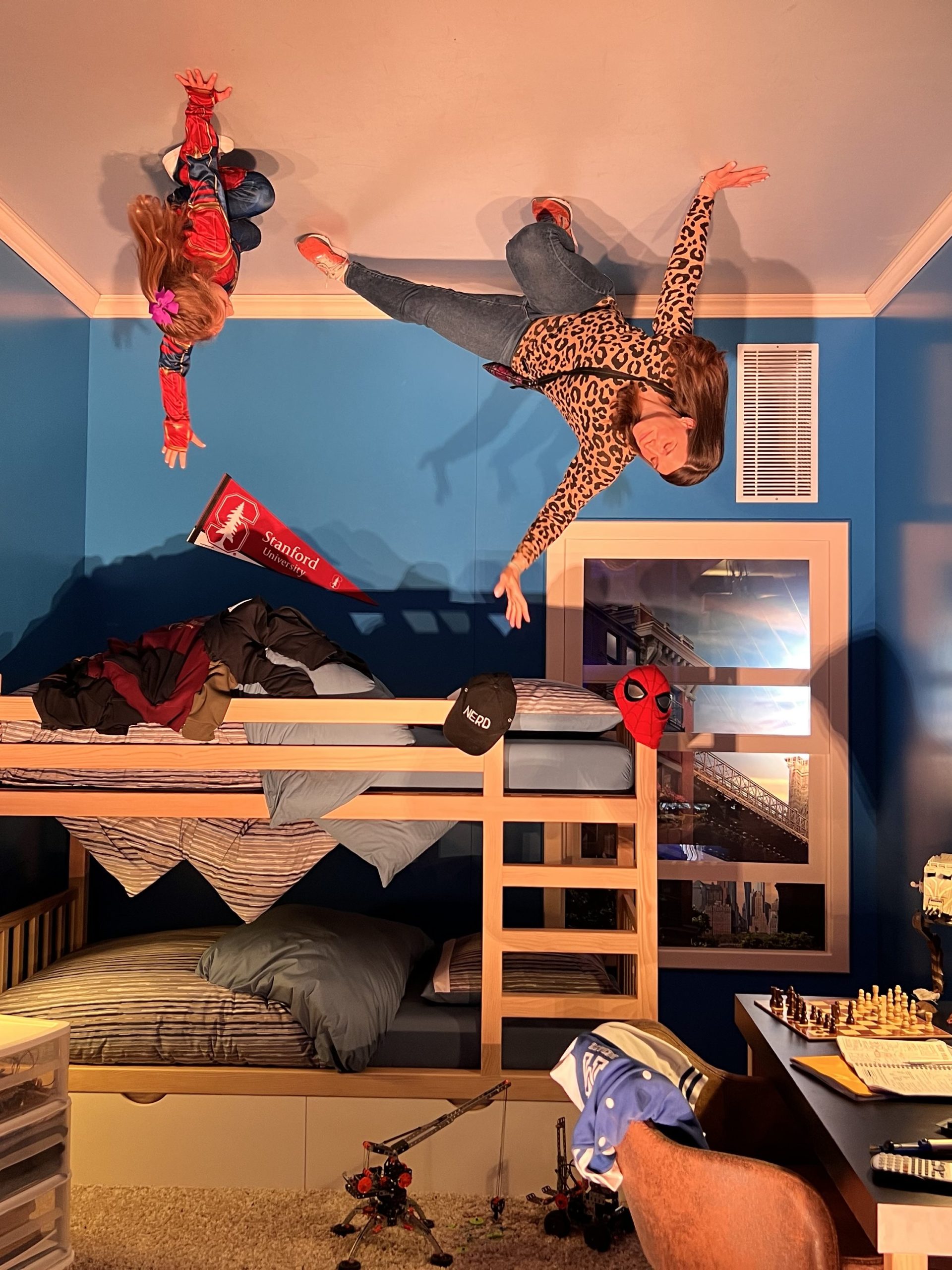 In Hotel New York's heroic encounters at the Super Hero Station, Hotel New York's patrons have the chance to enter into the magic of Marvel.
The Super Hero Station boasts 9 unique photo opportunities. Each station depicts quintessential scenes from many of the Marvel movies and another hosts Spider-Man himself!
From Spider-Man's bedroom, where you can hang upside down, to Captain Marvel's flight over the Earth, you can pretend to be a part of the fun and adventure of Marvel.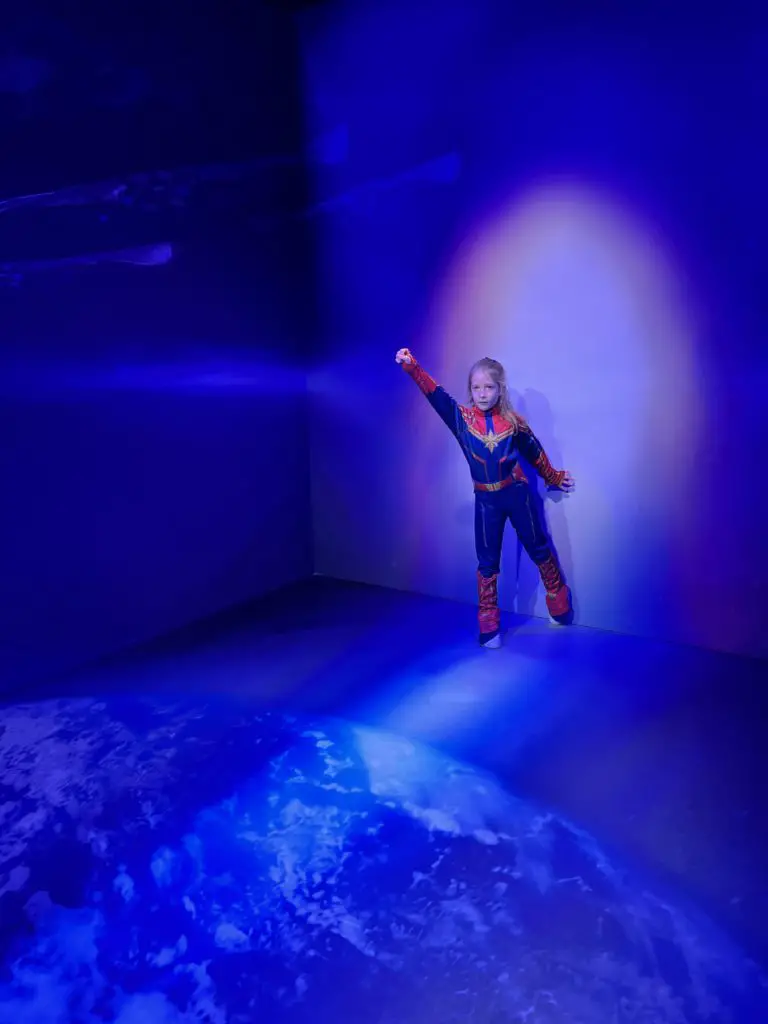 If you are lucky, Hotel New York guests also have the opportunity to register to meet Spider-Man. Reservations are required, and they go fast. But, the Spider-Man is great and made my children feel so special. Impressively, Spider-Man was also able to navigate several languages as the crowd was made up of people from all over the world.
Hotel New York Spider-Man Suite
In addition to the Spider-Man artwork, meeting Spider-Man and even eating Spider-Man themed New York meals, you can stay in the Spider-Man Suite!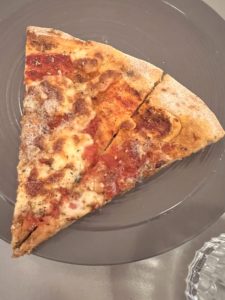 These suites, unlike the standard Hotel New York rooms accommodate up to 6 people including a child under 3.
The two room suites have a New York sized King bed in the main bedroom, a twin Spider-Man bed in the main living area, and even a pull-out couch.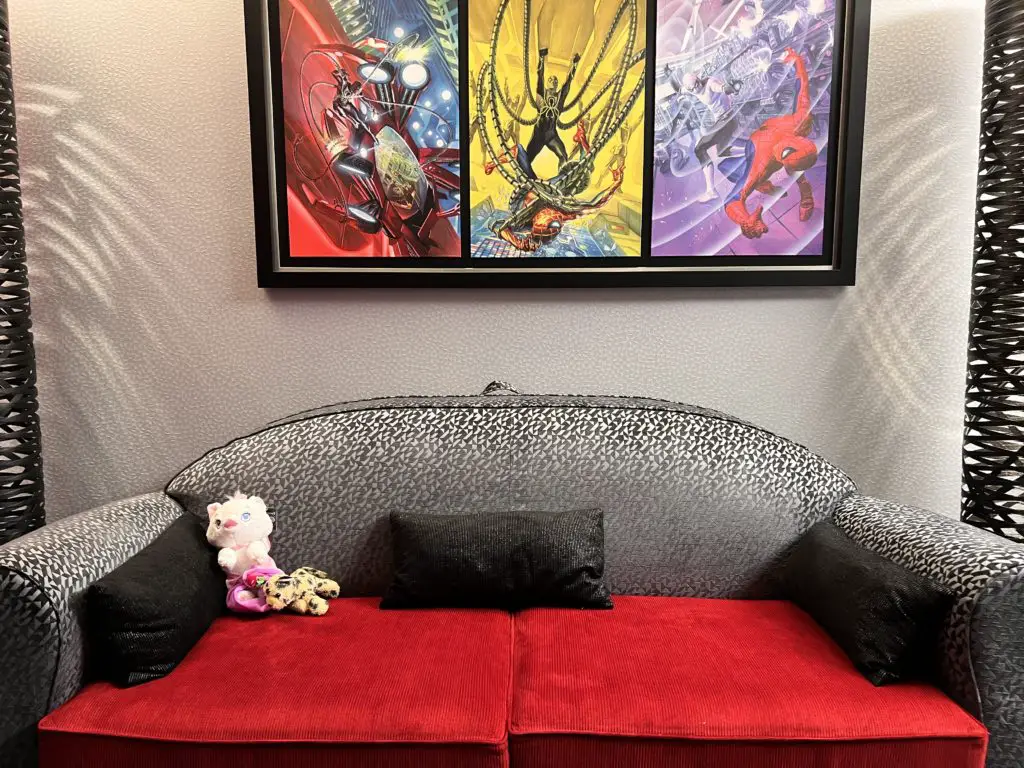 In addition to the plush sleeping arrangements, the suites also boast not one but TWO bathrooms complete with jacuzzi tub and rainfall showers.
My favorite part of the entire suite were the Spider-Man themed slippers and robes. In general I love cozying up in my robe and slippers, but wrapping up in a plush luxurious robe that featured a favorite comic hero just increased the magic that much more!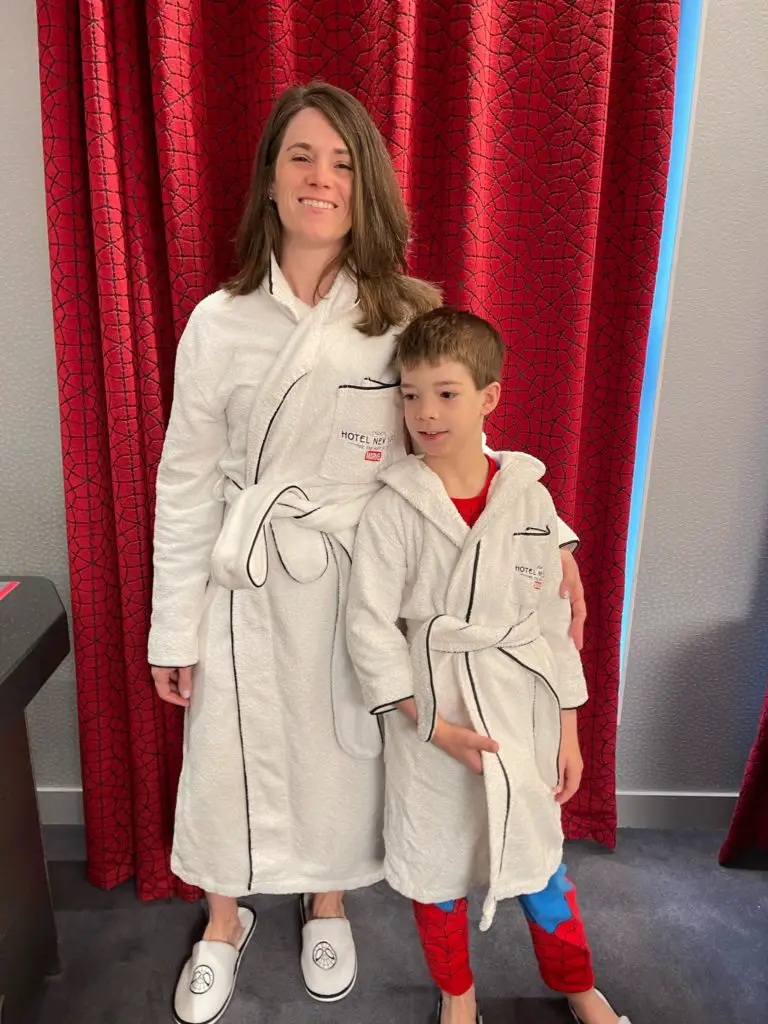 Spider-Man Suite Extras
The beds, bathrooms, and comfort of the Spider-Man suite are unmatched. But, in true Disney style, Hotel New York takes it even farther.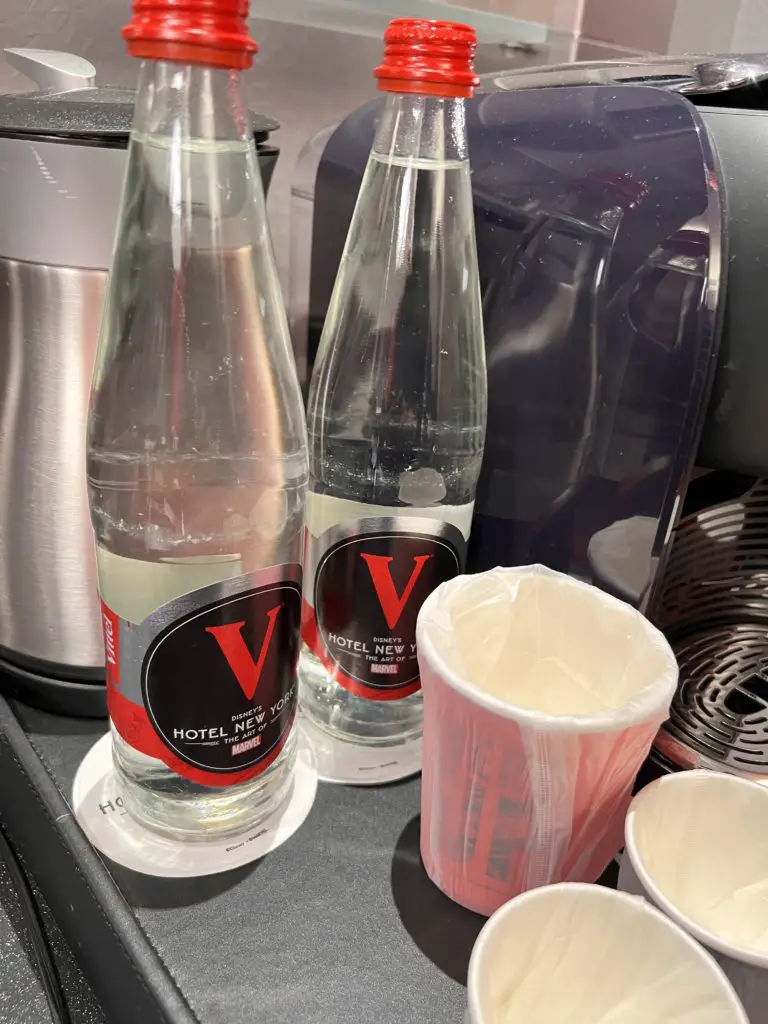 The room had uniquely stamped Hotel New York bottles of water, Hotel New York toothbrushes, Hotel New York shampoos and soaps, and even Hotel New York travel kits like shoe mitts and shaving sets.
Spider-Man Suite Art
But truly, the most unique part of the entire Spider-Man Suite is the art.
From the huge canvas paintings in the main living area to the light-up artwork over the bed, art is everywhere.
The carpets were designed to look like the New York city skyline. The ceiling moldings were shaped like elaborate spiderwebs, and even the curtains are spider-style.
As you might already know, one of my favorite Disney Mom Hacks for doing Disney with small children is to stay club level where available.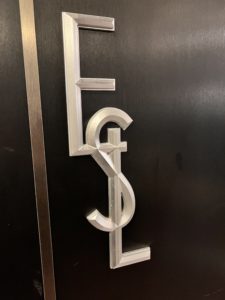 RELATED POST: Top Ten Disney Hacks for Moms with Small Children
Hotel New York and its Empire State Club are well-worth the extra cost if you have a family that can't quite stay at the park the entire day and don't need to eat 3 square Disney-sized meals.
But, in addition to the food, Club level comes with added perks.
RELATED POST: Hotel New York's Empire State Club Review
Each day in the Spider-Man suite at club level, magical fairies came into our room, tidied, turned down the beds, and added little treats to our pillows.
Further, the Empire State Club is located on its own floor meaning that it has fewer people walking through it and is thus more secure.
In fact, a large portion of the Empire State Club floor is made up of a couple of Presidential suites. While we were there, the Presidential suites were under quiet guard and surveillance. Our family could only speculate as to who was staying in them! However, it made us feel all the more safe and secure as we traveled through a foreign country.
Spider-Man Suite and Family Comfort
Our family loved our stay in the Spider-Man suite. As you likely know, sleeping in a hotel room while traveling with small children can be quite a trial on your patience.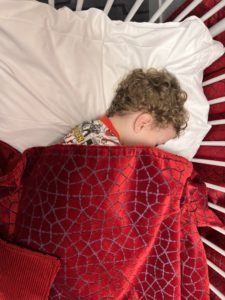 Sleeping in an ordinary hotel room can also mean giving up a LOT of sleep. This was not the case in the Spider-Man suite. Each person in our family had his or her own bed, his or her own lights, and even a unique small space away from everyone else.
Plus, we parents were able to stay up in our own room watching television or even the fireworks from the park while our children slept soundly in the other room. We could even venture out from our room for drinks and cocktails long after bedtime for our young children.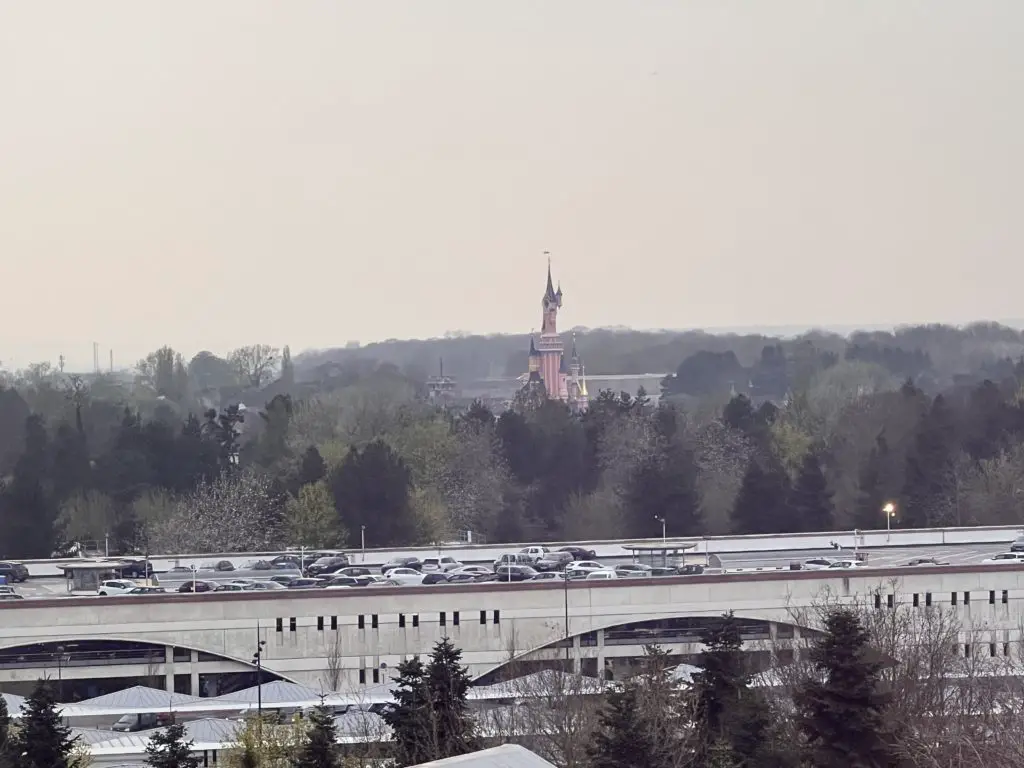 In fact, our particular Spider-Man suite had a view of both Disneyland Paris Parks and a clear view of Sleeping Beauty's castle. We could clearly see the drones from Disney D-Light and the fireworks from Disney Illuminations from the comfort of our room.
Spider-Man Suite at Disneyland Paris Hotel New York
My husband is a comic book nerd. My sons love Spider-Man. And each member of our family has a Marvel favorite. Therefore, Hotel New York was a fun and exciting adventure for us.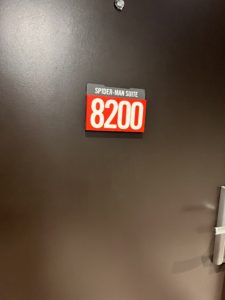 However, staying in the Spider-Man suite added to the magic. Plus, it was an extremely luxurious and comfortable suite for our entire family.