Top Ten Magic Kingdom Rides for Toddlers: Disney Tips for Moms
What are the best Magic Kingdom rides for toddlers? And, what rides should you definitely AVOID with toddlers at Magic Kingdom?
Are you planning a magical vacation filled with pixie dust and wonder for your little ones? You probably started months or years in advance. However, when it comes down to planning the perfect Disney Park day, keep in mind that not all Disney rides are toddler-friendly.
If you are planning your Disney day with a toddler, consider that not all Magic Kingdom rides accommodate toddlers. Plus, even if your child meets the height requirement, not every ride is suitable for your child.
Disney World Fail for Toddlers
While only you know the likes and dislikes of your own child, let me share with you my biggest Disney World fail:
On our first family trip to Animal Kingdom, we arrived eager at Extra Magic Hours before the usual park opening. We made the mistake of not clarifying which rides would be open during EMH and went to the first open attraction that our children were tall enough to visit: A Bug's Life: It's Tough to be a Bug.
We didn't notice the small sign on the wall that said that this attraction was intense and perhaps not suitable for all ages. After all…it's Disney World…we didn't know that we needed to look for that kind of sign.
Shortly after the show began my kids were paralyzed in fear. Spiders, caterpillars, puffs of air, and squirts of water left them in a terrified panic.
They spent the rest of the day fearing that we would take them to another scary show and never want to return to Animal Kingdom. We spent the rest of the day wondering why we had spent so much money to torture our children.
Don't be like me…know what attractions to take your kids to before you enter the parks!!
To read more about our worst family vacation fails, check this out!
Top Ten Attractions for Toddlers at Magic Kingdom
After taking multiple toddlers on multiple visits to the Magic Kingdom, we now know what rides we want to avoid (keep reading for the rides that you want to avoid) and what rides will always be a hit.
If you are visiting with big kids, teenagers, or adults, you won't want to spend your entire visit on just toddler rides. So, here are my top ten picks:
1. Dumbo
Dumbo is a classic and a hit for the whole family. Plus, if you have small children, take advantage of the playground inside the big top!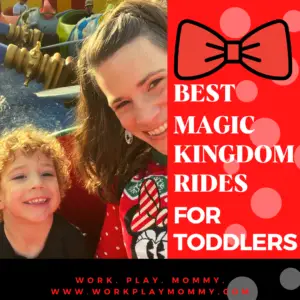 2. Barnstormer
Dirctly beside Dumbo is the Barnstormer: Goofy's silly roller coaster. This tiny roller coaster is sure to make those little ones feel like they aren't left out as the big kids ride Big Thunder Mountain or Splash Mountain.
3. The Teacups: Mad Hatter's Tea Party
Another Disney classic sure to delight toddlers are the teacups. The best thing for me about riding the tea cups with my toddlers is that they aren't quite big enough to spin the cup very fast. Thus, I can still keep my lunch after riding the tea cups!
4. Buzz Lightyear's Space Spin
Don't all toddlers love Toy Story? My kids all love to pretend to play Buzz Lightyear. Riding along on Buzz Lightyear's Space Spin is not only fun but interactive. Your toddler will love shooting Zurg!
5. Astro Orbiter
Much like the Dumbo ride, the Astro Orbiter is fun for the whole family. While the ride itself is not a big thrill, the view of the park is amazing. Atop the Astro Orbiter you can see the entire park. It's a great ride at sunset as the lights dim over the castle!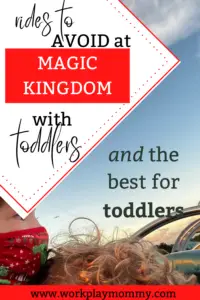 6. The Magic Carpets of Aladdin
Head on over to the bazaar and enjoy a ride on the Magic Carpets. But, watch out for the camels…they spit!
7. Seven Dwarfs Mine Train
Unlike the other attractions listed so far, Seven Dwarfs Mine Train does have a height limit. However, my 2 year old, who is average height, was able to ride it. He LOVED it. This roller coaster is smooth, and your toddler will love watching the Dwarves mine in the middle of the ride.
Check height requirements for the Mine Train here.
8. Peter Pan's Flight of Passage
Off to Neverland in this any age, any height ride. Peter Pan is the only ride found at all the Disney parks, and is a classic your toddler will enjoy.
9. Under the Sea – Journey of The Little Mermaid
I'll admit, my girl toddler loved this ride far more than my boy toddlers. So, take this one with the understanding that your child might have varying appreciation for the Little Mermaid.
10. It's a Small World
I love the It's a Small World ride! And so do my toddlers. The music, the gentle boat ride, and the colors fascinate them. While it is listed as number 10, it's my very favorite on this list!
RIDES TO AVOID WITH TODDLERS AT MAGIC KINGDOM
Again, you know your own toddler, and you can make these judgment calls for yourself, but in my experience, several all ages, all heights attractions were far too intense for my toddlers.
Jungle Cruise
While I can appreciate the adventure theme of the Jungle Cruise, my toddler was terrified. If your child doesn't like some suspense and thrill, then the Jungle Cruise is not for them.
Swiss Family Robinson
My kids loved running through the Swiss Family Robinson treehouse. However, they had no idea what they were looking at. Even after reading a short version of the book and watching the movie, my toddlers were bored and didn't understand why they had to wait in line in a treehouse.
Haunted Mansion
A Disney favorite, the Haunted Mansion is not for children who are easily scared. My kids won't even go near where the Haunted Mansion is located, cry as they pass the graveyard, and get scared just seeing the pictures.
Big Thunder Mountain Railroad
Some toddlers are tall enough to ride Thunder Mountain Railroad. However, be aware that there are some scary scenes on the ride, and my children are now terrified that I am going to make them ride "the bat ride" again.
Hall of Presidents
Personally, I am a big history nerd and love the Hall of Presidents. However, my toddlers hate it. I get it, it's not very exciting for a two-year-old.
Carousel of Progres
It's a great big beautiful tomorrow, but today, at Disney World, my toddlers don't want to learn about history. This is a ride better suited to big kids, teens, and adults who can appreciate changing technology.
Other Great Magic Kingdom Attractions for Toddlers
Other rides and attractions that my toddlers have loved but aren't listed as exclusively for the toddlers are:
The Enchanted Tiki Room
My kids were a little freaked out by the talking birds at first, but then loved the music. And, best of all, it rarely has a long wait.
The Country Bear Jamboree
While my kids were a little freaked out by the talking birds, the talking bears were a big hit. Admittedly though…I find the bears a little creepy! My toddlers, sang, clapped, and danced along!
The Ferryboat
Need a leisurely break for your toddler? Take a ride on the ferry.
FIREWORKS
Don't leave before the fireworks show simply because your toddlers are having total meltdowns. I promise, you will not be disappointed, and the fireworks remain my children's favorite part of the day.
The People Mover
Again, this toddler friendly, simple ride is a great place for your tired little one to have a little break.
The Many Adventures of Winnie the Pooh
The Winnie the Pooh ride may not be your big kids' favorite, but your Pooh, Tigger, and Piglet loving toddler may love the little adventures on this ride!
TODDLER RIDES AND MAGIC KINGDOM
Don't skip out on Magic Kingdom just because you believe that your toddler won't remember it or because you fear that they won't enjoy the attractions. Mix some of these toddler-friendly rides in with the bigger attractions and the whole family can enjoy.
Further, don't make the same mistake I did and believe that all rides are appropriate for all children. Stay away from some of the more intense rides if your children are easily scared.
For more tips for traveling to Disney with small children, check this out!