At Savi's Workshop you walk into a mysterious world, immerse yourself in role play, are entertained, and leave with a fun souvenir to boot. But, is Savi's workshop –building a custom lightsaber at Disney's Galaxy's Edge – really worth the time and money?
More importantly, is it right for you? Let's consider why you and your children might see this awesome Disney experience of building a lightsaber very differently.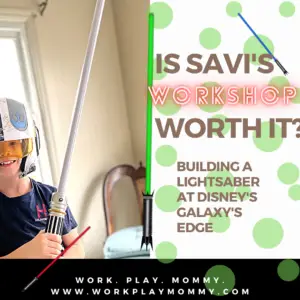 If you are looking for tips for taking young children to Disney World and possibly saving some money while you are there, check out my ultimate top ten tips for Disney with small children.
Disney World's Hollywood Studios and Galaxy's Edge
The magic of Hollywood Studios and Disney's Galaxy's Edge really is enchanting. We aren't ashamed to admit that Galaxy's Edge at Disney's Hollywood Studios is one of our very favorite attractions at all of the Disney parks.
If you are already a Star Wars fan, you will love being a "traveler" in Batuu, drinking blue milk, and snapping pics in front of the Millennium Falcon. 
(Here, you can see that we were able to carry the lightsaber around with us throughout the park)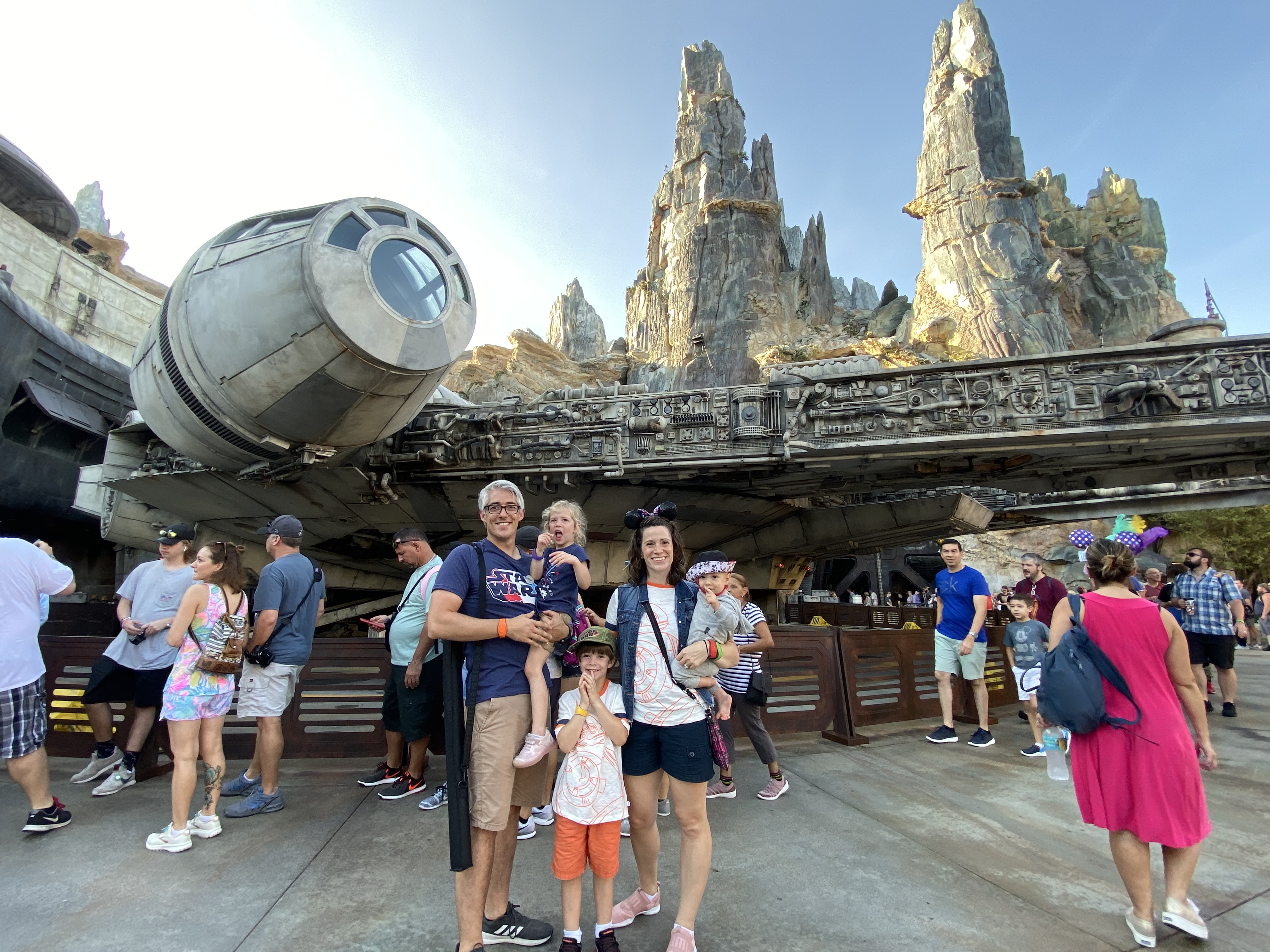 But, in true Disney style, you can always pay a little extra for an upgrade – a real fan upsell.
One of our favorite upsells at Star Wars Galaxy's Edge is Droid Depot, where our kids have built, not one, not two, but three different droids. All of which have become some of their very favorite toys and Disney memories.
To read my review and opinion on Droid Depot, check this out.
However, if you are wondering whether you should choose to spend the $250.00 (actually $249.99) to build your own lightsaber at Walt Disney World in Savi's workshop, then let me give you a few different pointers.
What is Savi's Workshop?
Savi's workshop is a scrap metal workshop cover for lightsaber making. At Savi's workshop, cast members work with aspiring Jedi and Batuu travelers who want to fully experience the entire Star Wars universe!
At Savi's travelers can join to fight the Empire, or, maybe they really want to join the dark side and follow in the footsteps of Kylo Ren or Darth Vader! Either way, they can find their favorite lightsaber components in this covert workshop!
Savi's is both the location to build your own custom lightsaber and a chance to choose and assemble lightsaber parts.
Unlike many of the free interactive role playing attractions in Disney's Galaxy's Edge, Savi's workshop is a whole experience that requires not only extra money but forethought. You must book your Savi's Workshop reservations to build your custom handbuilt lightsabers well in advance.
Do I need a reservation to go to build a lightsaber at Disney?
Currently, you can book your lightsaber build time as many as 60 days in advance by clicking here, but a limited number of same-day reservations are available.
When you make your reservation, you are the only person who may enter. Only the actual builders (and one adult if the builder is a child) can enter the workshop. This differs from Droid Depot where only the builder and a guest are eligible to enter, but the rest of the family can watch the entire experience from the gift shop.
How much is it to build a custom lightsaber at Savi's Workshop?
Like most things on Batuu, the credits (money) add up quick. Building a lightsaber at Savi's workshop will set you back at least $250.00.
When you make your reservation, you book your spot. You are required to pay for your lightsaber upon entry. Currently each lightsaber build starts at $249.99 and includes a carrying case.
Of course, the customizations, add-ons, and personalizations are extra and endless for building a lightsaber at Disney.
For example, you can purchase different colors of kyber crystals, additional lightsaber pieces, and other details.
So, you can expect that by the time you leave the workshop having purchased an extra crystal or other accessories, you could easily spend $300.00
How to ship a custom lightsaber from Savi's Workshop?
Further, due to the size and shape of the lightsaber, you may not be able to simply walk onto an airplane with it. You know those rules about weapons and airplanes…well…this package may have to be checked or shipped.
For us, shipping was much cheaper than checking the lightsaber and fearing that it would be crushed between mountains of luggage.
So, add shipping, a shipping container, or checking the lightsaber to the price if you didn't drive.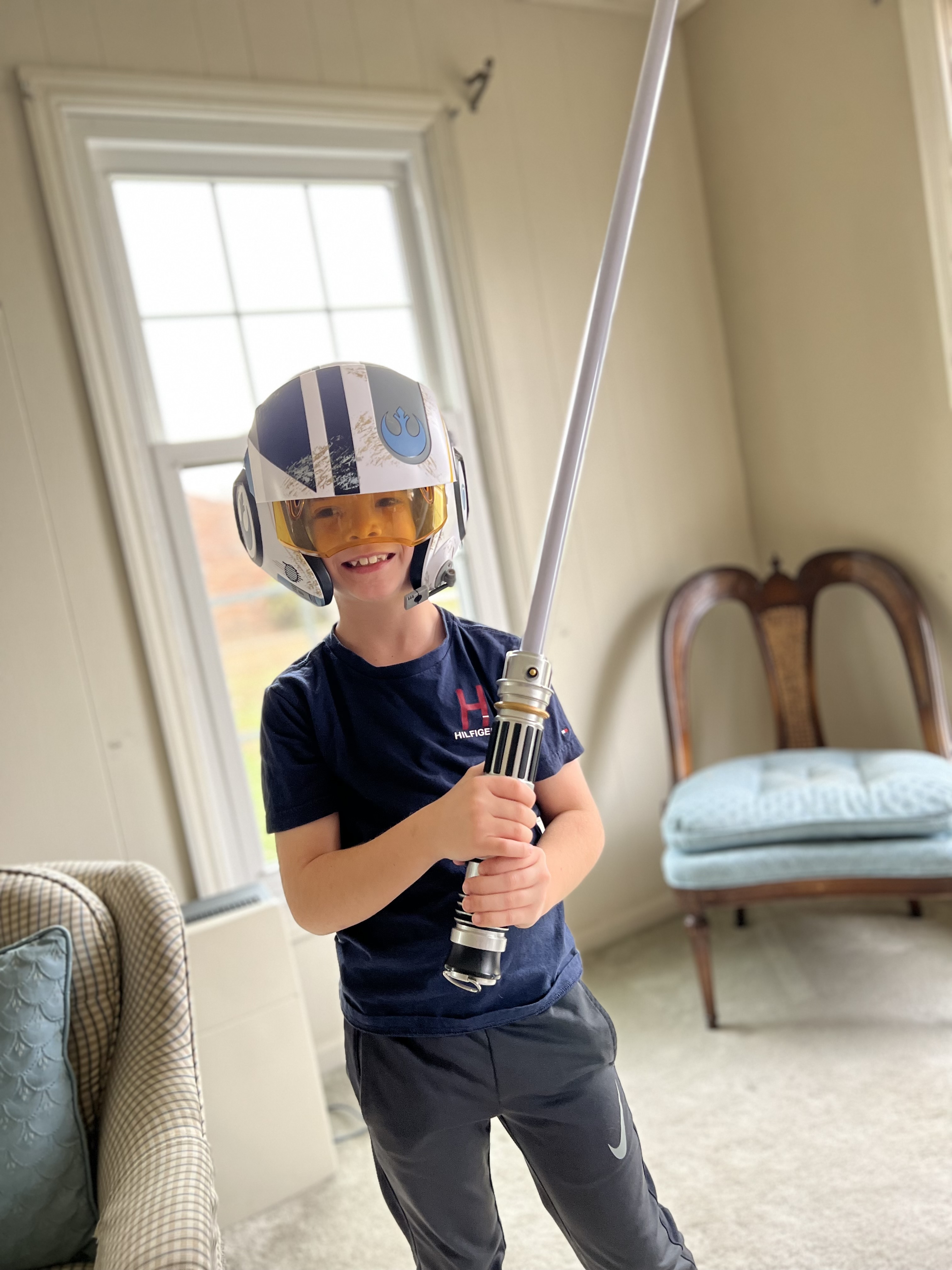 What is Savi's Workshop like?
Sure, the actual lightsaber is expensive, the shipping is expensive, and the accessories are expensive. However, you didn't only pay for a toy.
You also paid for a stage-worthy interactive building experience.
Building a lightsaber in Savi's workshop is no ordinary retail experience. You have the ability to completely design your own unique lightsaber. From your big box of parts, you can choose your lightsaber hilt, your lightsaber blade, your very own kyber crystal colors, and endless customizations.
However, you also build along with a story narrator as they detail the plight of the Rebellion against the Empire.
The culmination of the entire Savi's workshop experience is choosing and lighting your crystal –the true heart of your lightsaber. The lights dim, the scene builds, and you leave ready to take on the Empire with Luke Skywalker and the Alliance as a newly forged Jedi!
Sound nerdy to you? Then Savi's workshop probably isn't for you. But, if it sounds fun and entertaining, then you are exactly the kind of person who would love the whole process.
Savi's workshop is not just high price robotic building process, it is a storytelling, interactive experience where the builders become part of the story. Shopping and a show if you will.
However, know that spots fill up quickly, and the experience is in groups. So, if you book a time in the workshop, you can't show up later and hope to jump in line.
The entire process can take up to an hour. Building is not complex or difficult, but the price tag for building a lightsaber includes a unique role play experience.
My son (the builder in this case) and my husband still have secret sayings between them learned in their personal experience at Savi's workshop. They remember what they did and what they built, but they created a magical memory together that is far more valuable than the toy itself.
Is building a lightsaber at Savi's Workshop worth it?
What you really want to know though is whether the additional cost and time spent at Savi's workshop is worth it.
I mean, you spent thousands of dollars on a Disney vacation, hundreds of dollars just to get into the park, and now you are going to spend time and more money on an add-on?
Our family has 2 different opinions on Savi's workshop.
For pre-school or elementary children, Savi's workshop may not be worth it, but for teenagers or adults who love Star Wars, Savi's workshop is a CAN'T MISS. So, let's consider whether Savi's Workshop might be worth it for you or your children.
Comparing: Is Savi's Workshop Worth It?
Below, let's look at the various criteria of whether Savi's Workship is worth it for both kids or adults including :
cost
time away from the park
quality of the souvenir
Cost
Cost for Kids
Savi's does not have an age limit. However, due to the complexity of the experience, Disney recommends that children be over the age of five.
For children who may not fully appreciate the experience, the cost is steep. Most kids would have to use all their Disney money and more to pay for a lightsaber. Then, to make it even worse, they can't even carry, play with, or take home the lightsaber if you need to ship it home.
For kids who want to play with something right then and there, they will be disappointed.
The lightsabers are large and heavy. Thus, they are not exactly conducive to wielding among thousands of Disney-goers.
And, if you ship it back home, they will have to wait until after your vacation to play with it.
Add onto that the fact that perhaps you don't want your 6 year old waving a $250 toy around. One bad strike, and the entire toy would be broken.
Cost for Adults
For adults, on the other hand, who can appreciate the experience and wait a few days to play with their toy, the cost is more than worth it.
Not only do they have the fun park experience and make the fun memory, but they now have a fun toy or better yet an expensive piece of wall art to add to their home or office.
I know a lot of adults who would love to have a life-size lightsaber to add to their collection!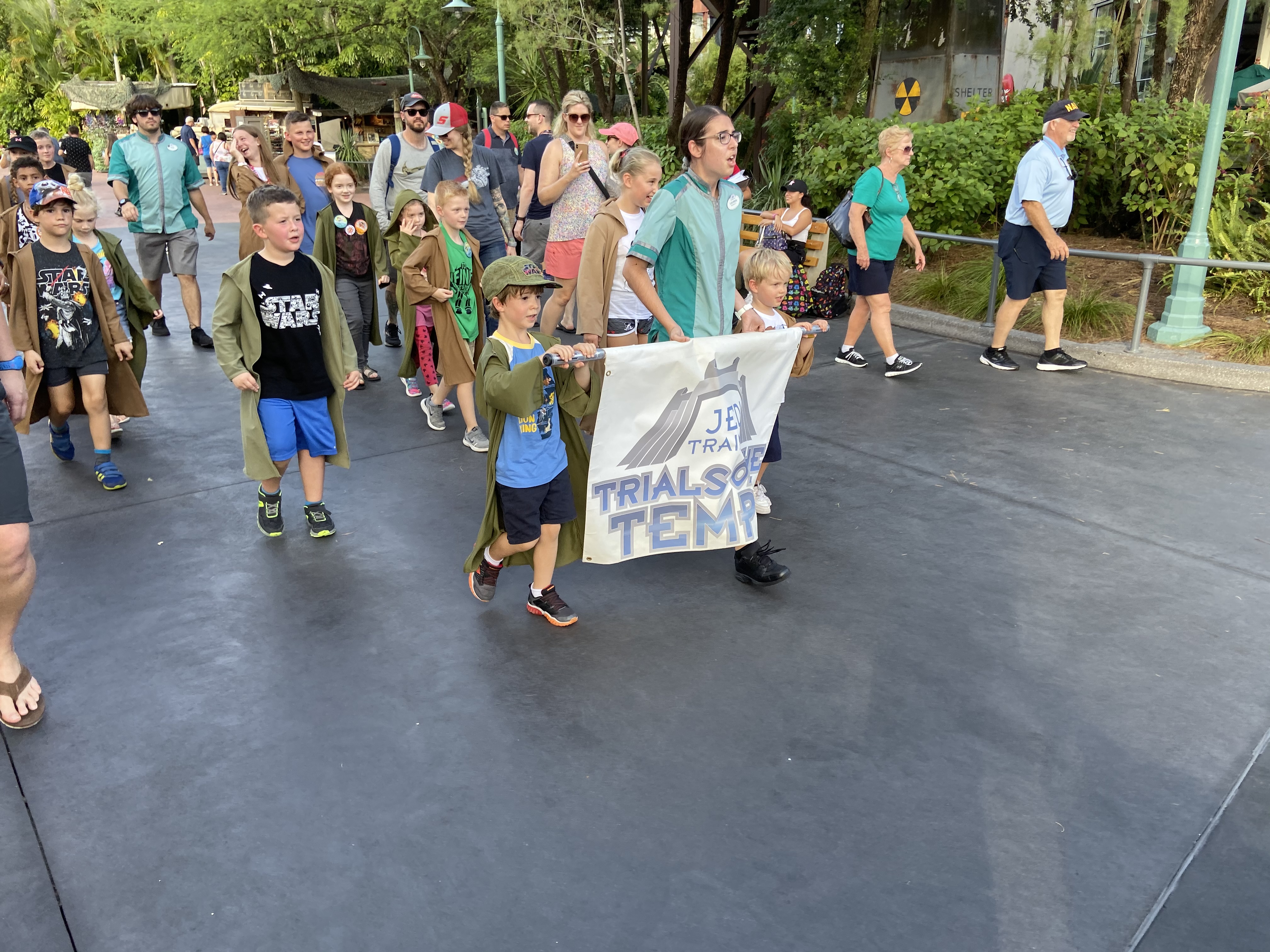 Jedi Training
Time away from the park
Time away from the park for Kids
Yes, the experience is expensive, but it also means time away from the park. It means that you might not get to ride Slinky Dog or that you might have to forego a character dinner.
For young children Savi's Workshop might be a little over their head. So, their time may be better spent building a droid at Droid Depot or attending Jedi training rather than losing a couple of hours to lightsaber building.
Time away from the park for Adults
For adults however, Savi's Workshop is one of those experiences that elevates the entire Disney World experience.
If all you can think of when you think of Disney World is hot, crowded, cartoony, and princesses, then Savi's Workshop is the kind of experience that might redeem your entire trip.
The secret workshop is still my husband's favorite Disney memory even several Disney trips later.
Souvenir
Souvenir for Kids
Finally, the souvenir itself…is it worth it?
Well, the lightsaber is a high-quality, heavy toy. It is certainly more durable and more impressive than the standard retractable plastic lightsaber that you can find in any big box store.
Therefore, your child will have a long-lasting memento of a really fun experience.
However, if your child would much rather play with a standard plastic retractable sword than be constantly told to "be careful," then the souvenir is probably lost on them.
Souvenir for Adults
For adults however, who can appreciate both the experience and resist the urge to hit their brother upside the head, then they are left with a really fun souvenir and memory.
 My husband's lightsaber still stands in his office proudly, while my young son has hardly ever touched it.
If you want to compare the experiences at Savi's and Droid Depot, check this out.
My son loved the experience, but he is much happier to play with his droid and cruise around in his X-Wing Pilot uniform and helmet.
Savi's Workshop is a great experience for teenagers and adults
We are a Disney-loving family who has found Galaxy's Edge to be one of our favorite parts of the park. However, not all additional experiences are created equal for all ages.
Savi's Workshop is 100% worth it for any Star Wars loving teen or adult. However, if you have small children, consider the cost, time away from the park, and the type of souvenir they will walk away with. It might not be worth it for young children.
Regardless of your age, if you are a big fan of Star wars, then building your Galaxy's Edge lightsaber is just the immersive experience that will become part of your best Disney memories!
To read more about my favorite Disney hacks or favorite Disney experiences, check these out!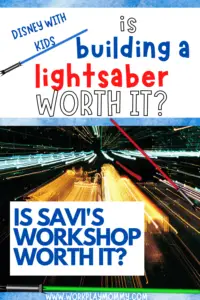 YOU MIGHT ALSO BE INTERESTED IN: