Pros and Cons of one of Disney's most coveted character meals: Chef Mickey's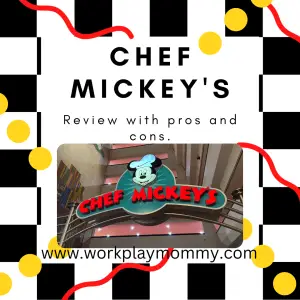 Chef Mickey's Review at Walt Disney World
Chef Mickey's is a great place to see the fab 5 –Mickey Mouse, Minnie Mouse, Donald Duck, Pluto, and Goofy too! You can avoid paying to enter the park, and have a fun character meal. However, if you are looking for atmosphere, food quality, and cost effectiveness, this might not be your place.
Here is what you can expect plus the pros and cons of visiting Chef Mickey's at Disney World's Contemporary Resort!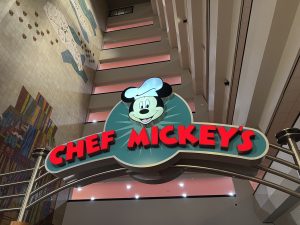 What is Chef Mickey's?
Chef Mickey's is a family-style meal or buffet-style character meal where you can see the main mouse, Mickey Mouse and the gang right at your table. As you enjoy a huge meal, the Fabulous 5 wander around the dining areas taking time to greet each family, table, and child. They will even pose for pictures, give hugs and high fives, and sign your autograph books!
Your entire family will even leave with a signed postcard souvenir as a memento of your meal at Chef Mickey's.
Where is Chef Mickey's Restaurant?
You can find the popular Chef Mickey's at Walt Disney's Contemporary Resort at Walt Disney World in Orlando.
Located on the oh-so-convenient monorail line, getting to the Contemporary is quick and easy from Magic Kingdom, Epcot, Polynesian, Grand Floridian, and Bay Lake Tower.
Just hop on the monorail from any of these locations and unload from inside the Contemporary hotel. You will know you are there when you enter into a 14-story lobby with an Incredibles theme!
At the Contemporary, you are not only delivered to the hotel but inside it. Disney's Contemporary features the sleek and quiet monorail as the centerpiece of the hotel arriving inside it's main lobby.
This is a treat in and of itself as my children and I both love to ride the monorail through the middle of the Contemporary. Plus, for train-loving-toddlers (my toddler), simply riding the free monorail is an attraction that stands alone. Enjoy your meal as the monorail whizzes past your table or window.
Related Post: Epcot with Toddlers
What Characters are at Chef Mickey's?
In addition to being located at one of Disney's top resorts, Chef Mickey's is also one of the only restaurants in all of Walt Disney World where you will be able to see Mickey, Minnie, Donald (sorry, no Daisy), Pluto, and Goofy in one place!
Chef Mickey's characters are incredibly interactive and entertaining for your whole family. Even if you don't go to the parks, this is a great way to get a taste of the Magic Kingdom without buying a ticket!
And, unlike some of the other more limited restaurants around the parks, Chef Mickey's is usually open for both breakfast and dinner.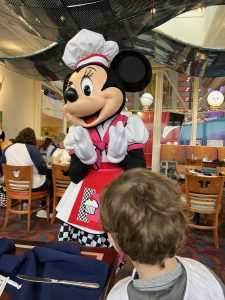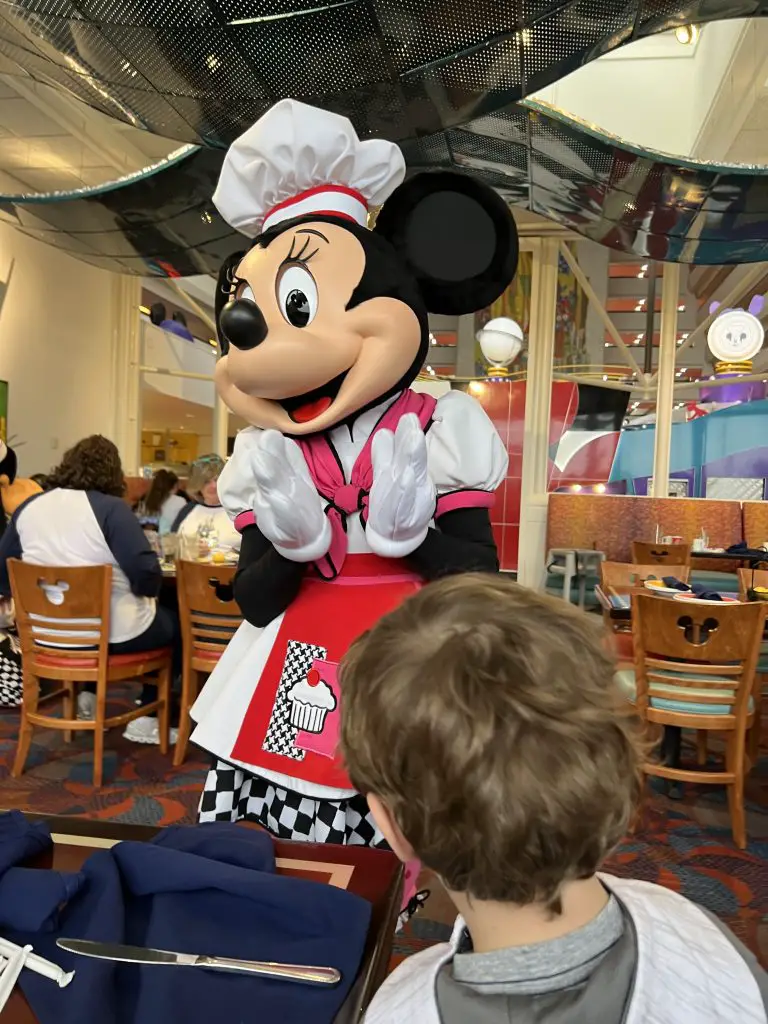 What meals are offered at Chef Mickey's?
I say usually, because our family just so happened to snag a table at Chef Mickey's early dinner for more of a heavy midday meal outside of the usual dinner hours. Chef Mickey's is known to rarely offer more seating times during peak high-traffic times like Christmas.
Our family loved the Ohana breakfast at the Polynesian as well as our lunch at Agrabah Café in Disneyland Paris, so we had high hopes for a dinner at Chef Mickey's restaurant.
However, while Chef Mickey's delivers on theme, character interactions, and location, it does have some shortcomings that some might say make Chef Mickey's "overrated".
Chef Mickey's offers both breakfast –featuring Mickey waffles–and dinner.
Chef Mickey's dinner menu items include:
Salads including a seasonal salad, Chef Mickey's Caesar, and a Citrus-poached baby shirimp salad with cilantro-lime broccoli slaw and avocado
Protein options included: NY Strip (or prime rib), roasted salmon, and barbecue-spiced pork loin.
Vegetables adn sides included: Baby carrots, haricots verts, potato gnocchi, roasted garlic gratin potatoes, plant-based farro wheat fried rice, and sweet potatoes
Be sure to save room for the famous desserts and especially the chocolate chip cookies!
Chef Mickey's breakfast menu items include:
Seasonal fresh fruit
Mini yogurt parfaits
Fresh fried Sweet fritter
buttermilk biscuits and sausage gravy
Scrambled eggs
Slow-roasted beef brisket
Sausage links
Chicken Sausage
Smoked Bacon
Mickey-shaped waffles
loaded potato-cheese casserole
Banana bread french toast
"Celebration" Mickey Pancake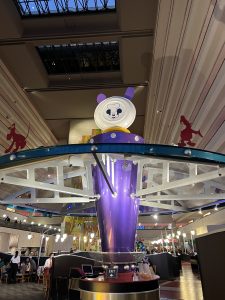 Pros and Cons of Booking Chef Mickey's at Walt Disney World Resort
Now that you know what to see, do, and expect at Chef Mickey's, I want to share with you the pros and cons of this character dining meal. In the interest of full disclosure, I am a Disney-loving mom of three and try to get to Walt Disney World as frequently as possible.
Therefore, I love the fun, magic, and silliness of all that Disney World has to offer. So, when I went to Chef Mickey's I expected the world-class food, service, and ambience that I find all over the park.
However, Chef Mickey's has some very serious drawbacks, and whether it is right for you (and your wallet) might depend on the following pros and cons.
Best Things about booking Chef Mickey's
PRO: Chef Mickey's is easy to find!
The Location! One of the best things about Chef Mickey's is definitely the location. On the monorail, in a deluxe resort, with views of trains and a short ride to and from both Magic Kingdom and Epcot.
By Monorail: You can reach Chef Mickey's by monorail from any monorail resort, Magic Kingdom, or Epcot.
By car or Minnie Van: You can also reach it by car if you want to pay resort parking or by Minnie Van if you want to pay Lyft prices.
Park and Ride: However, a completely free option to reach Chef Mickey's if you aren't going to the parks or staying at a resort is to park at Disney Springs, hop on a bus to any monorail resort, and then ride the monorail directly into the Contemporary.
I don't recommend taking a bus directly from Disney Springs to the Contemporary as riding the monorail into the building is a big part of the charm. So, I recommend taking the Polynesian/Grand Floridian bus from Disney Springs.
From any non-monorail resort: Or, if you are staying at any non-monorail resort, take the bus from your resort to the Magic Kingdom and ride the monorail one stop from the Magic Kingdom into the Contemporary!
Pro: Chef Mickey's doesn't require you to have a park ticket!
No park entrance required. One of the major drawbacks of booking other character dining in the parks is that you burn valuable and expensive park time. At Chef Mickey's you can see the fab 5 without sacrificing park time or burning a day of your precious tickets.
If you only want to have dinner on property or have a resort-break day with a little extra magic, then Chef Mickey's is a great way to still experience the fun and excitement of iconic characters while avoiding the stress of lines, tight schedules, and boarding groups.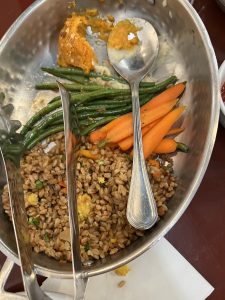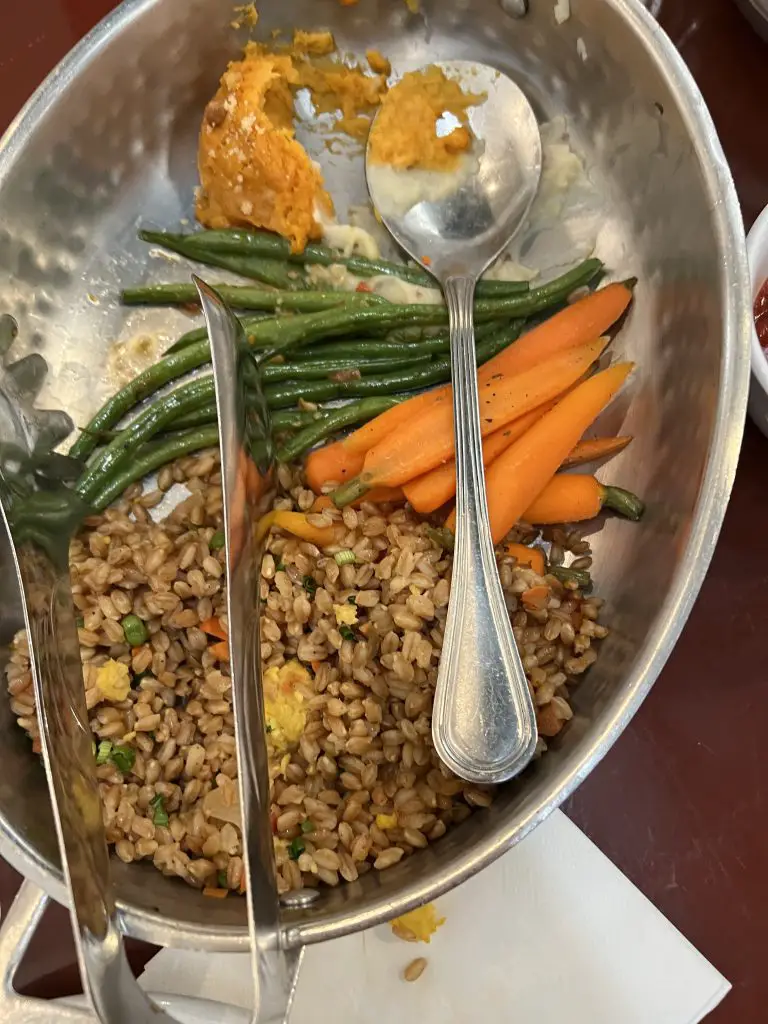 Chef Mickey's has food for everyone.
Pro: Chef Mickey's has food for everyone.
Wide and varied food options. Chef Mickey's serves traditional American fare plus a strange combination of foods. Dinner included 3 different salad options –one topped with shrimp and avocado. The main course offered 3 different meat options, a vegetarian option, a vegan option, and even pasta.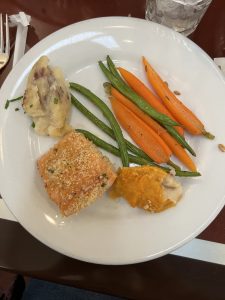 Plus the kids were thrilled with the chicken nuggets, mac n cheese, and corndogs.
Breakfast has eggs, sausage, waffles, bacon, rolls, and more. Everyone will find something that they can eat.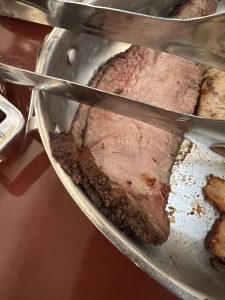 Personally, I enjoyed the salmon and sweet potatoes while others might rather eat the NY Strip and carrots!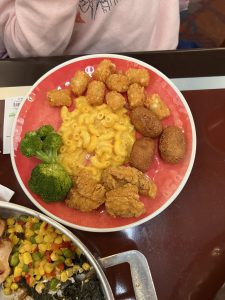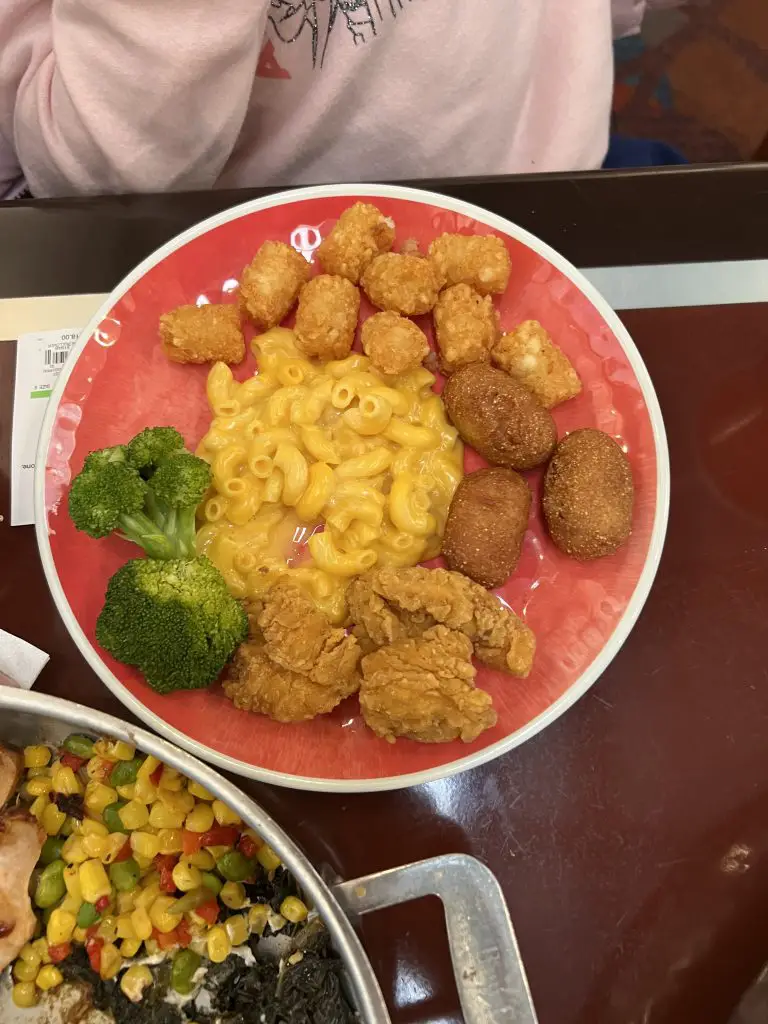 PRO: The best things about Chef Mickey's are the CHARACTERS!
THE CHARACTERS. Last, but certainly not least, you can't beat the character dining experience. Winnie the Pooh or Lilo and Stich are great, but you really came to see The Mouse!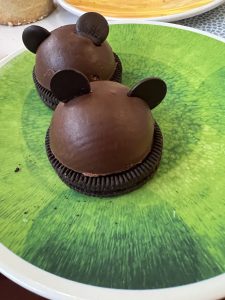 Chef Mickey's delivers on the characters who rotate regularly throughout the entire restaurant taking time to visit each and every table at least once during the course of your meal.
Every character made it to our table 2-3 times. So, if your child is a little shy at first, he or she might warm up the second or third time around after singing the famous "Biscuit" song.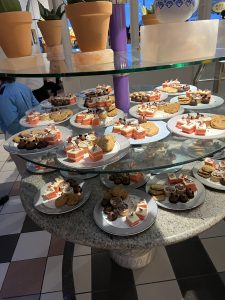 Cons and Drawbacks to Booking Chef Mickey's
While you and the family will have so much fun dancing with Mickey and Minnie and feasting on bottomless desserts, there are some major drawbacks to Chef Mickey's.
Cons: Chef Mickey's food is average or below.
The food is below average. Disney is known the world over for FOOD! They serve huge quantities to massive crowds with record levels of quality. Chef Mickey's does not live up to this standard.
Our quality of food was cold, the salads were swimming in dressing, and even the kids didn't like the dried up cupcake brought for our birthday treat.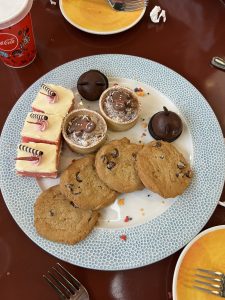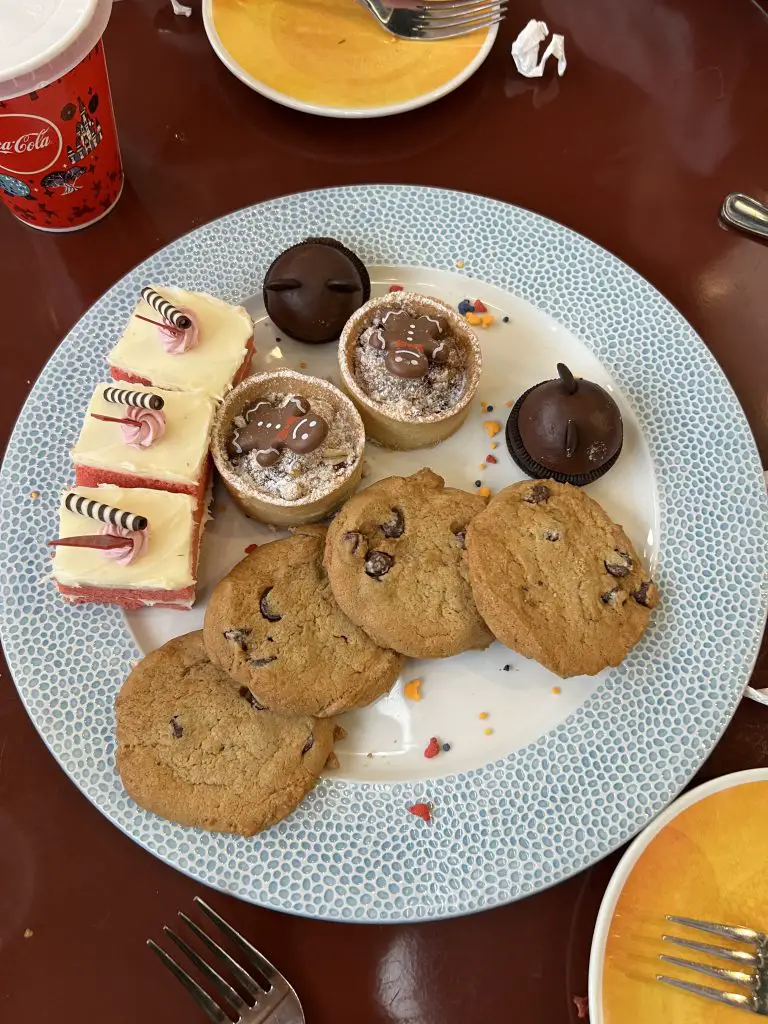 Don't go to Chef Mickey's for the food. While you will find plenty to eat and leave with a full stomach, the meal is not for those looking for that quintessential Disney quality.
CON: Chef Mickey's is pricey.
It's Expensive. Chef Mickey's, as a character restaurant, is among the most expensive meals in all of Disney. A family of 5 with no add-ons such as drinks or celebration cakes, will easily spend $300.00 on their dinner even before gratuities.
At between $40 and $70 per adult (depending on time of day and type of meal) and $30-40 per child, this is likely one of the most expensive meals you and your children will ever eat! The only saving grace for the price tag is that this is a family-style dining experience or buffet where you can eat until you have your fill. The service staff will gladly replace whatever food option you want.
For the current menu and prices, click here.
Of course, you shouldn't just look at it as a meal, but as an experience.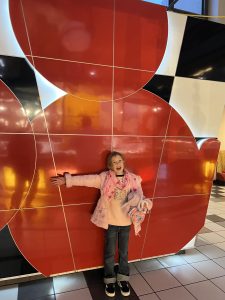 CON: Chef Mickey's doesn't look like anything special.
Disappointing Atmosphere: Finally, the final reason why we will never plan another meal at Chef Mickey's without a major overhaul is the atmosphere. If you enjoy sitting in a plain white room, decorated with Chuck-E-Cheese style cutouts, and primary colors, then you will love it.
Our family however, found it too bright and cheap looking compared to what we are used to in a Disney restaurant. Yes, it is a bright and happy space, but it lacks any character.
Other restaurants ooze theming, décor, and subtle touches. Chef Mickey's has little subtlety and few thoughtful touches.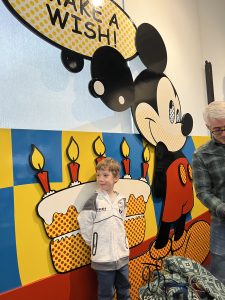 It pains me to say it as an avid Disney fan, but we did not like Chef Mickey's atmosphere.
Final Verdict: Go for the characters not the food!
Chef Mickey's is one of Disney's most sought-after, expensive, and fun character breakfast or dinner you can find. Spending an hour or 2 dancing with the characters over a smorgasbord is great fun for the whole family.
While Chef Mickey's lacks quality, atmosphere, and value, it has a trove of fun touches for the kiddos especially young children. Best of all, you don't have to burn a park ticket to go.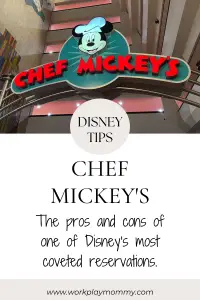 If you are serious about spending some time with the Mouse and the Fab 5, getting family pics with characters, avoiding entering the park, and having a big meal, then Chef Mickey's is a great option just steps from the Magic Kingdom or a simple monorail ride.
YOU MIGHT ALSO BE INTERESTED IN: