Florida's Space Coast Fun at Kennedy Space Center
Kennedy Space Center is a fun and exciting way to explore, create, and learn as a family.
Disney and The Mouse have made a big impact in all of Florida. Even NASA with its heritage of thick-rimmed glasses and pocket protectors is now majorly amusing for the entire family.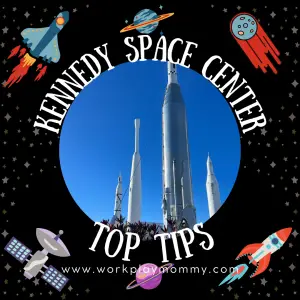 Kennedy Space Center: Exciting and fun for the whole family.
Kennedy Space Center has been completely reinvented in recent years. What was once a marshland tour to the VAB is now marked with 3-D IMAX experiences, rides, space-themed foods, playgrounds, and more.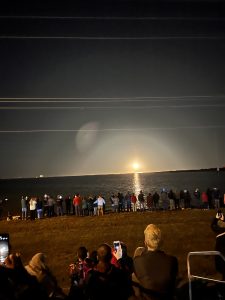 After watching a SpaceX launch from Launch Pad 40 in Cape Canaveral, our kids were ready for a fun day of space exploration and learning.
However, this mom, a usually over-prepared, over-researcher was not quite prepared for the overwhelming amount of fun attractions for all ages.
Kennedy Space Center boasts more than 28 attractions in 5 different areas where the entire family will find something to pique their interest.
All in all, our family found Kennedy Space Center fun, exciting, educational, and a must visit!
If you are planning your Kennedy Space Center visit, here are our top 10 tips and a recommended itinerary for a 1 day trek into the world's space adventure.
TOP TEN TIPS FOR VISITING KENNEDY SPACE CENTER
1. Spread your trip to KSC into 2-3 days:
Allocate more than one day. Kennedy Space Center has so much to offer for the whole family that you simply can't make it through all of the awesome attractions in one day.
Therefore, I recommend splitting your visit into at least 2 days allowing you to try different versions of Starport, completing more of the interactive experiences, and watching all of the different IMAX shows.
Stretching your 1 day ticket into 2 days doesn't double the price. Instead, it costs mere dollars more.
KSC BUDGET TIP: However, if you are traveling with a large family, an annual pass might actually be more cost effective than purchasing 2 days of passes. For example, a family of 6 planning to visit KSC over 2 days can actually save almost $62.00 by purchasing an annual pass rather than 6 2 day passes. Not to mention annual pass holders get free parking, discounts, and free drinks.
2. Buy Kennedy Space Center Visitor's Center tickets in advance.
Buy tickets in advance. Tickets are available online in advance. Easy to download on your phone, buying your tickets in advance allows you to move quickly into the Visitor's Center without having to wait in line at those pesky ticket booths.
Having purchased your tickets in advance, you can beat many of the crowds that are working to get to Kennedy's newest attraction: Gateway and KSC Starport.
3. Skip the selfie and proceed directly to Starport.
Go past the selfie station and proceed immediately to Gateway and KSC Starport.
You made it past the ticket counter, but then you see the giant NASA globe just begging you to take a selfie. Move away from the selfie line and come back later after the hoards are gone!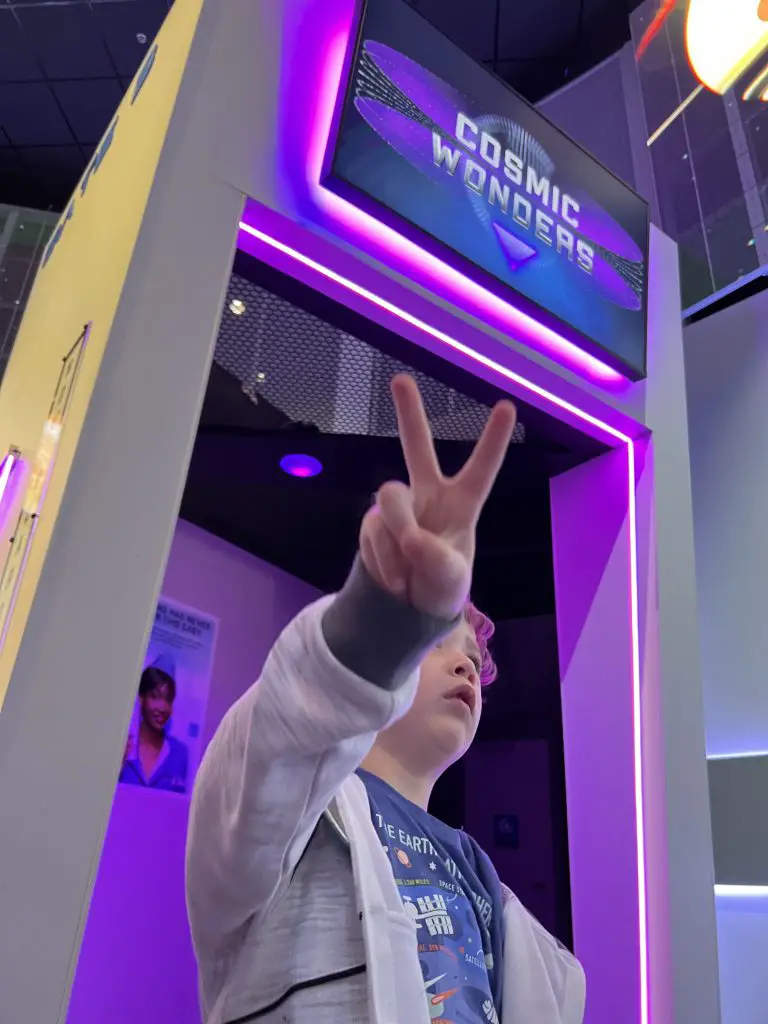 Instead, make your first visit Gateway, past the Rocket Garden and Heroes and Legends. Proceed directly to the Starport kiosk (or the queue to the Starport kiosk) and select a return queue time for the earliest available time.
Gateway is a choose-your-own adventure ride featuring an adventure through space learning about nebulas, planets, or several other options. It was great fun for our whole family, even our three-year-old enjoyed it!
Be aware, Starport riders do have to be 39 inches tall, so it is not suitable for all ages or family members.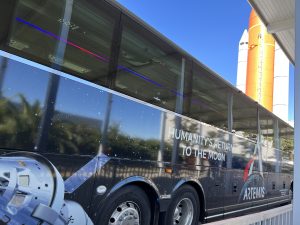 4. Take a bus tour early.
Take the bus tour as one of your first activities. One of the highlights of any visit to KSC is the narrated bus tour, a tour past the VAB (Vehicle Assembly Building), crawlers, and learning about all of the Apollo missions.
Lines for the bus tour get longer and longer throughout the day and end at least 2 hours before park closing. Give yourself at least 2 hours to experience the bus tour, the attractions, and maybe even the café overlooking Cape Canaveral!
5. Bring snacks!
KSC has tons of great food options, but I was not prepared for the long lines for food or the length of some of the attractions. Stash a few protein bars or fruit in your day bag along with a water bottle to keep you and your kids happy.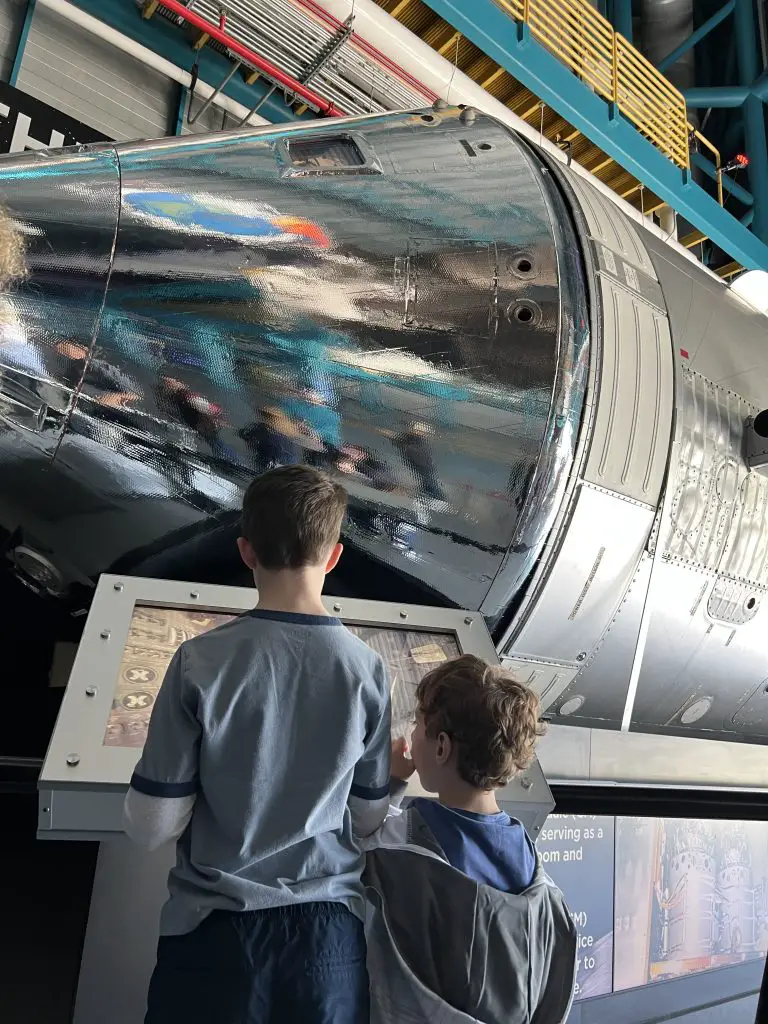 6. Some Kennedy Space Center shows are more appropriate for children than others.
Check with a customer service agent for recommendations on which shows are geared toward kids or adults. The list of shows and performances throughout the day at KSC is simply overwhelming. However, some of the shows are geared toward elementary school children instead of adults.
Our kids loved the attractions that were custom tailored to our children's ages. A kind customer service rep circled which shows were best for our ages of children on our guide, and our kids were so glad they did!
7. Be prepared for walking and standing at KSC.
Wear good walking and standing shoes. I'm no stranger to walking around an amusement park all day in the hot Florida sun, but I was not prepared for the amount of standing.
Not only do you spend lots of time queuing in long lines, many of the attractions are also standing only.
Many of the shows were standing room only, while most of the interactive learning kiosks were also standing, not sitting or walking.
Thus, be sure that you are prepared with shoes that are good for walking and standing!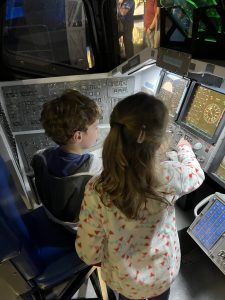 8. Planet Play is for adults and kids!
Make time for play in Planet Play. So you have been walking and standing all over the park, you need a break, and your children are tired of listening to other people talk. Make your way over to Planet Play.
Planet Play is an enormous, indoor, multilevel, space-themed playground where your kids can run wild!
RELATED POST: Plazas with Playgrounds in Granada, Spain
However, KSC didn't skip the learning in this area either. Your children will accidentally learn about solar flares, gravity, engineering, and more. I loved seeing how my children applied some of what they had learned!
Best of all, Planet Play has a bar and cafe! Serving coffee, wine, or beer next to a long lounge of seats and couches, parents can enjoy a break and a drink while watching their kids.
Again, Planet Play can have a long line of melting-down children, so plan your visit accordingly!
9. Arrive at Kennedy Space Center early.
Plan to be at KSC as soon as it opens. You can make it to most attractions in a matter of minutes from the entry. However, the most popular attractions get busier and busier throughout the day.
Therefore, if you can get Starport and the bus tour done early, you can spend the rest of the day visiting the shows and exhibits that are less busy.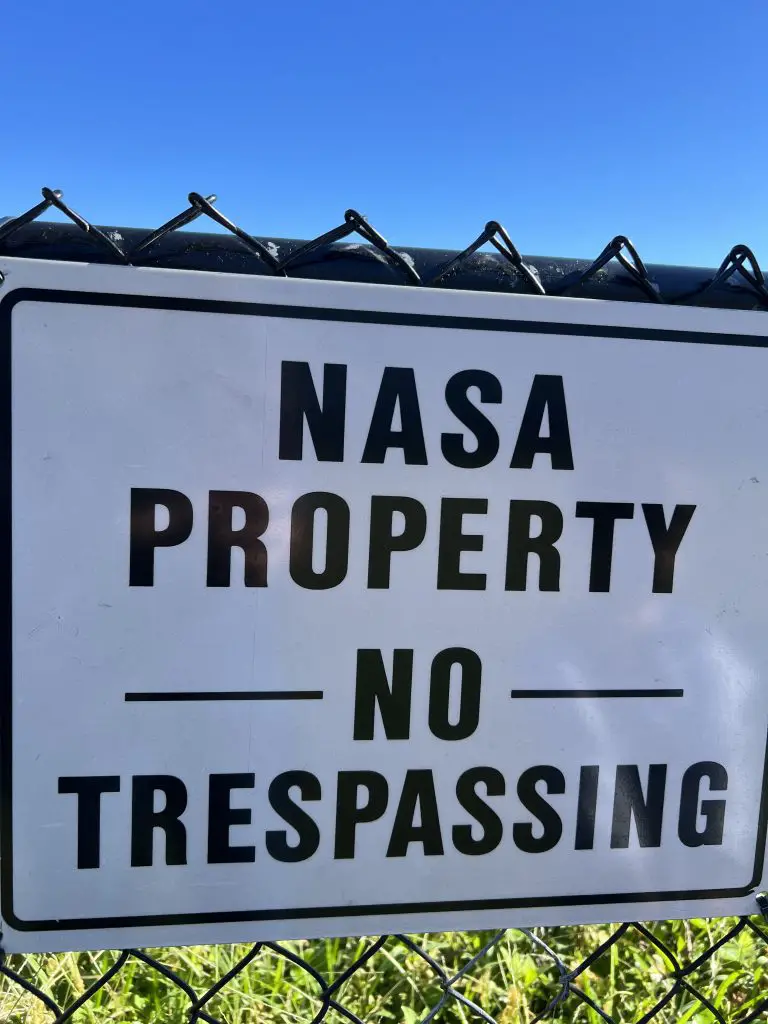 10. Pack light.
Kennedy Space Center while large, is not sprawling. It takes mere minutes to walk from one end of the park to the parking lot. I took 3 kids to the park with only a small purse.
While a stroller would be handy for toddlers and babies, most strollers have to be left outside of the exhibits. So, a carrier would be easier.
Food, facilities, air conditioning, benches, and refreshments were always in easy reach. And the prices were far more reasonable than other central Florida theme parks!
Consider just bringing the absolute essentials: water bottle, sunscreen, a few small snacks, money, id, and personal items. You aren't riding water rides, spending hours queueing in the sun, or staying to watch late-night fireworks. Don't pack the kitchen sink and make you and your fellow visitors miserable with your giant backpack!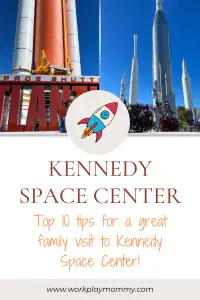 Suggested itinerary for 1 day with kids at Kennedy Space Center:
If you can only spare 1 day for KSC, our family would recommend that you hit these high points.
Gateway
Bus Tour
Atlantis
Lunch
Planet Play
IMAX Lego
Kid's Show and Science Experiments
Mars Rover
Heroes and Legends if time
Don't skip the souvenir shop!
Kennedy Space Center is exciting fun for the entire family.
Our family had a great day at KSC and can't wait to go again. My boys loved the rockets, my daughter danced along the solar system, and we all found a favorite attraction.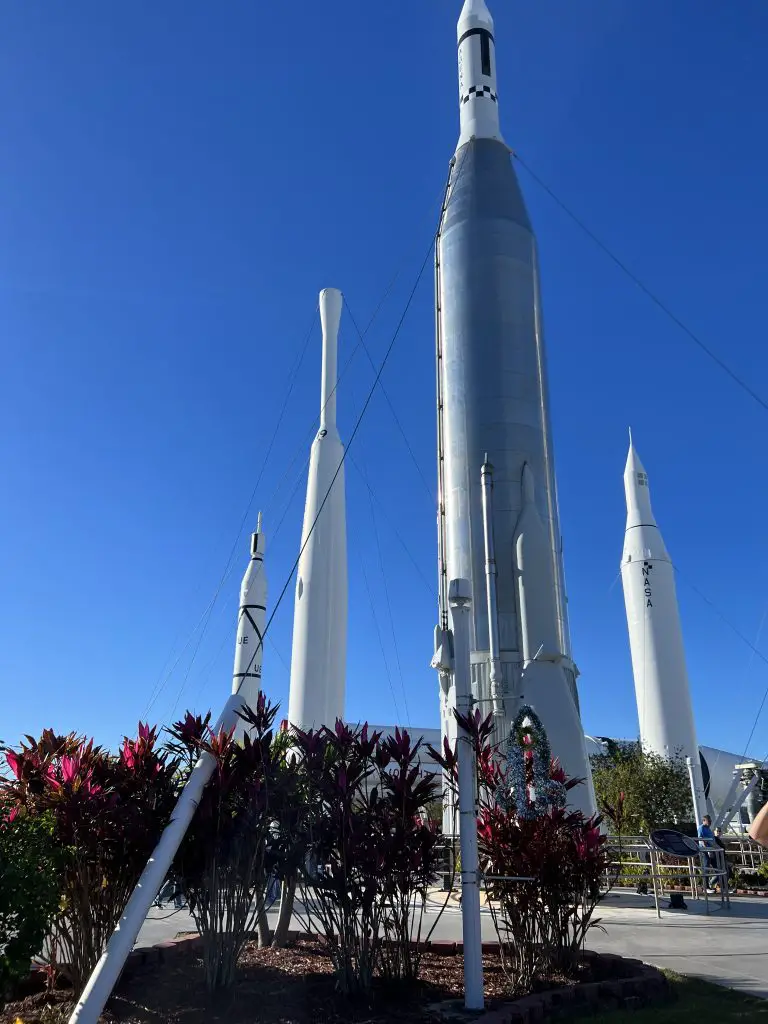 Spending a day or 2 at KSC will be a highlight for your family!
YOU MIGHT ALSO BE INTERESTED IN: